Y'all I LOVE a good ol southern potato salad during the summer. But I am pretty picky about them. I see a lot of different ways that people make them.
But this is hands down the best way to make it (in my humble opinion lol)! It took me a few times to nail it, but I think I finally did it! My mom always made the best potato salad growing up and I always wanted to replicate her recipe.
Although, she doesn't technically have a "recipe" for it. She normally just throws everything together and it turns out perfectly.
For me, I need a recipe or something I can follow every time because if not, I forget what I used the last time I made it. I am sure I am not the only one like that right?!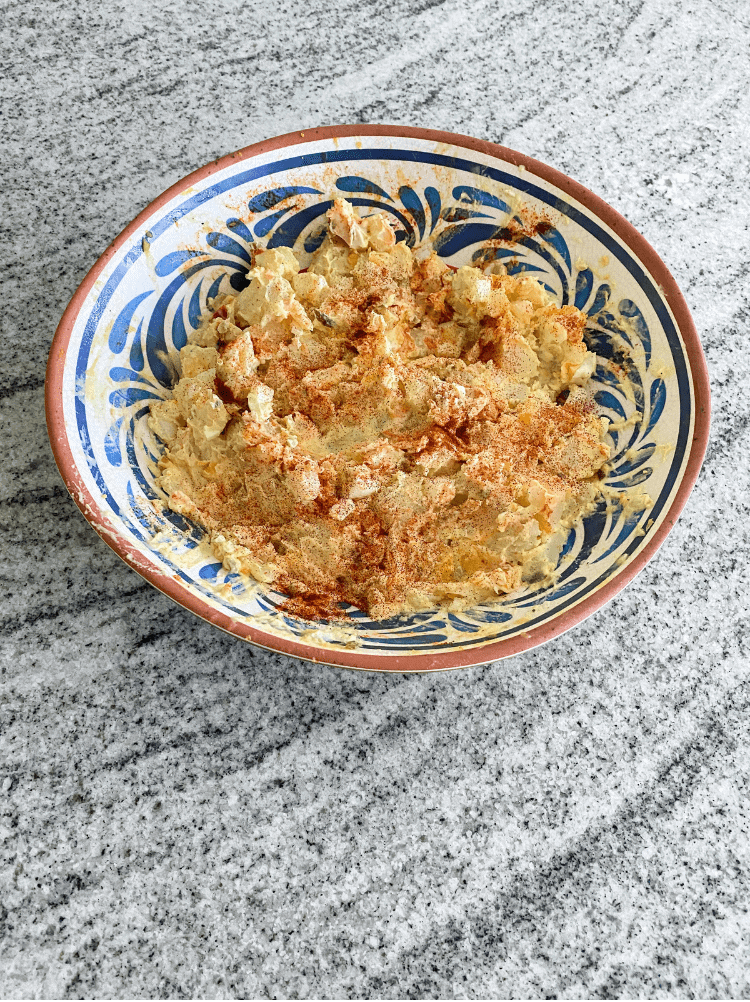 Ingredients Needed:
Here is everything you need to get started making this southern potato salad:
6-8 Russet Potatoes, peeled and chopped
6 hard boiled eggs
2 1/2 tsp salt, divided
1/2 a onion, chopped
1 cup mayonnaise
1/4 cup yellow mustard
1/3 cup sweet relish
1/4 tsp black pepper
Dash of paprika, for garnish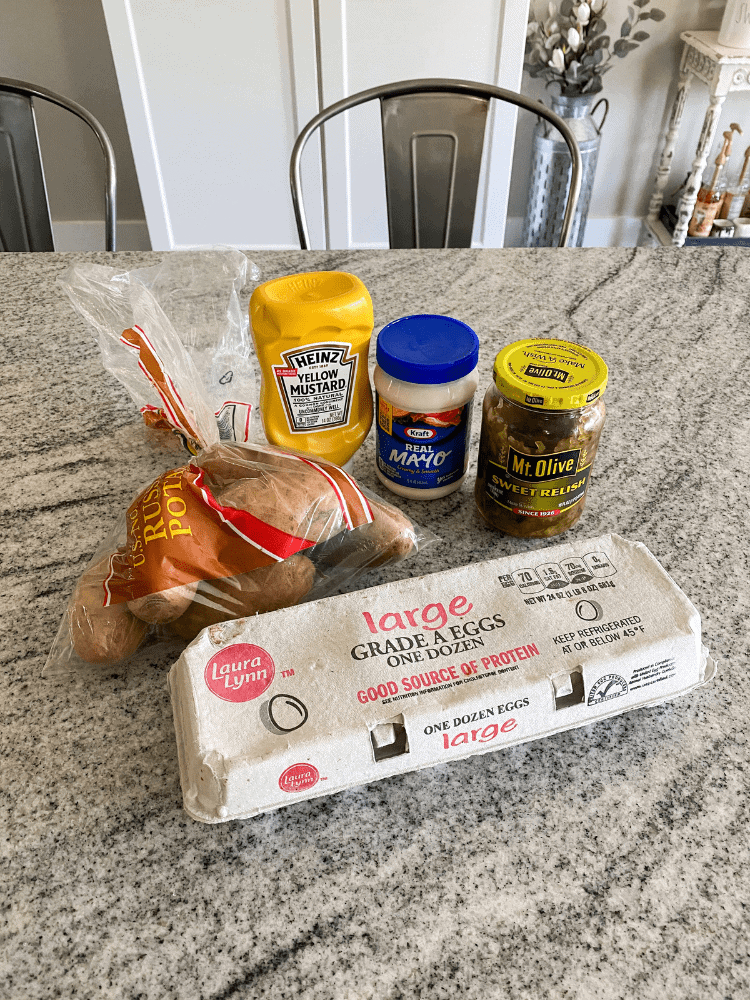 Peel and Boil The Potatoes
The first step to making this delicious southern potato salad is to peel and boil the potatoes. I usually do around 6-8 russet potatoes, depending on the size.
It's best to quarter them and then add them into a pot of boiling water. I also add in 2 teaspoons of salt to the boiling water.
You want to cook the potatoes until they are tender enough to pierce with a fork. Around 12-15 minutes. But not too much longer because then they become soft enough for mashed potatoes.
I like my potato salad to be chunky. I don't like it to be mashed up. But this can be a personal preference.
If you want your salad to have more of a mashed potato vibe, then cook them a little longer if you want!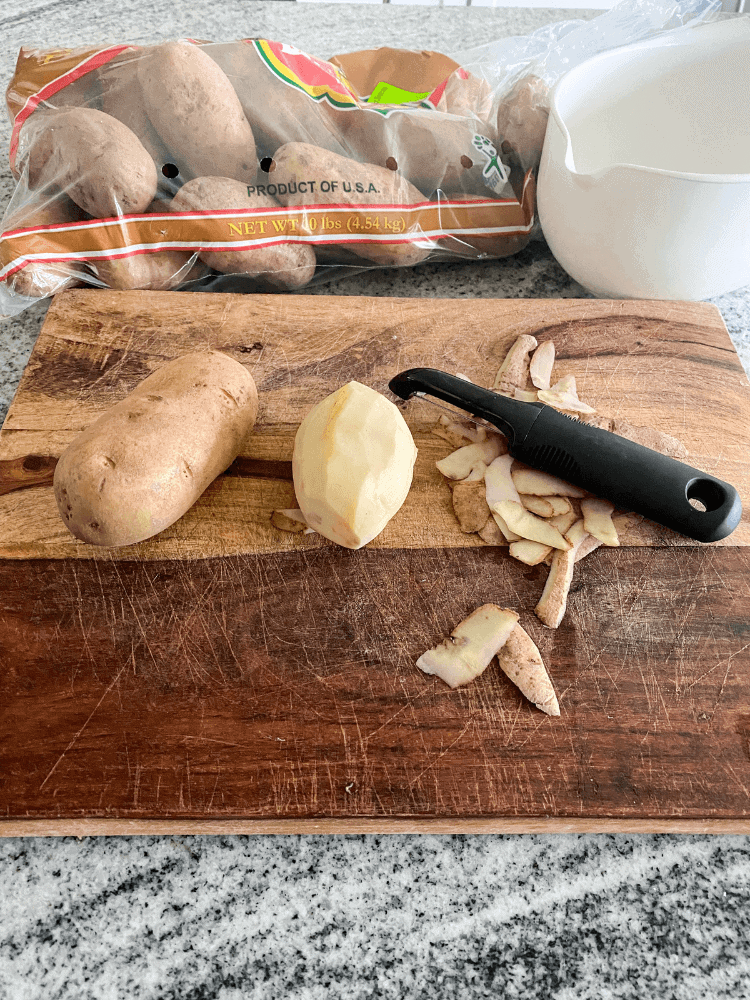 Once potatoes are done cooking, drain them and let them cool!
Make Hard Boiled Eggs
While your potatoes are cooking, you can also use this time to make the hard boiled eggs. I feel like this salad can be a labor of love sometimes because there are a lot of steps to it.
But trust me, it's worth it because it is so delicious. Plus, I usually make enough to where we have leftovers for the next several days so I don't have to worry about anymore side dishes then! It is very filling so that helps!
I usually do around 6 hard boiled eggs and chop them up. You can do more or less depending on what you like but I do like my potato salad to have a lot of eggs in it!
Mix It All Up
Now for the fun part to this southern potato salad- mix it all up! I start by chopping up my onion and adding it to the bowl first.
Then, I add in the other ingredients such as the mayo and mustard.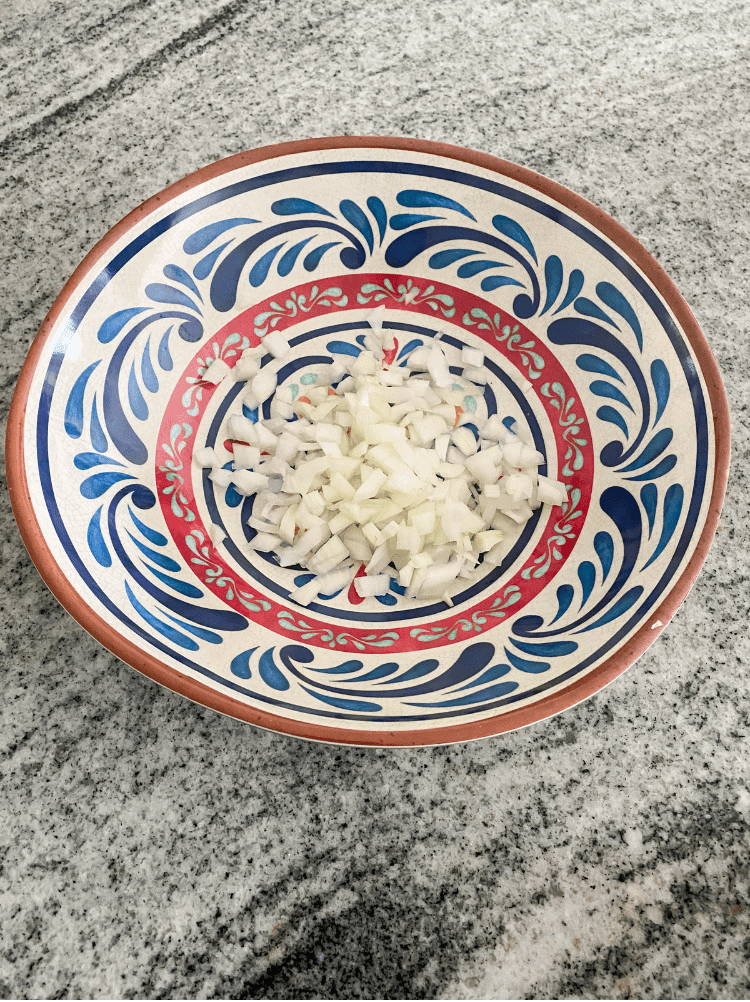 Now when you start mixing it up, it looks like a sloppy, goopy mess. Trust me here, it will all work out! Just mix together the mayonnaise, mustard, sweet relish, salt and pepper real well before adding in the eggs and potatoes.
The funny thing is I am not a huge mayonnaise fan. I hate the smell of it and I don't like it on my sandwiches (I prefer honey mustard please!).
But it is necessary for this recipe. It makes the potatoes nice and creamy and I don't mind the taste of it in the salad. Mainly because you don't even know it's in there once it is all mixed together!
Also, I think my hatred for mayo came from my brother. He decided it would be funny to take a turkey baster and remove the cream filling from a cream filled doughnut and replace it with mayonnaise instead.
I did not know this and took a huge bite out of it and about died! Hence, I am traumatized and approach eating doughnuts and anything that calls for mayo as an ingredient very cautiously now.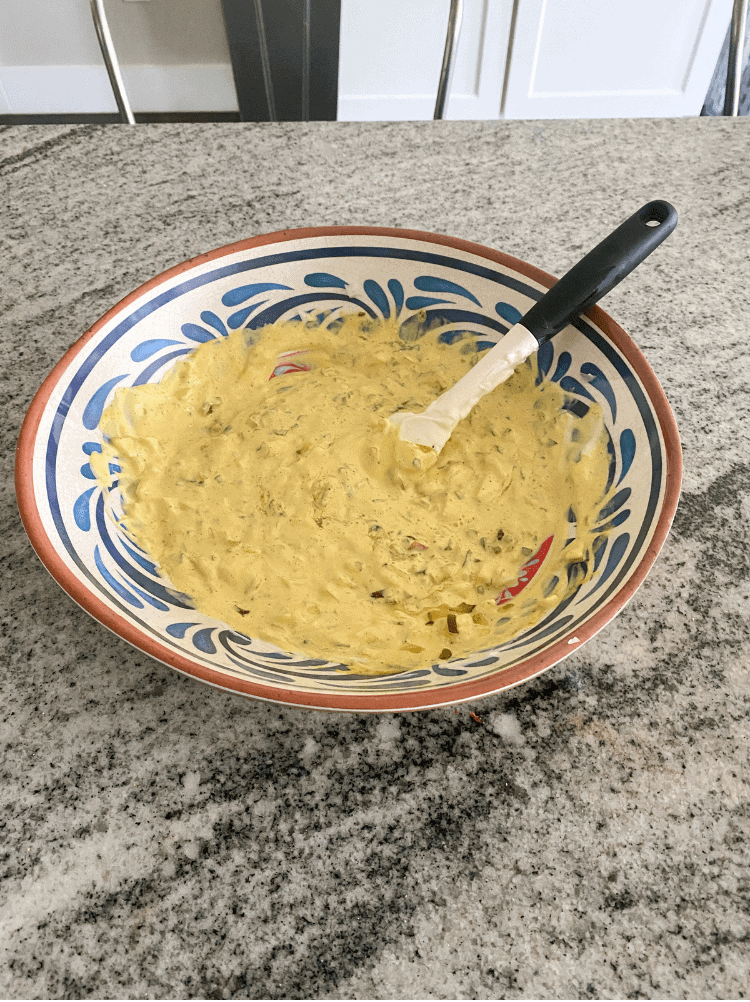 Add In Potatoes and Eggs
After you mixed everything together, now you can add in the cooled potatoes and peeled hard boiled eggs! Make sure to mix well and have everything coated good in the creamy mixture.
Once everything is mixed, sprinkle some paprika on top for garnish. This step is totally optional, but it does make it look and taste good!
After sprinkling on the paprika, place in the fridge and let chill for several hours before serving.
And that's it! You now have a delicious southern potato salad to enjoy!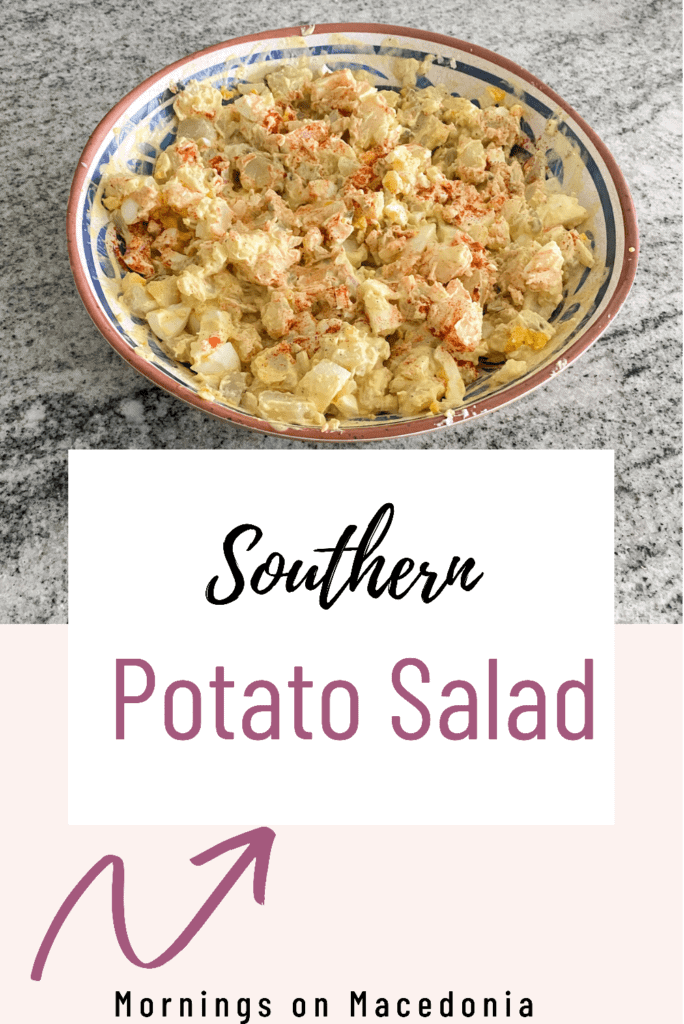 This is the perfect side dish for any cookout or barbecue you may have going on this summer. It also pairs nicely with Fruit Pizza as a dessert after a tasty cookout! Do you like potato salad? And if so do you make it a different way or a similar way to mine? Let me know below! It's always so much fun to see how everyone makes certain dishes differently!
Southern Potato Salad
A southern classic side dish that is perfect for barbecue's or any family gathering!
Ingredients
6-8

Russet Potatoes, peeled and quartered

2 1/2

tsp

Salt, divided

6

Hard Boiled Eggs

1/2

Onion, chopped

1

cup

Mayonnaise

1/4

cup

Yellow Mustard

1/3

cup

Sweet Relish

1/4

tsp

Ground Black Pepper

Dash

Paprika
Instructions
For the Potatoes:
Bring a pot of water to a boil. Once boiling, add in 2 tsp of salt.

While water is boiling, Peel and quarter the potatoes.

Add potatoes to the pot of boiling water. Cook potatoes until they can easily be pierced with a fork, But not too mushy. About 12-15 minutes.

Drain the potatoes and let them cool.
For the Salad:
Hard boil eggs and then place them in an ice bath to cool.

While eggs are cooling, combine the remaining 1/2 tsp salt, 1/4 tsp black pepper, 1 cup mayonnaise, 1/4 cup yellow mustard, 1/3 cup sweet relish, and 1/2 of a onion in a bowl.

Add in the cooled potatoes to the mixture and stir until combine.

Peel and then chop hard boil eggs into small pieces.

Add the eggs into the salad and mix again.

Top with a garnish of paprika if desired and place in the fridge to chill.

Let chill for several hours before serving and then enjoy!
Be sure to check out more ideas on what to cook here too!