You know I love me a good up-cycled project, and this Christmas Vacation sign is just that! I love to repurpose old items that I don't use anymore. And this old Target Dollar Spot sign was just wasting away in an old Christmas bin. So I decided to give it new life and create something new with it! Using just a few materials that I already had on hand too!
I am obsessed with the movie, National Lampoon's Christmas Vacation, and I am sure many of you are as well. It is just such a classic movie and I laugh every single time I watch it. And in turn, there are so many quotable sayings for the holiday season from the movie as well. Such as the famous, "You serious Clark?"
But for my Christmas vacation sign, I decided to use the saying "Little Full, Lotta Sap". To do this, I used my Cricut maker to make a vinyl decal of the letters. Plus, a vinyl image of a car with a Christmas tree on top.
This is in reference to when Clark Griswold decided to take down the massive tree in the forest and bring it home as their own Christmas tree. Definitely a memorable moment for sure!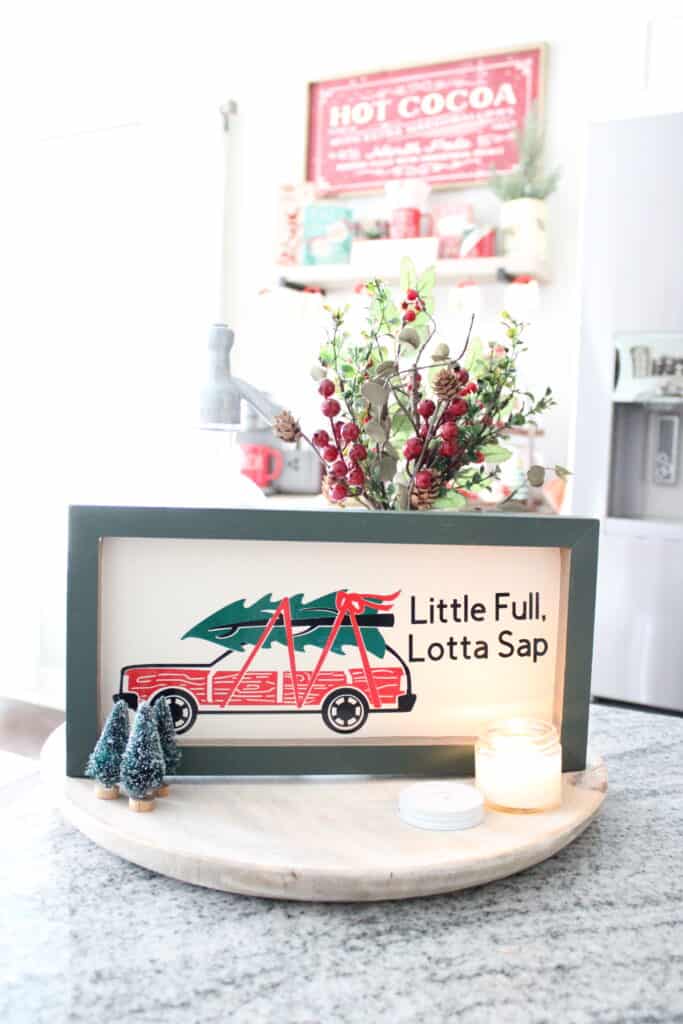 This post contains affiliate links. Click here to see my privacy policy.
Painting the Old Sign
Like I mentioned above, I had an old Christmas sign that I wasn't using. But I didn't like the colors to it either.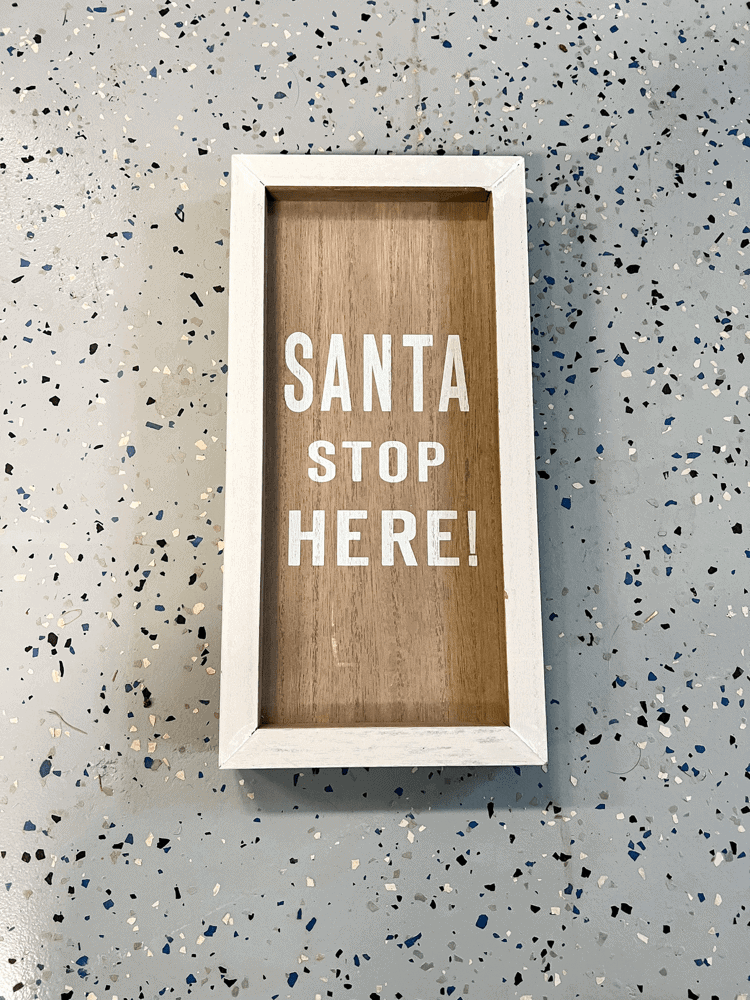 So I gave it a little refresh with Fusion Mineral Paint. I painted the outside frame in this beautiful Manor Green color. And then I used Chateau, which is like a creamy white color for inside the frame.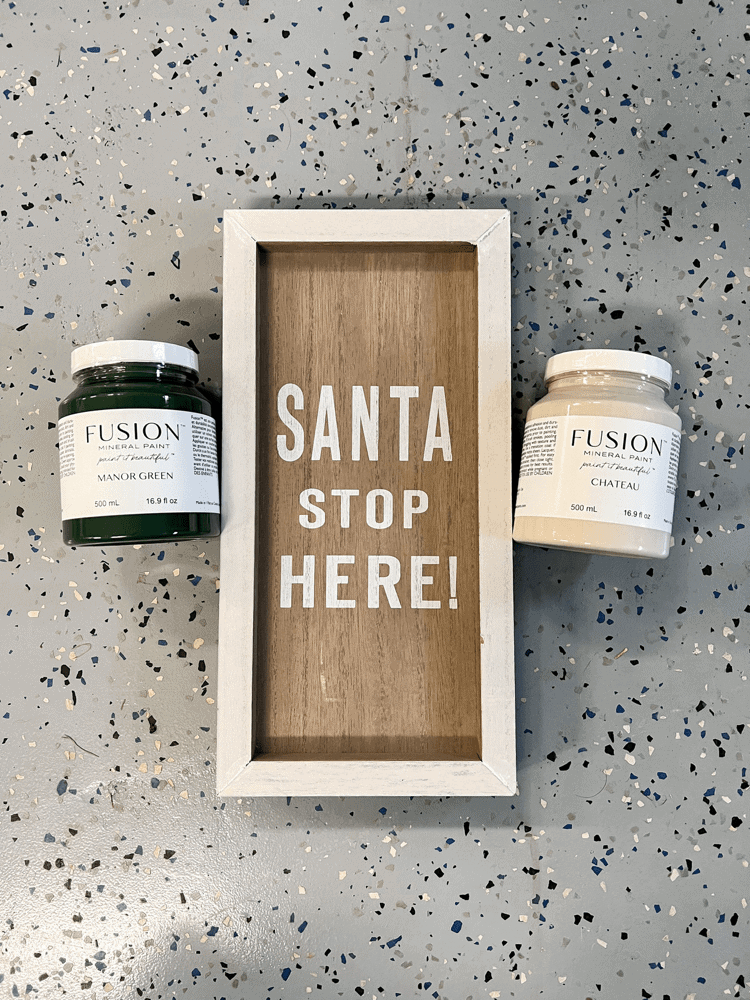 I also used painter's tape to place on the inside of the frame. That way I didn't get white all over it when painting. I did two coats each of the colors and let it dry completely before moving onto my vinyl part of the project.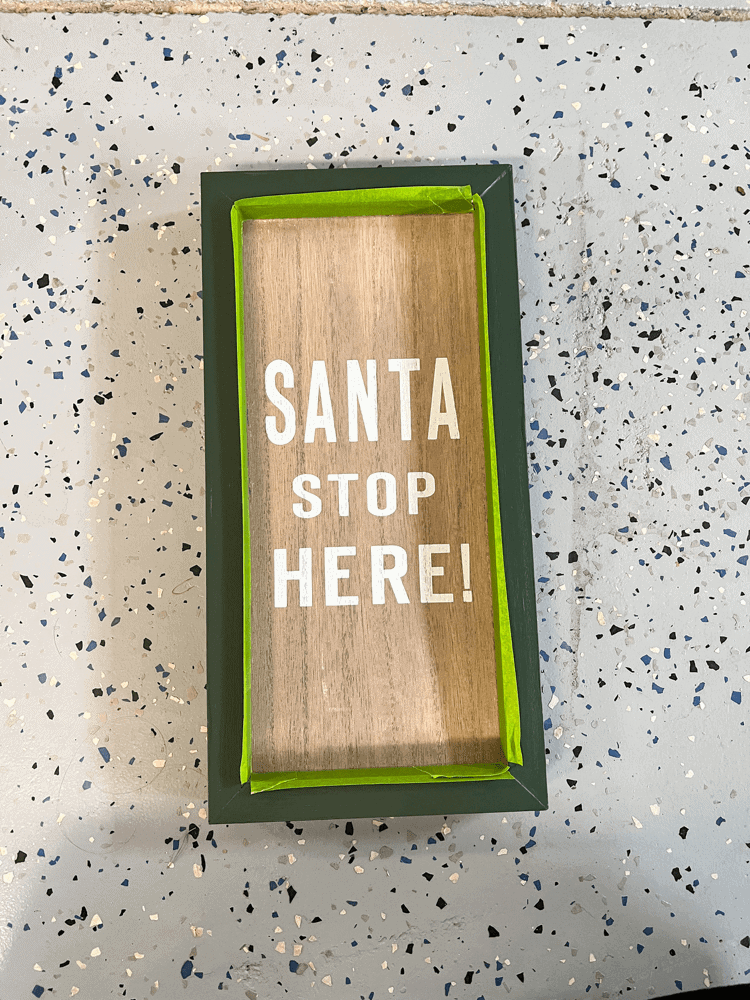 Creating the Christmas Vacation Vinyl
I used Cricut Design Space to come up with my design. I just used some of the free fonts and images they have available in the Cricut access library. The car with the Christmas tree tied to the top of it was one of the images I got from there as well.
You can also search on Etsy for free Christmas SVG files or Christmas Vacation SVGs too. Etsy is a great place to search for them. These are digital files that you can instant download onto your computer and then upload them into the Cricut Design Space as well.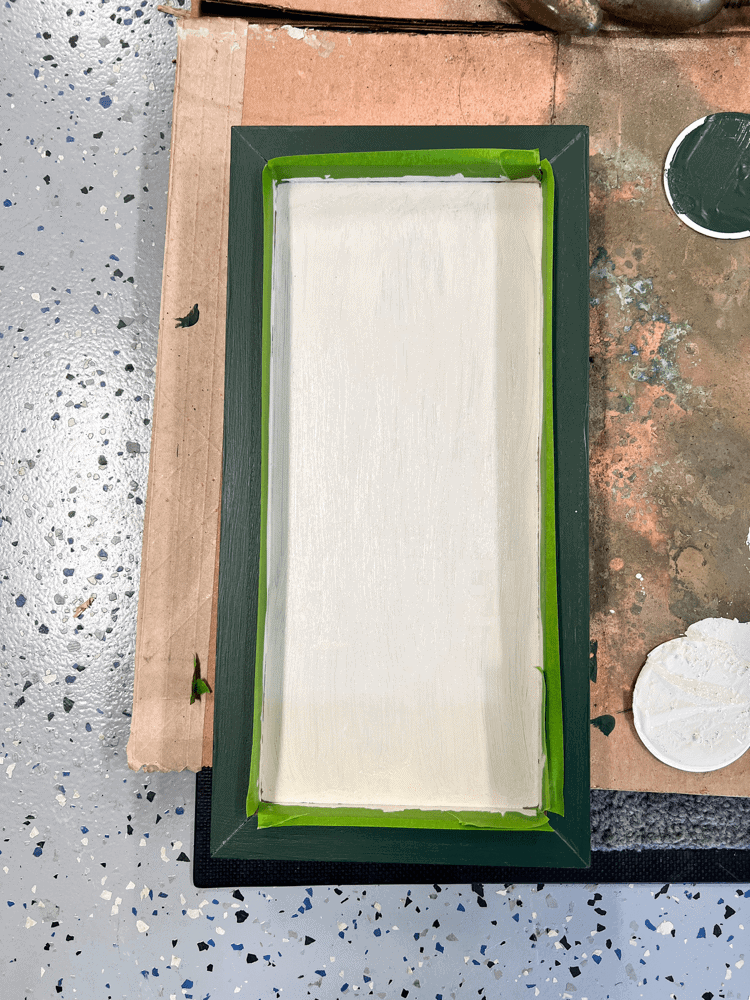 You may get lucky and find a few free SVGs, but if you're wanting a specific one, like Clark Griswold Christmas Vacation, you may have to pay an additional cost for them.
Now to create the vinyl, you will need different colors of permanent vinyl for this project. You don't need the iron-on vinyl or heat transfer vinyl unless you were wanting to create a shirt, tea towel or tote bags instead. For that process you would need the Cricut Easypress machine too.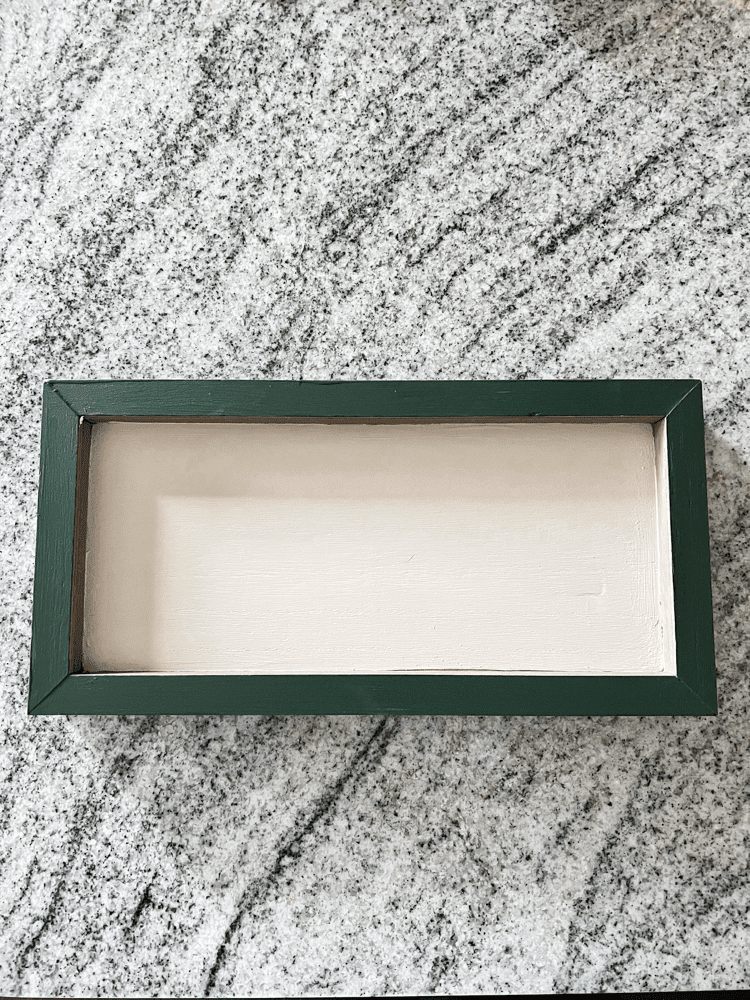 Attaching the Vinyl to the Christmas Vacation Sign
But no worries, we won't be using that, just the regular adhesive vinyl for this. Once my design was ready in design space, I printed it out on my Cricut Explore Air 2 machine.
This really is such an amazing cutting machine. It cuts out the vinyl design flawlessly and has turned me into a huge Cricut lover! Once it is printed, I removed the excess vinyl using the weeder tool.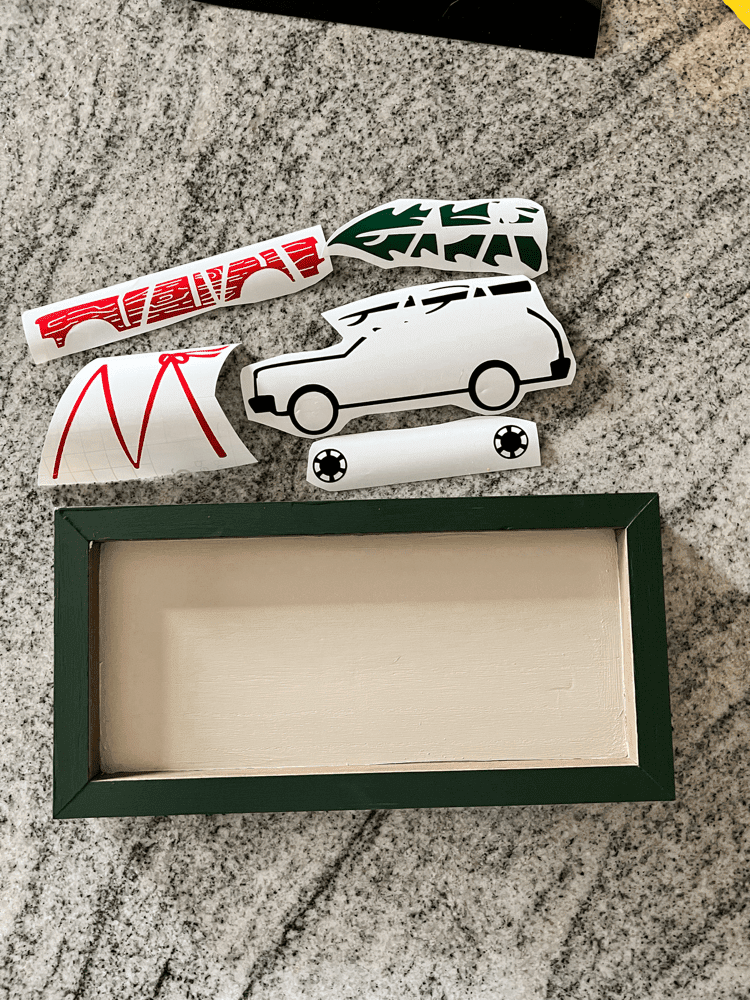 Once you have the vinyl ready, use transfer tape to adhere to the vinyl. You can use a Cricut scraper tool or a credit card to scrape the transfer tape onto the vinyl.
You want to make sure all of the vinyl sticks so you can definitely use some force here. Carefully peel the backing away from the vinyl. I like to use a slow, diagonal motion for this process.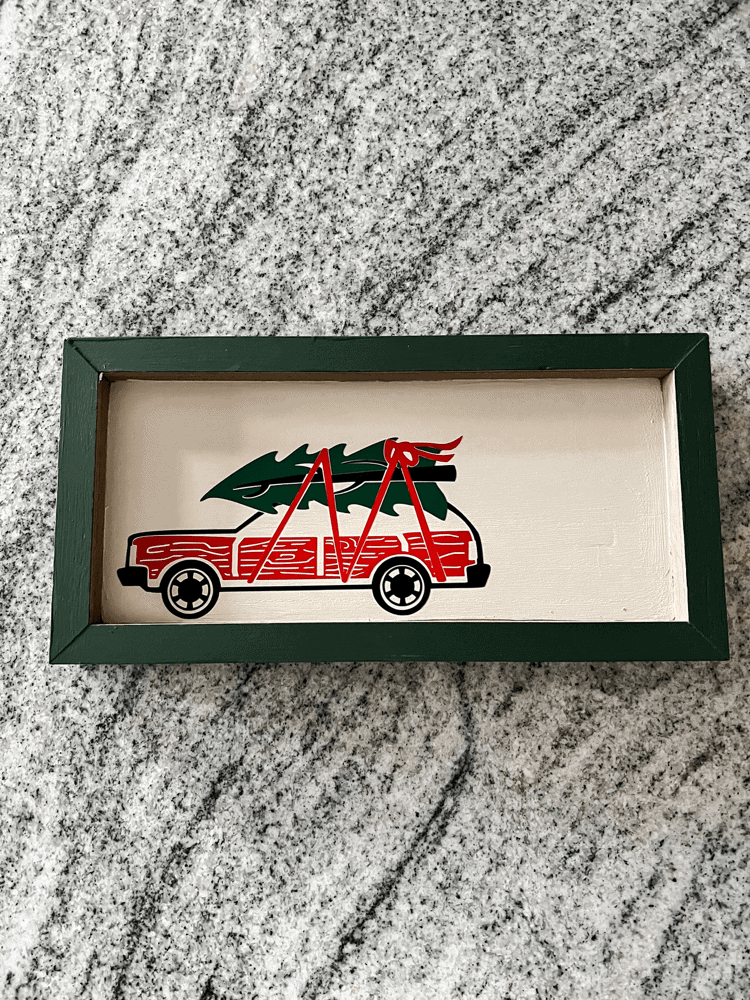 Then, once all the vinyl is on the transfer tape, place it on your sign where you want it. And again, scrape the vinyl onto the side with some force.
Then carefully peel the transfer tape away from the vinyl, leaving it securely placed on the Christmas sign! I did the car with the Christmas tree on the left hand side of the sign, and then the saying on the right hand side to balance it out.
I also recommend that you measure everything before printing your vinyl out. That way you know it will fit on your sign. There's nothing worse than printing out a vinyl design on your Cricut machine and realizing it's too big for your project!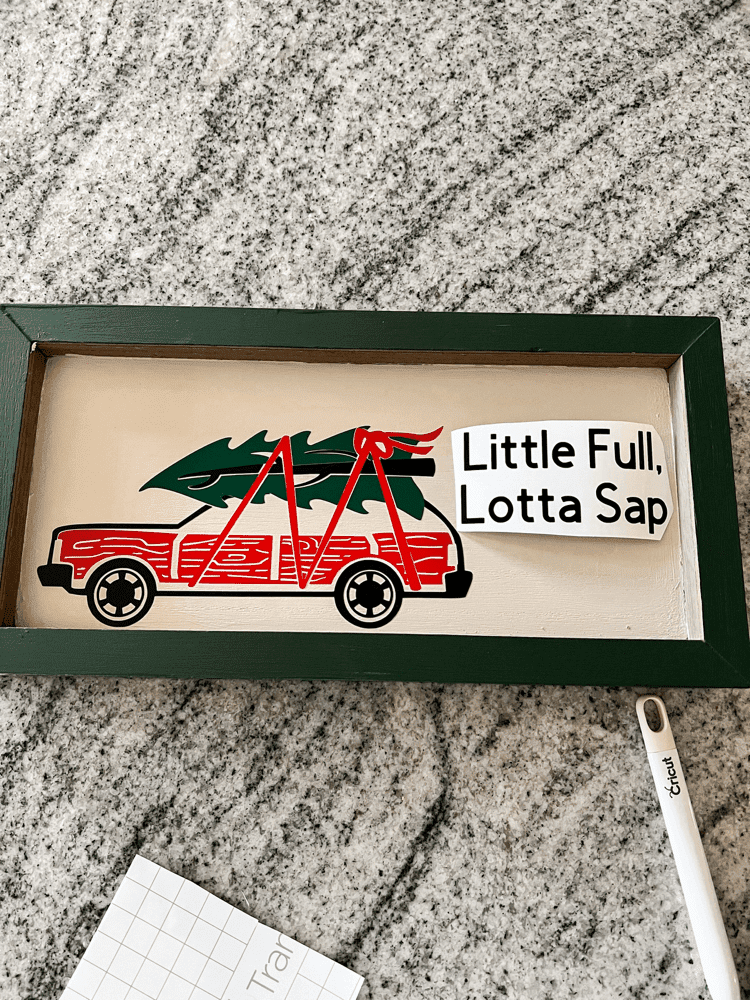 Styling the Christmas Vacation Sign
And that's it! How easy was that?! If you don't want to style this cute sign in your own home, wouldn't this make a beautiful handmade gift for someone too?!
Christmas time is my absolute favorite because I think it just unlocks a craftier side to me. I am constantly coming up with Cricut projects and custom decorations to use for this time of the year.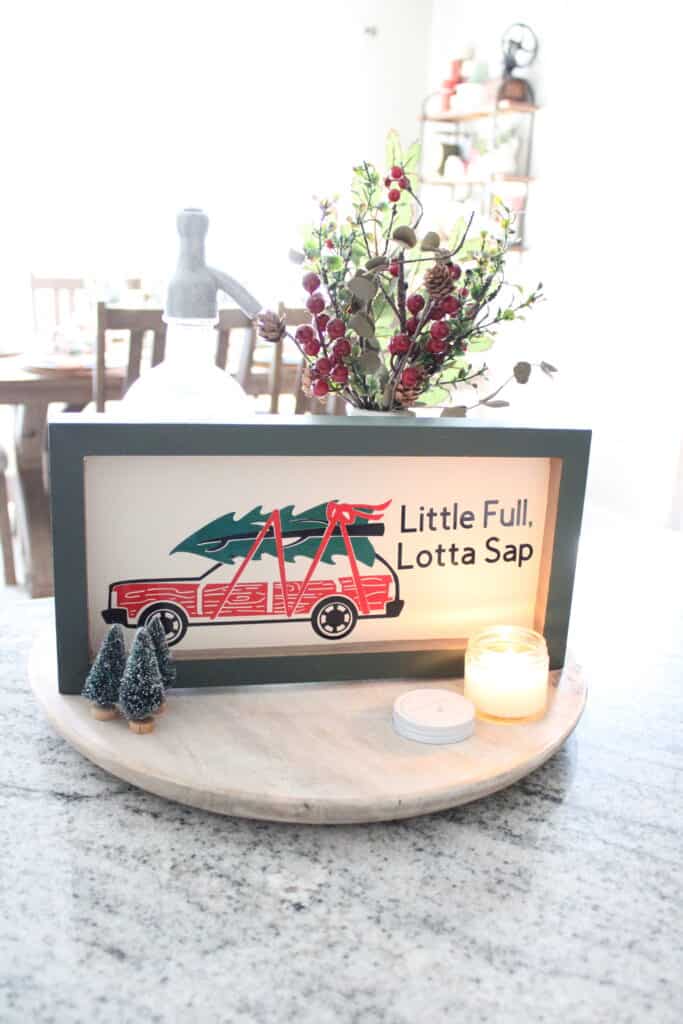 If you've been on the fence about getting your own Cricut machine, you definitely should! As you can see here, it can create such cute Cricut Christmas crafts. But even more as well!
Like custom shirts, Christmas ornaments, gift tags, and more! And y'all know I have shared several Christmas Cricut projects with you in the past as well. Such as this similar DIY Reversible Christmas Sign I made last year too.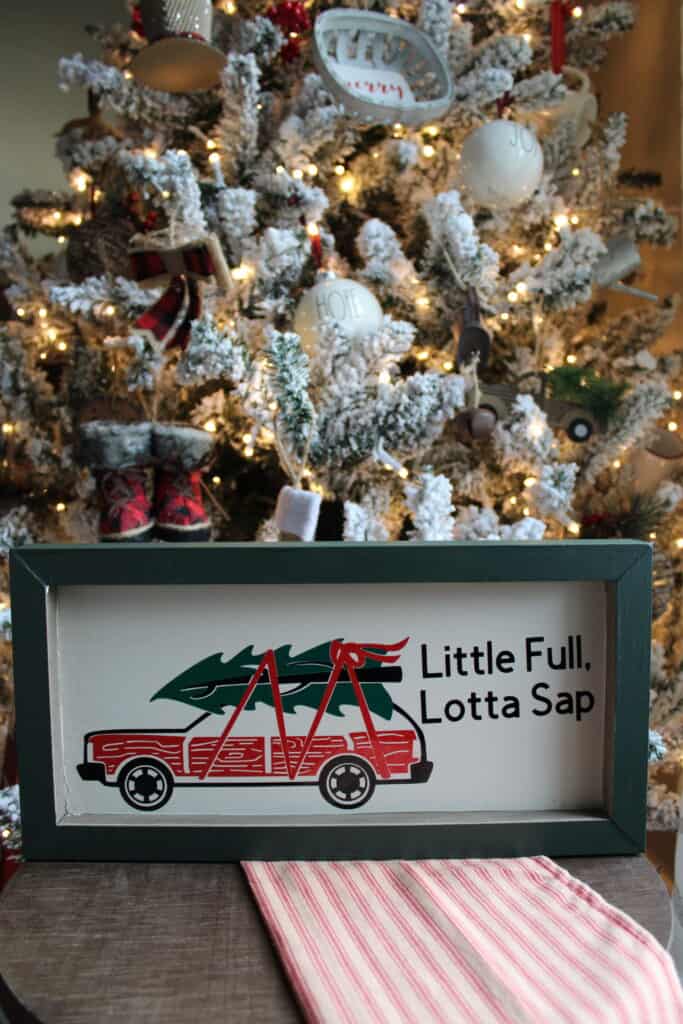 Be sure to check that one out if you're looking for even more ideas. And I hope you enjoyed this National Lampoon's Christmas Vacation Sign tutorial.
If you make something similar, let me know! I would love to see it. And hopefully this gave you a little bit of inspiration, even if Christmas Vacation isn't your favorite movie.
You could easily do something along the lines of Elf, Home Alone, The Santa Clause, etc. The possibilities are completely endless and it is a great way to personalize items more to your liking! There's so much you could come up with! Happy crafting my friends!