For a couple of months now, my husband and I have been using the Clean Eatz meal plan and I've got to say, we are completely obsessed! Not only do they offer a ton of healthy options, but the convenience factor is what really sold us as well! This is perfect for those who have a busy lifestyle and don't have a lot of time to meal prep.
I figured I would share our complete Clean Eatz meal plan review with you all today. That way you can see what it is all about too and decide whether or not it is right for you as well.
Honestly, I don't see how you couldn't love Clean Eatz and I am here to tell you just why! Keep on reading to see all the amazing benefits to this meal plan service!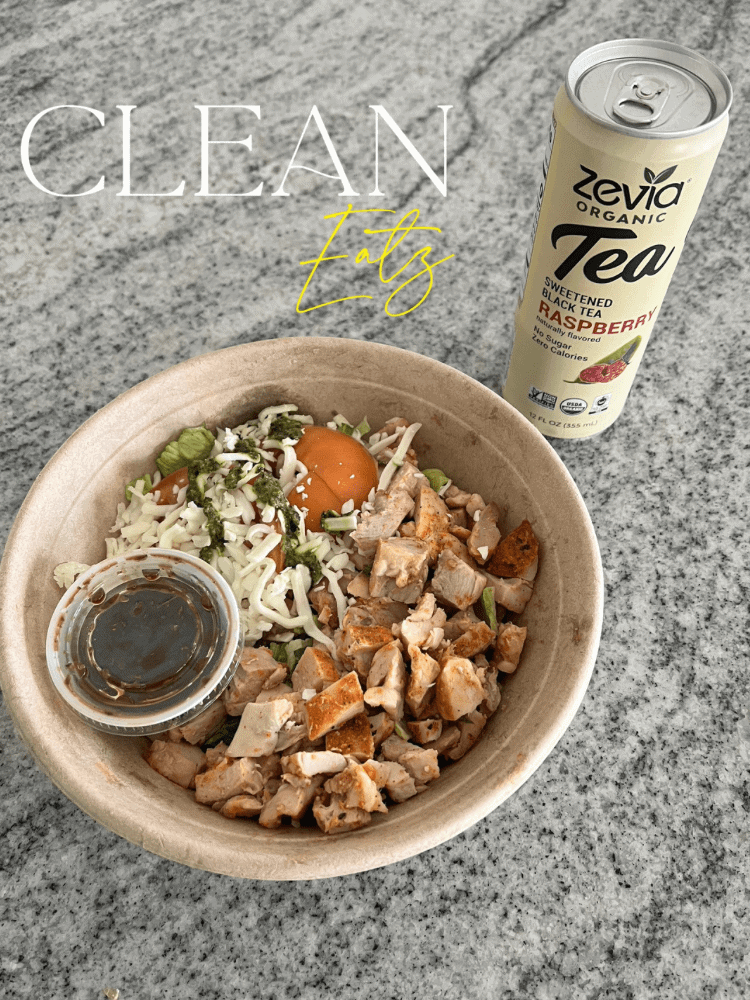 What Is Clean Eatz?
You may first of all be wondering what is Clean Eatz? Especially if you never heard of them before. I wasn't too sure how it worked either when I first went to their store. Basically, Clean Eatz is a restaurant chain, but they do offer meal planning services for you as well.
They always have a super friendly staff there to help you navigate the store too. Their in store cafe is usually open 5-6 days a week, with Sunday being just a meal prep pick up day only. But, if you choose to do the meal delivery service, you need to order online ahead of time before picking it up. I will explain more on that later.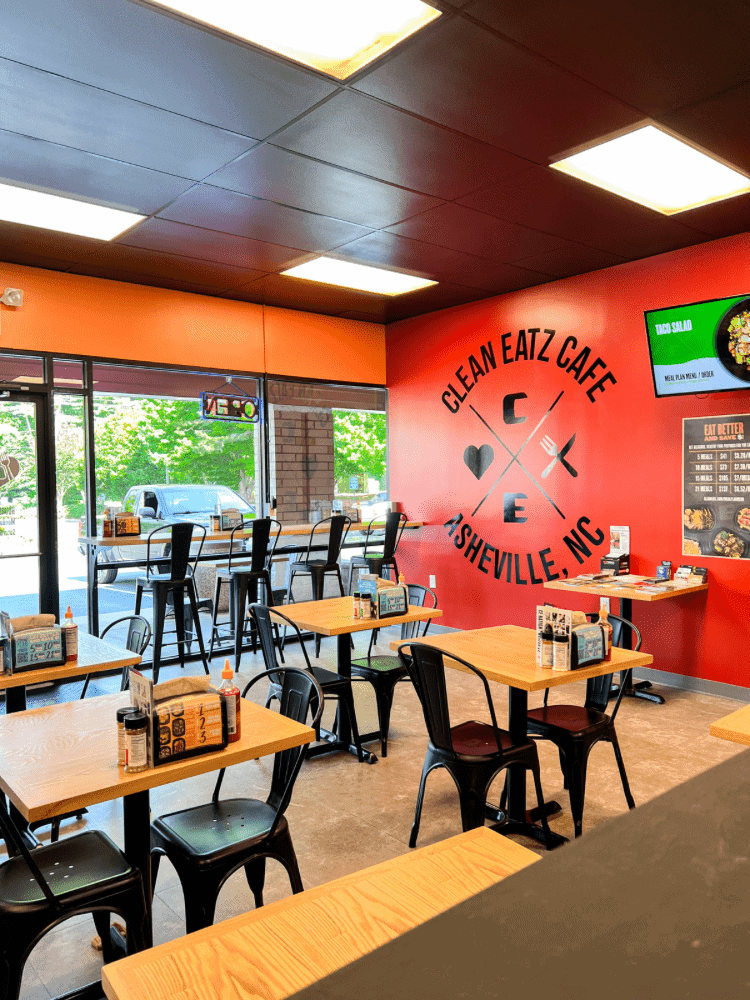 In the store, they have a ton of healthy food to offer. Not only does the current menu in the cafe change often, but they do offer many snacks a la carte too. And let me tell you, you've gotta try their peanut butter buckeyes! They come in white chocolate and dark chocolate, but the white chocolate ones are my favorite!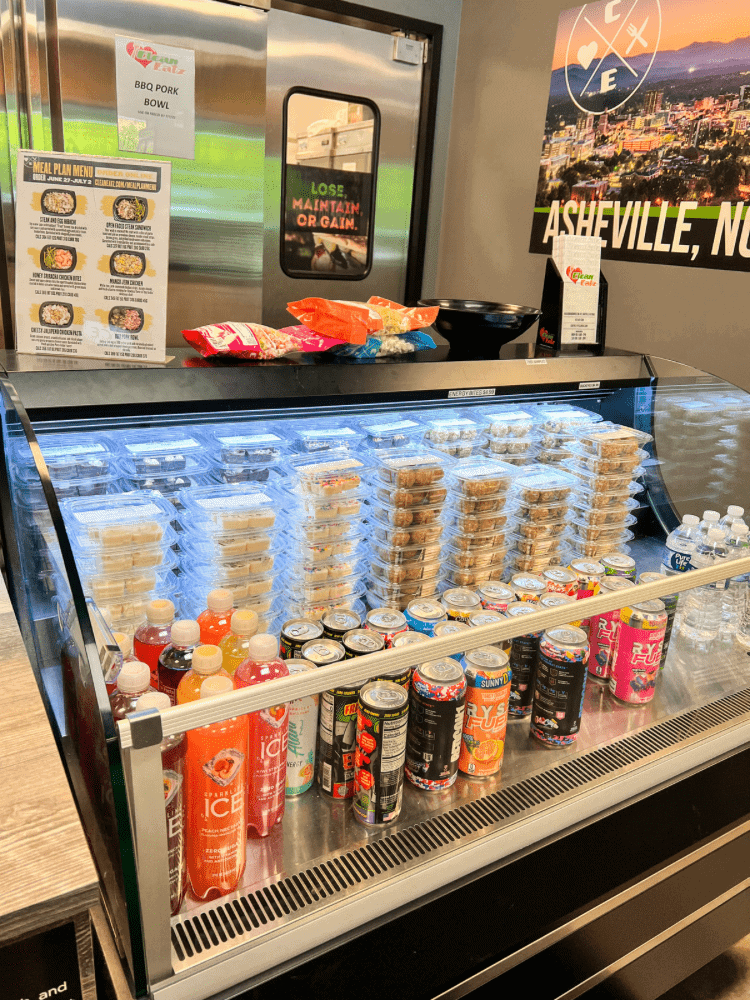 And, their chex mix snacks and fudge options are so tasty and yummy too. We love having these snacks on hand because they help us stick to our healthy diet, and still satisfy our sweet tooth too.
The chex mix snacks are perfect by the pool or beach too! We brought them along with us to our Isle of Palms trip. And I felt better snacking on these instead of a bag of chips, knowing the ingredients were all clean and good for me!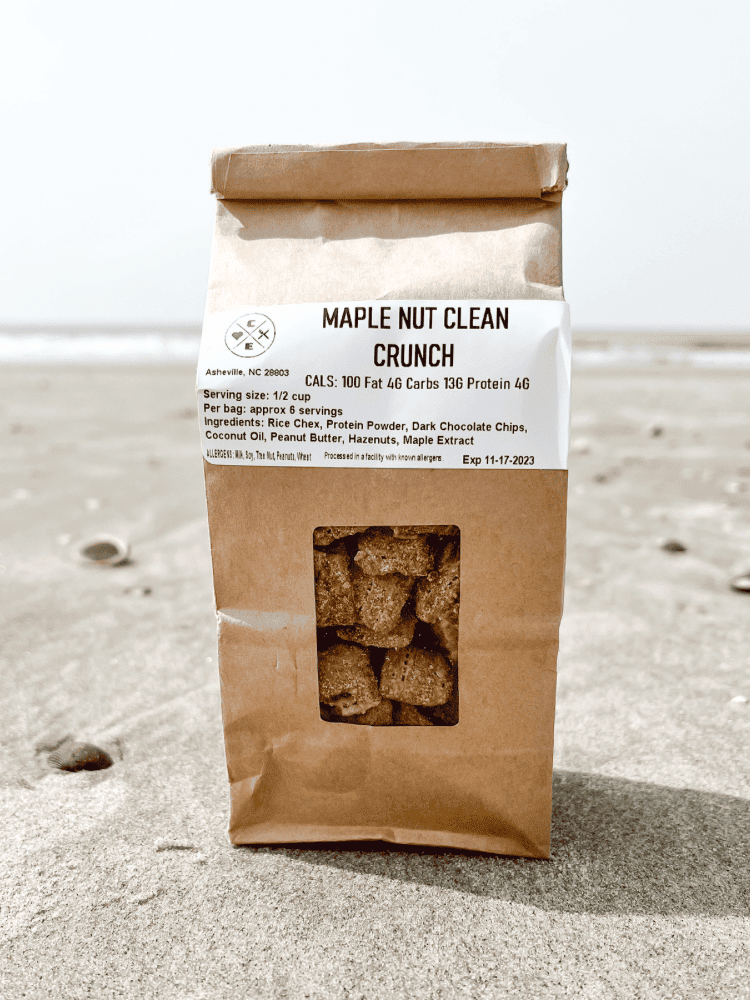 How Do I Order Clean Eatz Meal Preps?
The process of ordering Clean Eatz meals is actually quite simple. I was kinda intimidated at first because I didn't know how to go about it. But, I am here to walk you through it and show you just how easy it is!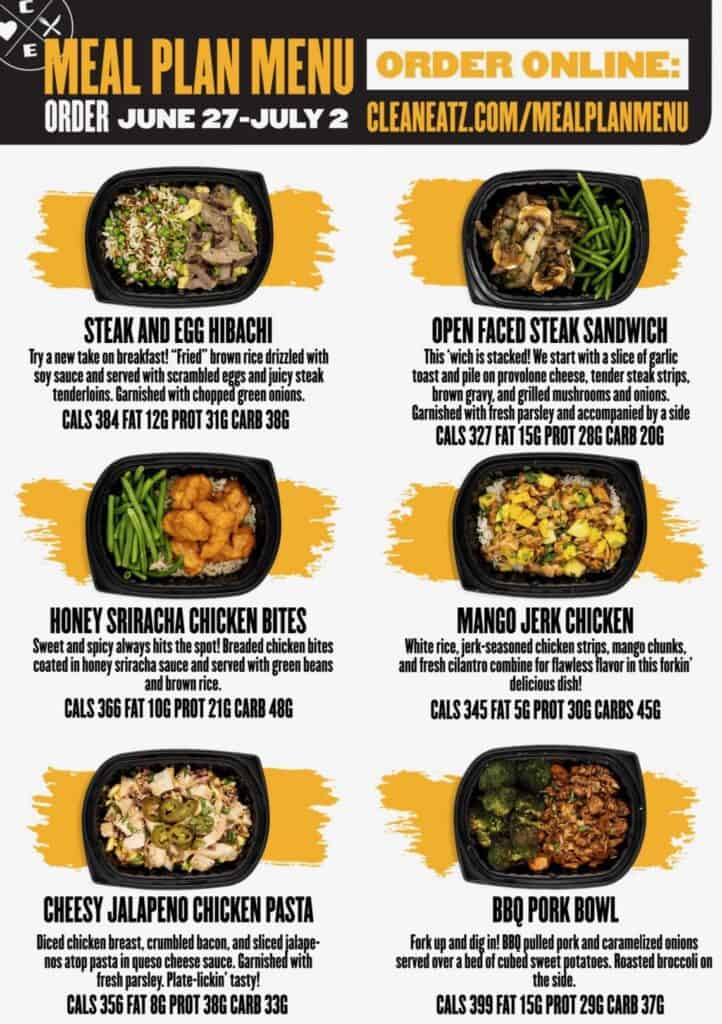 First, go on their website and place your order between Tuesday-Sunday. You have the option to go ahead and pay online or just pay when you pick up your meals in the store. You will see all the different meals listed out as well as the nutritional value for each one too. They also offer pizzas and salads for an additional cost, if you want to add that to your meal plan for the week as well. And let me tell you, the cauliflower pizzas are absolutely delicious!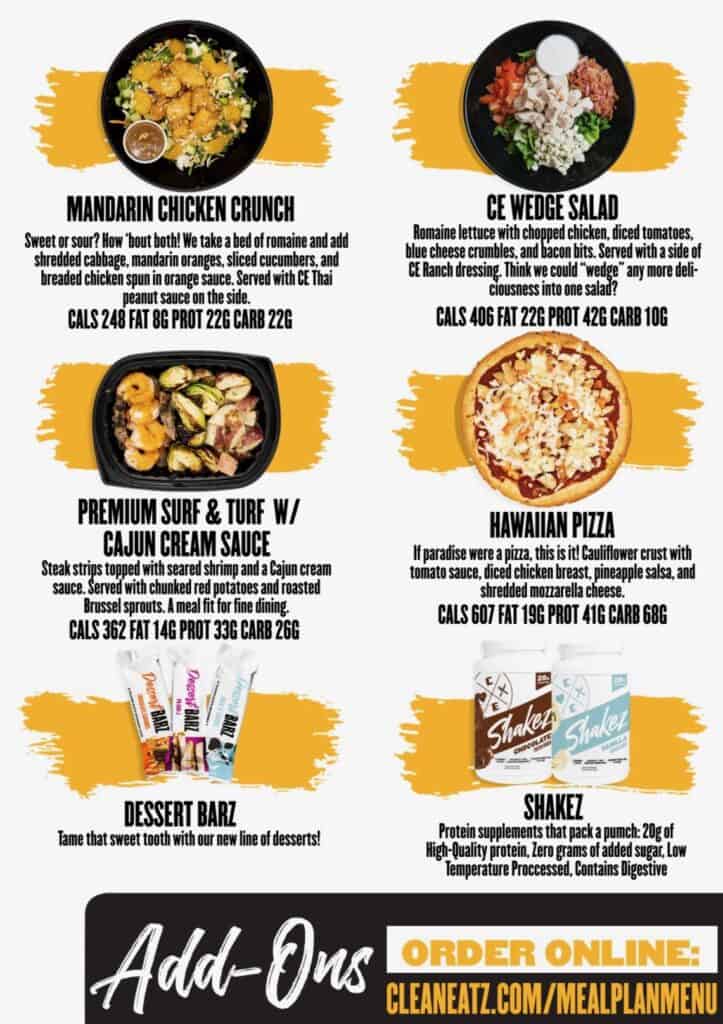 Then, pick up your meals between Sunday-Monday (or whenever your local cafe is open for pickup. Be sure to check the hours as every store is different. My store is located in Asheville, North Carolina and these are their specific pick up times.)
Finally, be sure to eat your meals by Friday, or place additional meals you have in the freezer for up to six months.
Clean Eatz FAQs
I figured I would also share a FAQ below with some of the most common questions I get about the Clean Eatz meal plan. And, if you don't see your question below, please ask me in the comment section or email me, I'd be happy to further assist you too!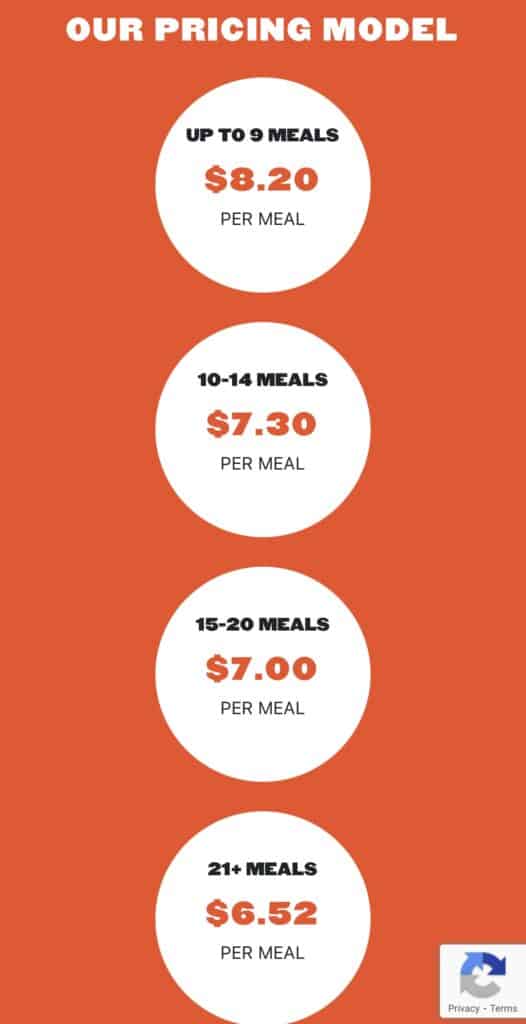 Are Clean Eatz Meals Frozen?
​As I mentioned above, you do have the option of going in store to pick up some frozen Clean Eatz meals as well. You don't have to just do the meal prep services. Also, you can have the meal prep meals delivered to you if you do not have a Clean Eatz store nearby. If that is the case, those meals will come to your door frozen.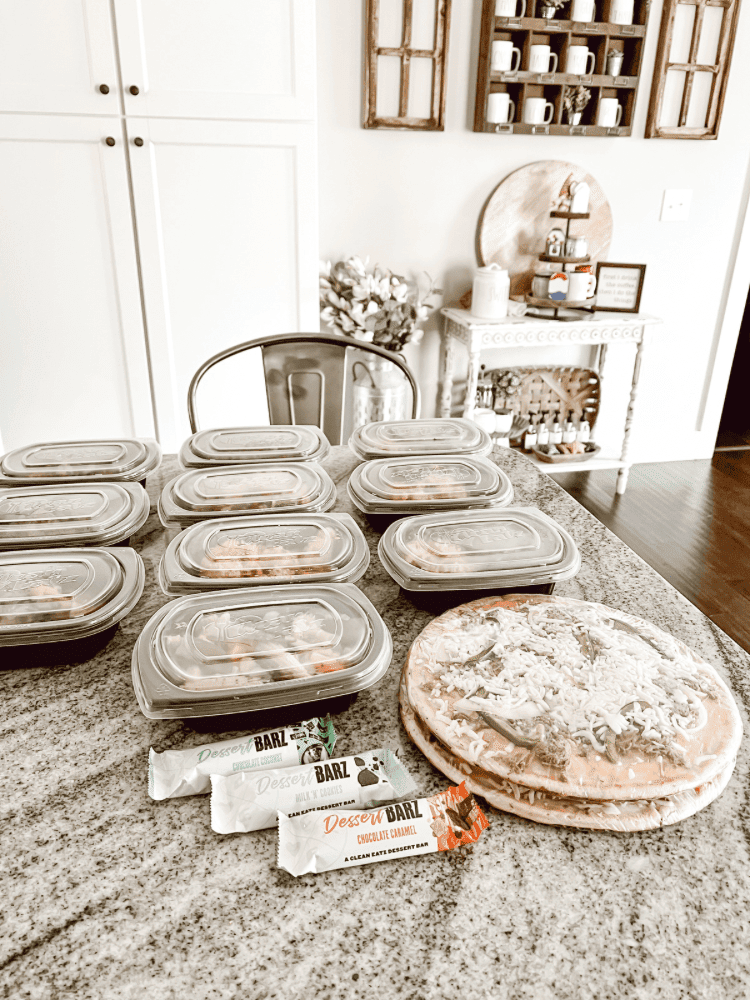 ​How Long Does Clean Eatz Last?
If you pick up the meal preps, it is recommended to enjoy those fresh within five days. After that, you can freeze them! So no worries if you don't get to eat all the ones you purchased for the following week! Just pop them in the freezer, since they are already in a freezer safe container, and they will last for an additional six months!
How Can I Heat Up My Clean Eatz Meals?
All you need to do is pop a corner of your container and throw it in the microwave for 2 minutes! If it isn't warm enough for you, just continue to heat in 30 second intervals, checking in between.
Obviously, if you get one of their salads, no need to heat it up! Just be sure to eat it within 3 days of picking your meal preps up to retain freshness.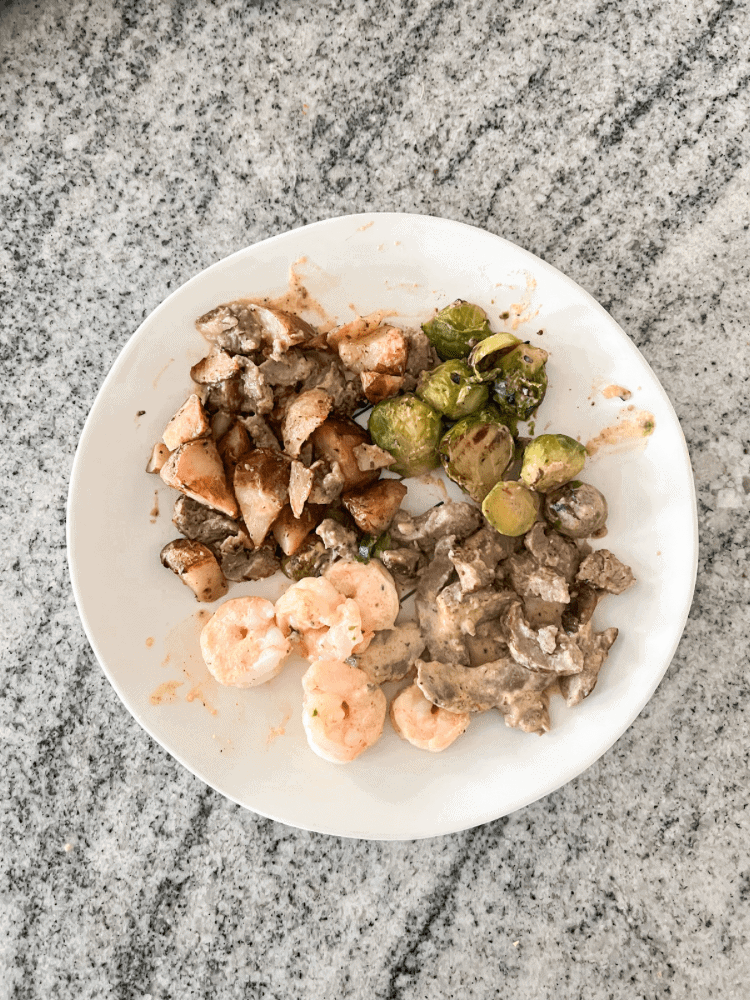 Be sure to let the meal sit for a minute or two to cool before enjoying. If you are heating a frozen meal up, no need to thaw beforehand. Just pop it in the microwave for 3-4 minutes instead.
You can also heat meals up in an oven, skillet, or an air fryer. Be sure to remove the meal and place it in an oven safe container if you are using that method.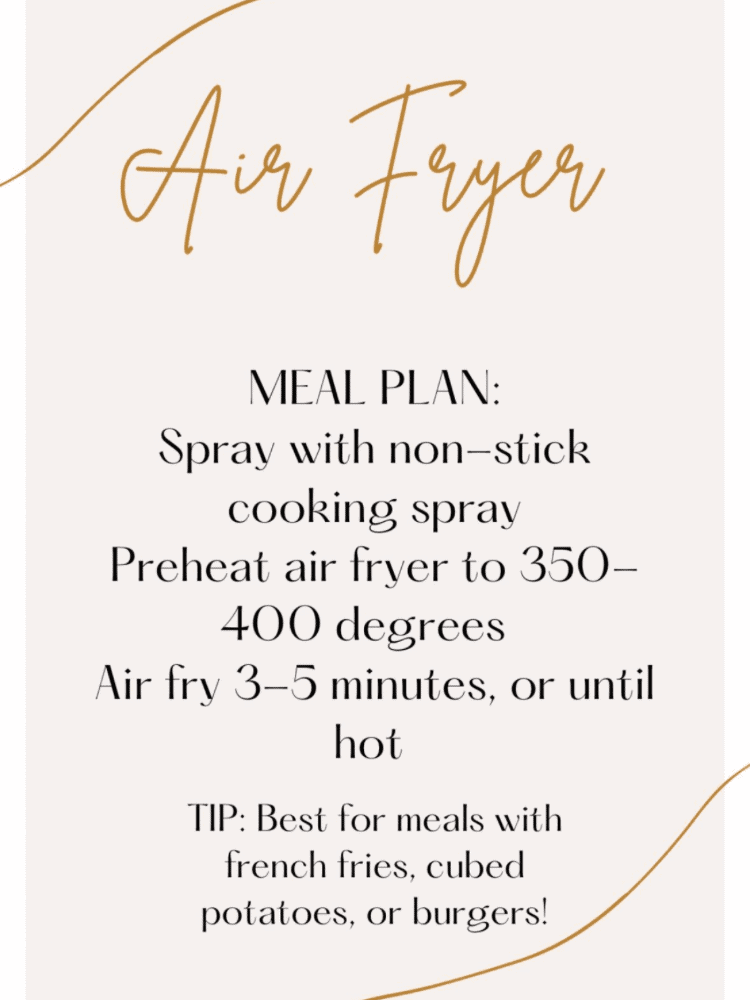 And, to heat up cauliflower crust pizzas, preheat oven to 400 degrees and place pizza in the oven for 7-9 minutes. Let cool and enjoy!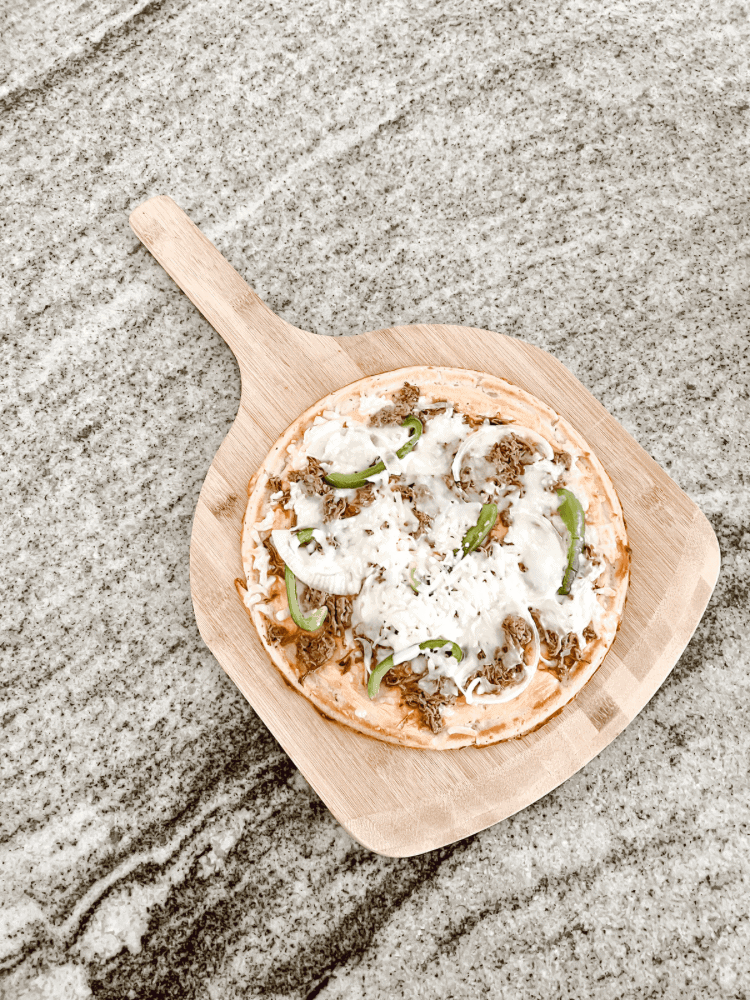 Has Anyone Lost Weight With Clean Eatz?
Personally speaking, my husband and I have seen some weight loss with Clean Eatz! We were trying to do more healthy eating before we left for the beach this year, and the Clean Eatz meal plan definitely helped us loose a few pounds before our trip! 
Can You Still Order Clean Eatz Meals With Dietary Restrictions?
If you need special requests to your meals such as, low carb or extra protein, they will definitely do that for you! You just have to select the special request option on the page after choosing your meals and quantities. That way you can choose which meals have a better balance of protein for you. And, if you have any other dietary restrictions, they do have a special page where they offer Custom Meal Plans. So be sure to check that out as well!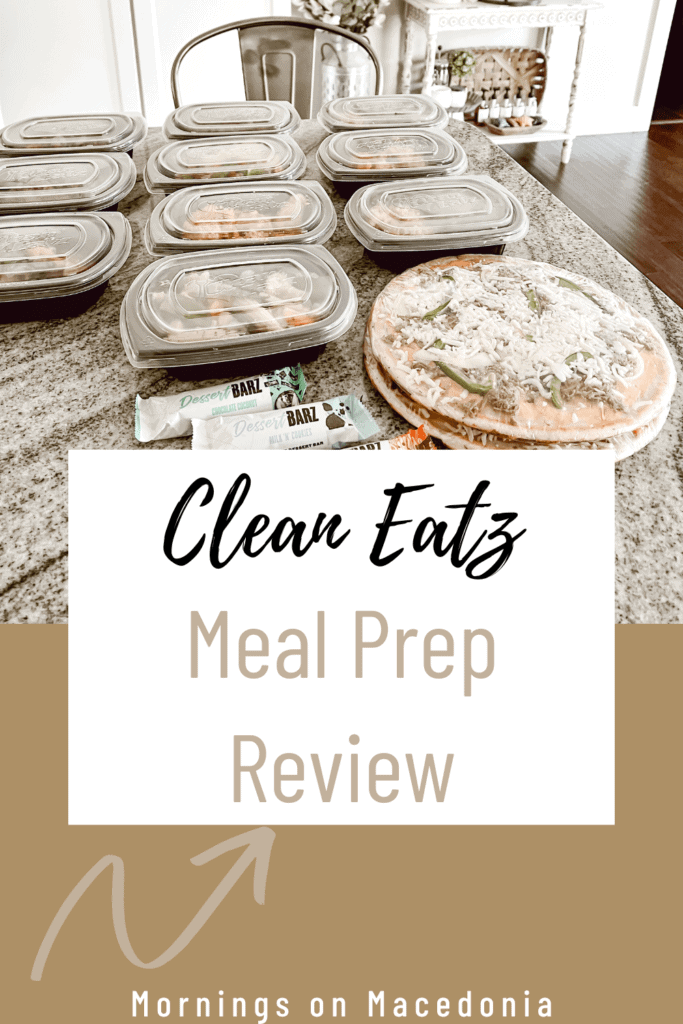 Why Should You Order Clean Eatz?
If all of the reasons above doesn't convince you to try out Clean Eatz, I don't know what will! These healthy meals have been such a game changer for us, and I feel so much better when I eat clean and nutritious like this.
And Clean Eatz offers such an easy and convenient way to do so! I love how their menu changes every week by their personal chef, that way you don't feel like you are eating the same thing over and over. I know in the past when we have tried to diet or eat healthy, we easily get stuck in the rut of eating the same thing over and over.
But, with Clean Eatz meal plan, you can get a variety of nutritious meals to help you reach your specific goals easily and effectively! And by doing this, we have saved a ton of money from going to the grocery store to just ordering Clean Eatz instead. 
I highly recommend that y'all try them out and please let me know if you have any other questions! I'd be happy to help you out!