You know I recently just shared my top ten Christmas in July recipes, so now I figured I would share my top ten Christmas in July crafts. That way you can get a head start on some fun and easy Christmas crafts!
I'm loving this whole Christmas in July series, because if you haven't figured it out by now, Christmas is my favorite!
I tend to go all out during the Christmas season and all the sparkly, twinkly lights make everything feel so cozy and definitely gets you on the holiday spirit. Some of these crafts below can make for some great Christmas gifts too.
So not only can you get ahead on your Christmas crafting, but your Christmas gifting too. What better way to beat the summer heat than to stay indoors and Christmas craft?! Am I right or what?!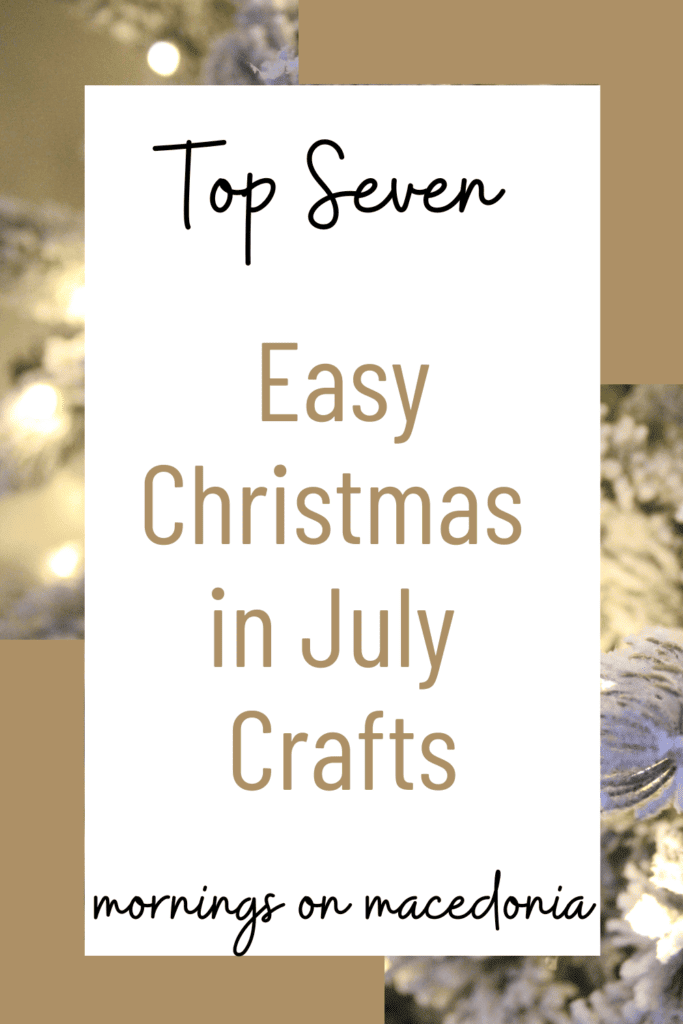 This post contains affiliate links. Click here to read my full disclosure policy.
1. Salt Dough Ornaments
Okay obviously, who doesn't love making their own Christmas ornaments?! I know I sure do and that's why these salt dough ornaments are number 1 on my list! It definitely gets you in the Christmas spirit making these cute ornaments and now is the perfect time to make them.
You could go ahead and get them all done for the upcoming holiday season. Turn on a Christmas movie in the background and get to making these fun ornaments!
I use my cookie cutters to create the shapes for these so you have anywhere from reindeer ornaments to Santa hats!
Kids of all ages would love doing this Christmas in July craft too! They are so easy and a fun way to bring in some Christmas cheer this time of the year!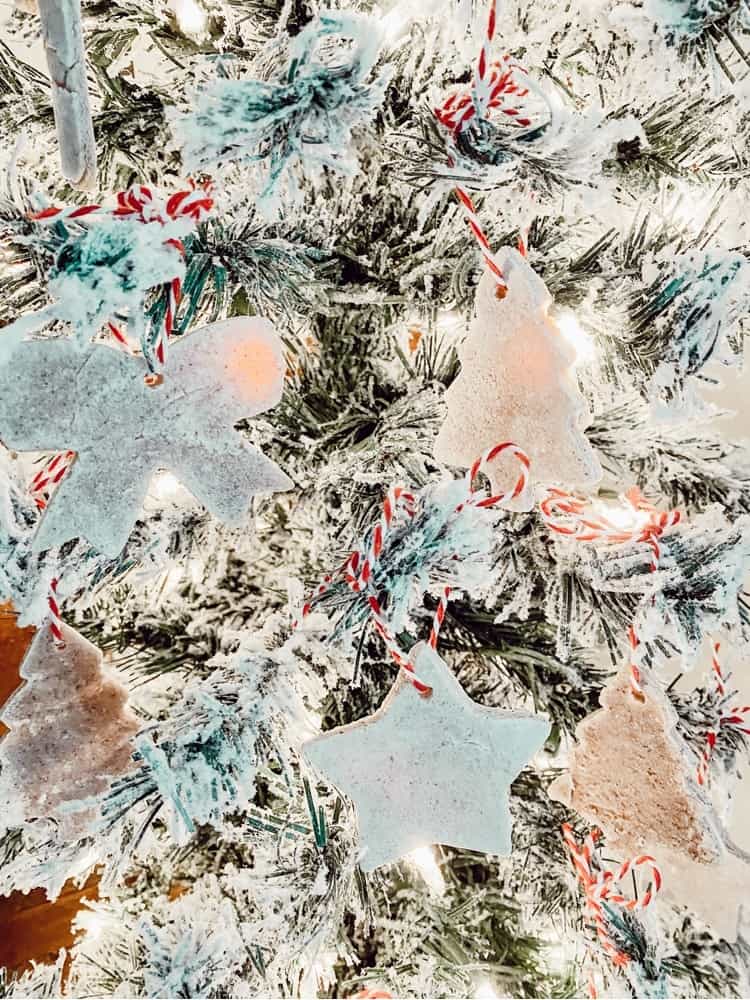 2. DIY Snow Globes
These easy DIY snow globes are actually made from repurposing an old candle jar! Y'all know I am also obsessed with Antique Candle Co. So I have plenty of leftover and empty candle jars laying around.
​I love this craft because you can repurpose the jar into something totally new. Instead of just throwing it away! I have a hard time throwing things away y'all! I'm constantly thinking, well I could make something out of this!
And that is where this craft was born. You could also easily use some mason jars if you don't have any candle jars laying around as well. These snow globes make for the best homemade Christmas decorations too. I have them scattered around my house, on tiered trays, sitting on shelves, you name it!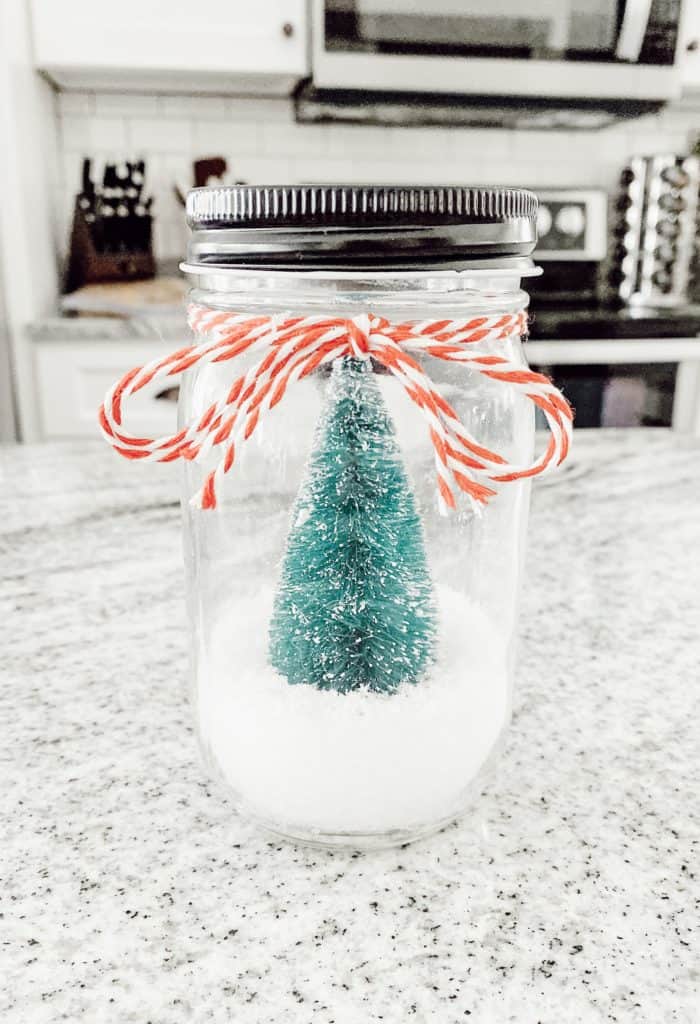 3. DIY Christmas Candle
​Like I mentioned my love for Antique Candle Co above, this next craft solely is related to them! Did you know that you can buy DIY Candle Making Kits from them? It literally comes with everything you need to make your own candle.
And you can fill your candle wax into any vessel of choosing! Search a local thrift store for all the best vintage pieces if you don't have any laying around.You could use a special family heirloom or just any old vessel you want!
I used an old brass bowl as my antique vessel to pour my candle wax in. And it turned out perfect! Did you know you can pick the scent too?! You really can't go wrong with any Antique Candle Co scent, because they are all phenomenal!
​That's the beauty of this candle making kit, it's totally customizable. And it comes with the full tutorial and instructions so you know how to perfectly pour your own candles! This would be perfect for a July party!
Grab a group of girlfriends and a few candle making kits and pour your candles together! Whether they are Christmas scents or not, you could definitely give out the finished products as Christmas gifts. These DIY candles would make a perfect gift for both a vintage and Christmas lover like myself!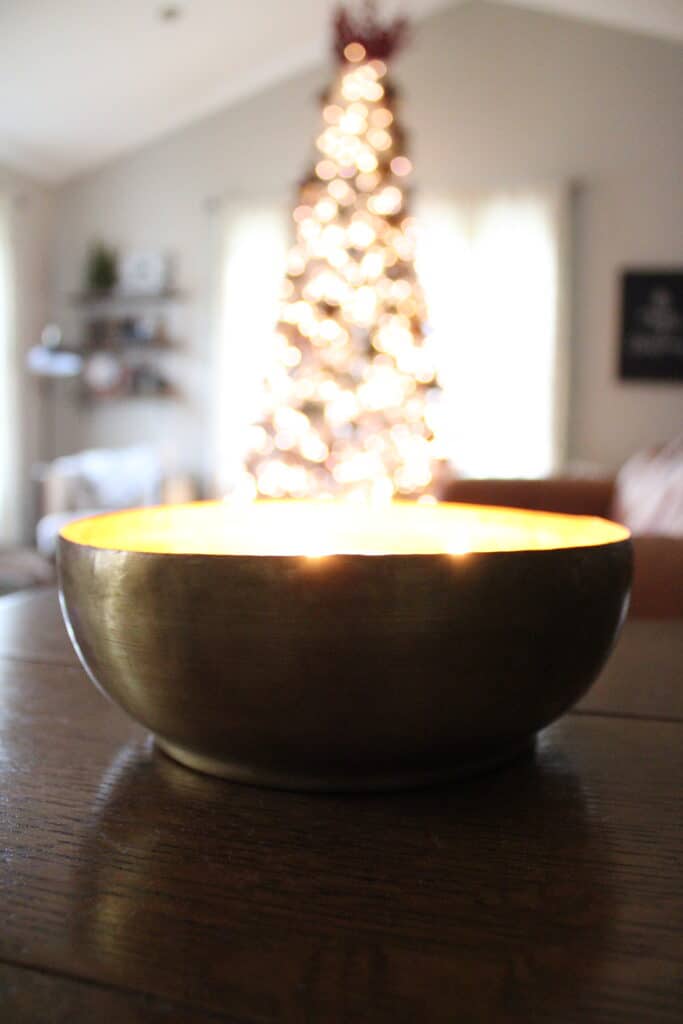 4. Vintage Christmas Card Garland
Now is the perfect time to start looking for vintage Christmas cards. If you have them on your radar now, hopefully you will be able to find enough to make this cute and easy vintage Christmas card garland before Christmastime rolls around.
Keep searching local antique and thrift stores for them. And the best part is, they are usually pretty cheap, which is always a plus! After you have enough, grab some vintage lace and attach each Christmas card onto the lace with a mini clothespin.
Then, hang up your vintage Christmas card garland in a special place in your home. Bonus points if you have old Christmas cards from your family stashed away somewhere in your house.
Now's the time to get a jump start and try to find them so you can use them for this quick and easy craft!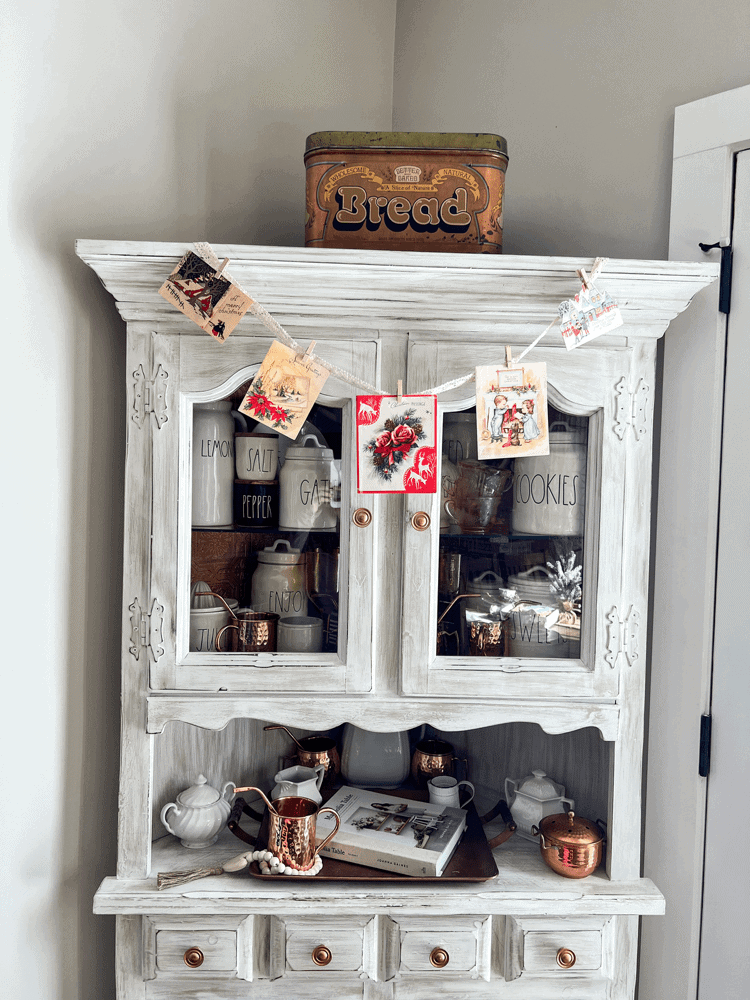 5. Christmas Cookies in a Jar
​Now here's another little Christmas in July craft that doubles both as a Christmas gift and a fun project to do. Basically, you place all of the dry ingredients to make a cookie in a mason jar. And whatever cookie recipe you want to do is totally up to you!
Then, you add in fun and festive little mix ins on top such as M&Ms, sprinkles, crushed candy canes, etc. Now for the crafting part, you can make a customized sticker for the top of the mason jar. As well as a printed instruction card on how to bake the cookies.
And don't forget to make enough to where you can try them out yourself too. Who doesn't love a little Christmas cookie magic in July?!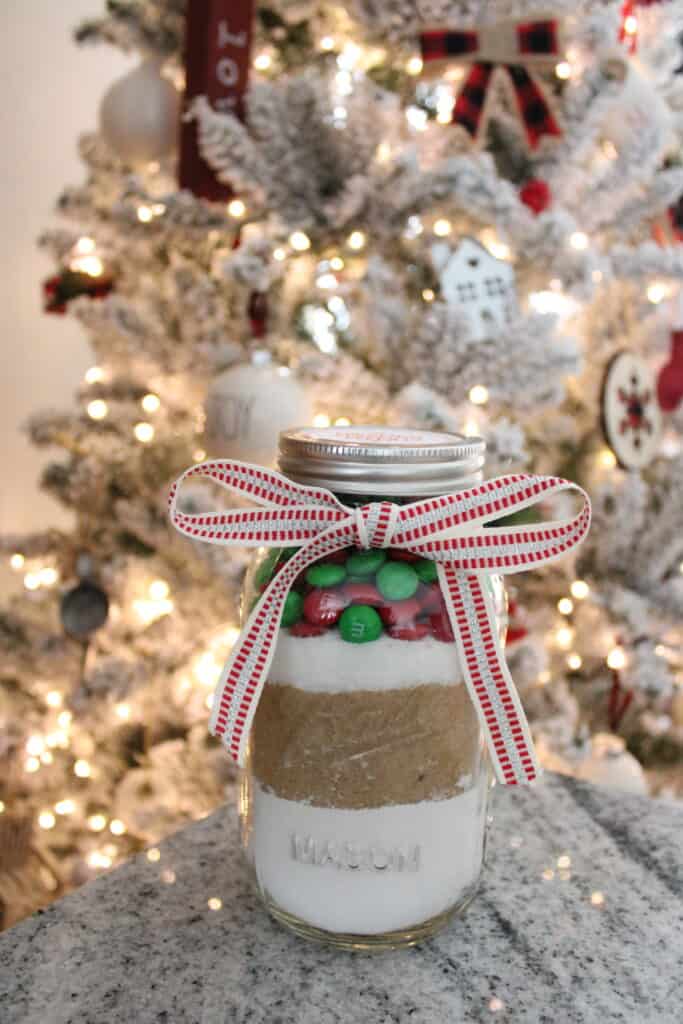 6. Personalized Gift Tags
If you're looking for some July ideas on how to get ahead of your Christmas to-do list, then definitely go ahead and make some personalized gift tags. Not only are they fun to make, but it will make Christmas wrapping during the holidays so much easier when you don't have to make the gift tags too at the same time!
I make mine in different ways. The easiest way to do it is to buy a few stamps and ink from your local craft stores. Then, grab a plain gift tag and stamp each one on the front with the design.
​When you're ready to wrap gifts, you can simply attach it to your present and write to/from on the back! How simple is that?!
I've also made a few on my Cricut machine before. But I know not everyone has that to use so the stamp option is a great one to consider!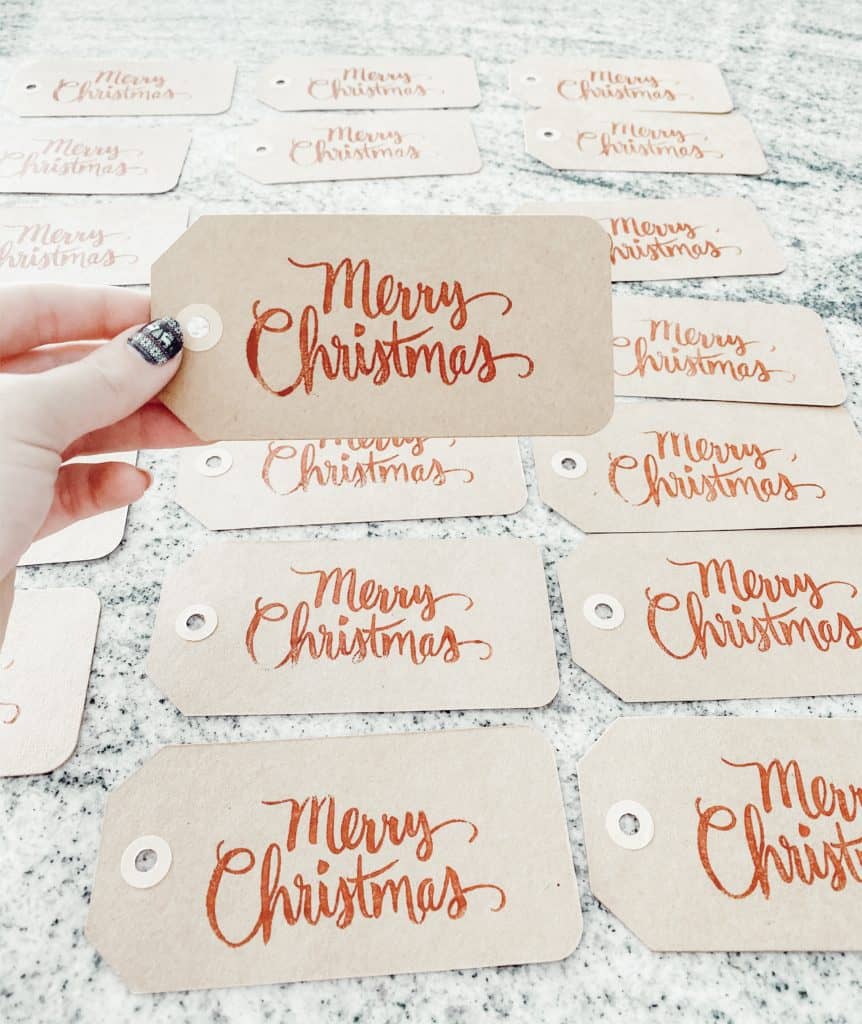 7.DIY Gingerbread Houses
​Here's another fun Christmas in July craft! Find some plain wooden houses and spruce them up using some paint and fake snow!
Pretend you're having a snowball fight outside while the sun is blazing down this time of year! It's another fun way to beat the heat right?!
To make these DIY Gingerbread Houses, I just painted them first and went back in with some puffy white paint to create an outline. And it resembles icing on a real gingerbread house too.
While the puffy paint was still wet, I dipped it into a bowl full of fake snow. And the fake snow adhered to the puffy paint, making it look just like a snow covered gingerbread house. How cute is that?!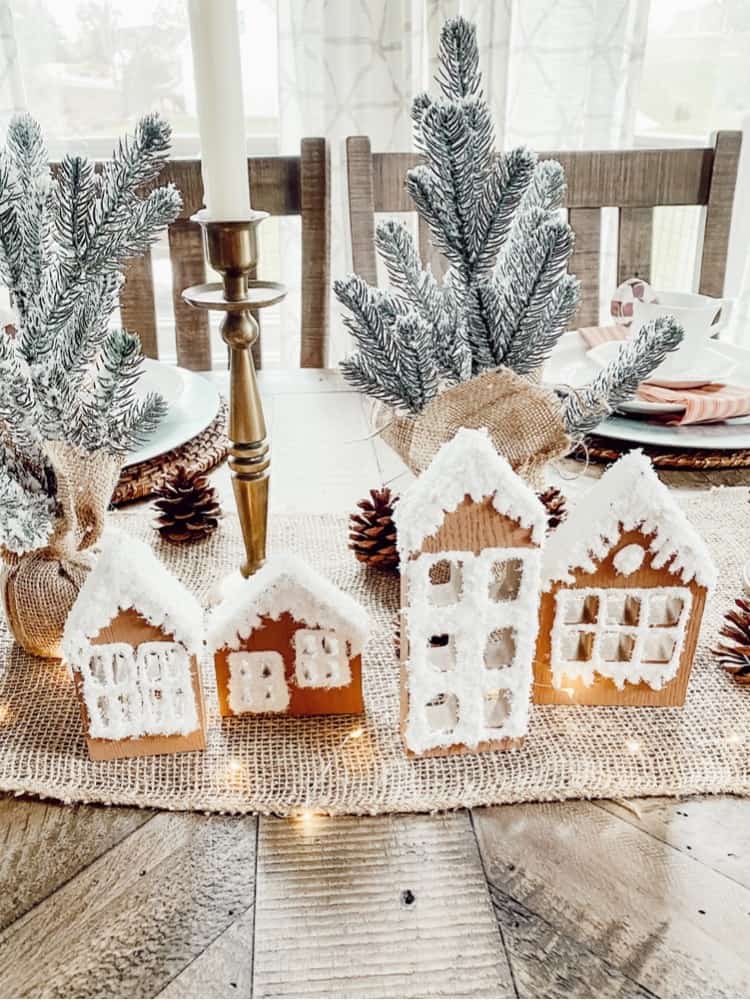 Well, I hope you enjoyed all these fun Christmas in July crafts! They are all such easy ways to spread a little Christmas cheer in the summer! 
And you know me, I am all about some easy crafts. Especially if they are seasonal! And I also love it when a craft can double and make for some great gifts as well. It's always nice to gift homemade items if you can. Plus, you have so much fun while doing it!
I hope you are also loving this Christmas in July series just as much as I am! It is definitely giving me all the inspiration and ideas for the upcoming Christmas holidays and I just can't wait!