I have already shared with y'all my Fall Home Tour, but how about I share with you all my fall camper tour today?! It's definitely not much, but I am loving the small fall touches I added to our camper this season.
I still like to decorate seasonally here too since we spend a lot of time here on the weekends!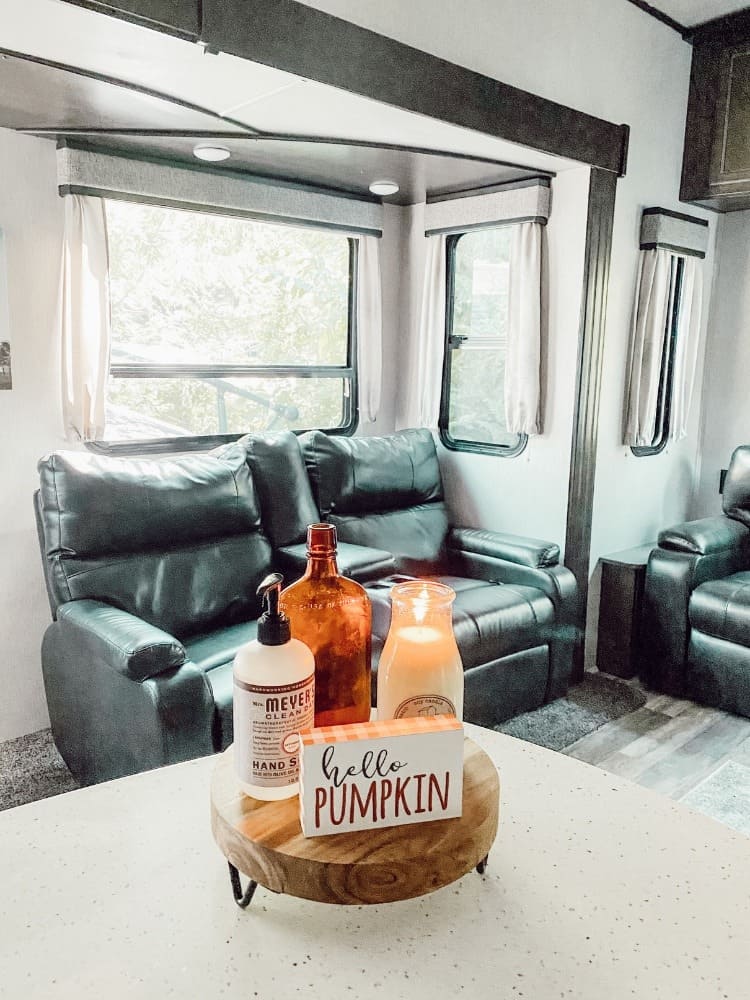 This post contains affiliate links. Click here to read my privacy policy.
Camper Dining Room
I love that the camper has a small little dining room table in it. So of course I had to style it up for fall. Just like at home, I love to add a small tablescape here.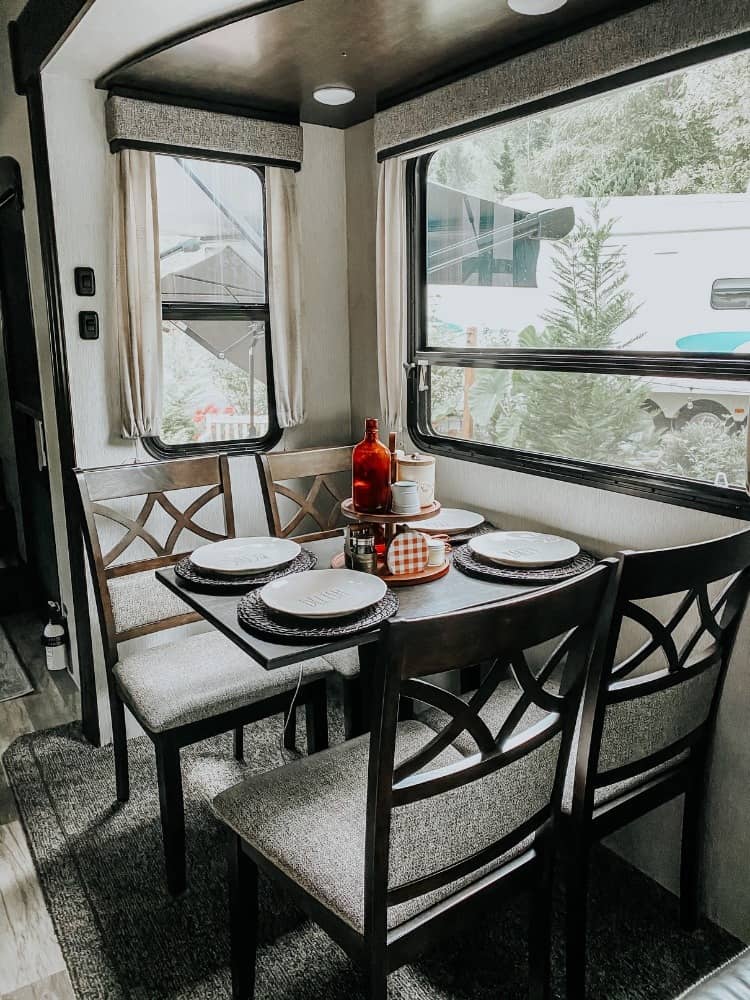 I ended up using some spare melamine Rae Dunn plates I already had at home and everything else I bought on clearance at Kirkland's!
I am loving the black chargers, they fit in so well with the whole color scheme of the camper. And that cute little tiered tray is the perfect size for a little centerpiece!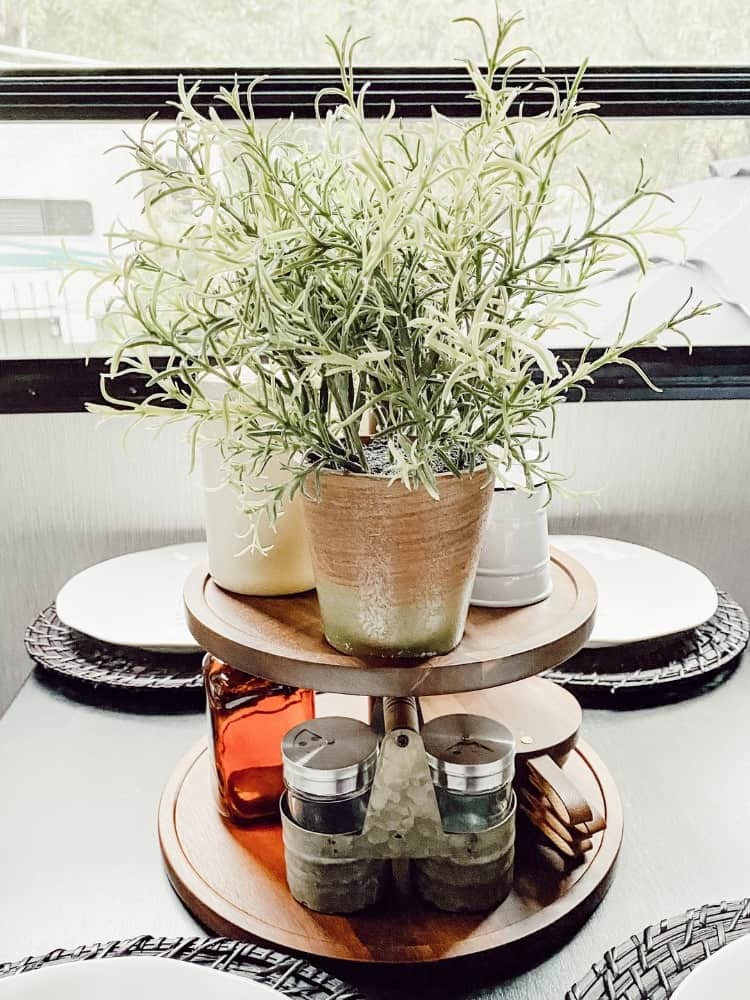 I try to keep a few practical things on the tiered tray, such as a salt and pepper shaker set. I also have a set of coasters on here so they are easy to grab and use.
I do have a few decorative pieces as well but I try to make it both pretty and functional.
Camper Kitchen
Another spot in my cozy fall camper tour, is our camper kitchen! It's not huge, but I love the look and cozy feel to this little kitchen! I also love how it has an island space to it as well.
And do you see that cute faux subway tile below too?! It's the modern farmhouse lover's dream!
I can't wait to add a few more things in here to get it exactly how I want it, but it is coming along nicely so far!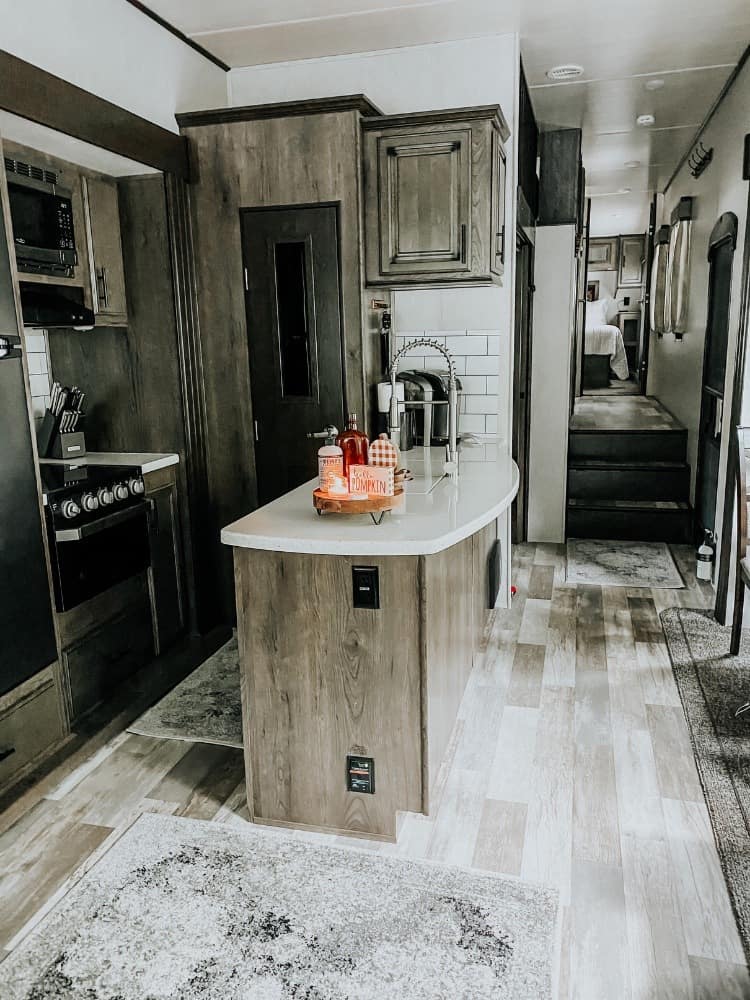 Camper Living Room
Even though it's a camper, I still try to make it super cozy for fall as well. Just like at our own home! That's why I love to add in some textured throws and pillows as you can see below.
It gives the space so much warmth and instantly makes it feel more cozy in my opinion!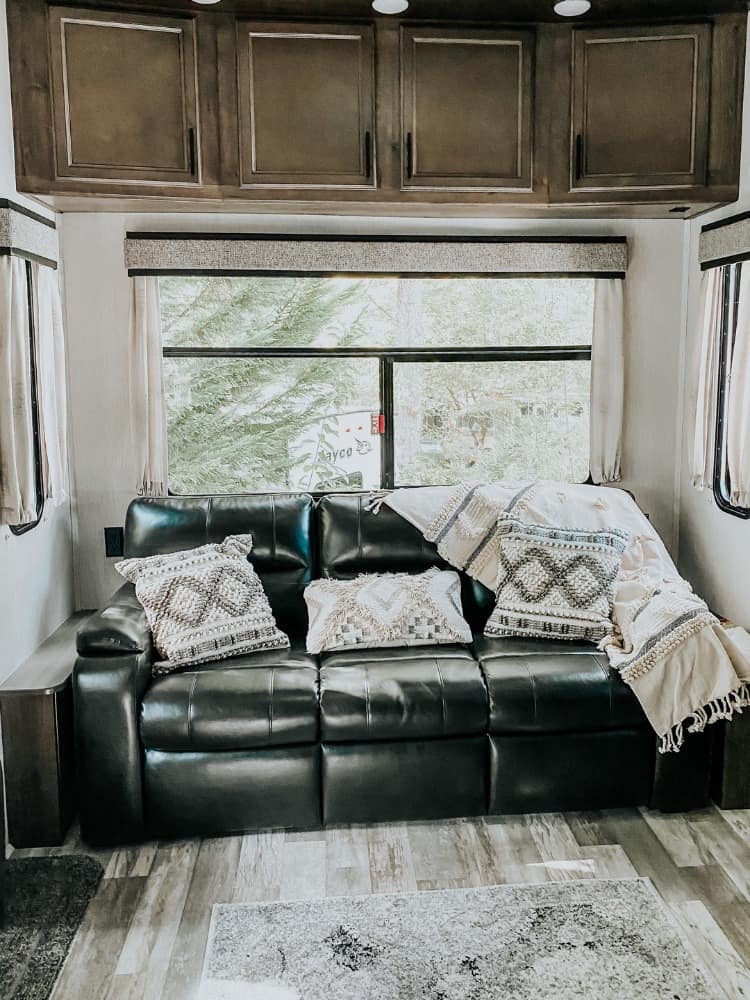 Cozy Fall Camper Bedroom
Even though the bedroom is small, I still try to make as cozy as I possibly can!
I used a cream colored comforter set to contrast against the darker colored cabinets here and I think it really brightens the space up a lot.
I also just moved the tray I had in the kitchen onto the bed for a quick little photo op as well!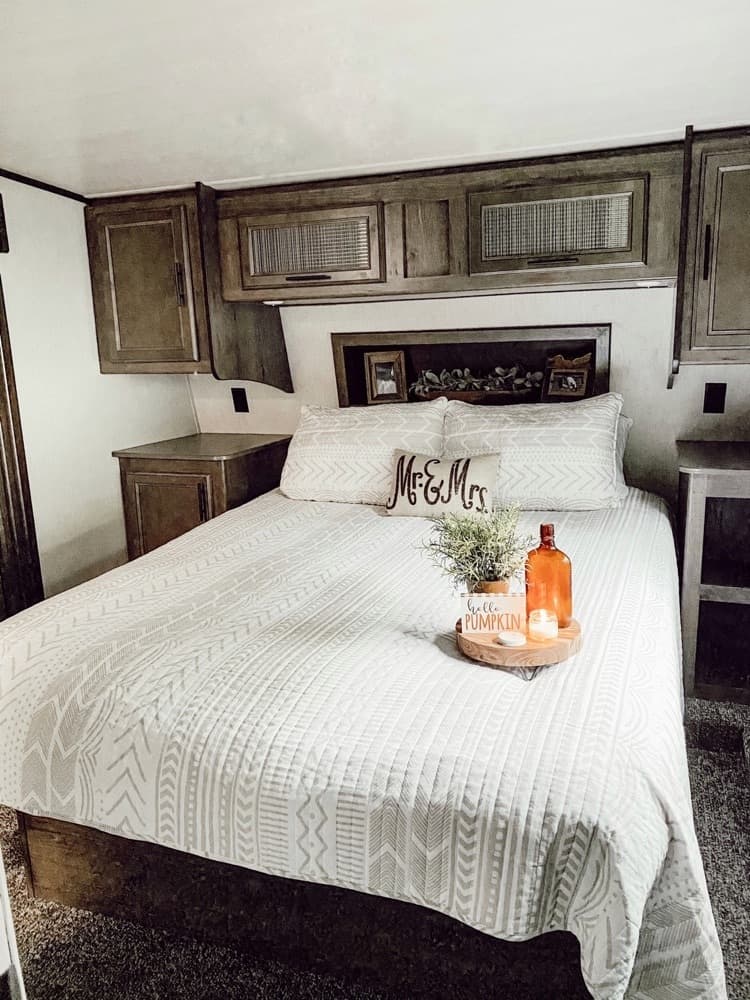 If you can see there is a little opening behind the bed so I placed in some special photos of us there to make it feel more like home.
I also found the perfect small sized dough bowl to put in the middle and I filled it with some greenery as well. Greenery can always make a space feel more cozy and homey.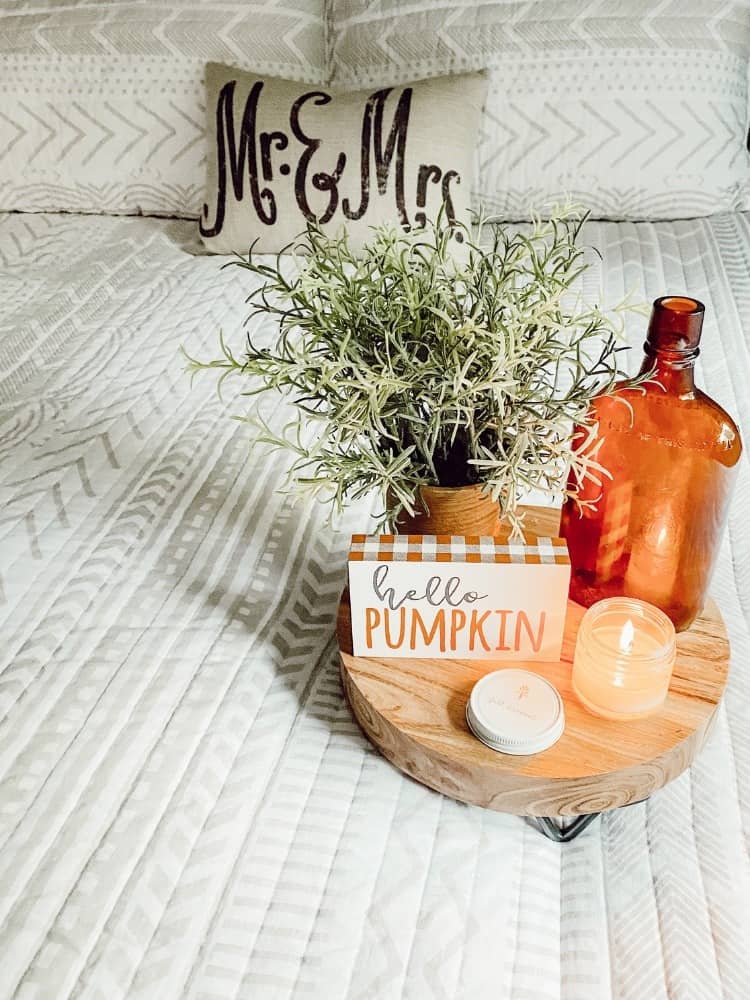 Outside
This is definitely my Hubby's favorite part about the camper. We bought the lot for it as well so we get to decorate the whole outside too!
That's why we did that string light patio refresh project here this summer. We are really enjoying the lights outside at night while we are cozied up next to a fire.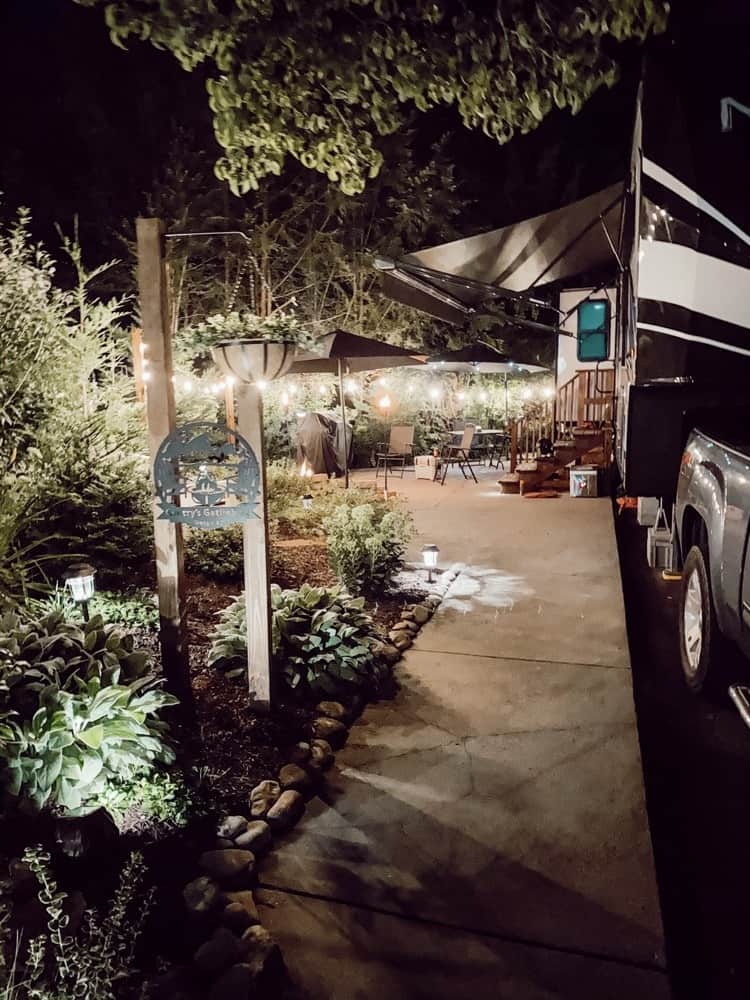 The fire pit space is awesome too. We didn't really have to do anything with it, it was already there when we bought it, which was a huge perk!
We take advantage of it every nice night that we have while we are down there.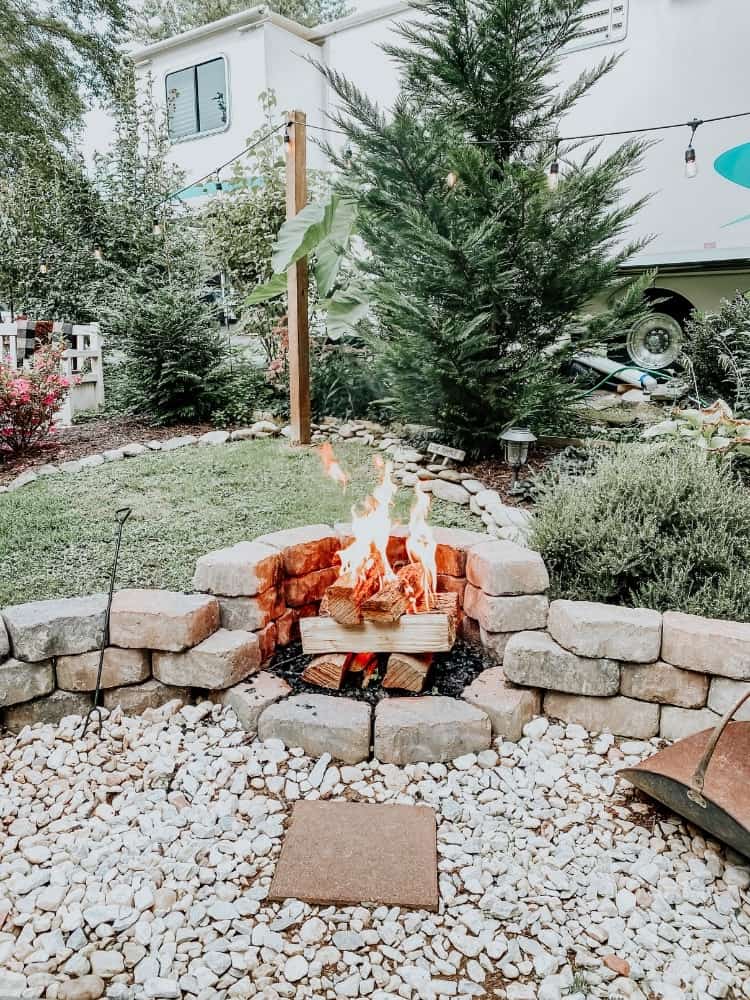 We also have a nice outdoor dining set where we can eat if the weather is nice too. And how cool is that solar LED umbrella we have above it too?!
I got hubby the zero gravity chairs pictured below as an anniversary present and we have really been enjoying them!
You can't see it in the picture, but there is actually a TV outside of the camper too so we've been sitting in these enjoying a little outdoor TV watching too!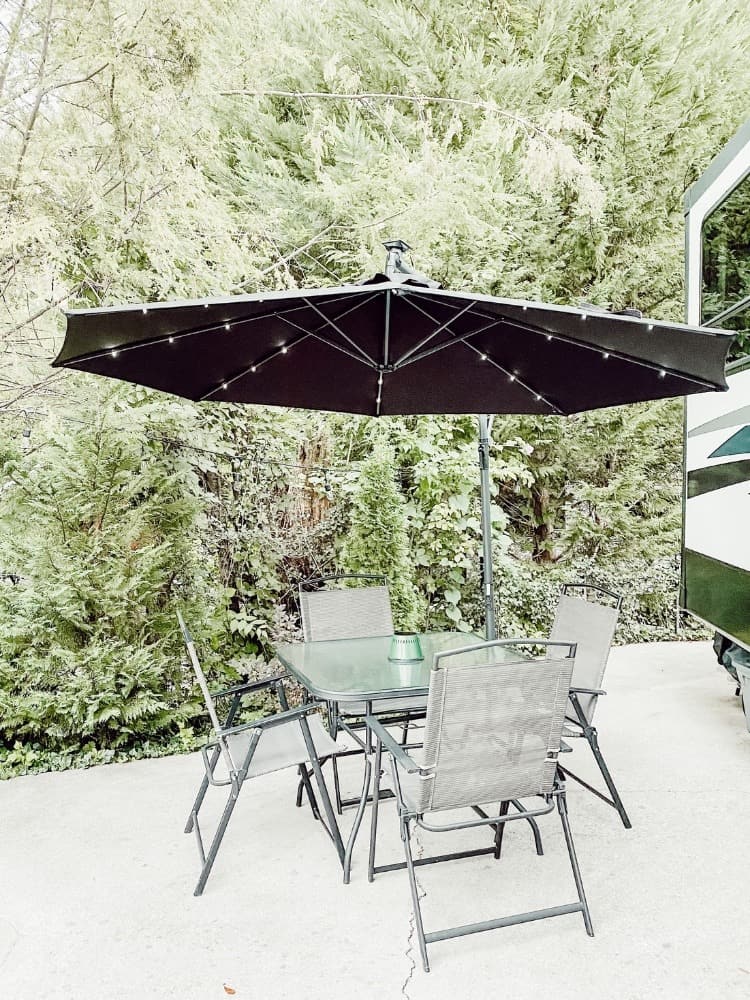 Conclusion
Well, I hope you all enjoyed my cozy fall camper tour! It is by no means completely finished, and we still have a little work to do, but we are so happy with it so far!
I think we have done a great job on making it ours and making it cozy, which is what I strive for at home too. Thanks so much for stopping by and have a lovely day my friends!