Since fall is officially creeping up on us, I thought it would be fun to show you all a complete fall home tour. I love to style my home for every season and I think fall and Christmas are my top two!
So if you're looking for ideas and inspiration on how to style your home for fall, check this post out and let me know what you think!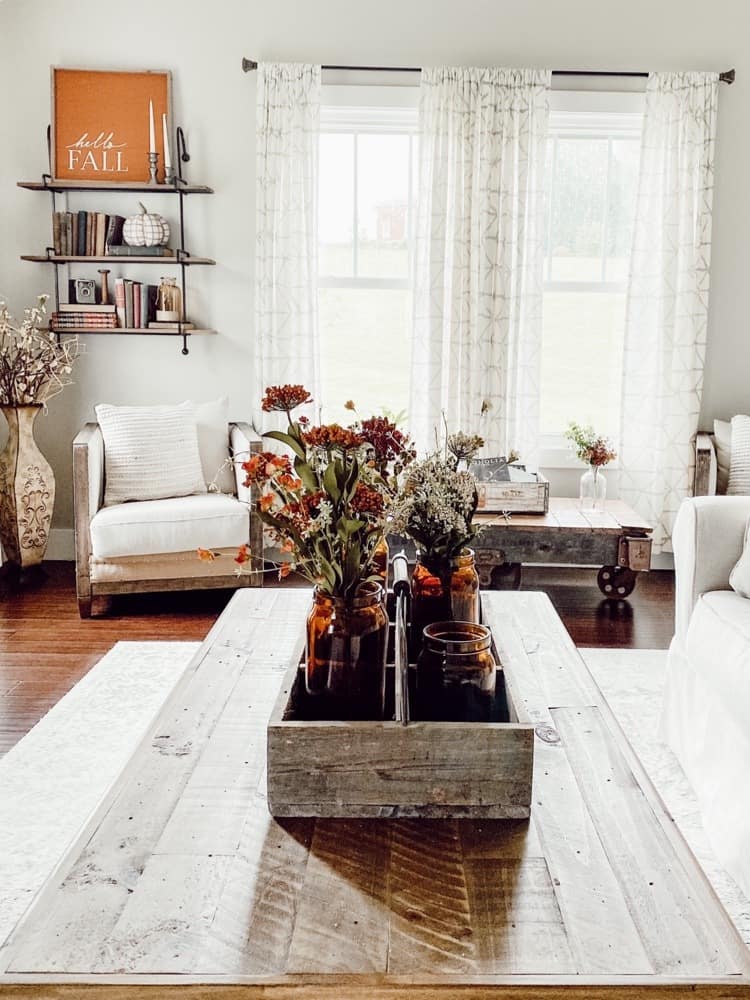 Living Room
The first space I thought I would share with you all in my fall home tour is my living room. It just makes sense to start here since it is the very first room you see when you walk into my house!
I tried to make it feel super cozy and welcoming by adding in warm fall touches this year.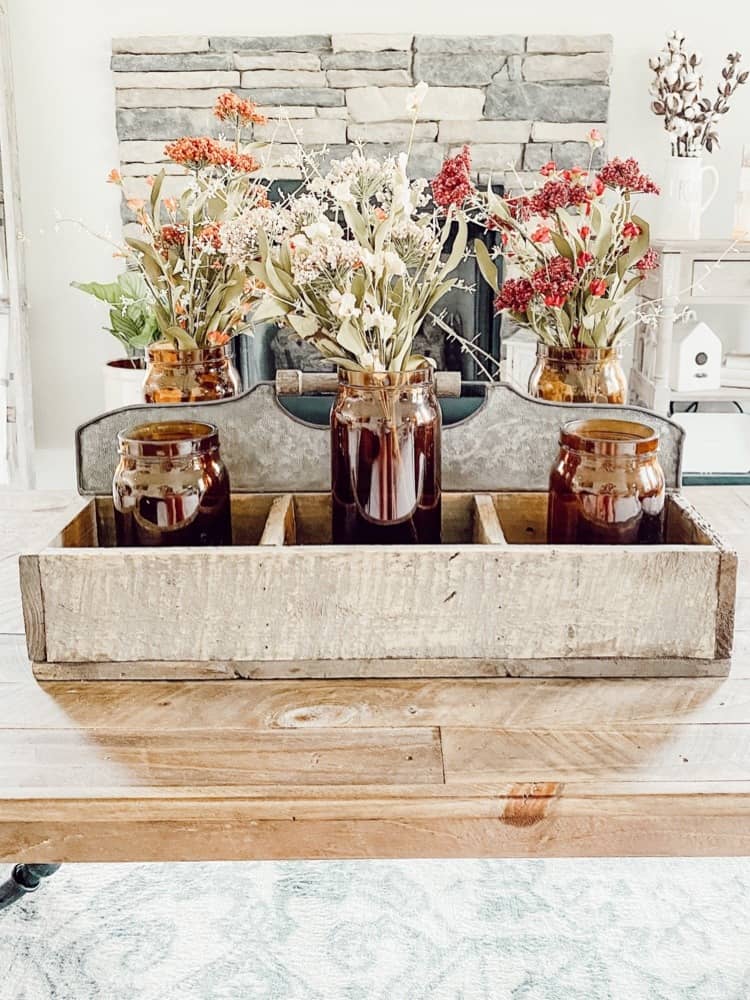 Remember my easy fall centerpiece I shared with you all a few weeks ago? I have it sitting here front and center in the middle of my coffee table in the living room.
It definitely is the perfect pop of fall color for this space. I love the warmth that the amber jars add to the room as well.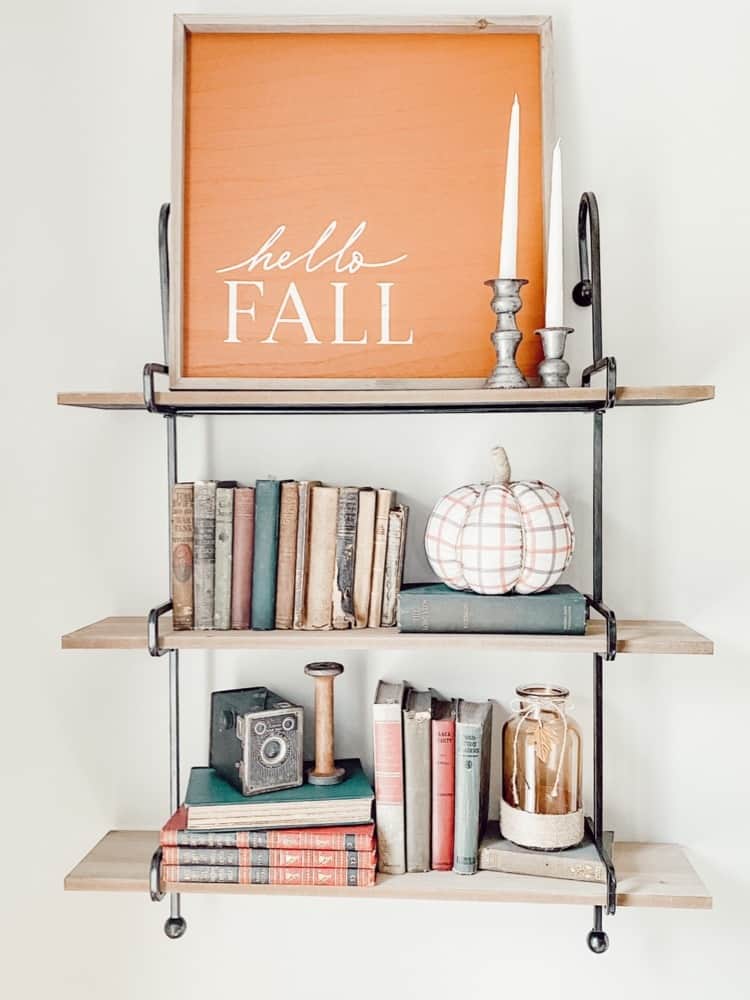 For my open shelves in the living room, I kept everything mostly the same. I just added a few touches of fall here and there.
That adorable plaid pumpkin and hello fall sign are Kirkland's finds from last year.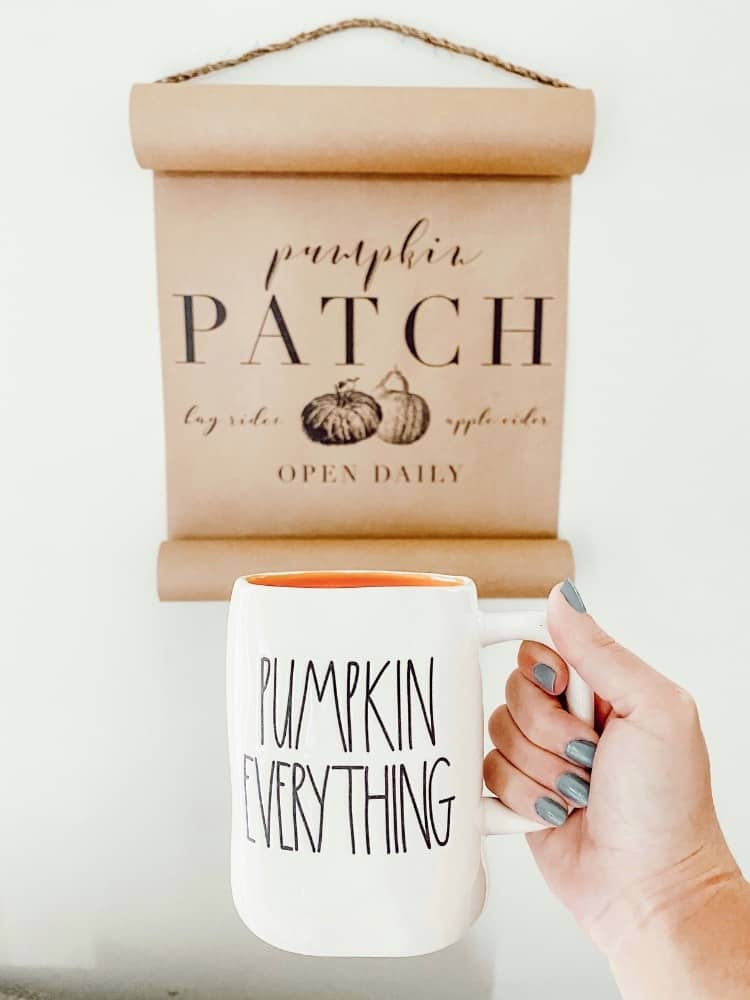 When I saw this scroll, I knew I needed to have it. I got this from Cottonwood Shanty and she makes the cutest scrolls. Whether you want a seasonal one, or an everyday one, she has you covered!
They also come in two different sizes and the one I got is the mini size. But it is so perfect for this space. I have it hanging right beside my front door.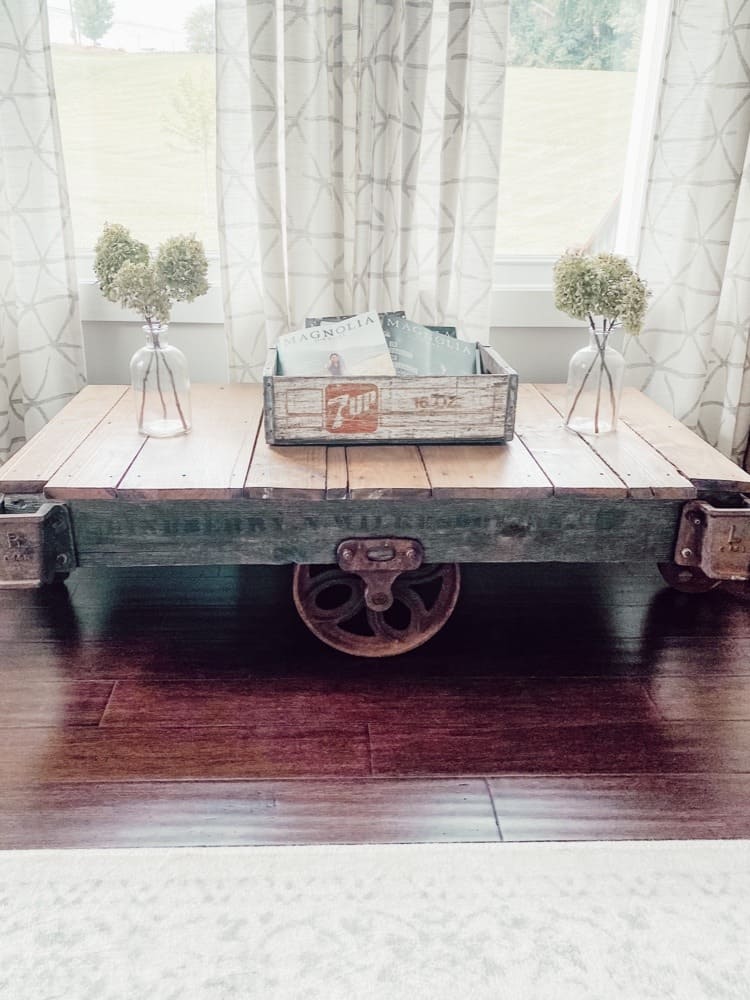 Of course you can't forget about my dried hydrangea stems! I placed them in my vases on my antique railroad cart. I also keep my magazines stored in this vintage 7 Up crate too.
It's such a great spot to sit with a cup of coffee and enjoy a good read!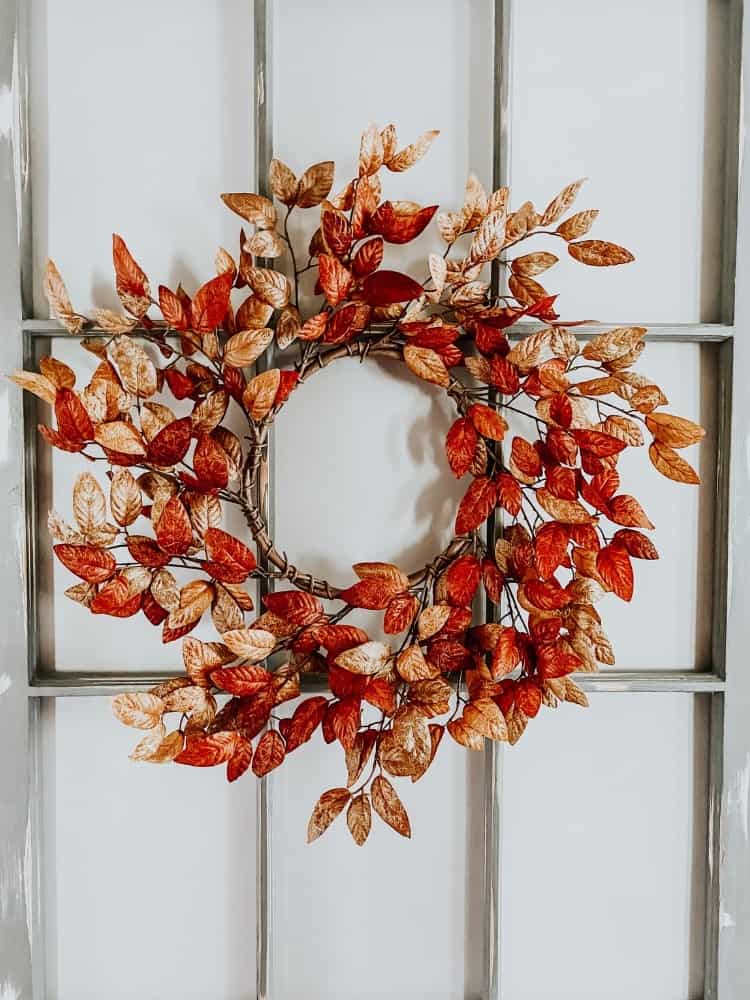 I also always love to hang a fall wreath on my big 12 pane window that I chalk painted and restored! It's such an easy way to add a little bit of color and change for every season!
I try to change it up especially during the Fall and Winter months!
Fall Bedroom
Next up on my fall home tour is my master bedroom. I can't leave the bedroom out from fall decor!
Just like at Christmas, I try to add seasonal touches in every single room that I can so the bedroom is no exception!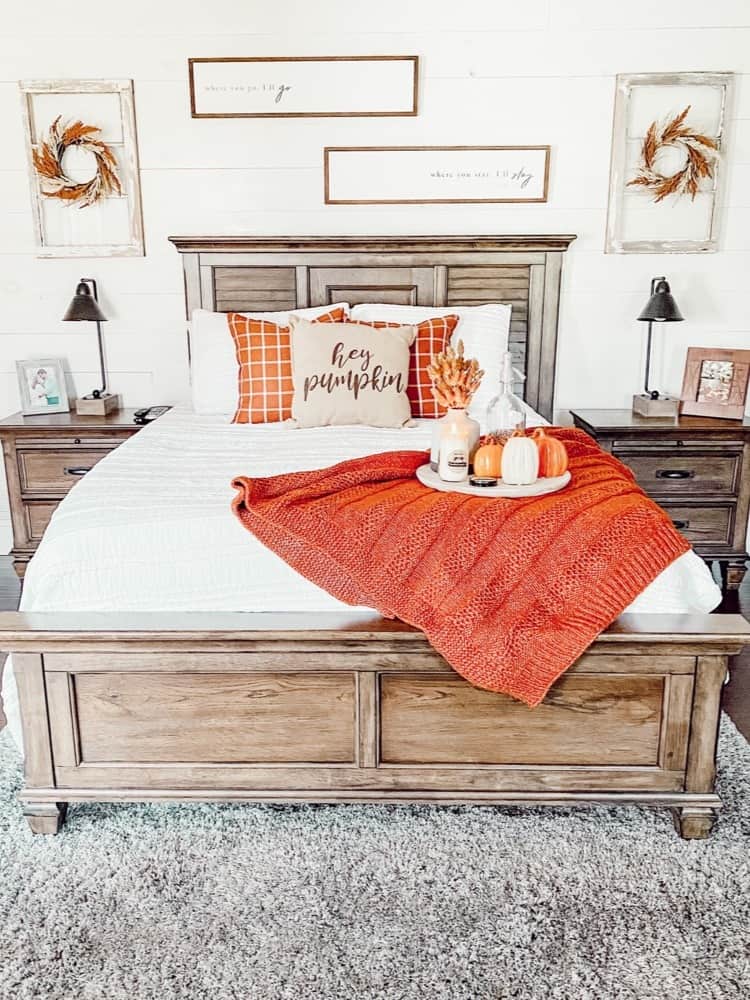 I shared more in detail about styling a fall bedroom last year so I won't take up too much time here.
I kept my bedding the same as last year, but just added in a few different seasonal pieces this year.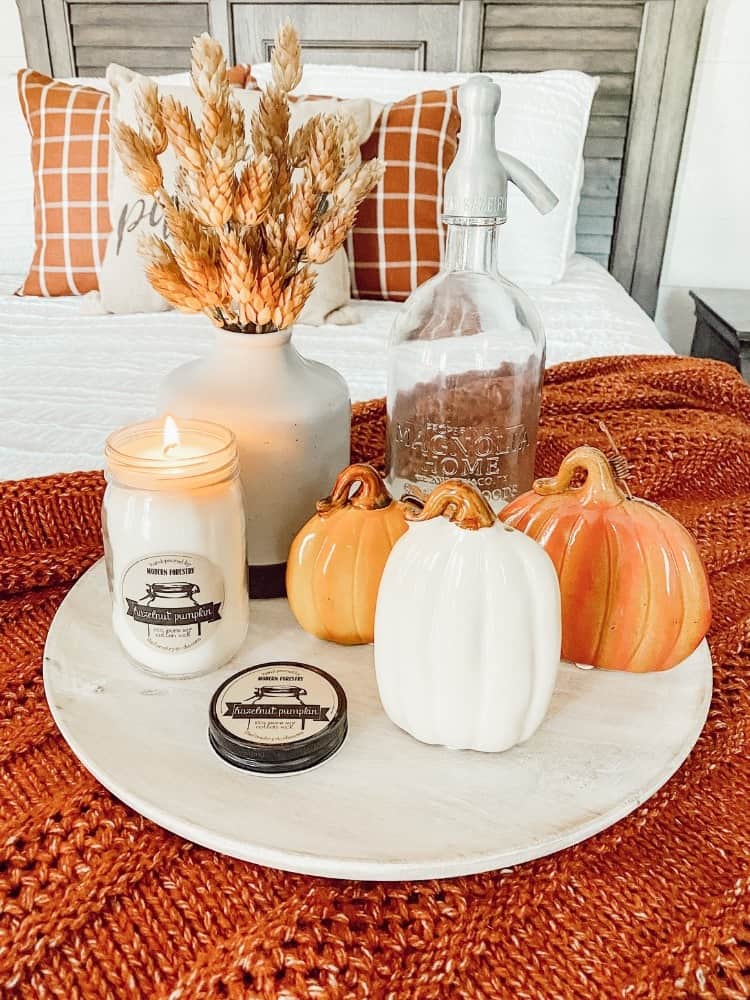 Y'all know I love my Modern Forestry candles too. And this fall they came out with some new scents too. Be sure to go check them out if you're in need of some new candles.
I think having a fall candle burning in any room is the perfect fall home accessory! It just adds to the cozy vibe of the cooler season. You can't beat it!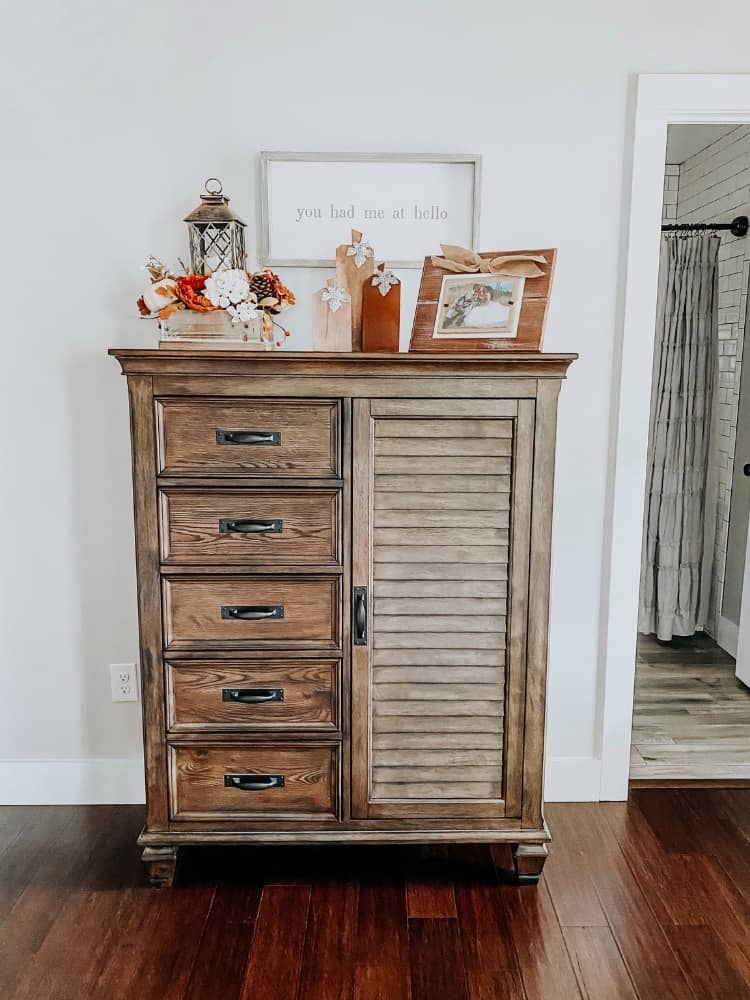 Entryway Table
I can't leave out my entryway table in my fall home tour. It's technically in my living room, but I think it deserves it's own spot here.
I have my dough bowl filled with pumpkins and I actually used that as a centerpiece for my Thanksgiving Tablescape last year. Although, I think it looks much better here on my entryway table!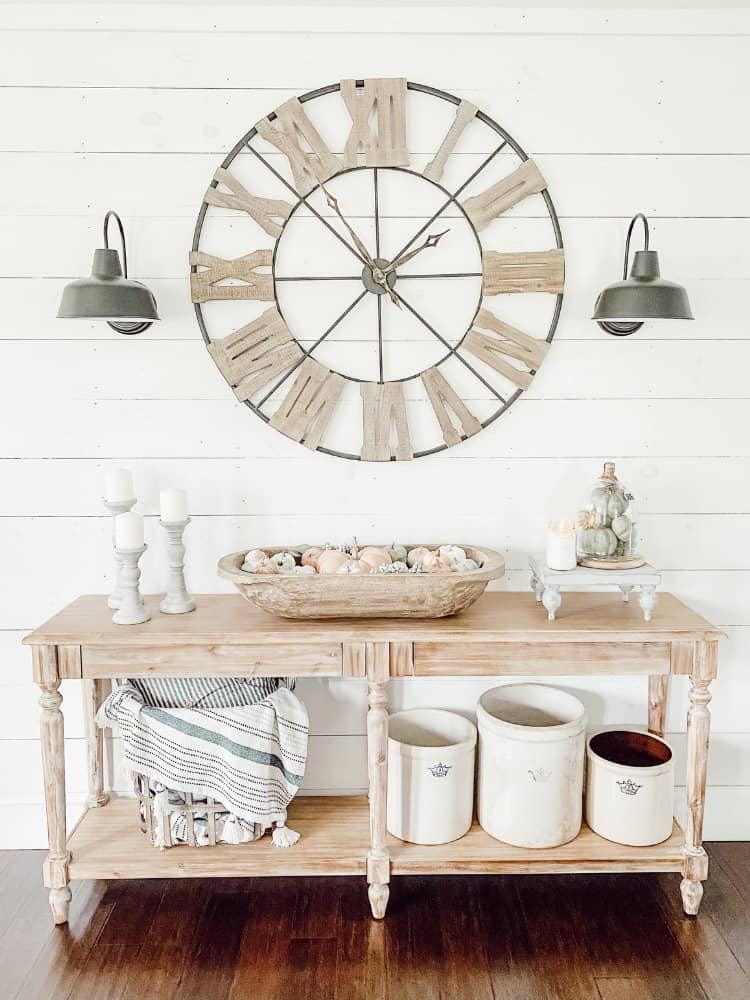 I also used the pumpkins I made over in my easy fall decor refresh here. I placed them under my cloche from Antique Farmhouse and I think they look just perfect showcased there.
I also love how they are the same color scheme as everything else on the table too.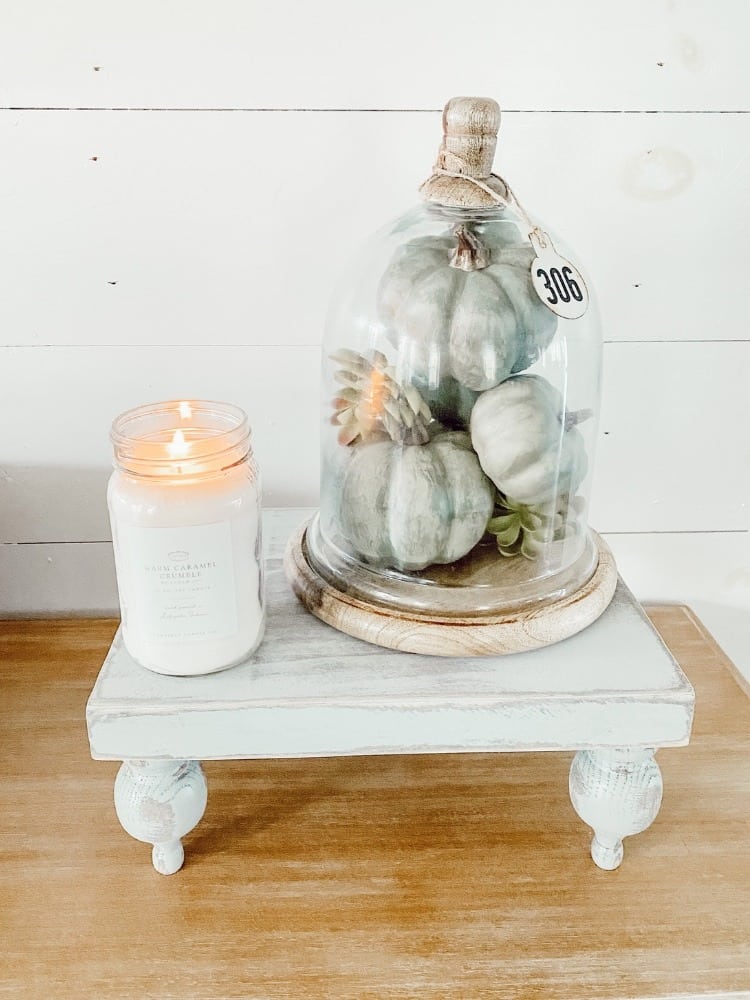 I originally wanted to fill my vintage crocks on the bottom of the table with pumpkins too, but due to cost I decided not to.
Maybe next year! Those crocks are huge so it would take a ton of pumpkins to fill them!
Dining Room
Attached to my living room and kitchen is my dining room, which is what is up next on my fall home tour! I also have my coffee bar here in my dining room as well.
But that deserves it's own special section because I am obsessed with styling my coffee bar for the season!

I will be sharing more in depth about my fall tablescape here soon so be sure to be on the lookout for that. I did it completely differently that how I normally do it, and I have to say I am loving the result.
I love all the vintage goodies tied together to create this look!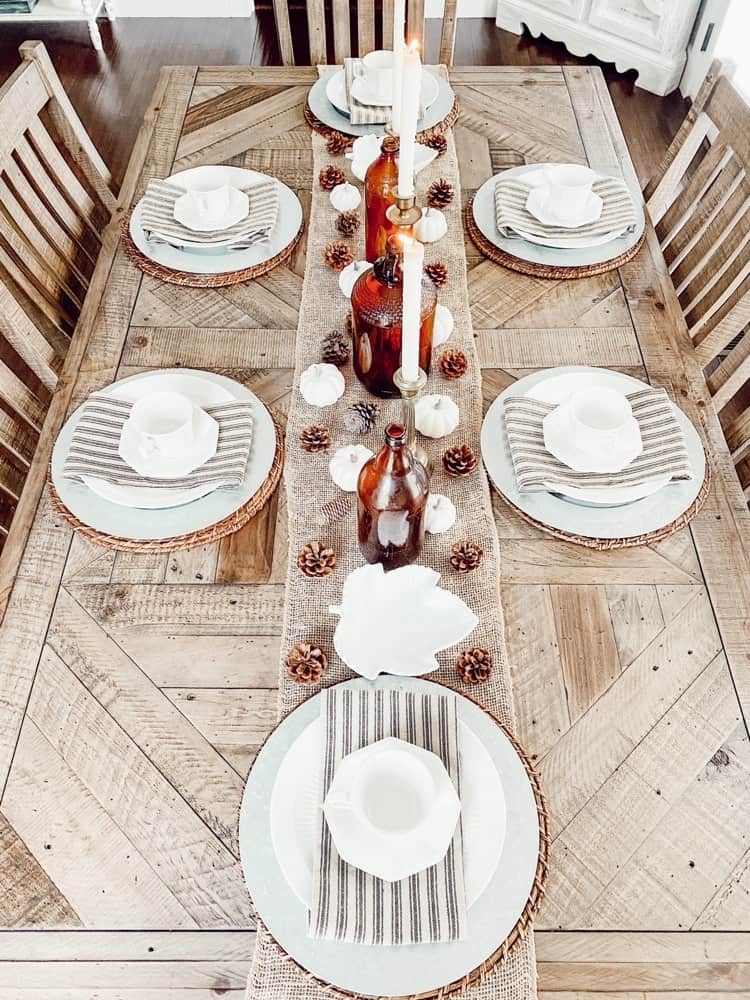 Fall Themed Coffee Bar
Y'all know I always decorate my coffee bar no matter what the season is! but I would say that Fall and Christmas are my two very favorite seasons to decorate my coffee bar for.
There's just so much potential and so many different things you can add to it. I love seeing how I change it up year after year too.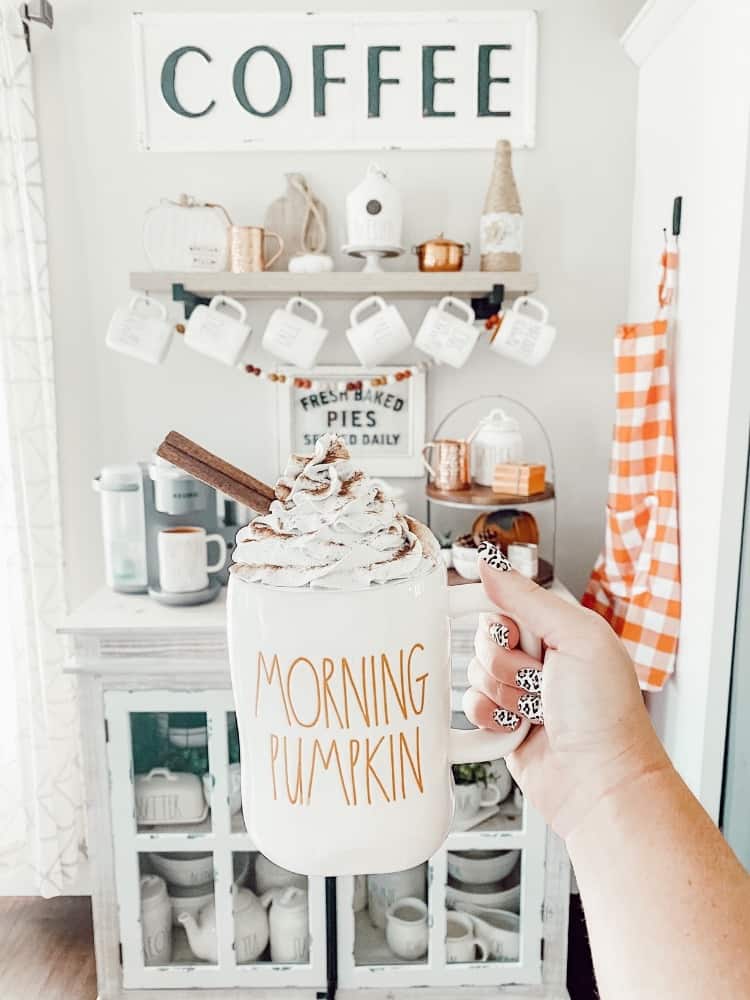 This year I was leaning more towards copper colors in my coffee bar. Whereas last year, I decked it all out in orange.
As you can see above, I still do have some orange pops of color here, but I do like to have more copper tones for a more neutral vibe.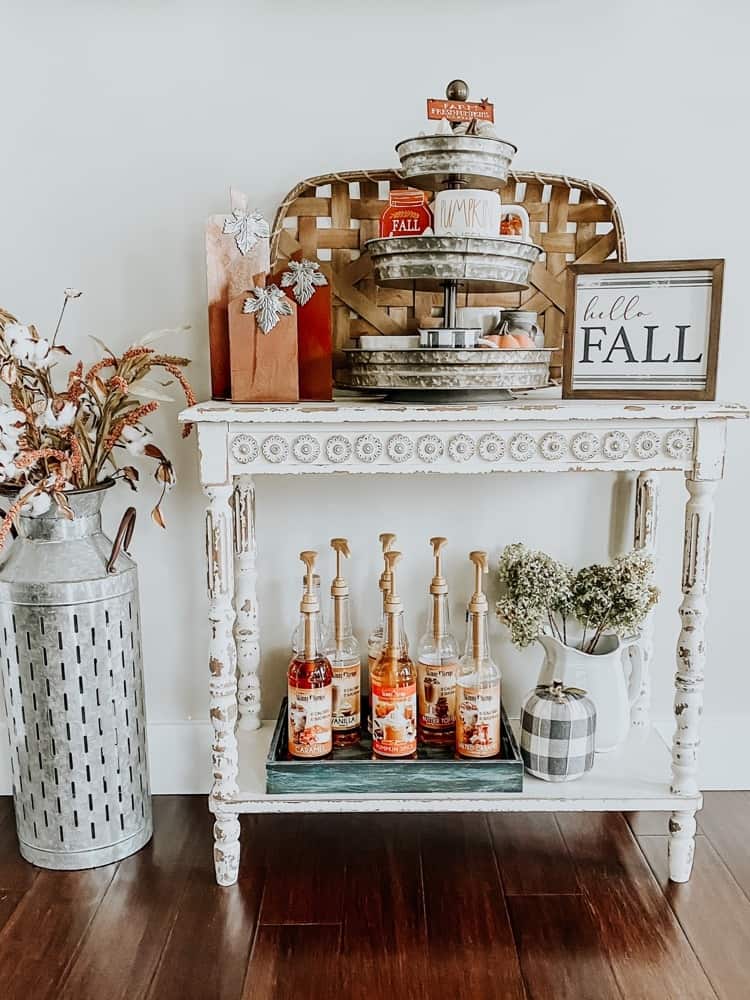 This coffee cart area is located directly across from my coffee bar. I keep all of my flavoring syrups here (which I love!). I recently got the pumpkin spice flavored syrup and I am obsessed!
I can make me a pumpkin spice latte without having to go to Starbucks! How amazing is that?!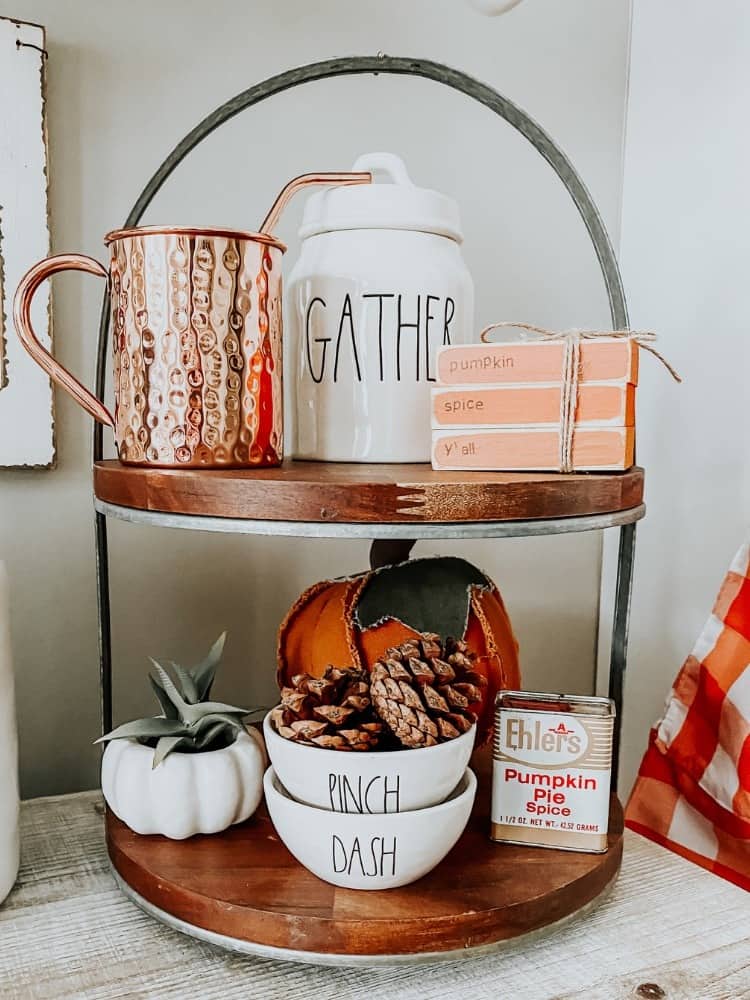 I also think styling my coffee bar and tiered trays for every season go hand and hand as well. I shared more in depth last year about how to style your tiered trays for fall.
Be sure to go give that post a look too if you're stuck on how to style tiered trays. It definitely takes some practice, but once you get the hang of it, it's so much fun!
Fall Front Porch
I always love to add real pumpkins and mums on my front porch for fall. They are so pretty and I love the rich colors they bring out.
They always look so good on my front porch steps too. I think it is the perfect welcoming entryway into our fall home this year!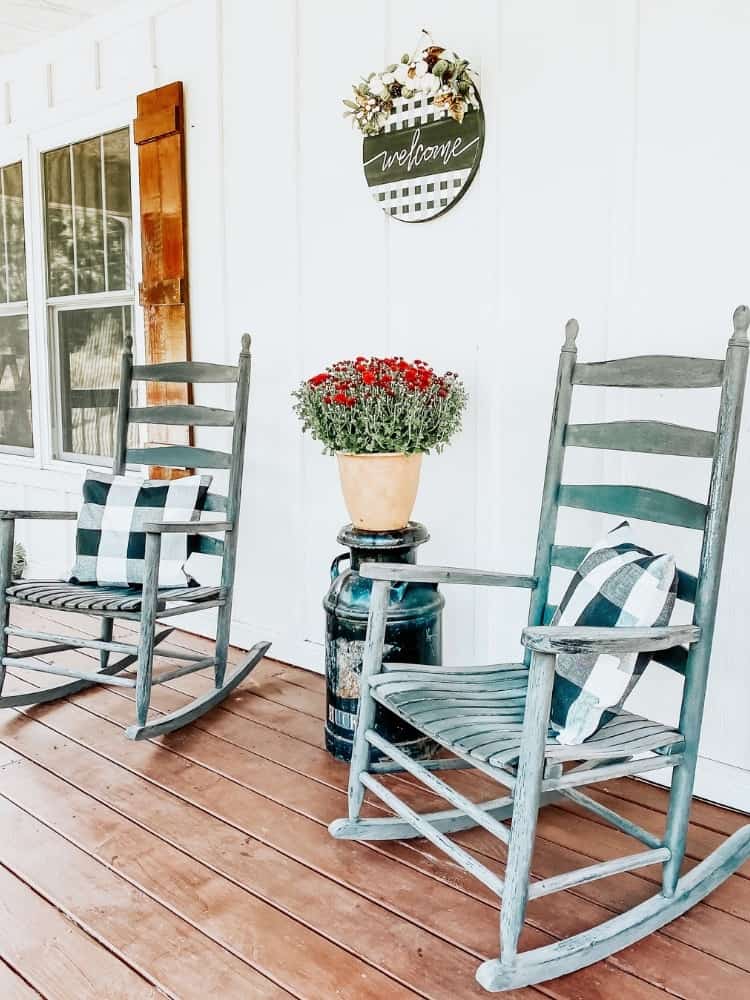 I went way more out on my decorating for my fall front porch last year, but this year I decided to keep it more simple.
Plus, it was more cost effective to do it this way. Real pumpkins from the farmer's market are expensive y'all! See my pictures below on how I decided to decorate the front porch this year: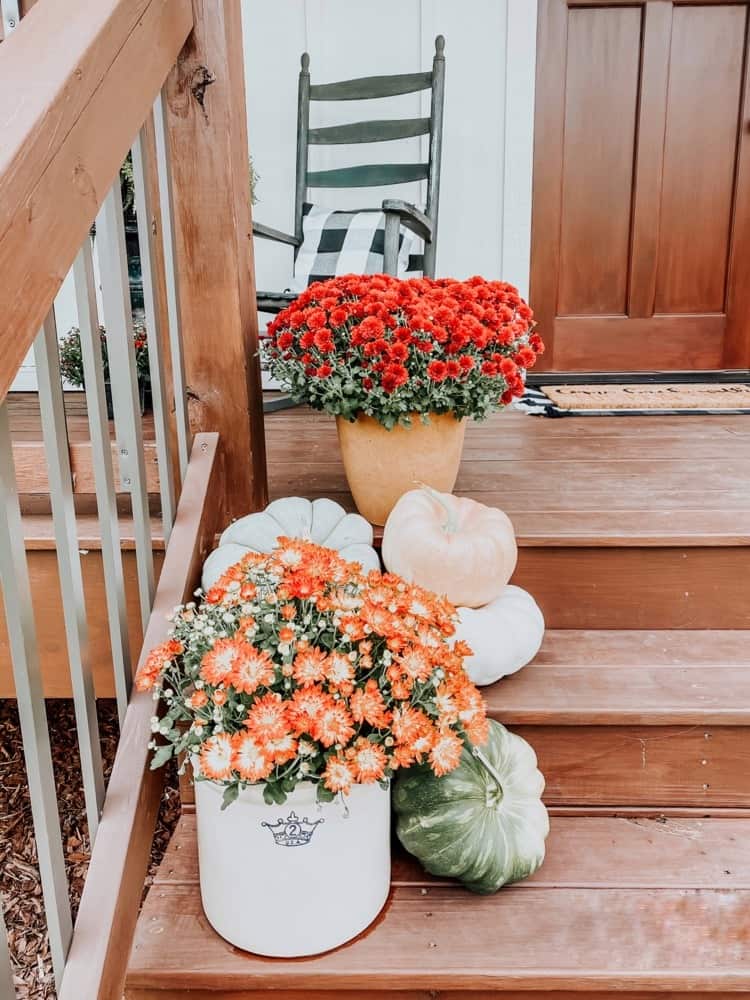 Other Small Fall Touches Around the Home
I just tried to add in as many fall touches as I could around my home. Even in my office space! As you can see below, I added in a few faux pumpkins on my open shelves in my office too.
It's so simple and easy to add in a few faux pumpkins here and there around the home too. Plus, it is also an easy, inexpensive way to incorporate fall touches too!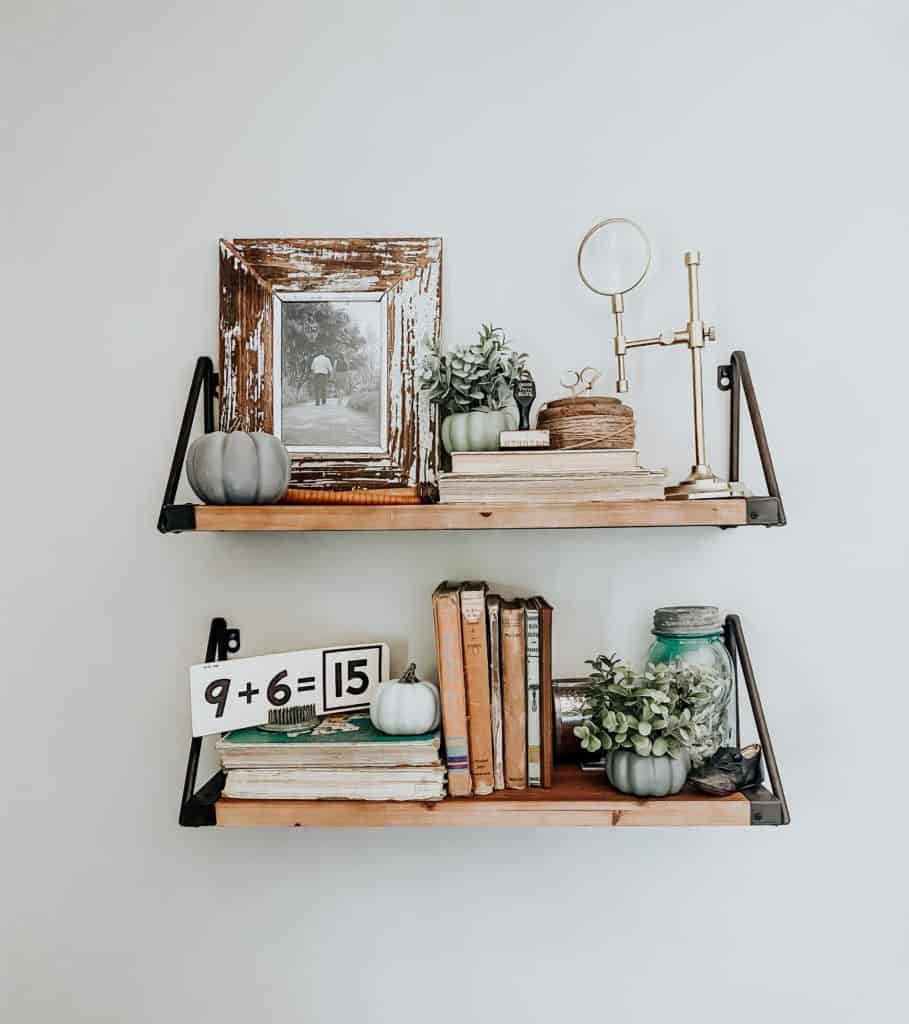 Call me crazy, but I may have even put a few pumpkins on my bathroom open shelves too. I wanted my fall home tour to include as many pumpkins as possible!
And the good news is, they were all leftover pumpkins from a few years ago so I didn't really have to purchase anything to add those cute seasonal touches to the space.
I always love it when I can save some money, but still go all out with decorations for the season!

Fall Home Tour Wrap Up
Well y'all, this concludes my fall home tour! I hope you all enjoyed it and are inspired to add in a few little seasonal pieces in your home too!
Do you go all out like I do? Or do you tend to keep it more neutral and simple?
Sometimes I crave simplicity, but most of the time (especially during the fall and Christmas season) I like to go all out! Let me know what you do below too!