If you've been around here long enough, then you know I love me some good candles. And I have to tell y'all, I have found the perfect fall candles this year! I am so excited to share them with you all too.
Have you heard of Antique Candle Co before?! If not, your life is about to be changed! I'm telling you, that's how good these candles are!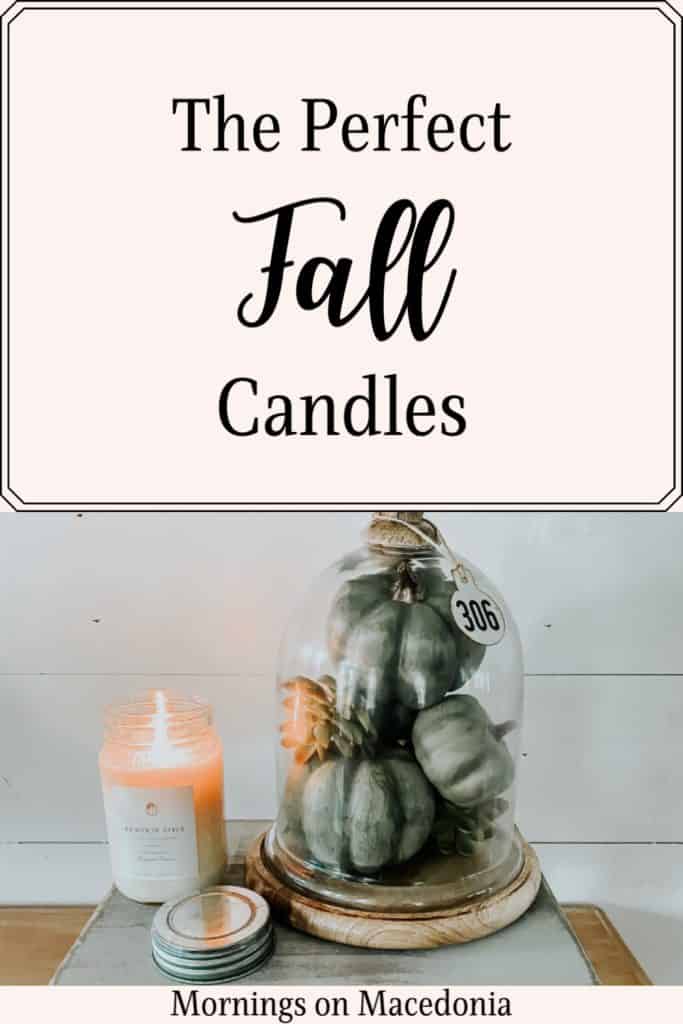 This post contains affiliate links. Click here to read my disclosure policy.
About Antique Candle Co
I thought I would start off with a little background about the company first before I tell you all about my favorite fall candles! Antique Candle Co is a small business based in Lafayette, Indiana and all their candles are hand poured.
And y'all already know that I just love to support small shops! The company is now 6 years old and relocating into an even bigger location because their candles have been flying off the market since they are just so good!

All of their candles are made from wax from locally grown soy beans and non-toxic fine fragrance oils as well as essential oils.
They also have a natural cotton wick to them that ensures a clean and even burn all the way down to the end of the candle!
I have never had a candle burn all the way down to the end of the wax, but these do. I love that about them because I feel like I am never wasting any wax once they are done burning.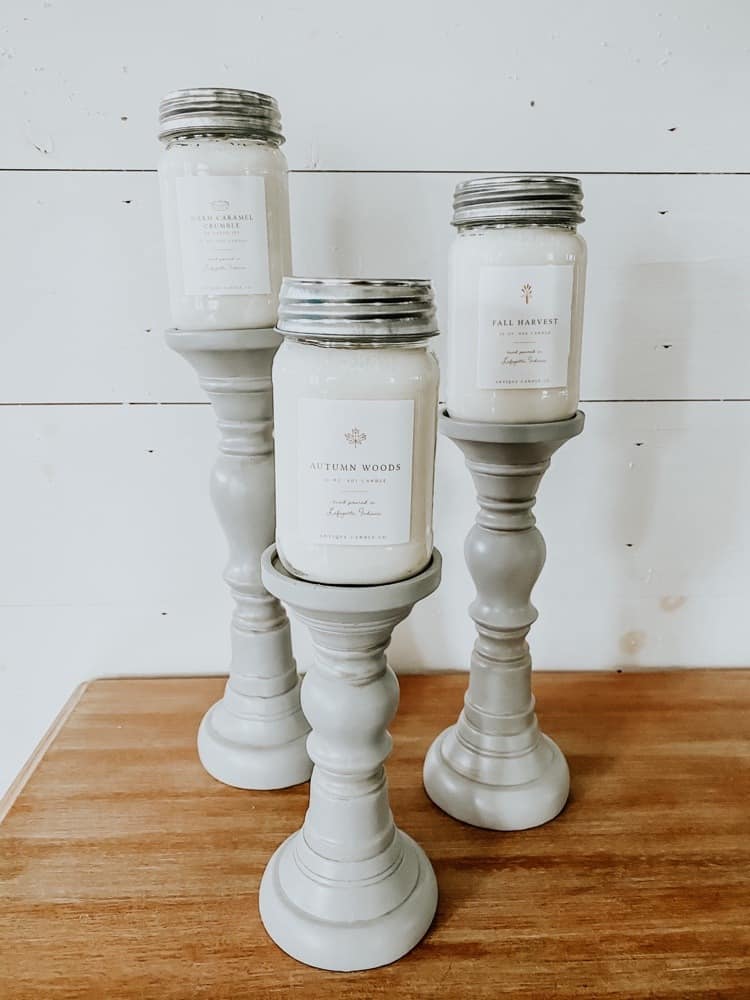 Brand New Fall Scents
Antique Candle Co release not just one, but TWO new fall scents this year for 2021! The scents are Apple Butter and Vanilla Bean.
And let me tell you, the Apple Butter one is divine! I like the Vanilla Bean one too, but I feel like that one could be more of an everyday scent and not just fall.
It gives you all the warm and cozy vibes without screaming fall scents over the top. Apple Butter, however, smells exactly like you have been slow cooking some apple butter in the kitchen all day long.
So spicy and sweet, I could almost eat it!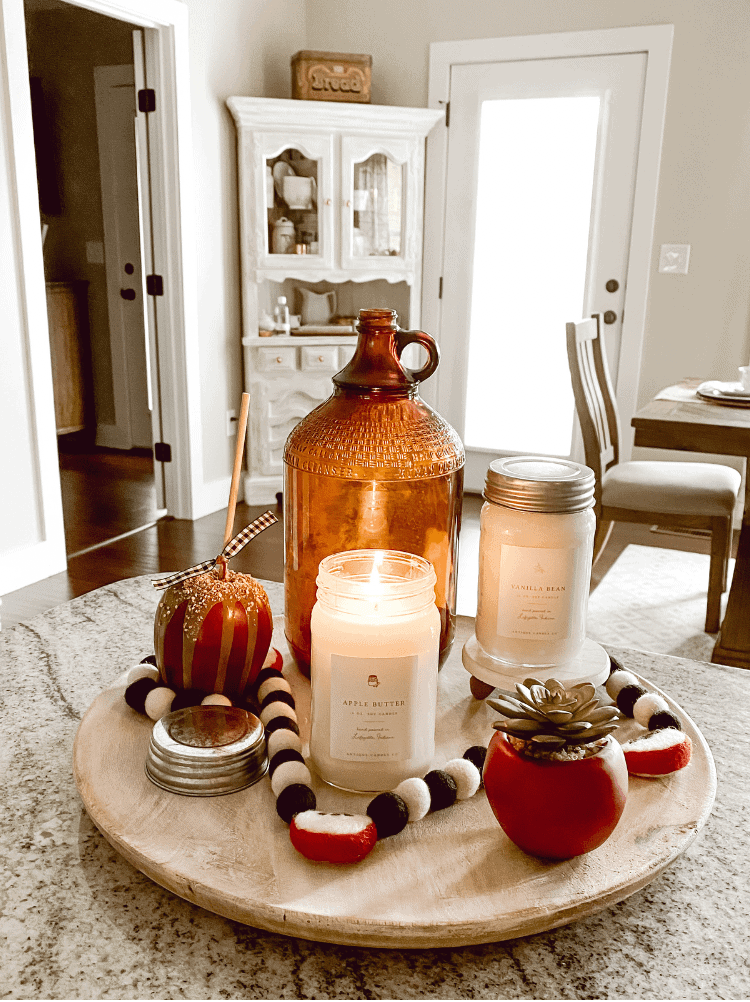 Apple Butter is delightful aroma of freshly baked apples blended with sugar, cinnamon, and clove, highlighted by fall pumpkin and sweet vanilla.

Antique Candle Co
Vanilla Bean is a delightful aroma of warm, cozy scent of vanilla bean with soft, spiced notes of clove, nutmeg and cinnamon bark.

Antique Candle Co
The Perfect Fall Scents
I feel like Antique Candle Co does an amazing job on how their fall candles are scented. It's not too much or too little, it's just the right amount.
I also love how they collaborate with other bloggers and influencers to come up with their signature scent. For example, Warm Caramel Crumble was one of Sarah Joy's, from Sarah Joy Blog, creation.
And it is definitely one of my favorite scents. It makes the whole house smell like you have been in the kitchen baking a delicious fall treat!
I will highlight the scents I have below so you can read about them and see which one you might be interested in. Also, keep in mind, these are not their only fall candles that they have available.
They have Apple Pickin, Pecan Pie, and Apple Cider too! I just haven't tried those out yet and I wanted to share with you all the ones that I know smell so amazing!
Pumpkin Spice
is a deep, woodsy musk blended with fresh balsam notes and sweet autumn apples, intertwined with hints of earthy fig and eucalyptus leaf.

Antique Candle Co
Fall Harvest
is a sweet and cozy autumn blend with fresh apple and orange peel, highlighted with warm notes of spicy cinnamon, clove, and vanilla.

Antique Candle Co
Autumn Woods
is a deep, woodsy musk blended with fresh balsam notes and sweet autumn apples, intertwined with hints of earthy fig and eucalyptus leaf.

Antique Candle Co
Warm Caramel Crumble
is a sweet aroma of homemade caramel dessert with warm buttery blends, highlighted with cinnamon-spiced maple, rich vanilla, and baked green apples.

Antique Candle Co
Candle Sample Packs
I love that Antique Candle Co offers little sample packs too. That way you can try out four different scents and see how you like them before buying the full sized ones.
I also ordered the Fall Harvest sample pack and I use those little candles down at our camper! You can check out more about my fall camper tour here too!
They are also the perfect size for a small space such as a bathroom in your home as well. They are 2 oz each and even though they are small, they really last a long time.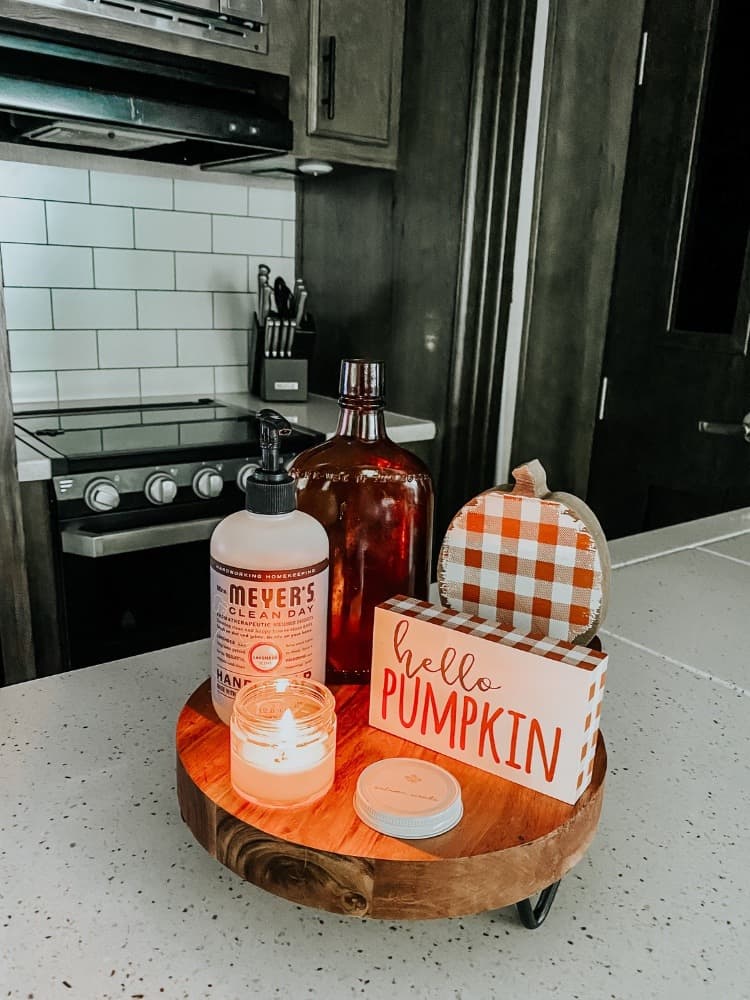 Candle Bundles
Another thing that I love about this company is that they offer a ton of bundles, that are designed to save you money. Basically, the more you order, the more you save!
And let's face it- who doesn't need a stockpile of candles?! I have a ton stashed away and I get worried if it starts to run low.
I seriously burn candles all the time and I feel like these candles are definitely worth the money because they last SO LONG!
If you order a bundle pack, they last forever too. I ordered a four pack of candles myself from them back in early May this year and I seriously did not have to order anymore candles until fall time!
Each order comes with instructions on how to take care of your candle and make it really last longer. They also come with a little sample sized candle of a surprise scent, which I love!
It's so nice that they include that in every order as a thank you and this is a great way to try out different scents without having to buy them first.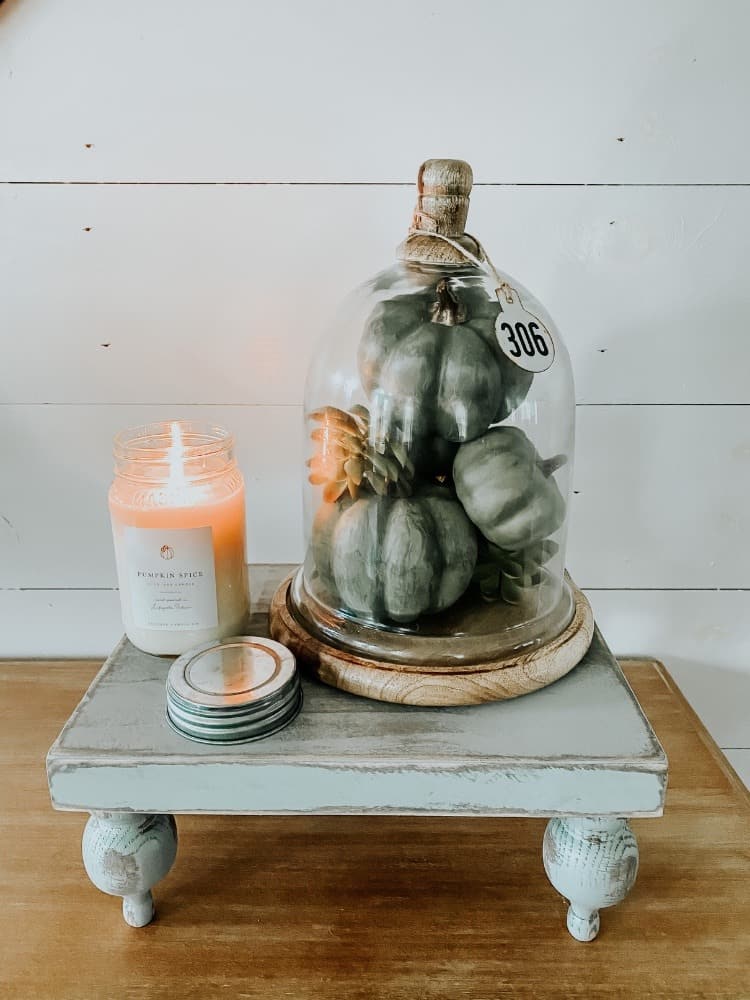 Conclusion
If you can't tell already from this post, I am obsessed with the fall candles (and basically every other candle) that Antique Candle Co puts out.
I highly recommend that you try them if you haven't yet. You will not be disappointed! If you have tried one of their candles before, let me know below which one is your favorite scent!