A few weeks ago I shared all about my Haven Conference experience and how we were sent a lot of DIY supplies for quick and easy projects to do at home.
So today I am going to share with you all this easy DIY tray and jewelry refresh project I did with some paint from Behr!
You just need a few supplies and a little paint and you are all set to go to do this easy and simple refresh!
This post contains affiliate links. Click here to read my disclosure policy.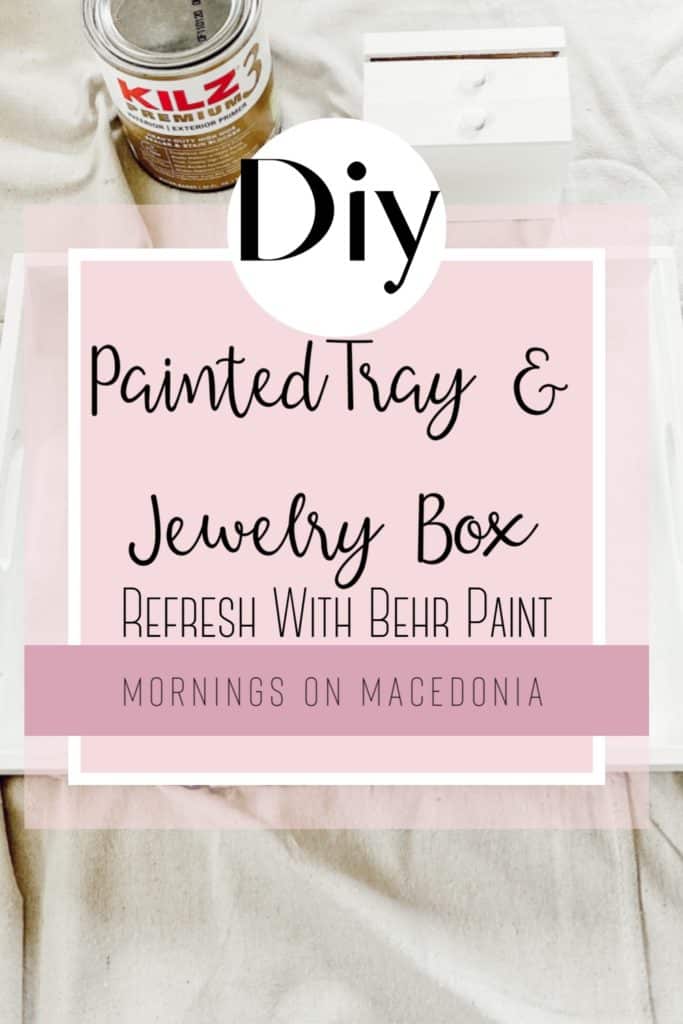 Materials Needed:
Wooden Tray
Wooden Jewelry Box
Sandpaper
Primer
Paint
Paintbrushes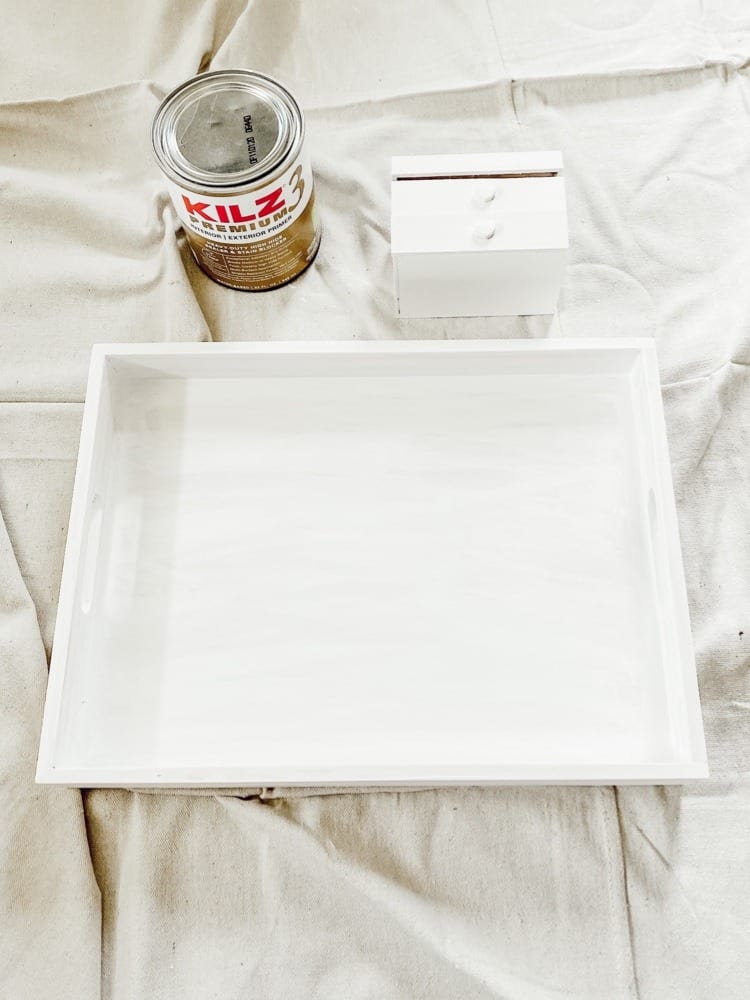 Sand The Pieces
You can use whatever wooden piece you want to use for this refresh project. Like I said above, I was sent the wooden tray and jewelry box from Behr already so that's what I had to work with.
You can easily find already built pieces like that at any craft store too so just decide what you want to paint and go from there!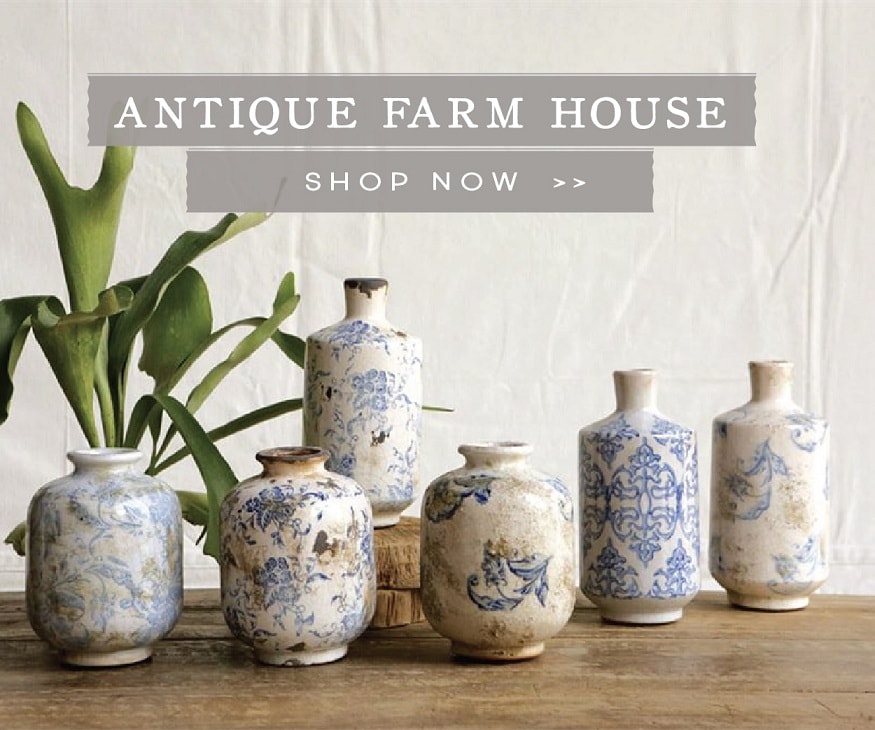 Once you have your wooden piece or pieces, you just need to sand them with some sandpaper before applying paint.
You want to make the surface nice and smooth and that way the paint will adhere better to the piece as well.
Prime the Pieces
The next step is to prime the pieces. The primer I used is pictured and linked below. This was my first time using this particular product and I have to say it is amazing!
You can also use it for exterior projects which is so cool as well! I have plenty of this stuff left over for another project so I can't wait to start something else and use it again!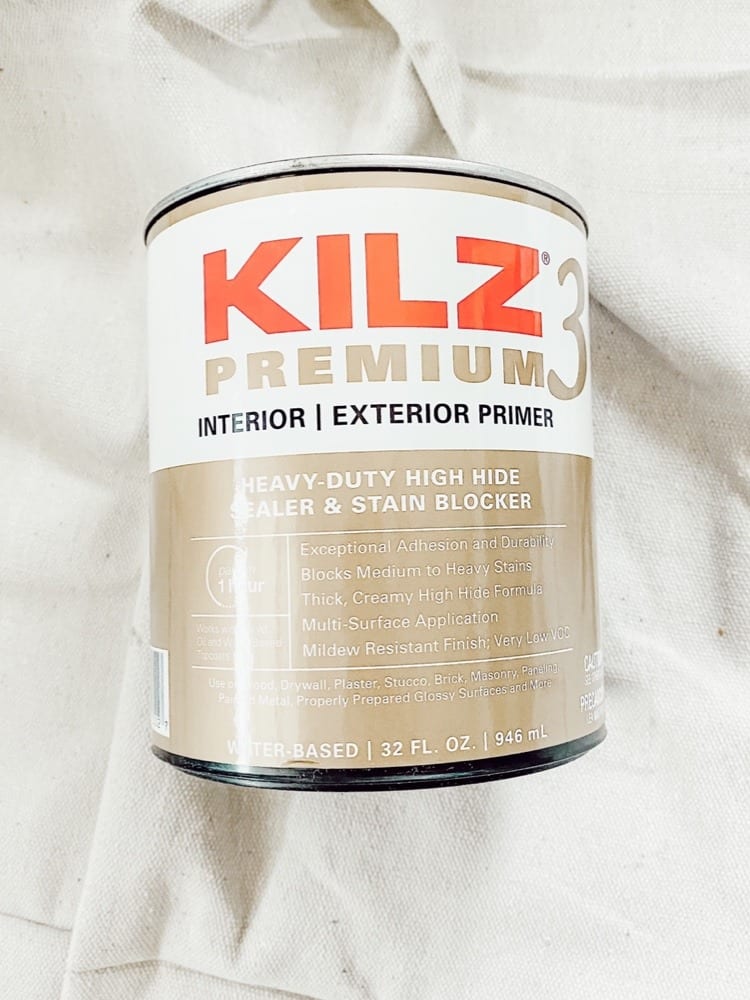 Paint The Pieces
Well now here is the fun part! After all the pieces have been sanded and primed, you can now paint them whatever color you want! I used Behr Ultra Scuff Defense in Deep Base to paint the tray.
It did take me a few coats, about 3 total before it was completely covered. But it was a nice and easy paint to apply so it did not take long.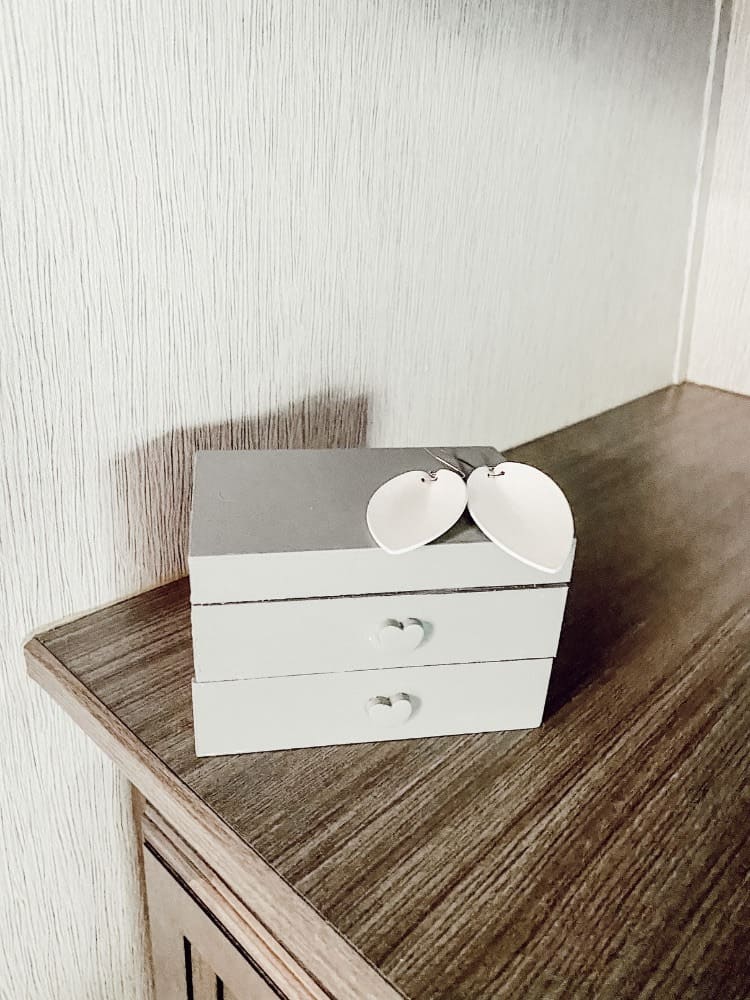 After I painted it, I wanted it to appear more distressed and aged. I used my dry brushing technique (which you can read about here in my DIY Painted Pumpkins project) and painted over it with some Fusion Mineral Paint that I had on hand.
The color I used is called Sacred Sage and it looks more light gray to me than actually sage. However, that was totally okay with me because I wanted it to be a neutral piece.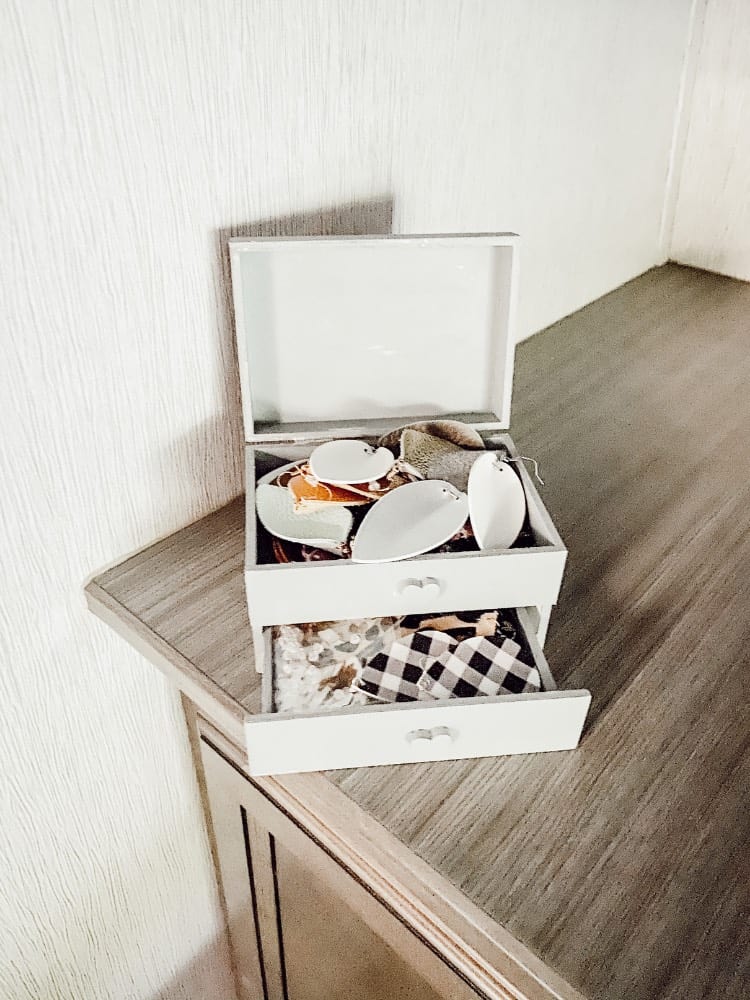 For the jewelry box, I painted the whole thing with the Sacred Sage color and I am happy with how it turned out as well. I have a big, over the door jewelry holder here at home so I didn't necessarily need this jewelry box here.
It's the perfect little size for ouR camper. I just keep a few earrings and necklaces down there in it so when we go visit I am always prepared and have a few pieces to add on some sparkle!
About Behr Paint
Like I said above, I used the Ultra Scuff Defense paint for this project. The scuff defense paint is perfect for any areas that receive high traffic in your home because it provides a really rich flat finish that is extremely durable.
This is also a paint and primer in one, but you may need to still apply a primer on some surfaces (you can always see the label for more details).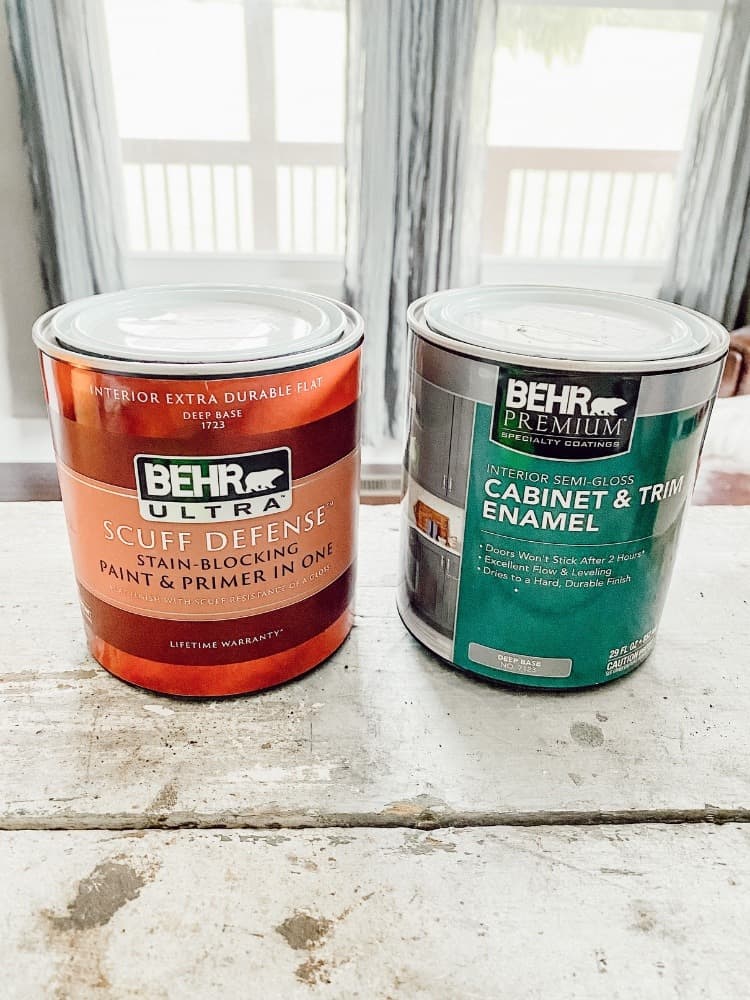 Even though I just used it for a small tray, it would be perfect for painting a large area in your home too. I used the Deep Base color and as you can see it is like a charcoal black which is exactly what I wanted.
I used the tray on my little coffee bar table which is white so it provides a nice contrast. My coffee syrups look perfect on there too!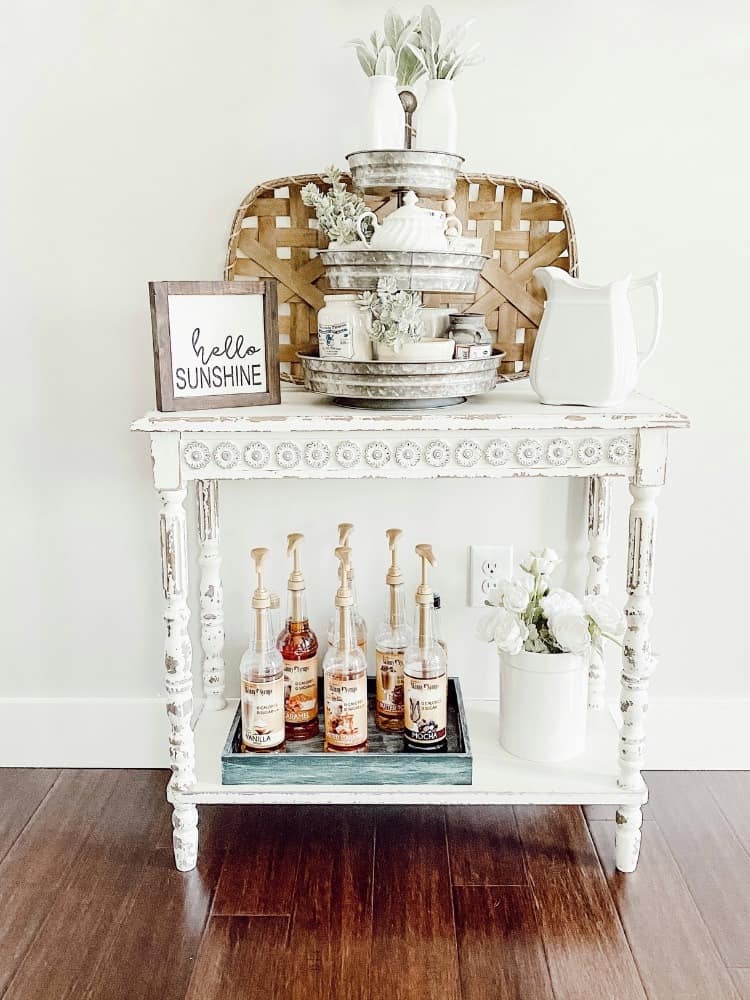 I was also sent the interior semi-gloss cabinet and trim enamel paint which I did not use for this specifically, but I am excited to try it out in the future!
Just as the name implies, it's ideal for cabinets, windows, doors, trim, woodwork, and shutters. You can even use it on drywall, masonry, and metal surfaces too.
So as you can see, there are many possibilities here with this paint. I got it in the same color, Deep Base, so I am very excited to try this one out and see how I like it as well.
I will of course report back once I try it and let you guys know!
Conclusion
This was such a fun and easy project to do! I always love painting and this was much easier than painting a piece of furniture.
The tray and jewelry box are a perfect way to ease yourself in and try out a new paint product to see how you like it.
I can't wait to find more things to paint with my new Behr products! As y'all know I always love a quick and easy DIY.
It's just good for the soul, don't you agree?! Have a wonderful day my friends and thanks so much for stopping by!