For my birthday this year, my sweet hubby got me an entryway table that I have been eyeing for so long from World Market. I was so excited and couldn't wait to style it. But, styling entryway tables can be challenging and tricky, so I figured I would share with you all how to style an entryway table. Or, at least how I styled mine! Hopefully you love it just as much as I do!
This post contains affiliate links. Click here to read my disclosure policy.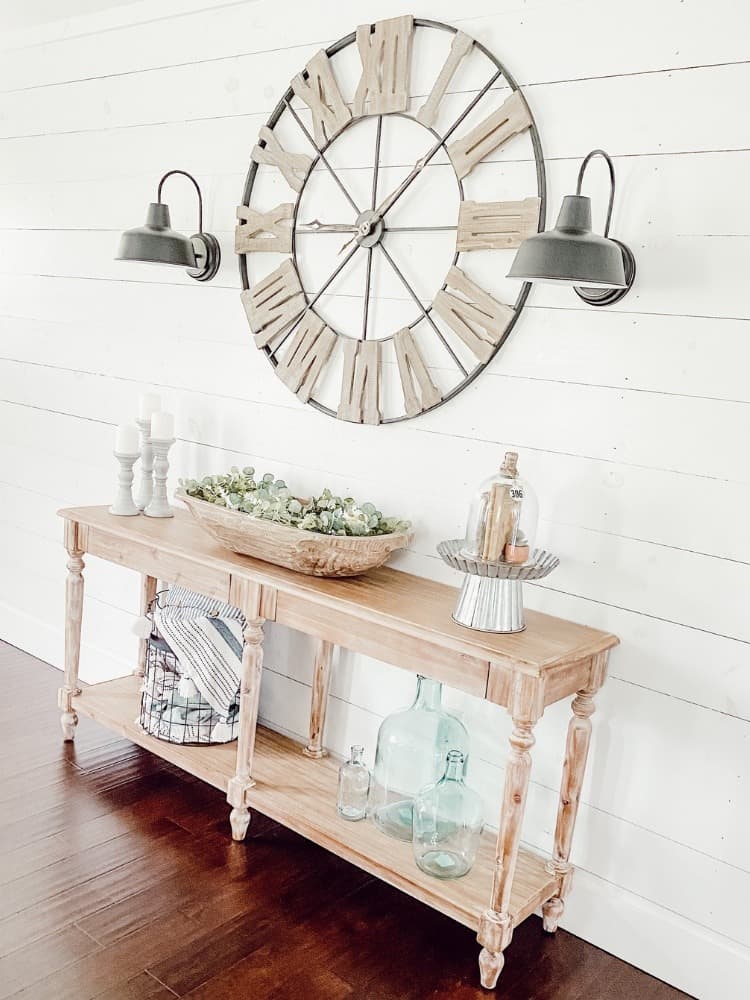 Picking the Right Entryway Table
Obviously, the first thing you need to focus on is choosing the perfect entryway table for your space. Like I stated above, I had been eyeing this particular table for awhile now and I knew it would look just right in my foyer space.
You definitely need to consider the color of the table, the style, the width and length, and of course the price. They can be a little pricey so sometimes it's good to look out for a sale.

But here is a quick tip for you all- if you really love a piece of furniture from a store, some places have the option to sign up for an email or text alert and they will send you a notification when the item goes on sale!
That's exactly what I did for this piece here and let me tell you, I am glad I waited because it saved me a lot of money!
In between the waiting process, I had been looking for an antique style entryway table at our local antique stores and there just wasn't anything catching my eye as much as this table did originally.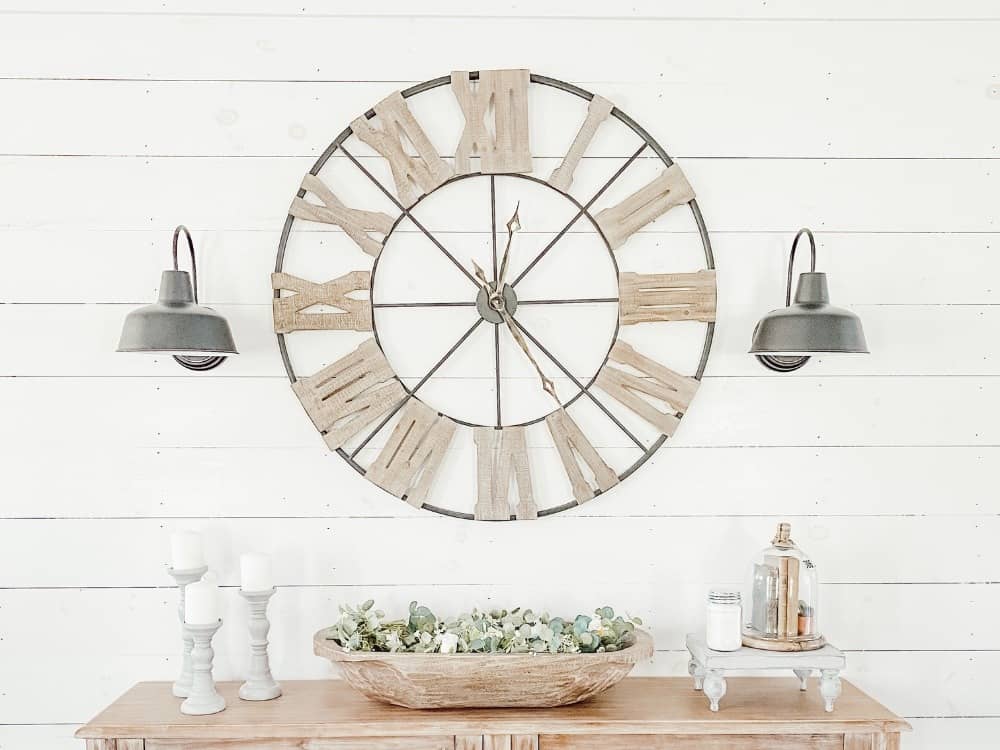 Y'all know I love me a good old antique piece, but I also love the look of modern farmhouse decor too. So I feel like this table has a nice modern look to it, but it will look fabulous paired with some old vintage goodies on top!
Be sure to take your time and really look for a piece you will love for years to come (which is hard for me to do since I am a very impatient person lol)!
Lighting
I think a key component to styling an entryway table is lighting. Whether it be big lamps on each side of the table, candles, sconces, or all of the above!
I chose to do something very different when it came to lighting this area- I chose to hang up sconces with no electricity!
Now, you may be wondering how on earth do you do that?! Well, I will give you a quick summary below, but if you want a full tutorial, then check out my friend Liz's blog post on how to install lighting anywhere!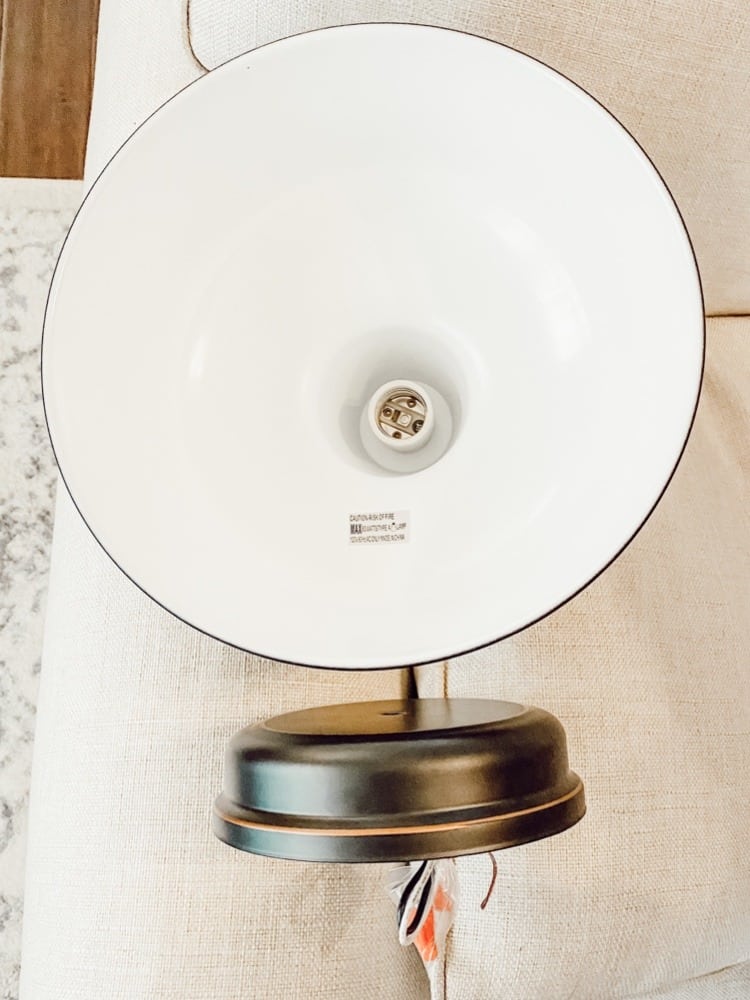 Basically as you can see from the pictures above I used puck lights instead of actual light bulbs and the cool thing about them is that they are remote controlled!
So after we drilled the sconces to the wall, we can just turn the off and on when we want to for some extra lighting.
You can also dim them or set them to a timer as well too which is awesome! And as you can see above, you can easily take them out and replace the batteries whenever you need to as well.
I have linked everything I used for this project below:

The sconces I ordered are also made for outdoor use. It's important to note that you can save all the cords and everything to it, and just tuck it behind the sconce in case you ever wanted to use it for outdoor use as well.
But I am really digging them on this wall and I am not sure if I will ever move them! At least not anytime soon!
Centerpiece
Another crucial piece to entryway table styling is finding the perfect centerpiece. I used my large dough bowl and if you remember from my previous tablescape posts, it used to be on my dining room table.
But I placed it on my entryway table instead and fell in love with how it looks.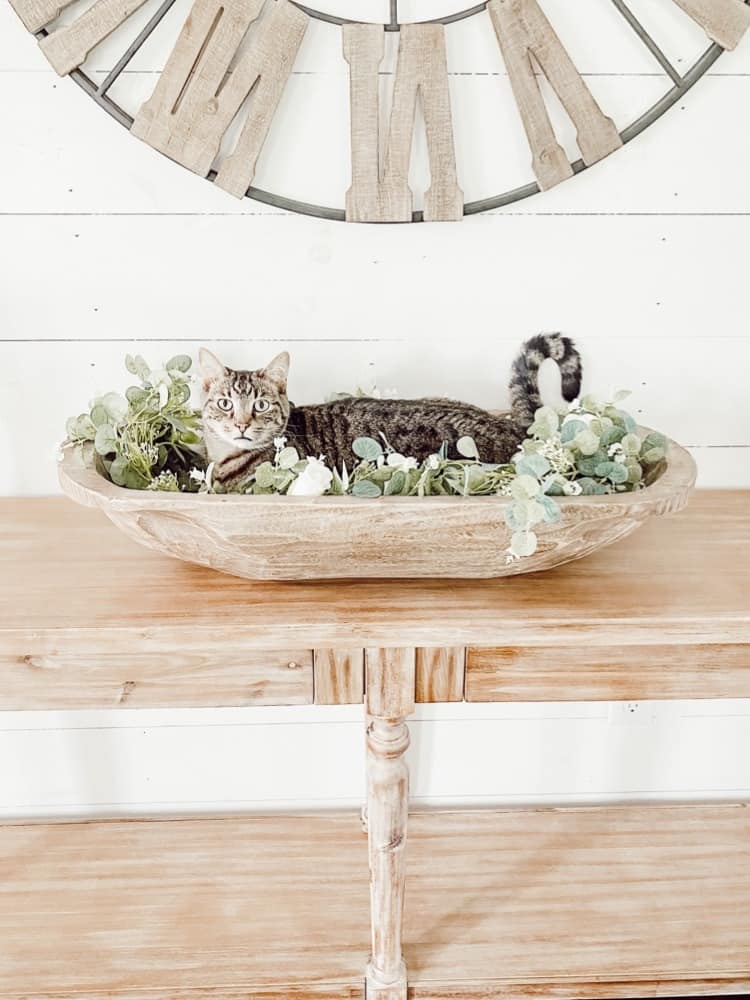 This table is very long so I needed a centerpiece that would be very long as well. The dough bowl was the perfect solution for that.
And just like for my tablescapes, I can easily change out the decor from season to season. I literally can't wait to fill it with pumpkins for the Fall!
Baskets and Blankets
Another great option to style an entryway table is to add a basket full of blankets and pillows. It's both functional and beautiful decor because you can easily throw the blankets in there when you aren't using them! It also makes your home appear more cozy and put together too.
You have blankets readily available for your guests if they are cold, but they also aren't scattered all over the room to make it look cluttered too.
So it's a great option and solution for an entryway space!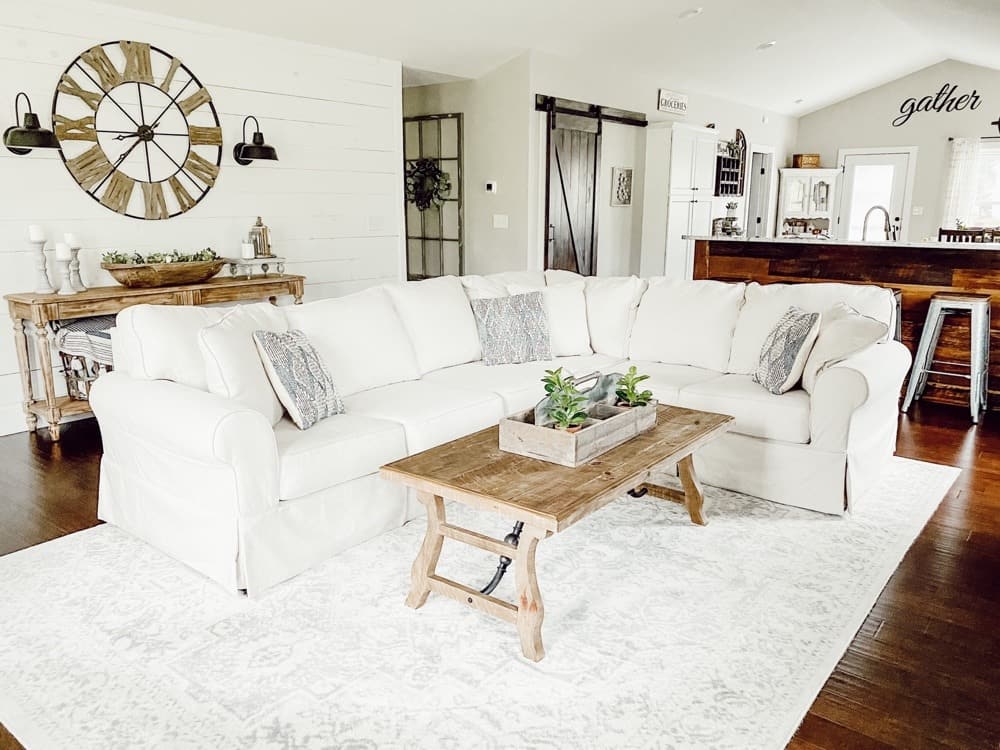 Other Decor Ideas
Since I filled up the majority of my entryway table with big pieces, now I just need some little pieces here and there to style the empty spaces.
Y'all know I love candles as well so of course I am going to put some on my entryway table! I found a set of three distressed candlesticks and added them to the side of my dough bowl.
I always suggest to style things in threes or odd numbers because it seems like your eye is just drawn to it more.
It's also easier to style too in my opinion. And if you're looking for some jars or vases to decorate your table with, then check out my friend Lynn's list of Gorgeous Accent Jars and Vases! She really listed some perfect ones that would look so good on an entryway table too!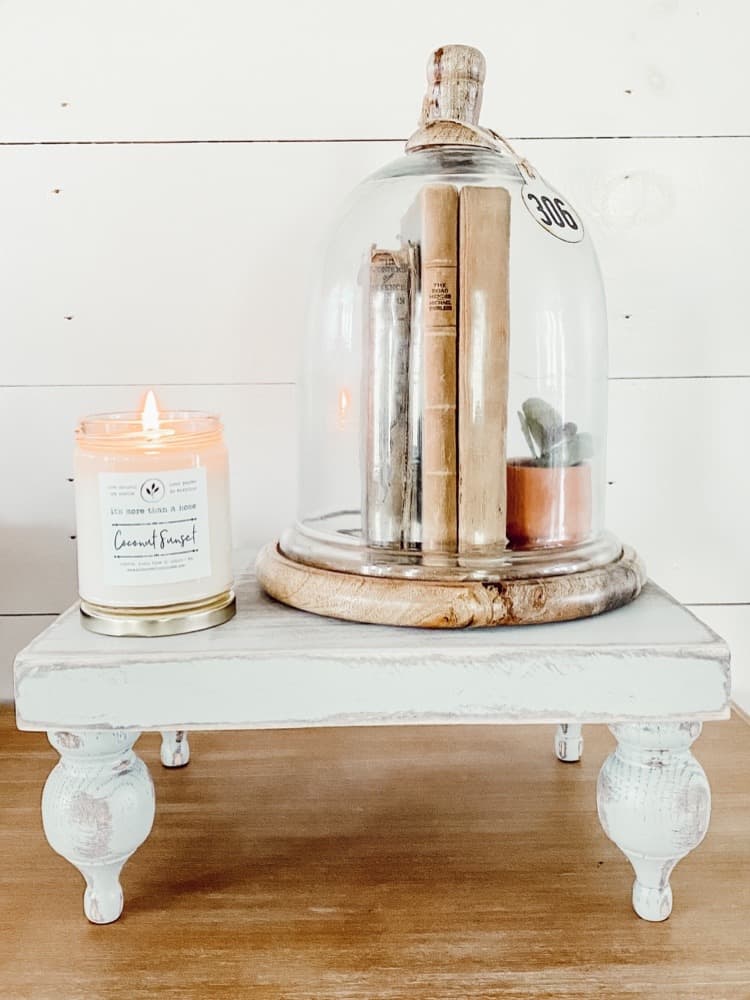 On the other side, I was able to find this ADORABLE farmhouse riser and it is practically almost the same color as my candlesticks which is a huge plus!
I placed a candle on that riser as well as my vintage cloche where I have antique books displayed inside. My candle is from It's More Than A Home, and if you remember I shared all about them in my post about small businesses to support.
You'll notice I have a set of three books inside the cloche and the riser, cloche, and candle are all a complete set of three too. It seems balanced and pleasing to the eye that way.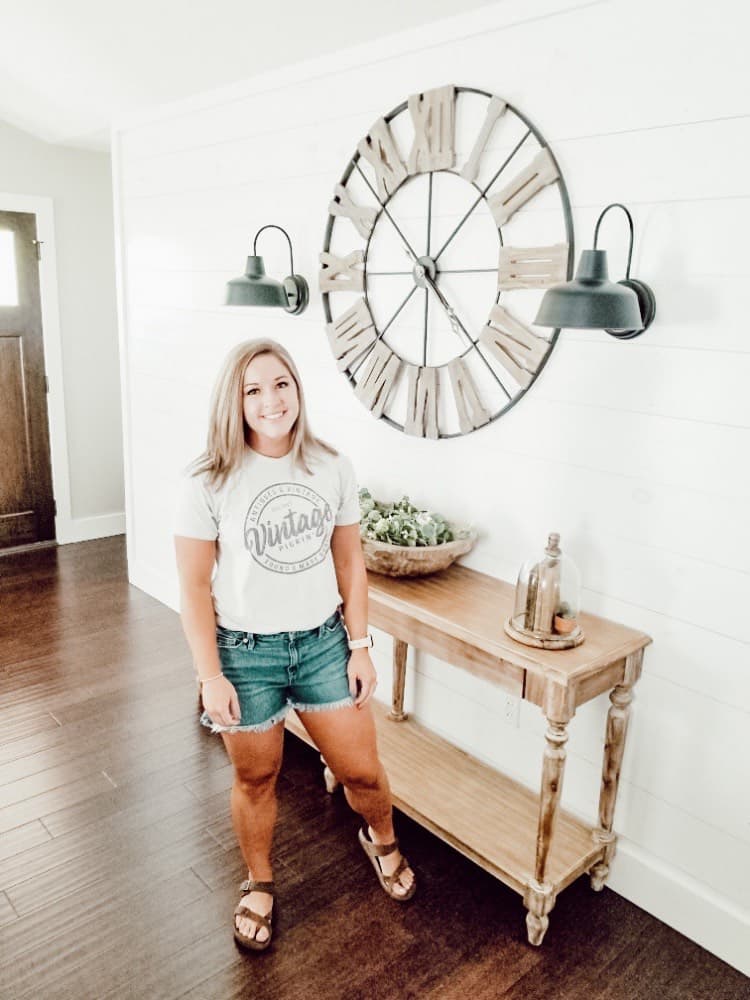 Conclusion
Styling an entryway table or space doesn't have to be hard or daunting to you. Find pieces you love and incorporate them into a way to display them and make them cozy.
Use some of these ideas I gave you, or come up with some of your very own! I would love to hear about how you guys style your entryway tables too!
And if you want to see a complete transformation of this space, check out my recent entryway refresh project I did!
Let me know below and thanks so much for stopping by!