If you've been around here for awhile, then you know that we created a DIY shiplap wall for Toby's Cat Room a few months ago. That was just to dip our toes into the DIY world. And since we got a small taste of it and loved it, we decided to go big or go home! So that's why we partnered with Weaber Lumber to create a beautiful, rustic shiplap wall downstairs in our game room.
This wall was much larger than the first wall we attempted shiplap on, but I am so glad we went for it and tried it out. Because the end results look fantastic!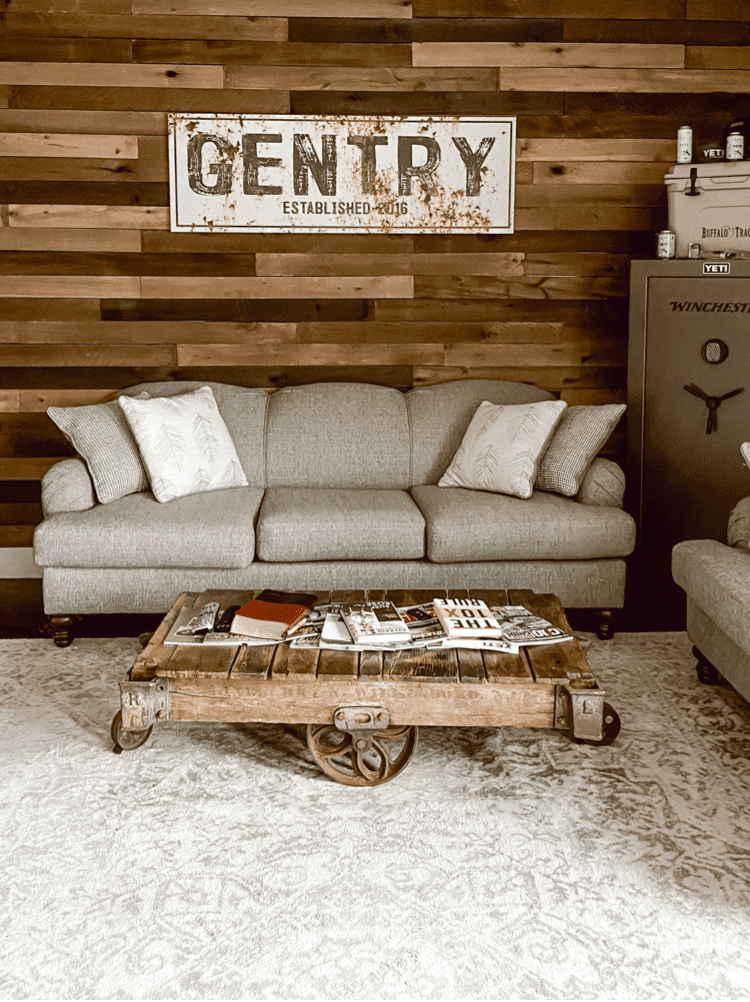 This post contains affiliate links. Click here to read my disclosure policy. I was also gifted the lumber for this project courtesy of Weaber Lumber. But all opinions are my own.
Materials Needed for DIY Shiplap Wall
Weaber Lumber Hardwood Boards (We used the weathered color, but they have plenty of other options available as well).
Lots of Nails
Stud Finder
Black Paint
Circular Saw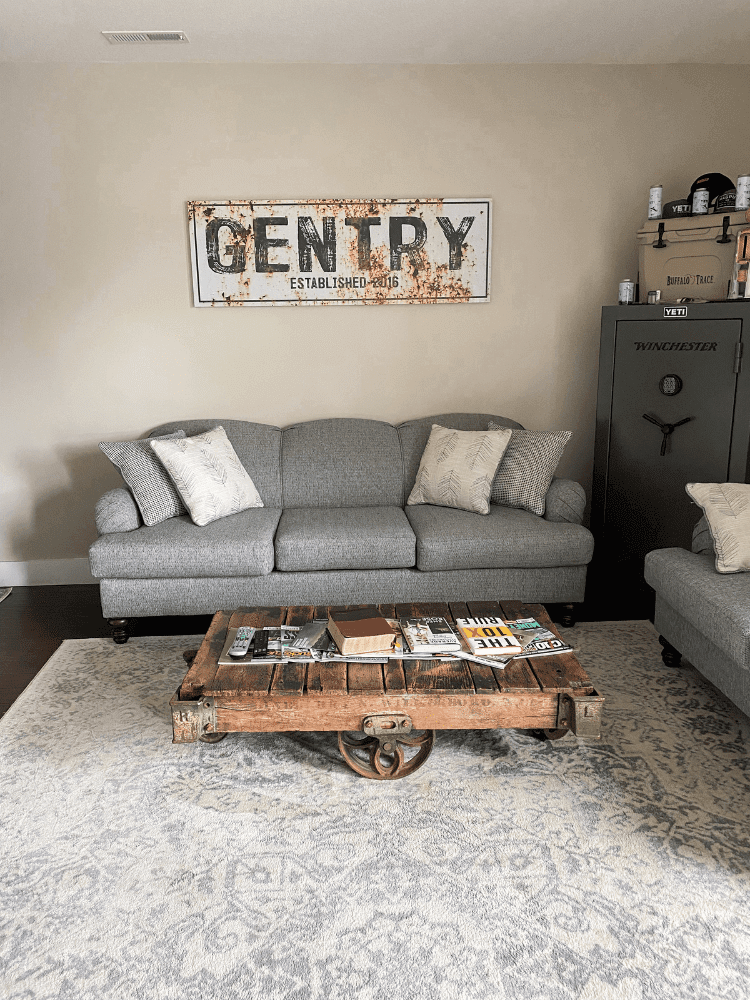 First Steps For DIY Shiplap Wall
The first thing we did was use a stud finder to locate all the studs in the wall. At first my husband just marked a little line where each stud was.
Then, he went back and drew a line down the whole wall so he could see as he went up with the shiplap boards where to nail them in.
He just used a sharpie for this and the boards will cover it up so you won't see that at the end.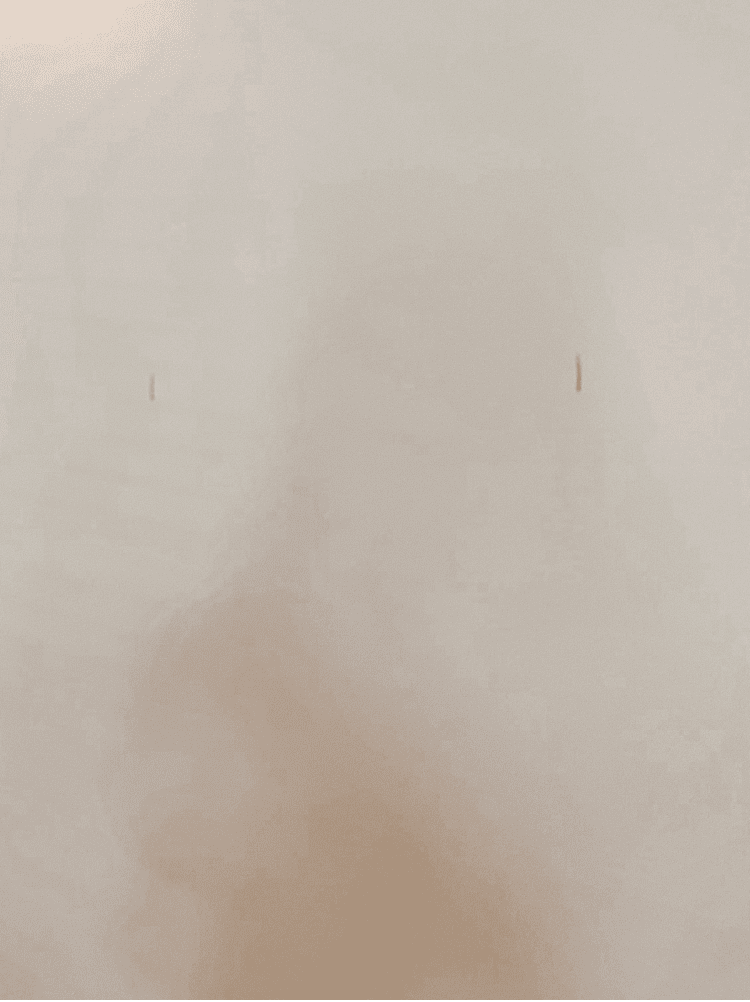 Attach the Shiplap Boards to the Wall
Once you have figured out where your studs are, you can now attach the boards to the wall. We used our nail gun and be sure you have plenty of nails readily available for this project.
We did have to take a break in the middle of it and head to our local Lowe's Home Improvement store to grab more.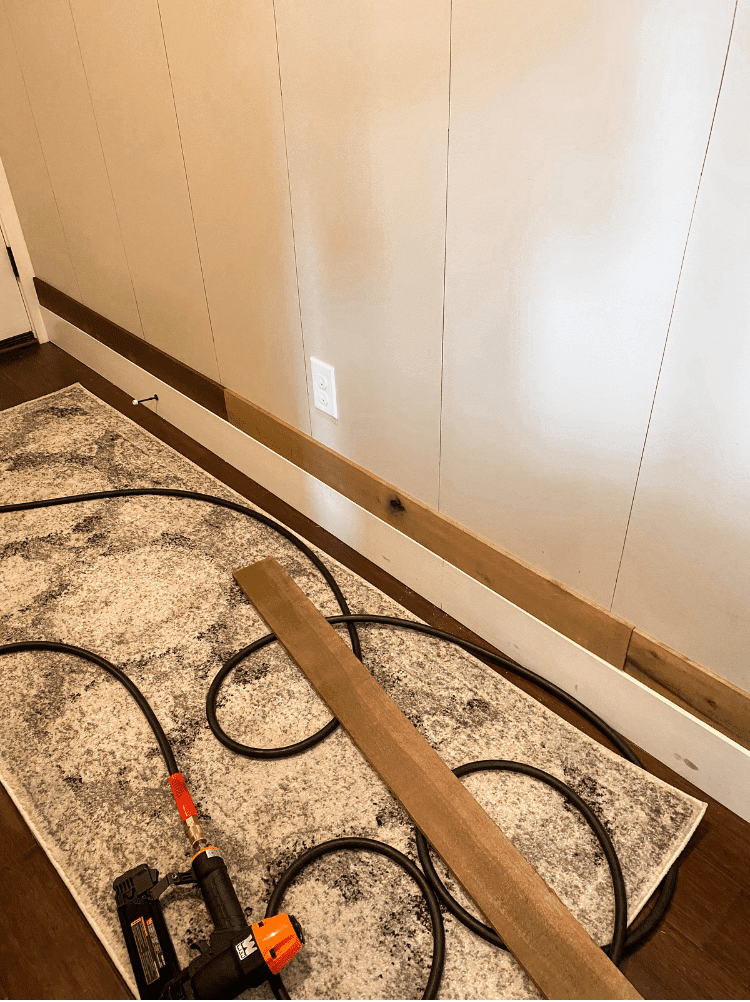 This type of wood is meant to look rustic so you will notice as you go along that not everything lines up perfectly even. This kinda drove my OCD self crazy.
But I had to just remember that we wanted a rustic and vintage look down here. And these boards are just that! I love how it ended up looking when we were done.
Tips and Tricks for DIY Shiplap Wall
So as I was stating above about the boards being a tad uneven, you may notice that there are slight gaps in between each board when you nail them in.
Weaber recommends to paint your entire wall black before you get started to avoid seeing the sheetrock in between the boards.
However, I got so excited to start the project that I didn't even read that on the box! So our solution was to just paint as we go.
Because we had already nailed down several rows of boards before we noticed the gaping and we didn't want to have to start completely over.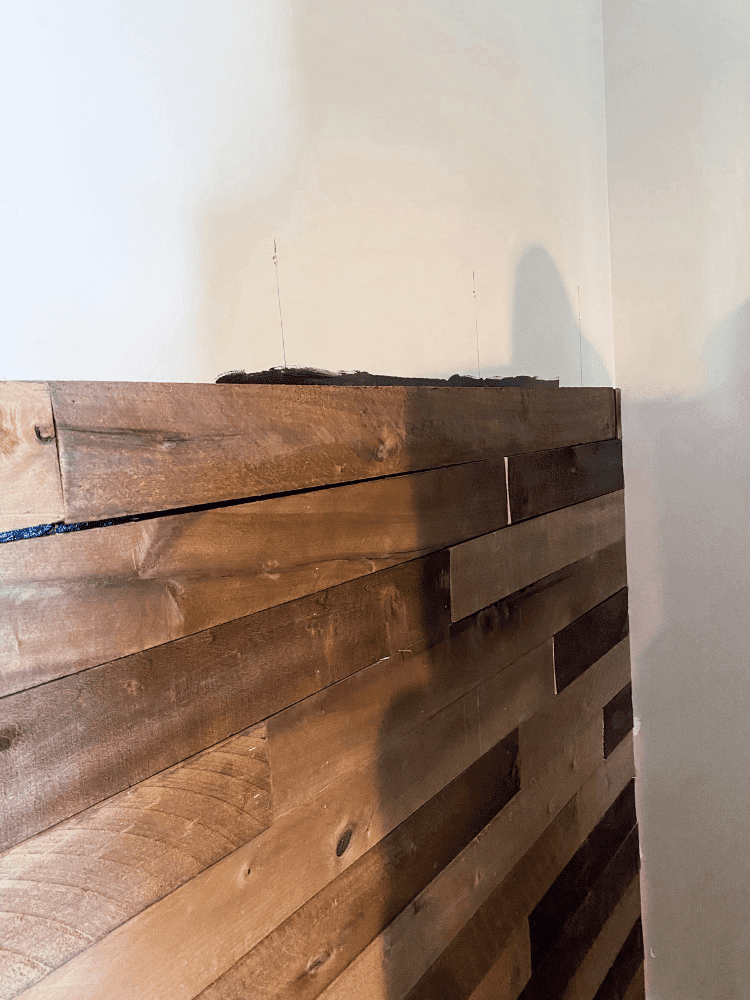 My husband would just hold the boards up before we nailed them in. And that way we would determine whether or not a light gap would be present between them.
If there was, I would simply go through and paint a thick, black line above the previous board. Then, we would nail the other one in. This may sound like a tedious project, but it really wasn't.
This process went by fairly quickly and we got this DIY Shiplap Wall done in just one day. If your walls are already a darker color, you may not even need to do this step.
But as you can see, our walls are light. So it was definitely noticeable when you would see gaps in between the wood.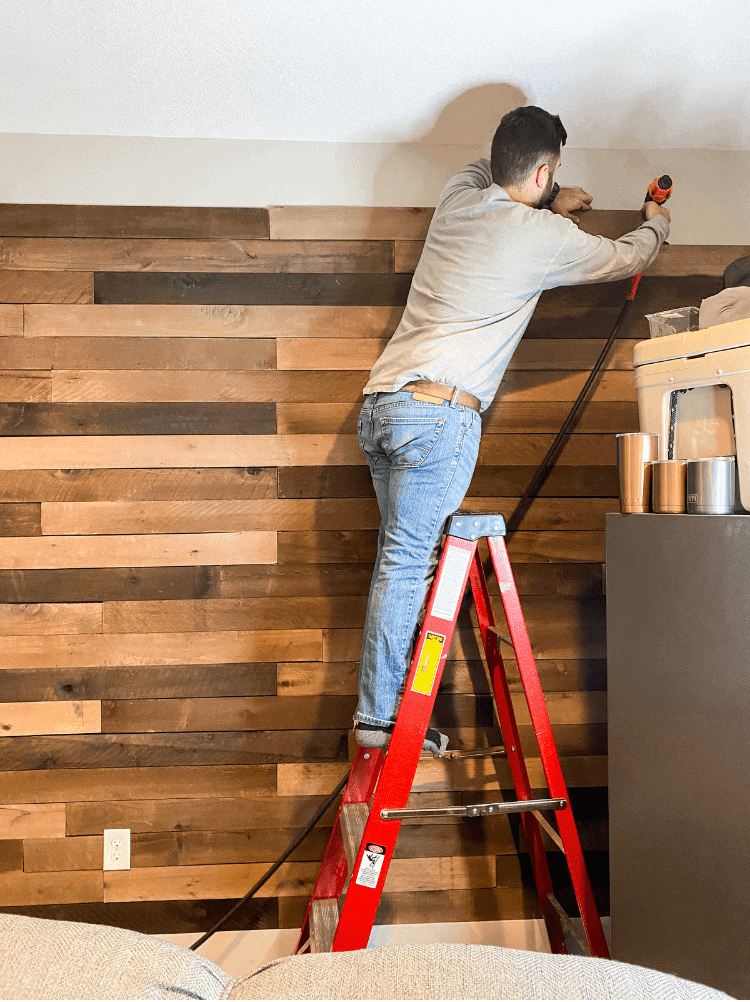 Final Thoughts About Weaber Lumber
Overall, I am highly impressed with this product. The boards got delivered extremely fast and it was super easy to figure out how much we needed to order before starting.
They have an estimator on their website and you can put in the dimensions of your wall. It will tell you just how much you need. This includes extras in case there are a few boards too warped to use.
Our wall is 22'L by 9'H and it recommended that we would need 21 units to finish this space.
We ended up have 6 units left over. So really we could have been more picky about which boards to nail in.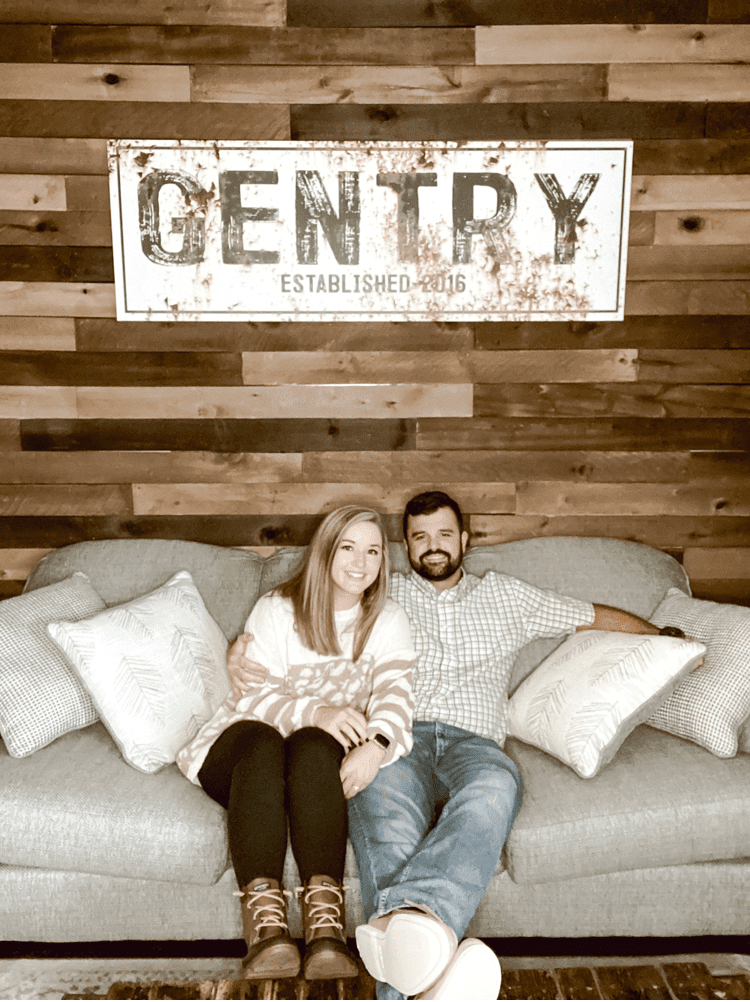 We did notice that some of them were a tad bit warped, but we just worked with it. We were afraid that we would not have enough to complete it.
Which in reality, we had plenty and could have changed a few boards out. But all in all, this was such a fun DIY project to do.
And now we want to do the entire downstairs game room in this shiplap! Fingers crossed we can get more lumber soon.
If we do, I will of course show you guys the outcome. We are super excited for our plans for this space and this is just one of the many ideas we have for down here.
So be sure to keep checking back for some more DIY projects we have up our sleeves for this space here soon!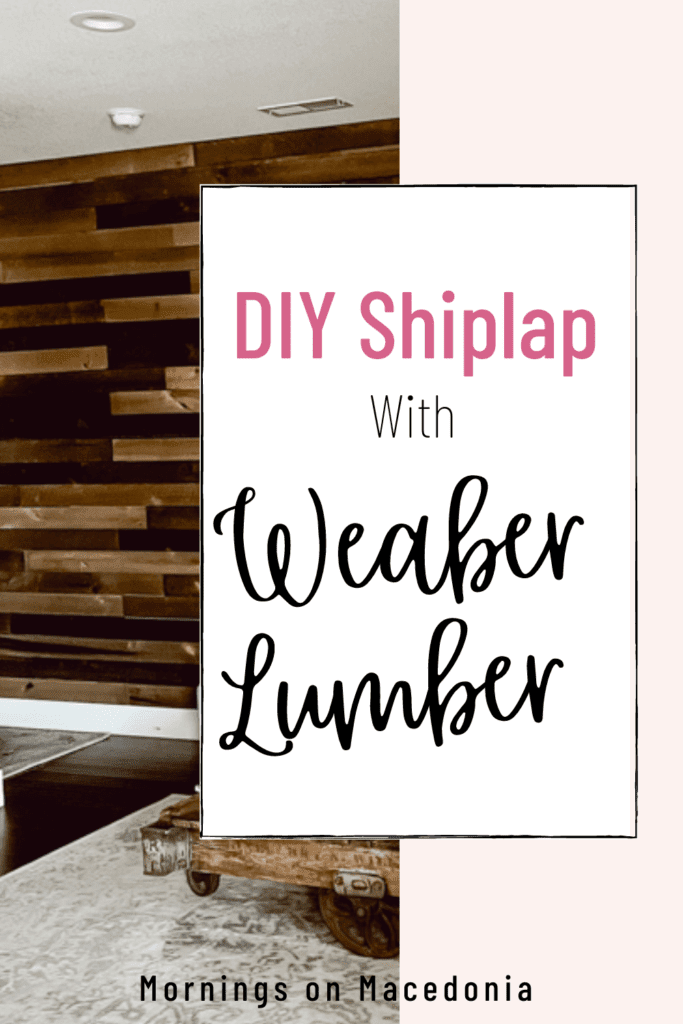 Learn more about how to turn your builder grade home into something more here too!