Have you ever been handed down something that you weren't sure how to display in your home? Or maybe you love it, but it just doesn't match the decor and/or style you have going on currently. Well, I am here to give you a few tips and tricks on this. I will show you how to repurpose an old family heirloom and how to give it new life again.
Plus, I will show you just how you can make it work for you and your home. Keep on reading to see how I transformed a special piece that was handed down to me!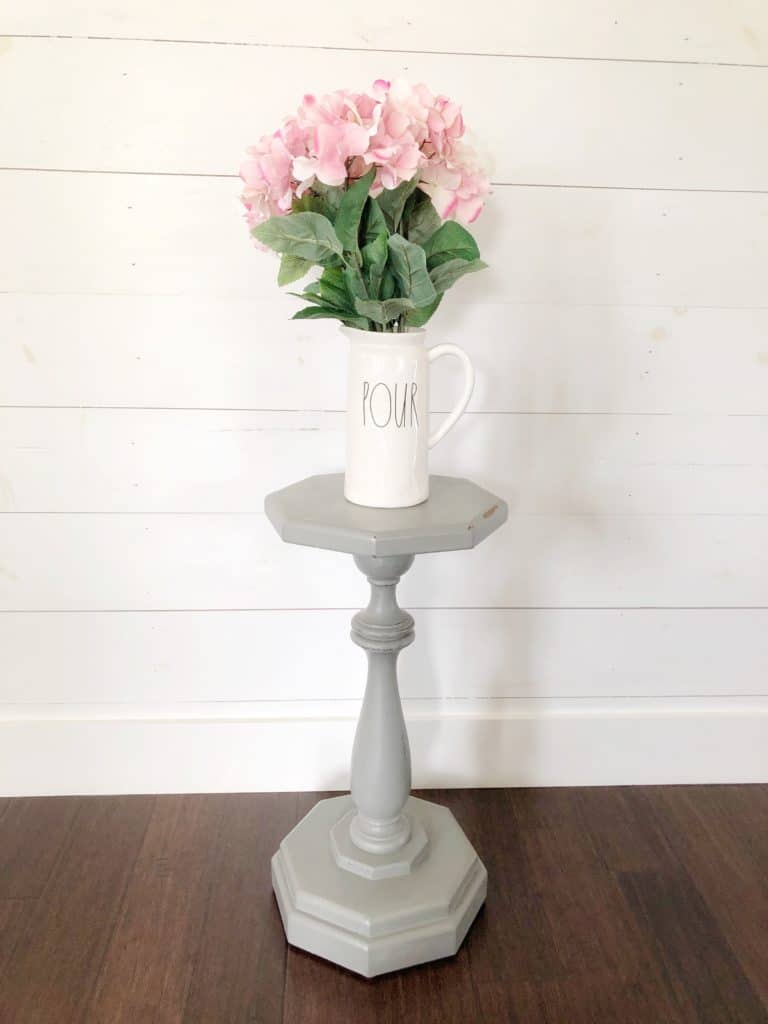 This post contains affiliate links. Click here to read my disclosure policy.
My Old Family Heirloom
I was gifted this beautiful end table made by my great, great uncle at my bridal shower several years ago. He used to be a wonderful furniture maker for Ethan Allen.
There are many of his pieces that have been handed down to family members after his passing years ago. I was so honored and touched to receive such a special gift!
I knew that his hard work and love went into making this special piece of furniture. Because of that, I obviously wanted to display it in my home.
The only problem was that the color of the wood from this piece clashed my decor style greatly. And my OCD self just could not handle that.
So I began to brainstorm ideas on how I could transform this family heirloom and make it into something that was more my style.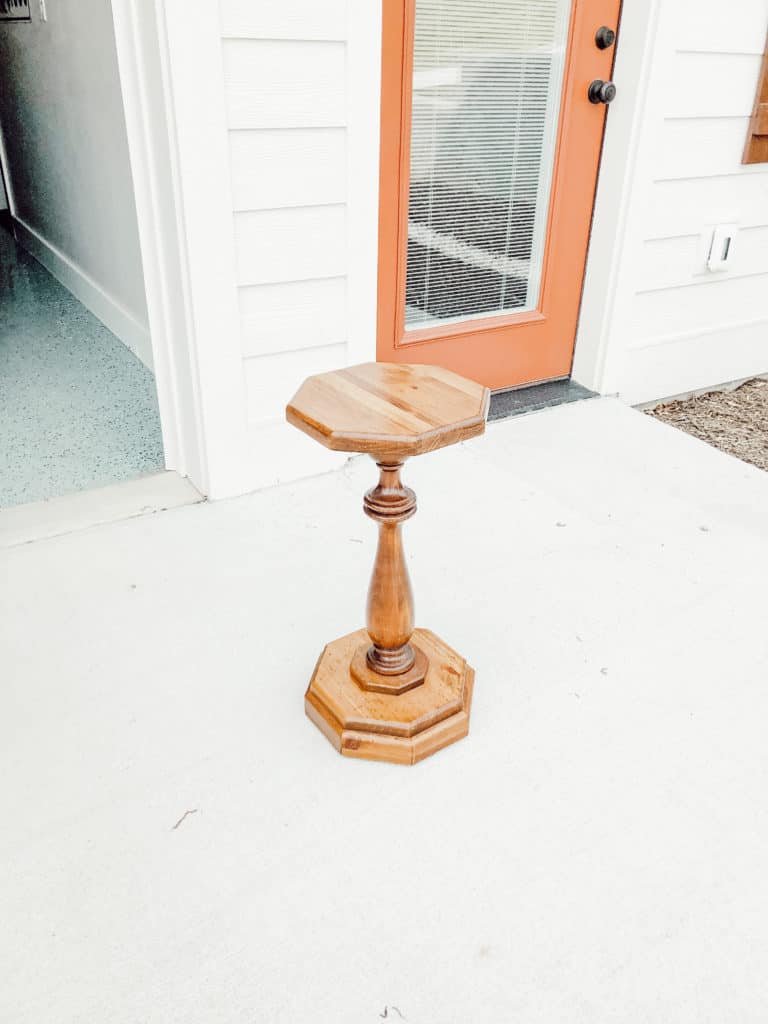 My magic answer was of course to chalk paint it! Y'all already know I love a good painting project. If you remember I shared all about How to Paint and Distress a Mirror Frame a few weeks back.
And I always love a good challenge on how to give an old item new life again! So this was right up my alley.

This was also my very first painting project (I actually completed this last spring) and I was SO NERVOUS that I was going to mess this beautiful piece of furniture up.
I felt like I had the pressure of family members breathing down my neck (even though I really didn't).
My worry was if I messed this piece up, then I basically destroyed a piece of our family's history. I mean, that's a big burden to carry on your shoulders right?!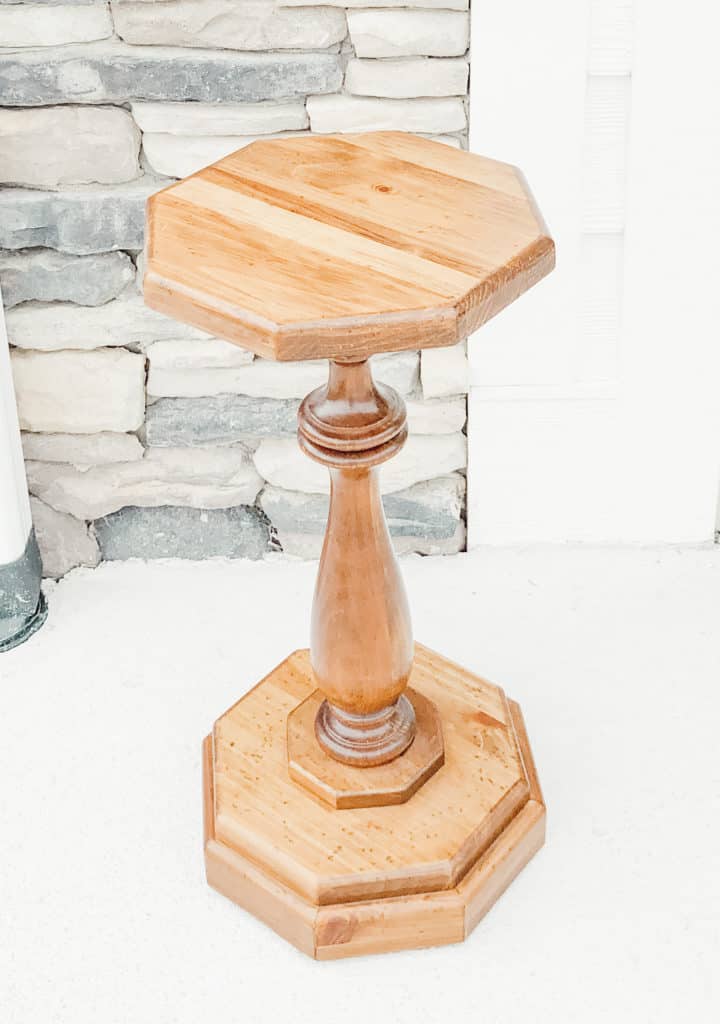 But, I am so happy that I worked through the pressure and went for it! It has become one of my favorite pieces to display!
And if I left it in its original shape, I don't think I would love it as much. If you are scared about transforming an old family heirloom, I am here to tell you- don't be!
If you feel like giving an old piece new life, then definitely do it! The process of transforming this piece was super easy and simple and the outcome was worth it in my opinion.

How I Transformed This Old Heirloom Piece
The first thing I did was to wipe the end table down real good with a damp cloth. Then I dried it off well to get it prepared for the chalk paint.
Once it was cleaned and dried, I applied the chalk paint. I used Magnolia Home Chalk Style Paint in Garden Trowel for this project.
I got it back when you could just pick it up at Target, but unfortunately I don't think they carry the paint in stores anymore. Or at least my local one doesn't because I haven't seen it in forever.
But thankfully you can still order it online! I used a total two coats of chalk paint, and I let it dry completely in between coats.
It did not take me long at all to paint it. I was very pleased with this chalk paint since it was my first time using it as well.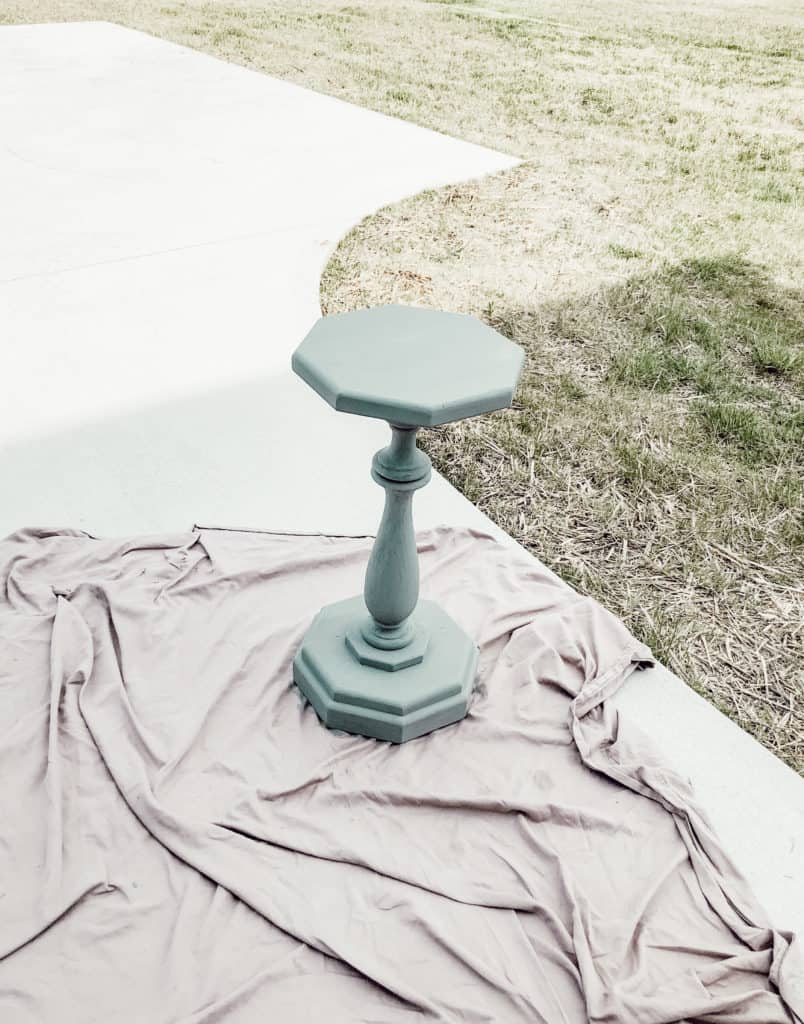 After the paint had completely dried, I added a clear chalk paint wax on top. I used Annie Sloan Chalk Paint Wax in Clear and I love how it turned out.
The paint itself has a rough-like texture and after putting this wax on, made it more smooth to the touch. To apply, all you do is take a damp rag and get a little wax on it.

Then I applied the wax all over the piece of furniture in the same direction as my brush strokes. A little goes a long way- you don't need too much of the wax.
I still have plenty left over for another project! You could also apply this using a wax brush. However, I do not have one of those currently and a rag worked just fine for me!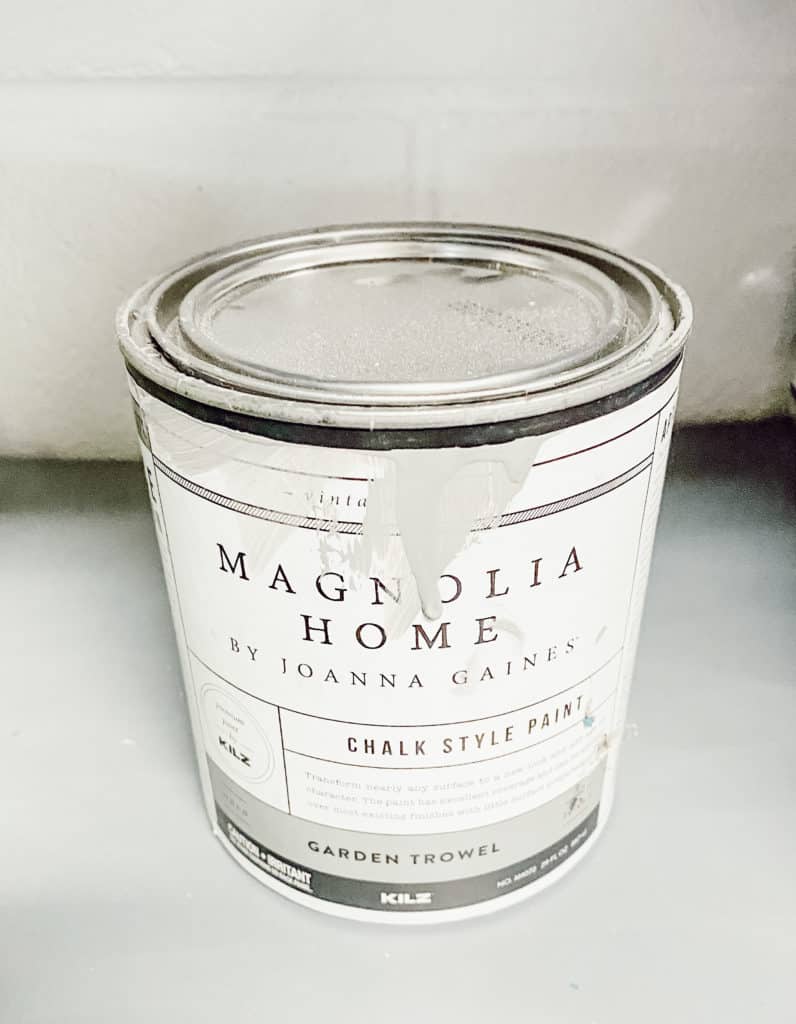 I let the wax cure (2-3 hours) and at this point you can buff it out if you need too. Just take a clean rag and wipe any excess wax off. Be sure to go in the same direction as your brush strokes again.
If you are waxing a table or dresser that will get a lot of surface use, then you may want to apply 2-3 coats of wax to protect the piece. I only did one coat of wax on mine because I only plan to put a plant on it.
I wanted to give my special family heirloom piece more of a distressed look because I wanted some of that old wood to show through.
To do this, I just took a piece of sandpaper and gently rubbed the sides of the piece where I wanted the old wood to pop through.
I didn't do it too much, but you could do as much or as little here as you wanted. Or you could just skip this step entirely if you didn't want to distress it at all.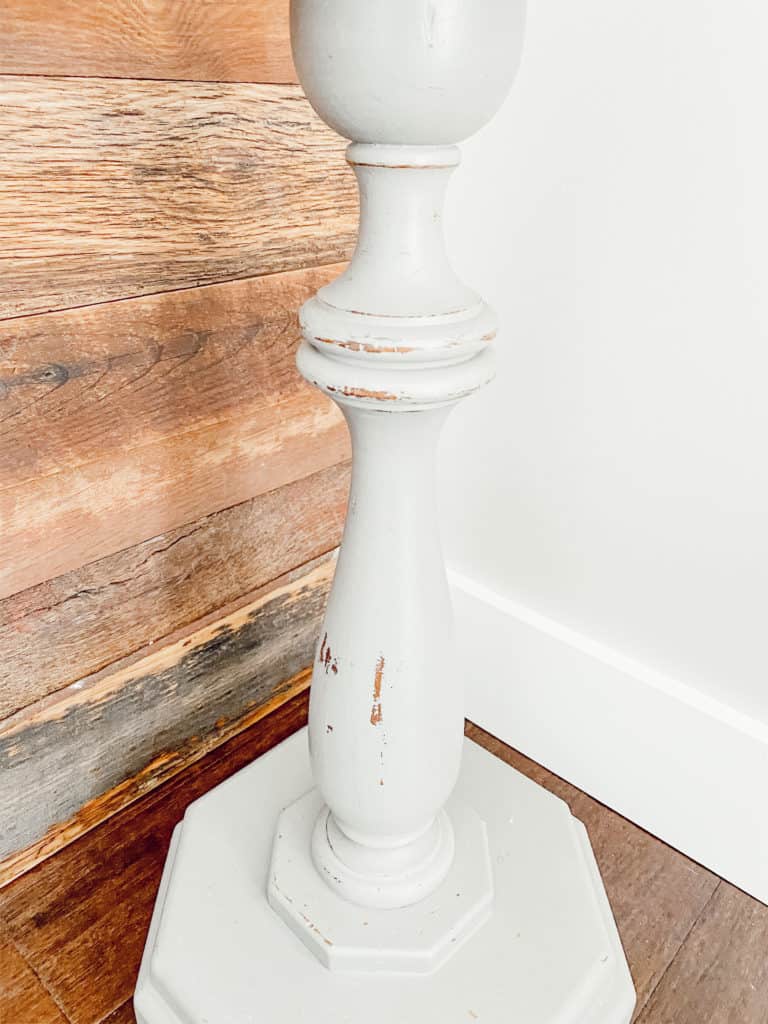 Conclusion
All in all, I am very happy with how this piece turned out. It was a quick and easy way to transform an old family heirloom piece into something that was more my style and fit my home esthetic better.
Sometimes I like to leave family heirloom pieces alone and display them in all their vintage glory. But for this particular piece, I wanted to change it up.
With just a few coats of paint, I was able to achieve my goal and still keep true to this special piece. I currently display it in our home next to our wood shiplap wall.
This snake plant below is proudly displayed on the table too. I love the pop of color it brings from the wood wall.
If I kept it the same way, it would not have looked as good against this wall in my opinion.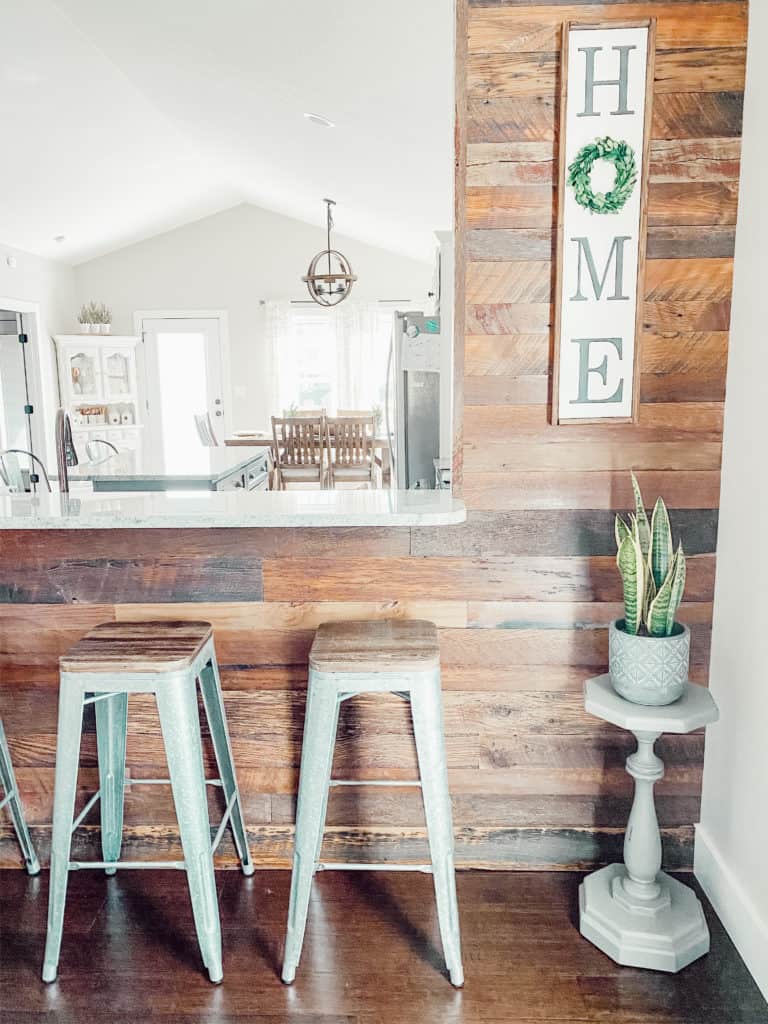 Well I hope you guys enjoyed this little tip I shared on how to transform an old family heirloom piece! It's amazing what a little paint can do to an old piece of furniture.
Do you guys have any other ideas of how to repurpose a family heirloom? I would love to hear them! Or do you like to keep everything the same and not change it?
Either way, I always think it is so special to display family heirlooms in our homes. I think it tells a beautiful story of our past and where we came from.
It also is a great way to remember those that have passed on before us. Thanks for stopping by my friends and I hope you all have a wonderful week!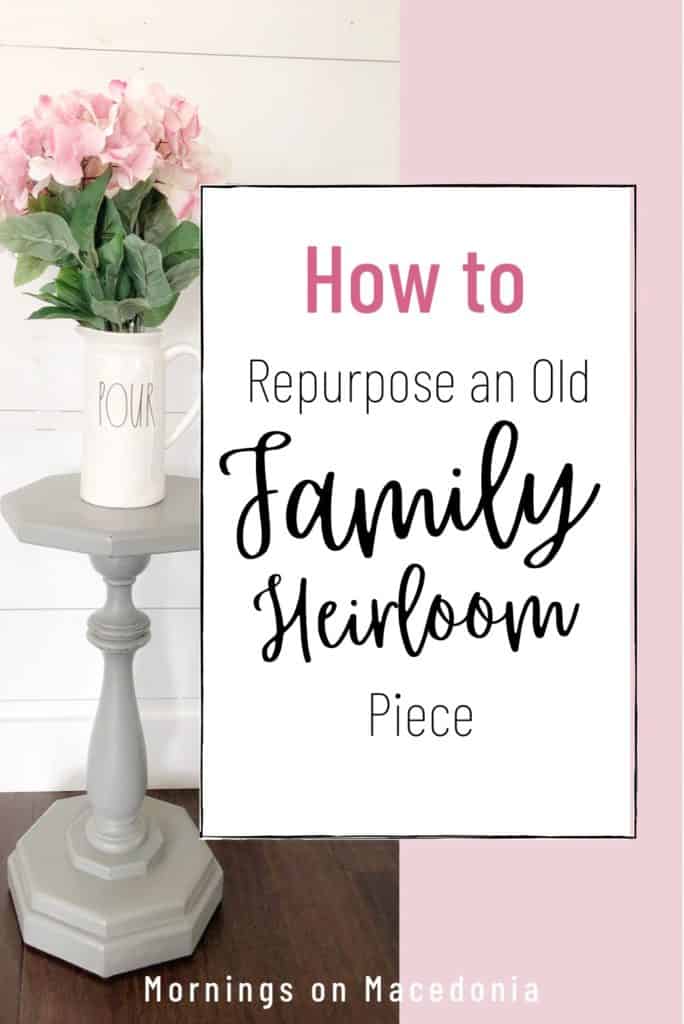 Learn more about how to turn your builder grade home into something more here too!