Are you looking for the perfect Valentine's wreath for your front door this year?! Well, look no further because I have the easiest idea for you! Come check out this cute and easy DIY Wood Bead Heart Wreath I made this weekend!
Whether you are an experienced crafter or not, this Valentine wreath tutorial is great for anyone, regardless of skill levels. And, since this wreath is made from wood beads, it's very different from any traditional wreaths you have seen for Valentine's Day in the past.
But, honestly, it is way more cost effective too because of the minimal supply list. And I am all about that! Usually, when you see Valentine wreath ideas online, the supply list is astronomical. So if you're on more of a budget, but looking to enhance your Valentine's Day decor, this post is for you!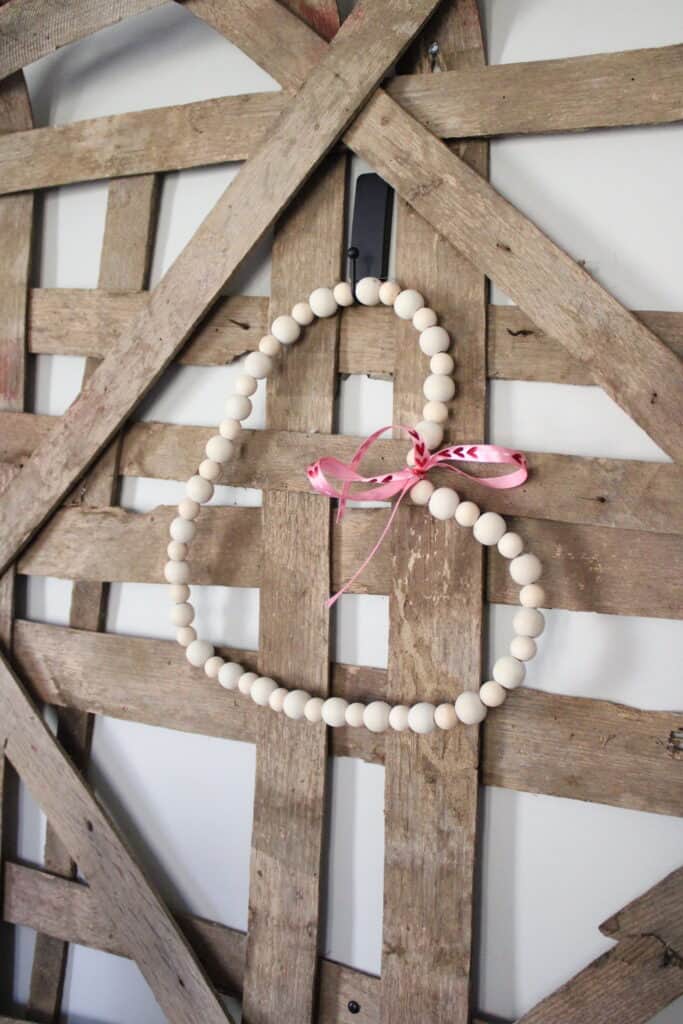 This post contains affiliate links. Click here to read my full disclosure policy.
Materials Needed for Heart Wreath:
Wired Twine (and Wire Cutters to cut the twine with)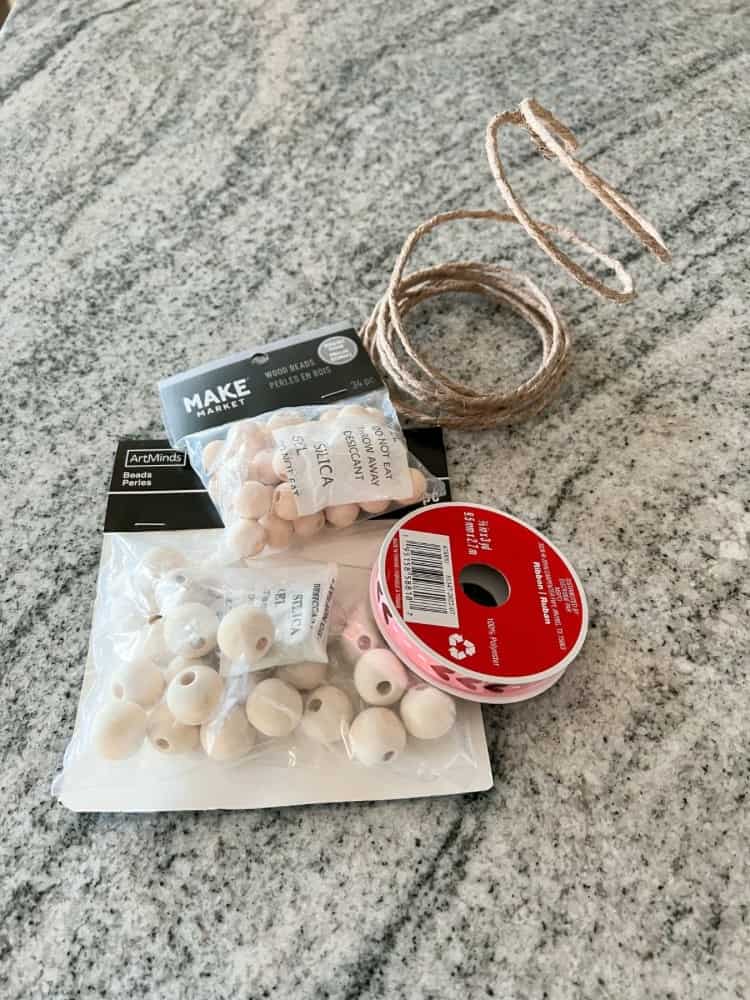 And that's it! Do you know of many other themed DIY projects like this that only call for 3 materials?! I cant think of that many! So that's why I love this valentine decoration- cute but cost effective as well!
I also still had some wired twine leftover, so that wasn't an extra cost for me either. Most of these materials are dollar store items too so you can save some money by shopping there as well.
Stringing on the Wood Beads
This craft may remind of you of my Beaded Wood Pumpkin I made in the fall last year. Or my DIY Wood Bead Ornament that I made for my Christmas decorations too. As you can probably tell, I am loving these simple wood bead crafts.
You can easily transition them into whatever season you are celebrating or decorating for. I also had plenty of leftover wired twine, so I didn't even need to buy anymore for this project.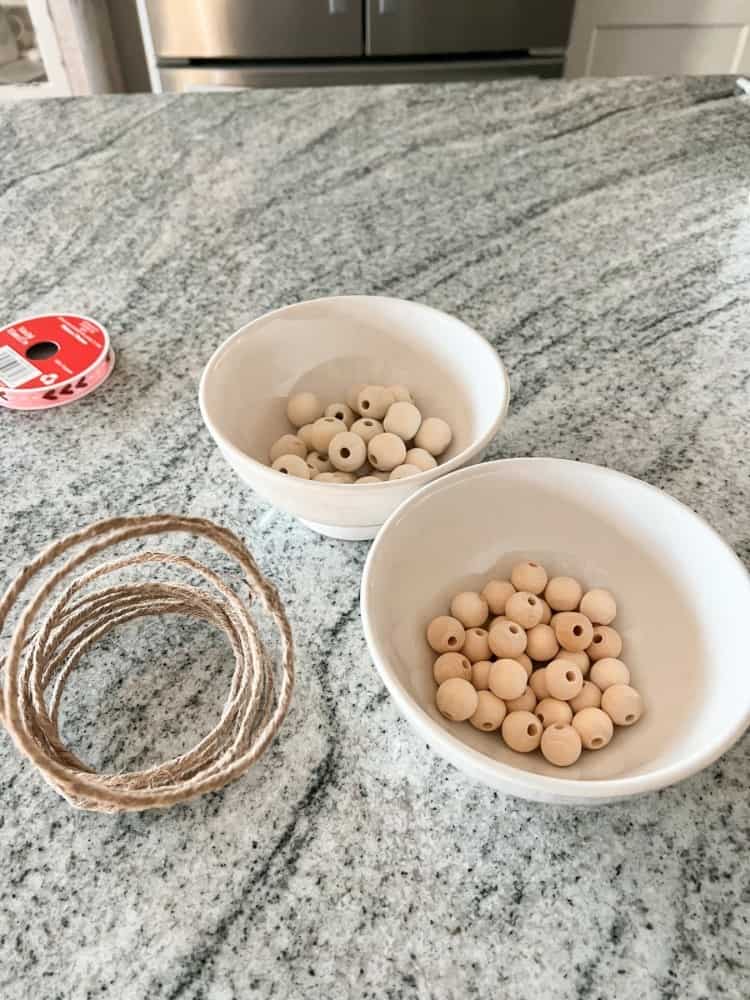 I absolutely love being able to reuse crafting supplies, don't you?! If you can't find wired twine, you could also probably use some floral wire as well. You just want something that is strong enough to hold the shape of a heart, while still being easy to work with as well. But usually, any craft store will have them in stock.
Also, if you want the beads to be different colors, you could definitely paint them before stringing them onto the wired twine. I thought about doing that, but I was kind of leaning towards a more neutral Valentine's Day decoration. Plus, skipping the painting makes this craft even easier!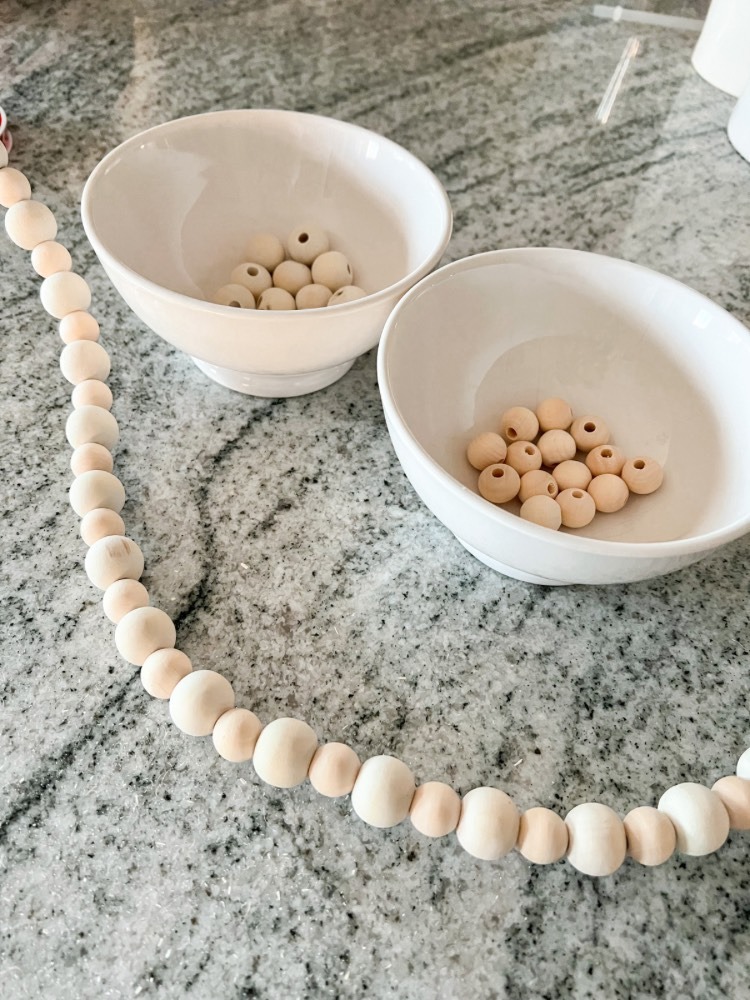 Obviously, the first thing you need to do for this DIY wood bead heart wreath, is to string the beads onto the twine. I alternated between the small and large beads back to back to give it more visual interest. But, if you wanted to do all the same sized bead, you could definitely do that too.
Creating the Valentines Wreath
Now that you have the wood bead all strung out, you can now shape the wired twine into a heart shape. I just brought the two ends together and then tied a knot between the two to combine them in the middle of the heart shape. You could also use a drop of hot glue from a hot glue gun as well to combine it.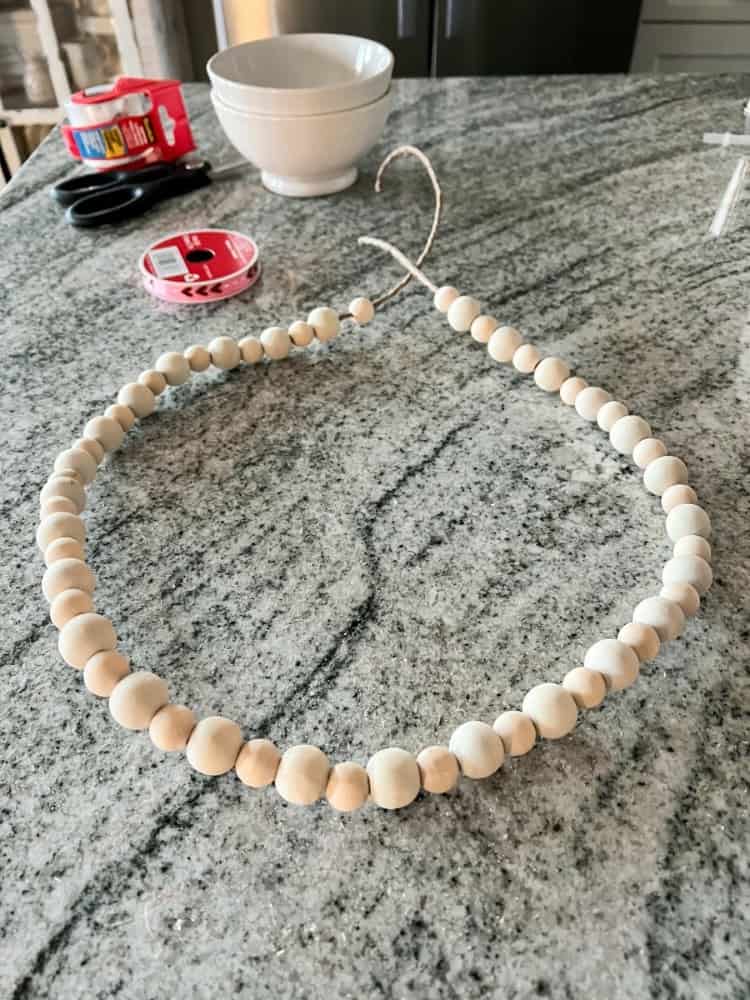 But I decided not to do that. Instead, to hide the bulky knot of wired twine, I used some Valentine's Day themed ribbon and tied a little bow on top. You could use red ribbon if you have some leftover from Christmas too. That would be another cost effective way to create this wreath too.
However, I just decided to buy a cheap Valentine's Day ribbon for this project. I also love the pop of pink the ribbon gives to the otherwise completely neutral wood bead heart wreath.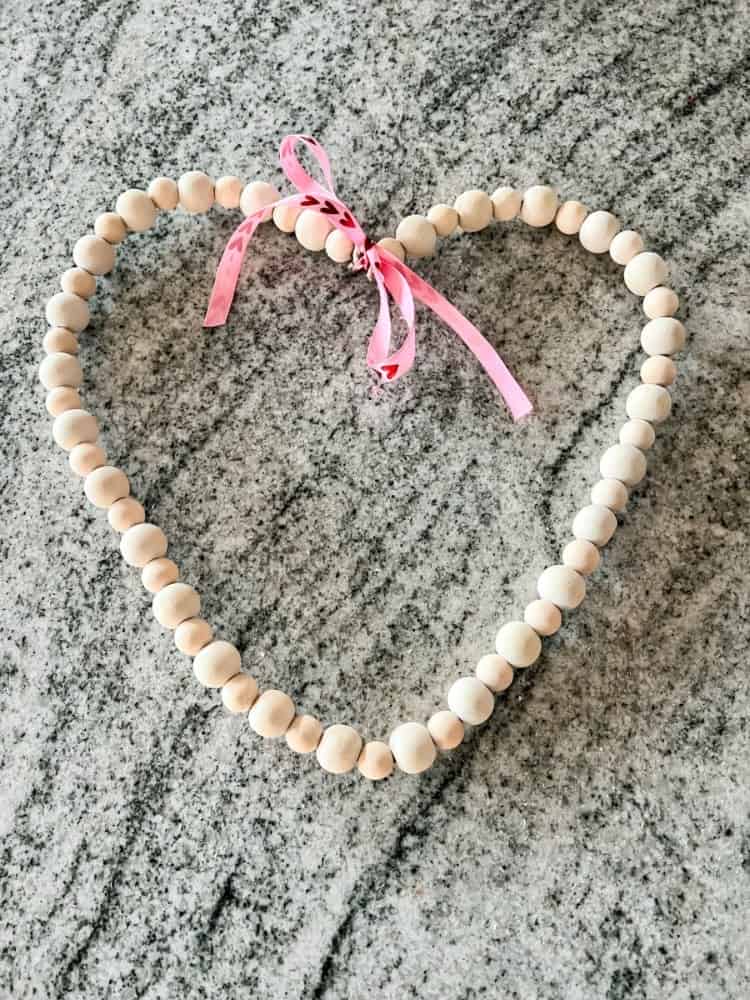 Enjoy Your Wood Bead Heart Wreath
That was the final step to this little Valentine's Day wreath DIY tutorial! It's such a great way to create a cute wreath like this. This was also so much fun to make and would be perfect Valentine's day crafts to make for a party too. Especially since it is so easy and the best part is literally anyone could make them too!
If you're looking for more Valentine's Day decorations too, be sure to check out my DIY Vintage Valentine Heart Garland. Or my Vintage Valentine's Centerpiece tutorial as well.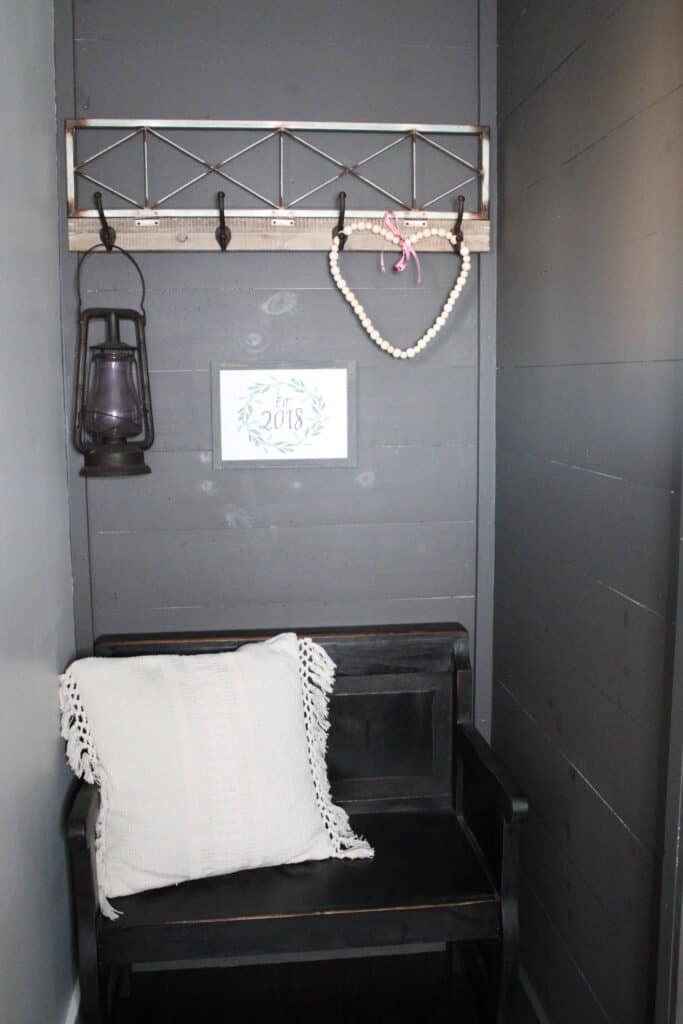 I hope you enjoyed this valentines day wreath idea and if you make your own DIY valentine wreath too, please let me know! I would love to see it in different shades too. I think that would be really pretty. I may make another one and paint it pink! Seeing as how pink is my favorite color.
I think that's why I love Valentine's Day decor so much. It makes it perfectly acceptable to sneak pops of pink into my home! I hope you all enjoy celebrating cupid's favorite day and I am so glad you stopped by to check out this quick and easy tutorial as well!