Last year, if you remember, I shared with you all how I created my vintage valentine's day tablescape. This year I wanted to keep it similar but do something a little different. So today I am going to share with you all how to create a vintage valentines centerpiece for your dining table. 
Basically all you need is a tray and a few vintage goodies and you are all set. I got a few new things for this centerpiece, but a majority of it was just stuff I already had on hand.
And you could use these ideas not only for a dinner table, but even for some coffee tables as well. Basically, wherever you want to create a romantic centerpiece, these ideas I have listed below will help you do just that!
Come style a centerpiece with me to create the most amazing romantic atmosphere for your Valentine's Day celebration!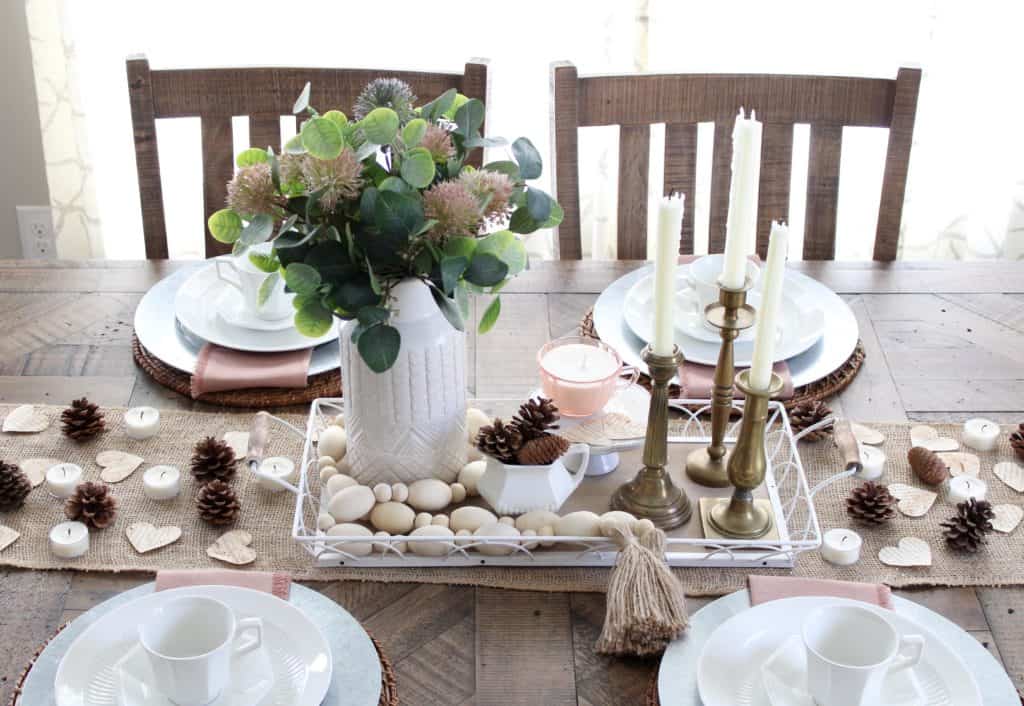 This post contains affiliate links. Click here to read my disclosure policy.
Start With a Basket or Tray
The first thing I did to start creating my vintage valentine's day centerpiece, was to get a long, rectangular tray. This was a new piece that I ended up getting for this years tablescape. 
I think having a basket or tray is essential to having a simple centerpiece. It's also one of the cheap ways you can style and re-style your table every season. Especially since you can reuse it over and over again.
If you remember, I used to have my dough bowl as my centerpiece on my dining room table. But once I got my entryway table, I moved it to a centerpiece on there instead.
I needed something to be the focal point and when I saw this tray, I knew it was the one.

I got this tray from my friend Jackie's shop, Rodworks of Asheville. If you're local, you should definitely go check out her store because they have so many cute seasonal and everyday home decor pieces! 
I like this specific tray because I can continue to use it throughout all the different seasons so it was totally worth the price.
I even already have an Easter centerpiece in mind for it, but obviously, we will talk about that later!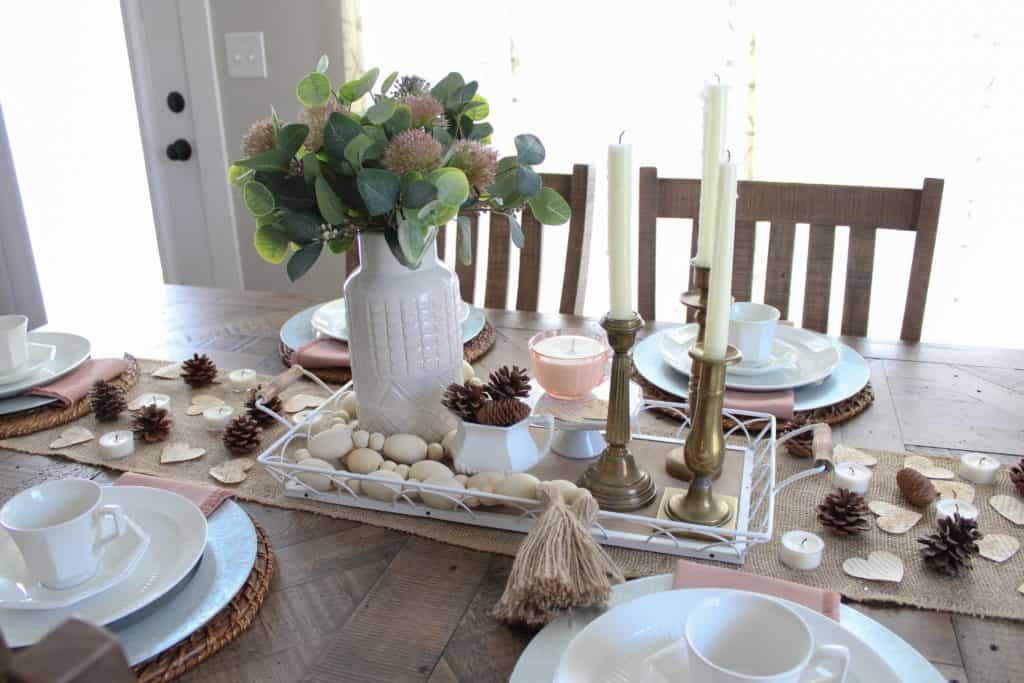 If you don't have a tray, there are a lot of other options you could use as a centerpiece too. Such as a basket, tiered tray, or even a dough bowl like I used to use as well.
Or if you need to go out and purchase something else like I needed to, I would tell you it's would really be worth the investment.
Like I mentioned above, if you get something that is good quality, you can definitely use it as a mainstay and keep re-using it season after season.
Find Items to Give Your Vintage Valentines Centerpiece Some Height
I think Valentine table centerpieces always look good when you create differing heights with objects. For example, I found one tall vase that I loved (also from Rodworks) and wanted to start designing my centerpiece from that specific piece. Any kind of flower vases would work well here too.
I placed the vase where I wanted it to go in my tray and worked my way around it in the correct direction. I did not want it to be in the very center of the tray, instead I wanted it to be on the side.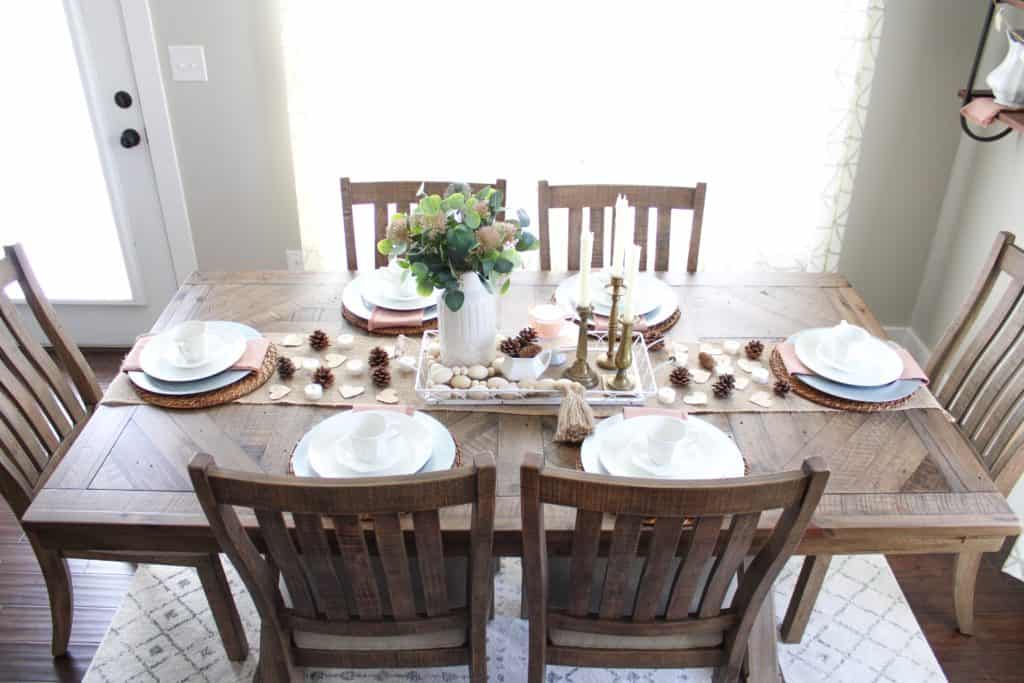 Once I figured out where I wanted the vase, I knew I needed to add something of similar height to the other side of the tray. I ended up using my brass antique candlesticks and placed them in the opposite corner.
There are three of them total and have different heights which I think adds so much dimension to the centerpiece. I also love grouping things in odd numbers as well because I feel like the eye is more drawn to it. 
Also, when you light the candles, it definitely makes for a romantic dinner at home as well. I recommend making my perfect seared filets, if you want a really special celebration of the day of love!
Add in Some Greenery and Accessories
Now that you have the majority of the vintage valentine's day centerpiece figured out, it's time to add in some little accessories. I of course chose to add in some greenery to my pretty new vase.
The vase I got is a neutral color and goes well with all my creamy ironstone I already had on the table for place settings. But, if red hearts are more your jam, feel free to add in as much color as you want to here. Even some conversation hearts would be cute as well!
I am just more drawn to the pink color rather than the red color for Valentine's Day. Especially since I can bring the pinks into Easter more easily than the reds!
I wanted to keep it pretty neutral and just add in a few pops of color here and there. The florals I chose have a slight blush color which is perfect because it goes so well with my napkins that I already have.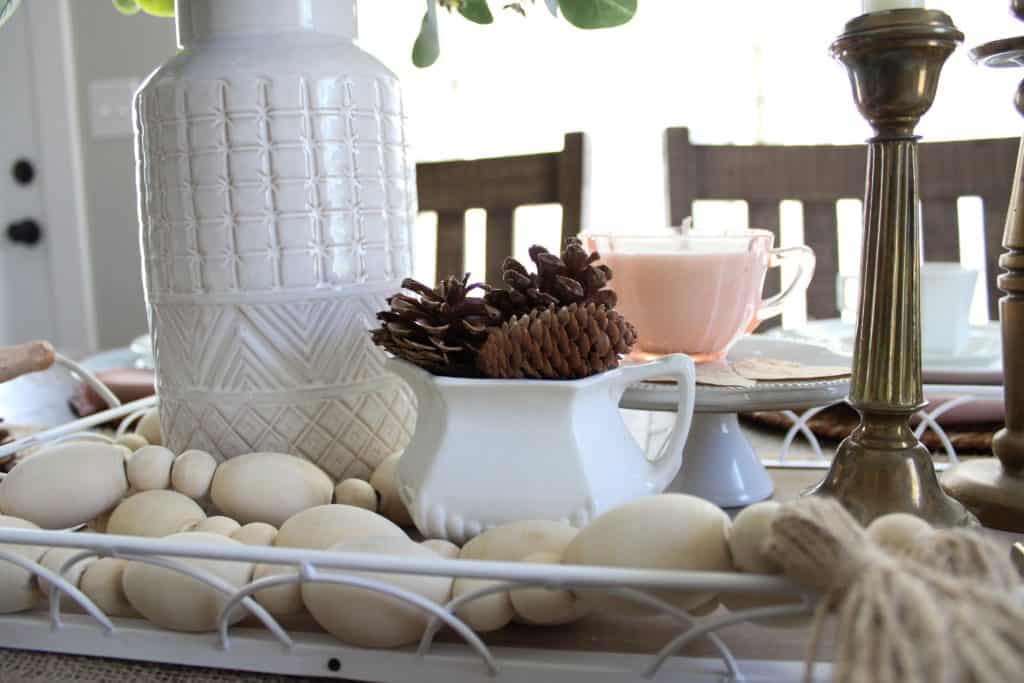 Another fun thing to add in to give your centerpiece some texture is a beaded garland. I got this fun garland again from Rodworks and I just love how chunky it is! It's full of different sized wooden blocks and looks perfect wrapped around the tray!
I haven't seen one like it before so I love that it is so unique. Again, the garland is a nice neutral wooden tone, but if you wanted to add in some color, you definitely could with some colored beads! Or some red twine, pink hearts, or red roses too!
Since this beaded garland is so chunky, it took up a lot of space on the tray which is what I wanted as well. I wanted a simplistic look and not too many things on my tray cluttering it up.

Finishing Touches For Vintage Valentine's Centerpiece
The last thing I did to finish off my vintage valentines centerpiece was add in more ironstone pieces and an antique candle.
This tied in perfectly since all my place settings are already ironstone too. My candle is poured in a pink antique depression glass teacup and I got it from my favorite small shop, Antique Candle Co. 
It's perfect since it's a light pink color and it goes so well with all the other soft pink touches on the table.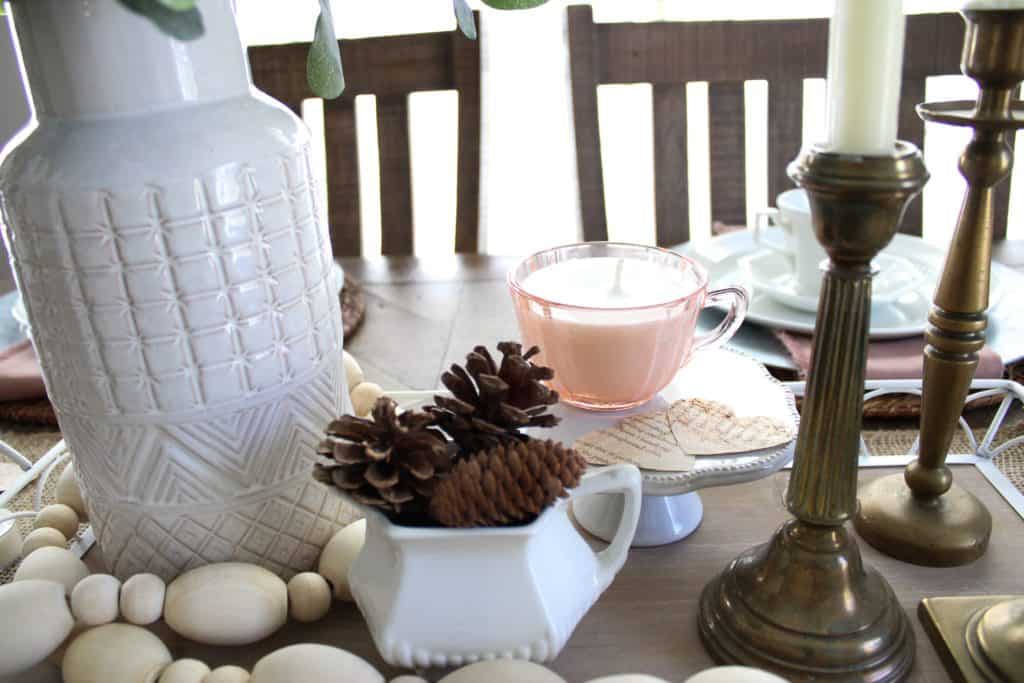 Conclusion
Again, the varying heights of all the objects on here creates interest which is exactly what I wanted! I also filled the small pitcher with some extra pinecones.
They are also placed on each side of my centerpiece as well. I thought this really continued the natural element vibe I had going on already.
As you can see, you don't have to have too many items to create a beautiful vintage valentines centerpiece. And the best part is that it isn't too over the top. They are the most perfect, simple Valentine table decorations, in my humble opinion.
I could easily transition this into spring and just get rid of the paper hearts. I love styling trays and tablescapes to create the perfect look I am going for.
To me, it's like a challenge to find the just right spot for everything you have. It's almost like a puzzle and it is so much fun when you complete it!
Tell me, do you guys like to create valentines day themed tables too?? And if you do, is a romantic table setting more your vibe or do you like just plain and simple floral centerpieces instead?
I would love to know how you celebrate and style centerpieces for special occasions just like this! Tell me all about it below and I hope you all have a very Happy Valentine's Day my friends!