I thought I would squeeze out one more Christmas craft this week before Christmas actually arrives! So I figured I would make this cute, DIY wood bead Christmas ornament. I already had all the supplies so it was pretty easy to make.
I was really itching to try out some new metallic Fusion Mineral Paint I got as well. So it was perfect timing to try it out. Y'all know I am all about some DIY Christmas ornaments this year. As I have already shared my DIY Mercury Glass Ornaments and my Cricut Machine Glass Ornaments too.
So let's make one more together before the end of the year! It's the perfect way to get in the holiday spirit. Plus, homemade Christmas ornaments make such great gifts as well. Keep on reading for the full tutorial!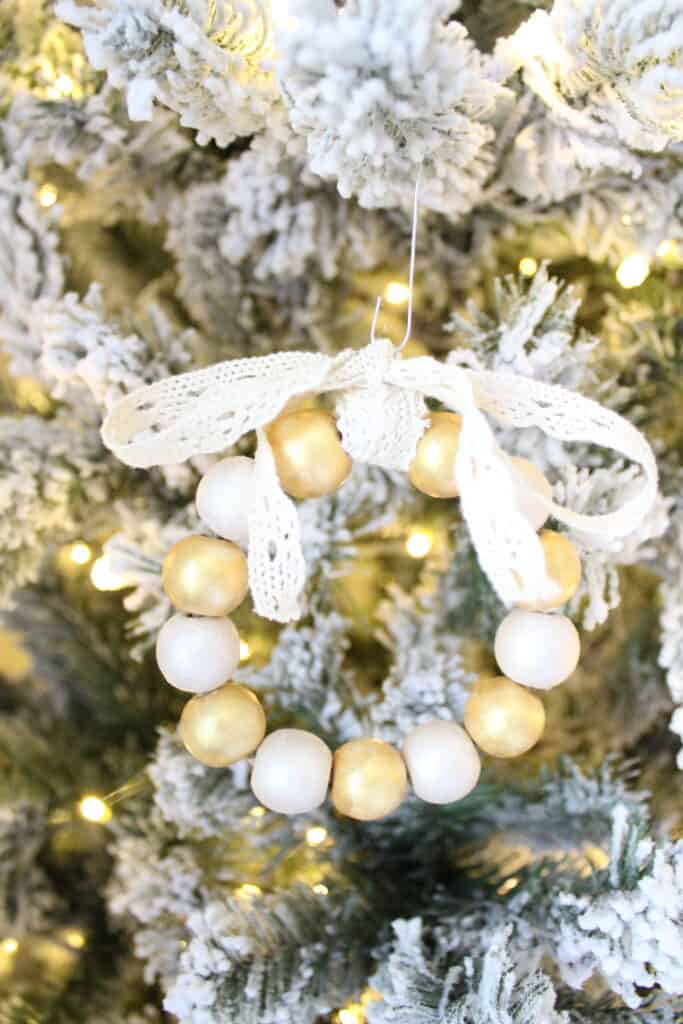 This post contains affiliate links. Click here for my full disclosure policy.
Materials Needed for DIY Wood Bead Christmas Ornament
Wired Twine (I got this from Michael's Craft Store)
Paint (I used Fusion Mineral Paint in Metallic Gold and Metallic Champagne color)
Ribbon, Lace, Twine, etc. (I used vintage white lace ribbon to tie my bow on the ornament)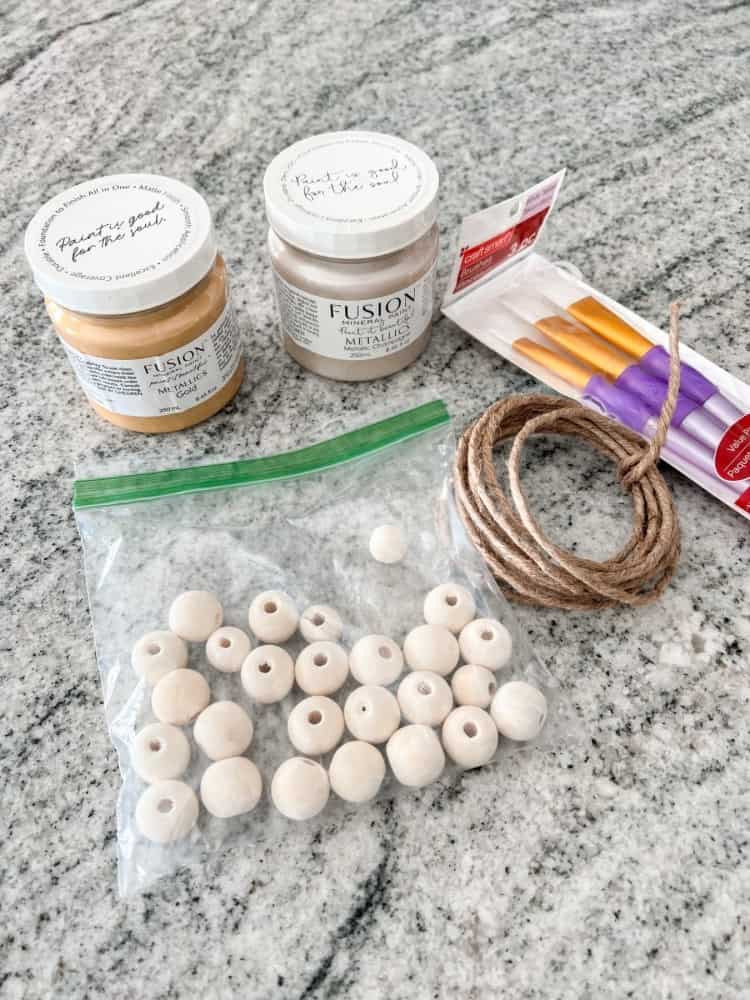 As you can see from the list above, all the materials are rather simple and I am sure you already have a majority of them in your home. So even though we are super close to Christmas, this is an easy way to make your own ornaments this year.
Or even save this post for reference for next year's Christmas too! I am always planning ahead for the next holiday season too. You can never be too prepared in my opinion!
Painting the Wood Beads
Like I said above, I was gifted some new Fusion Mineral Paint this year and wanted to try it out for the holiday season. So I thought I would paint the wooden beads I already had to give them some color.
You could use whatever craft paints you have on hand for this project too. But, I highly recommend Fusion Mineral Paint as they are always my go-to for a DIY project or craft. Plus, they have many festive colors to choose from as well.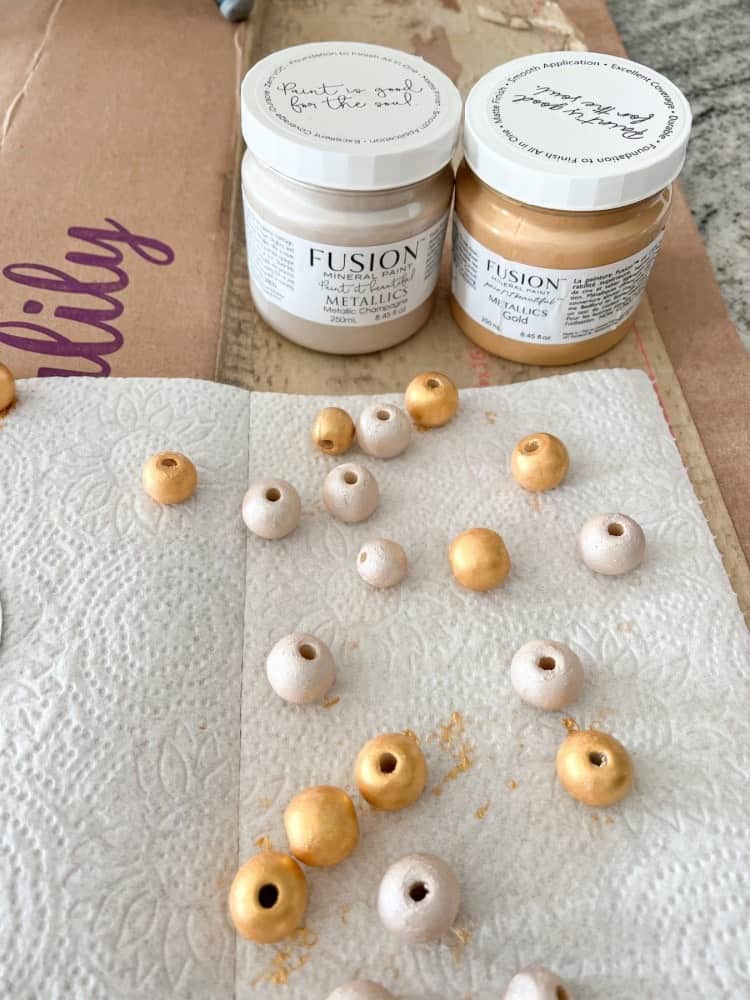 You could also skip this step if you wanted yours to be more raw, natural wooden Christmas ornaments instead. To paint the beads, I wore some rubber gloves as I held the pieces of wood beads to paint it.
This is an easy way to ensure I didn't get a ton of paint all over my hands. And I simply used a foam brush to apply all the paint on the beads.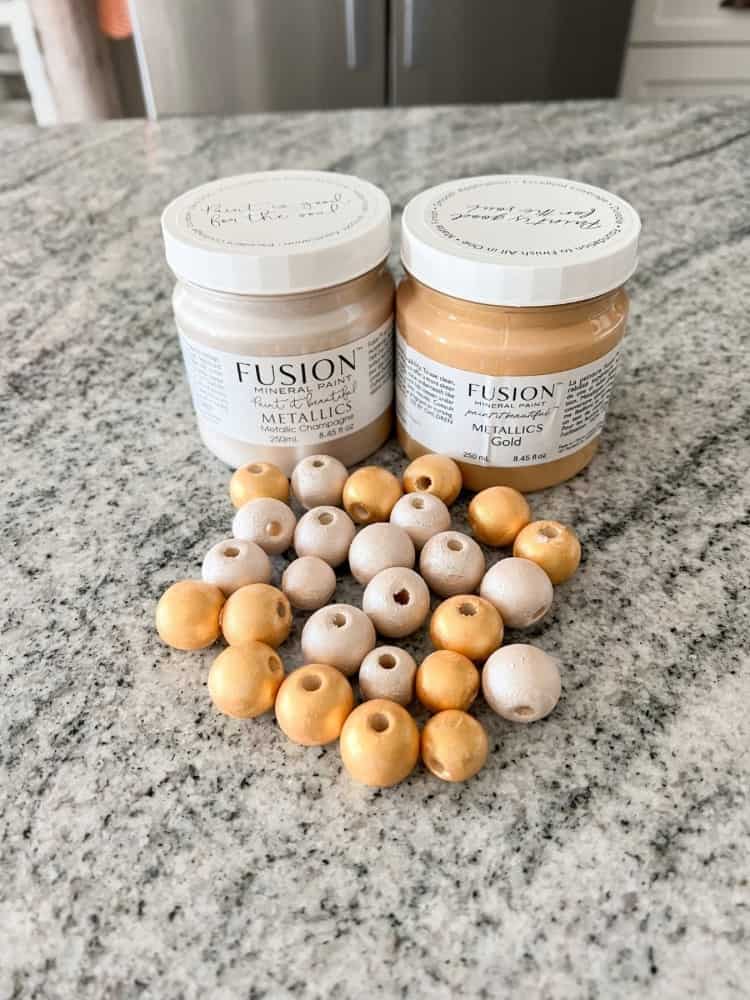 I did one base coat of paint and then let it dry on some cardboard. I just ended up doing one coat, I could have maybe done two to make it more fully covered.
But, like I said, I was on a time crunch to get this craft done! So one coat of paint worked just fine. As I've said before, the coverage of Fusion Mineral Paint is always incredible, even with just one little coat!
Creating the Wood Bead Ornament
You may remember my wood bead pumpkin craft I did back in the fall this year too. This project is very similar to that one as I am using most of the same materials, such as the wired twine.
This is essential to help keep the wood ornaments shape. Regular twine will not work here as it won't hold the shape of the ornament.
The shape I was going for this DIY ornament was just a simple wreath. So essentially just a circle with a ribbon loop on top. I cut a piece of twine out and started threading the wood beads into it.
I mixed and matched by doing one gold and one champagne bead back and forth until I almost filled the whole piece.
Then, I wrapped the end pieces of the wired twine together to create a knot at the top.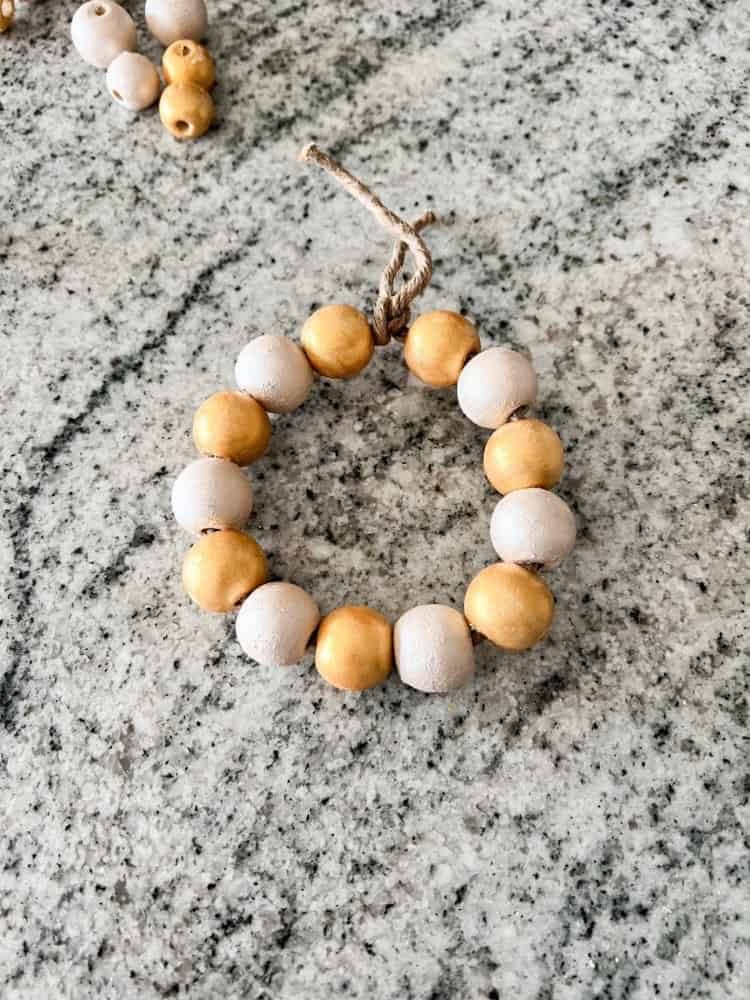 To hide this knot, I wrapped some vintage lace over it. You could also used hot glue here too if you needed to.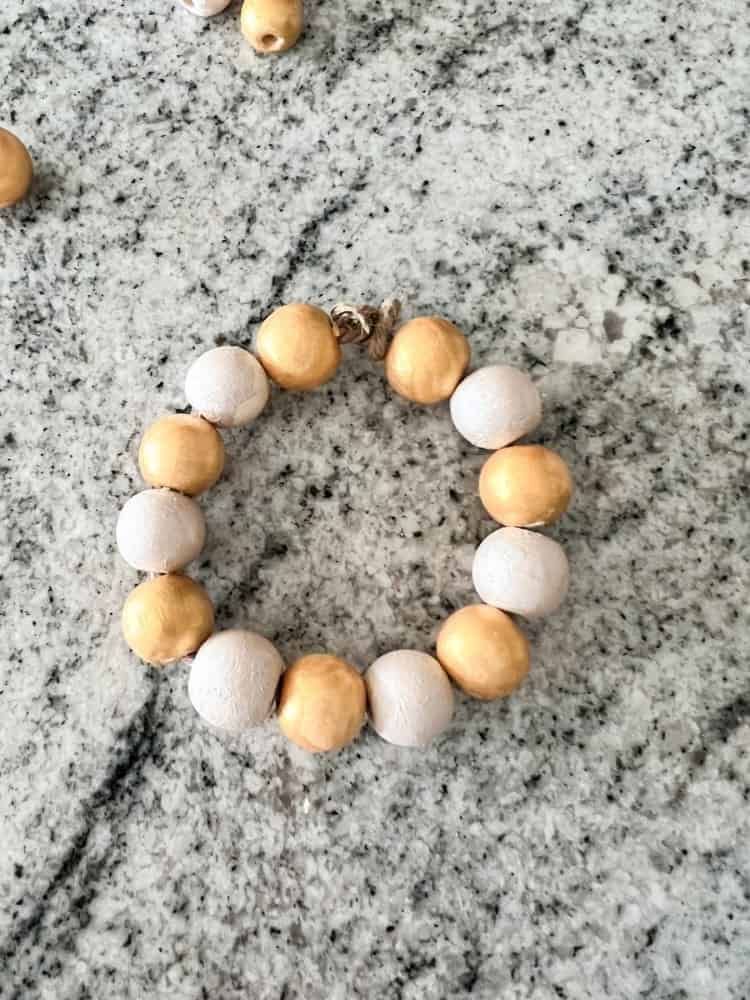 Then, I simply tied a bow on top with some more vintage lace. And viola! I've made a brand new ornament in just a matter of minutes!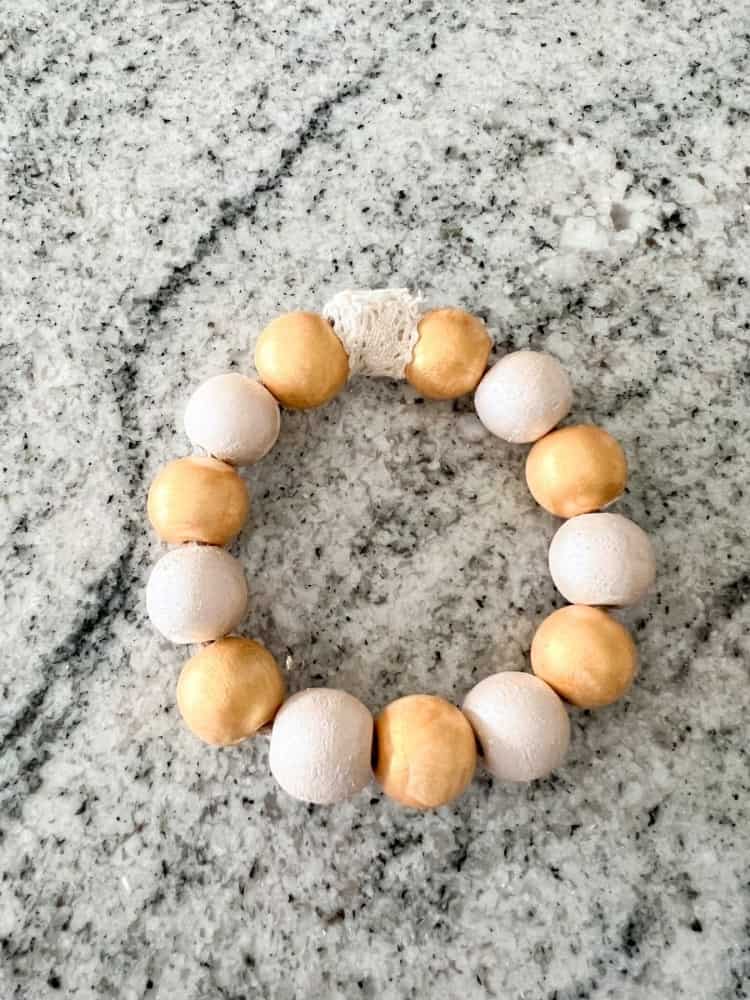 Decorating With The Wood Bead Ornament
I also attached a simple ornament hanger to the center of the bow to hang it on the Christmas tree. I love the glittering gold and champagne colors against the light of the Christmas tree. These homemade Christmas ornaments would make great handmade gifts for Christmas too.
You know I am all about handmade gifts as well as I have shared quite a few this year. Such as my DIY Christmas Cookie Gift in a Mason Jar, Homemade Elderberry Syrup, Vintage Christmas Spice Tins, and even my Homemade Vanilla Extract that I made this past year too.
There are also so many different ways you could make these ornaments so the possibilities are endless. It really can bring out your creativity and be a fun way to celebrate the season of Christmas. You could also make different wood shapes from the beads as well. Such as a Christmas tree, star, or snowman to name a few.
I also love the farmhouse look and style to these. They are definitely right up my alley when it comes to holiday decorations. I hope you all have been enjoying all my DIY Christmas tree ornaments that I have shared this year!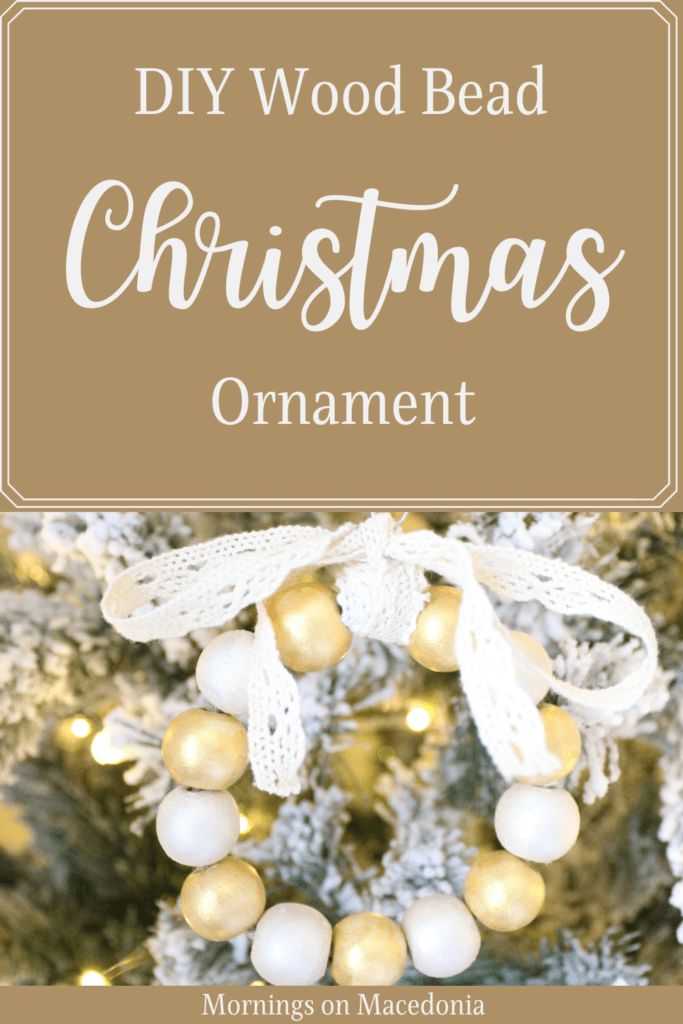 I would love to make some DIY wood slice ornaments next year too. I was planning on trying those out this year too, but time has gotten away from me! I can't believe we are only a few days away from Christmas. Where did all the time go?!
But anyways, I hope you enjoyed these adorable wooden ornaments and let me know if you make some yourself! I would love to hear how it turned out for you. And, I hope you all have a very Merry Christmas my friends!