Last month, for my birthday, my mom gave me such a fun gift! It was a DIY kit full of supplies needed to create your own wooden signs! Which the timing of it was perfect since we were still pretty much shut down from everything here because of coronavirus.
So I thought it would be fun to share with you guys what I did and everything that my kit came with. And you can totally do this without your own kit too. Basically, if you have the supplies on hand, you can make whatever kind of sign you want.
This post contains affiliate links. Click here to read my disclosure policy.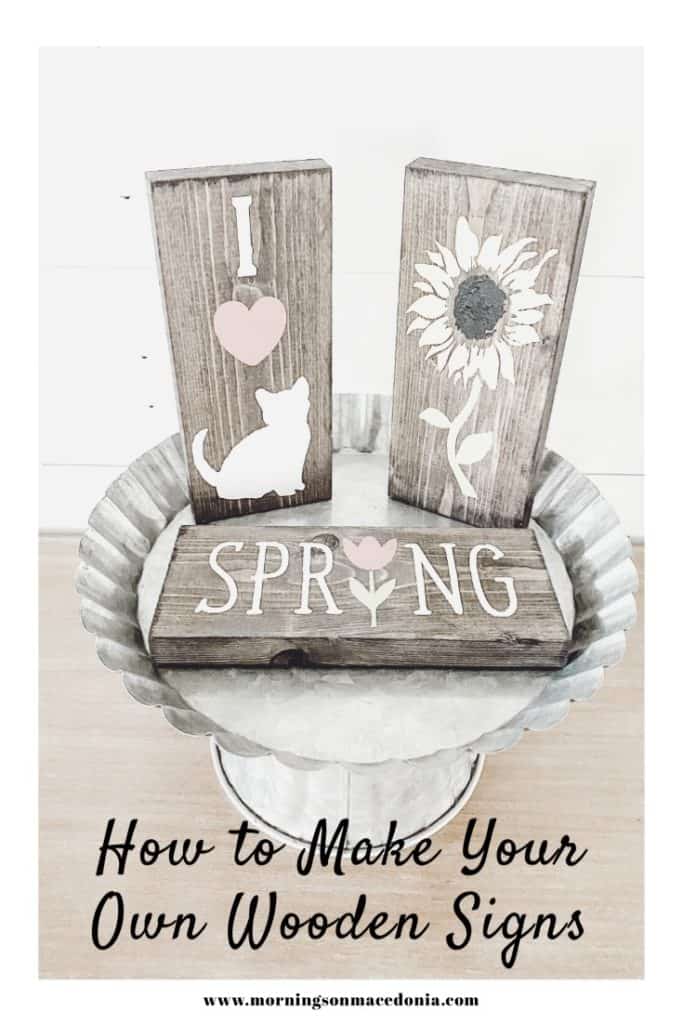 In The Kit:
This DIY kit for wooden signs was purchased from AR Workshop. They are a cool company local to us that does a lot of crafting and DIY workshops.
But since everything was shut down at the time, they were creating little "to-go" DIY kits, which is such a perfect idea!
Here is everything that my kit included (and all the supplies you need if you want to try to do this yourself as well):
Wooden blocks to make the signs with
Stain
Various paint colors
Pre-cut stencils
Foam brushes and sponges
Primer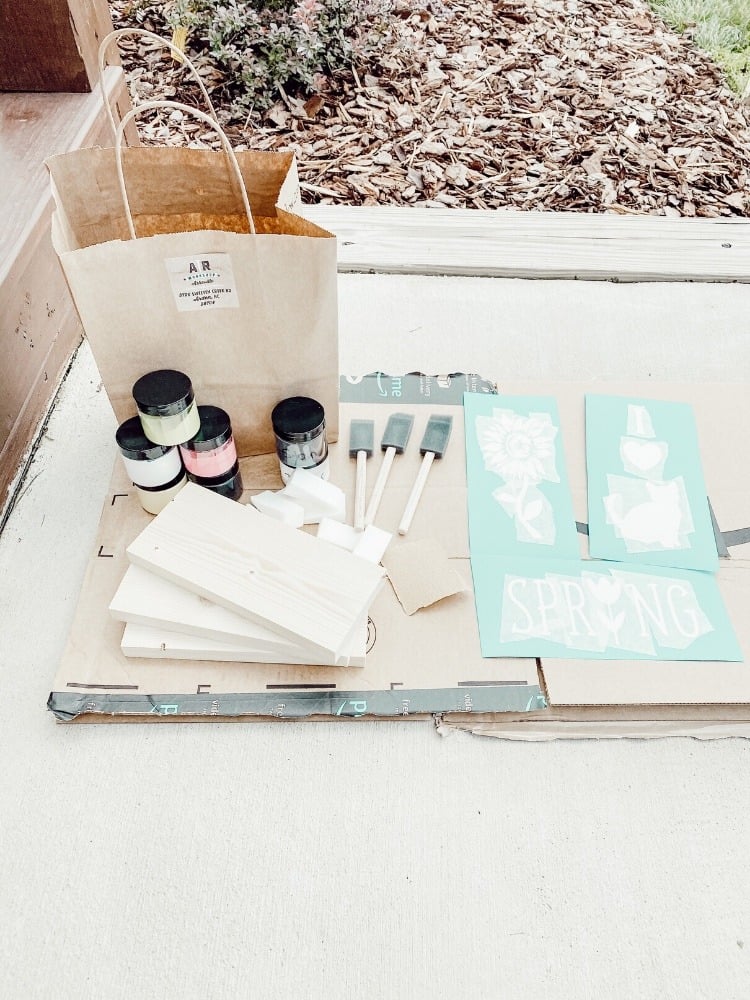 Stain the Wooden Signs
So the first step to this project was to stain the wooden signs, which was super easy to do. I did it outside on some cardboard, mainly because it was a beautiful day and I wanted to soak up the sunshine!
I just stained as many sides as I could, then I let it dry for about 15-20 minutes in between. After it was dry, I flipped the signs over and stained the other sides as well. Easy peesy!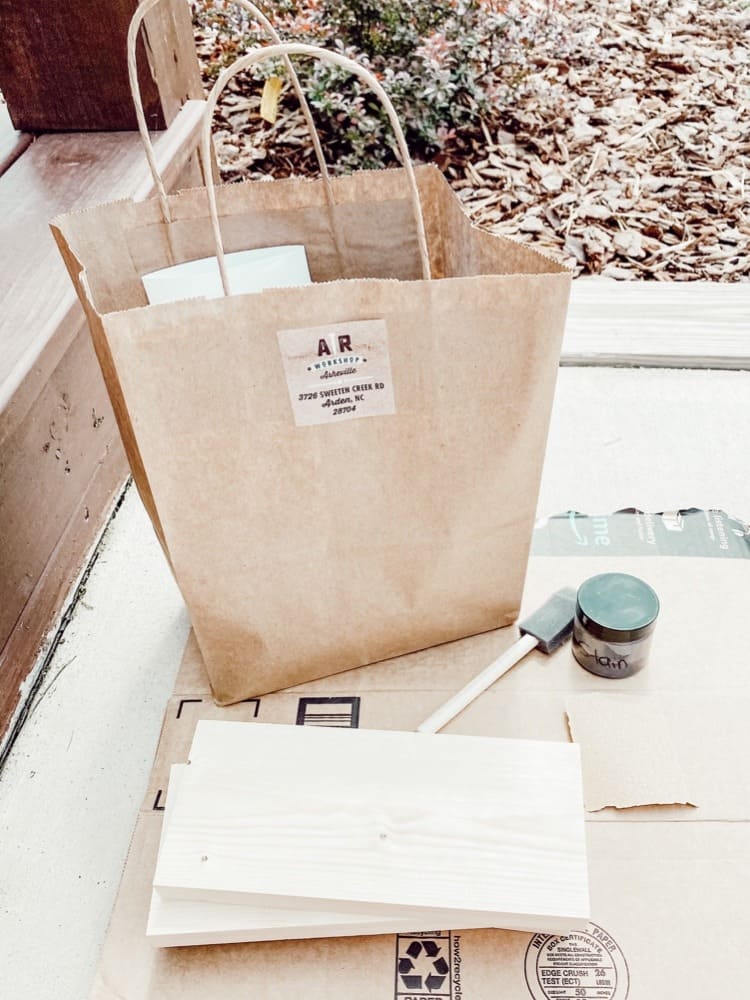 I used a foam brush to apply the stain, which those are so easy and cheap to find. I can usually get a whole pack of them for just a few bucks, but thankfully it was provided in this kit already.
If you didn't want to stain your signs, you could also just paint them instead. I think a white or a black painted sign would look great as well!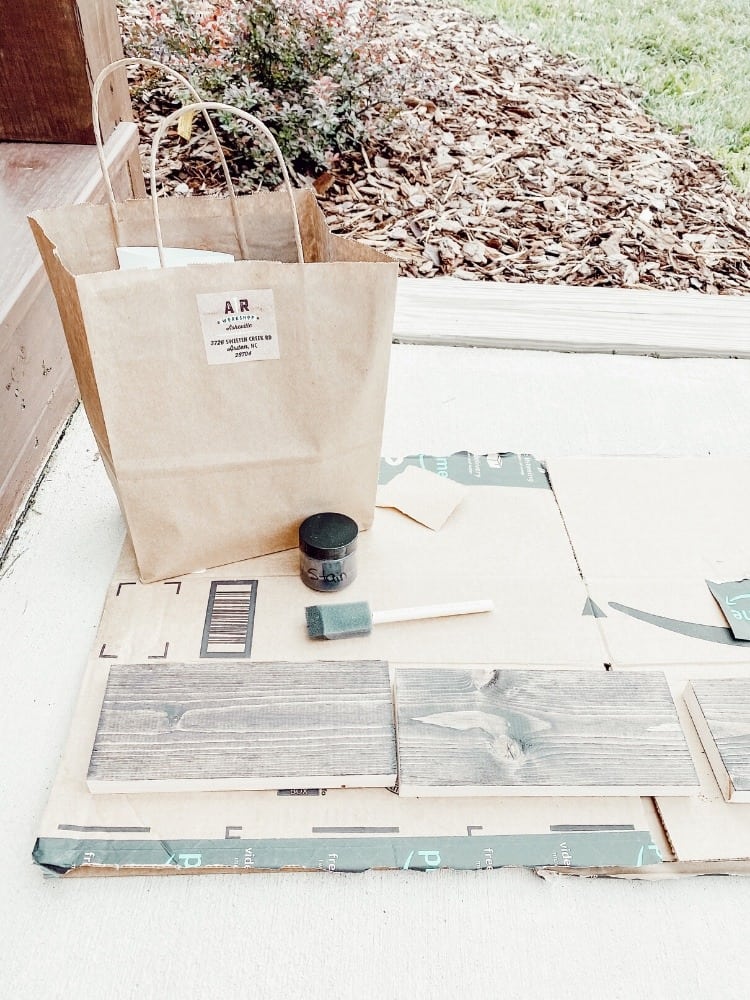 Place the Stencil
Once your stain has completely dried, it is now time to place your stencils and start painting! Like I said above, the pre-cut stencils were already provided in this kit, but you could totally make your own or purchase some.
I like how they provided mine and it was already cut to the exact size of the wooden board so it made it super easy to apply! It basically worked like a sticker so I was able to easily place it on the board.
Just be sure if your stencil has a lot of cuts and/or designs in it, you lay it down completely flat t prevent your paint from bleeding through.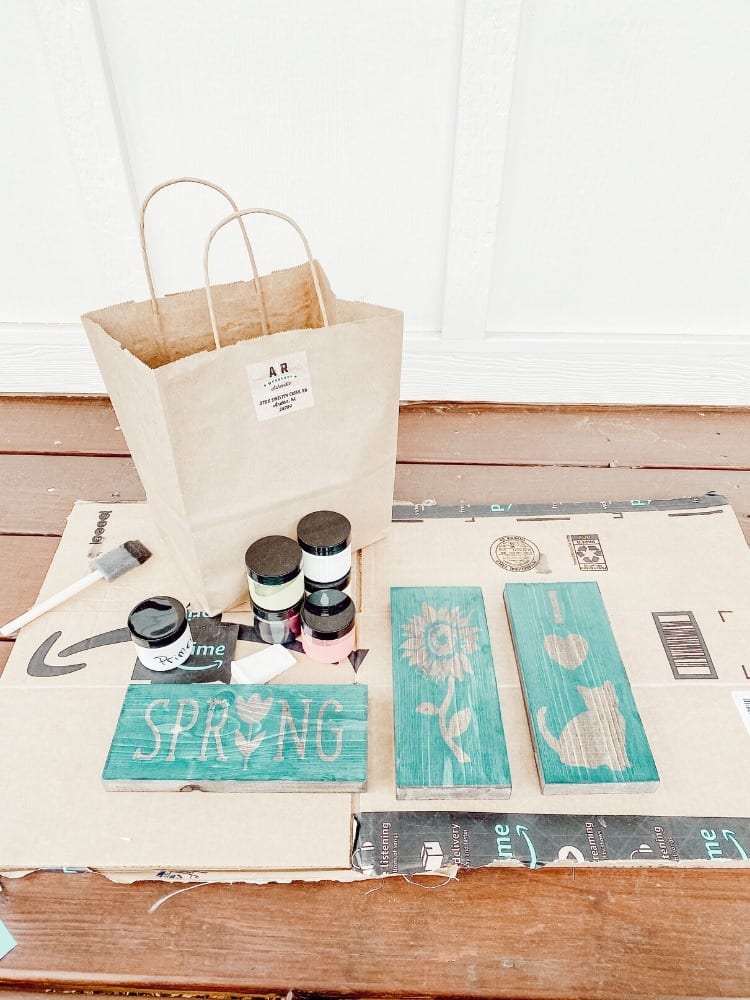 Paint the Wooden Signs
Now that your stencil is on, it's time to paint them! The most fun part in my opinion. In this kit, they already gave me a few sample sizes of different paint so I just used what they gave me.
But you could totally use whatever paint you like or have on hand as well.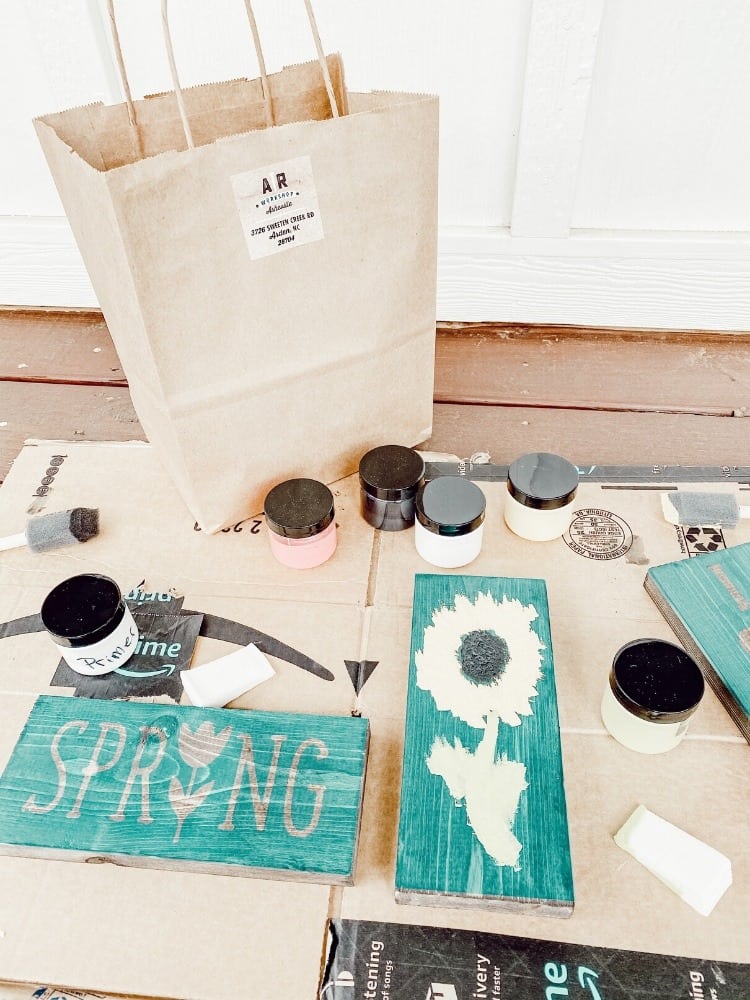 I was nervous about the paint bleeding through the stencil, but thankfully it didn't. I used one of the pre-cut sponges provided and simply dabbed a little paint on it, wiped the excess off, and then dabbed it onto the stencil.
I think the key is to just "dab" when stenciling and not use complete paint strokes. If you're a serious stenciler, then I am sure you have a great stencil brush!
But I haven't gotten myself one yet unfortunately. The sponges worked just fine for me for these DIY wooden signs though!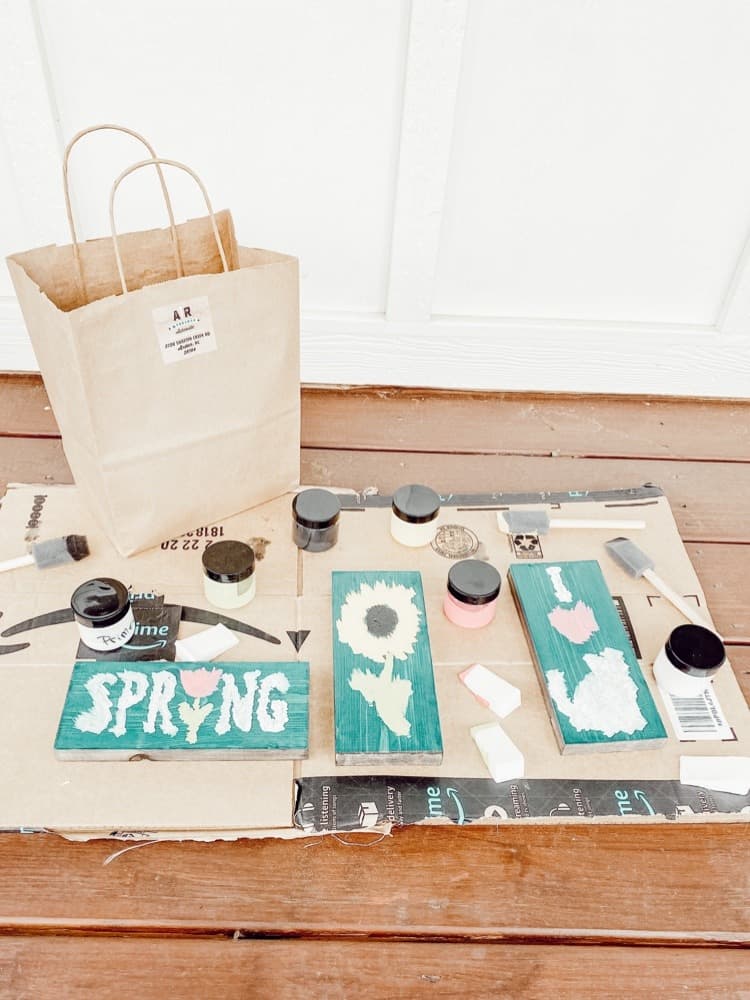 I did have to do multiple coats of paint just because the stain was pretty dark so the paint didn't shine through as easily. Especially the white paint!
But after about three coats and a few touch ups, I think it came out perfectly!
Peeling Off The Stencil
Once you've painted your signs and they have dried, you can finally take off the stencil. My tips to do that are to definitely peel against the grain to prevent splinters from happening in your wood.
Also, if your stencil design is intricate and has a lot of little pieces to it, use a toothpick to help lift up the smaller areas. That definitely helped me when I tried that one some smaller spots!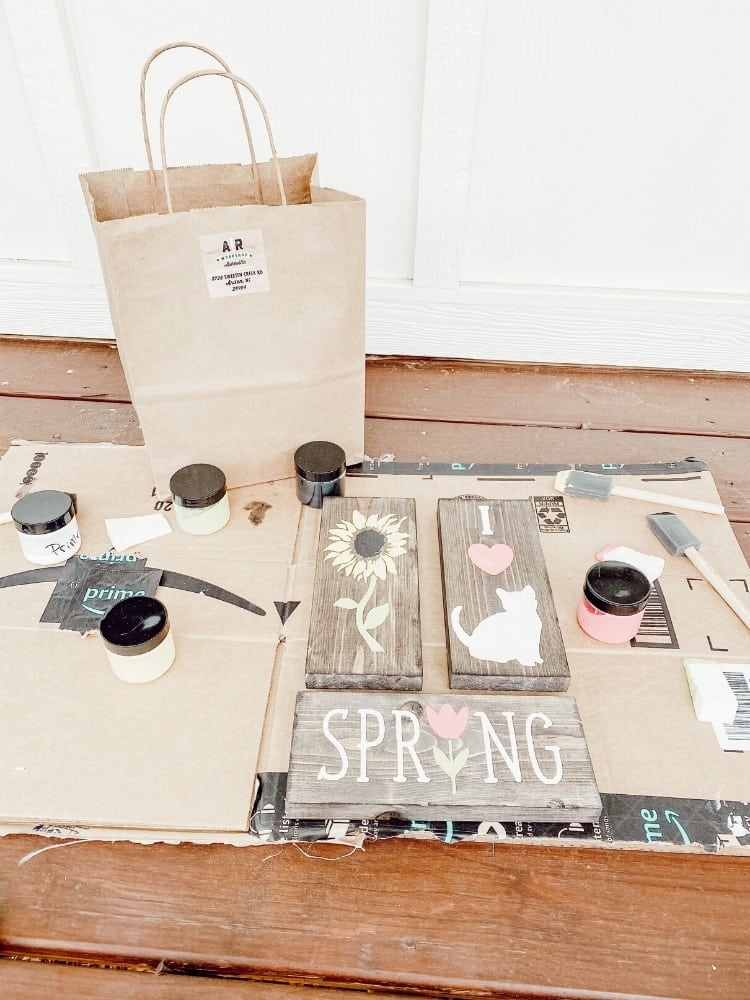 Priming The Signs
The last step for these DIY Wooden Signs are to prime them. Again, the primer was given to me in the kit, but you could use whatever you have on hand.
I just used very thin strokes of primer with a foam brush to seal it all up. Super easy and simple and now they are more protected with the primer on them!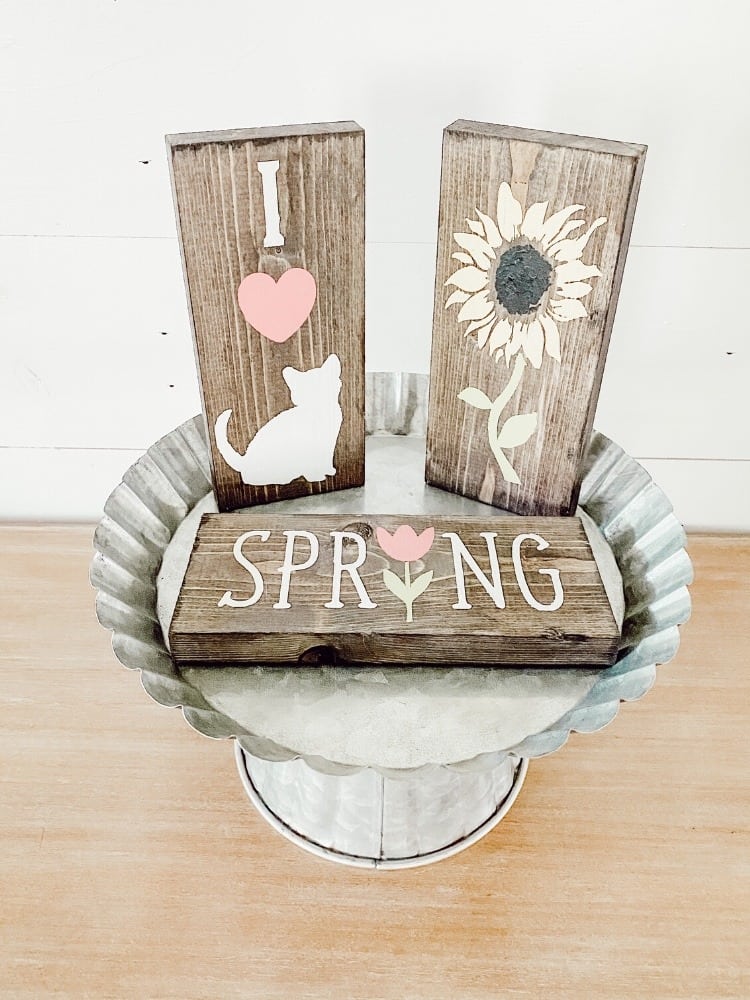 Conclusion
So all in all, this was such a fun and easy project! It literally just took me one afternoon to complete and I love how they turned out.
If you're looking for a DIY kit of your own, you can even order some from AR Workshop online too!
They have plenty of different ones to choose from too so you don't have to get the same exact ones that I got as well.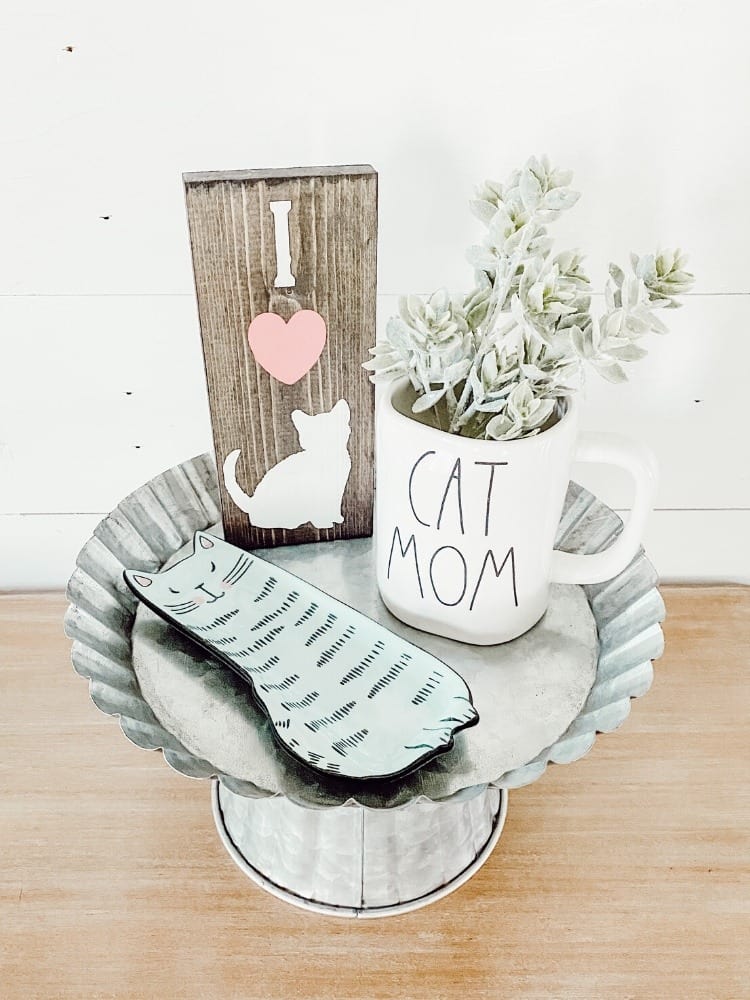 But like I said earlier, if you have some extra wood, paint, and stencils lying around, you could definitely make your own sign that way too!
You could even freehand something too if you don't have any stencils.
Although, I probably couldn't because I have very shaky hands lol If y'all have ever done something similar to this, let me know below! I'd love to hear all about it!