Y'all know I love me a good, holiday tablescape. And of course Easter is no exception. So I thought I would share some of my Easter tablescape ideas with you all, to give you some inspiration too.
Now, you don't need anything fancy to make a beautiful Easter tablescape, just a few little touches here and there is totally fine. I will show you some of the different ways I have set my Easter table over the years. That way, you can decide for yourself which one you like better.
And hopefully you can implement some of these ideas into your table for Easter brunch or dinner this year. Whether you go all out and fill the whole table with Easter decor, or like a more simple look, there's a little bit of everything here to give you some ideas! I can't wait to see how you create your own Easter tablescape too!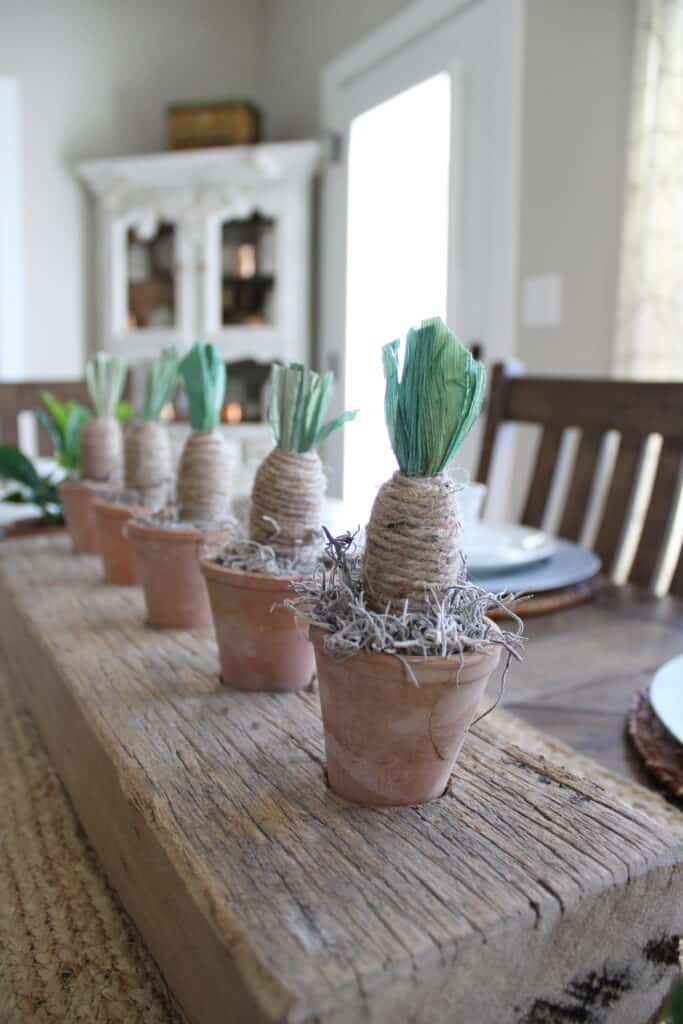 This post contains affiliate links. Click here to read my privacy policy.
Fun and Easy Easter Tablescape
For this fun and easy Easter tablescape idea, I am basing it off of the very first Easter tablescape I created back in the day. If you were around for that, then you know I was obsessed with Rae Dunn pottery back then.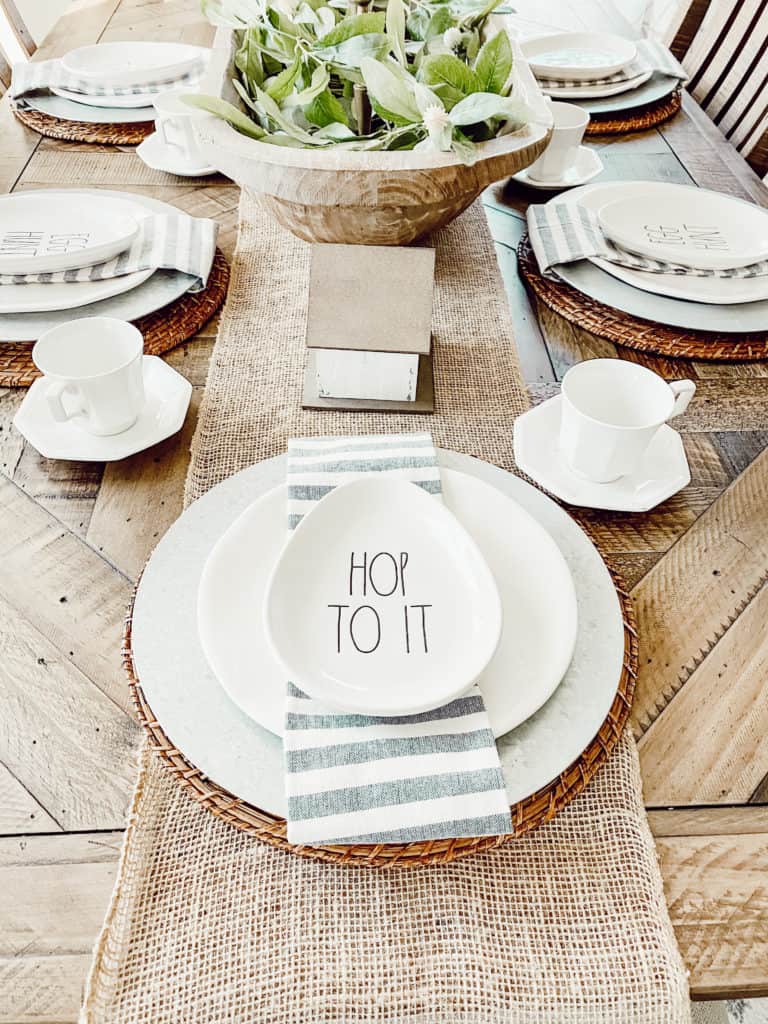 So obviously, I had to include some pieces on my tablescape. And I will admit, those egg shaped plates are too cute. And I actually still have them! But, I don't really use them for Easter decor anymore.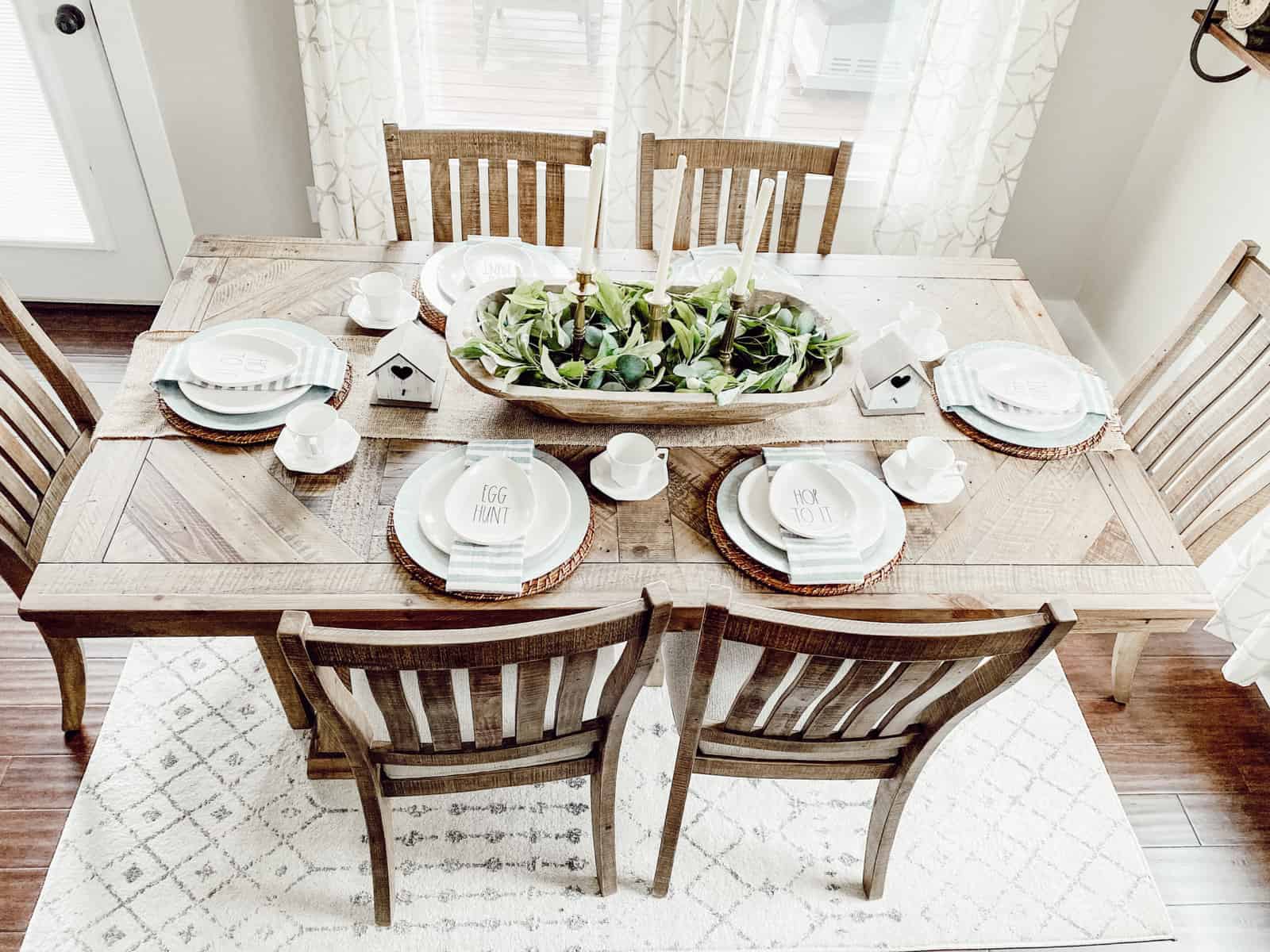 However, paired with the blue and white table linens, the egg plates really popped and were definitely a fun touch! Plus, it is super easy because you don't get more Easter than egg shaped plates, right?!
And, the table runner I have pictured here is actually leftover burlap from our wedding day! How cool is that?! And, I cant believe it is the same exact size as our table too. So it worked out perfectly!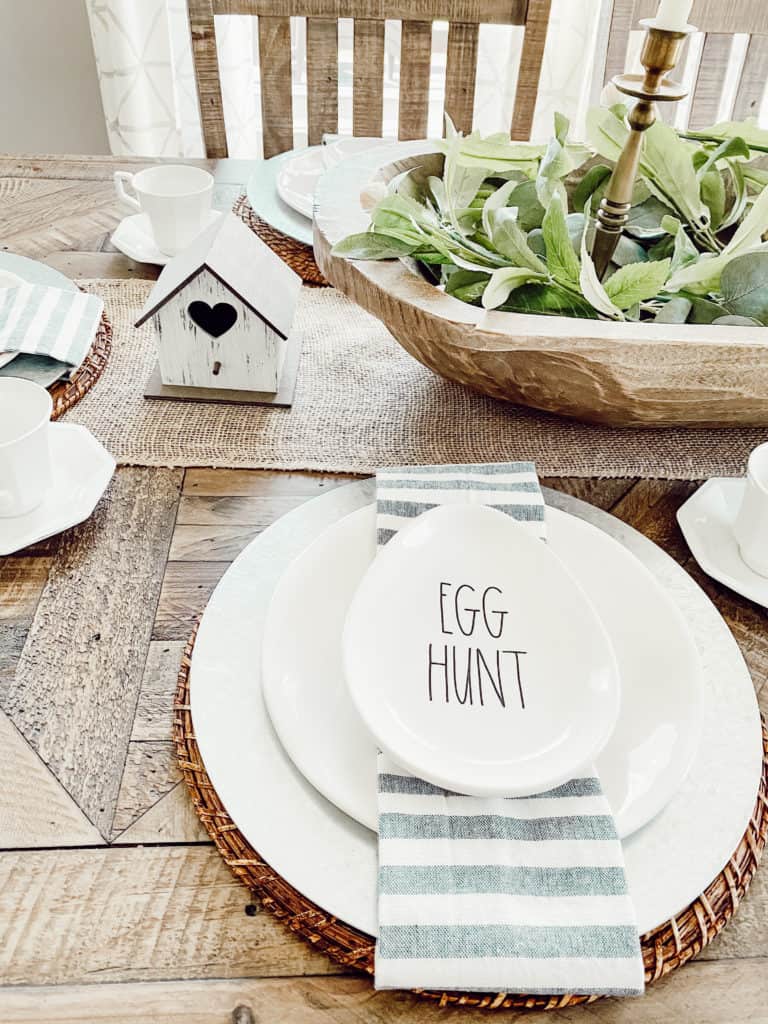 This is one of the more simple Easter tablescape ideas that I have shared and it would be so easy to duplicate. Even if you can't find the "Rae Dunn" egg plates, any kind of Easter plate would do just fine!
Beautiful and Whimsical Easter Tablescape
As I have grown in my home decor taste, y'all know I tend to lean more towards vintage and antiques now. So with this beautiful and whimsical Easter tablescape, I have a few of those proudly showing off!
I think my favorite pieces are the vintage depression glass teacups! They really steal the show and look perfect sitting on top of my white dishes! I actually got them all from Antique Candle Co.! At one time, they were all candles.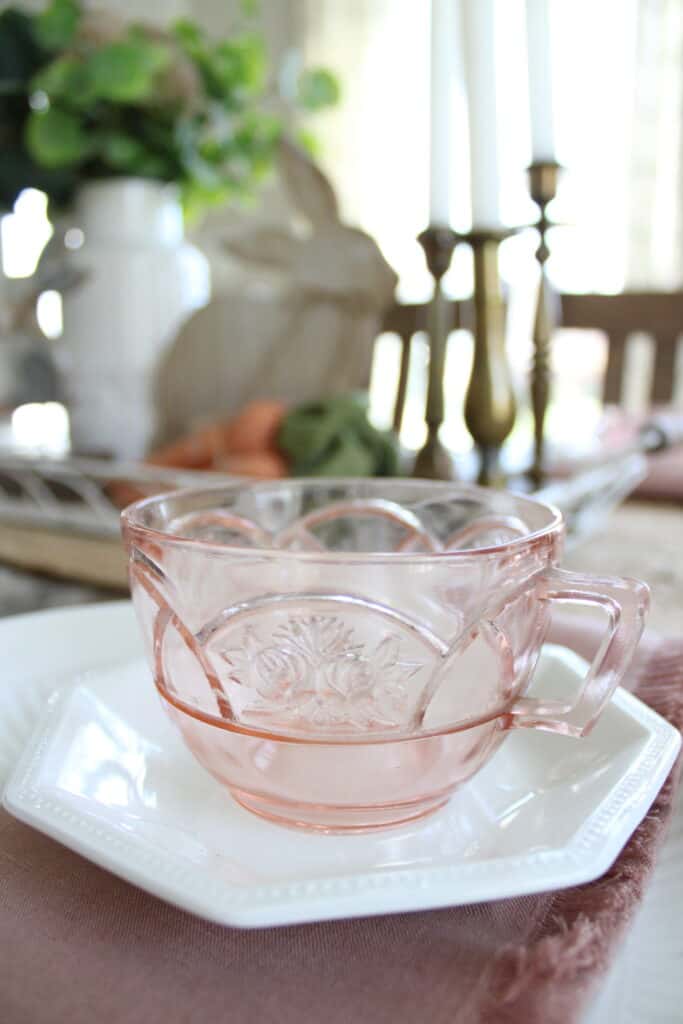 But after I burned through them, I cleaned out all the wax, and now use the teacups as place settings on the table! I also accompany them with some Easter eggs to match!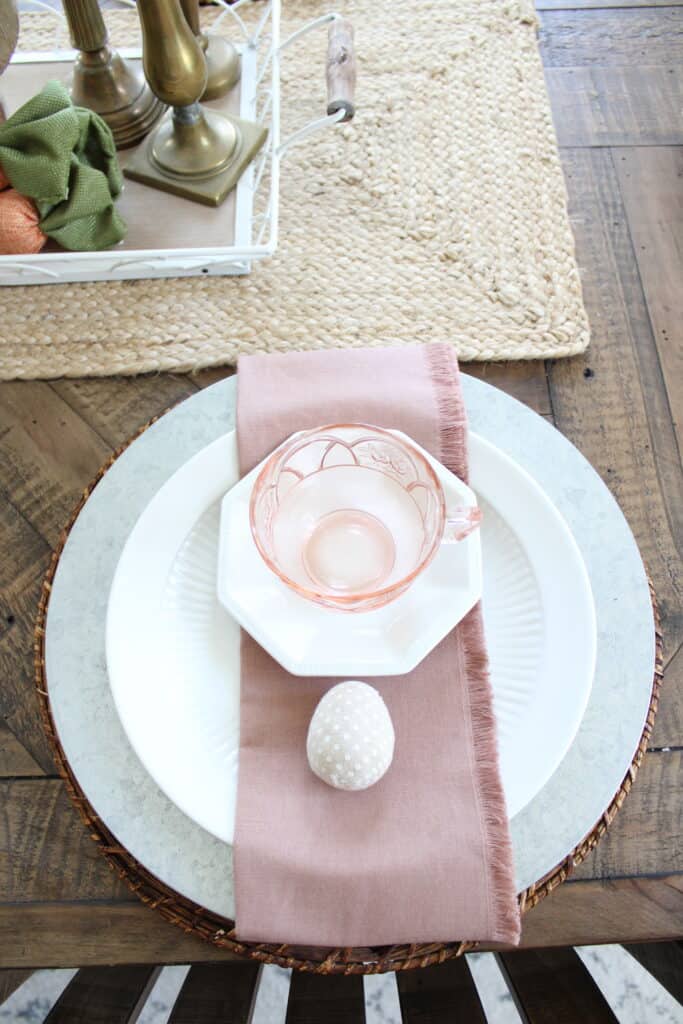 The color palette for this whimsical tablescape is soft pinks and you can definitely get that vibe from those teacups, as well as my napkins. I used the same napkins from my Valentine's Tablescape as well. That's a great way to repurpose your decor pieces for different seasons.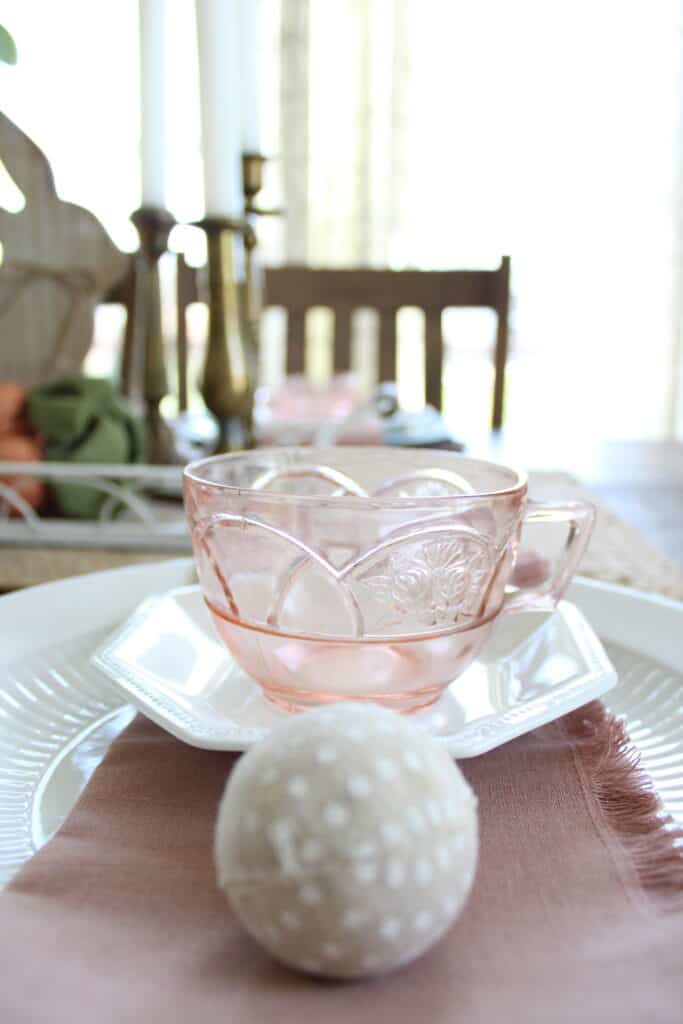 Whimsical Easter Centerpiece
In the center of the table, I have a whimsical bunny centerpiece. I have a few different wooden Easter bunnies that I put right in front for display. Everything is centered on wooden tray on top of a little jute table runner to break it up and make it the focal point of the table.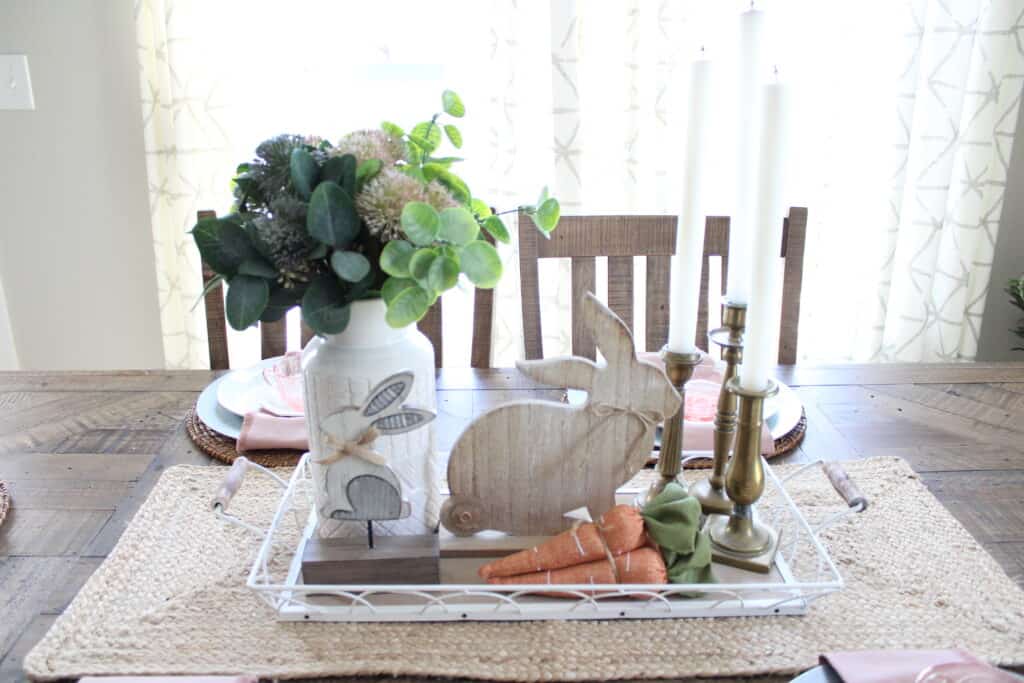 Beside the bunnies, I have a beautiful, large vase filled with greenery that also has a hint of soft pinks to them too. I think fresh tulips would also look extra special in that vase for Easter as well!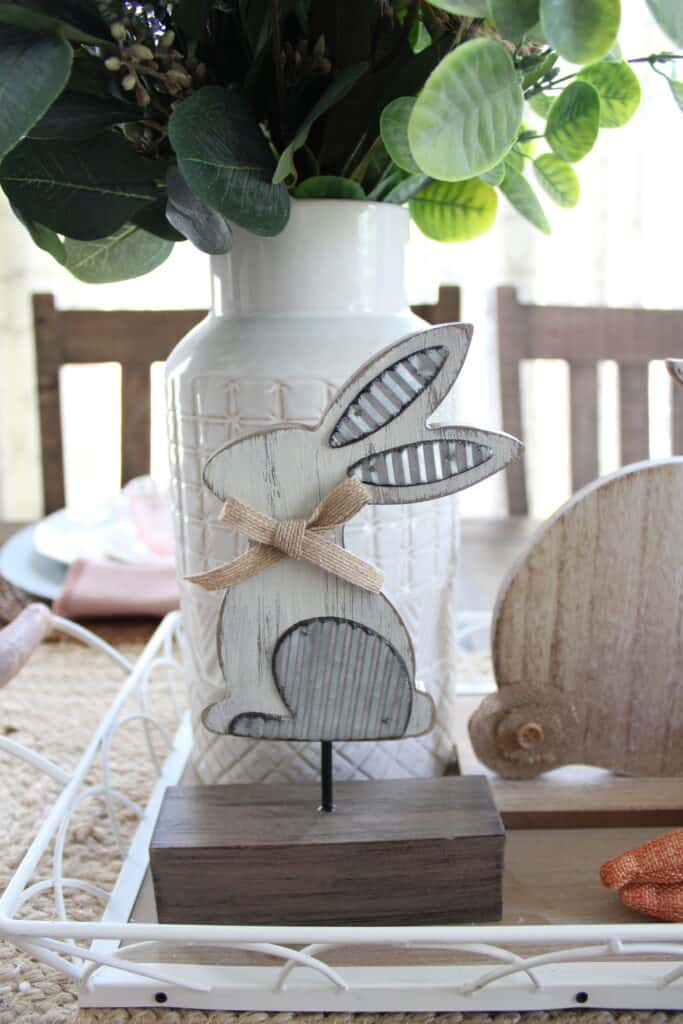 I also keep my usual vintage brass candlesticks on the tray as well and a little bunch of carrots for another Easter touch! I think all these Easter table decorations blend together beautifully for a perfect and whimsical touch!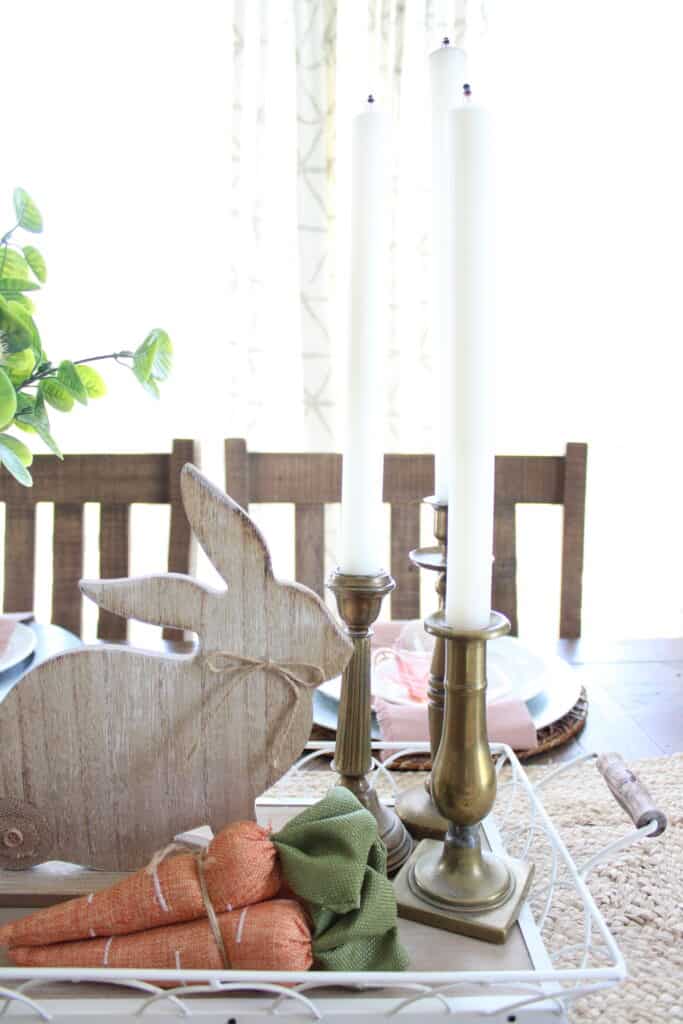 You could easily replace the bunnies with something else after Easter is over to give it more of a spring tablescape vibe too. I leave the pink depression glass pieces out all during the spring season too! It's the perfect color scheme I think!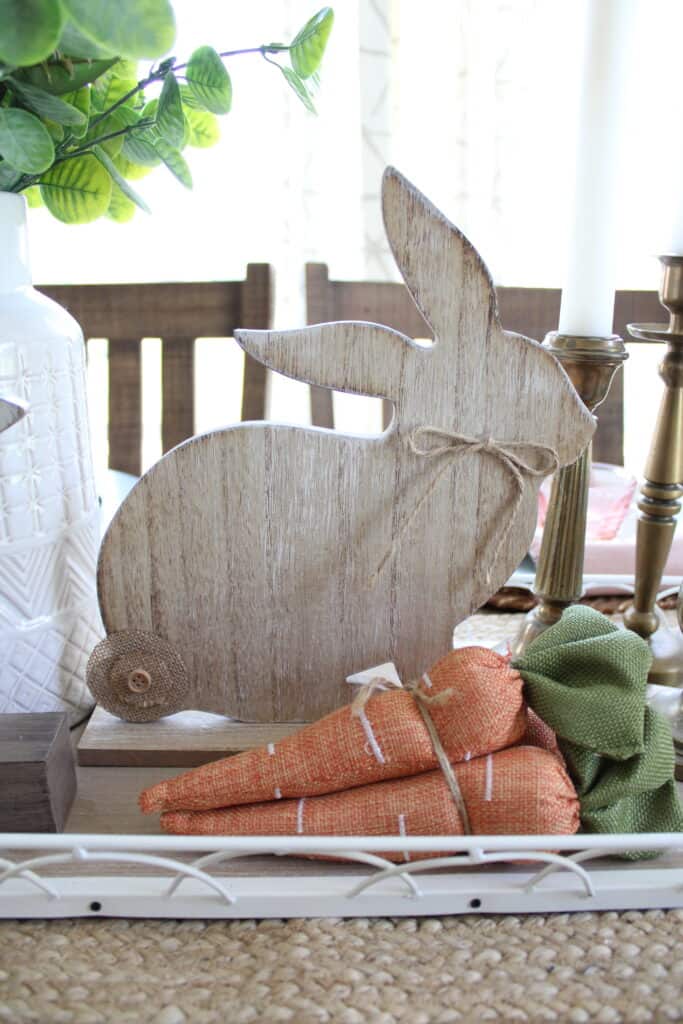 Neutral Farmhouse Easter Tablescape
Now if the soft pink color isn't your vibe, then you will definitely love this Easter tablescape idea instead. I do love a good, neutral farmhouse look and I thought it would be fun to show how you can do that for Easter decorations too.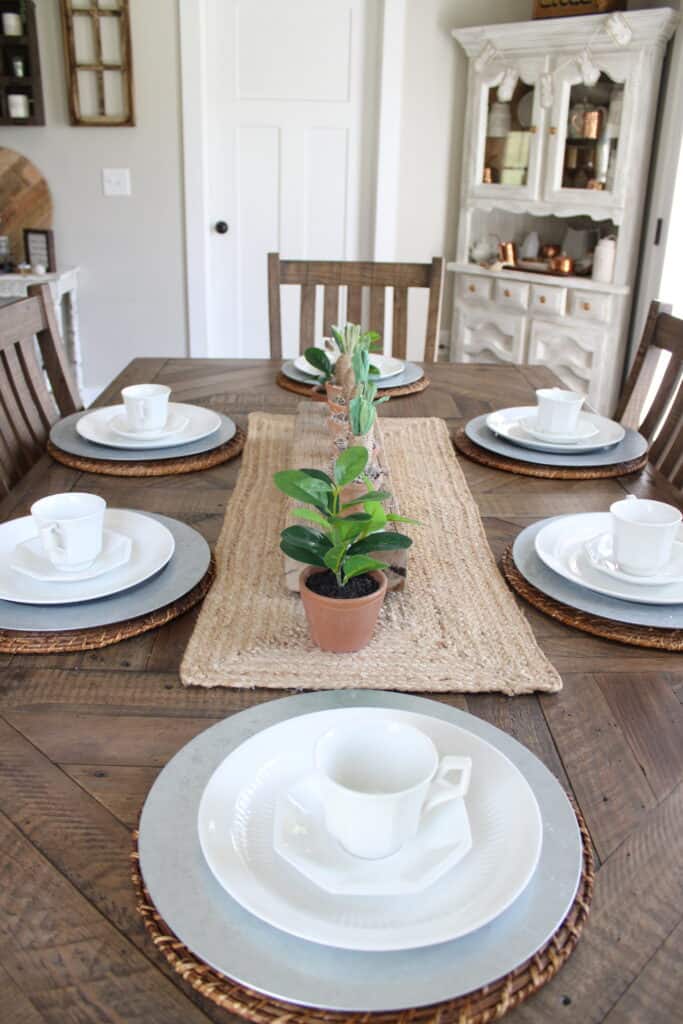 I have this beautiful centerpiece made of reclaimed barn wood and terra cotta pots. So I thought it would be fun to incorporate that somehow into this tablescape.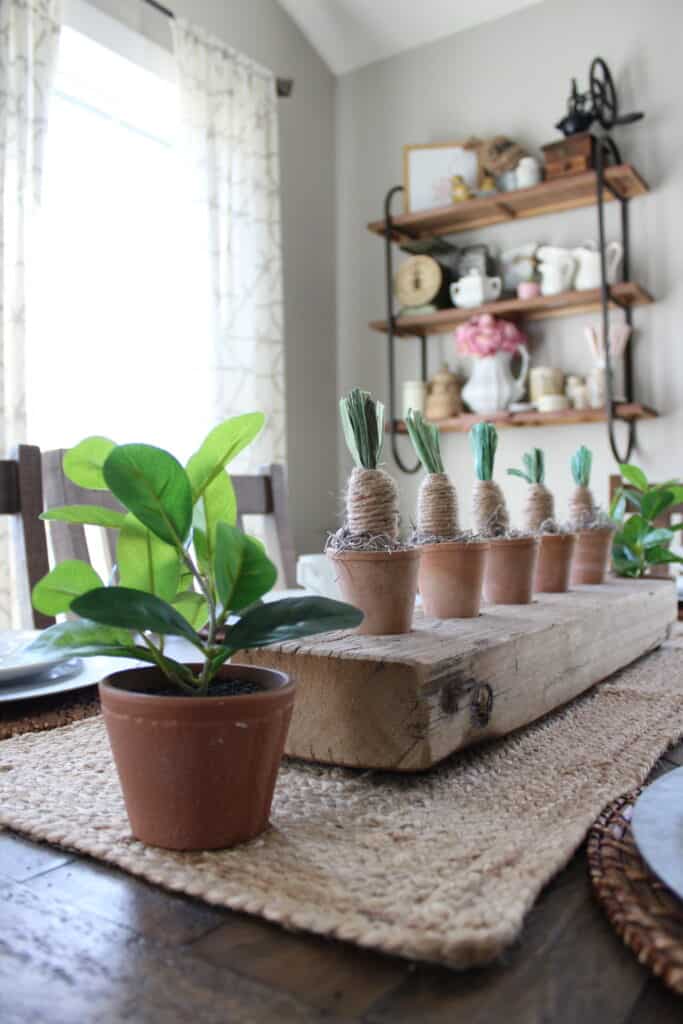 I came up with the idea to wrap some colorful carrots with jute string and hot glue to make them more neutral. Then, I decided to place each neutral carrot into it's own little terra cotta pot and surround it with some Spanish moss.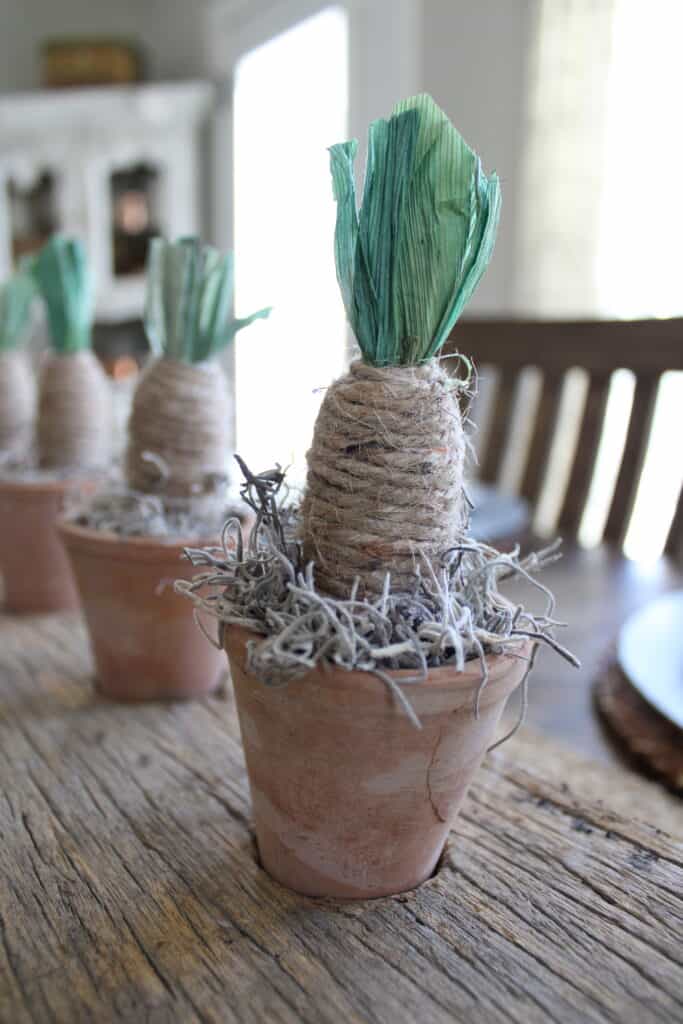 And that's it, one of the most simple Easter centerpieces you will ever come across! Plus, it also looks so adorable too. And to finish off the neutral tablescape, I removed all the colored napkins and just let my white plates do the trick. Those plates are actually vintage Ironstone dishes, which I love and re-use for all my tablescapes as well!
But, this would be a perfect Easter dinner tablescape, because you don't have anything tall in your centerpiece that would hinder viewing the person sitting across from you too!
Which Easter Tablescape Idea Is Your Favorite?
Well, now for the final question, which lovely Easter tablescape is your favorite? I think mine is the beautiful and whimsical one, seeing as how my table is currently styled that way already!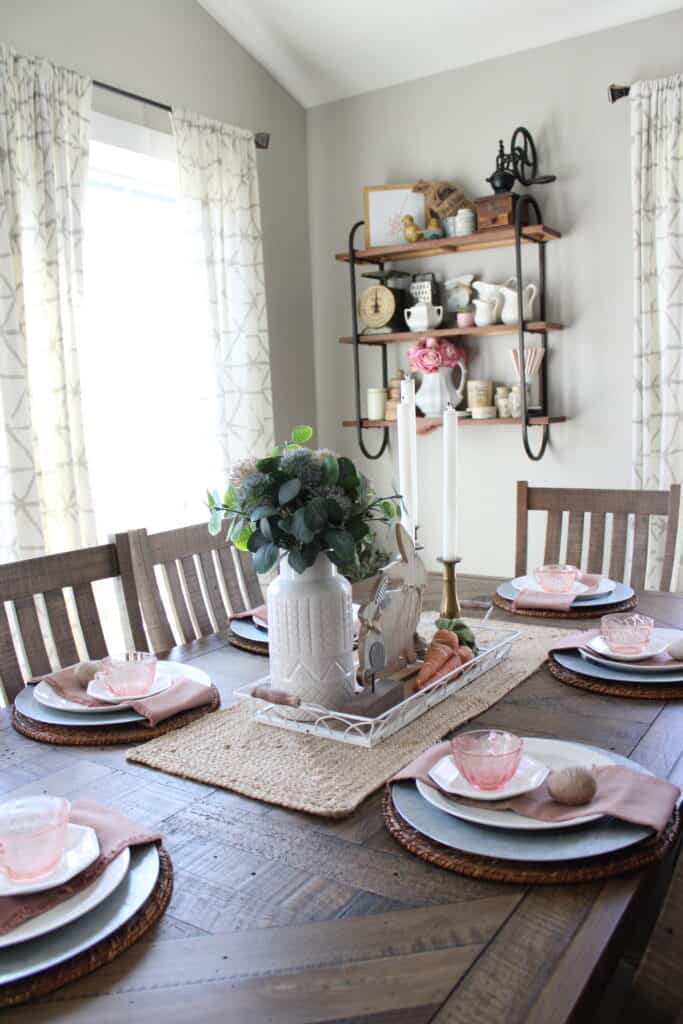 But, I would love to know your thoughts below and hear your favorite. Do y'all do a big Easter gathering with your family? And if so, do you create a beautiful tablescape to go along with it?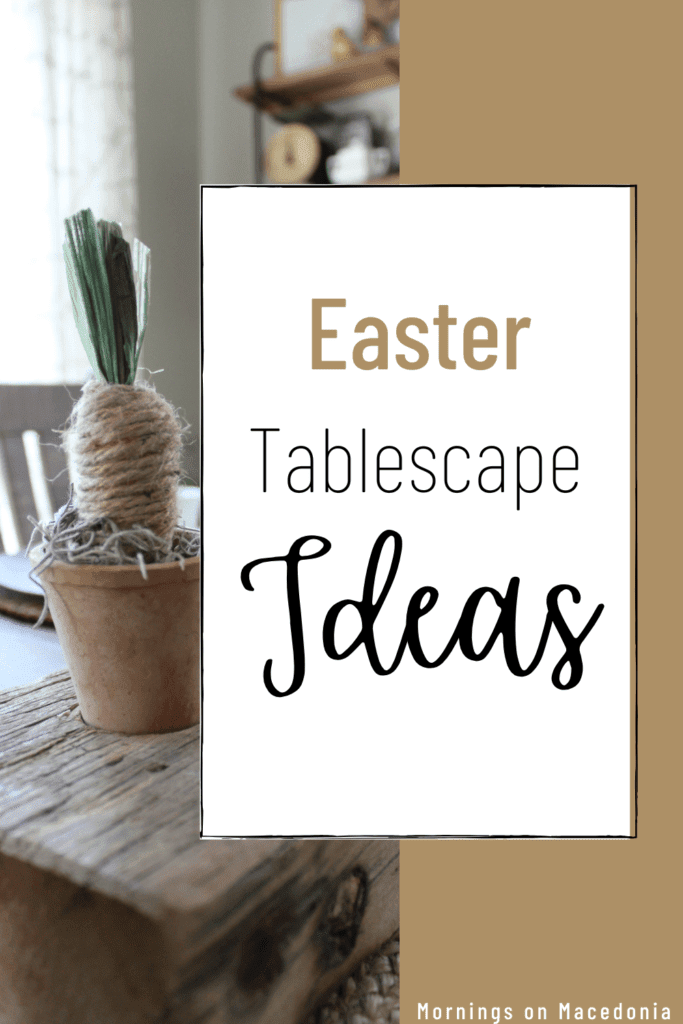 I'd love to hear if so and how you like to decorate your tables too! I am always looking for more ideas! And no matter what you all do, I hope you have a wonderful Easter Sunday!