If you're like me, then you love to repurpose as many things as you can. Even old candle jars for example! I recently got a beautiful candle from Antique Candle Co that was poured into a vintage pink depression glass teacup. I wanted to repurpose and reuse the teacup once I was done burning the candle all the way down. So I thought I would share with you guys today how to get candle wax out.
It's really something so simple and easy to do! If you have a few old candle jars laying around, then try this out and see how it goes for you too!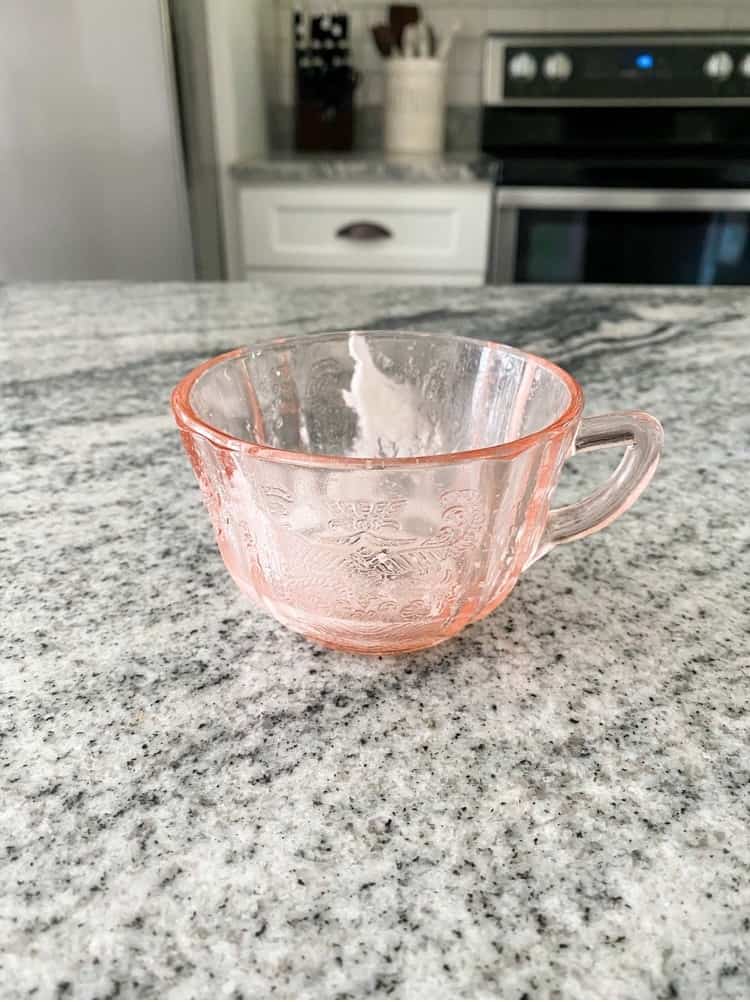 This post contains affiliate links. Click here to read my disclosure policy.
Boil Water To Remove Candle Wax
The easiest way to remove candle wax from a jar is to just simply boil some water! While your water is boiling, set up your prep station.
Make sure your candle is near the water and go ahead and place a towel down on the counter to help protect the surface. After your water has reached it's boiling point, simply pour it into the candle jar or container.
Be very careful here when pouring so you don't burn yourself.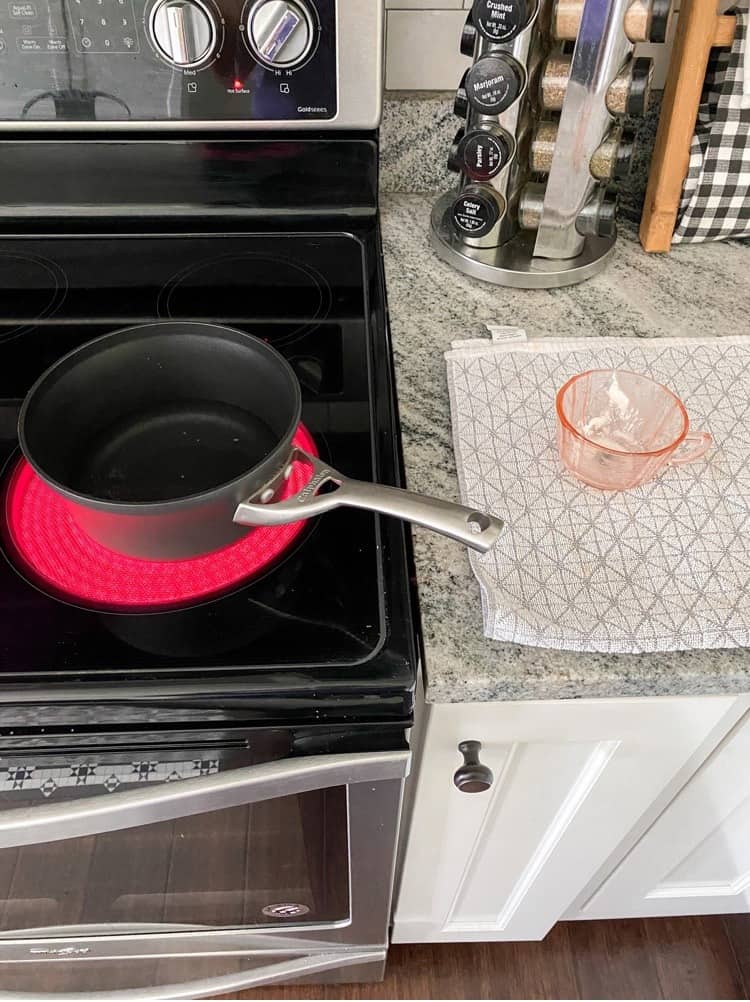 Let Boiling Water Sit to Room Temperature
After you poured the boiling water into your candle jar, now you just need to let it sit for a minute. I let it come completely to room temperature before I started handling it.
Again, you don't want to burn yourself here. As it comes to room temperature, you will slowly start to notice that the candle wax bubbles up to the very top of the water.
You'll know when it's usually ready to be handled because the wax will solidify on the top. You can see the difference in the two pictures below.
The first one is when I just poured the boiling water into the teacup. And the second one is after I let it come to room temperature.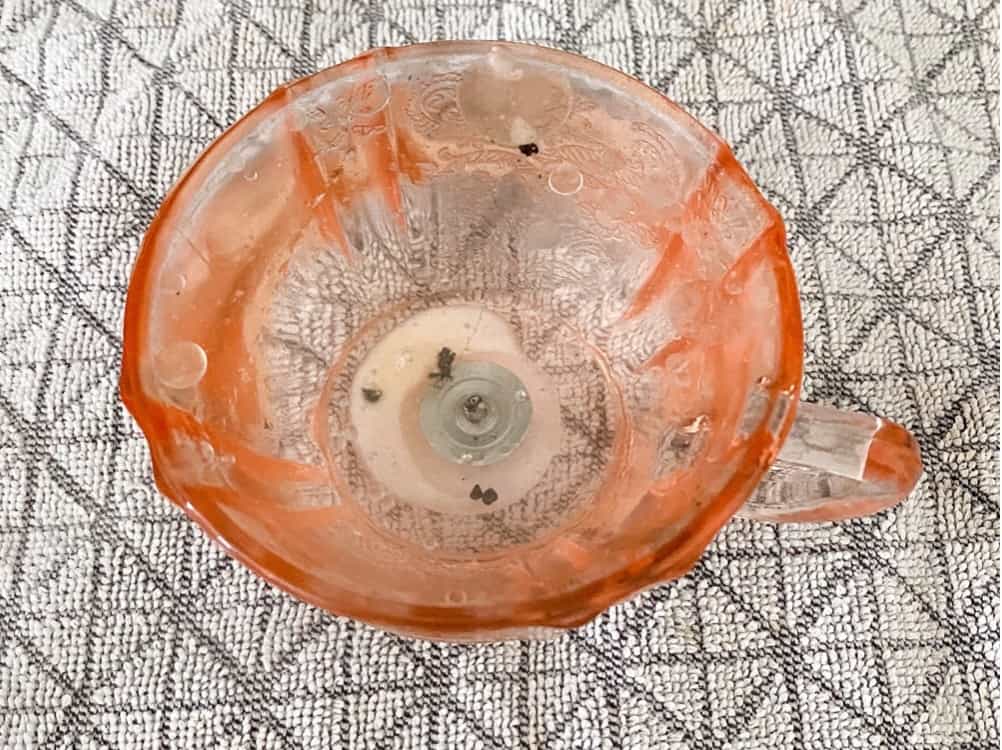 Clean The Candle Wax Out Of Your Jar
Alright, now here is how you can completely get the candle wax out of your jar. Simply remove all the solidified wax from the water.
Don't pour the water down your sink because you don't want any wax to get down into your drain. I used a plastic spoon and just scooped the wax out that way before draining the water.
Or you could use a strainer and then drain it that way too. Whatever works best for you!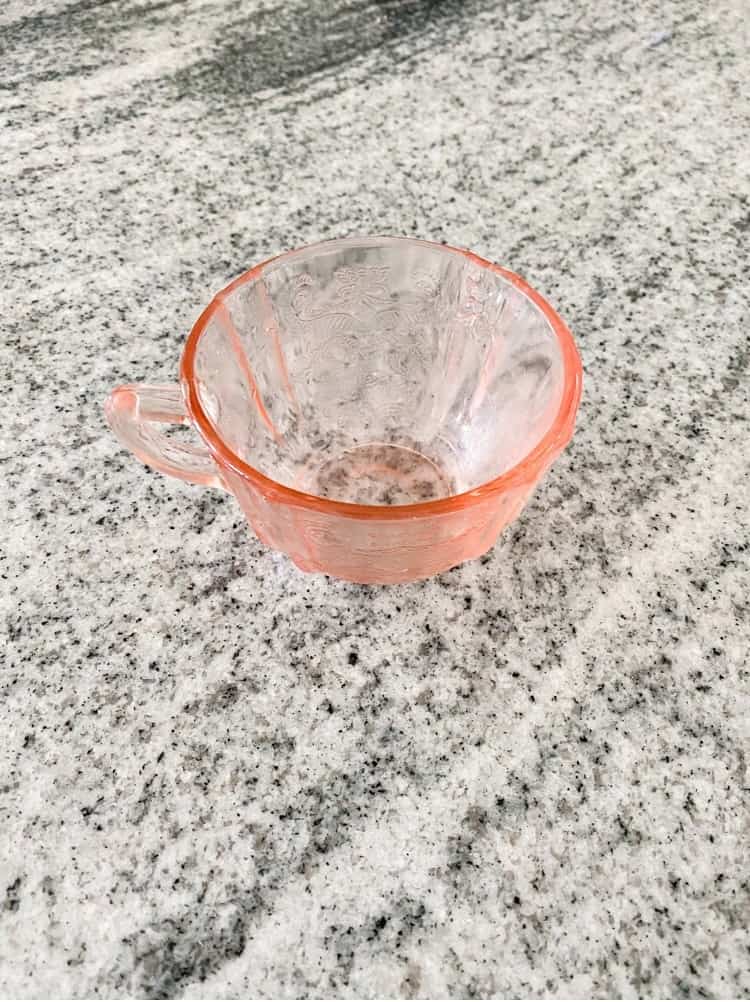 Once you have cleaned all the candle wax out, then you can wash it in warm soapy water. I was able to remove the wick here as well too.
It's usually glued onto the bottom of your candle vessel, but the boiling water helps the glue loosen up. It did take a little bit of work for me to pull it off, but I was finally able to.
And I am loving the end result. Just a beautiful pink depression glass teacup! You would have never known there was a candle inside of it beforehand!

Conclusion
Well, I hope you enjoyed this very easy and simple DIY project. And I hope you will think about this the next time you burn all the way through a candle.
It is so simple to get the candle wax out and reuse the jar for another purpose! Whether you're using it for storage or just decor, it's a great way to repurpose it.
Have you ever done this before too? Let me know below, I'd love to hear!