I always like to have an easy and simple coffee table centerpiece that goes along with the current season at hand. I had a winter related one on my coffee table most recently (you can see it back on my winter home decor post).
But I was just ready for a change. I wanted something more fresh and with more greenery to liven the space up. And after strolling through Target, and spotting some of the new releases of the Hearth and Hand with Magnolia collection.
I knew just what I needed to do!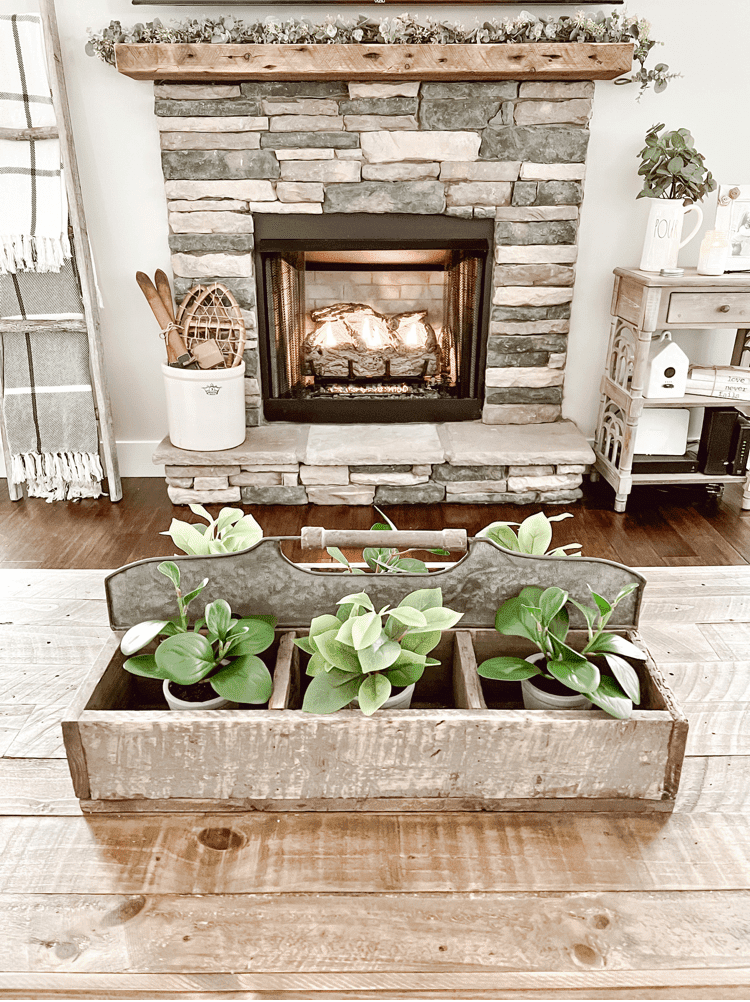 This post contains affiliate links. Click here to read my disclosure policy.

Antique Tool Caddy
One of my favorite antique finds is this antique tool caddy I keep sitting on my coffee table. I love it because not only are the wood tones amazing, but you can easily switch it out from season to season.
It has a total of 6 cubby holes in it, 3 on each side. So I always like to place something in there to create a cool and unique statement piece.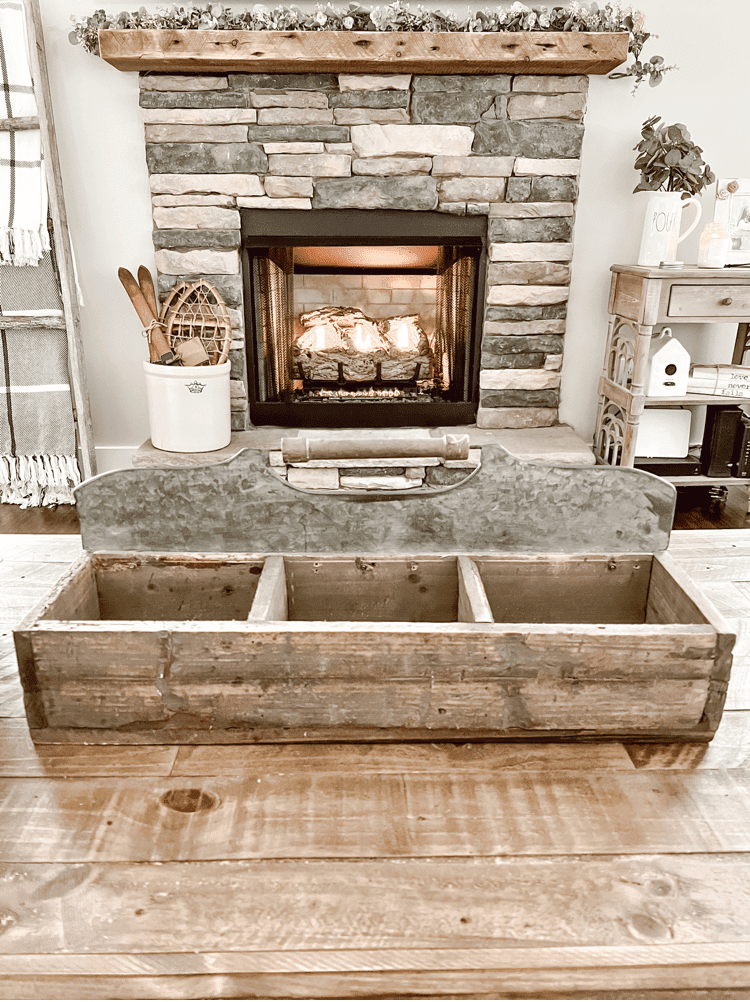 You've seen me style this piece before to create an easy and simple fall centerpiece. I usually like to place a few glass pieces inside of it. And then add in some greenery or floral options as well.
But, after I saw these cute potted plants at Target, I figured they would be the perfect neutral option to place in there.
I wanted to create something that I could leave out for a long time. Nothing seasonal related that I would have to replace in a few weeks. So no Valentine's Day decor here!

Adding in Risers to the Tool Caddy
Only problem after I got the faux potted plants, was that they were kinda too short in the caddy.
You couldn't really see their cute pots and only the tips of the greenery were sticking out. So I needed to find some risers to give them some height.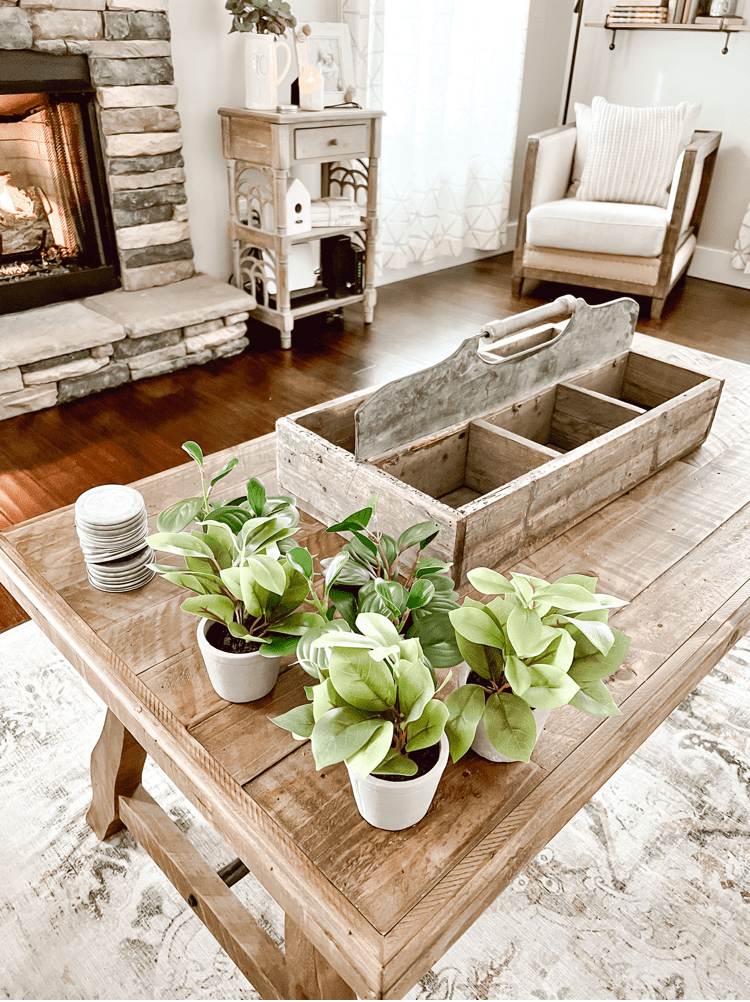 Although, I didn't want to have to pay for a total of 6 different risers for the coffee table centerpiece.
I mean, that could get kinda pricey quickly. So I decided to look around my home and see what I had that would work.
And I found something! You know I have an abundance of Antique Candle Co. candles in my home. Mainly because I am obsessed with having my home smell good. And these candles are the best. But also, their candle lids make the perfect riser!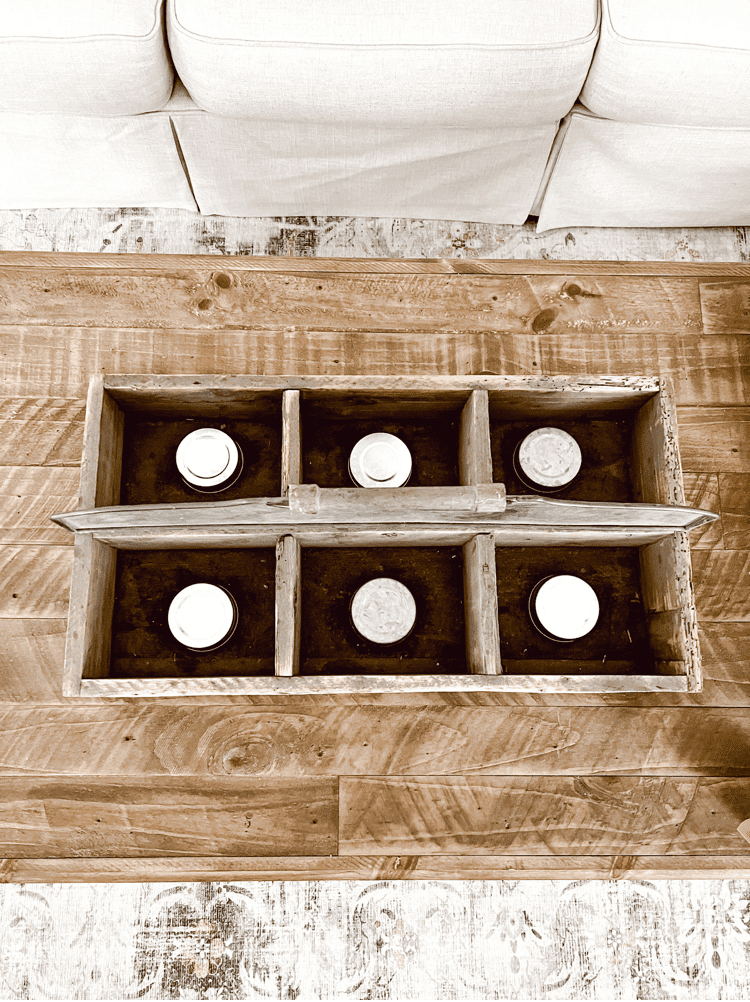 The best part is, it totally didn't cost me anything. I just took the lids off of candles I wasn't using, or weren't burning and placed them inside each cubby hole.
Adding the Faux Plants to the Coffee Table Centerpiece
Once the risers were all in place, I just added the plants on top! I got a total of 3 faux azaleas and 3 faux bean potted plants. And then I just alternated them around in each cubby hole.
I didn't want to get all 6 of the same plant because I wanted to create visual interest with a couple of different ones.
And that's it! How easy and simple is that?! The perfect coffee table centerpiece that literally took me only a few minutes to create!
Do you like having a centerpiece on your coffee tables too? If so, what do you like to place there as a centerpiece? I would love to know!