I've been seeing this really cool trend of DIY Herb Gardens all over Pinterest and Instagram here lately and I wanted to join in! I originally wanted to build a big raised garden bed like most I have seen on there.
But, since this is my very first time trying to garden anything, I figured I would start a little smaller! I will see how this goes this year, and maybe upgrade to a larger raised garden bed next year!
This is also perfect if you don't have a lot of space, but still want to try to grow your own herbs. I will share everything I used for it below and just how I created my DIY herb garden. And I am pretty proud of it! I love how it turned out and I love being able to grow my own herbs and use them without having to make a trip to the grocery store!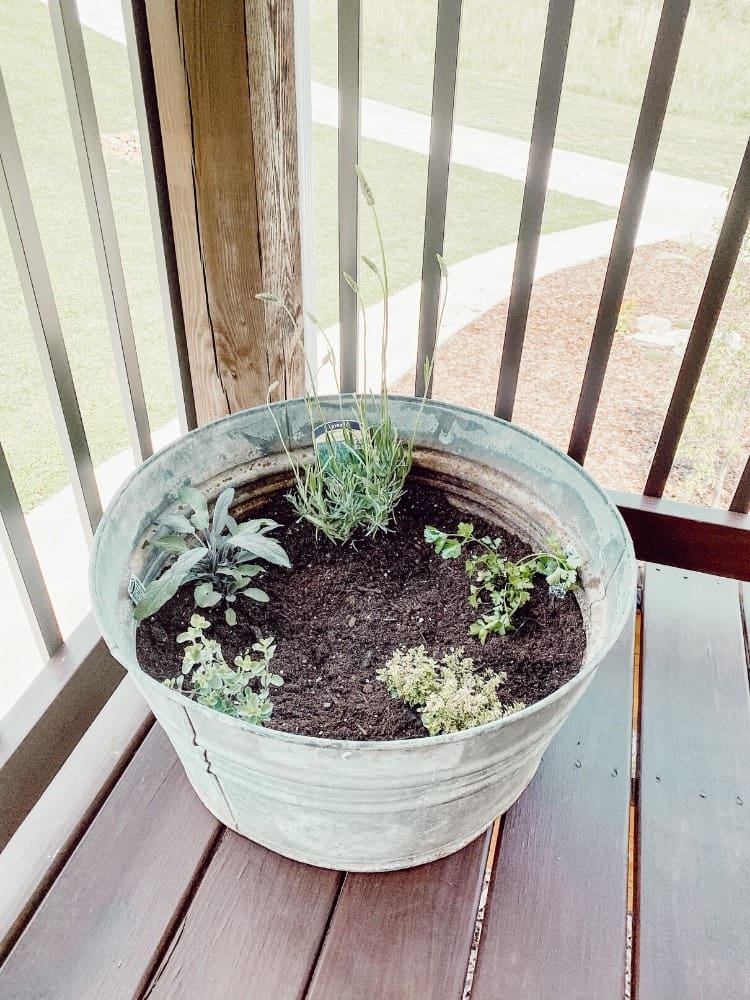 Supplies Needed for DIY Herb Garden:
A large bucket or container to plant the herbs in
Herbs
Potting soil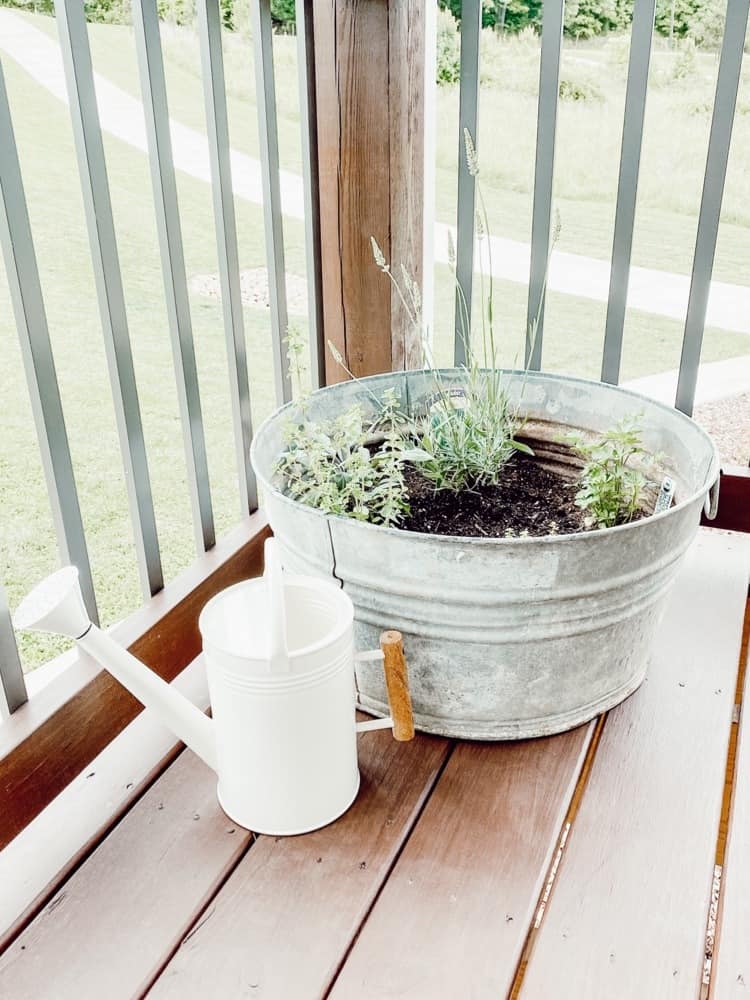 Getting Started
As you can see, you don't really need a lot of supplies to get started on this project. And if you know me, then you know I love easy and simple DIYs so this was a perfect project for me!
This idea originally came across my mind when I stumbled upon that beautiful, large galvanized bucket at a local thrift store.
As soon as I saw it, I thought it would be perfect to plant herbs in!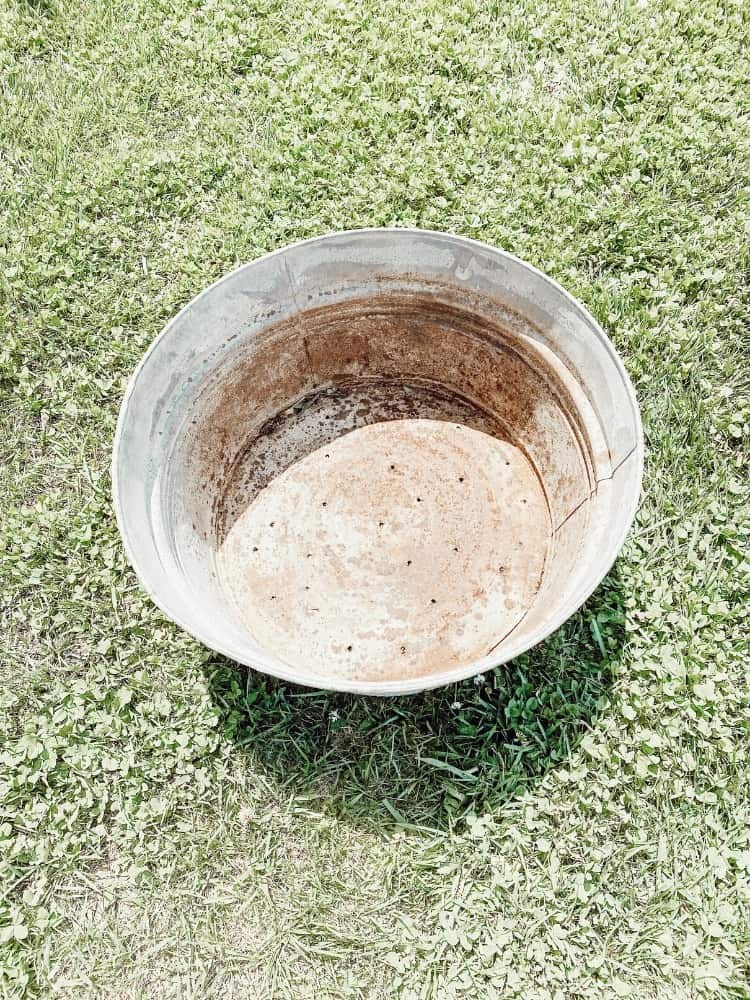 At this point, I had been tirelessly asking my hubby to help me build a raised bed for a herb garden so he was very happy that I decided to use this bucket instead!
He doesn't have to build anything, and it is a great test run for the future.
Another great thing about this bucket is that it already had holes drilled into the bottom of it for drainage! So this really was a perfect find!
I suggest looking at your local thrift shops too in search for a container or large bucket like I got.
Their prices should be pretty reasonable and I think it is totally fine if it is rusty or chippy. In fact, you know I prefer it that way!
Choosing Herbs
Before you go to your local nursery to choose your herbs, you really need to do some research first. Some herbs don't play nice together and would not thrive when planted next to each other in the same container.
Before we actually went to the nursery, I sat down and made a list of what herbs could be planted next to each other.

Herbs I Got For My DIY Herb Garden:
Lavender
Marjoram
Sage
Parsley
Thyme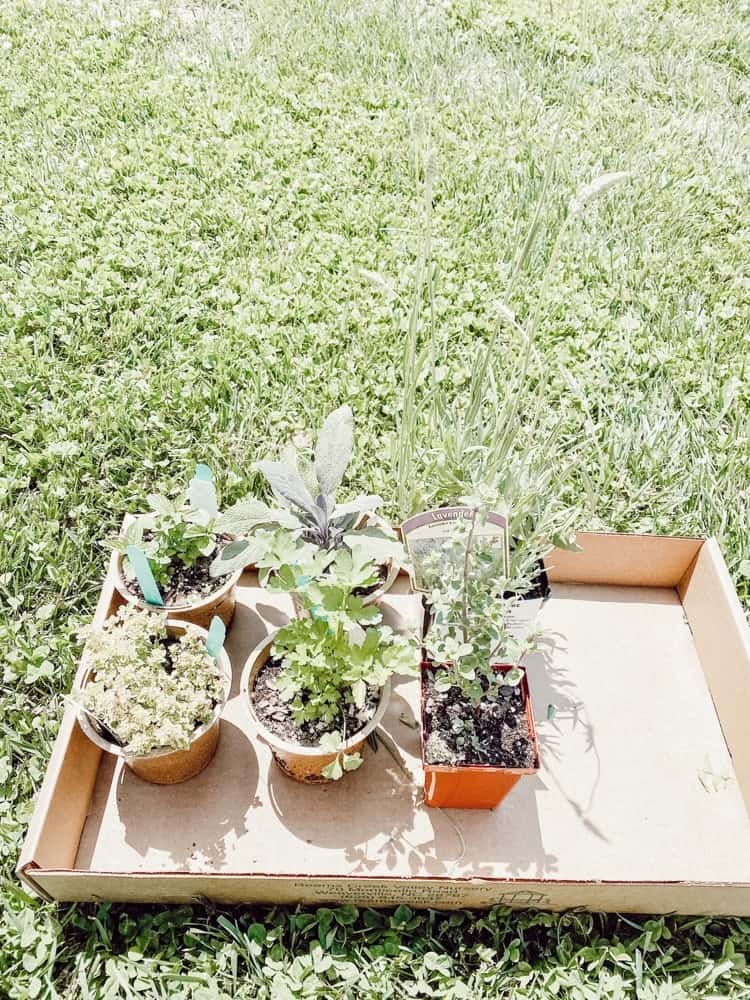 I also made the mistake and bought some mint too even though it wasn't on my list. When I got home, I researched it more and I am so glad I did.
Turns out mint is very aggressive and will take over all the other herbs if you plant it with others! So I decided to plant my mint all by itself in it's own special container.
And let me tell you, it is definitely thriving!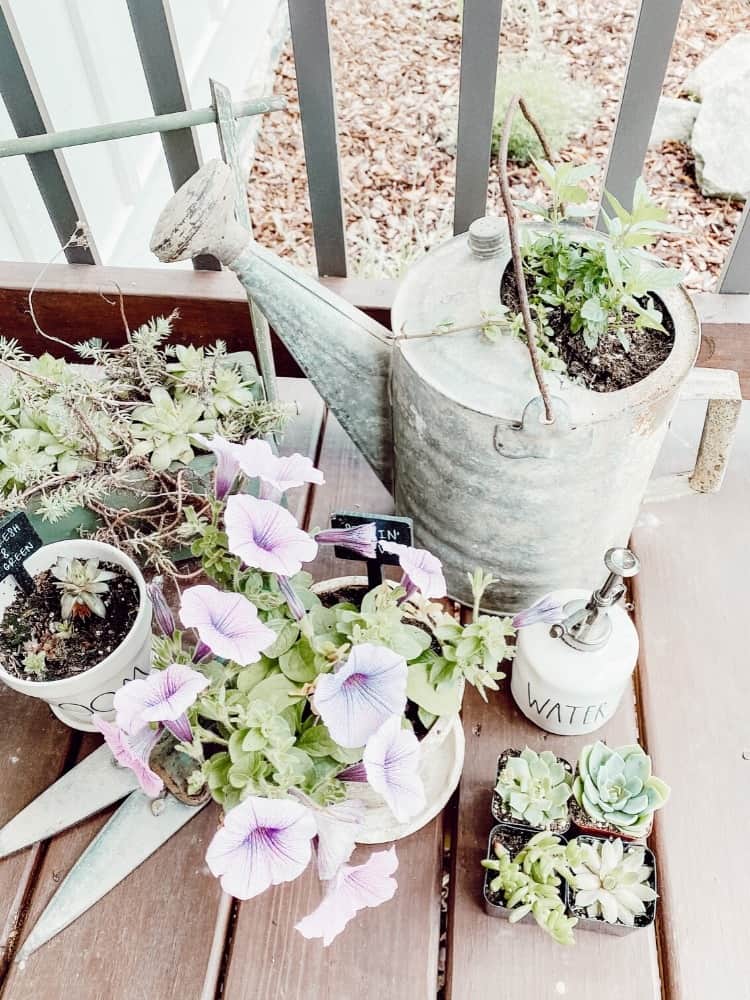 I had an extra vintage watering can so I was able to plant it in there and it seems to be doing just fine. I also have other herbs planted in separate containers too such as basil and rosemary.
So if you want to plant a herb that doesn't play nicely with others, don't be afraid to get a few extra planters and just plant them separately.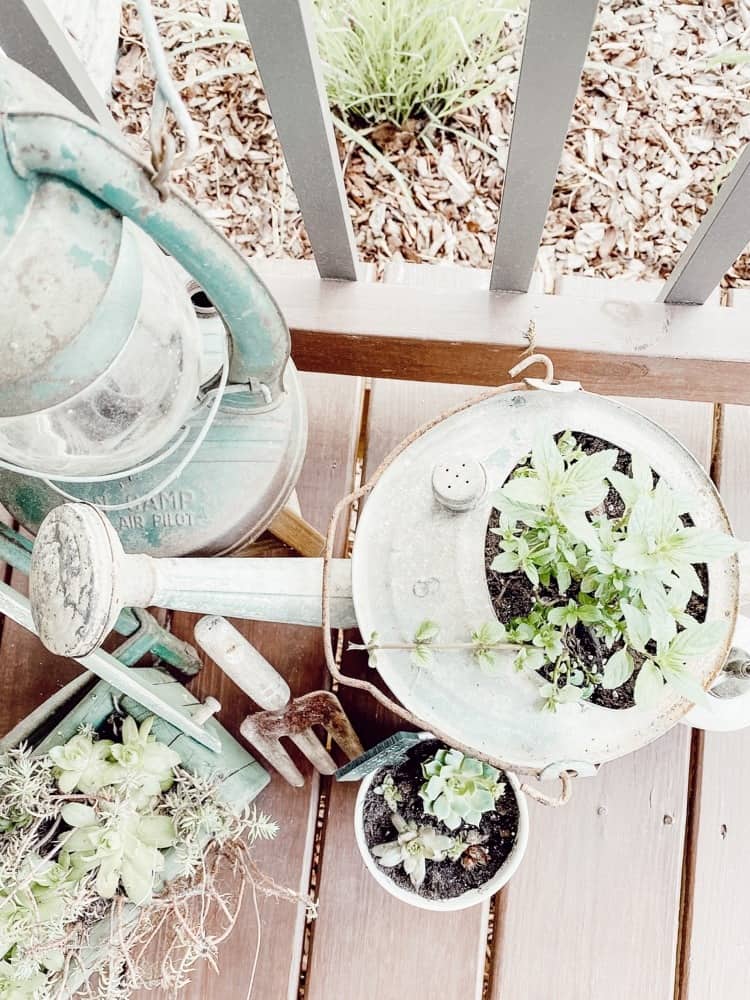 Planting The Herbs
You will definitely need a lot of potting soil depending on the size of bucket or container you get! Keep that in mind when you are getting your supplies together. We pretty much used a whole bag of potting soil.
After I poured the soil in, I placed each herb in the spot I wanted to plant it in. I wanted to make sure each herb had enough room to grow before I actually planted it.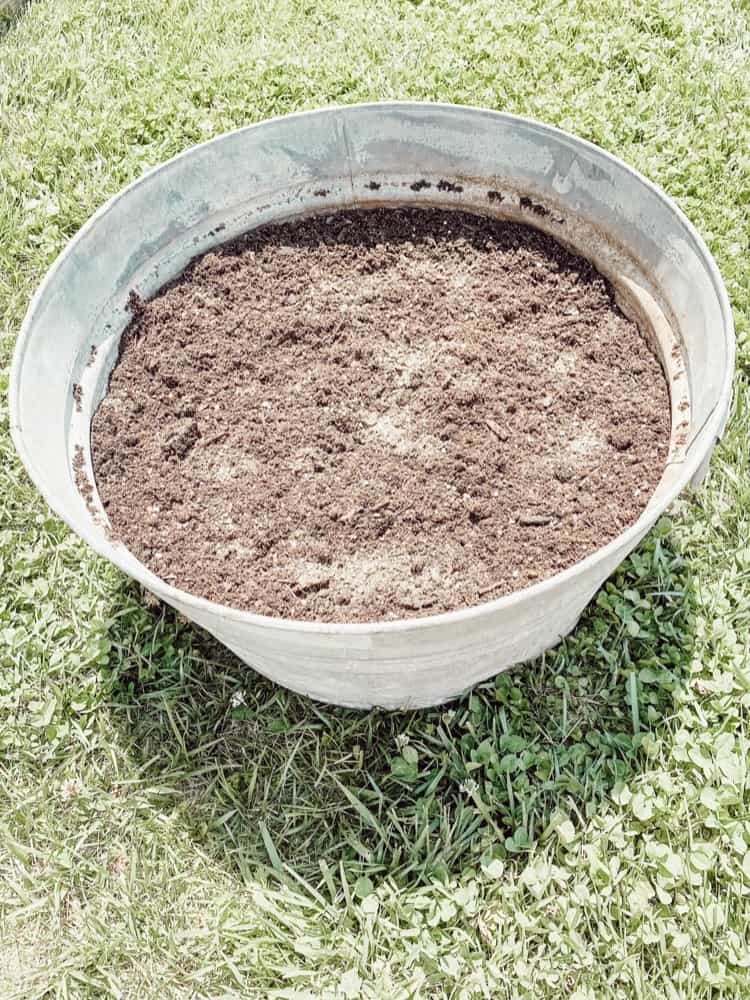 Once I decided where I wanted to place them all, I got busy planting! I tried to give them all enough room so that they could grow and thrive without affecting the other herbs in the bucket.
I may have enough room to add another herb right in the center of the bucket too. If I do, I will probably add in some oregano. I originally wanted that too but our local nursery was out of that.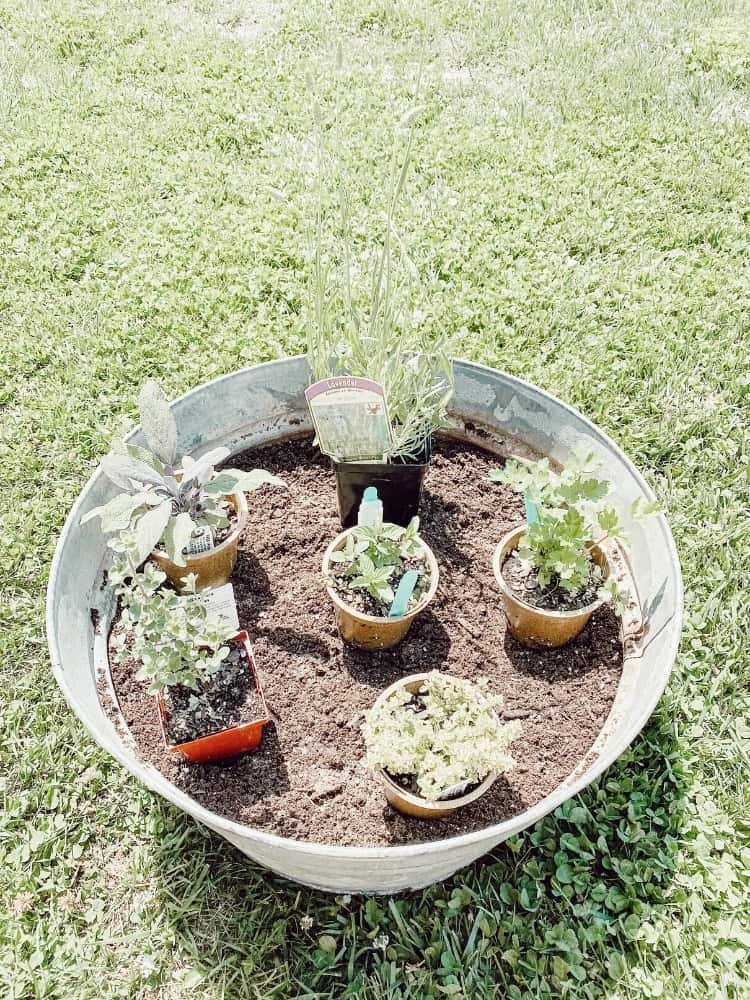 Completing The Project
Now that you got everything planted, you are pretty much done! You just need to decide where you want to keep your DIY herb garden out.
Again, research is key here too. Make sure you read about your herbs and whether or not they like full sun or partial sun too.
We decided to put our herbs in the corner of our front porch.
It is partially shaded but it also gets a lot of morning sun and my herbs seem to really like that!
I shared all about our Spring Front Porch earlier and I think this herb garden is the perfect addition to it! I am so excited to see the progress and how they are growing each day!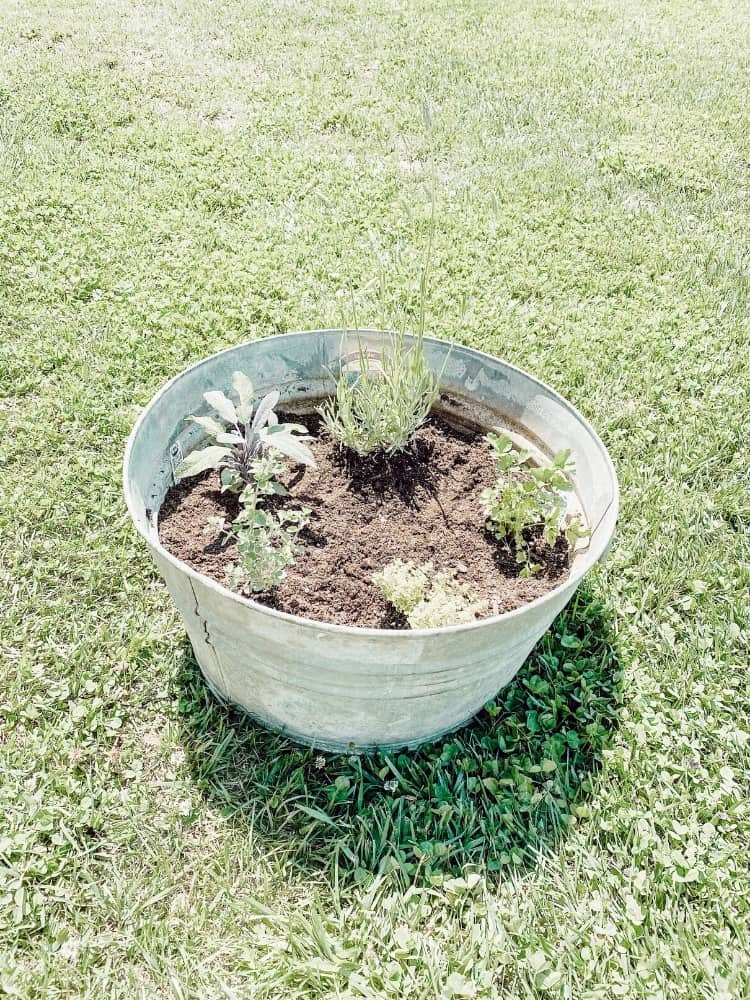 I hope all this information has inspired you to create your own DIY herb garden too! It really is so easy and it is so much fun to plant your own produce!
In fact, it makes me want to try my hand at planting veggies too! But I think I may wait until next year for that. (Update- I did try my hand in some DIY Raised Garden Beds, so be sure to check that out as well!)
I am taking little baby steps because I used to seriously have a very black thumb so I am trying hard to improve my gardening and plant mom skills!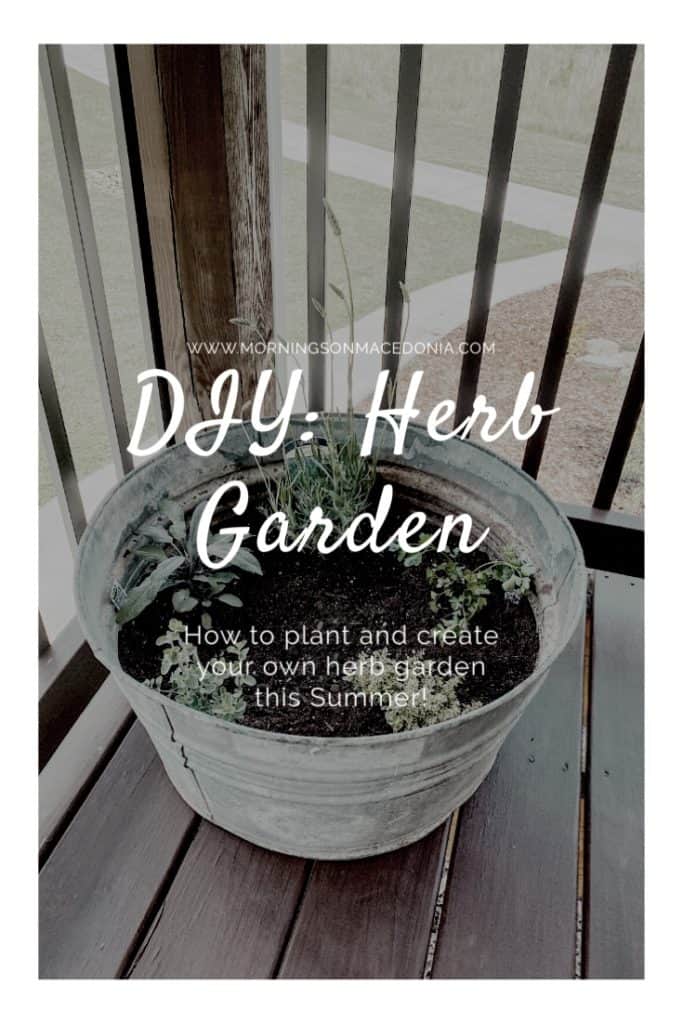 Thanks for stopping by and reading today. I would love to know if you have ever tried your hand at a herb garden too? And if so, what herbs are your favorite to plant as well?!