Y'all know me and know that I love to decorate every space of my home seasonally. And the Fourth of July is no exception! I love to fill my home up with patriotic colors, even my kitchen! So I thought today I would share with you all some easy patriotic kitchen decor ideas!
You don't have to go all out, a few little touches here and there's perfect! I will be sharing easy ways to add in patriotic home decor, specifically in your kitchen. Which I know the kitchen is sometimes an overlooked spot when it comes to holiday or seasonal decor. But let's change that with these easy and simple ideas!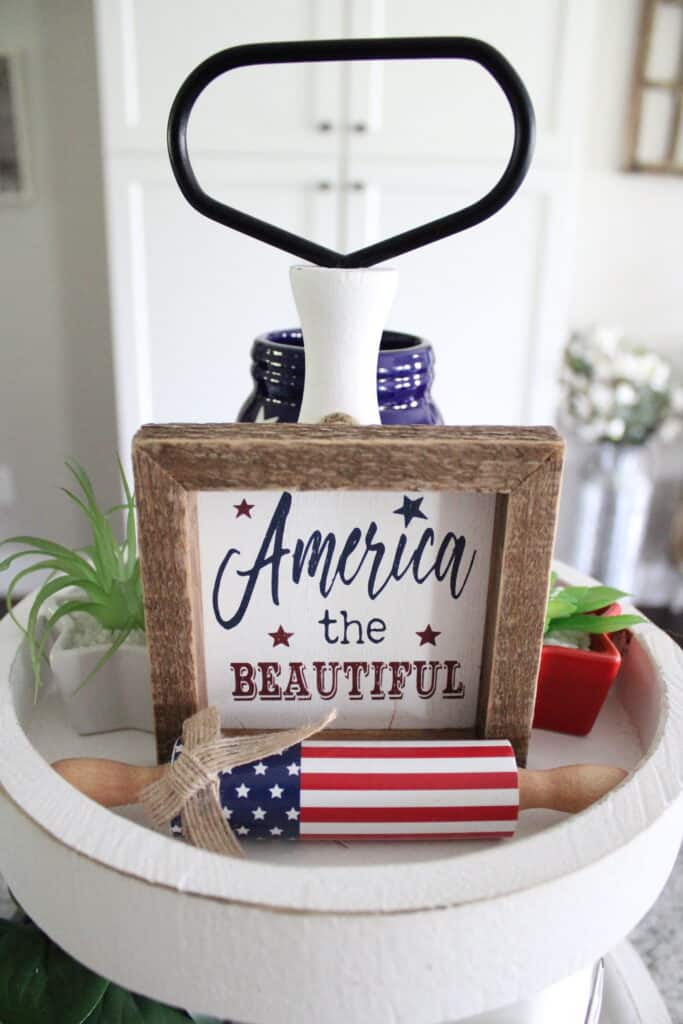 This post contains affiliate links which means I could make a small commission and no additional cost to you. Click here to read my privacy policy.
Patriotic Tiered Trays
One of my favorite, and the most easiest, way to display decor for patriotic holidays is to use a tiered tray! I shared more about that in my post on adding small, seasonal touches to your tiered tray. That post is geared more towards fall decor, but all the info and tips I shared can easily be applied here too.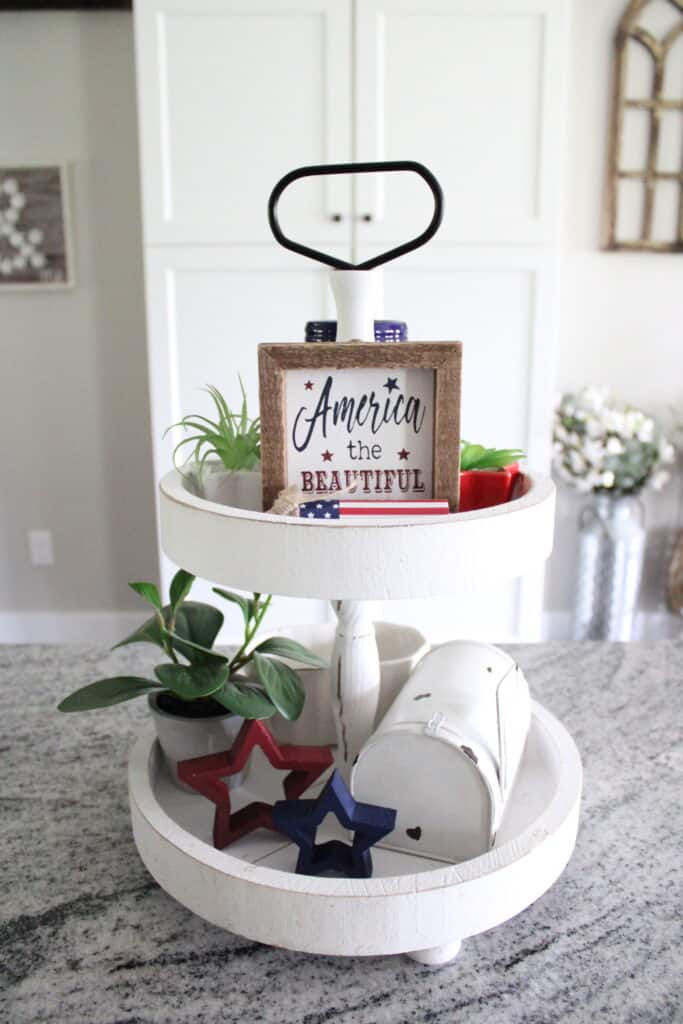 Tiered trays are perfect to display little knick knacks, like a small American flag, or any other small red, white, and blue piece. They don't take up too much room, and they can easily be transitioned into the next season as well.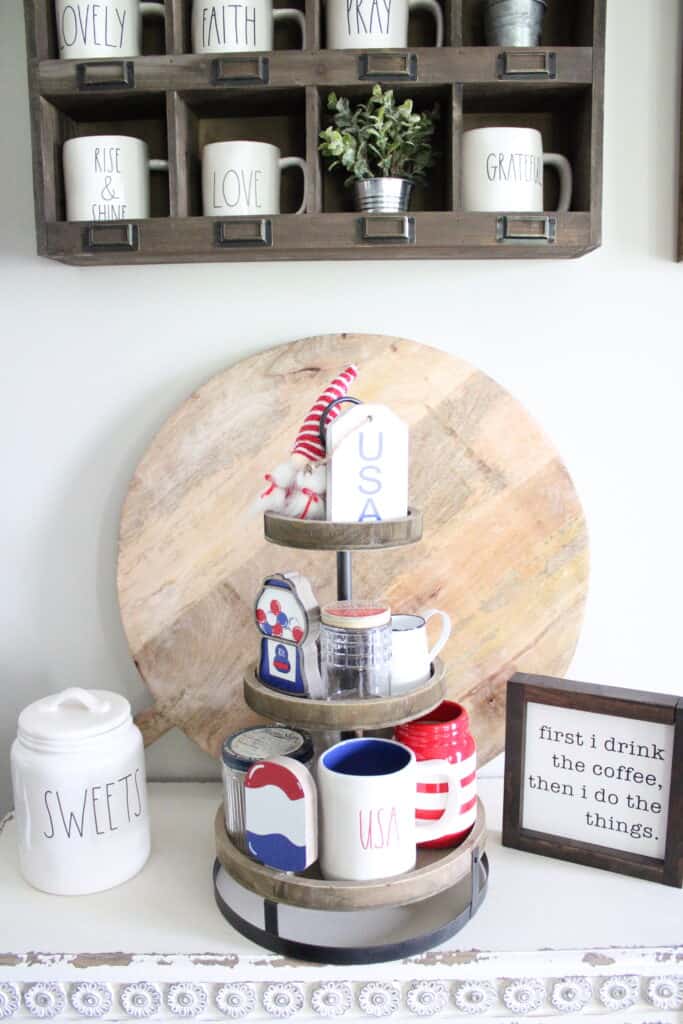 I went shopping in Hobby Lobby the other day, and they had plenty of small pieces with red, white, and blue colors on them that are perfect for a tiered tray. Plus, they were super inexpensive too!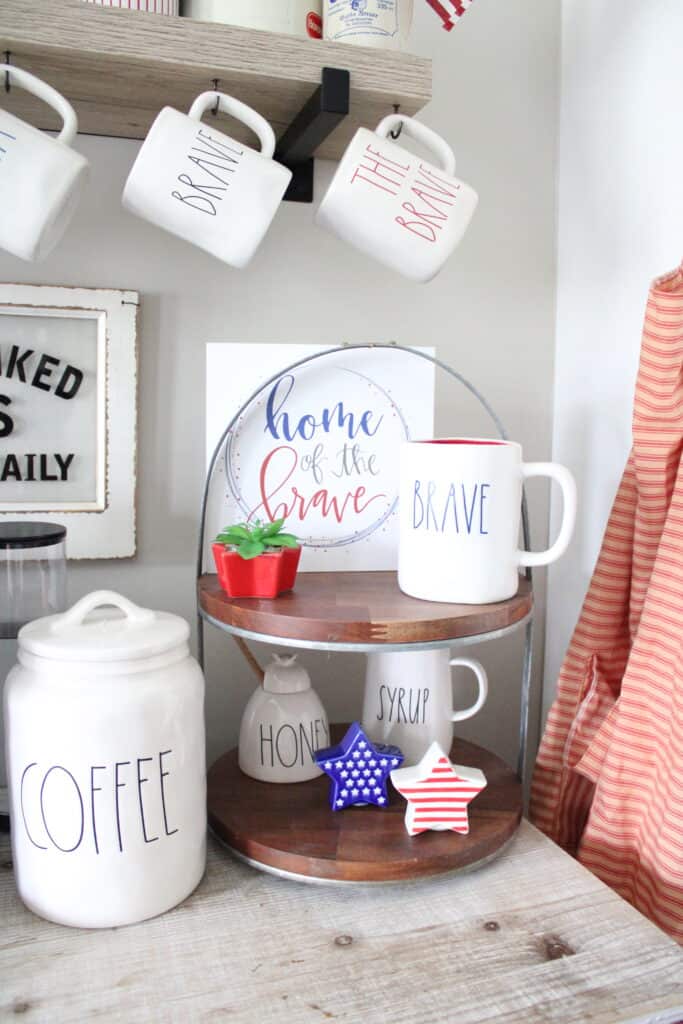 So even if you have a small kitchen or space, a tiered tray would be a perfect option to display some easy patriotic kitchen decor! And really, if you don't want to do too much this season, a tiered tray is all you need to make a statement!
Patriotic Kitchen Towels
Here is another super easy patriotic kitchen decor idea! Just add in some machine washable patriotic towels in your kitchen! Hang them off of the dishwasher handle, oven handle, etc. Or showcase them draped over a tray and/or a shelf!
The possibilities are endless and this is a very cheap way to add in a red, white, and blue theme to your kitchen! Get one with a USA flag on it, or one with just some patriotic colors to it, and you're all set!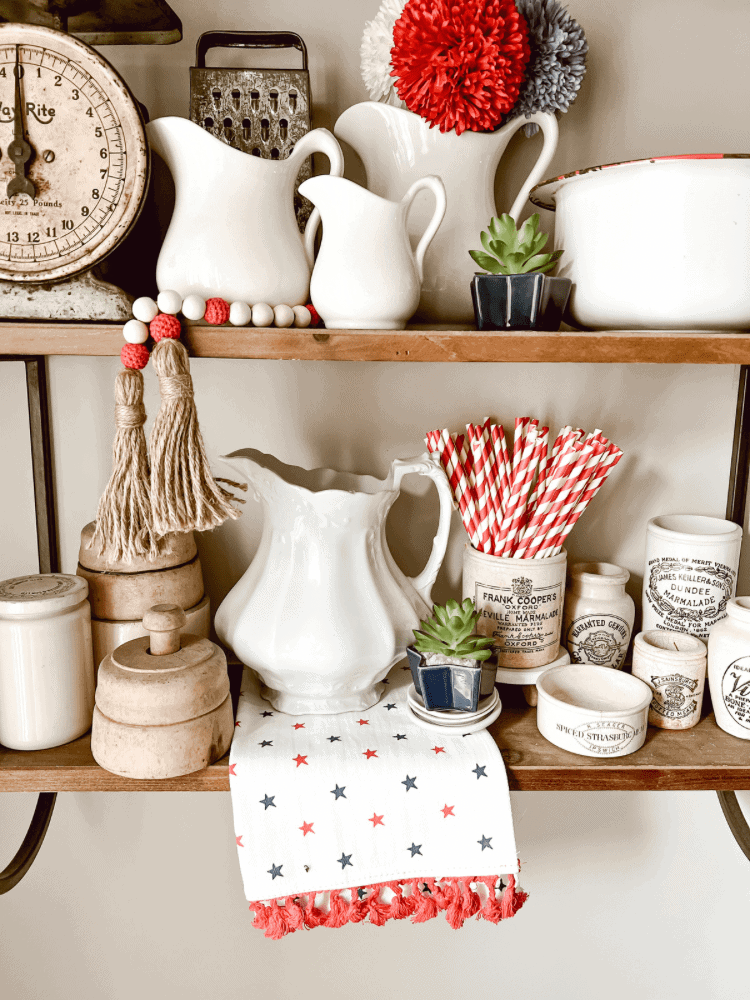 I have one that has fireworks on it hanging off of our dishwasher. And another one that has stars on it, draping over the dining room shelves. Our kitchen is completely open, so the dining room is right next to it. Which I consider to still be kitchen decor!
Vintage Red, White, and Blue Open Shelves
Just as I mentioned above, I love to style our dining room shelves in patriotic colors as well. And one of my favorite ways to do this is to add in some vintage pieces. I love to look for old pieces that contain the red, white, and blue colors.
Even if they are considered "patriotic" or "Americana" pieces, as long as they have the right colors to them, I will use them! Such as that vintage potato chip tin on top. It has the perfect colors for the patriotic holidays to it!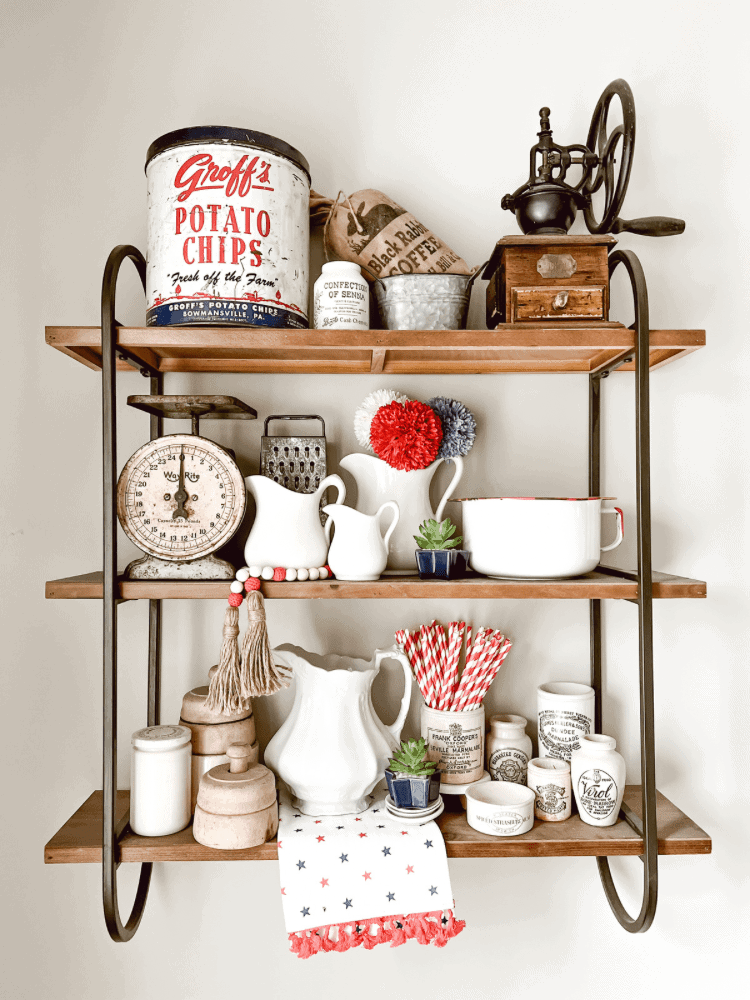 I also love to use a lot of vintage red pieces because you can get double usage out of that. You can use them for both the Fourth of July as well as Christmastime too!
I also just add in a few little patriotic touches to my already existing vintage pieces on my shelf too. Such as adding red, white, and blue stems into my vintage ironstone pitcher, or red paper straws into my vintage English advertising jars. Both are cheap and inexpensive ways to decorate your kitchen with patriotic decor!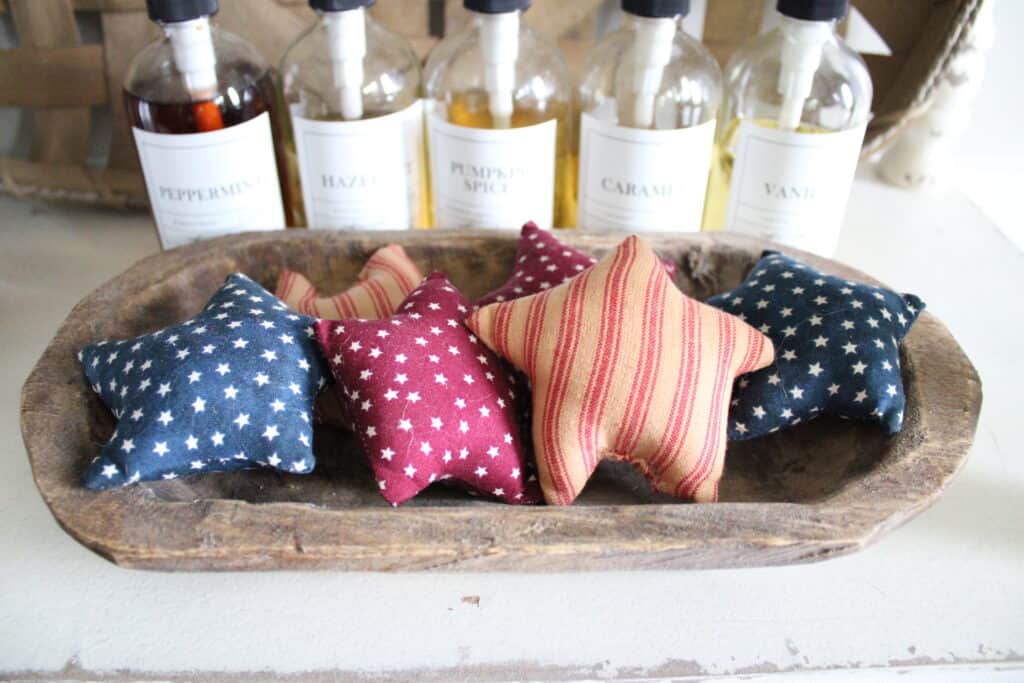 Patriotic Candles
Another fun idea I added to my kitchen patriotic decor this year were candles. And you may not think of candles being patriotic, but my favorite candle company, Antique Candle Co., offers unique candles that are hand poured into vintage vessels.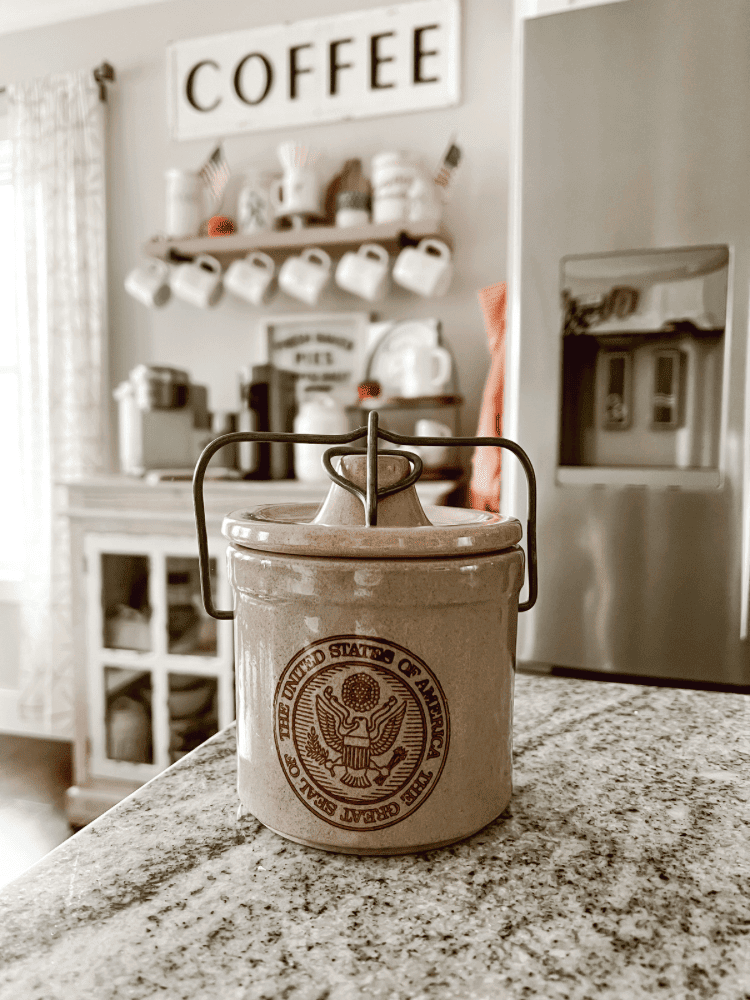 I was able to snag some that were perfect patriotic! With free shipping too! One is in an old crock and has The United States of America Seal on it, and the others are vintage red ironstone pieces. And as I mentioned above, these red ironstone pieces will be perfect for reusing them as Christmas decor in the future!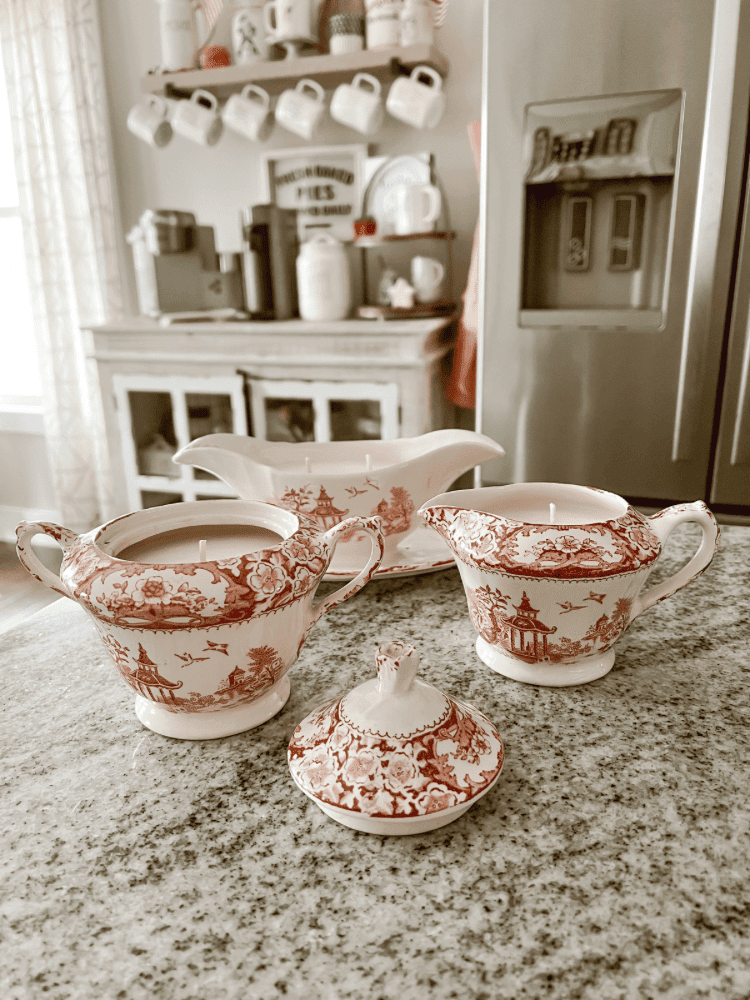 ​Antique Candle Co. often restocks their antique candles, so definitely be on the lookout for that if you want to snag some cool pieces like this! They also make for a great gift too, and you can use my code "MACEDONIA10" to get an additional 10% off your candles as well. You just can't beat that!
Vintage Patriotic Coffee Bar
I'm ending this patriotic kitchen decor ideas post with one of my absolute favorite areas to decorate in my home- my coffee bar! If you've been around here long enough, then you know I decorate my coffee bar every season and love to switch things up!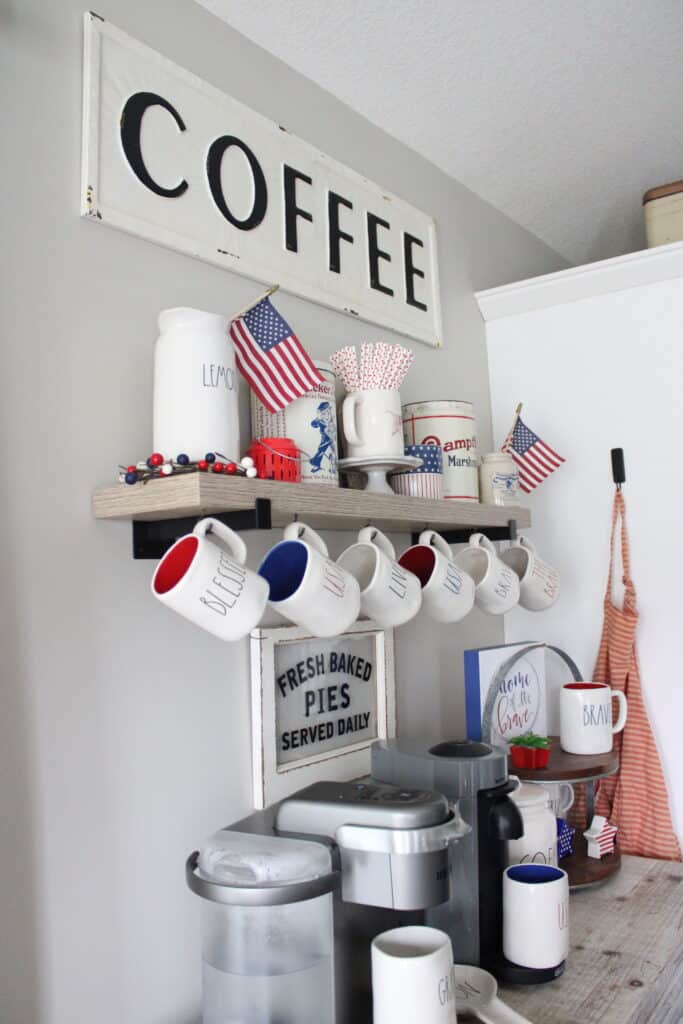 So of course I had to create a vintage patriotic coffee bar this year too! I absolutely love the antique campfire marshmallow and Cracker Jack tins, how perfect for summer are they?! And all my Rae Dunn July Fourth themed mugs are perfect to display on the hooks.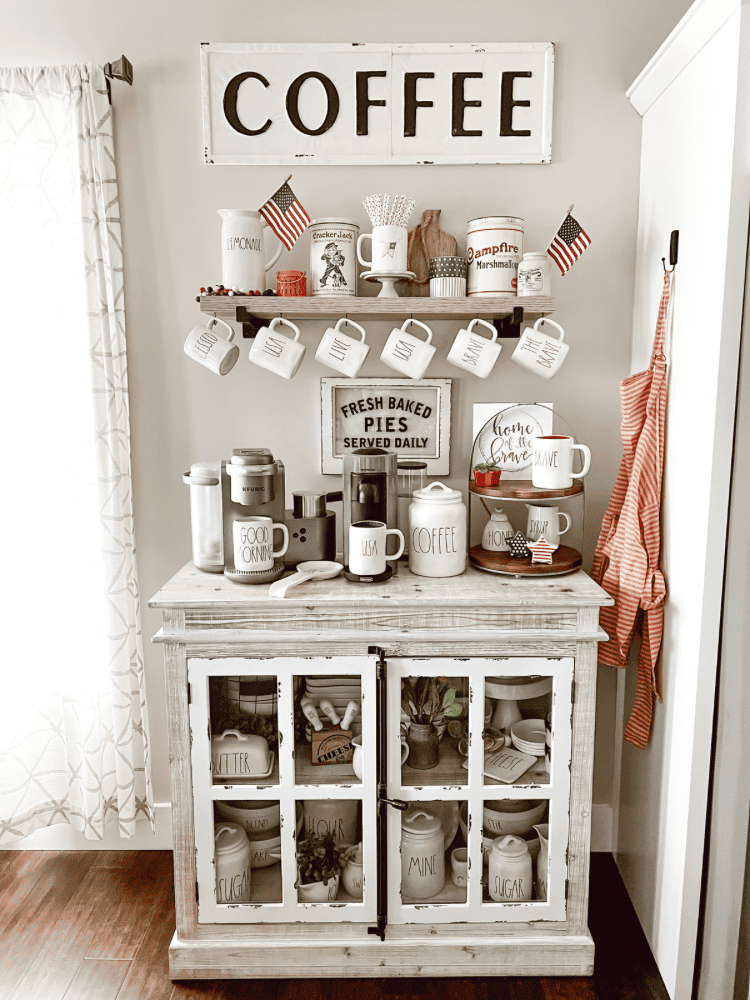 I keep adding to my collection year after year when it comes to patriotic decor, so even though I decorate each year, it always turns out different. Which I love!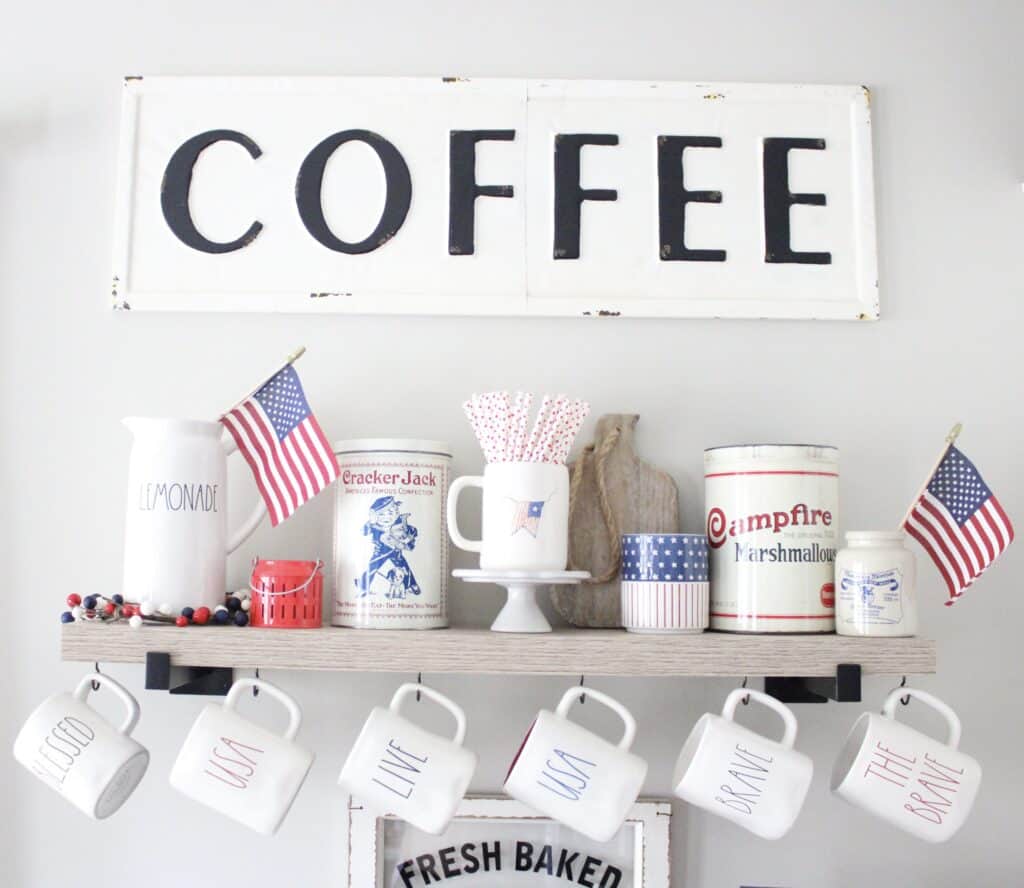 I hope these easy patriotic kitchen decor ideas I have used in my own home, gives you a little inspiration to decorate yours too! You don't have to do as much as I do!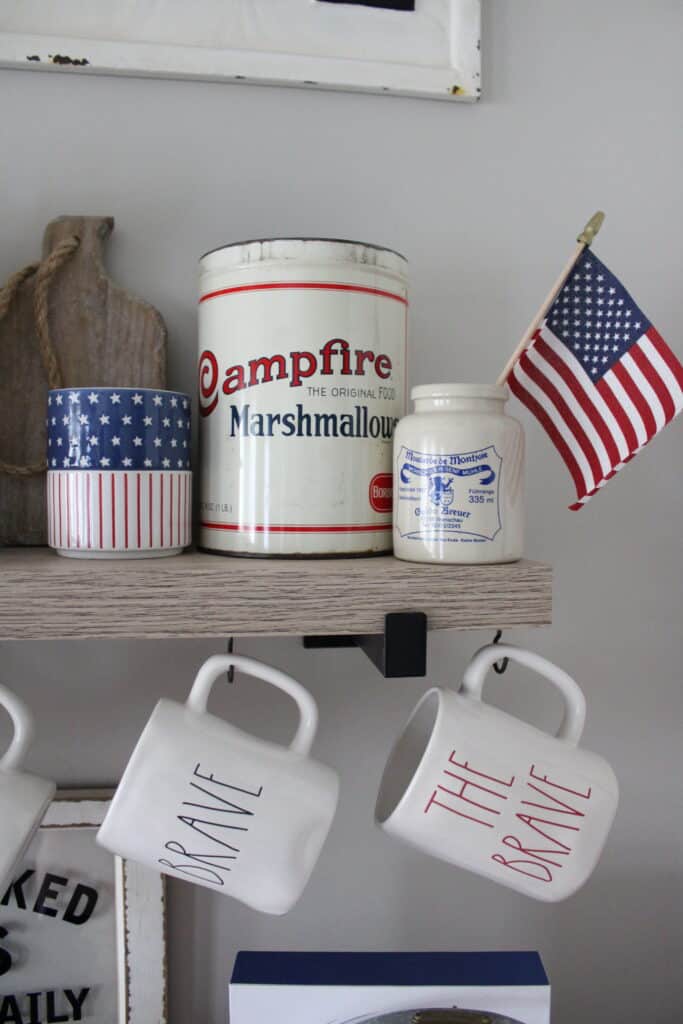 You can do as much or as little as you want. I am just here to give you all the inspiration and ideas that I possibly can! And be sure to check out all my other patriotic home decor ideas I have to share as well!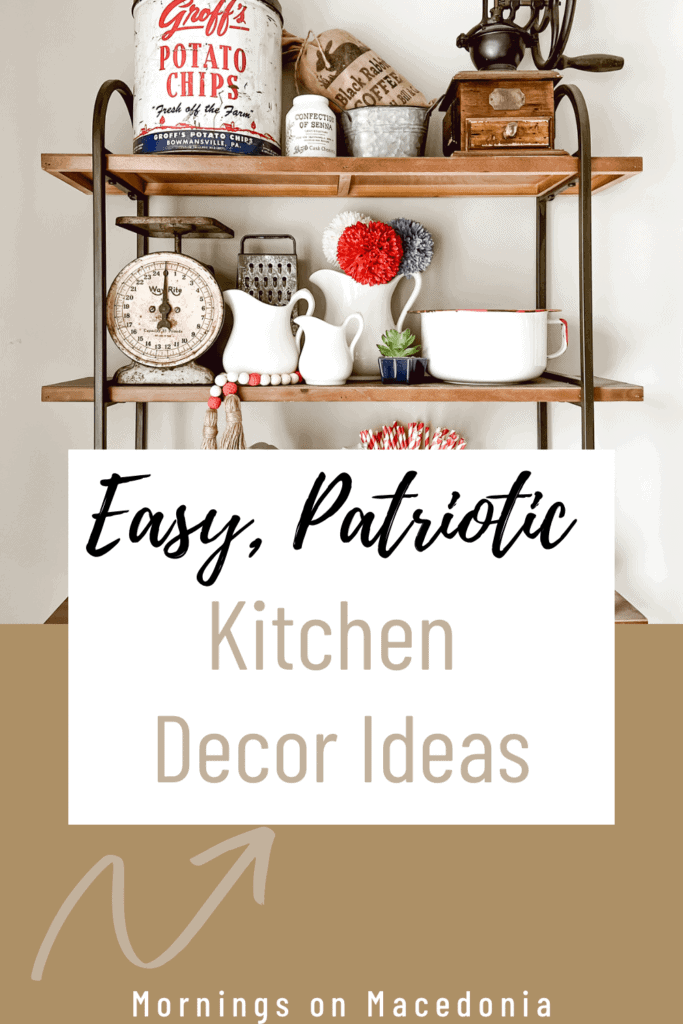 Do you decorate your kitchen for patriotic holidays like July Fourth too?! Let me know below and let me know how you decorate if so!