Today, I am going to share with you all my tips for adding simple, fall touches to a fall tiered tray. If you're a lover of farmhouse decor like me, then you probably see a lot of beautifully decorated tiered trays out there for every season on Instagram or Pinterest.
You may think that that there's no way you'll ever get your tiered tray to look that good. I remember thinking that when I first started decorating tiered trays too.
I was so excited to buy a tiered tray. But, when I finally brought it home to decorate, I was completely stumped. It was a lot harder than I thought. It didn't come to me naturally and I thought that it would.
So I figured I would share some tips I've learned along the way with you. And share plenty of tiered tray decor ideas too. I'm by no means an expert. However, if you are having a hard time with them too, I would love to be able to offer you some advice!
This post also contains affiliate links, which means I make a small commission off anything you purchase through here, at no additional cost to you. Please read my full disclosure policy for more details.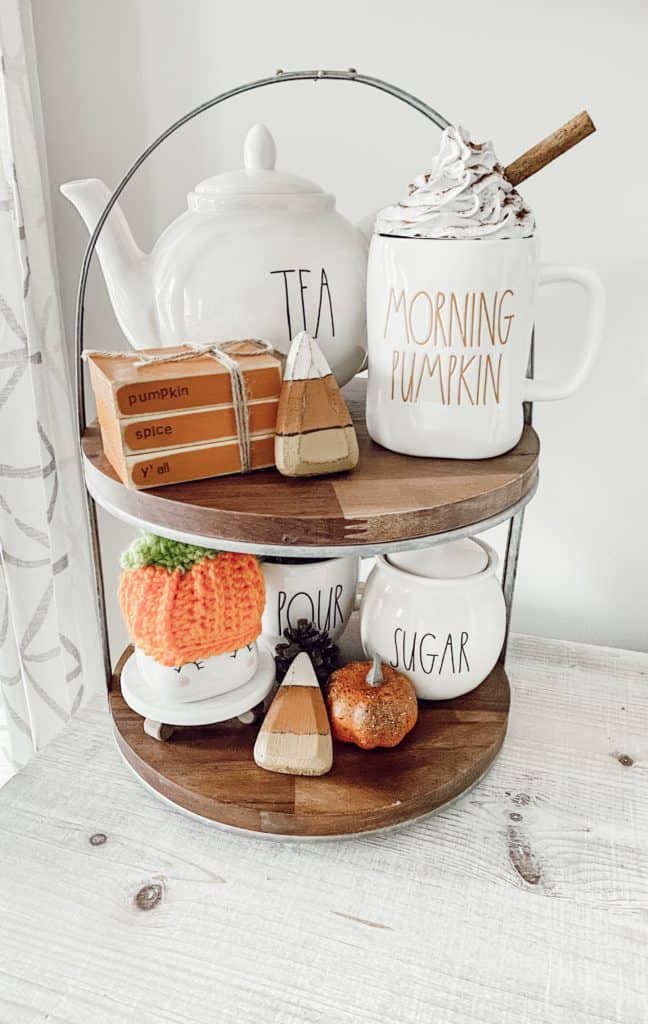 1. Choosing the Right Tray
Believe it or not, choosing what kind of tray is important because there are a lot out there. I personally have a few and I like having two different styles to choose from.
It's nice to have multiple ones, that way you can do a different themed tiered tray for each one. For example, do one fall themed specifically and then another one Halloween themed specifically. 
And each tray can be easier or harder to style, depending on the shape. My three-tiered tray one has a lip around each shelf. I feel like that kind of makes it a little harder to style because if you put something short in there, the lip may cover it up. So I've learned that using risers and taller items are best for that tray.

My other two-tiered tray is completely flat and it is much simpler to add smaller items to because you can see them easily. Especially fall signs because you can actually read them and see them.
This tray is actually a dessert stand from the Hearth and Hand collection at Target, but I decided I wanted to use it as a tiered tray instead. You can see a picture of that one at the very top of this post.

Below is a picture of my three-tiered tray. I got that tray from Hobby Lobby and that is a great place to start looking for one. They usually have fairly reasonable prices for their trays. I have found several I love off of an Etsy shop, but those are usually more pricey.
So I recommend finding a cheaper tray to start out with to make sure you actually enjoy decorating tiered trays before investing in a more expensive option.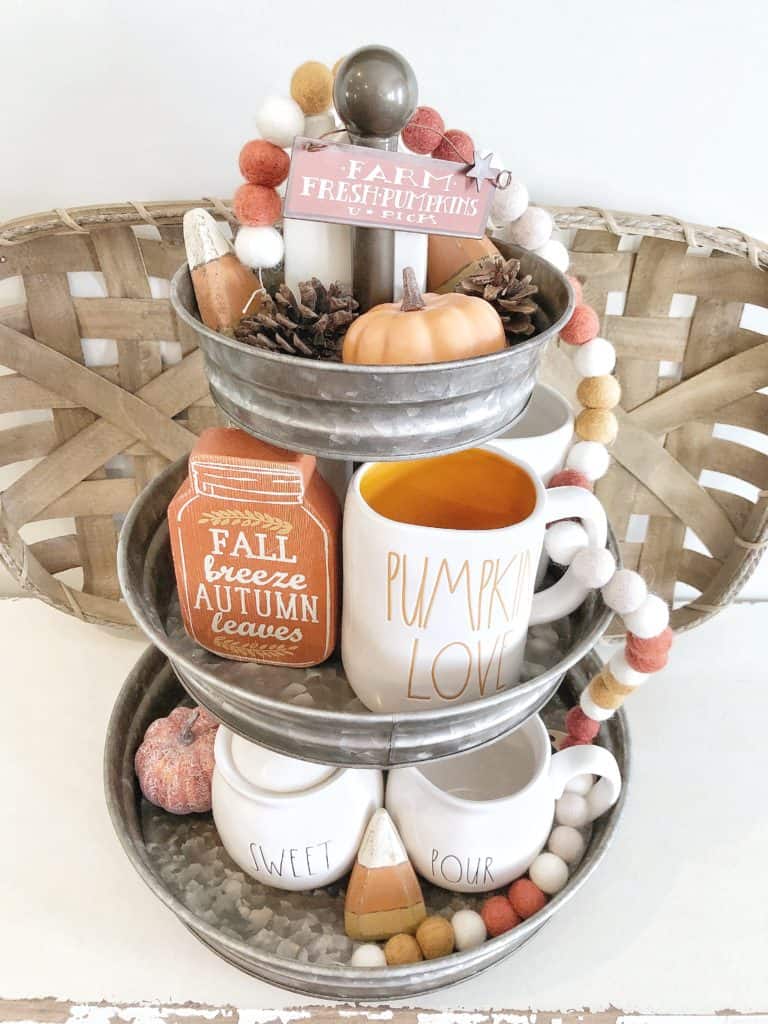 A newer addition I have made to my tiered tray collection is this beautiful white tiered tray I have pictured below. I love the farmhouse style to it.
Plus, it is the perfect kitchen decor piece as well since it matches perfectly while sitting on my kitchen counter. This one is also perfect to display wooden signs or mini signs with as well.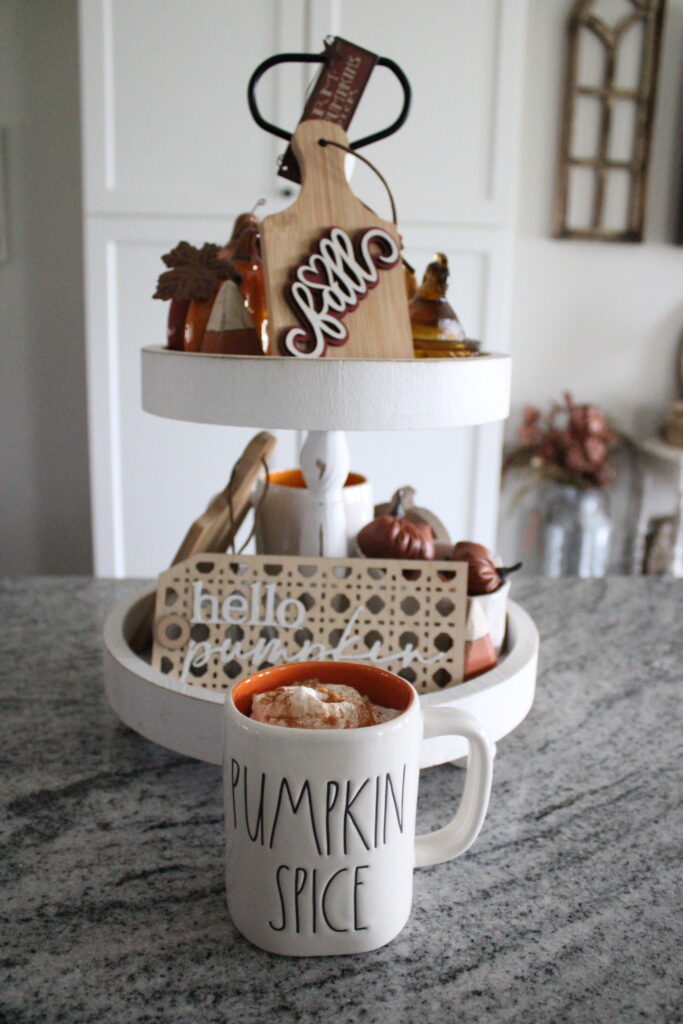 2. What Items You Need to Fill in Your Tray
If you know me, then you know I love Rae Dunn. I like to keep basic pieces in my tray year round. I usually style them towards the back of the tray to fill up the backside and then add a few seasonal pieces in the front of the tray to show them off.
But, if you're looking for a little more bang for your buck, be sure to check out the Dollar Tree too. They have so many fall decorations at a great and reasonable price. They also have a great selection of Halloween decor too. I always love getting a great find at my local Dollar Stores for a cheap price!
Another thing I love to add are garlands to my tiered trays for a pop of color.
You can find a lot of handmade garlands off of Esty or you can just make your own! I also love to support small shops so I have a lot of cute fall pieces that I've gotten from some of the shops I follow on Instagram.
Also, I like to add in my tray to give it some fluff, is some seasonal decor pieces from the Target Dollar Spot. You can usually find some great pieces for just a few dollars and I am all about styling a beautiful tray for less money! They usually have a great selection of small signs or small little white pumpkins to choose from. 
The pumpkins and pine cones are from the Dollar Spot and they are the perfect size to fill in the top tier of my tray. Plus, the pine cones add in a great natural texture to this beautiful fall display as well!
Adding greenery or small seasonal colored stems is also a great choice to fill in some small space on your tray as well. These items are the perfect choice to add in simple, fall touches to your tiered tray.
Plus, be sure to check out other seasonal fall decor at stores such as foam pumpkins, pumpkin ornaments, a hello fall sign, sweater pumpkins, velvet pumpkins, etc. There is literally so many adorable fall pieces you can find and add to your tiered tray!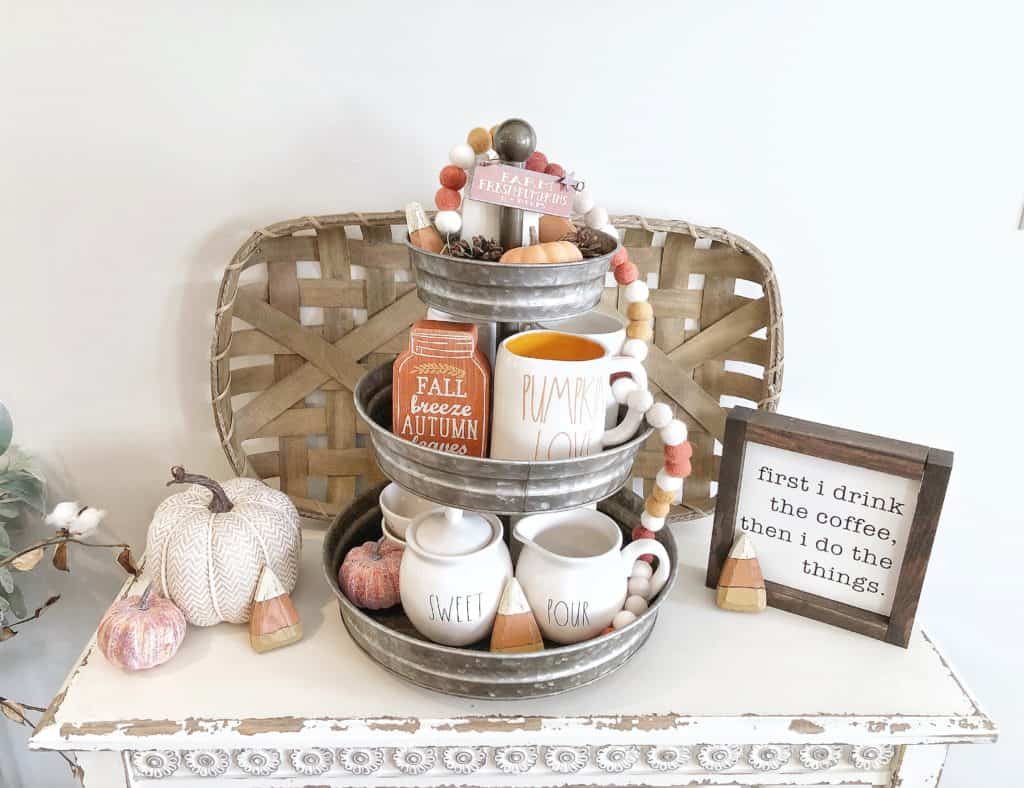 3. Where to Place Your Finished Tray
I like to always have the backside of my tray against the wall. That makes it easier for me to style. I mainly focus on how the front and the sides look since that is all you see when walking by. It's also good to make sure your tray is eye level. That makes it easier to style as well.
I am always super impressed with people who use tiered trays as a table centerpiece where you can see it from all around. It's hard to make it look great from every single angle and I just don't think I am that talented to do that so I like to try to make it as simple as possible!
I usually just put regular items in the back or near the bottom tier that aren't seasonal to fill the space. It doesn't really matter what you put back there since you can't really see it.
That has been the biggest tip that has helped me successfully style tiered trays as well. I also have my smaller tiered tray placed on my coffee bar so I like to style it with a lot of coffee related pieces and decor. 
I plan on making it like a hot cocoa bar for Christmas time full of holiday decor too! That's why I love tiered trays, you can give them a whole new look easily!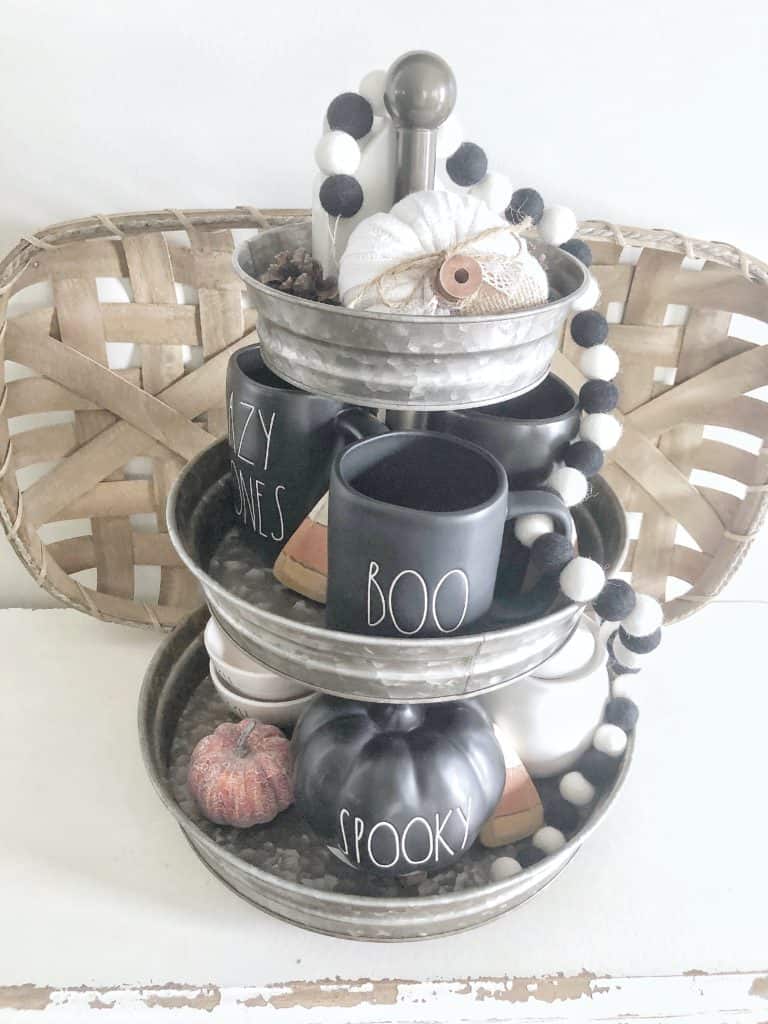 4. Making Easy Changes For Every Season
I don't decorate much at all for Halloween, but I figured I could do a little tiered tray this year. As you can see above, I pretty much just kept the same layout as my fall tray, I just changed out a few mugs.
​If you're like me and don't decorate too much for Halloween, be sure to check out my Minimalist Halloween Decor Ideas here too! But, it's always fun to make themed tier trays for every season, so I do like to add in a few Halloween decor pieces here and there.
That's why I love Rae Dunn pieces so much. They make changing out your decor easy and simple. I basically just switched my color scheme for this one, but kept the placement the same!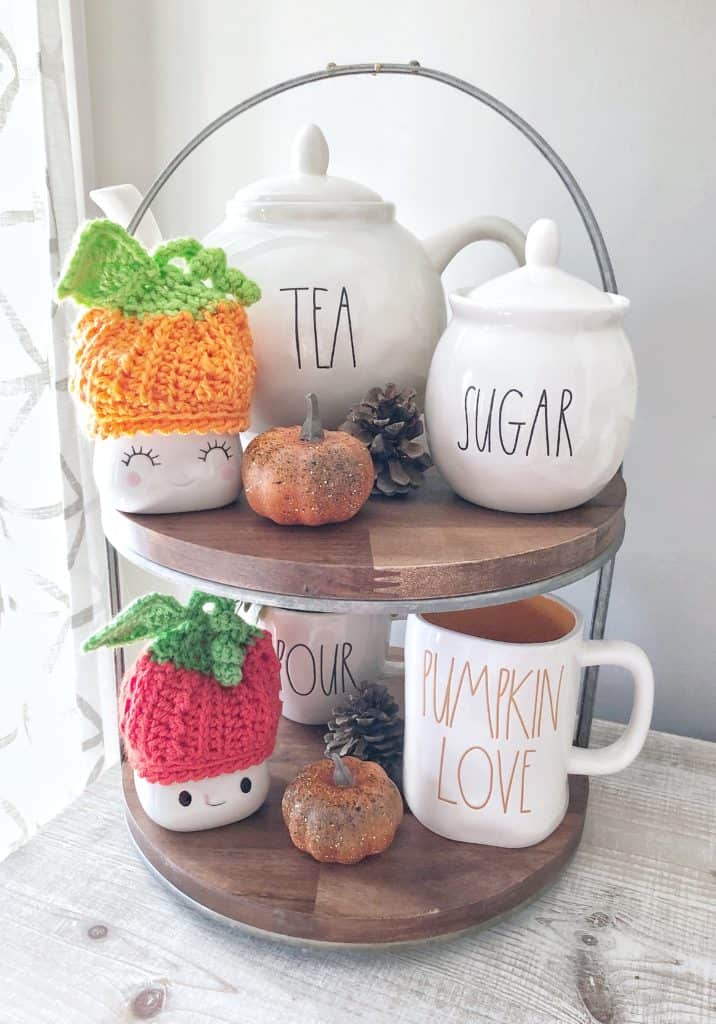 5. Don't Give Up!
Just keep playing around with your tiered tray until you come up with something that you like. There are no set rules to them and that is what makes them so much fun!
And if you get stumped along the way, just take a step back from it and come back to it when you are ready. I had to do that multiple times when styling my trays.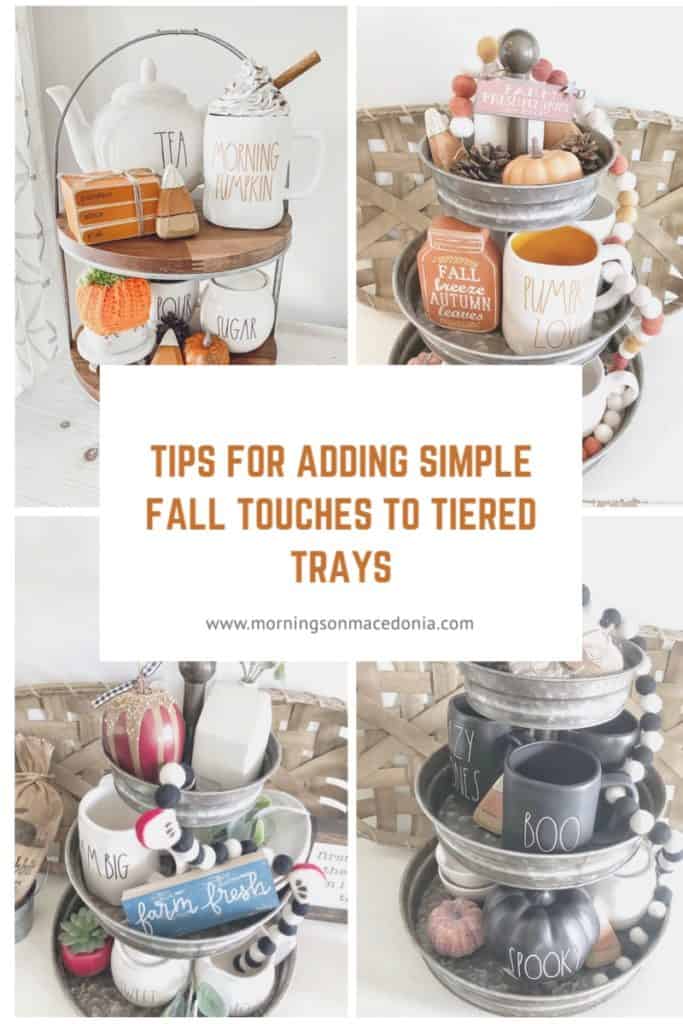 I hope this has been helpful for you and I would love to see how you style your tiered trays! Hopefully, this has given you a little tiered tray inspiration! Basically, there is no perfect way to decorate one, just do what feels right to you!
Whatever seasonal vibes you want to bring into your tray, bring them on! Don't be intimidated to add in some tiered trays to your dining room, living room, or home decor rotation!
It's a great idea to display some fun fall decor! Fall is definitely one of my favorite seasons and I really enjoy decorating for it! So happy fall y'all and have a fun time styling all your different tiered trays!