Y'all know I love me a good porch sittin spot, as I have already shared my Spring Front Porch Tour with you all. But, I also wanted to share all about our life on the screed in porch that we have on the back deck today too. This is probably my favorite porch because it is screened in.
I am not a huge fan of Summertime, mainly because of the bugs and the heat. However, since this porch space is screened in, it definitely helps prevent me from getting so mosquito bit!
We also have a nice fan in the porch too so that helps you from feeling overheated in the hot months of summer.
This post contains affialte links. Click here to read my disclosure policy.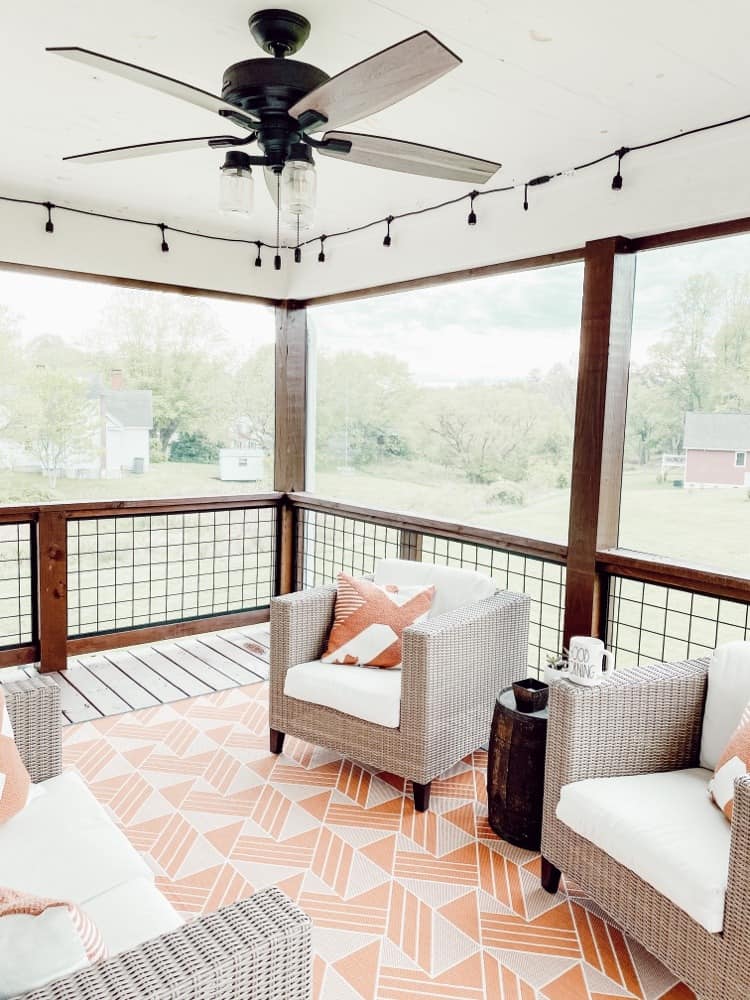 If you're curious to know how to style basically an outdoor living room on your screened in porch, then keep on reading below.
I will share with you all the tips and tricks on how I styled mine and made it feel more cozy, just like a living room!
Patio Furniture
The biggest thing that I think is important to your screened in porch space, is patio furniture! You really want to make sure you take the time to look around and test out different styles and brands.
Because you want the furniture you choose on the porch to be comfortable.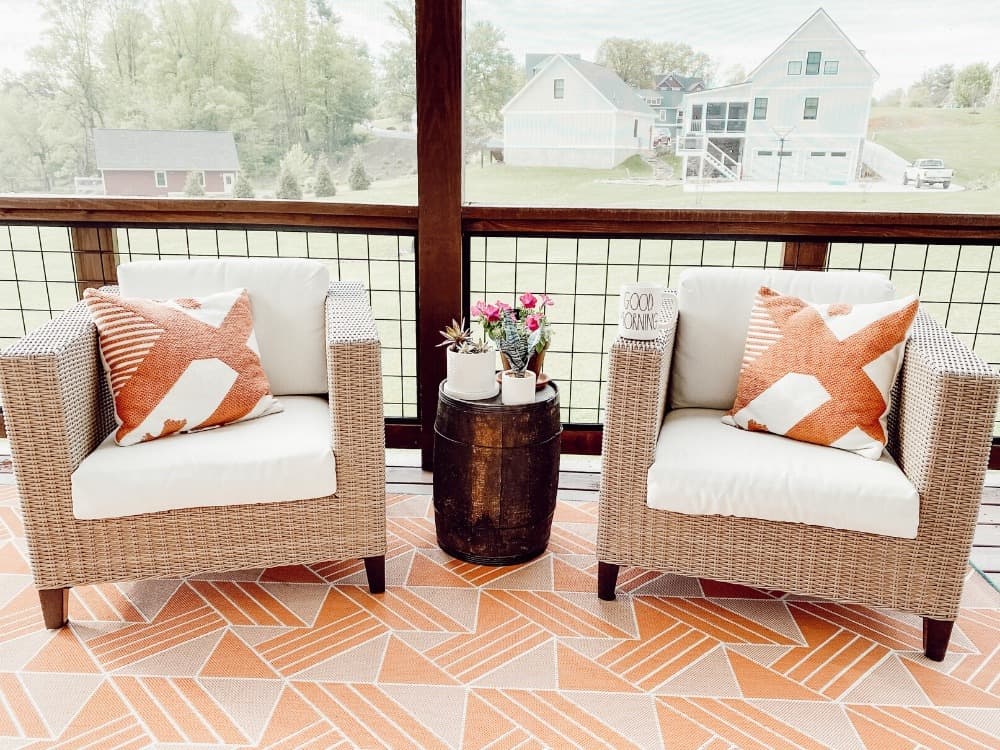 Remember, we are making it like an outdoor living room, so you want to be able to feel like you can curl up on the couch outside and read a good book or just relax in the sunshine.
You also want something that will hold up well in outdoor temperatures. Be sure to read the reviews and see what other peoples opinions are as well.
Outdoor TV
Again, since we are going with the outdoor living room feel, a TV is a must for this space! I have to admit when my hubby first told me he wanted to put a TV outside, I thought he was crazy.
But now, I absolutely love it! It's so much fun to be able to watch a movie outside at night and turn our patio lights on too.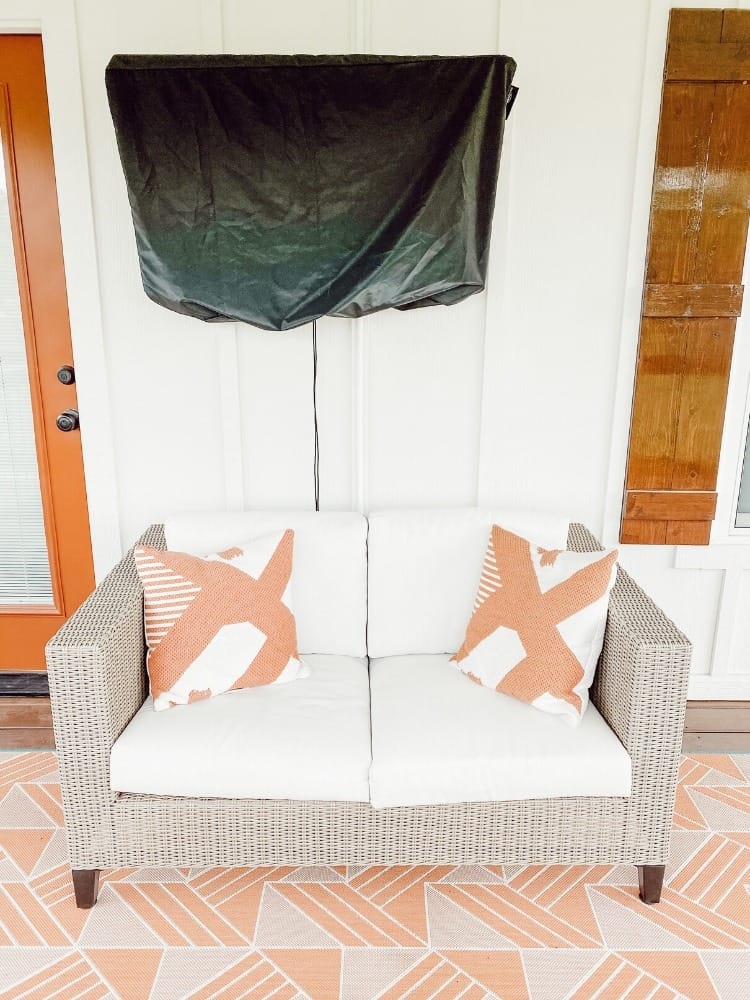 It gives the space such a cozy and romantic feel. It's the perfect spot for a fun date night at home. And I even like to light a few outdoor candles as well to make the space even cozier!

Plants
I definitely love having fresh, live plants all around my porches, so I try to place them everywhere I can.
Flowers and greenery just make me so happy, so I like to add a little corner of happiness on my screened in porch too for my plants.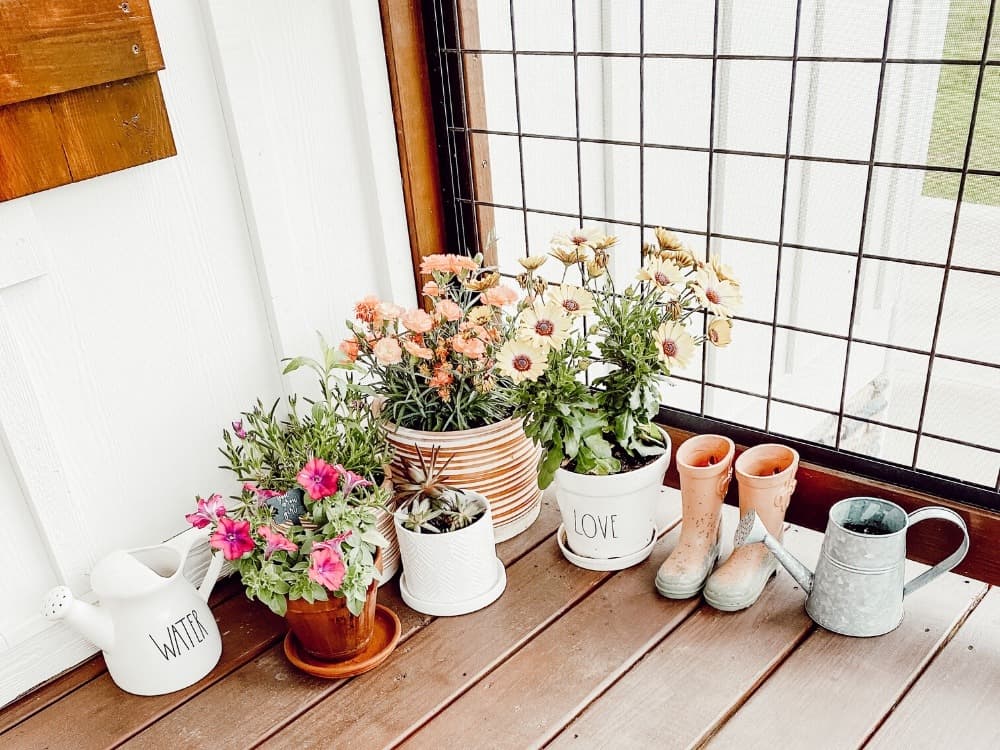 I have all kind of different plants out here and I feel like these plants are more protected than the ones on my front porch, since they are covered by the screen.
So they usually do pretty well out here.
Accessories
Here's where all the fun of styling comes in to play. Choose some fun accessories for your porch such as colorful rugs and pillows.
I feel like you can be more bold out here because it is outside and I think the more bold of colors/patterns, the better! I chose to use a burnt orange color scheme because our door is painted that color.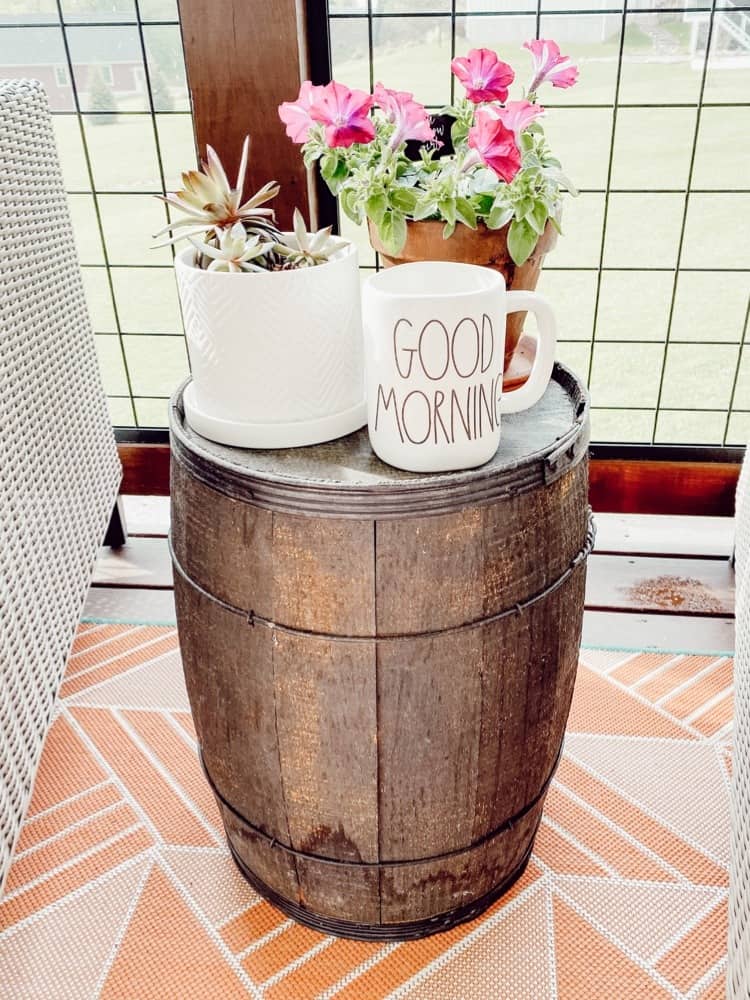 I love the pattern to our rug and pillows and although I would never choose that for an indoor space, I love it on the screened in porch.
I also love adding in some patio lights for a late night twinkle and I have an old vintage barrel we use as a coffee table too.
We would eventually like to add a little more to this space in the future, but for now I think it is just perfect!
Outdoor Dining Table
Just to the side of our screened in porch, we have a medium sized deck that we keep our grill on. We just got an outdoor dining set to put there and love it!
It has been so nice to be able to enjoy meals out on the porch!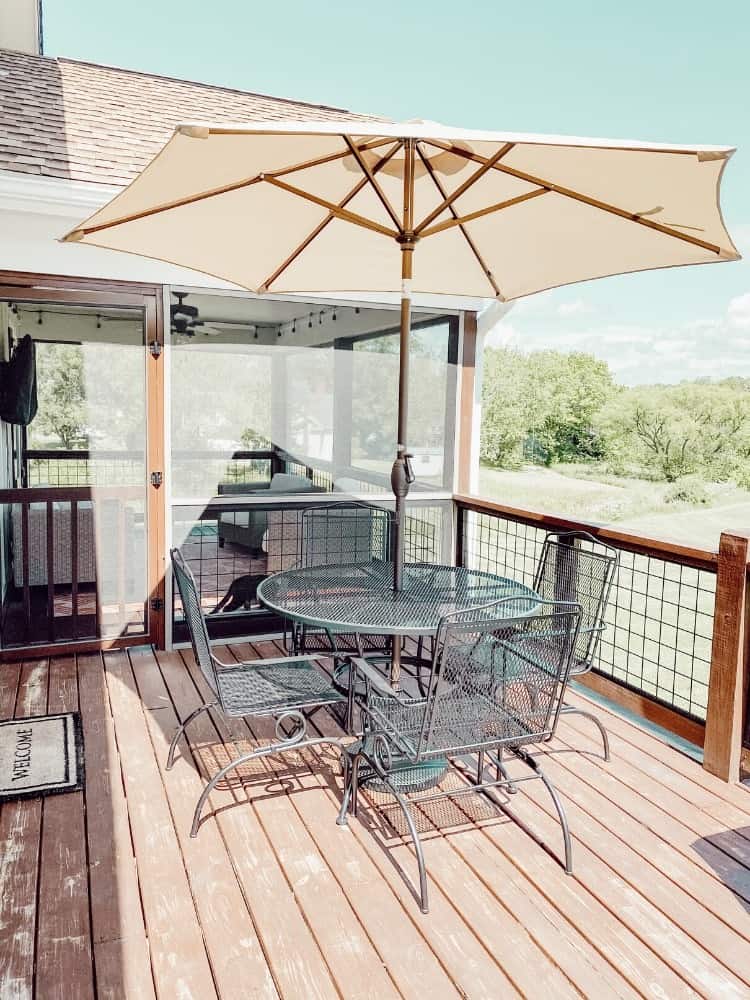 It really is like a cozy living room and dining room outside! I have a feeling we will be spending all summer long out here. Now, we just need to get some comfy cushions and we will be all set!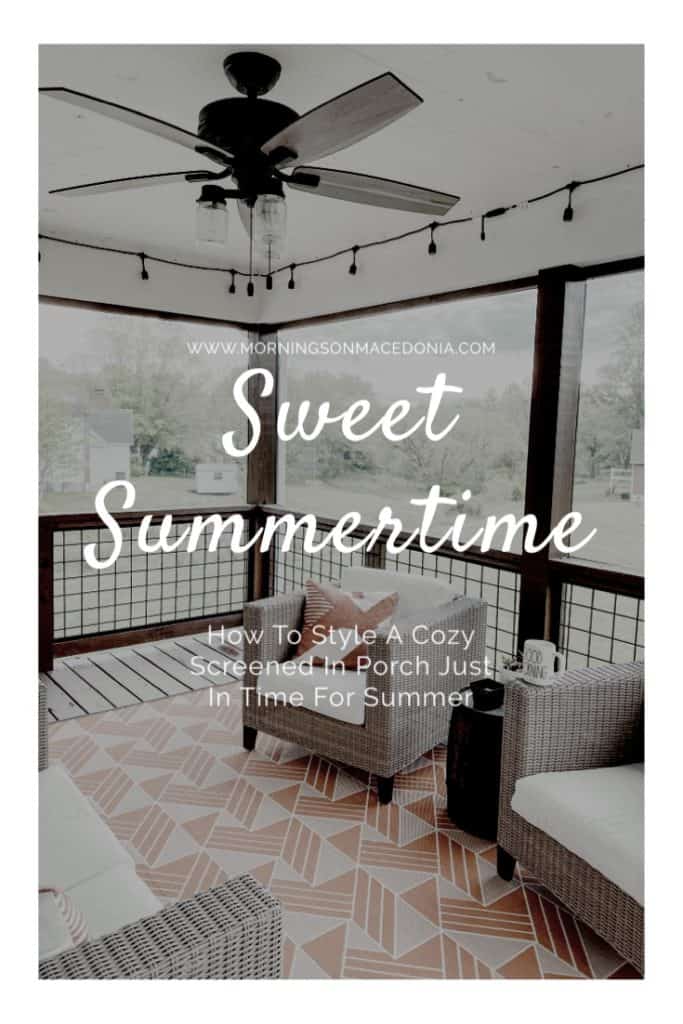 Well, I hope this post gave you some ideas on how to style your screened in porch. And even if you don't have a screened in porch, these tips and tricks totally can still apply to a regular porch space too!
So do y'all have a screened in porch too? Let me know below and tell me all about how you style it too!