Y'all know I have shared all about Fusion Mineral Paint before, but today I am going to share all about Fusion Mineral Tough Coat. I used it on our outdoor furniture set and I am so pleased with the results!
You may remember when I refreshed this outdoor dining set a few months ago. Well, I unfortunately never put a top coat on it after painting. And because of that, it did have a little damage to it.
But thankfully, thanks to Fusion Mineral Tough Coat, I was able to salvage it and save the day. I thought I would show you all just how easy it was to apply. And the outcome after doing so!
This post contains affiliate links. Click here to read my disclosure policy.

Before Adding Fusion Mineral Tough Coat
Like I mentioned above, the furniture set had some problems seeing as how I didn't apply a top coat to it. But I honestly couldn't believe just how bad it was.
We hadn't been out here too much this summer because it has been so hot. So I haven't been looking too much at it for the past couple of months. And unfortunately, you could tell it had been a little neglected.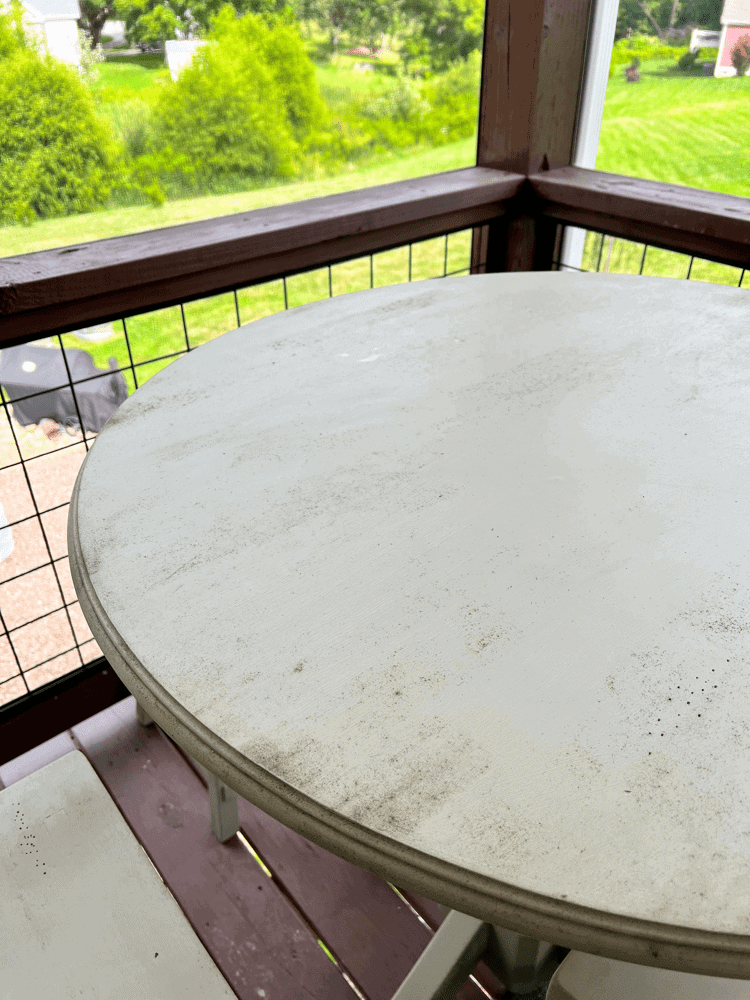 But thankfully, I knew I could restore it to it's former glory. Even thought this set is inside our screened in porch, it's right in the corner and exposed to a lot of the elements. If it rains hard, a lot of times it will blow right onto the table.
That alone should have made me want to put the tough coat on it in the first place. But, I was kinda over it and ready to be done with that project so I thought I could skip it. Lesson learned!
Cleaning the Furniture Set
My first step of action was to clean up the furniture set the best I could. I grabbed a damp rag and went to town. I was able to get off a lot of the marks and stains, but some were definitely more prominent. So I couldn't get them off by just scrubbing alone.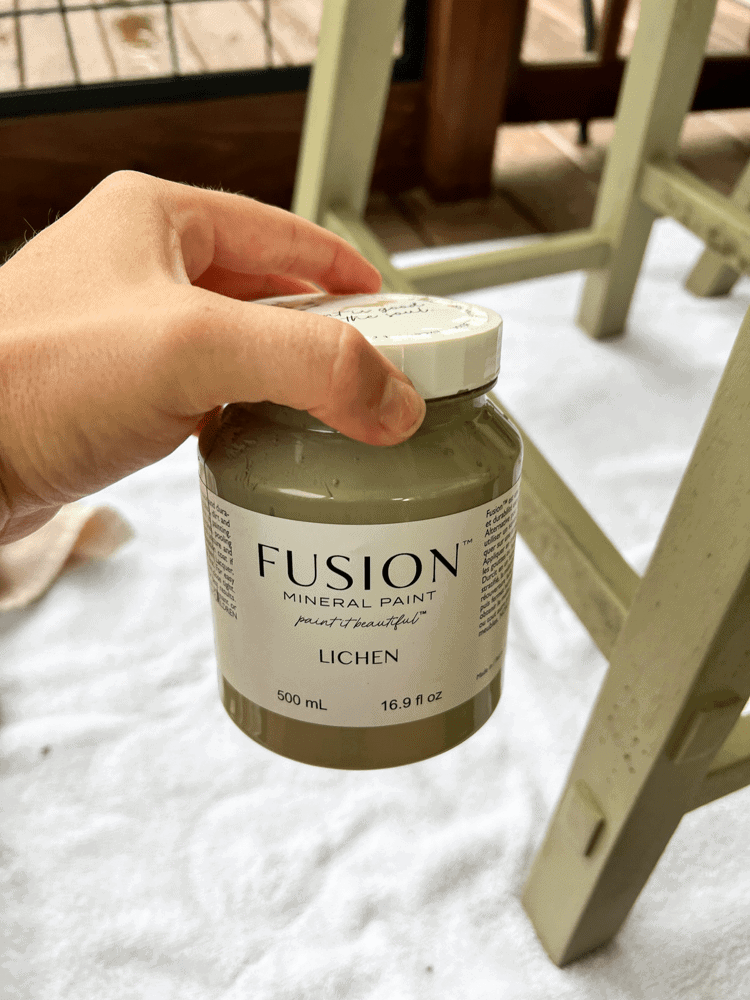 So low and behold, I had to add ANOTHER coat of paint to this set. If you remember, I used Lichen by Fusion Mineral Paint. This was the same color I used on the exterior door out here on the screened in porch too.
I painted over everything again, focusing mainly on the areas that were stained. I was able to do this quickly, just around an hour. And then I let it sit and dry overnight before starting on the tough coat.
How to Add the Fusion Mineral Tough Coat
Now that everything is all clean and dry, it's time to add in the tough coat. This was my very first time using this product and I've gotta say, I am super impressed by it!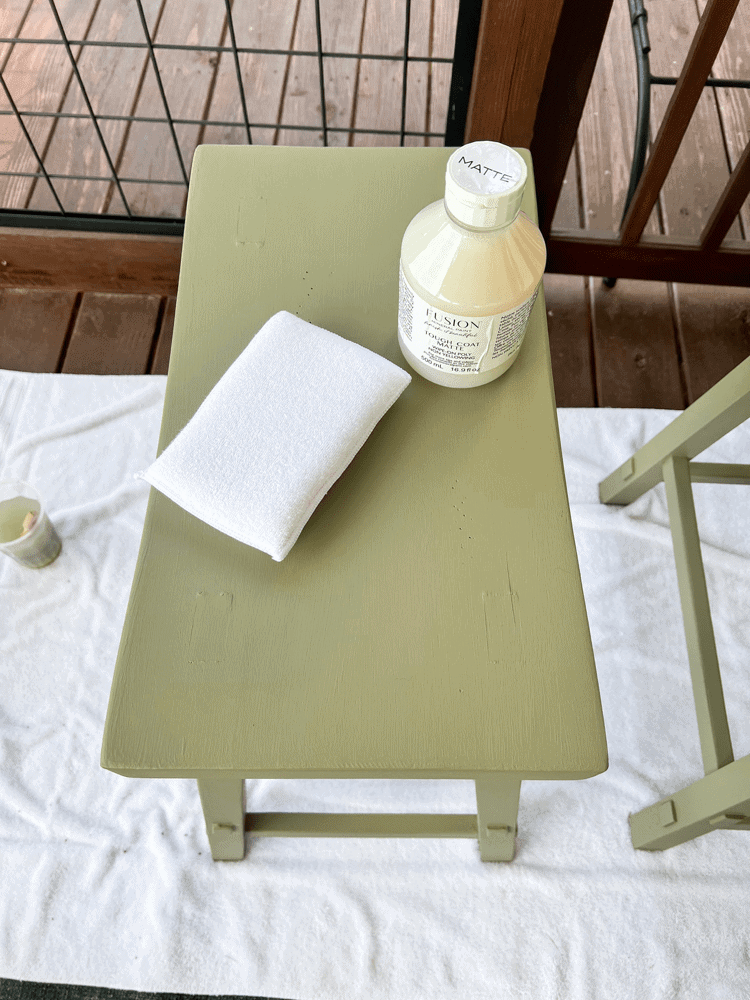 To apply it, I dampened an applicator pad slightly, and then poured some of the product on there. And then I just rubbed it on the furniture. It didn't take much at all and it went on very smoothly.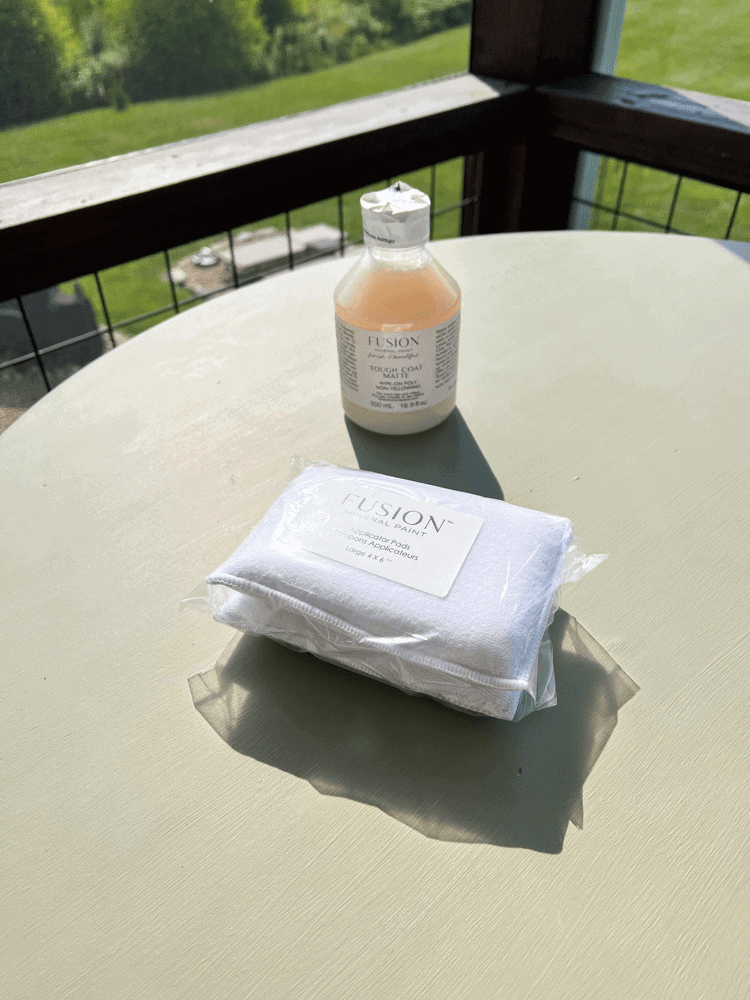 They also have two different finishes when it comes to the tough coat. I used the matte one, but it also comes in a glossy finish as well.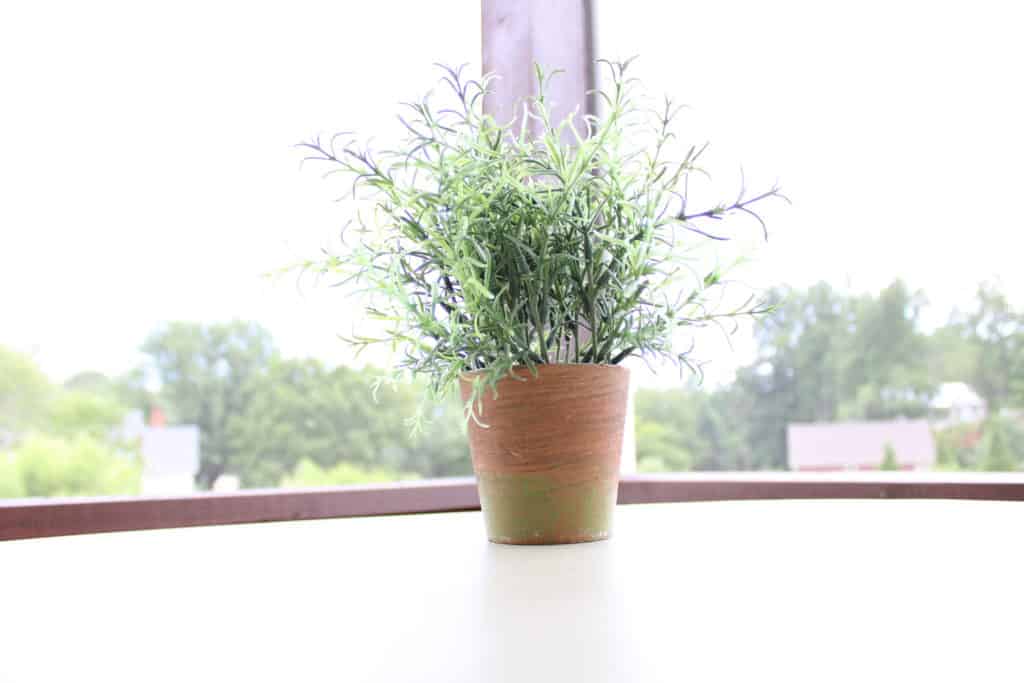 Frequently Asked Questions About The Tough Coat
If you're like me and very new to this product, I am sure you have a few questions about it. So I thought I would also take the time to go over all of these right now as well.
Does Fusion Mineral Tough Coat Yellow Over Time?
This is probably the most concerning question. I didn't want to apply all this time and effort putting the tough coat on my furniture set if it was just going to yellow over time. But the good news is that it is a non-yellowing formula. So you don't have to worry about it!
It's poly formula is made for wear and tear surfaces, such as a table top. And it protects against water damage and food stains so it was the perfect kind of formula to protect my table from the elements.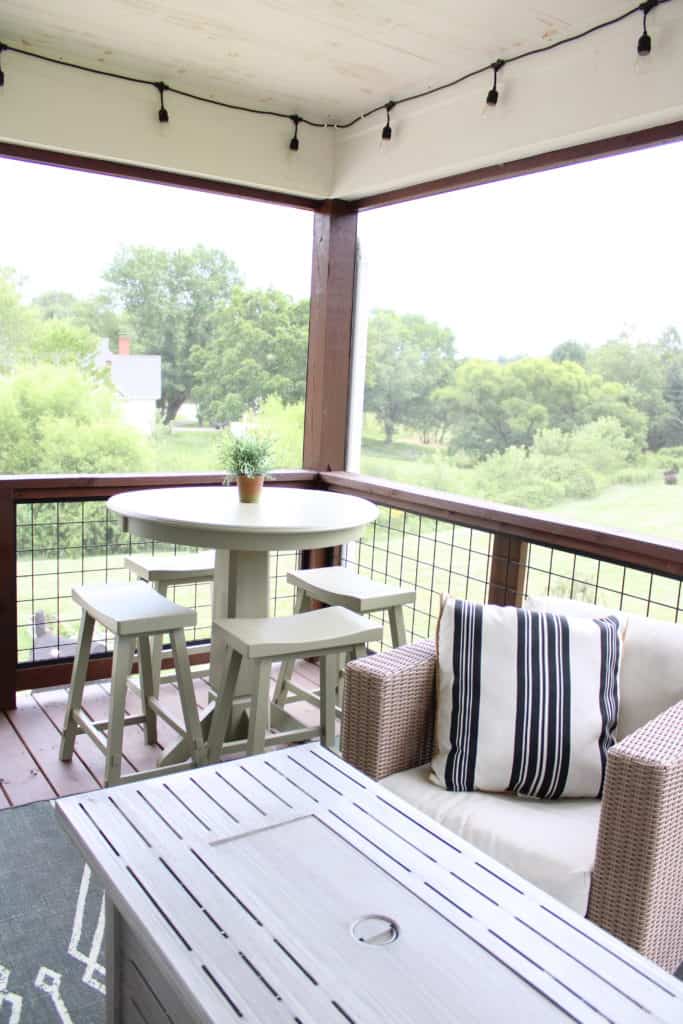 How Long Does it Take to Cure?
It's usually dry to the touch within 1-2 hours. But of course, high temperatures and heat can play a factor in that timing as well. But the total cure time can take anywhere from 14-30 days total.
Is It Waterproof?
Yes! As I mentioned above, the formula to the tough coat is made to protect against water damage. So you don't have to worry about it!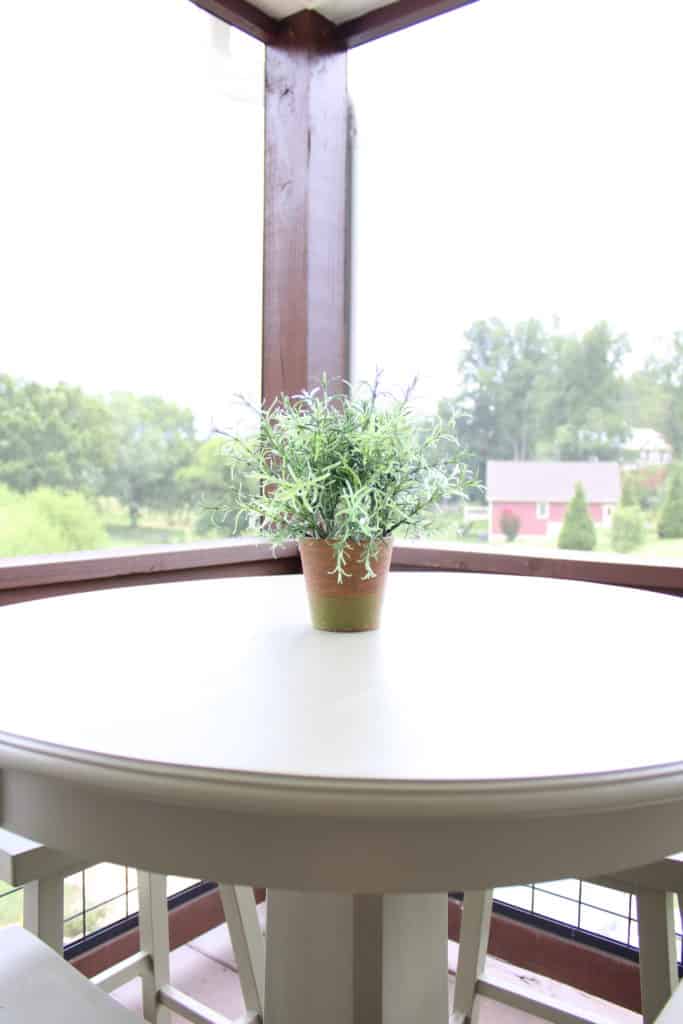 Can I use Fusion Mineral Tough Coat Over Darker Colors Too?
It's actually not recommended to use the tough coat over medium to dark colors. Mainly because it will show streaks and it will be more noticeable over darker colors.
If you notice streaking after using this product, you can simply paint over it. To protect darker color surfaces, it is recommended to use their All in One Finishing Oil instead of the tough coat.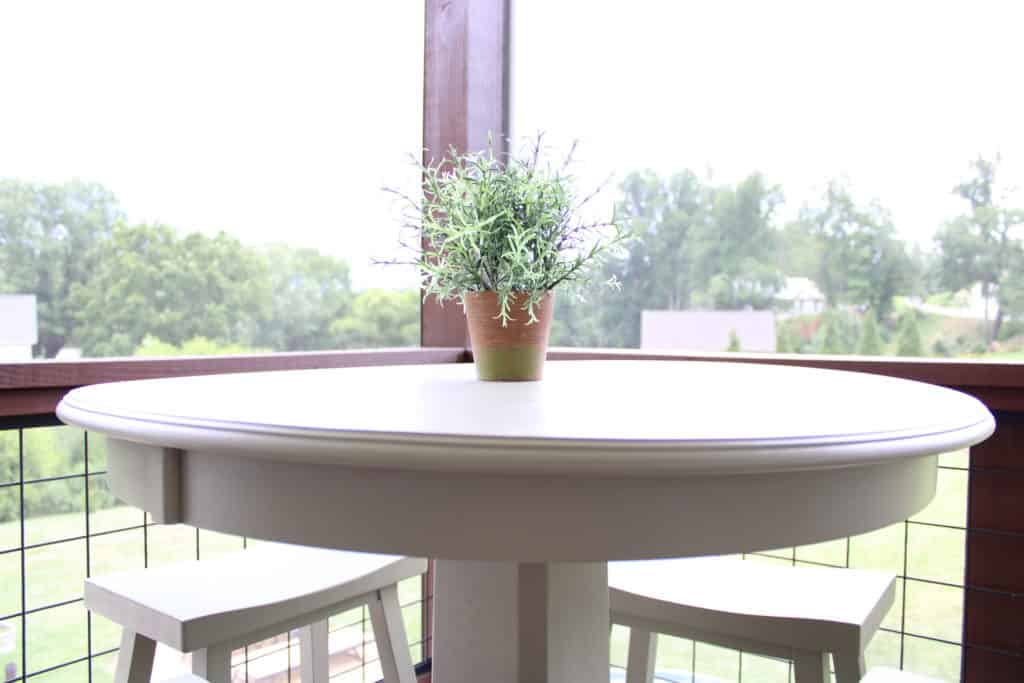 Well, I hope this post shows you just how easy it is to apply Fusion Mineral Tough Coat! And now if you need to apply it on some furniture of your own too, you can easily!
I am so glad I was able to restore my furniture set and bring it new life yet again! I should have just done this in the first place, but oh well! At least now I know! Have a wonderful day my friends and thanks so much for stopping by!