We were lucky enough to find an old railroad cart table at a local antique store with the original boards still attached to it! It looked pretty rough when we bought it, but we knew we could transform it and make it into something really special for our downstairs game room. We wanted an antique railroad cart table to use as our coffee table down there since we are trying to make it into a vintage game room eventually. So we knew when we saw this table, it was the one for us! I thought I would go ahead and share this easy DIY process with you all in case you find a similar table and want to transform it as well.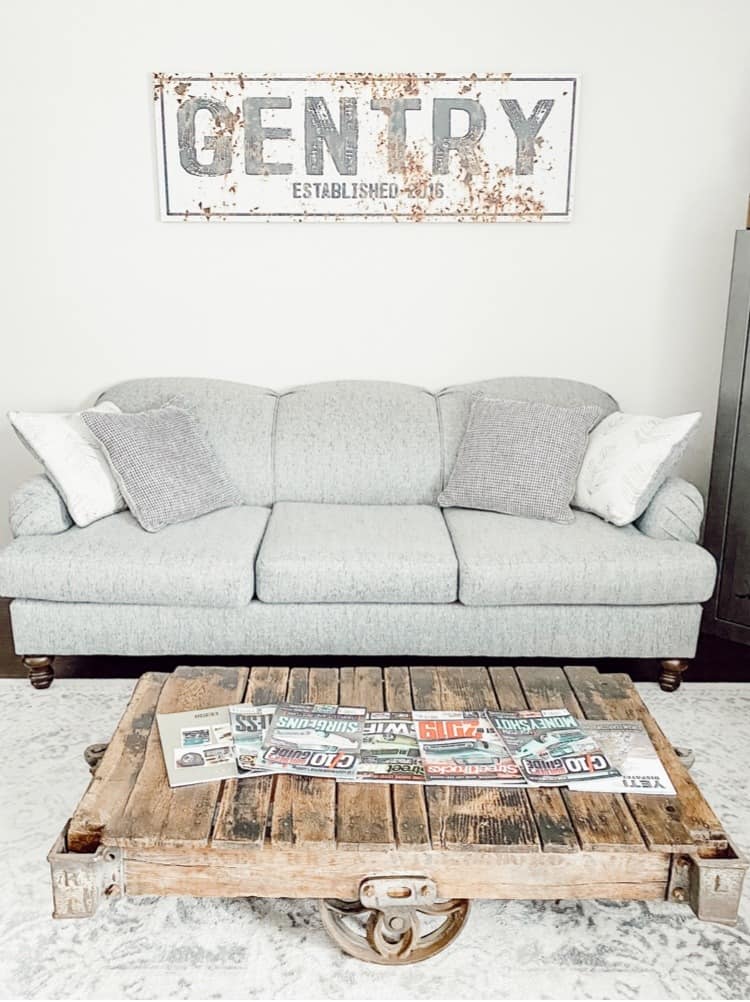 This post contains affiliate links. Click Here to read my disclosure policy.
Supplies Needed to Restore the Old Railroad Cart:
Sandpaper or Electric Sander (We used the electric sander because it was much easier that way. But if you don't have one, you could totally sand it down by hand. It just may take a tad bit longer.)
Hammer
Sponge brush to apply wood sealer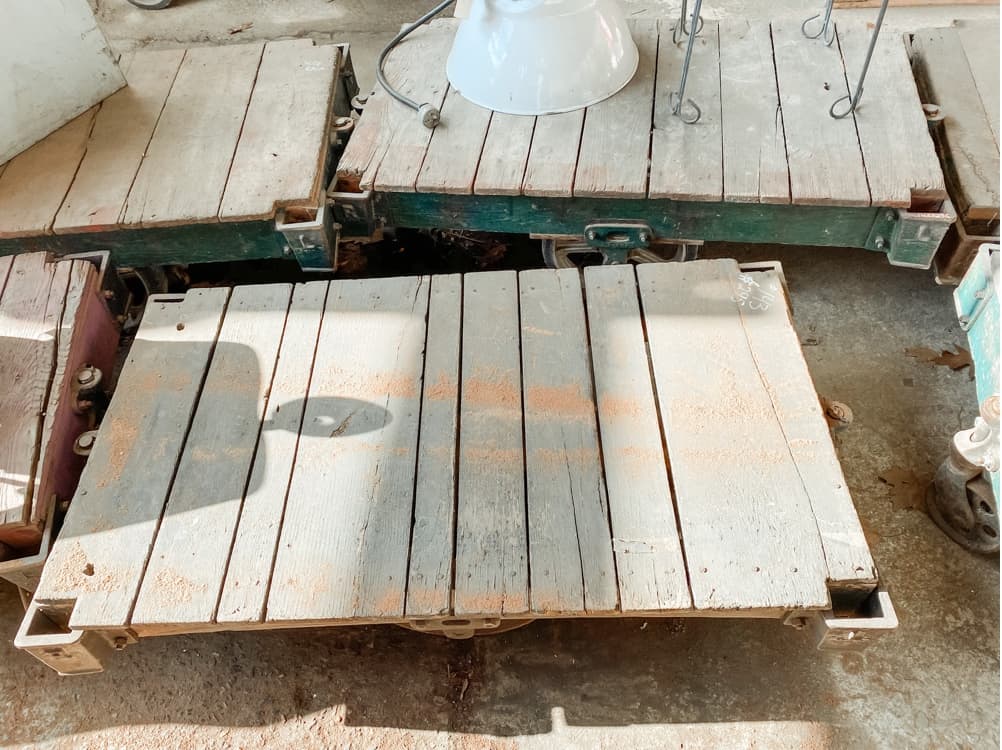 Get Rid of The Dirt and Grime
Obviously, the first step would be to get rid of all the dirt and grime covering the table. This one was pretty covered in dirt. It had been sitting outside of the antique store for who knows how long and it was not in perfect condition.
But we knew with a little TLC, we could get this table in working order again. My hubby used his air compressor in the garage and blew air all over the table to clean it up real good.
Then, we simply wiped it down with a dry cloth afterwards to remove any remaining debris hanging on.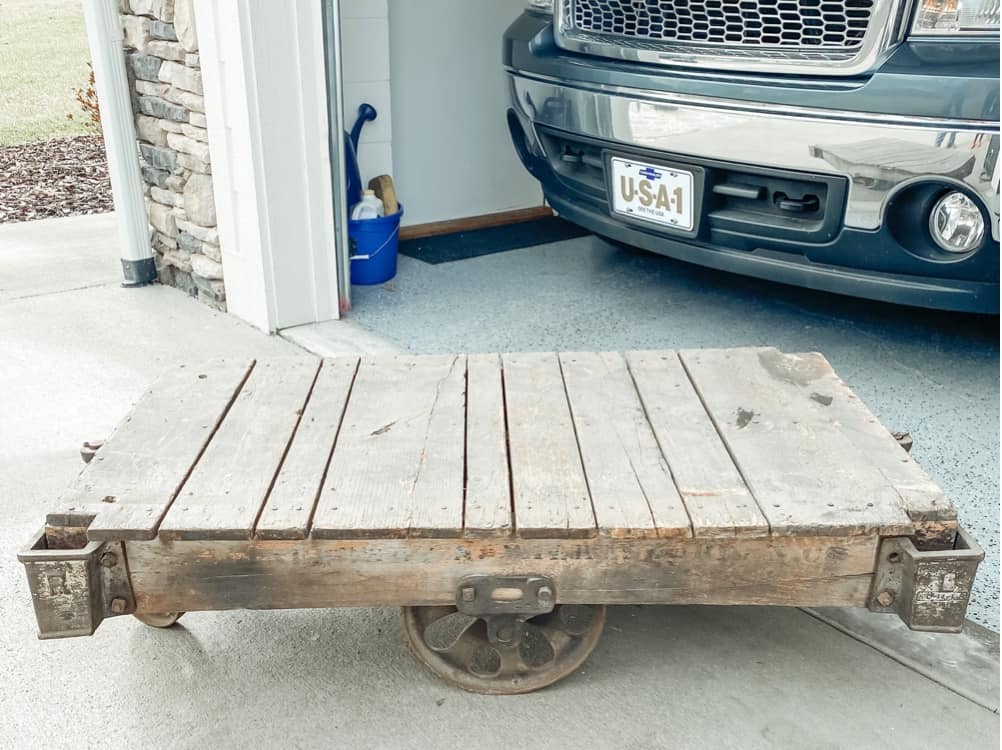 Sanding the Antique Railroad Cart Down
After you have the table all nice and clean, the next step would be to sand it down real good. As I mentioned above, we used an electric sander for this part and it made things go by pretty quickly.
I would strongly suggest investing in an electric sander if you like to re-do a lot of furniture pieces like this. It will definitely save you time in the long run!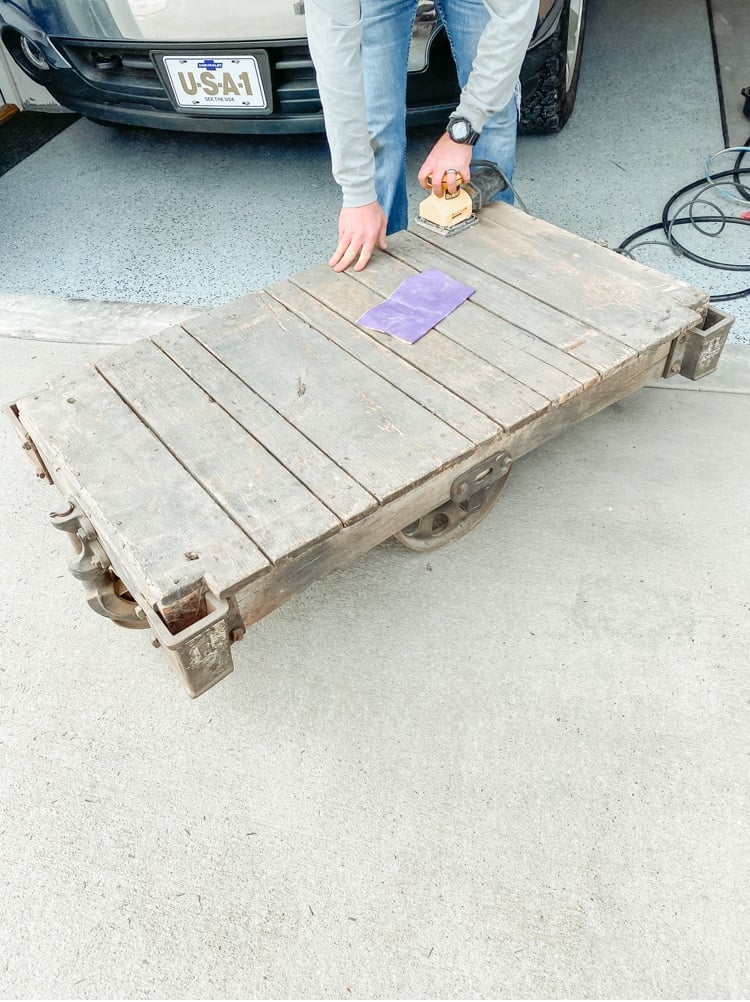 We did notice with this table that it had several nails sticking up from it. Which in turn, would rip the sandpaper off of the sander.
Because of that, we did have to hammer down a few nails before sanding the whole thing down.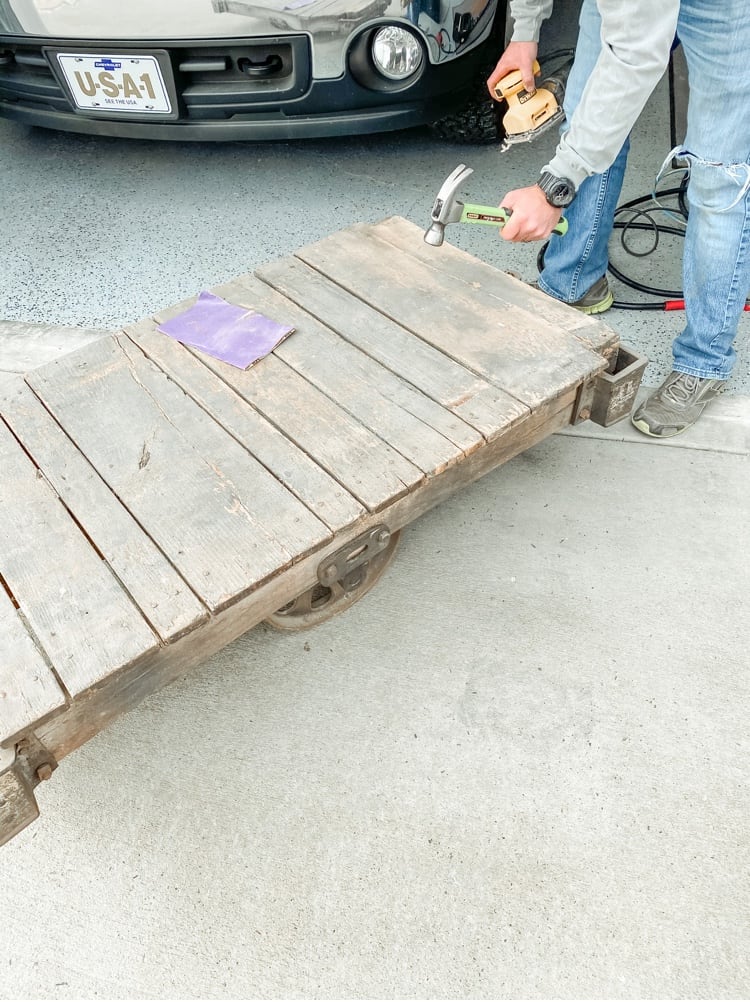 After sanding it down, it really brought out the old black paint color. I loved how rustic it made it look.
It is the perfect, authentic vintage looking table we were envisioning for in that room.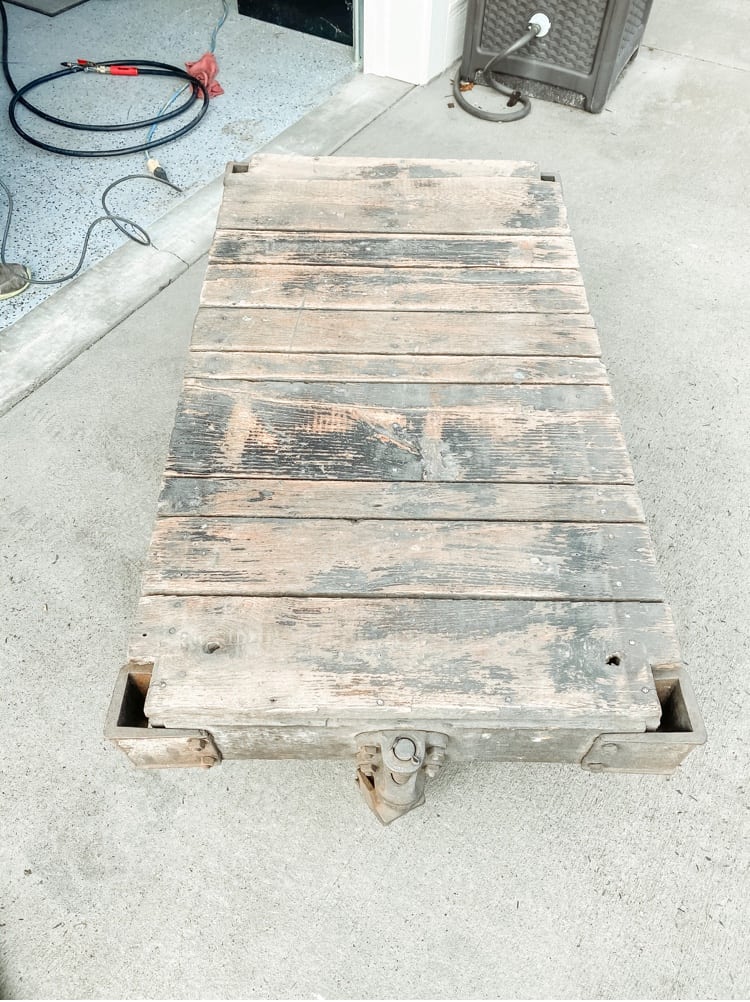 Apply The Wood Sealer Onto Table
After we got the table sanded down completely, my hubby used the air compressor again to blow off any remaining pieces left.
Once you do that, you are ready to seal it! We had some leftover sealer from when we applied the wooden shiplap onto our kitchen bar wall.
I am not sure of the exact name of the one that we used, but I do know it is a semi-gloss finish.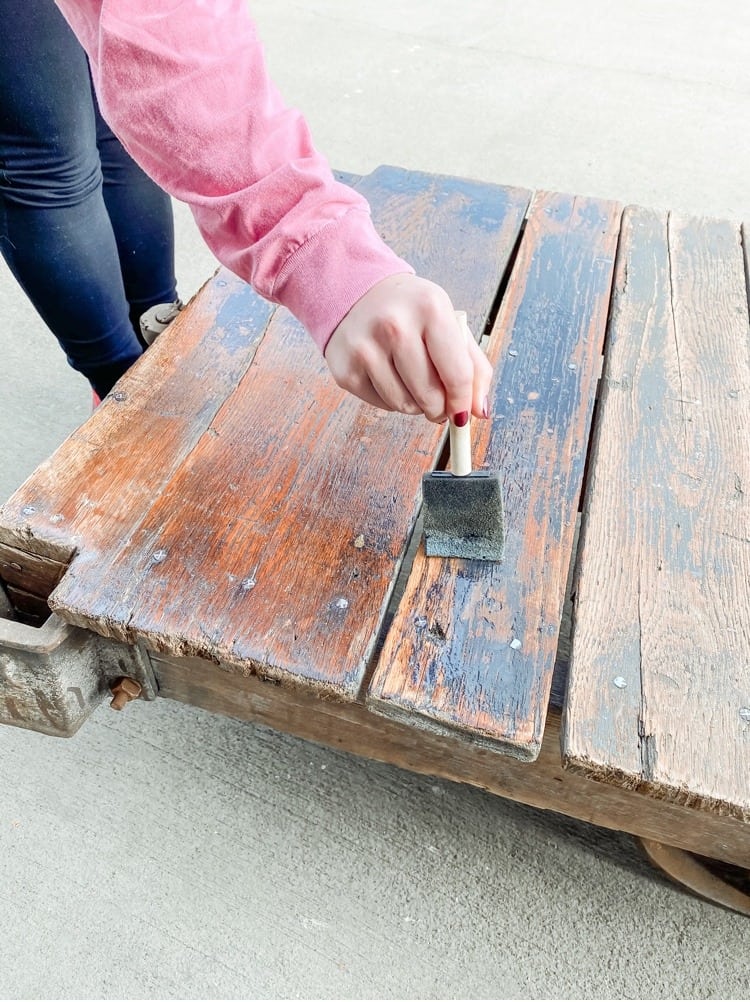 You can use whatever kind of wood sealer that you want for this project. I was really happy with the semi-gloss finish because it gave it just a little shine, but not too much.
I just used a cheap foam brush to apply the sealer on the table as well. I did go through about 4 total to finish it up, but thank goodness they are cheap and come in a big pack!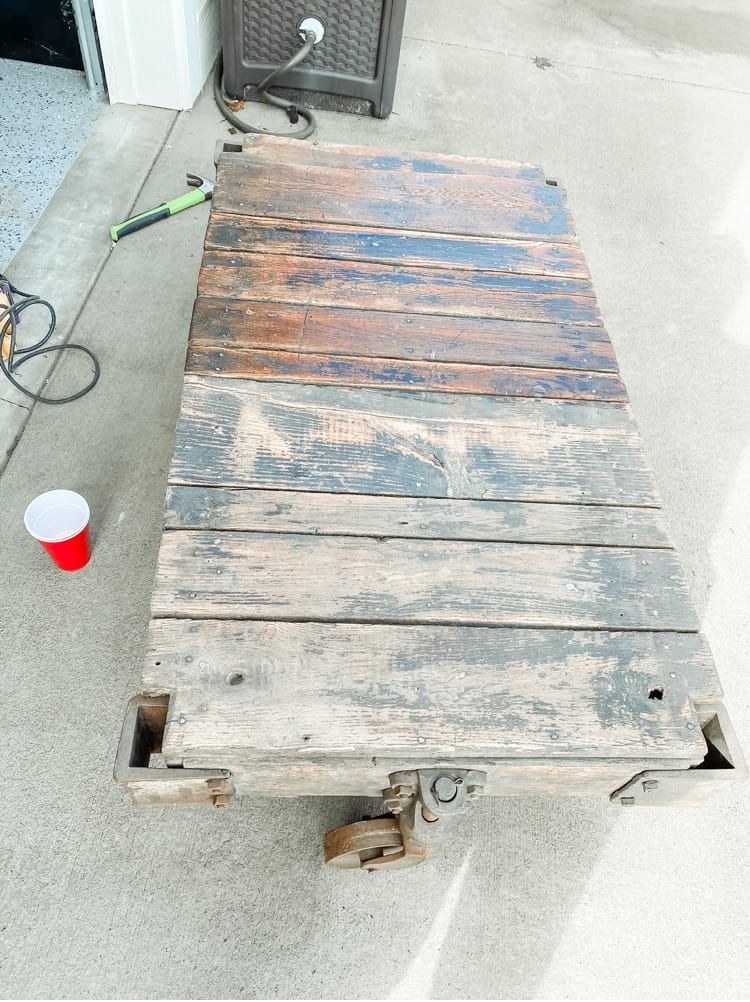 Tips for Applying the Sealer:
Use at least 2 coats or more on top if you are planning on using it as a coffee table to set drinks down on (we did two on the top total).
Don't forget to apply the sealer on the sides too (I only did one coat there).
Apply a generous amount in any areas that have cracks or holes in the wood. That way it is sealed up nicely in case anything ever spills there.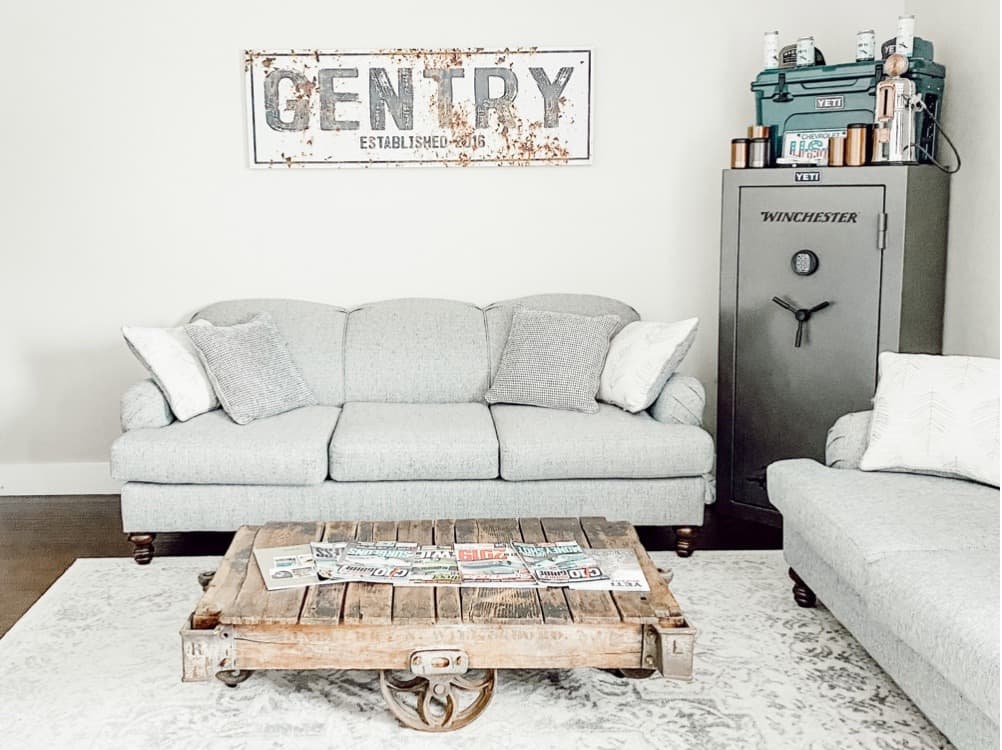 Enjoy Your New Railroad Cart Coffee Table
Well, that's it! This was a super easy DIY project and it only took us a couple of hours from start to finish. The end result was so worth it and I am very happy with how it turned out.
This railroad cart coffee table is the perfect vintage touch that this space needed! If you are looking for more easy DIY projects like this, then check out how I transformed an old family heirloom that was handed down to me.
I love taking old pieces of furniture and making them new again with a little TLC!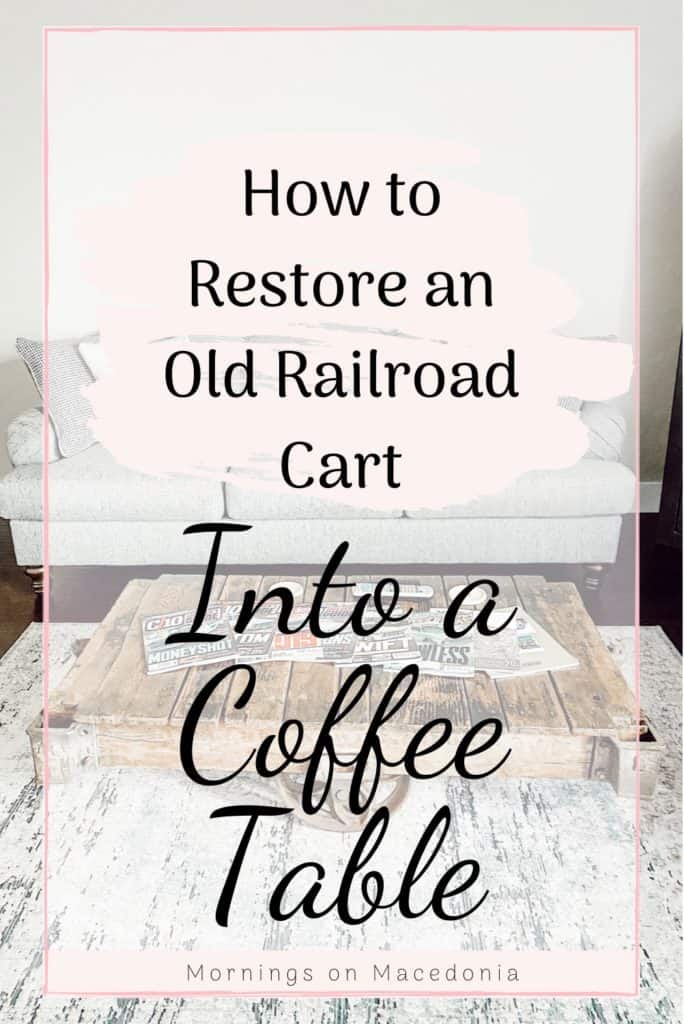 Learn more about how to turn your builder grade home into something more here too!