A few weeks ago, I decided to switch up the paint on my exterior doors. And I am sure glad I did! I absolutely love how they turned out, and the color is so beautiful. So I thought I would share all about how to paint exterior doors today in case you are interested in doing it yourself too.
You may be wondering what kind of paint should I use for an exterior door? Well, if you've been around here long enough, then you know what a huge fan I am of Fusion Mineral Paint already. It goes on so nice and smooth and the coverage is great!
So that's what I used for this project and I am very happy with the results. I will be sharing all the tips and tricks on how to get your exterior doors looking brand new with just a different paint color below!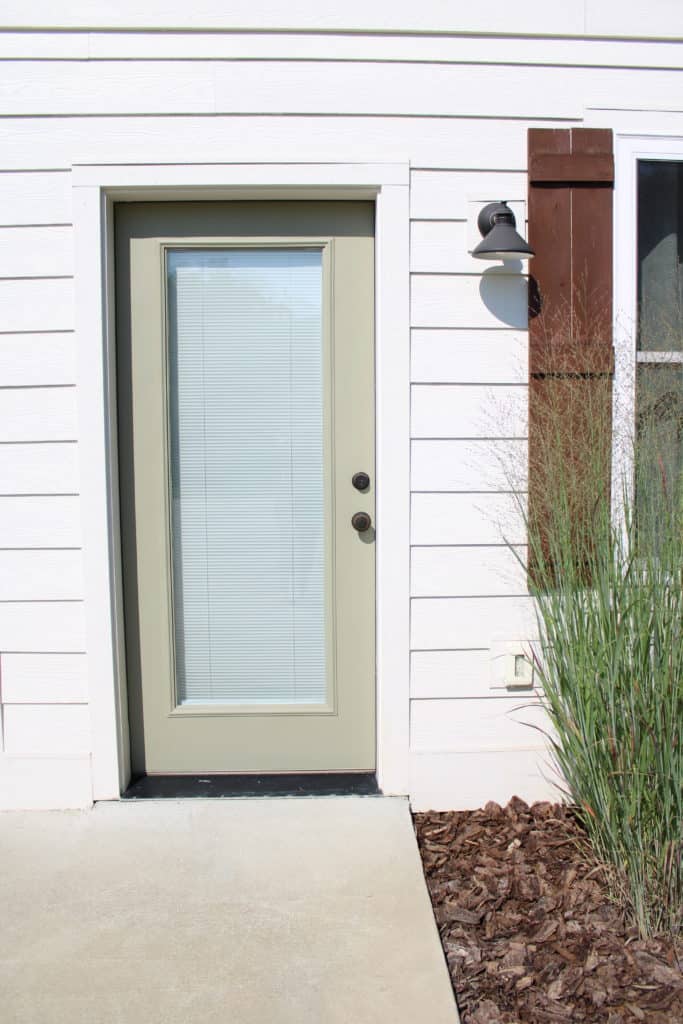 This post contains affiliate links. Click here to read my disclosure policy.
Prepping the Doors
The first thing I did in order to prep the doors for painting, is to wipe them down well. Since they are exterior doors, they did have some dirt and debris on them. I solved this by simply wiping them down with a damp rag. That way none of the debris gets on your brush when painting.
I didn't need to sand my doors before painting. Especially since they aren't wood doors. But, if I ever decided to paint my front door, I would probably need to sand it down first. Since that one is a solid wood door.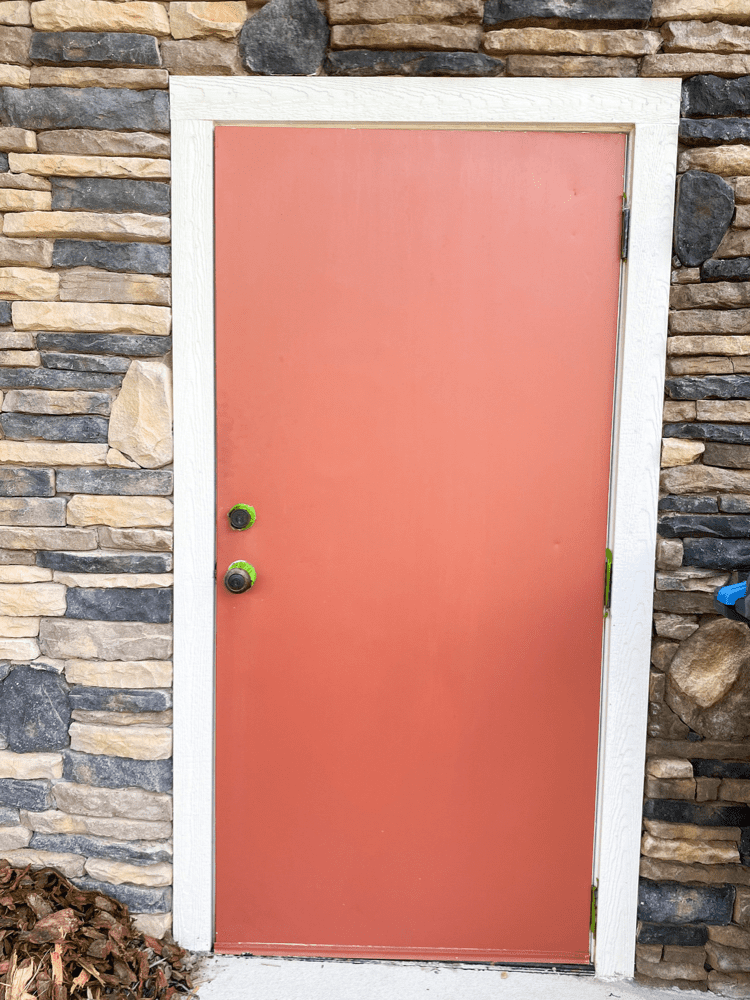 I was also asked if you would need to prime your exterior doors before painting? In this case, I didn't because Fusion Mineral Paint is an all-in-one kind of paint as I have mentioned before. Depending on what brand of paint you use, you may need to prime before painting.
The easiest way to paint an exterior door without removing it is to just use Frog Tape. I placed it all around the door knobs and hinges to prevent paint from getting on them. Some of my exterior doors have a window to them so therefore I needed the tape to make sure I didn't get any paint on the glass.
Painting the Doors
After all the prep, I was finally ready to paint! I used the color Lichen by Fusion Mineral Paint. If you remember, this is the same color I used for our dining furniture set refresh too.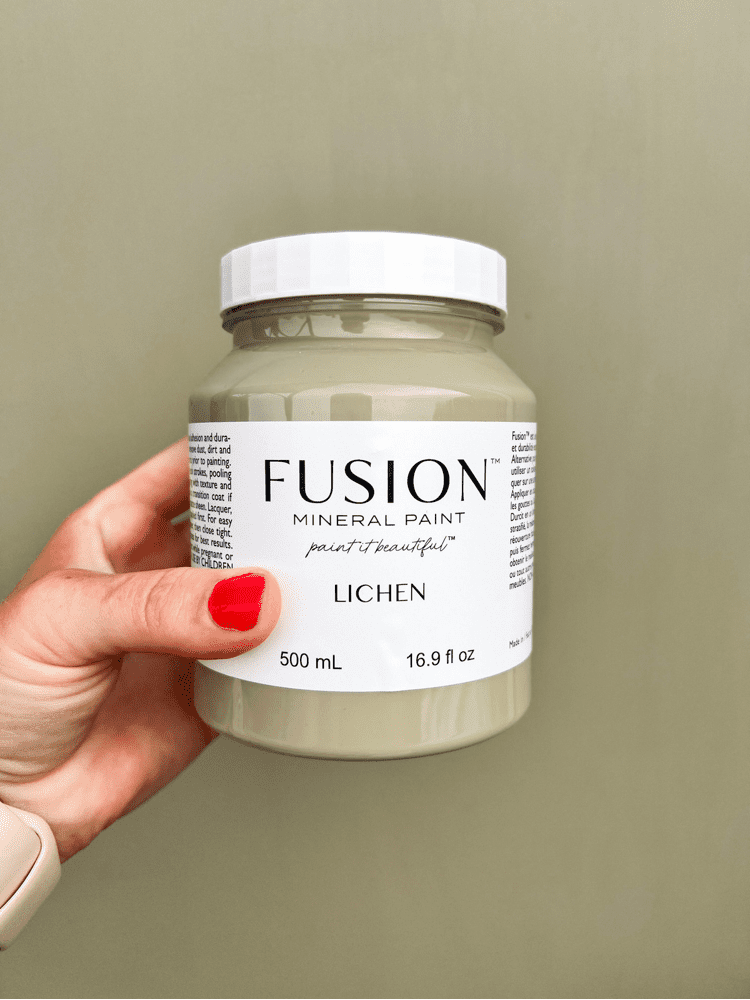 Before painting, the doors were a burnt orange color. Which I originally liked, but both me and my hubby were itching to try something new. I was a little nervous at first because I was worried I may not like the new color. But you gotta remember that it is just paint, and if you don't like it, you can easily paint over it again!
And thankfully, since I already used this color on my outdoor dining set, I knew it was beautiful. I will say, it took me a lot longer than I thought it would to complete the project. We had a total of 4 exterior doors that needed to be painted and 3 had the window in the middle of it which made it a little harder to paint around.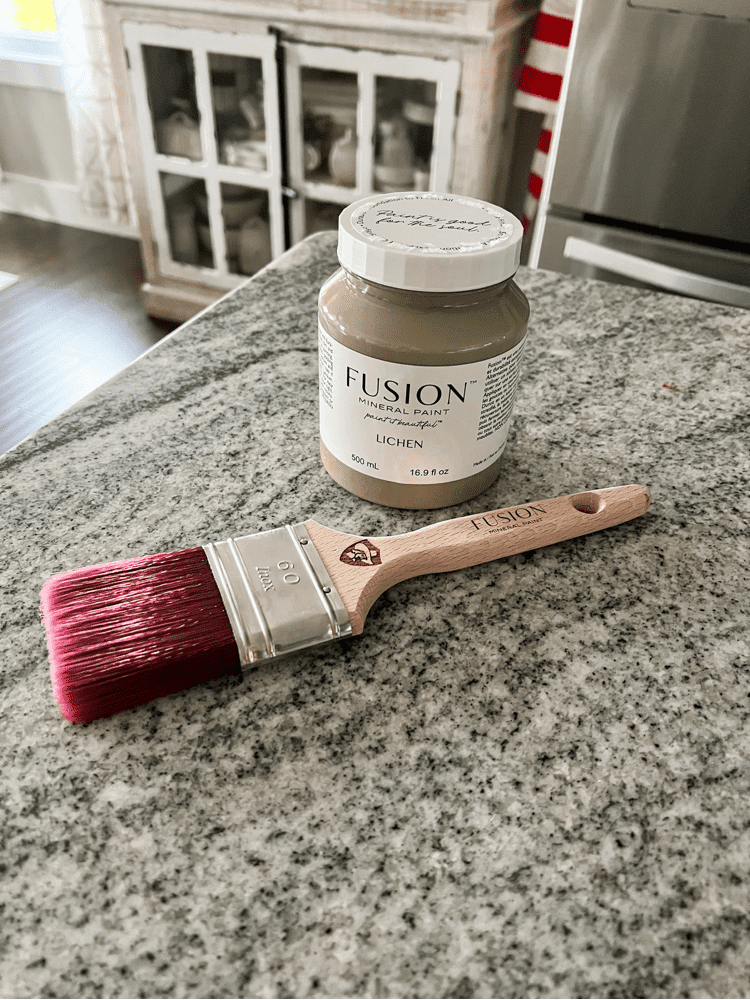 Exterior Door Painting Tips and Tricks
Now, here are some tips and tricks in how to paint exterior doors. I wish I knew all these tips before starting on my own project. But now, I have them all documented here for you to use in case you need a little help with your exterior doors too!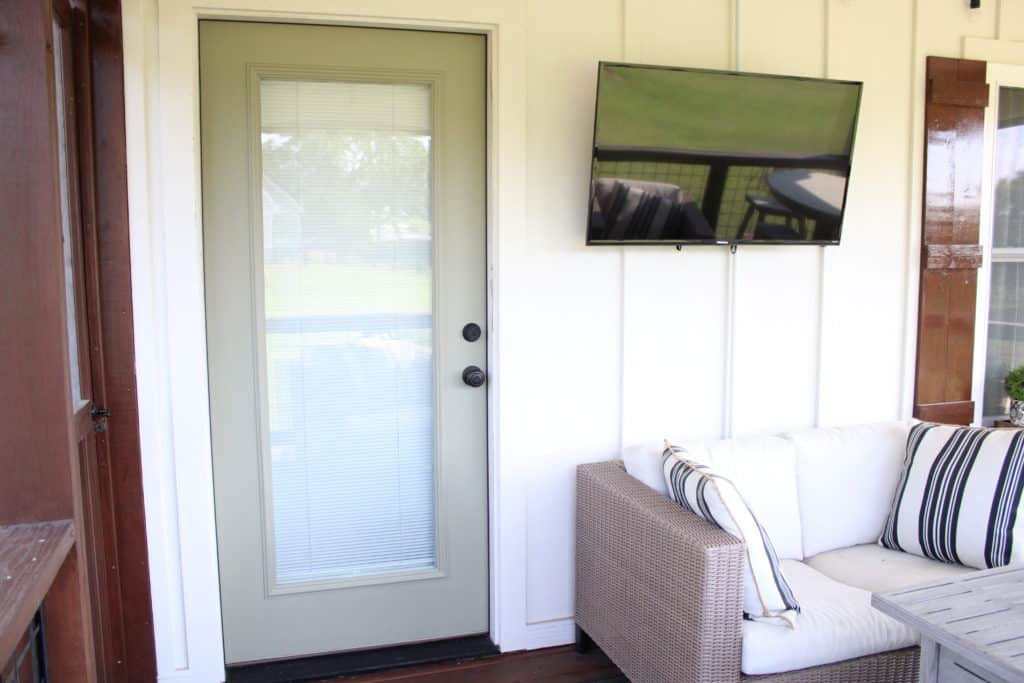 The Kind of Paintbrush You Use Matters
The first one being, the kind of paintbrush you use, definitely matters. I used to always just buy cheap paintbrushes for projects and use those, but I regret not using a nicer paintbrush first for these exterior doors.
However, I was gifted a Staalmeester Spalter Brush from Fusion Mineral Paint towards the middle of the project. And after using it, I wish I was able to start the whole project with it. It really made the paint go on even smoother and I didn't notice as much lines in the paint as I did from using the other brushes.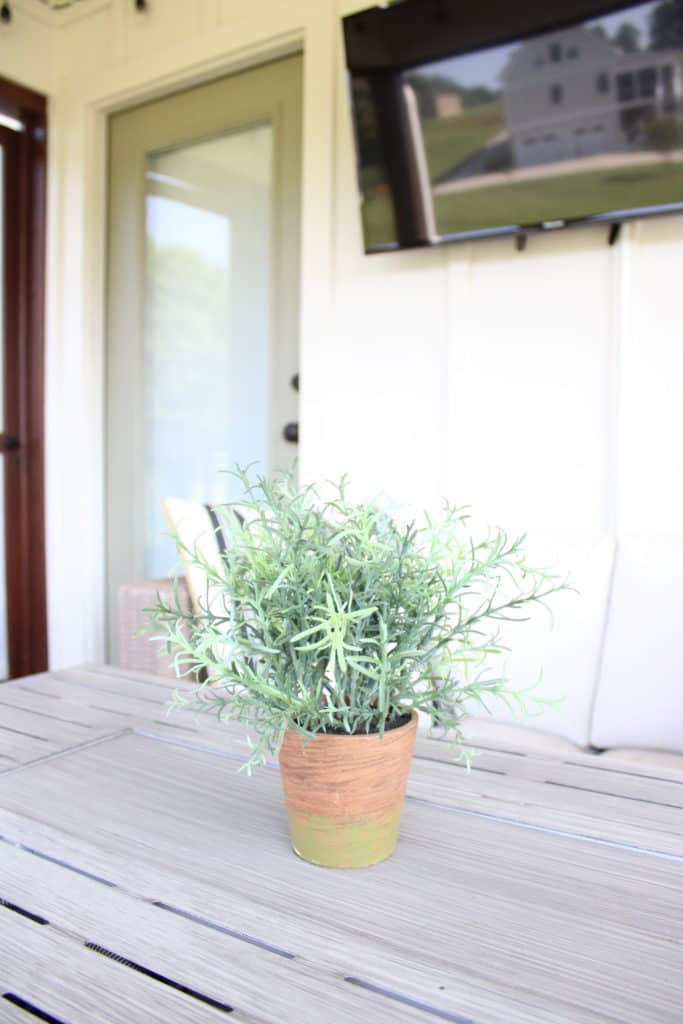 Roller Brush versus Regular Brush
Another great question is, is it better to paint an exterior door with a brush or roller? And I think it all depends on your specific doors. As I mentioned above, the majority of them had a window right in the middle with trim around it. Which that would ultimately make it hard to use a roller brush.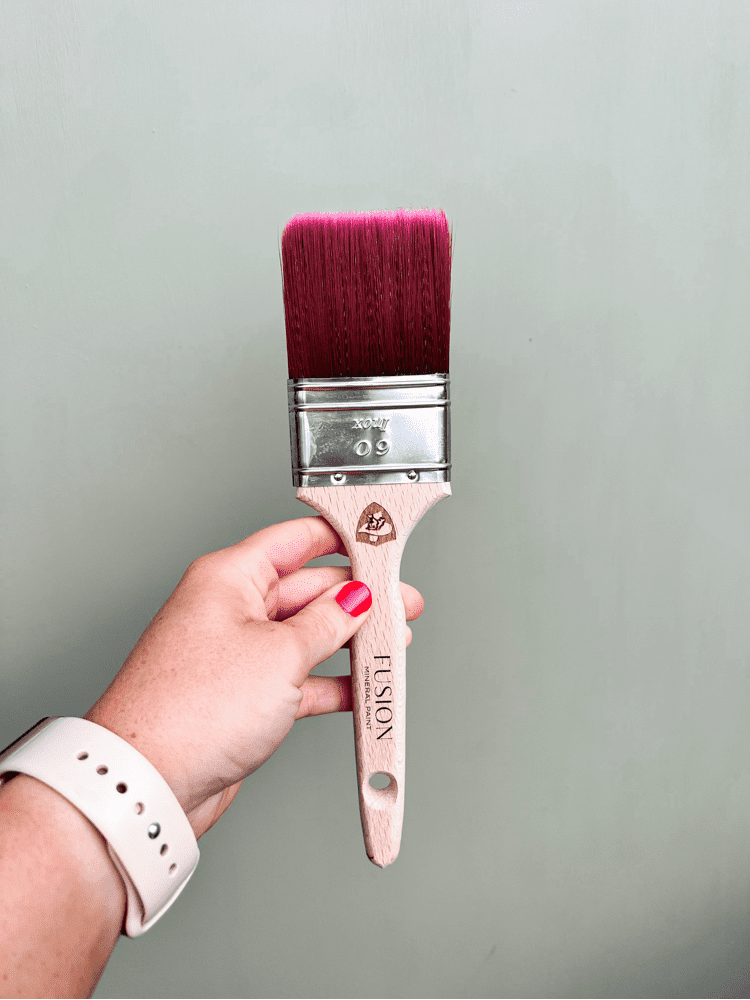 Using a Razor Blade to get rid of Excess Paint
Another thing to keep in mind is even if you use Frog Tape, you may still get some paint on the glass around the window. But don't fret! You can easily get rid of the paint on the glass with a sharp razor blade. That's what we ended up doing as well.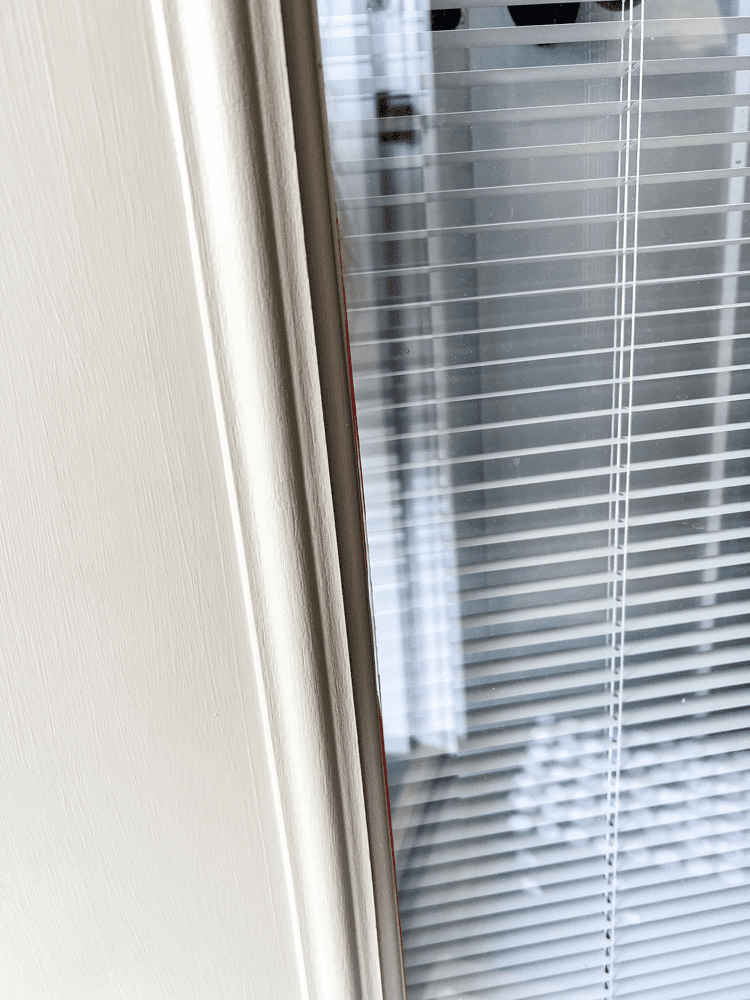 Another tip is to not let the Frog Tape sit on there too long. We made the mistake of doing that, and unfortunately we were left with a big, sticky residue mess.
Thankfully, the razor blade took care of that too.
But I did leave it on for several weeks because the doors needed about 3 coats total and it took me awhile to finish. I would recommend taking off the tape as soon as the paint is dry to avoid this.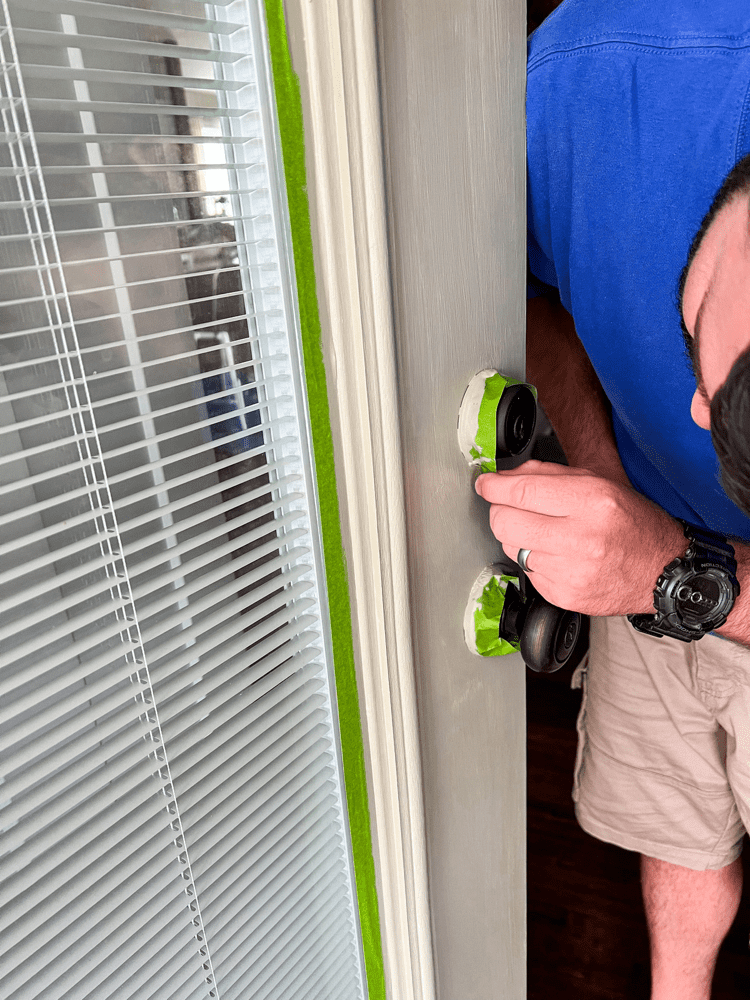 Finishing the Exterior Doors
The last step in how to paint exterior doors is to take the tape off and letting the doors dry completely. I thought about adding some Fusion Mineral Tough Coat to the doors after painting.
But, I ultimately decided against it since it was just another unnecessary step. You don't really need a top coat when it comes to Fusion Mineral Paint, which is a huge plus to using it. You can use their Tough Coat though for surfaces like a dining room table that gets a lot of use.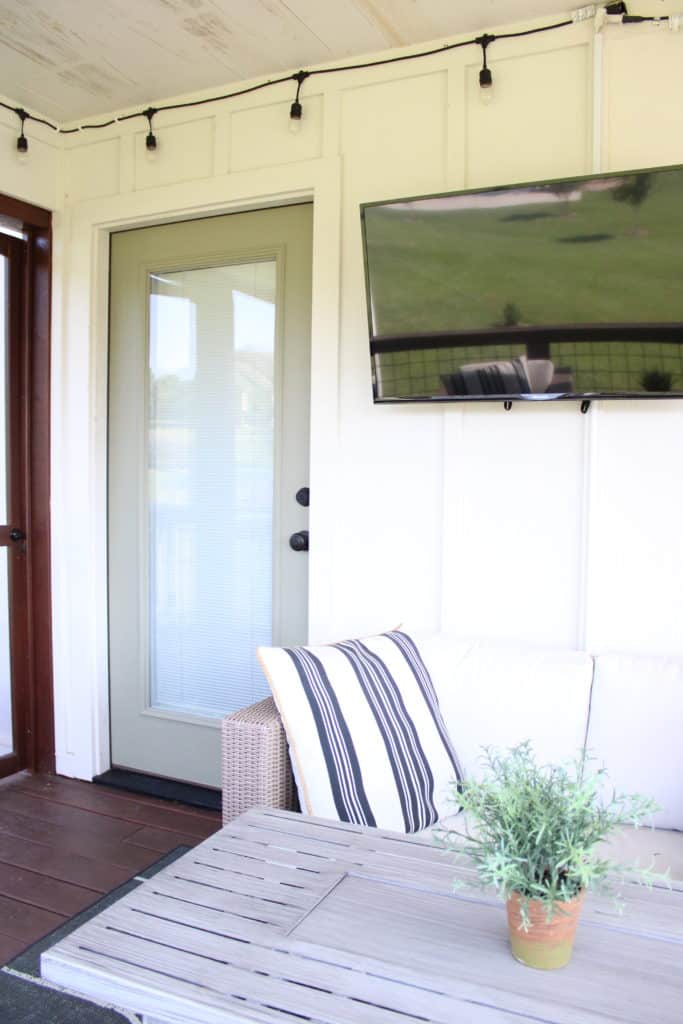 I think I am actually going to add that on top of my outdoor dining table I just painted as well to protect it even further. And the cool thing is it comes in a gloss or matte finish which is nice.
Well, I hope you enjoyed this little exterior door refresh project of mine! What do we think of the new color?! Do you love it as much as I do?!