If you're like me and love to decorate for every season, then no room is off limits! And that includes the master bedroom! It makes me happy to see seasonal color and touches everywhere in my home.
To decorate my bedroom for fall, I keep it pretty simple. Keep on reading to learn how to add easy, seasonal touches to your bedroom!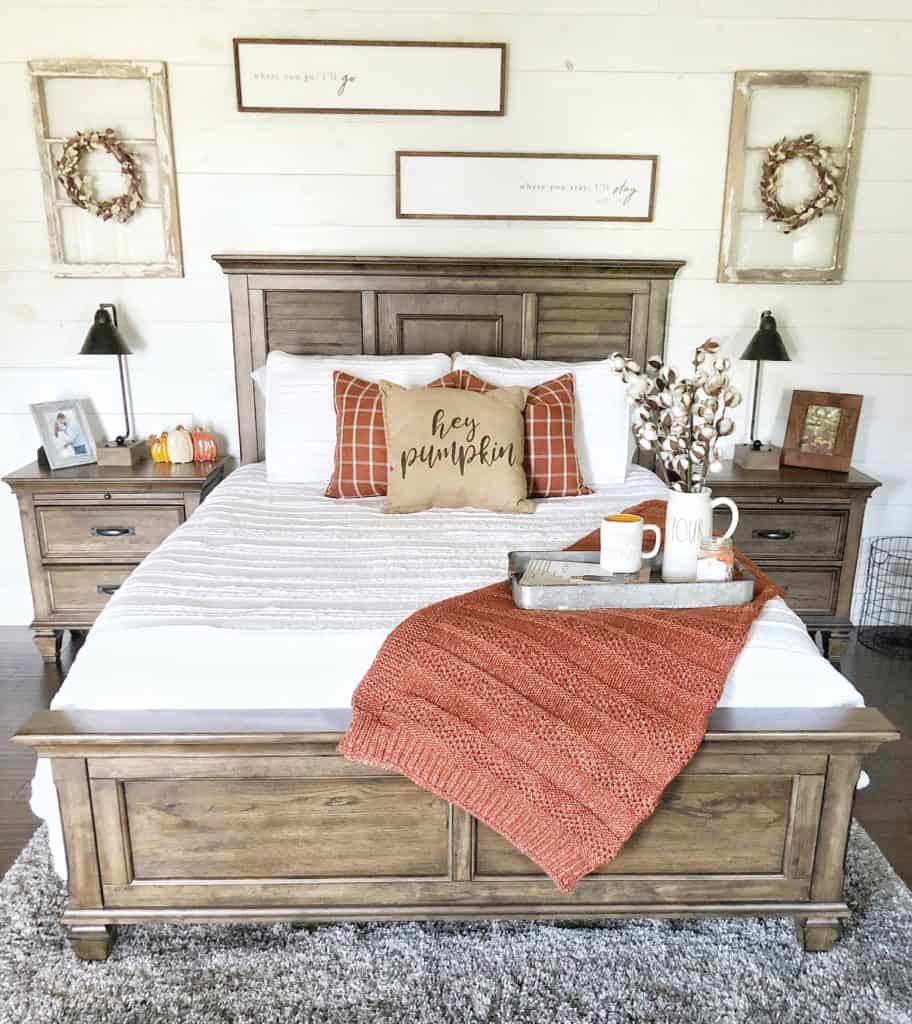 Adding Pillows and Throws
I like to keep my main bedding a neutral color. That way I can add pops of color here and there easily for whatever season I want. For fall, I chose to accent a rusty orange color.
It really shines against the white and it was easy to incorporate. I just added a couple of colorful throw pillows. As well as a beautiful knitted throw in the same color draped over the bed.
Adding Wreaths
I also love to style our vintage 1920 windows we have hanging on our shiplap wall too for an easy fix.
We just added a nail to the middle wooden pane, and I hung a small wreath on each one. That makes it super easy to switch out the wreaths for each season too.
Adding Trays
I always like to style trays for pictures too and it makes it feel more cozy to me. But of course I don't always have a styled tray on our bed. That's way too much work!
Usually when I do though, I always include a Rae Dunn mug full of coffee, a great book, a vase filled with stems/flowers, and of course a pumpkin scented candle!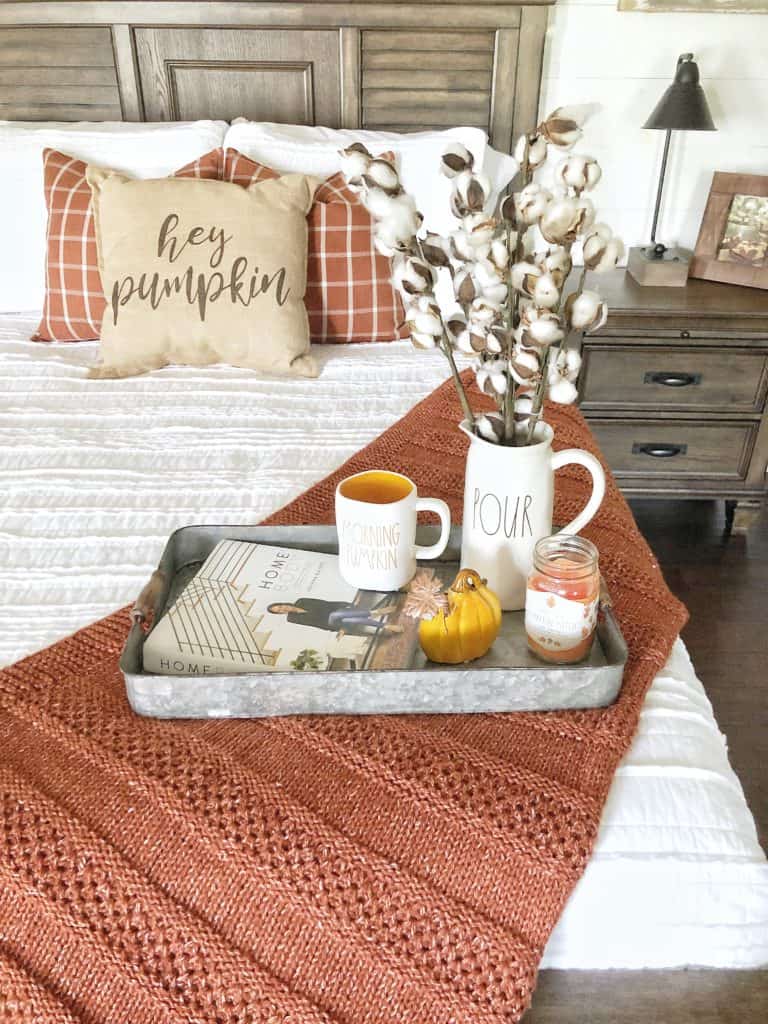 Use What You Already Have
I also had a few extra fall pieces that I got a few years ago from Kirkland's that I wasn't using in our living room anymore. So I thought why not add them to my bedroom?
I didn't want to waste them! I just placed them on top of our dresser and I love how it adds more subtle colors of fall in our bedroom.
Adding all these touches literally just took me twenty minutes and did not cost me anything since these pieces were all re-used. I love shopping my own home and being able to restyle items that I didn't think I would have anymore use for.
I am also super excited to transform our bedroom into a Winter Wonderland for Christmas! Stay tuned and in a few weeks hopefully I will be able to show you guys all the details!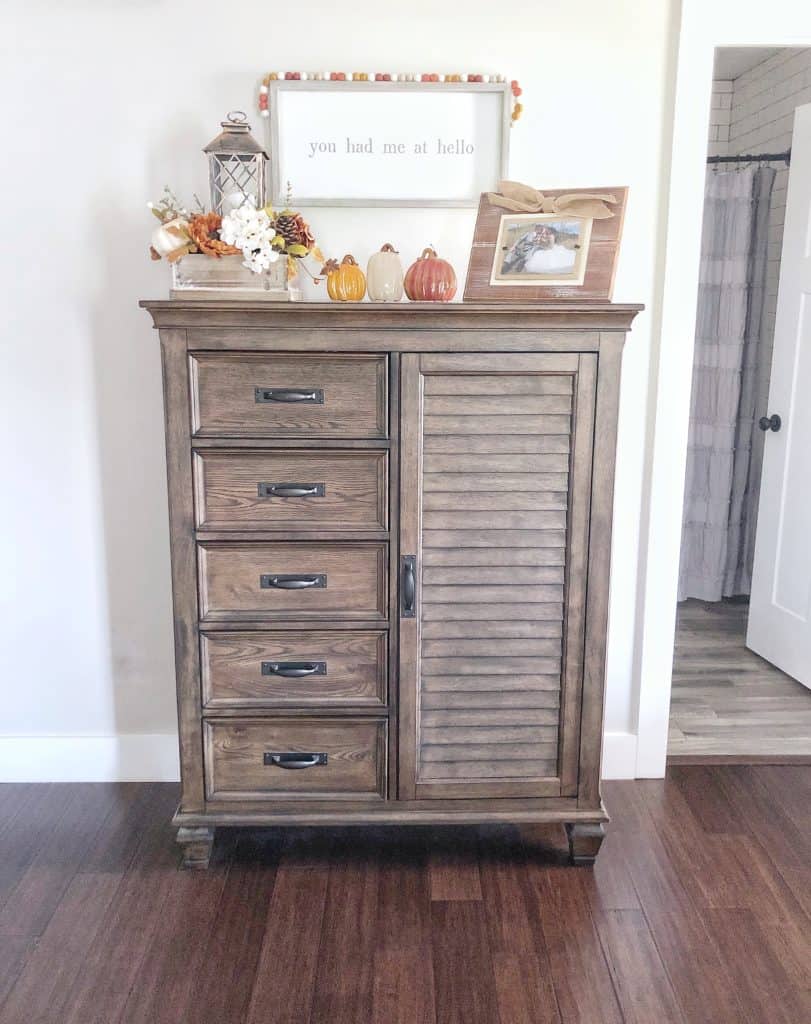 Well I hope you all enjoyed these easy and simple touches to bring in a little seasonal decor to the bedroom. You can really use these ideas for any season too, not just for the fall.
With a few simple pillow and throw changes, you can easily decorate your bedroom for any season! You don't have to spend much or do a lot.
Just add a few things in here and there and you will be amazed at the difference. It's so easy and fun to add seasonal touches in your home!