I am sure you all have seen the beautiful handmade terracotta Jack O' Lanterns that Pottery Barn has to offer this season. And while I love them, I don't want to spend over $50 for just the smallest one! Not to mention, the largest one costs over $89 too! So I decided to turn on my creative juices and come up with this Pottery Barn Jack O' Lantern Dupe idea.
I just used a few materials to create them and it only took me a couple of days to complete as well. All in all, my version for 2 Jack O' Lanterns only cost me around $25 instead. So I would say that is a steal for sure!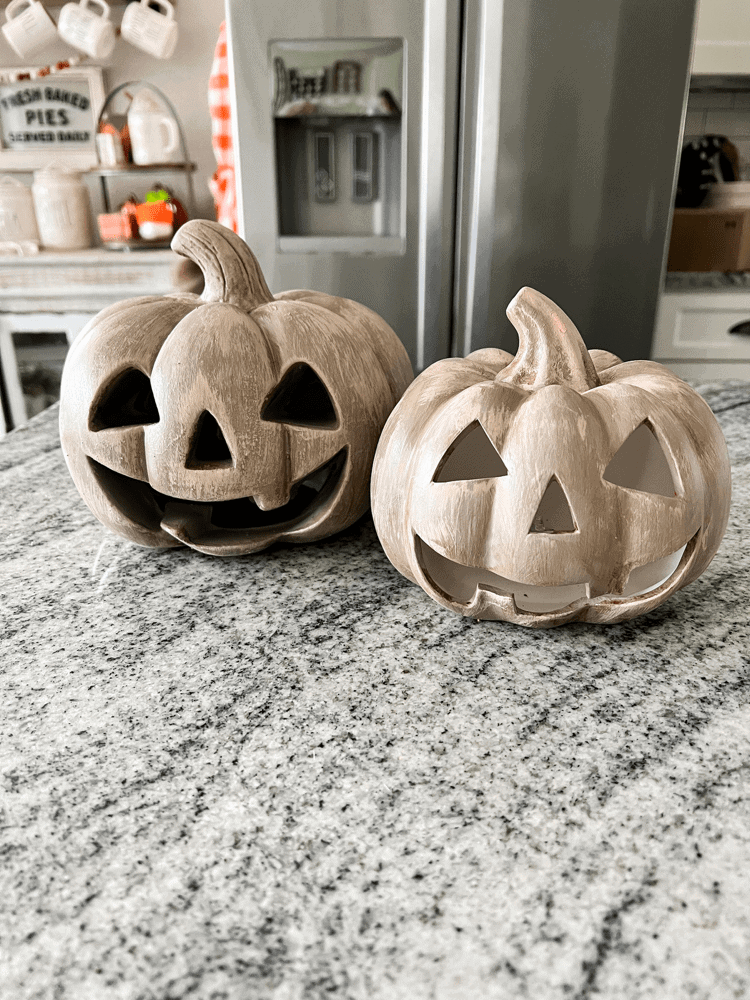 This post contain affiliate links. Click here to read my disclosure policy.
Materials Needed for Pottery Barn Dupes: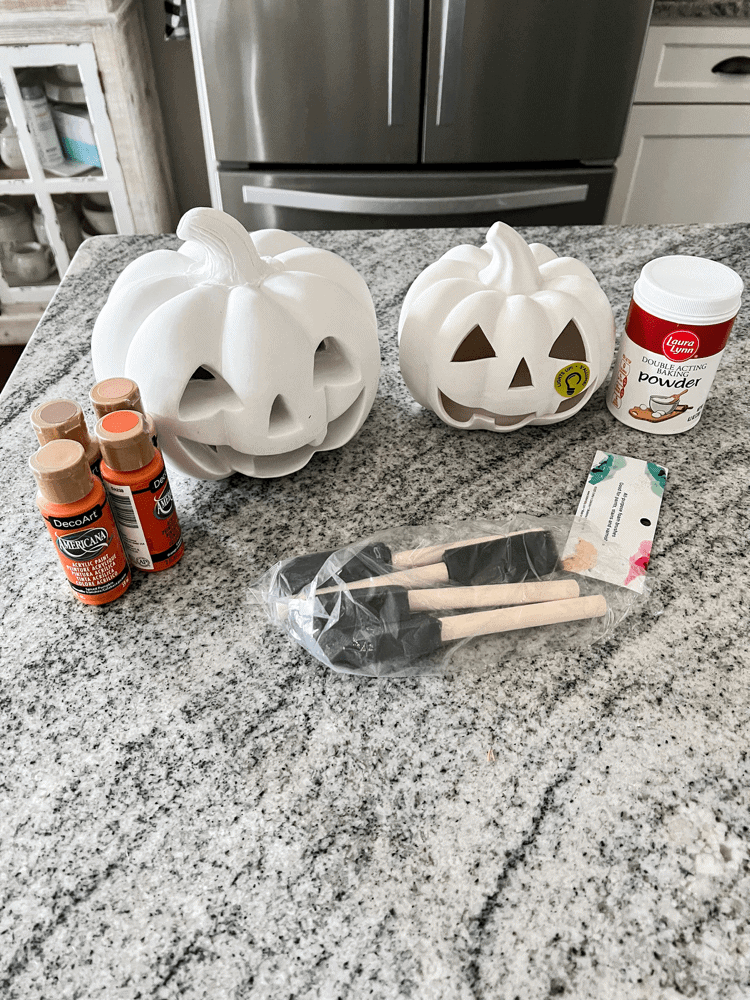 DIY Fail
So in the full disclosure of creating the Pottery Barn Jack O' Lantern dupe, I did have a DIY fail. I was going for more of a terracotta color like the ones pictured on their website. So I tried to pick out some paint colors in store that looked terracotta to me.

However, I failed miserably as the one I chose came out way too orange. I also had the bright idea to add baking powder to the paint to give it more texture. It is supposed to make the paint puff up a bit too.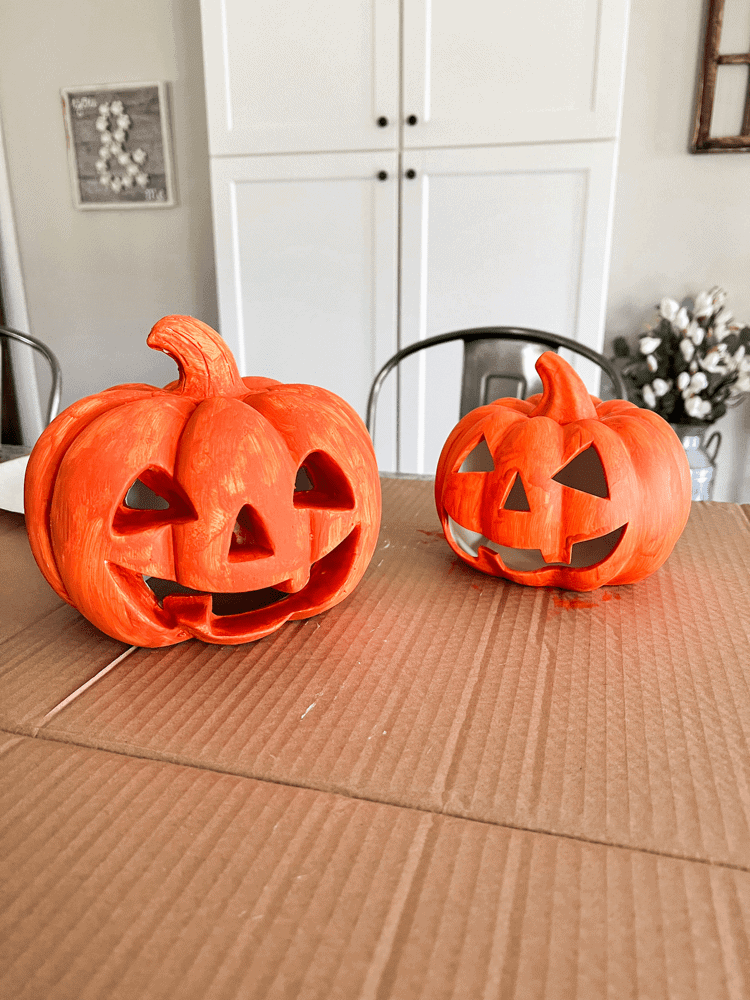 I have done this in the past with no issues before. But for some reason, it did not turn out as expected this time around. Maybe I just didn't add enough baking powder, but it did not give it that texture like normal.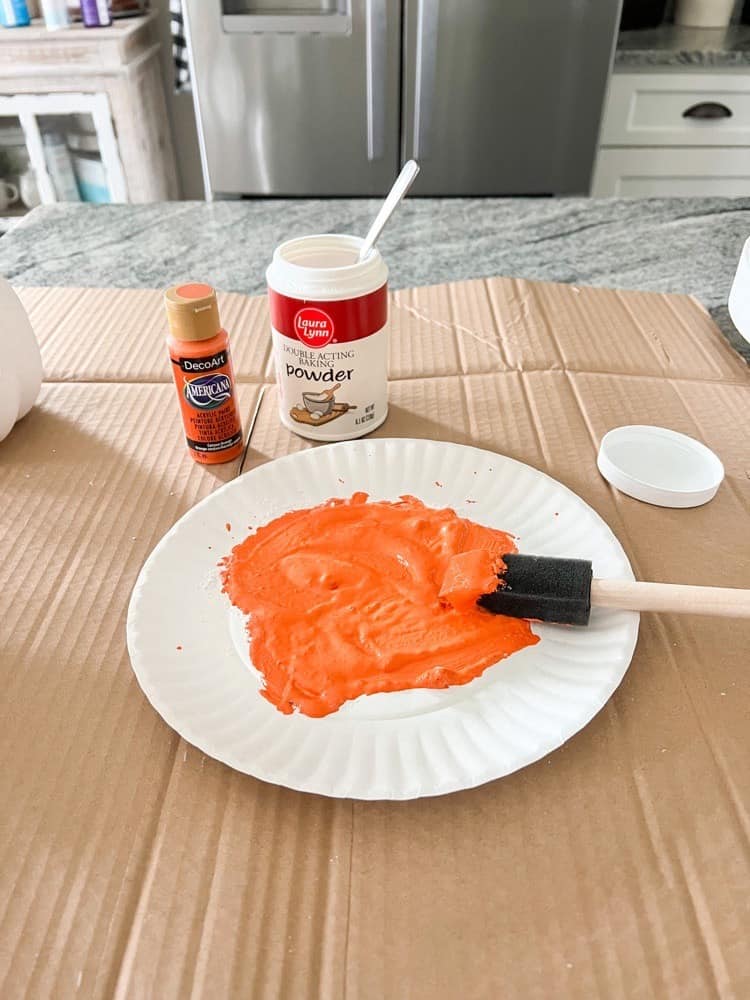 So not only did I mess up on the paint color, but on the texture of it as well. But no worries! Since it is only paint, I can easily paint over it and fix my previous mistakes.
And if you do like this orange color, then you could totally keep them this way. I am just more of a neutral girl at heart and this color was just too overwhelming for me.
Painting the Jack O' Lanterns
After realizing my mistake, I turned to a more neutral paint color. And of course it was by Fusion Mineral Paint. They haven't let me down yet! Y'all know I share about them all the time, because I genuinely use them all the time!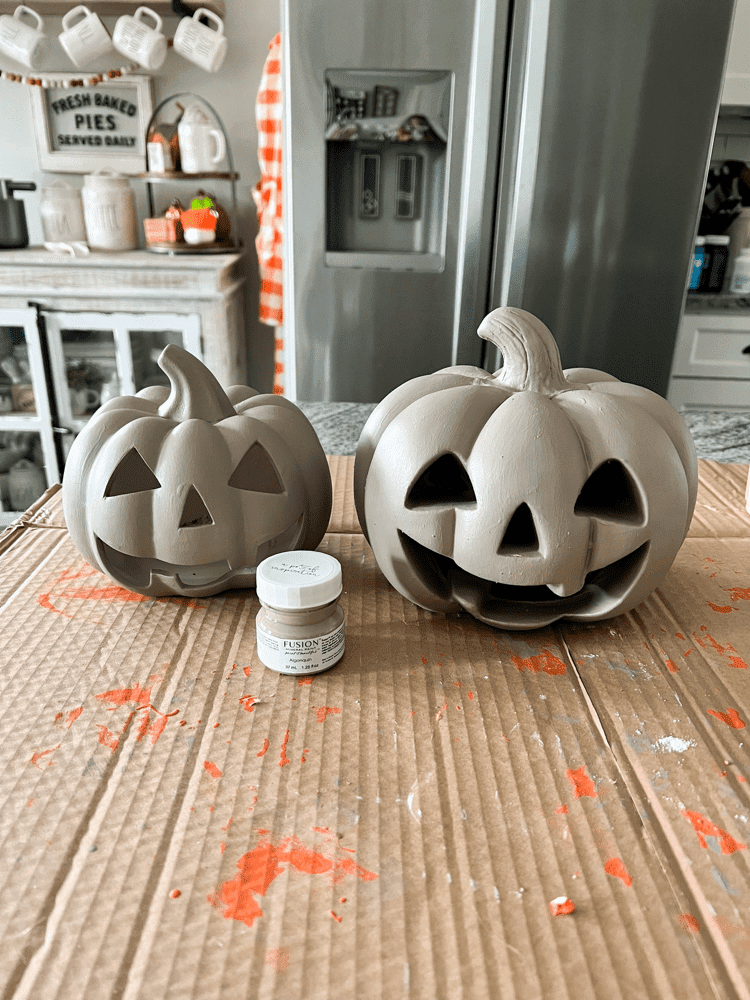 I used the color Algonquin and it has almost like concrete color and feel to it. It's not exactly terracotta, but it is much closer to the look I was looking for. And plus, I did not want to go back out to the store to find another paint color.
I did a total of two coats of this color and let it dry completely overnight. I would definitely recommend painting with just a cheap foam brush, that way you can really squeeze it in between the cut outs of the Jack O' Lantern's face. Otherwise, it would be hard to paint that area with a regular paintbrush.
Adding Antiquing Glaze And Dry Brushing
The next step to this DIY Pottery Barn Jack O' Lantern Dupe, is to add antiquing glaze once the paint dries. I just used another foam brush to apply it and I focused it heavily in the creases of the pumpkins to give it more dimension.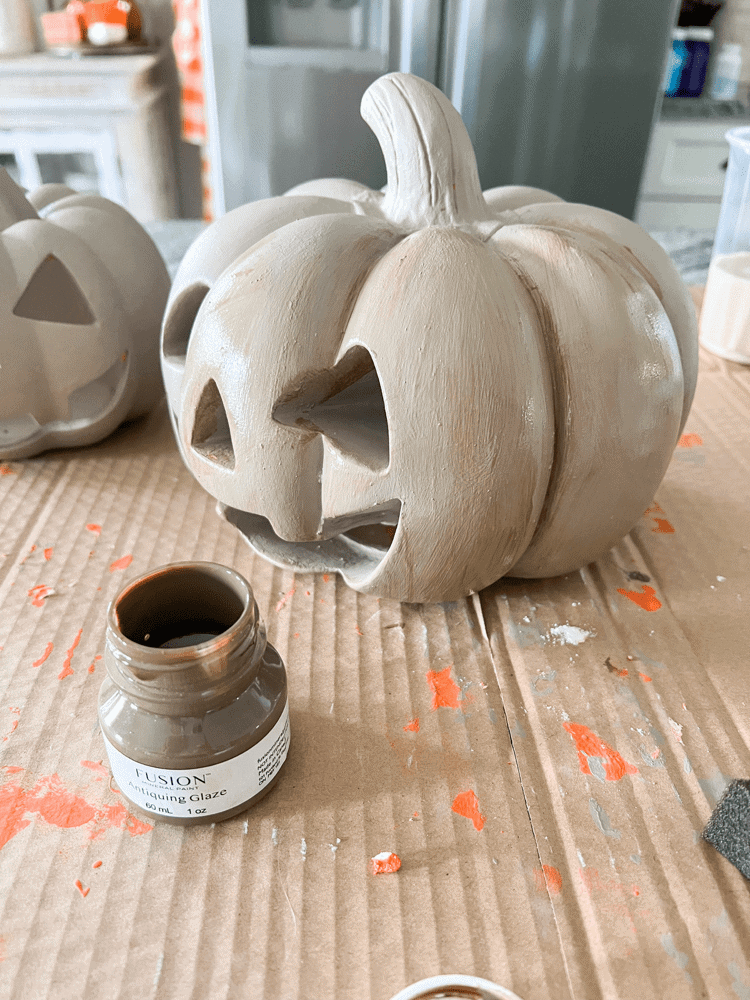 Again, I let the antiquing glaze dry overnight before adding anything else to the Jack O' Lanterns. This glaze is kinda sticky so you definitely want to give it proper time to dry.
Once the glaze dried, I decided to do my little dry brushing technique. You may remember that from back when I did my DIY Painted Pumpkins as well.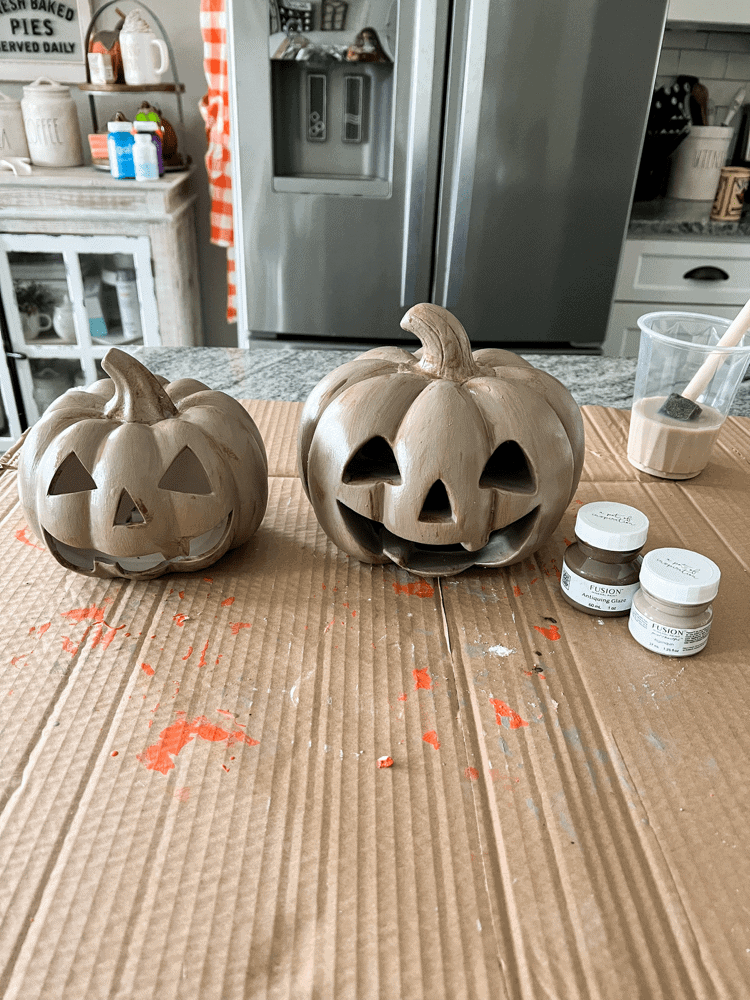 Just get a dry brush and dip it in a little paint. Then rub most of the paint off on a paper plate or cardboard surface. Once you have just a little paint on your brush, you just go around the Jack O' Lantern and brush it up and down lightly.
This gives it a nice distressing look, without having to actually distress it with sandpaper. I mixed the two colors I had, Warm Beige and Fawn. I also had a damp paper towel with me when I was dry brushing. That way, if I added too much paint to one spot, I could easily wipe it away.
Decorate With Your Pottery Barn Jack O' Lantern Dupes
After the paint from dry brushing is all finished and dry, you can now decorate and style your Jack O' Lanterns however your little heart desires! As you can see, I placed mine on our little bar cart on our screened in porch.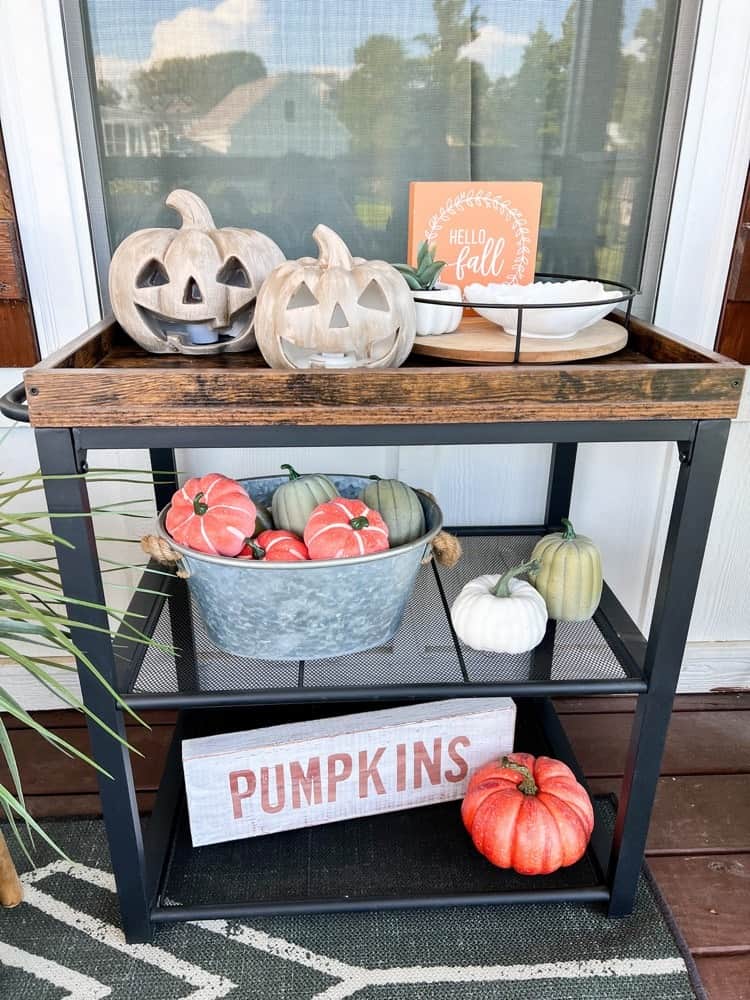 One of the ceramic pumpkins I got already had a battery operated tea light attached to it. But the other one didn't. It just had a hole underneath for one. So I ordered some extra battery operated tea light candles from Amazon and placed one underneath.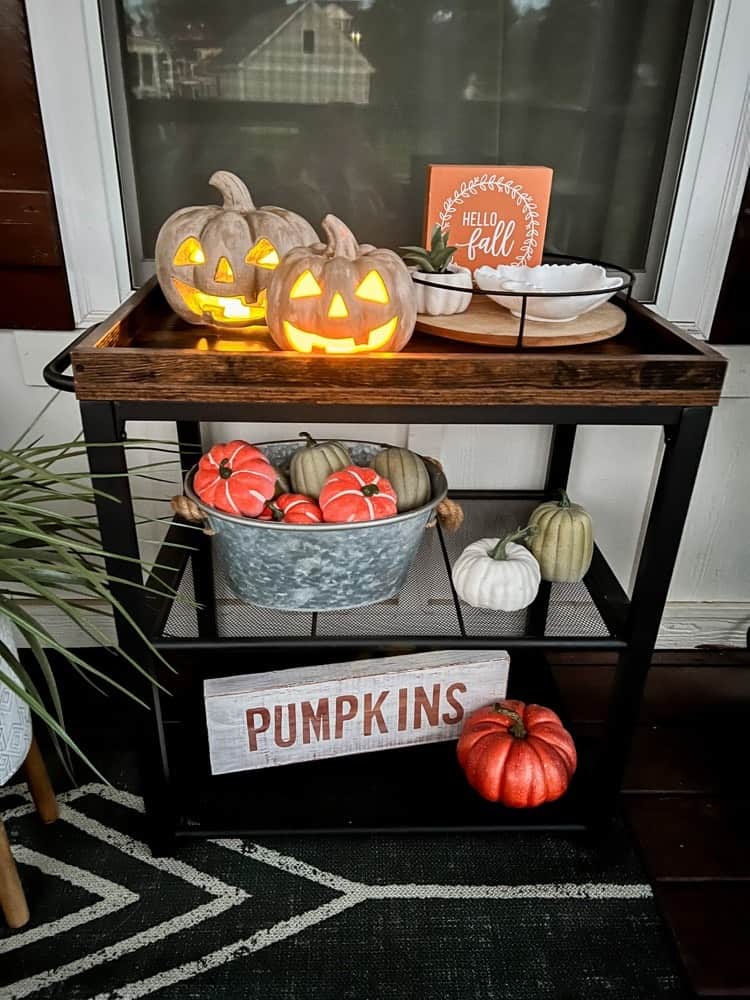 They came in a big 12 pack and I figured I could use the rest for when I decorate my fall front porch. I love giving it a cozy glow and these would be perfect to place around my steps too.
Well, I hope you enjoyed this little tutorial of my take on the Pottery Barn Jack O' Lantern Dupe. Mine did turn out a little more concrete like than the original terracotta looking ones, but that's okay! I am loving them just the same!
And I saved a bunch of money by DIYing them too. So I would say I am the real winner here, right?!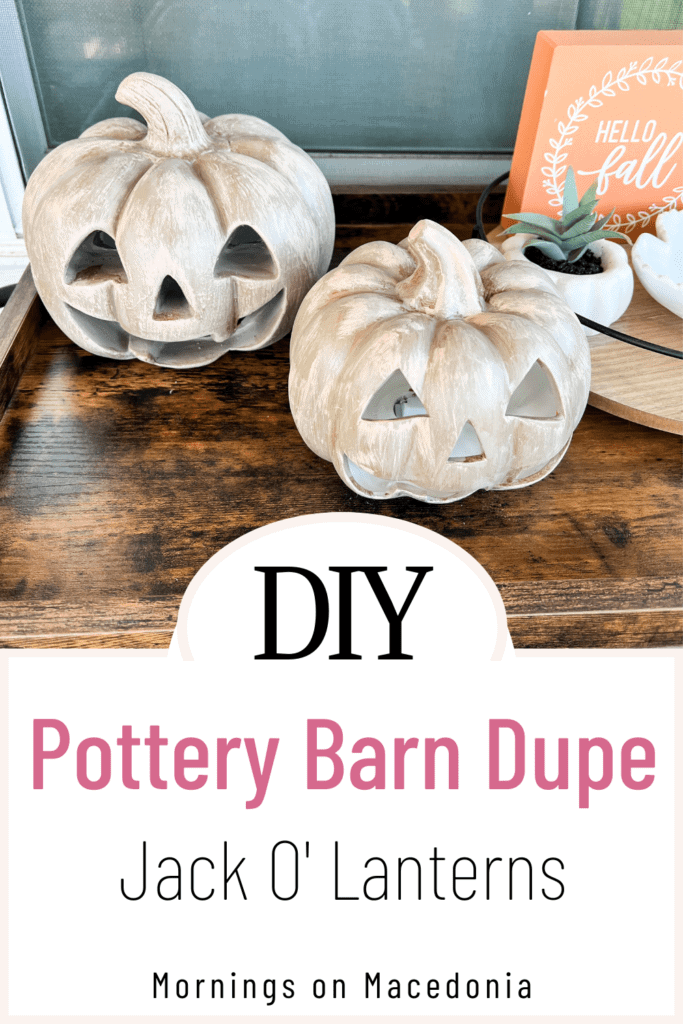 Learn more about how to turn your builder grade home into something more with seasonal crafts like this here too!