I recently got this beautiful, gold antique frame from a small shop. But, it did have some damage to the lower end of it. So I thought I would fix it by creating a fall wreath out of the frame. Thus creating a beautiful fall antique frame wreath.
If you're looking for a simple and cheap fall wreath idea, then this is it! It only took a handful of materials and literally only like twenty minutes to complete.
And you know me, I love anything vintage and antique. So this kind of DIY fall decor is right up my alley! And hopefully it is for you too!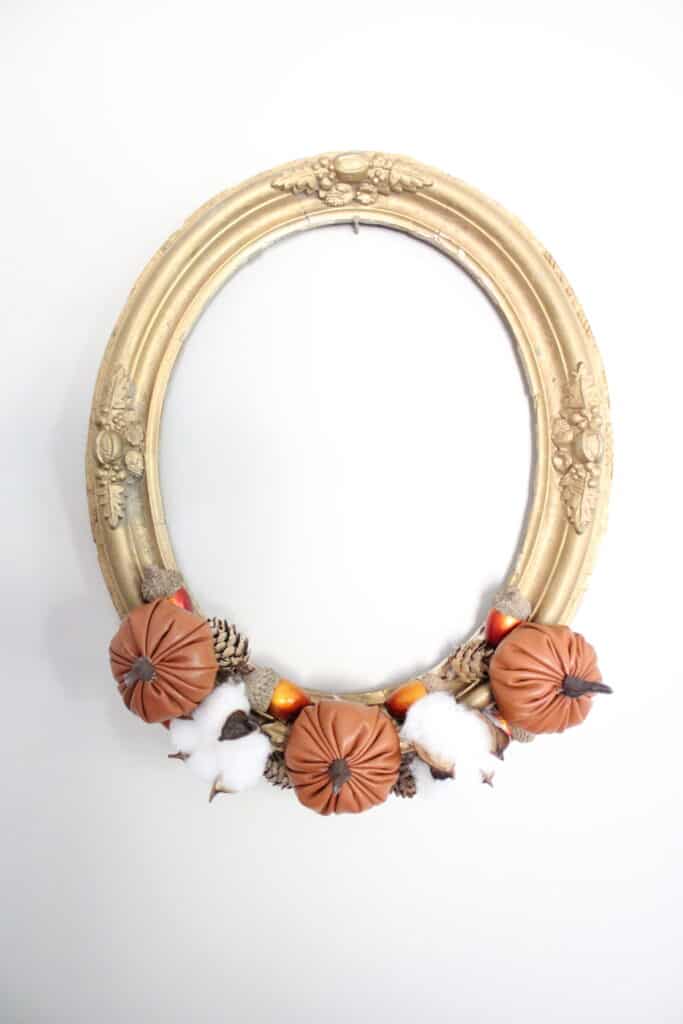 This post contains affiliate links. Click here to read my disclosure policy.
Finding an Antique Frame
Obviously to make a fall antique frame wreath, you need an antique frame! Like I said above, I found mine at a small shop. I have mentioned this shop several times before in previous blog posts (see my favorite small shops), but I did get it from the one and only Honeybrook Shop.
I was a little worried ordering it online seeing as how I didn't know what the size would be exactly once I got in my hands. Would it be too big or too small for this idea that I had? But, I figured I'd take a chance and order it.
It really was the exact kind of frame I had envisioned for this piece. I wanted an oval one with gold accents and that is exactly what I got!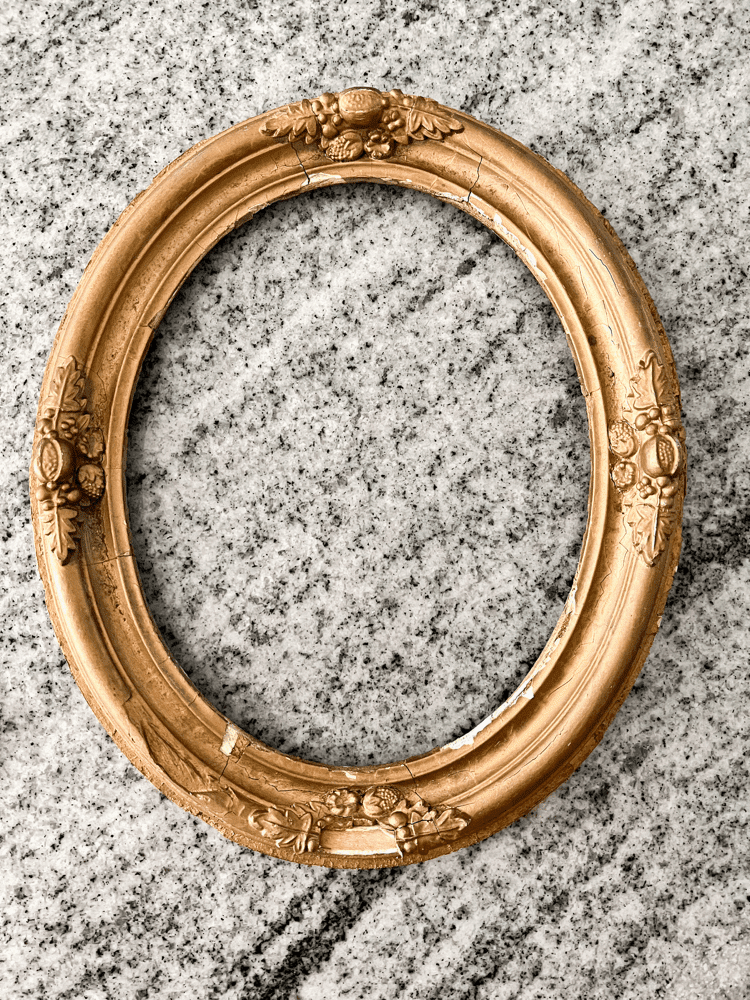 Another cool thing to note about this beautiful antique frame is that it was actually from a historic home in Burlington County, New Jersey. I love it when I can get pieces with a backstory like that!
Picking Out Pieces For The Wreath
The next step in creating this fall antique frame wreath, is to just find some pieces to go on it. I took a trip to Hobby Lobby and didn't really have anything in mind for it specifically, just started roaming the aisles. As one does when they are looking for a little bit of inspiration!
I came across some mini faux leather pumpkins and knew they would add the perfect touch to the fall wreath. I love the texture that it adds to the piece.
Then I found some mini acorns and pinecones as well as some cotton picks. Keeping very on trend with the fall theme here.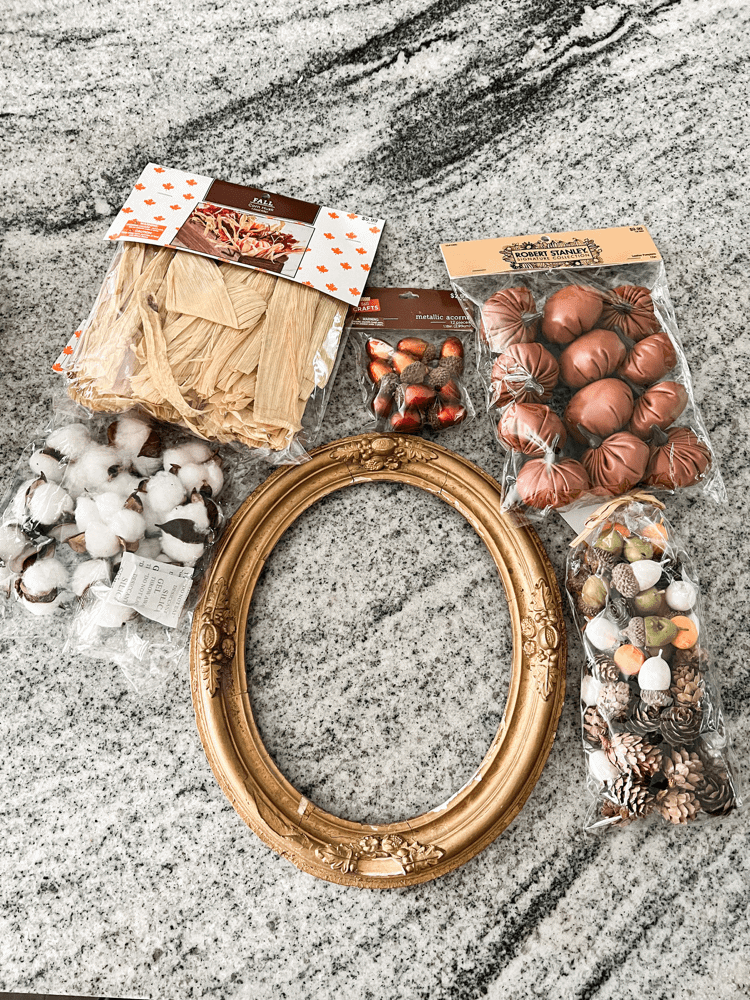 I also found some faux corn husks which I originally thought would look cool. However, after playing around with the placement of everything, I ultimately decided that they covered up too much of the antique frame.
My goal here wasn't to cover up this beauty, but simply hide the damage with a few fall touches. So I think I will just save those for another fall project instead!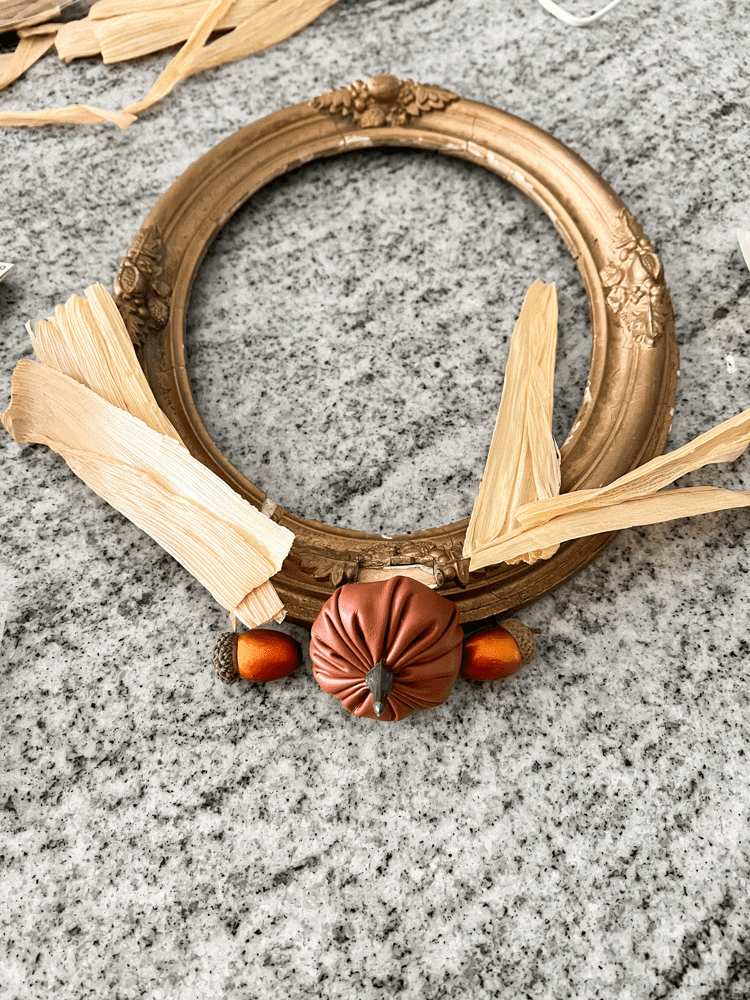 Apply All The Pieces To The Antique Frame
Now that I have all my pieces picked out for my fall antique frame wreath, I just need to adhere them to the frame. To do this, I simply used a mini hot glue gun.
I just dabbed a dot of glue to the backside of the piece I was using and stuck it on the frame. I didn't put too much on it because I didn't want a lot of hot glue seeping through the frame.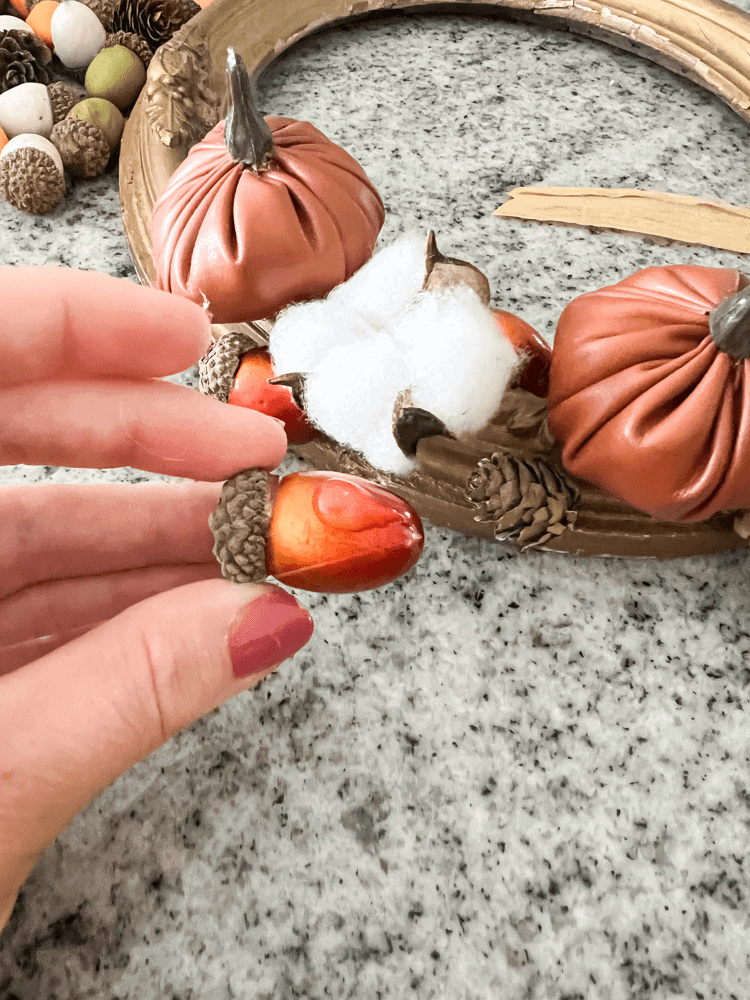 And that's literally it! See how easy that is?! It really took me less than twenty minutes to create and I absolutely love how it turned out. So cute and simple! It is the perfect DIY fall frame wreath.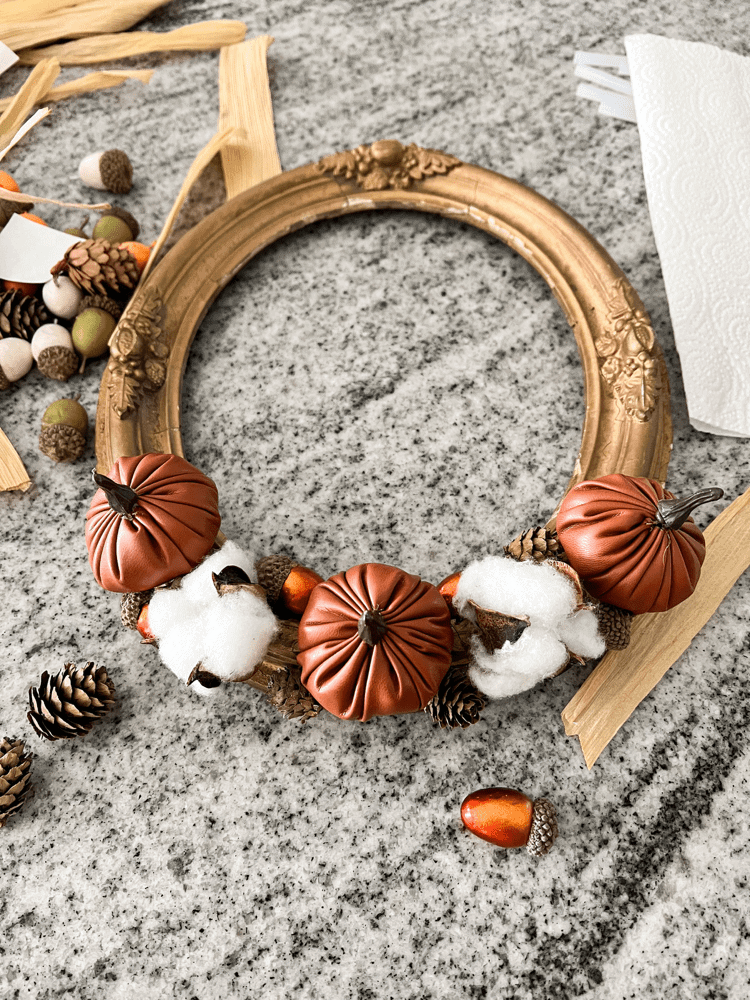 And the best part is, you can have complete control if you want to create something similar to this. You could use a square, rectangular, or oval frame like I did. Or you could use a regular picture frame you have laying around your house and not a fall one.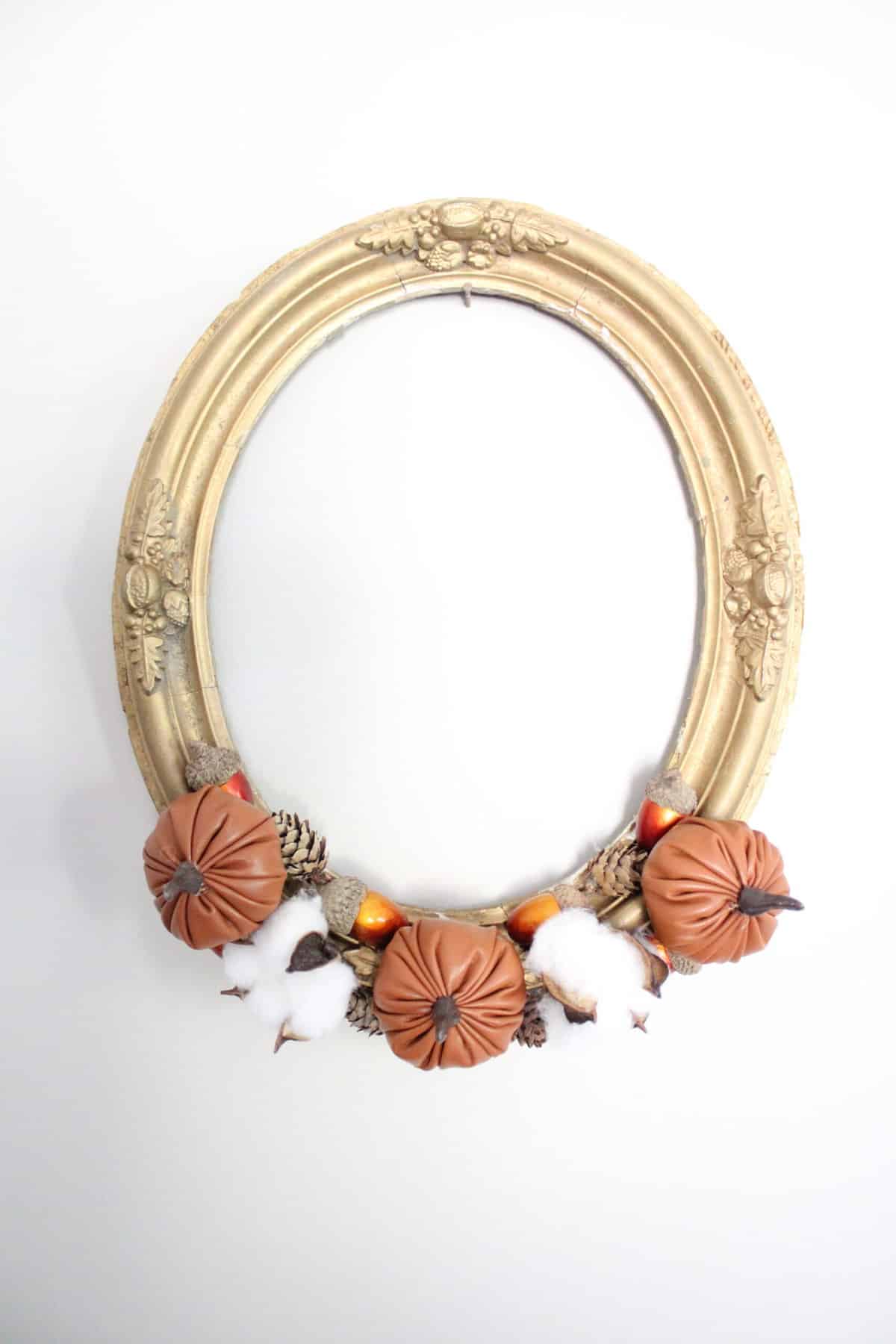 You can definitely choose different colors of pumpkins or acorns and add in maybe some faux fall leaves instead. Basically, the possibilities are endless and it doesn't cost much at all to create!
I created a shopping list for you using all the materials I used here for this project to make it easy for you to create at home yourself as well!
Let me know if you try to recreate this yourself and how it went for you too!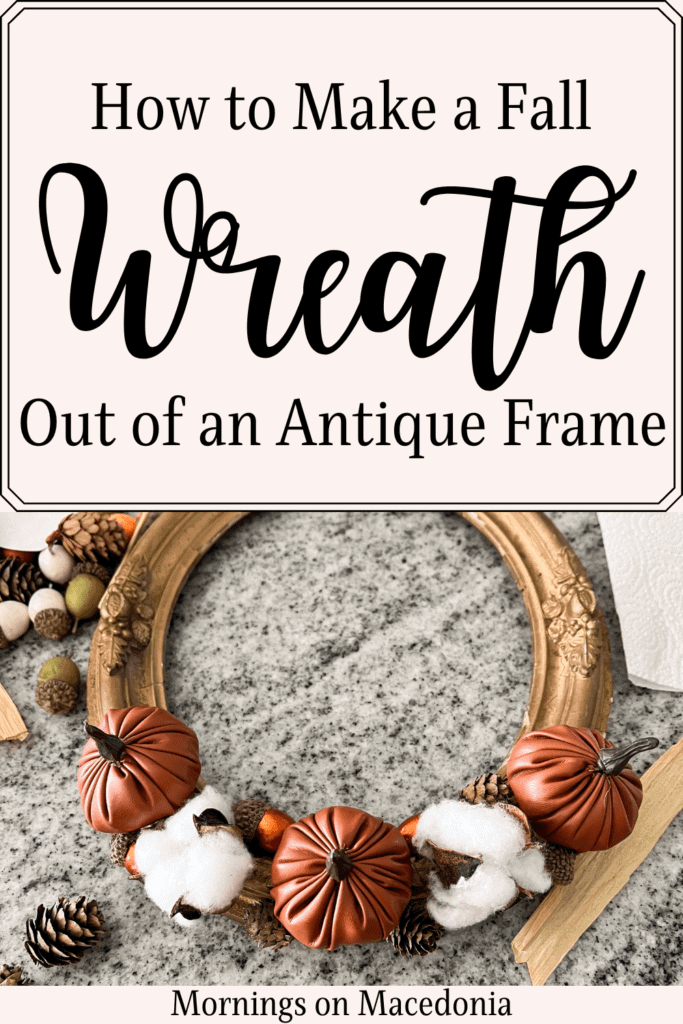 Be sure to follow me on Pinterest and save this pin for future, easy reference too!