If you're anything like me, then you probably love a good fruit pizza as a nice summer dessert. And what's even better is to make it have a patriotic spin to it! This dessert is perfect for Memorial Day, Fourth of July or any of the patriotic holidays!
Or really anytime because you don't even have to make it into an American flag. But, it does make for the perfect red, white, and blue dessert in my opinion!
That's the fun part about a fruit pizza recipe, you can customize it to however you want. Let the creative juices flow! But, for today I am going to show you just how easy it is to make this delicious and easy fruit pizza.
I always remember my mom making delicious fruit pizzas growing up. Whether they were for summer holidays or just because, they always were delicious and never disappointed! I think any kind of sugar cookie pizza recipe like this is perfect for a crowd or party!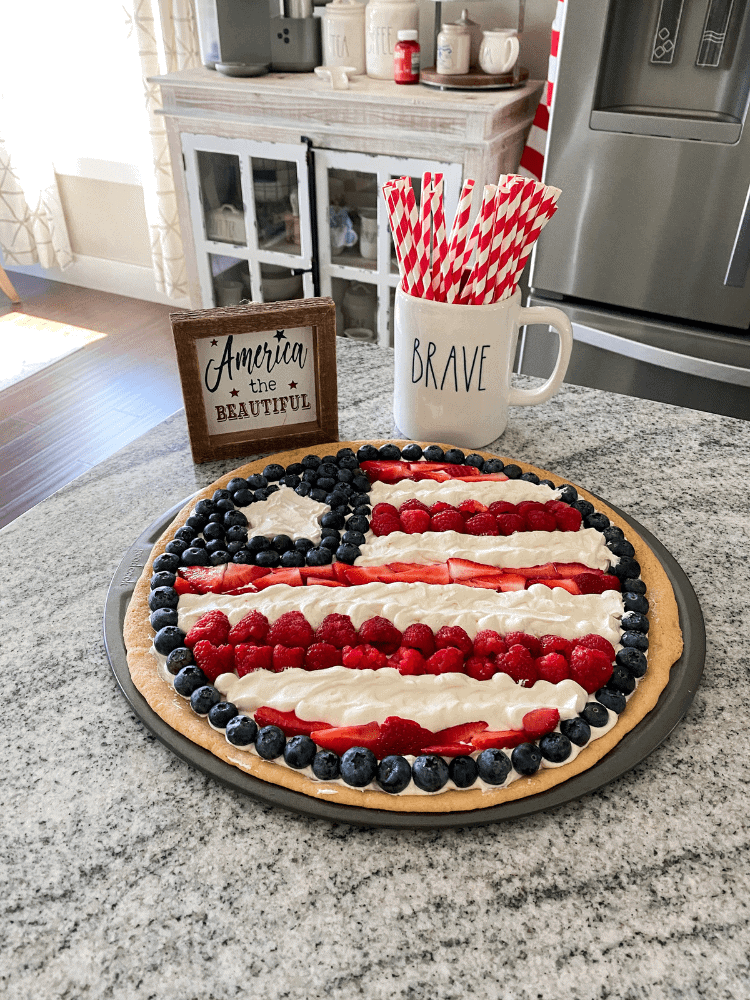 Ingredients Needed for Patriotic Fruit Pizza:
The great thing about this Fourth of July fruit pizza is that it doesn't not require too many ingredients. Just a quick trip to the grocery store and back, and you will have everything you need to make this easy and delicious recipe! 
Refrigerated Sugar Cookie Dough, Such as Pillsbury Sugar Cookie Dough
8 oz Cream Cheese, softened
1 tsp Vanilla Extract
8 oz Whipped Topping (such as Cool Whip), thawed
2/3 Cup of Sugar
8 oz Raspberries
8 oz Blueberries
16 oz Fresh Strawberries, sliced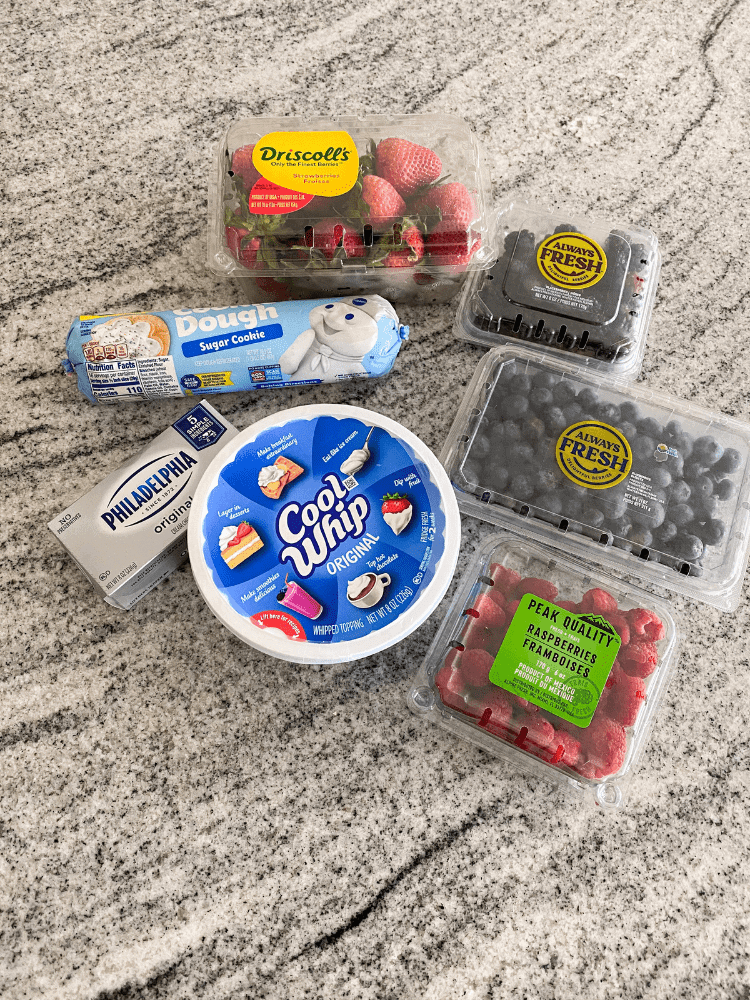 Make The Sugar Cookie Crust
This recipe is so simple and easy but you do need to divide into two parts. First, you need to make the crust. And then, you need to make the cream cheese filling.
So while the crust bakes, you can make the filling mixture. It really doesn't take long at all and the longest part is just waiting for the crust to cool.
To make the crust, you just need to slice the pre-made cookie dough into rounds. Then, spread it around on a greased pizza pan or cookie sheet and flatten it out evenly.
After you have flattened it out, you can then bake crust it in a preheated oven at 350 degrees for 12-15 minutes. You want it to be a nice golden brown when you take it out of the oven. That way you get a delicious chewy cookie crust for the pizza!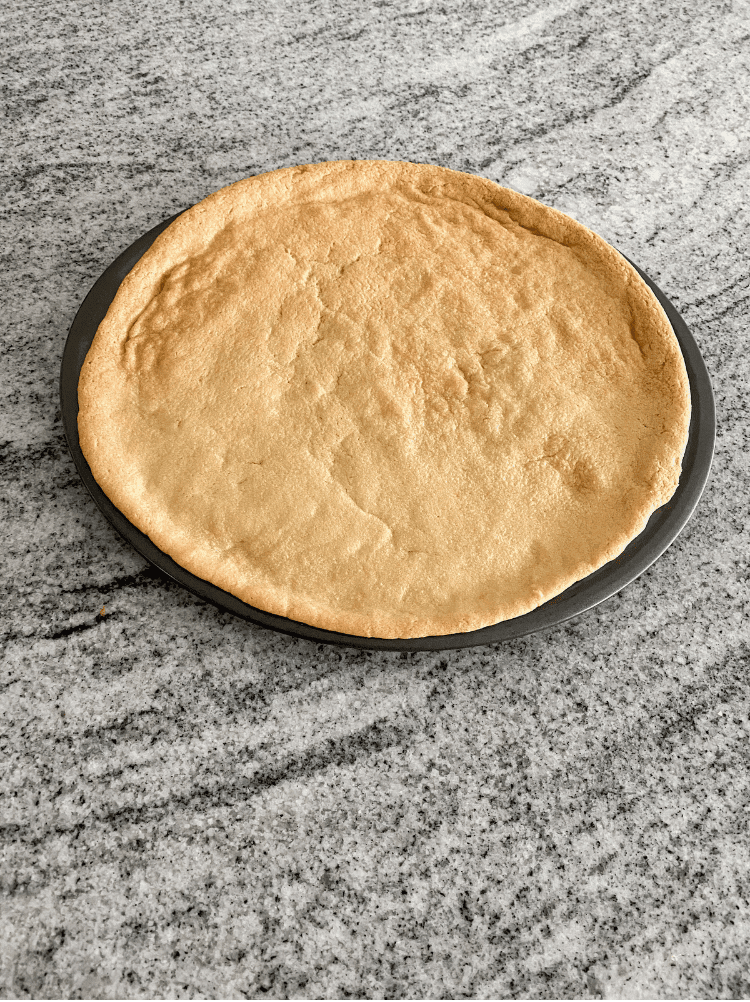 Make the Cream Cheese Frosting
After you bake your sugar cookie crust for the patriotic fruit pizza, you need to let it cool completely. While it is doing that, you can then make the cream cheese mixture that goes on top of the pizza.
Simply combine cream cheese, sugar and vanilla in a large mixing bowl. You can use a an electric hand mixer or a regular electric mixer for this.
Then, add in half of the whipped cream topping and mix well. Fold in the remaining whipped topping and viola! It is done! it creates a delicious and creamy frosting that pairs perfectly with the sugar cookie base!
Once you have mixed it all together, you can then spread about half of the mixture onto the cooled crust in an even layer. You can save the rest of it to pipe in white stripes for the flag.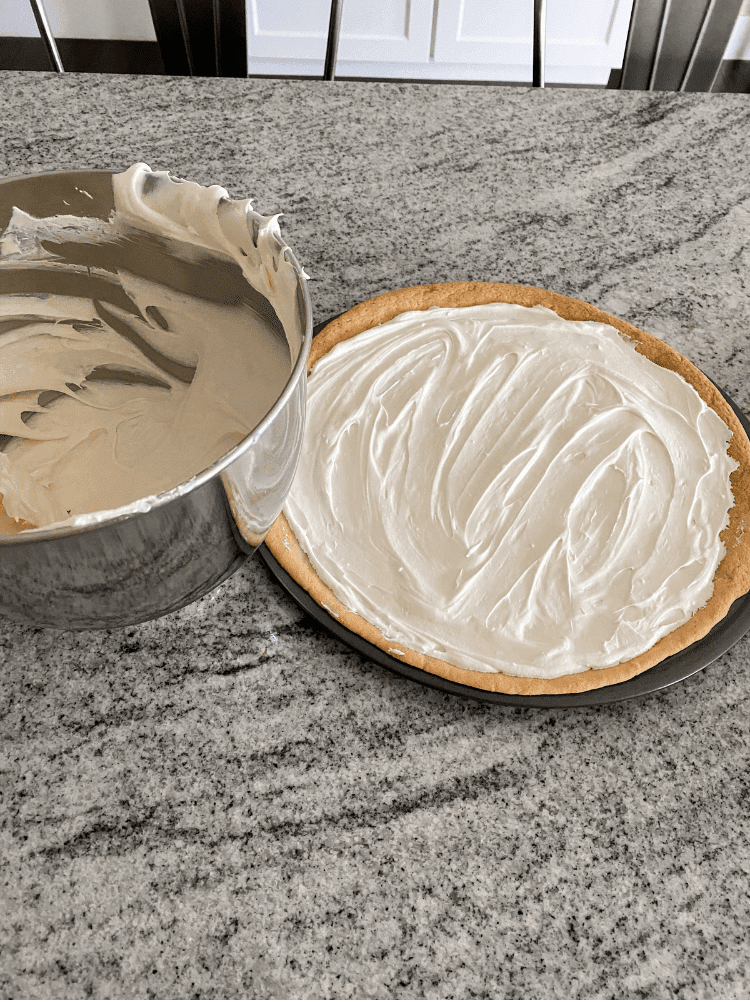 Assemble the Patriotic Fruit Pizza
Now you just need to assemble the patriotic fruit pizza in a flag pattern! I just did the outline in blueberries and then the corner of the flag too. I used a star cookie cutter to place blueberries around the area.
That way, when I took it out, you could see a star shape. I then just alternated between strawberries and raspberries for the stripes.
After I added in all the fruit, I went back and piped in more of the cream cheese mixture for the white stripes. And that was it! You can see how it made a perfect red, white, and blue fruit pizza by alternating all the fresh berries!
I placed it in the fridge for a few hours before serving and set it out at room temperature to serve! You can also store any leftovers in an airtight container as well.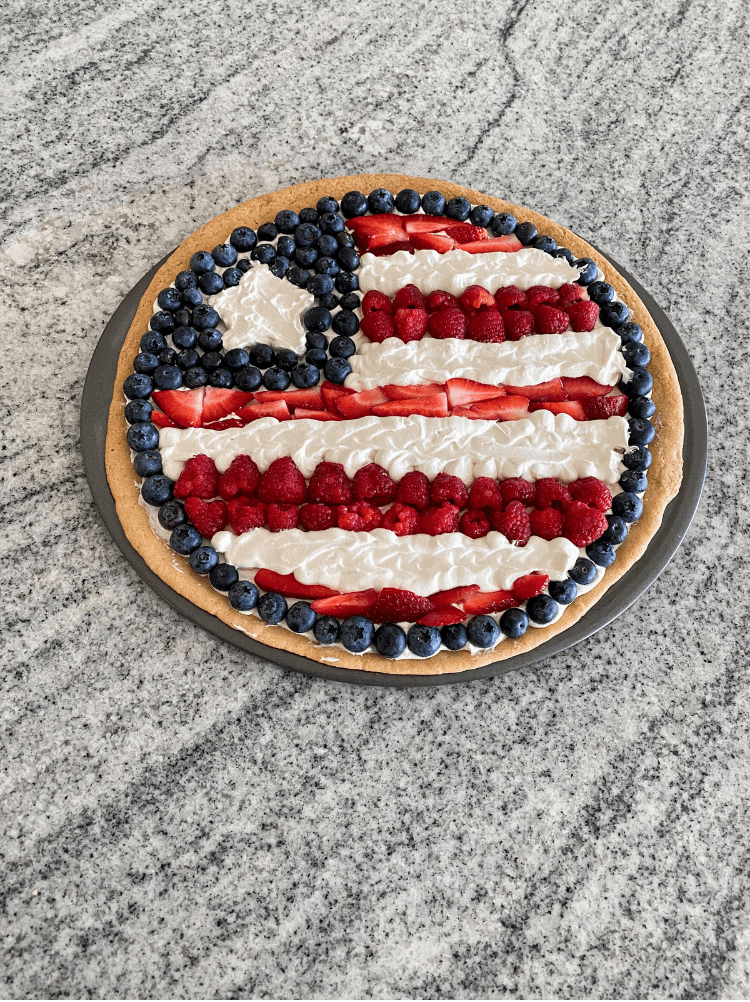 Enjoy Your Fruit Pizza
After it is chilled, you can then serve it and enjoy it! I absolutely love fruit pizza and can eat it anytime, but I do think it is the perfect dessert, especially for Independence Day.
It's the perfect American flag fruit pizza and it is definitely one of my favorite 4th of July desserts to bring to a party or get together! 
If you're looking for other summery desserts, then be sure to check out this easy lemon cream pie as well. Do y'all like fruit pizza too?
If so, what are some of your favorite fruits to put on top? I would love to hear all about it below! And I hope you enjoyed this yummy sugar cookie fruit pizza recipe too! Let me know if you try it out this summer as well!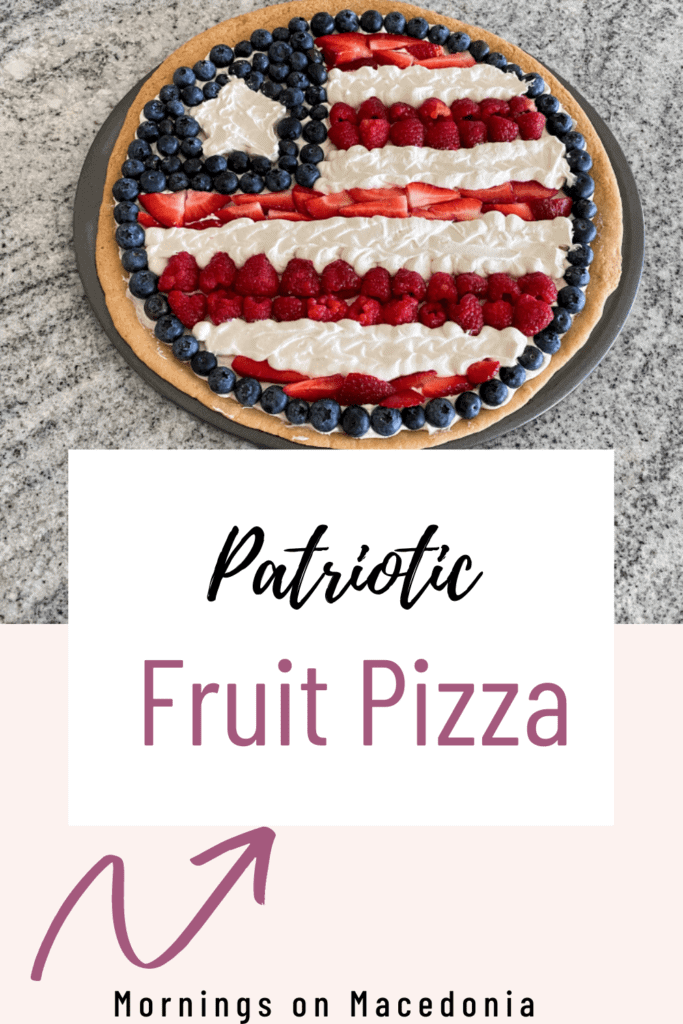 Patriotic Fruit Pizza
A delcious fruit pizza with a patriotic spin to it!
Ingredients
1

Tube

Refrigerated Sugar Cooke Dough

8

oz

Cream Cheese

1

tsp

Vanilla

2/3

Cup

Sugar

8

oz

Whipped Topping

Thawed

8

oz

Raspberries

8

oz

Blueberries

8

oz

Strawberries
Instructions
For the Sugar Cookie Crust:
Preheat the oven to 375 degrees.

Open the cookie dough tube and slice into rounds.

Put the rounds of cookie dough all over a greased 12 inch pizza pan.

Flatten the rounds out with your hands until you get a nice even layer.

Bake in oven until cookie crust because lightly browned. Around 12-15 minutes.

Cool the crust completely before adding on the cream cheese mixture.
For the Cream Cheese Mixture:
Beat cream cheese, vanilla, and sugar together until smooth.

Add in half of the whipped topping and beat mixture for a minute more.

Fold in the rest of the whipped topping. Blend.

Scoop about half of the mixture onto cooled pizza crust and spread evenly.

Use the berries to create a flag on the pizza. I outlined mine with blueberries and then alternated between raspberries and strawberries for the stripes.

Use remaining cream cheese mixture to pipe in white stripes as well.