I always love to bake around the fall season, but don't always love the amount of calories and sugar that comes with that! So I decided to try these healthy 4 ingredient pumpkin cookies out, and thankfully they are delicious!
They, aren't overly sweet, but still have enough flavor to get you in the fall feels! It's a super easy recipe and can be made quickly. If you have leftovers, they can even be frozen too! These pumpkin cookies are perfect for a hearty breakfast or a snack.
And this recipe is completely customizable as well so if you want to add in more or less of something, feel free to do so! For example, if you like cookies on the sweeter side, add in more chocolate chips or maple syrup.
This is a great base recipe to start with, and you can tinker around with it more to your liking! So, if you're like me and crave something sweet and pumpkin every single weekend in the fall, try these yummy and healthy cookies out instead!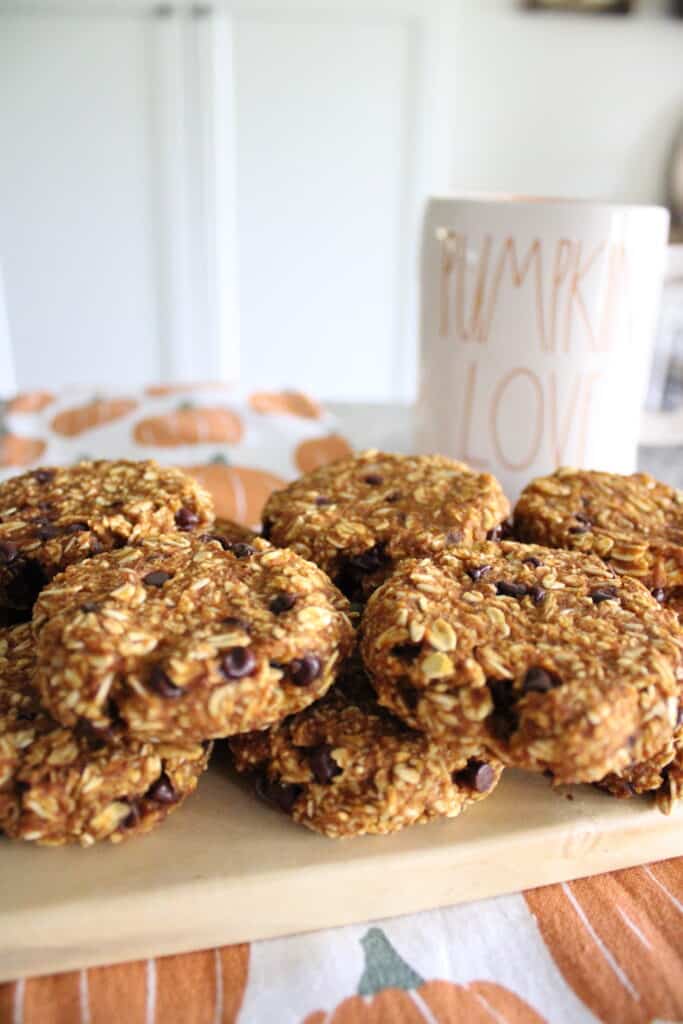 This post contains affiliate links, which means I make a small commission off anything you purchase through here, at no additional cost to you. Please read my full disclosure policy for more details.
Ingredients Needed For Healthy 4 Ingredient Pumpkin Cookies
2 1/4 cup rolled or quick oats (I used quick oats)
1 cup pure pumpkin puree, not pumpkin pie filling
3 TBSP maple syrup
2 tsp pumpkin pie spice
1/4 cup milk chocolate chips or white chocolate chips, totally optional, but recommended if you want a sweeter cookie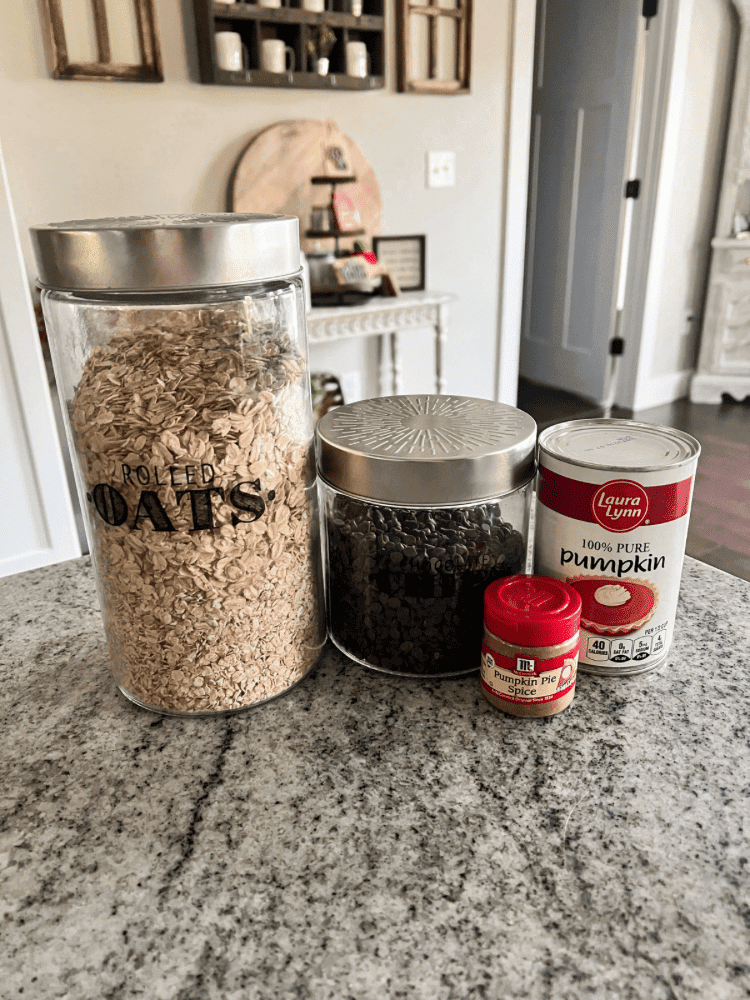 How To Make Healthy Pumpkin Cookies
Like I mentioned above, this is the easiest pumpkin cookie recipe you could make! All you need to do is combine the quick oats, pumpkin puree, maple syrup, pumpkin pie spice, and chocolate chips into a large bowl. I used my KitchenAid Stand Mixer for this since it does create a dense cookie dough. You could also use a hand mixer for this as well if you wanted.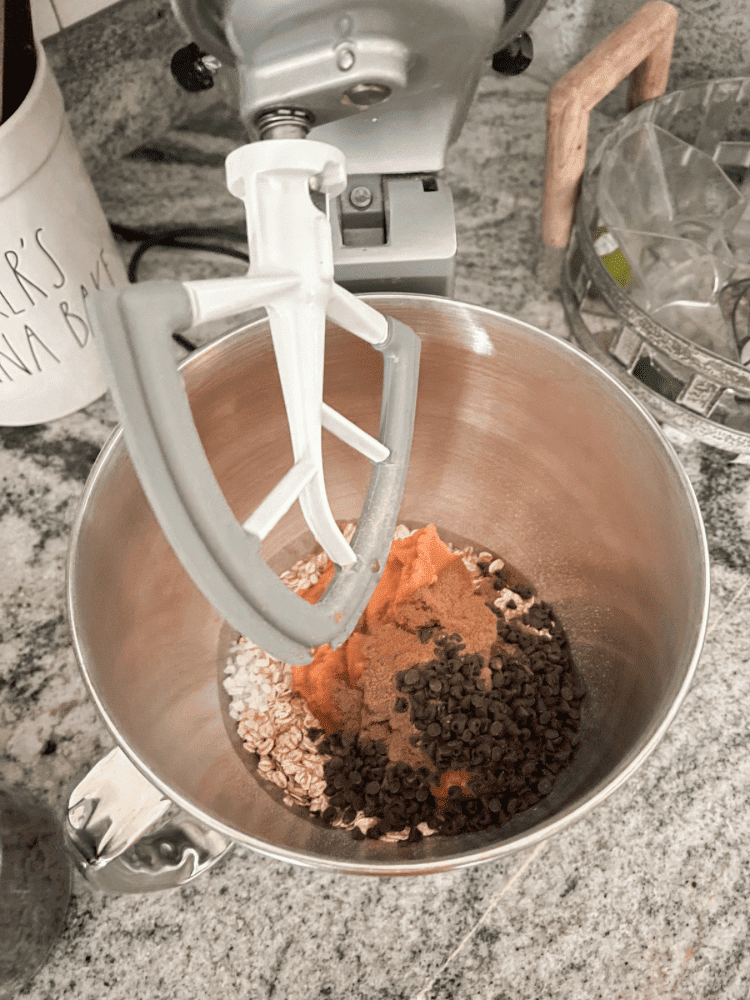 Then, you just take the dough and make cookie scoops to the size of cookie you want. I made rather large cookie sizes and it gave me a total of 12 cookies from this batch. But if you wanted to do a small cookie scoop, and make more of a mini pumpkin cookie, you could definitely do that too.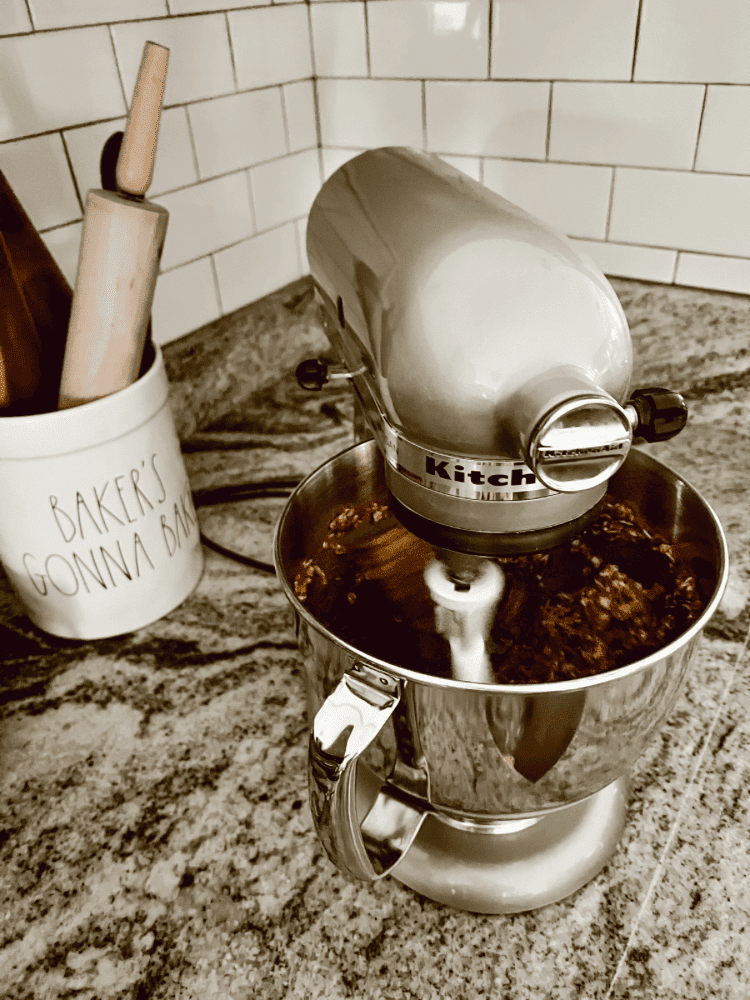 I rolled the scoops into balls and then placed them down on a baking sheet. You can place them directly on the sheet, or line with parchment paper. However, I used my Caraway Home Baking Sheet for this, and I never have any problems with cookies sticking to the sheet! They are the best baking pans ever!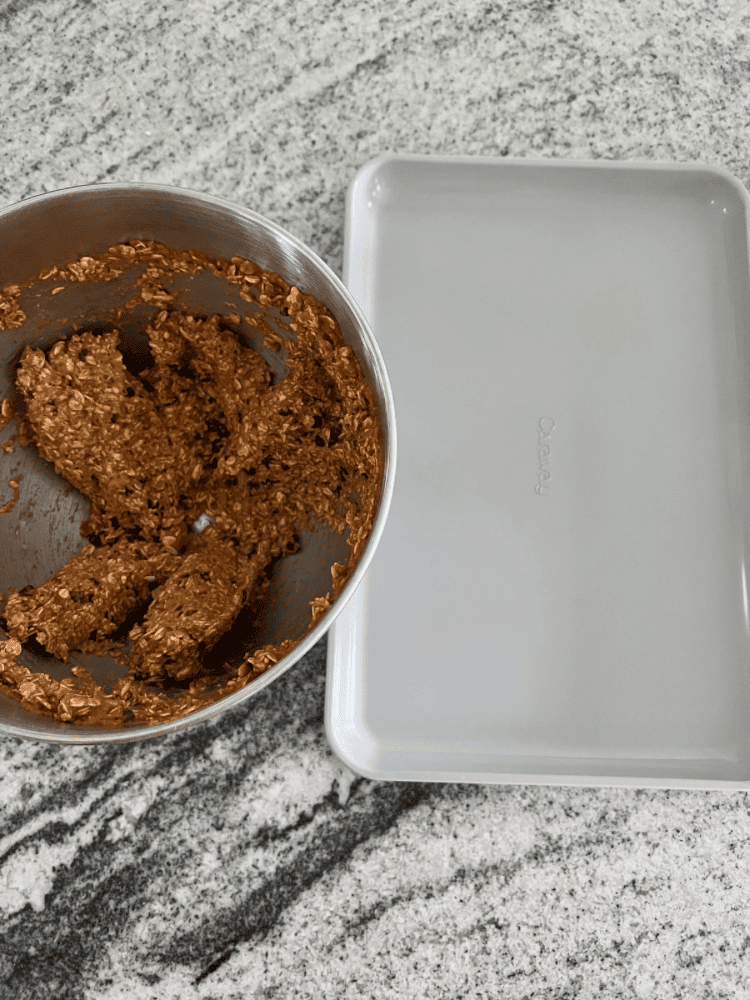 Also, be sure to press the top of the cookies down into more of a flat shape before baking too. These cookies don't spread or anything while baking. So they maintain the cookie shape you make when you first place them in the oven.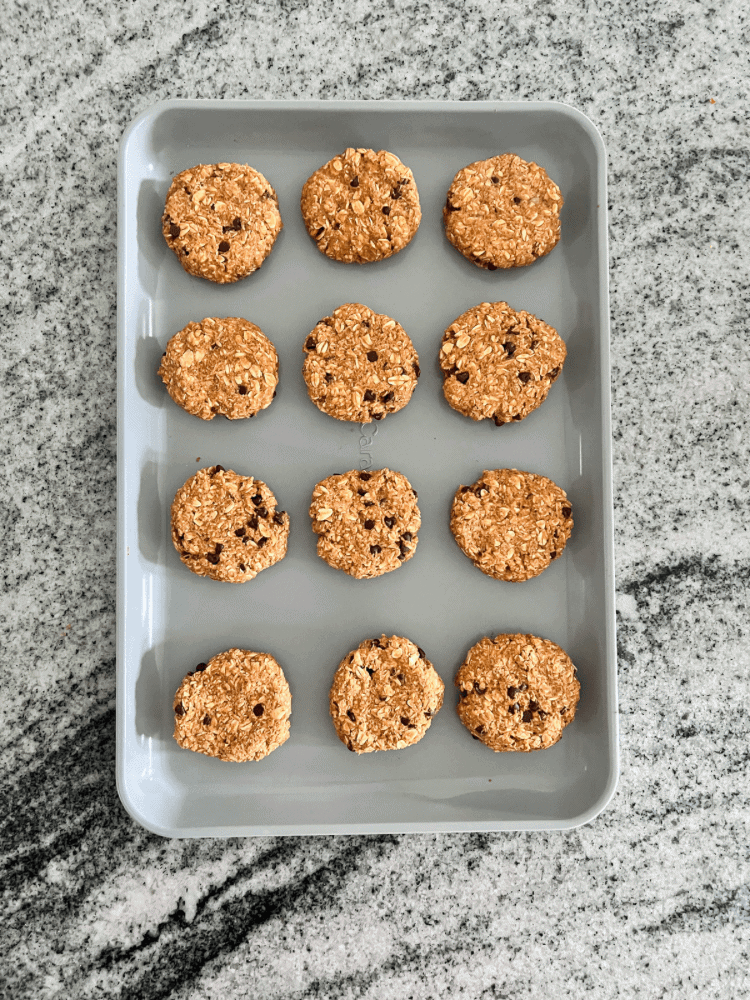 ​Bake The Pumpkin Cookies
While you are making the cookie recipe above, be sure to preheat your oven to 350 degrees. Then, once you have these easy pumpkin cookies assembled, place them in the preheated oven for 9-10 minutes. I did mine for just 9 minutes because I like more soft cookies, but again, it's totally up to you!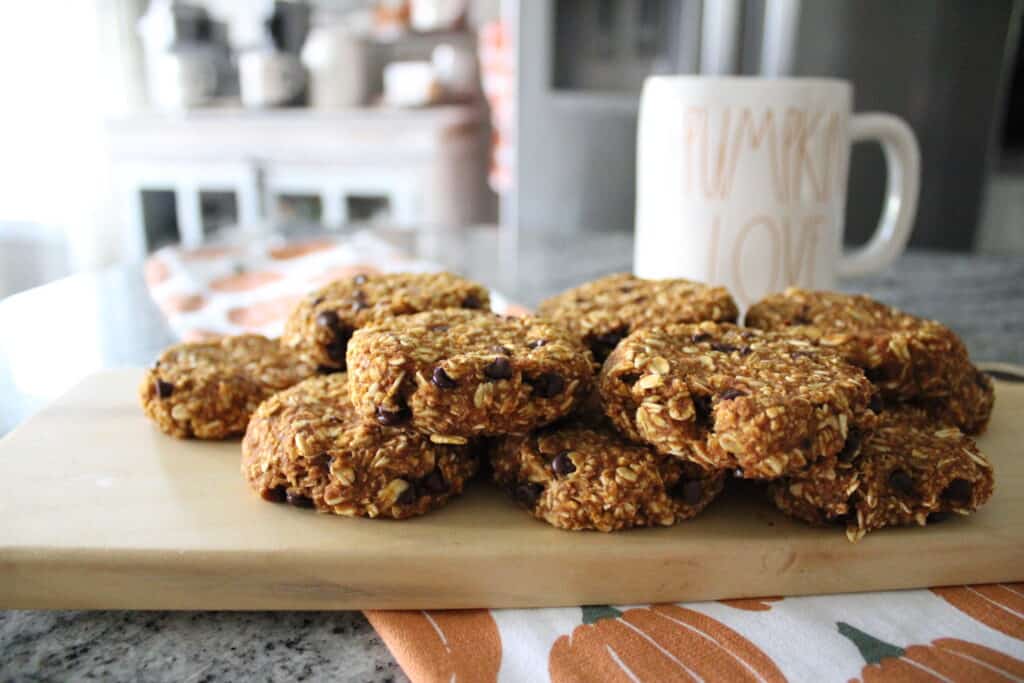 Remove cookies from cookie sheet. And then, let cookies cool completely on wire rack before enjoying! Also, to store leftover cooled cookies, you can place them in an airtight container at room temperature for 3 days. Or place in an air-tight container in the fridge for up to a week.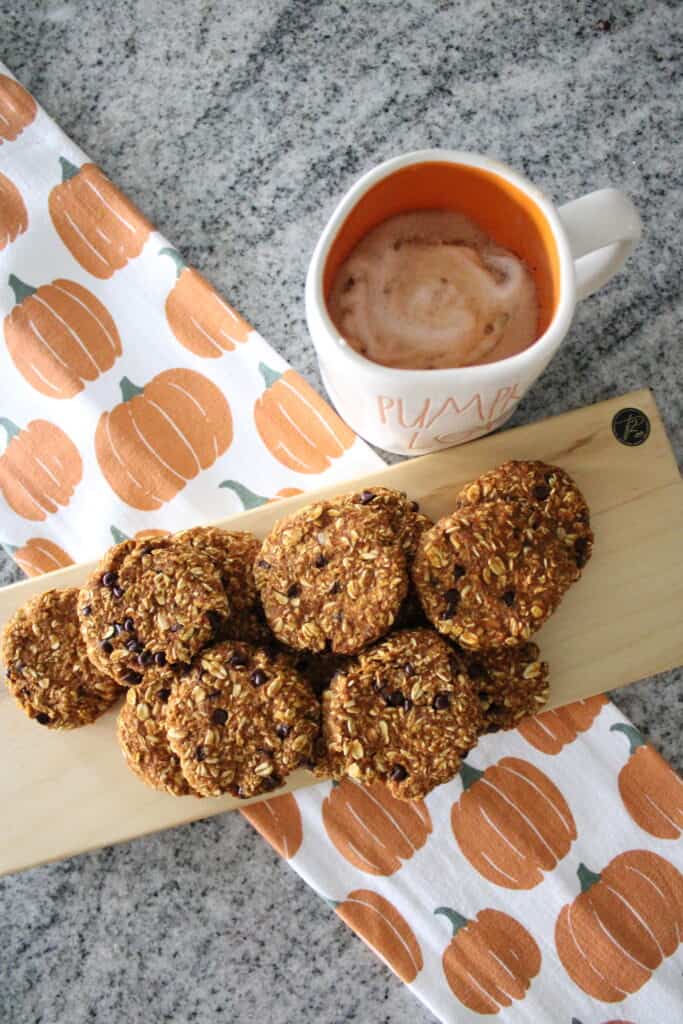 ​And, if you want to freeze the cookies, place the cookies in a freezer bag, and store for up to 3 months! That way, you can enjoy these pumpkin chocolate chip cookies whenever you want! Just pop them in the microwave to defrost them and you're good to go!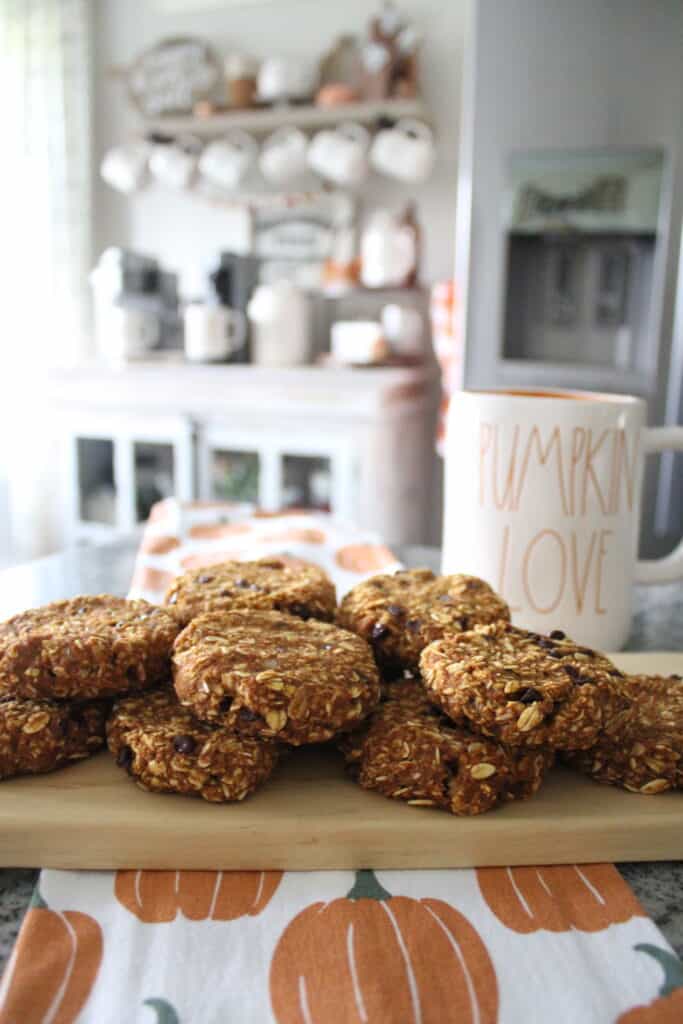 ​Enjoy Your Delicious Cookies
I hope you enjoyed this recipe for yummy soft pumpkin cookies! Let me know if you try them out and what you think of them! And since we are coming up on the pumpkin season, get ready for all things pumpkin coming your way!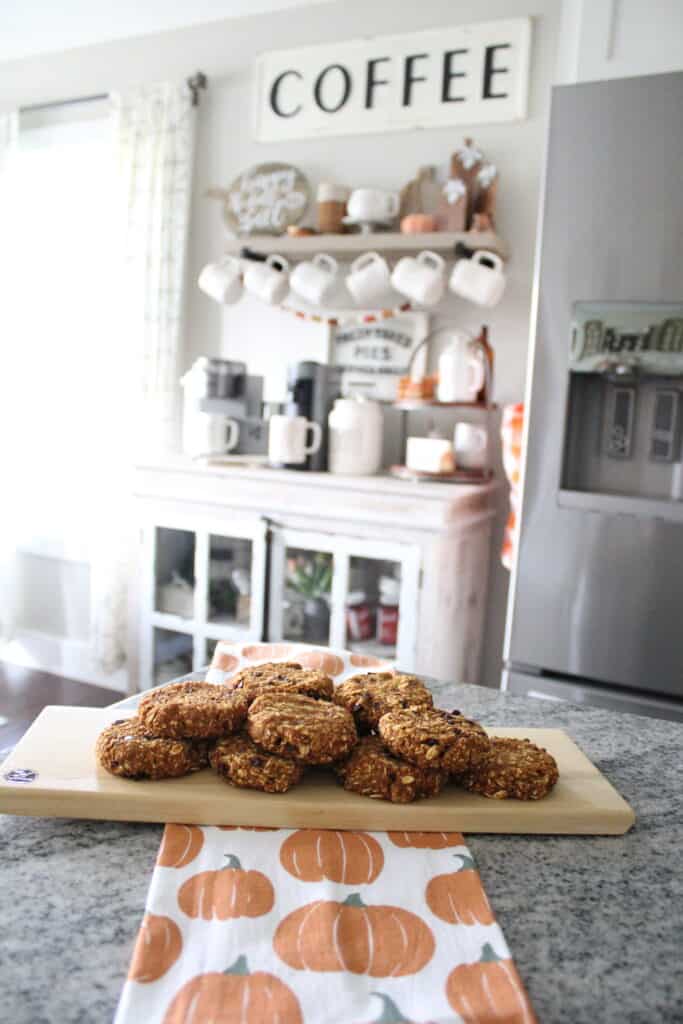 Plus, be sure to check out my recipes I have shared in the past too. Such as my delicious pumpkin bread with cinnamon sugar topping. Or my other pumpkin desserts such as pumpkin pie bars with maple cinnamon topping, and Paula Deen's Ooey Gooey Pumpkin Cake. Which is easily made from just a box of yellow cake mix and a can of pumpkin puree!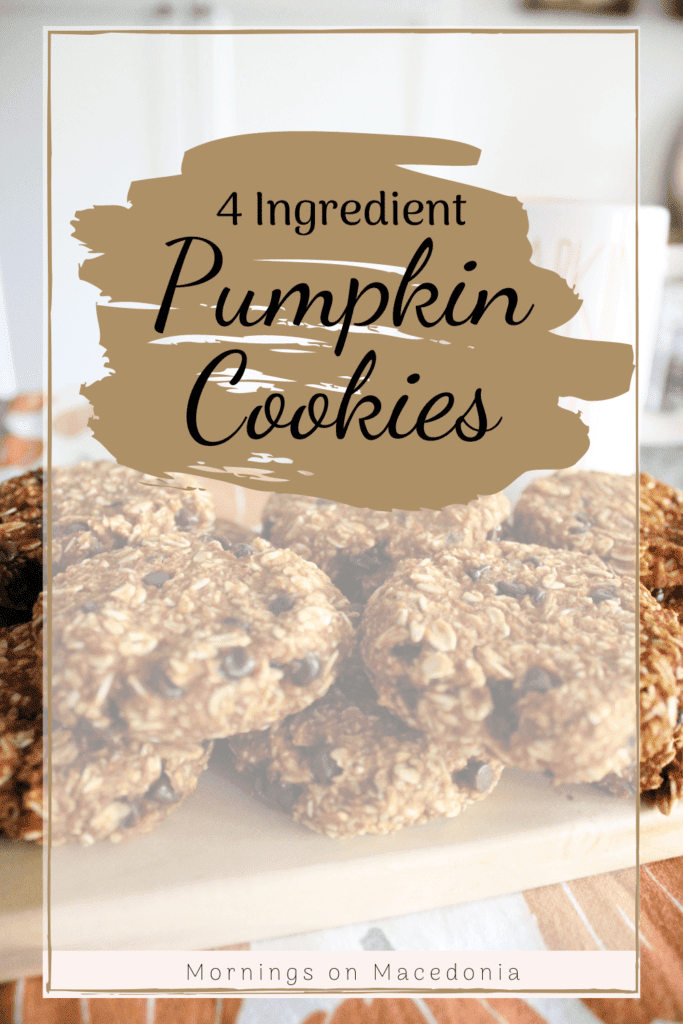 And definitely stay tuned for more yummy pumpkin recipes coming your way this season too! I think the best part of fall is the delicious flavors it brings! And let me know how you like these Healthy 4 Ingredient Pumpkin Cookies below too!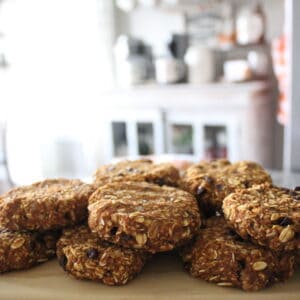 Healthy 4 Ingredient Pumpkin Cookies
Ingredients
2 1/4

cup

rolled or quick oats

1

cup

pumpkin puree

not pumpkin pie filling

3

tbsp

maple syrup

2

tsp

pumpkin pie spice

1/4

cup

chocolate chips

optional but recommended for a sweeter cookie
Instructions
Preheat oven to 350 degrees.

Combine all ingredients listed above into a stand mixer and mix until well incorporated.

Roll cookie dough into balls and place onto baking sheet. Press down on cookie dough to flatten them into cookie shapes. Dough will not spread when baking so the shape you make before baking them will stay. I made 12 large cookies with this recipe.

Bake for 9-10 minutes. I did mine for a total of 9 minutes.

Let cool on wire rack for a few minutes before enjoying or storing them. Place in airtight container for up to 3 days. Or in the fridge for up to a week. You can also store leftover cookies in a freezer bag in the freezer for up to 3 months as well!