This Spring, we decided to do a screened in porch refresh! We wanted a new vibe and color scheme out here and I am very pleased with how the end result came out!
We kept the same patio furniture, and just added a few new pops of color here and there with a rug and some pillows. Sometimes it's good to switch things up.
And it really gave our porch new life. I am definitely looking forward to spending more time out here when the weather finally warms up!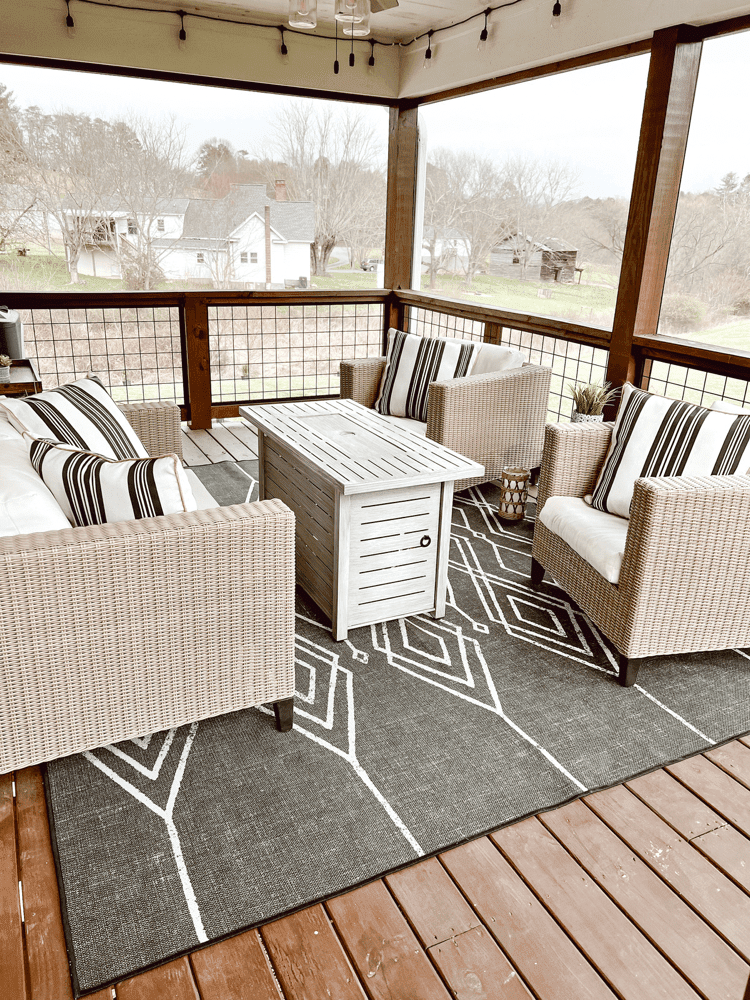 This post contains affiliate links. Click here to read my disclosure policy.

The Before
If you've been around here for awhile, then you may remember what our screened in porch looked like before. It had a burnt orange color scheme going on, since that is what the color of our exterior door was.
But, our rug had seen better days. It was starting to stain and discolor and honestly we were just ready for a change!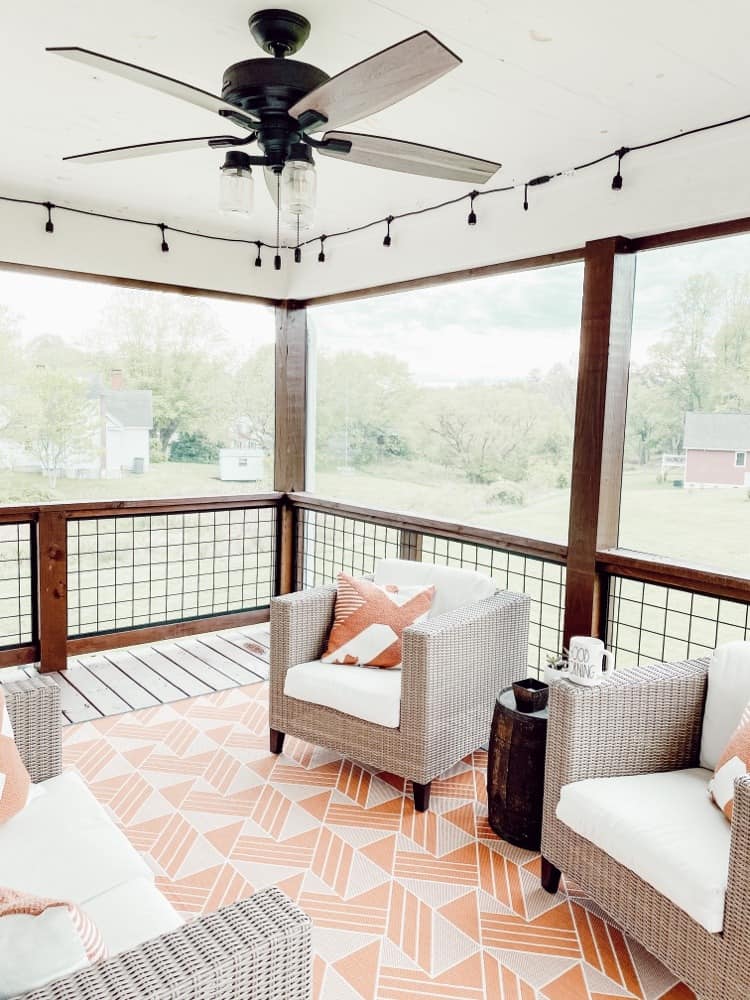 The pictures above were taken a few years ago, so everything is still looking pretty good here. But, more recently was when we noticed more staining on the rug and the pillows.
And the main reason for the change is that we also wanted to paint the exterior of our door a different color too.
We were leaning towards a sage green color and I didn't think the current burnt orange color would flow well with that. So we decided to go for a more neutral vibe instead.
That way, no matter what color we decided to paint the door, it would all go nicely together!
New Rug
I think the biggest difference in our screened in porch refresh, was the new rug! I absolutely love it, and here is the best part- it's WASHABLE!
Can it get better than an outdoor, washable rug?! I think not. Especially since that was our main concern with the last rug we had.

I got this rug from Ruggable and they were even nice enough to give me a coupon code for you all to use. Just use "CHARITY10" to get 10% off any rug your heart desires.
I have a couple of their rugs inside my home too and I just love them. The quality is amazing and the fact that I don't have to worry about spilling anything on them and staining them, just takes a weigh of my shoulders as well!

There were many rugs to choose from, but I ultimately decided on the Gemma Lattice Black Rug. I will say it has more of a faded black color in person.
So it's not like a starch or true black. Which is nice because I didn't want it too look too harsh out here. This specific rug also comes in several other colors too. So if you're looking for another color, they have you covered!

New Pillows
To go along with the new rug, we had to grab some new pillows as well. This was the next step to our screened in porch refresh. I looked around at several stores before I finally found the perfect ones.
Surprisingly I found them at Lowe's Home Improvement.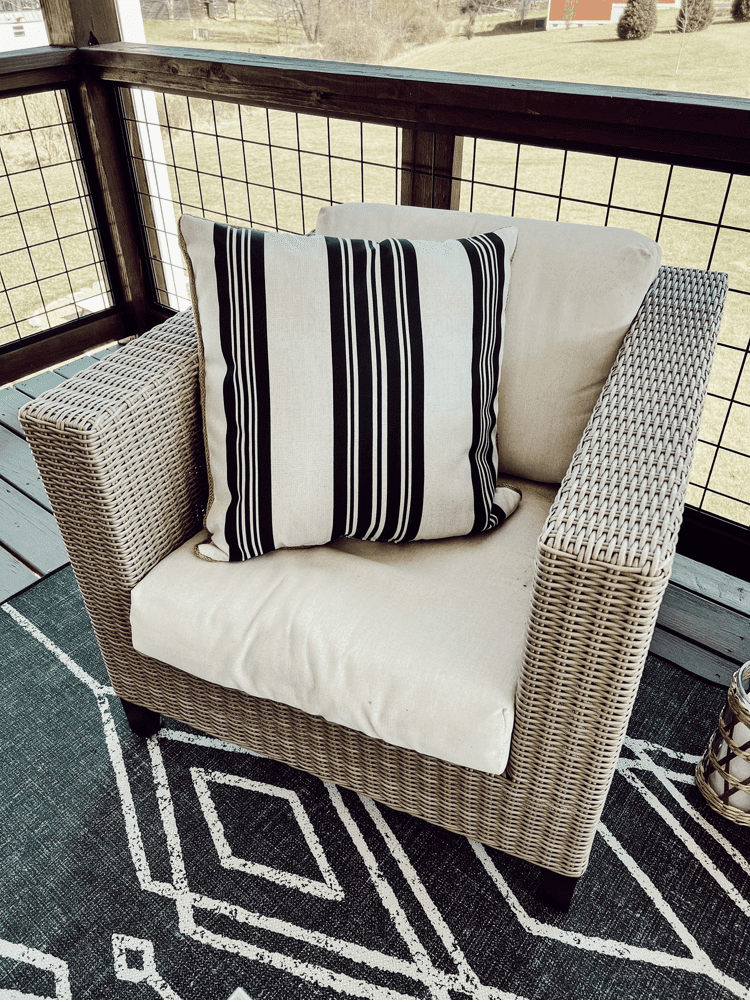 They are a nice, oversized size and again have the black color scheme going on.
And I love the fact that they have a twine braiding around the seam of them too. It gives them just the right amount of texture!
Other Screened In Porch Accessories
We also have a bar cart out here that I love to style. In the summer, I love to have a lemon theme going on with some fresh lemonade available for sipping.
But, it's still a little too early for that, so I just shopped our home for some accessories to style it with.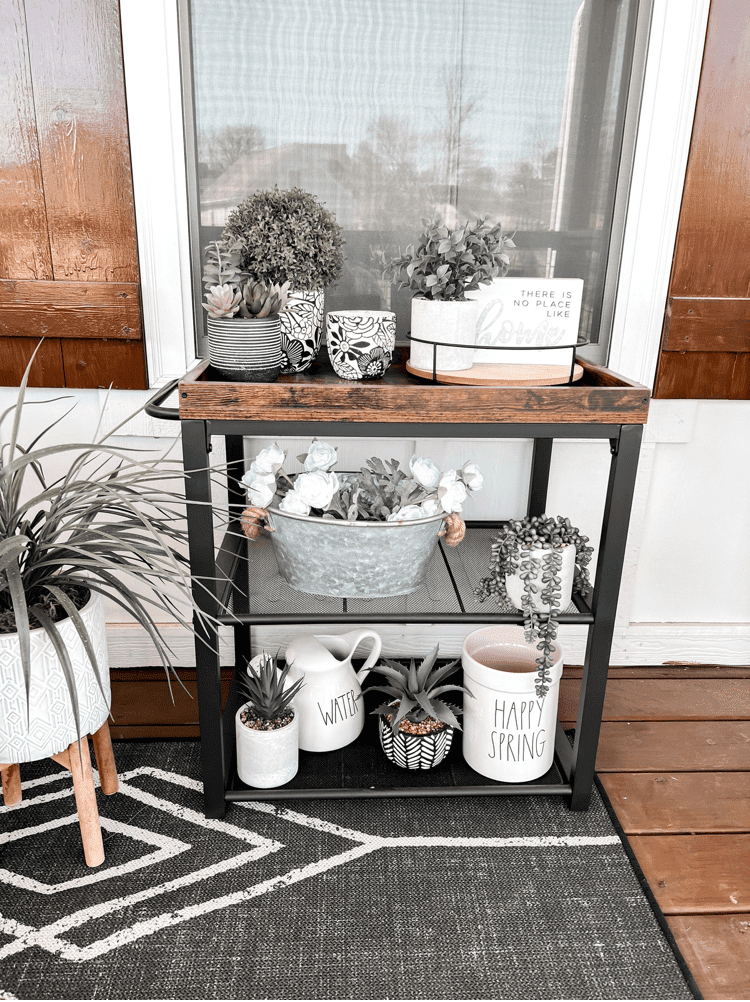 I went with a fresh theme that includes the black and white color scheme we have going on. As well as several pops of greenery from faux plants.
For some reason, real plants never do well on my screened in porch. They always die or get infested with bugs! But, on my front porch, they always thrive. So I am not sure what the issue is.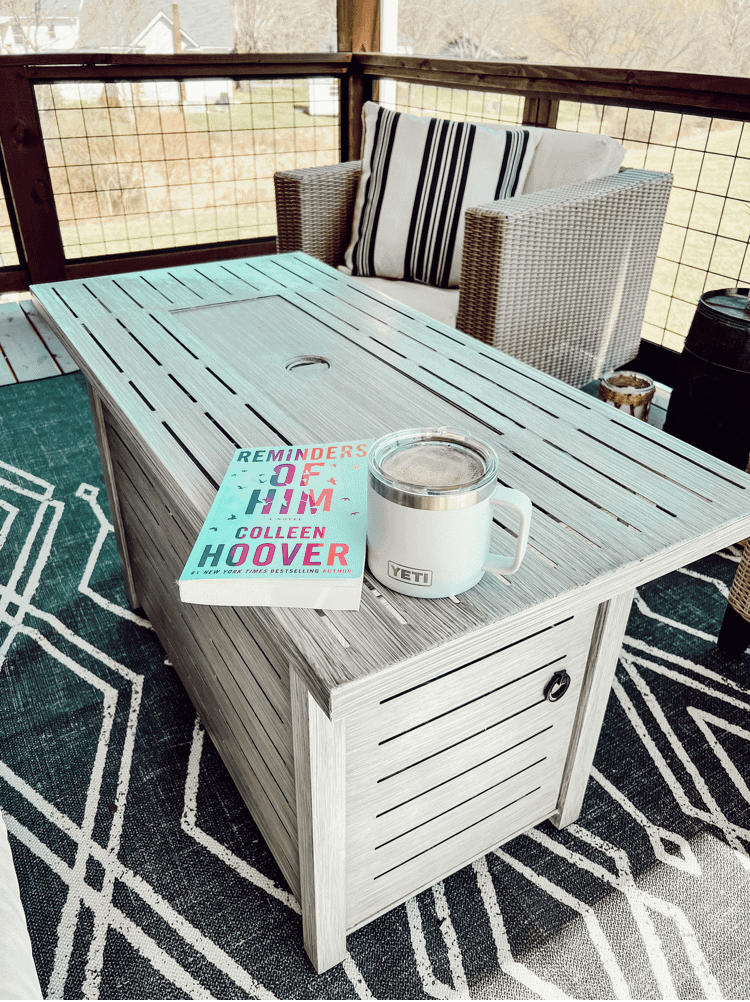 Another thing that I absolutely love on our screened in porch is our gas fire pit. We have used this thing SO MUCH! And it's ideal since sometimes spring can be a little chilly!
We have even used this late into the fall too when it starts to get a little cold out. So having one of these has really extended our outdoor living time, no matter what the weather is outside!

Also, this may be a little extra, but that Honeywell Air Cooler pictured above is another must have for the screened in porch.
Especially during the heat of the summer! It keeps us cool and comfortable and although, we don't have to use it right now, I can't wait for when we do!
Final Thoughts
I am just dying to get out here and enjoy our screened in porch refresh!
But ironically, the weather is calling for snow flurries this weekend so I think I am just going to have to wait a tad bit longer to fully appreciate this space!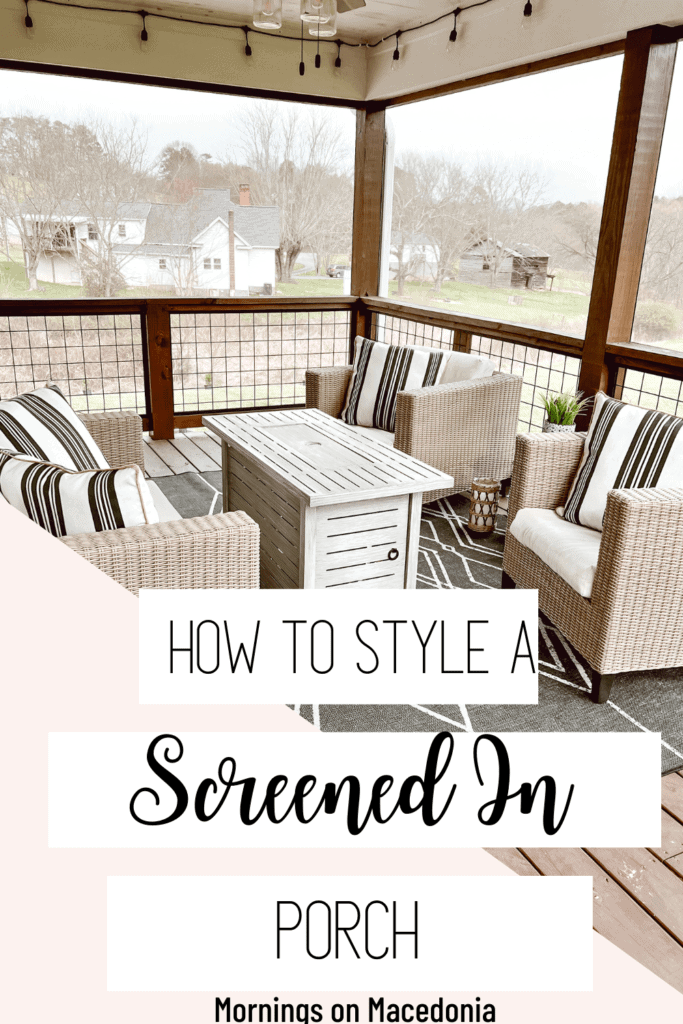 What are your thoughts on how this refresh turned out?! Do you love it just as much as I do?! Let me know below!