I thought it would be fun to share with you all a little tour of my Christmas front porch this year! I shared all about my Christmas porch last year, so I thought it needed to be shared again this year since I did a few things different!
I absolutely love decorating my front porch for every season and just because it is cold outside now, doesn't mean I don't decorate it! We even enjoy bundling up and going outside with a cup of hot cocoa to look at the pretty lights. It's just the magic of the season!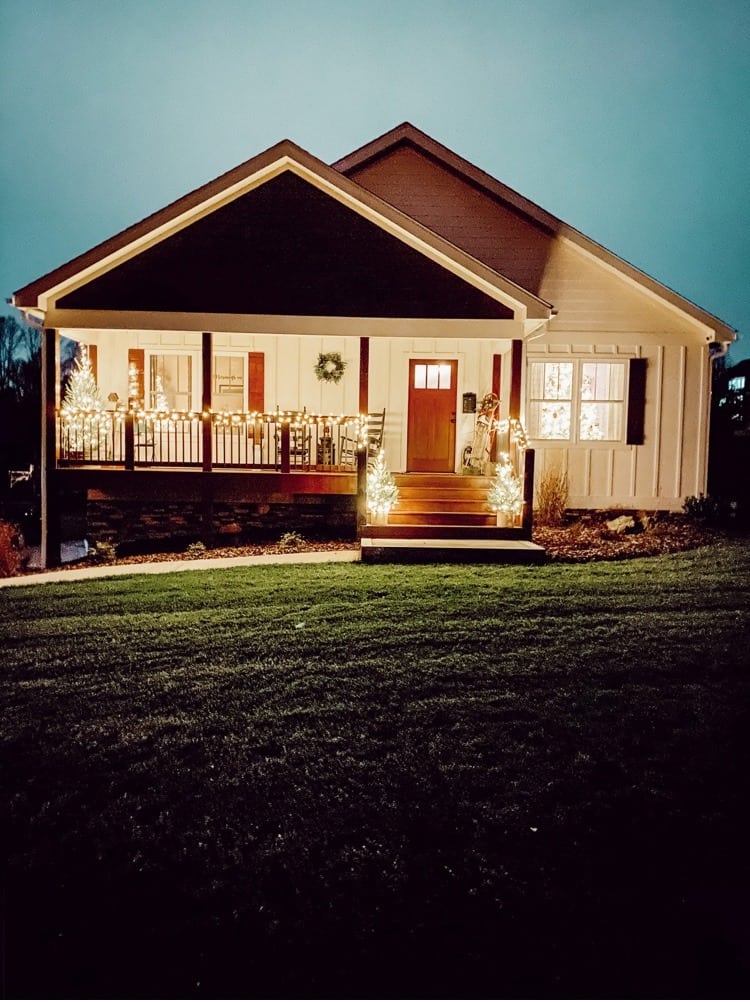 This post contains affiliate links. Click here to read my disclosure policy.
Adding Lights To The Porch
Can you believe that this is the very first year that we've added Christmas lights to our porch?! I always beg my husband every year to put up some lights and every year we get too busy to actually do it, except this year!
I figured 2020 has been rough on us all, so why not add some more Christmas cheer to the porch?!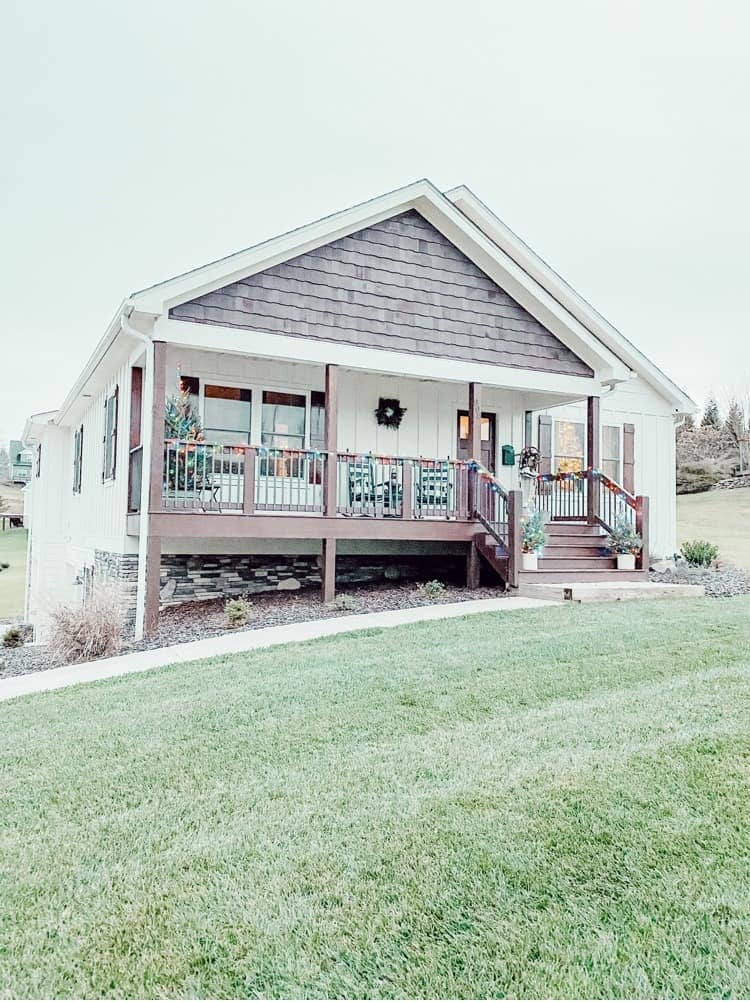 We got these cool outdoor lights that switch between white and multi colored too. Whatever your mood is, you can change them back and forth which I think is so cool.
We also have them set on a timer to go off and on every night so we don't have to worry about going outside in the dark and cold to unplug them.
I highly recommend this! It makes it so much easier this way.

Real Christmas Trees
I am so excited that this year we got our very first real Christmas trees for the porch! We've been married for four years now and we have never actually gotten a real tree.
We have always used artificial trees. But I am so glad we changed it up this year and put some real trees on the porch!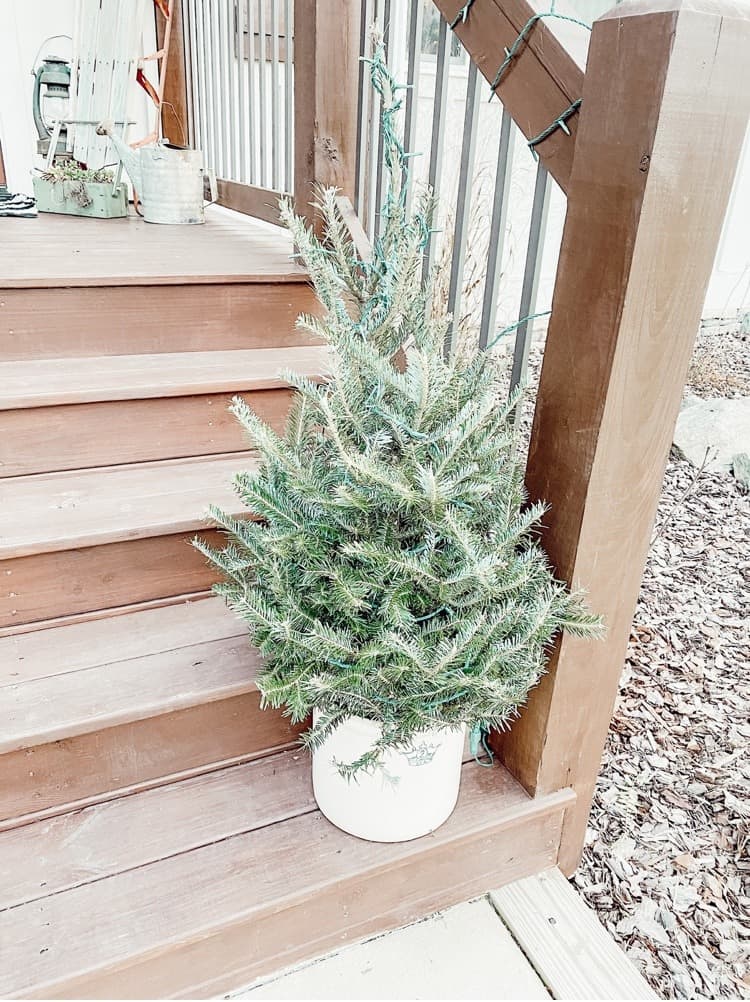 I put the mini four foot trees in my vintage crocks, you may remember I did the same thing during the fall with my mums too (see my fall porch tour if you missed it!).
They came with a little base with them and they were a tad too wide to fit in the crock. But thankfully my hubby was able to saw enough off around the edges to make it a perfect fit!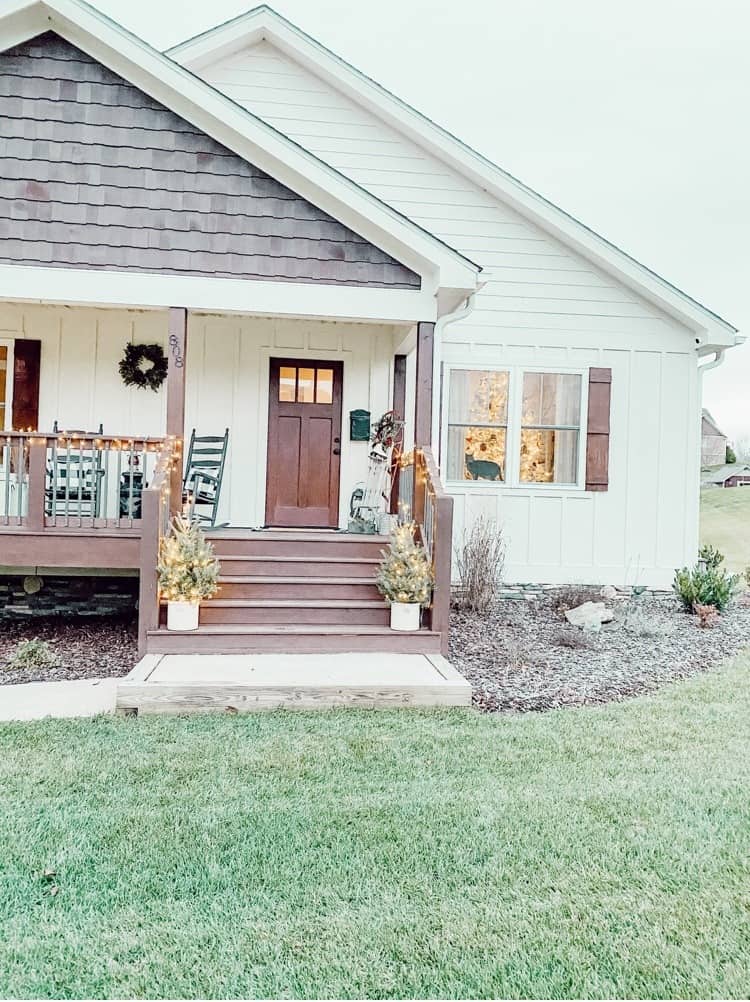 Then, we got a real six foot tree to put in my vintage galvanized metal bucket. This is the same bucket that I used for DIY Herb Garden I did back in the spring as well.
I love the vintage look and feel to placing the tree in an old container like that.
Unfortunately, the tree base we got for this tree is also a little too big, so we ended up having to tie the tree around the porch banister with some twine to give it a little extra support because it kept falling over in the wind.
However, that was an easy fix to the problem!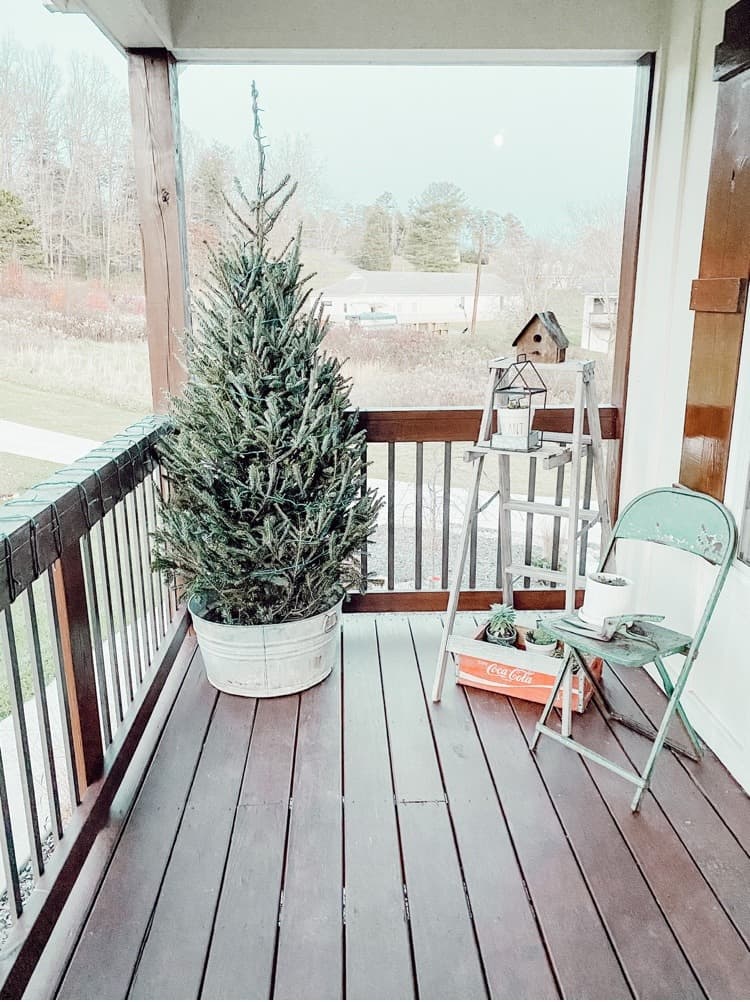 Other Christmas Porch Details
As you can see in that picture above, I used my old Coca Cola crate to display some of my succulents since they are still surviving during the winter.
I also used my old rusty green chair to display some more plants and vintage garden items as well. I'm happy that I had these vintage red and green pieces to keep up with the Christmas theme on the porch.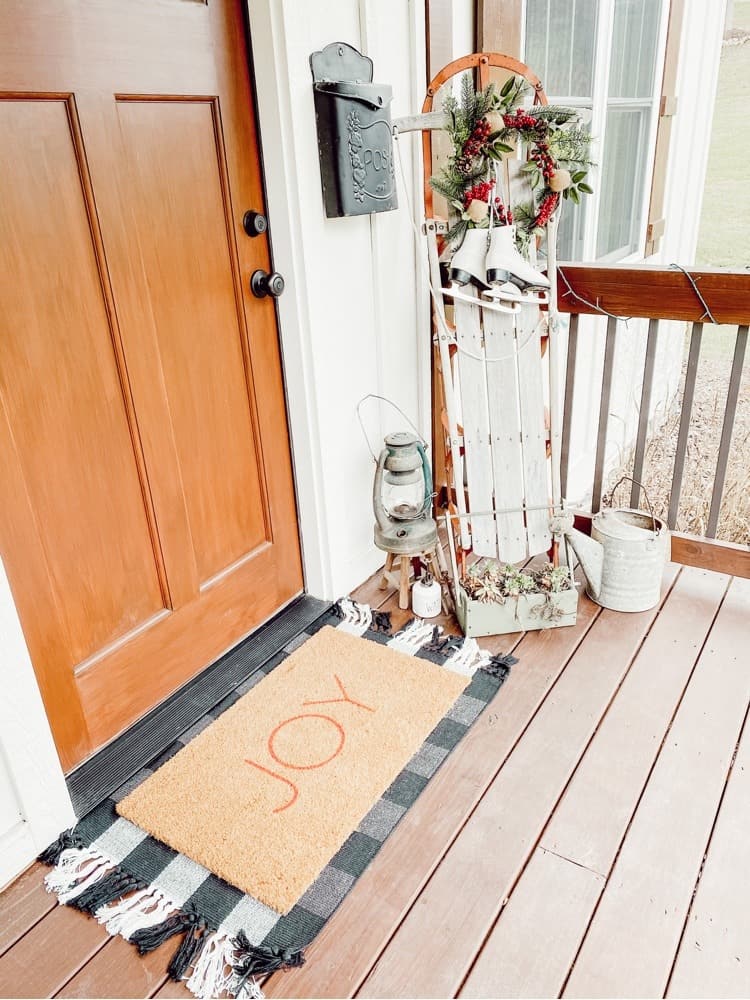 If you remember my vintage sled from last year, I used it again to display by my front door. I just love the way it looks with my ice skates and wreath.
I got this piece from my mother in law so it is very special to me since it has been in the family for years! I also reused my Christmas door mat from the Hearth and Hand collection at Target.
End of Christmas Porch Tour
Well, I hope you guys enjoyed my Christmas porch tour. It's nothing too fancy, but I hope it gives you enough inspiration to decorate your porch a little too this year.
Tell me, do you normally decorate your porch too? Or do you just keep all the decor for inside? Let me know below!