With Valentine's Day quickly approaching, I thought it would be ideal to share the perfect seared filet recipe. We usually love to just have a romantic dinner in, and seared filet is our go-to.
In fact, this recipe is so good we hardly ever go to a fancy steakhouse like Ruth's Chris anymore. Because it's easier (and cheaper) to make at home and it tastes just as good!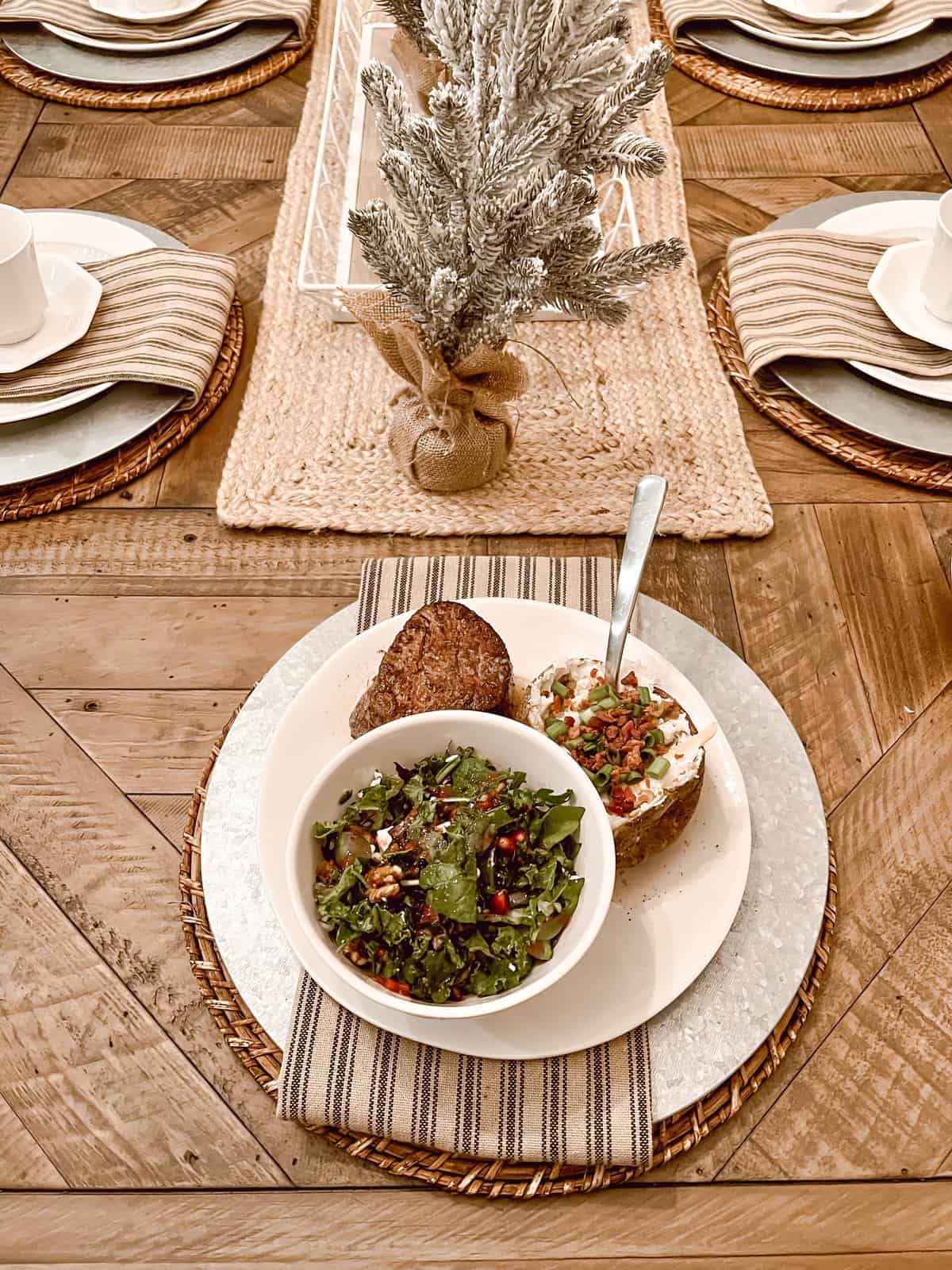 This post contains affiliate links. Click here to read my disclosure policy.
The Essentials When it Comes to Searing a Filet
First, you need to find a good, quality piece of meat. That's why I recommend a filet cut. Sure, you could cook a sirloin the same way with this recipe, but trust me, it won't be near as good as a filet!
And even though a filet is a tad more pricer, it's worth it because you aren't going out to eat and spending a bunch of money that way instead!
Another essential when searing a filet- use a cast iron skillet. We recently started using a cast iron skillet, and let me tell y'all, it makes all the difference in the world!
It makes the crust of the filet perfectly crisp and seasoned. Definitely better than any other skillet I have used when making these filets.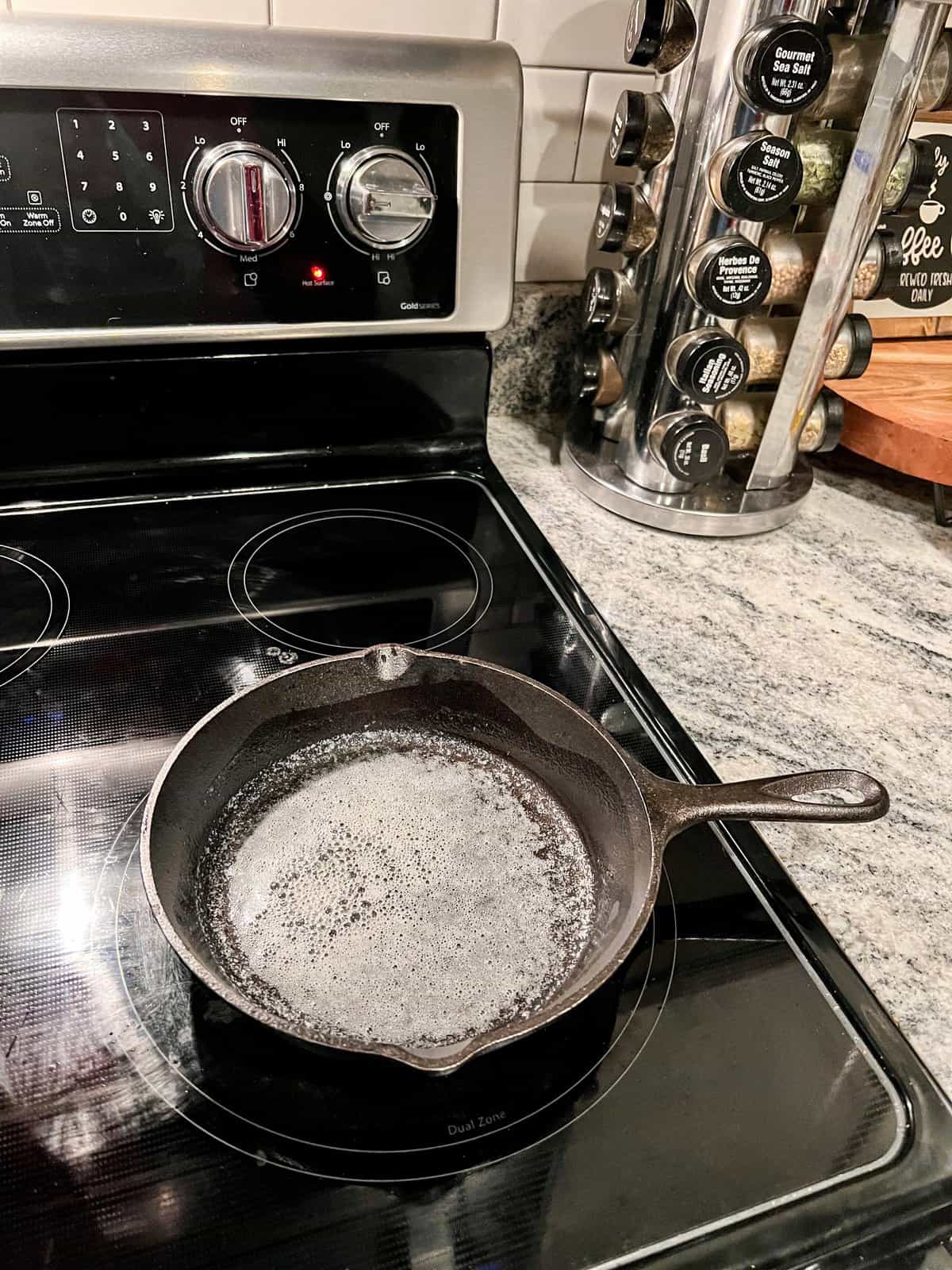 Lay out the filets 30 minutes prior to cooking them. Let them come completely to room temperature during this time and season them all over on both sides with salt and pepper.
You can do other seasoning if you would like, but I am telling you, just plain salt and pepper is where it is at!
Also, make sure your skillet is pipping hot before placing the filets in there. I usually put in about a tablespoon of oil. Then I wait until it is sizzling before adding the filets in.
How Long do I Sear and Cook the Filets?
The cooking times vary greatly depending on how thick your meat is. We usually sear one side of the filet on medium high heat for about 5 minutes and then flip it over to the other side.
That side, we don't sear as long since we place it in the oven right after. Usually we will sear it about 3-4 minutes and then throw it into a preheated oven at 425 degrees.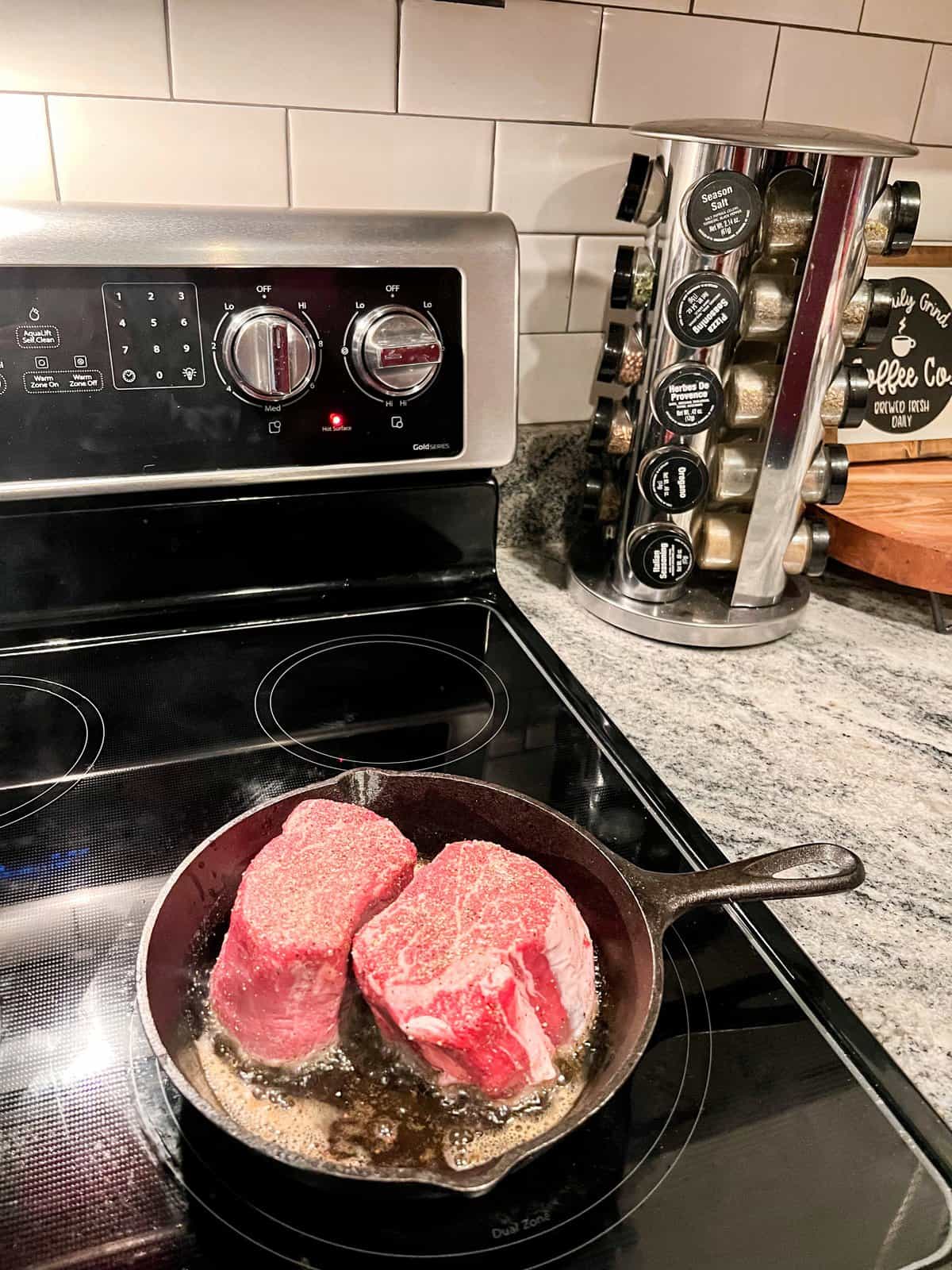 It is important to note that you should not move the filets around while searing them. Simply place them on the skillet and let it do its magic! You want it to have a nice blackened crust on each side.
And know, that just simply searing them is not long enough to cook them through. You will still see pink on the sides. We always throw them into the oven after searing to complete the cooking process.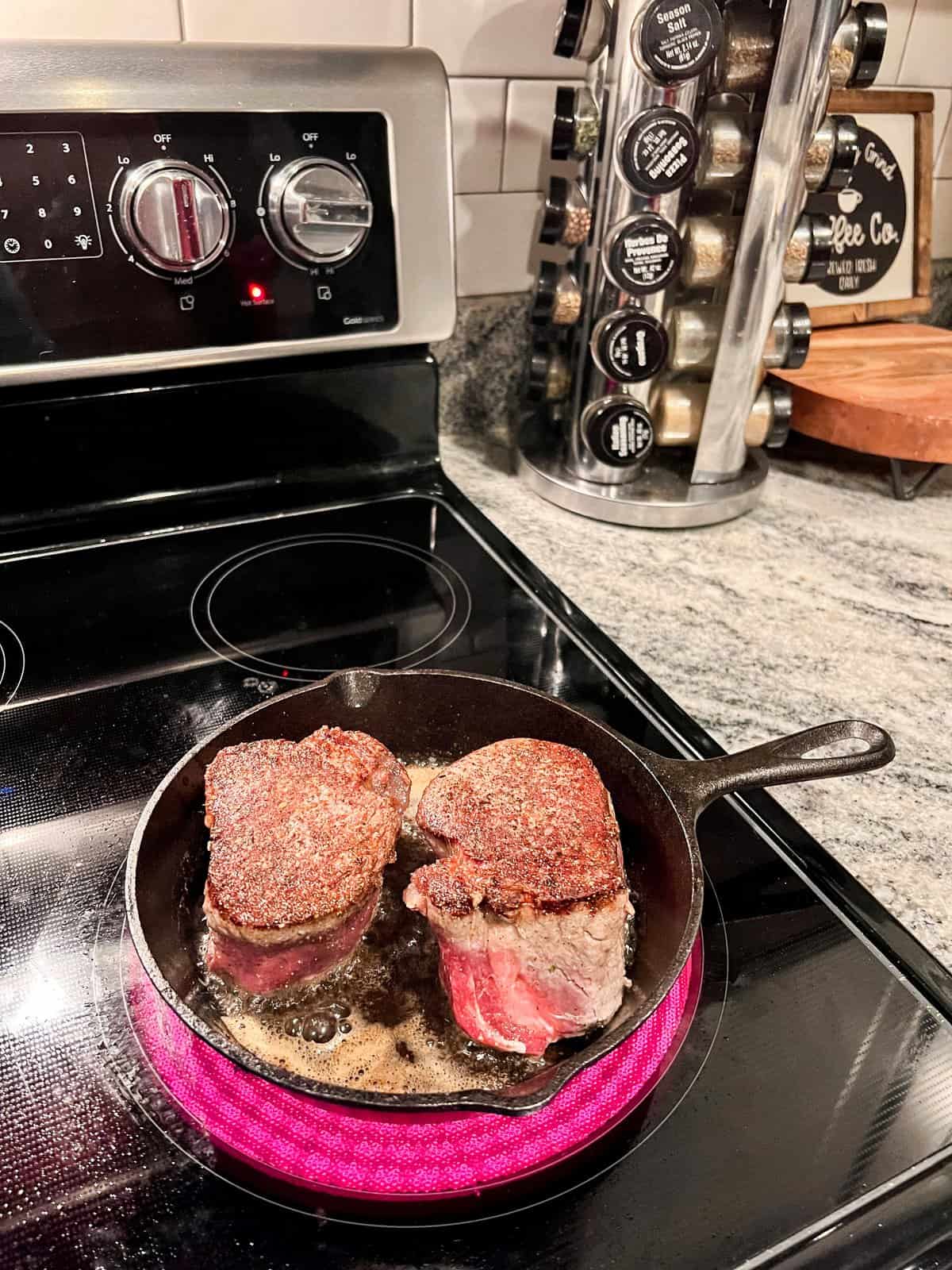 A good rule of thumb is to then cook them in the oven anywhere from 5-10 minutes, depending on how done you want them to be. We tend to adjust this as needed based on how thick our slices are.
For these particular cuts, I believe we placed them in the oven for a full 10 minutes after searing them because they were so thick.
Letting the Filets Rest
After cooking, place the filets on a plate tented with foil to keep them warm. Let them reset for about 5 minutes after before eating.
We also like to put a slice of butter on top and sprinkle some fresh herbs on there as well while the meat is resting.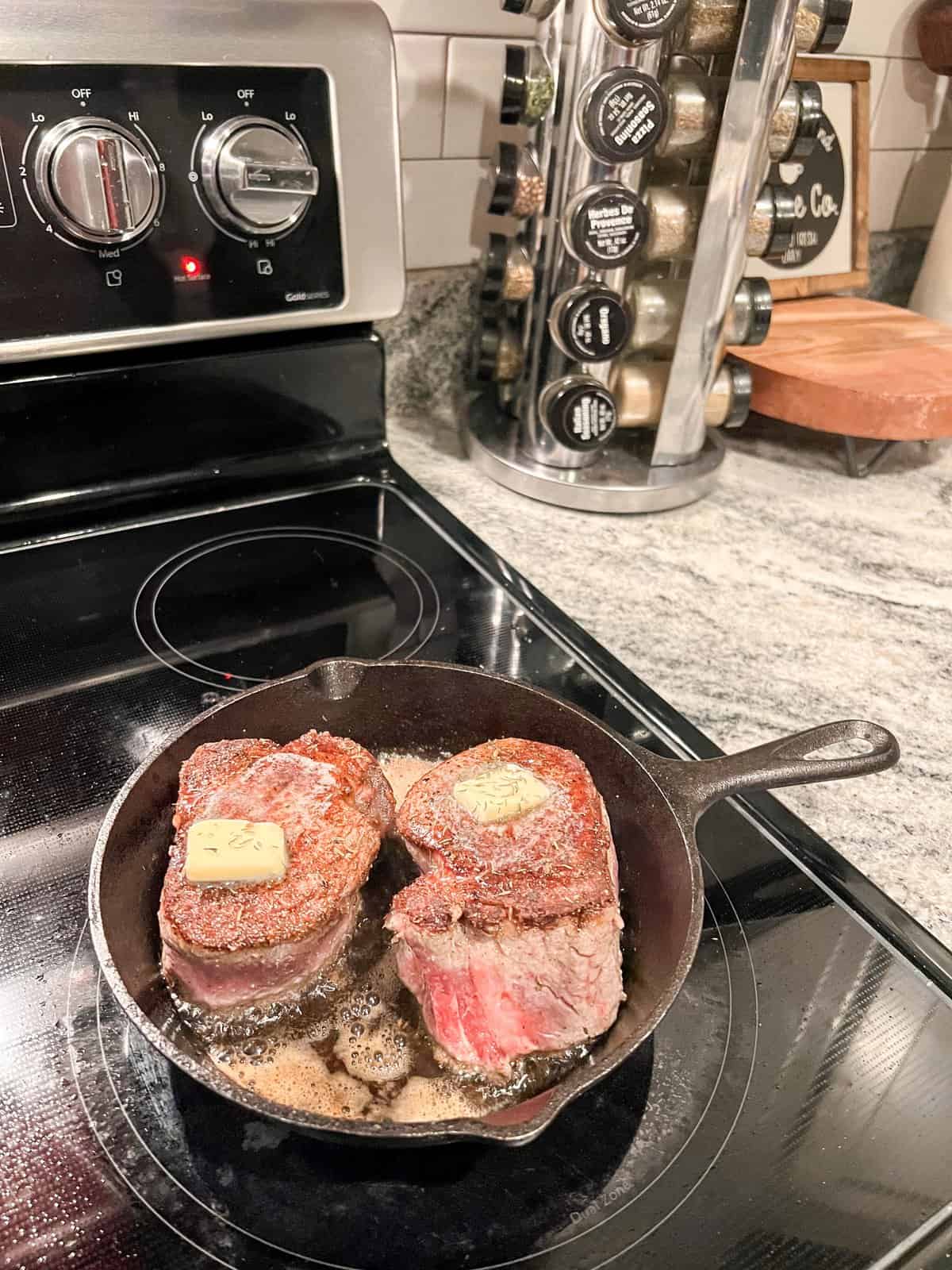 If you're wondering what pairs well with these filets, you have plenty of options. I usually love to make scalloped potatoes if I am feeling fancy. But a regular baked potato with all the toppings is always a great option too.
Another thing I like to make with them is roasted brussel sprouts with pecans and bacon with a balsamic glaze. You can get these delicious side dish recipes from one of my most favorite cookbooks, The Magnolia Table.

Trust me, after making this meal, you will make it again and again. It really is the perfect seared filet recipe. It never lets us down and gives us a wonderful, romantic dinner in every time we make it!
And, if you want something sweet to compliment them after for Valentine's Day, then check out my easy chocolate covered strawberries as well!
The Perfect Seared Filets
Ingredients
2

filet mignon steaks

1

tsp

salt

1/2

tsp

pepper

1

tbsp

olive oil

1

tbsp

butter

optional

fresh herbs

optional
Instructions
Take filets out from the fridge and lay them out to room temperature. About 30 minutes or so.

Preheat oven to 425 degrees.

Season filets with salt and pepper after they have came to room temperature. You can also press gently into the filets to make sure the salt and pepper adheres well. No reason to season the sides of the filet though.

Heat a cast iron skillet on medium high heat. Add the olive oil and let it get sizzling hot before adding the filets on.

Add filets and cook them for 4-5 minutes, without touching them or moving them around.

Flip filets over and cook them 3-4 more minutes, again without touching them.

Then, transfer filets into the preheated oven and cook for 5-10 more minutes, depending on how done you want them to be.

Remove from oven and let them rest on a plate for 5 minutes before serving. You can also add a slice of butter on top and some fresh herbs here if you would like.