Happy Valentine's Day my friends! I just love this day to celebrate those you love! Although, I have to say I wasn't a fan of it for a long time until I met my sweet hubby! And now, I always like to do something a little extra special for him on this day. I try to always do something that is handmade or homemade because I feel like it just gives your gift a little special touch. So a few years ago, I decided to make some chocolate covered strawberries for him and the tradition has stuck ever since.
And selfishly of me, I am a big chocolate covered strawberry fan too, so I may just make me a few to enjoy as well!
And don't worry if you don't have much time, these chocolate covered strawberries are so easy to make and literally only took me about 20 minutes this morning to prepare. That's why I like making these every year.
No matter what day Valentine's Day actually falls on, I usually have at least 20 minutes or so to whip these bad boys up! And since it's a no bake recipe, the clean up is beyond easy too. It's also so much more cost effective to make your own chocolate covered strawberries rather than buying them from a store.
I was grocery shopping last night and noticed just for a pack of six chocolate covered strawberries the price was $10! I got everything I need to make these for around that same price and it makes so much more! I hope you guys will give this a try and surprise your loved ones with a little homemade treat today!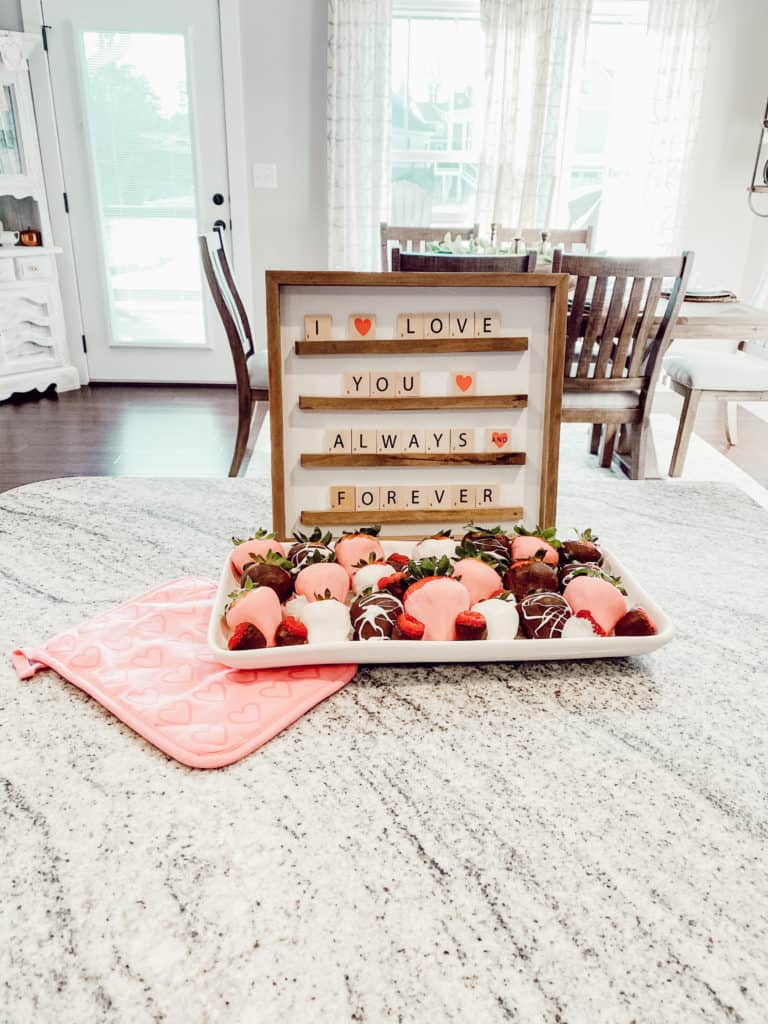 Ingredients:
Strawberries (I also like to dip raspberries as well, but that is totally up to you!)
Candiquik Coating (I used chocolate and Vanilla)
Wilton Candy Melts (I used bright pink)
Parchment paper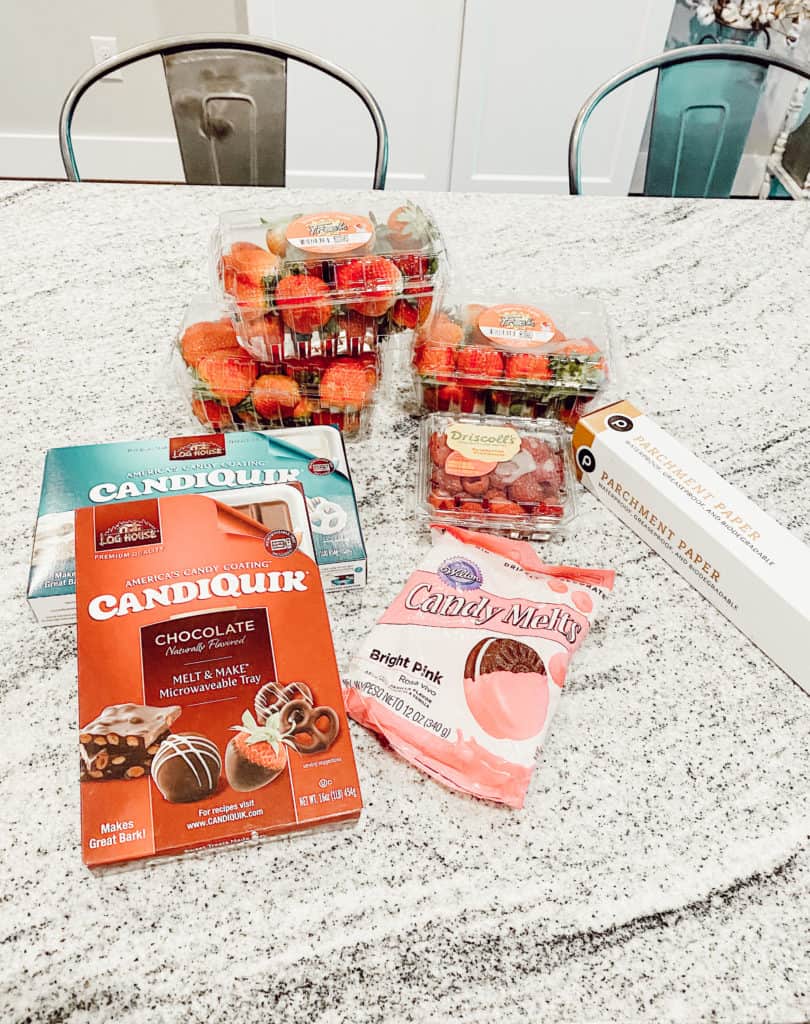 Directions:
So first of all you just need to wash all the berries that you will be using and then pat them dry. This step is important because you want to make sure the berries are very dry because the candy coating will adhere to the berries better.
Once the strawberries are washed and dried, time to start melting your chocolate! Always follow your package directions because yours may be different than the one I used.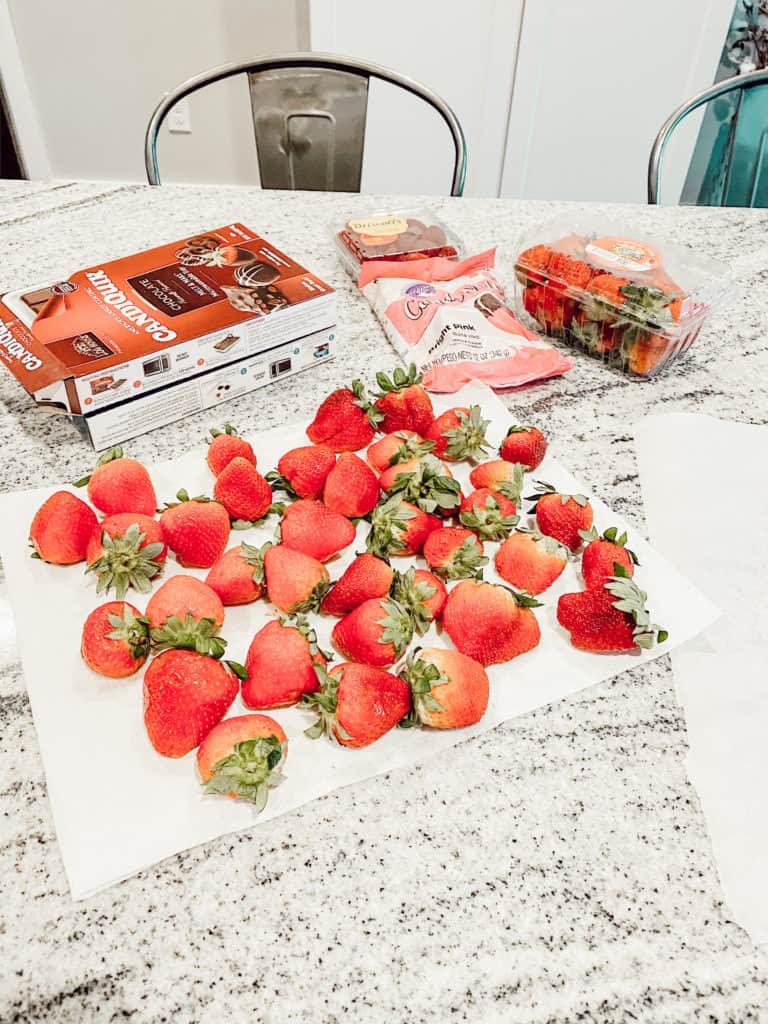 Best Chocolate to Use
I like the Candiquik Coating best because it comes in a microwaveable tray and that way you don't have to dirty up any dishes.
That is another reason why these chocolate covered strawberries are so quick and easy to make! I found them at my local Walmart and I am sure you can find them at any major grocery store.
You can also order them off of Amazon as well. After reading the directions, go ahead and melt your chocolate!
I also used some of the Wilton Candy Melts because I just loved the bright pink color. I mean you can never have enough pink for Valentine's Day right?!
I always get those at Michael's Craft Stores and they always have so many fun colors to choose from.
Unfortunately those do not come in a microwaveable tray, but I just used one bowl to melt them in so I guess it wasn't too bad!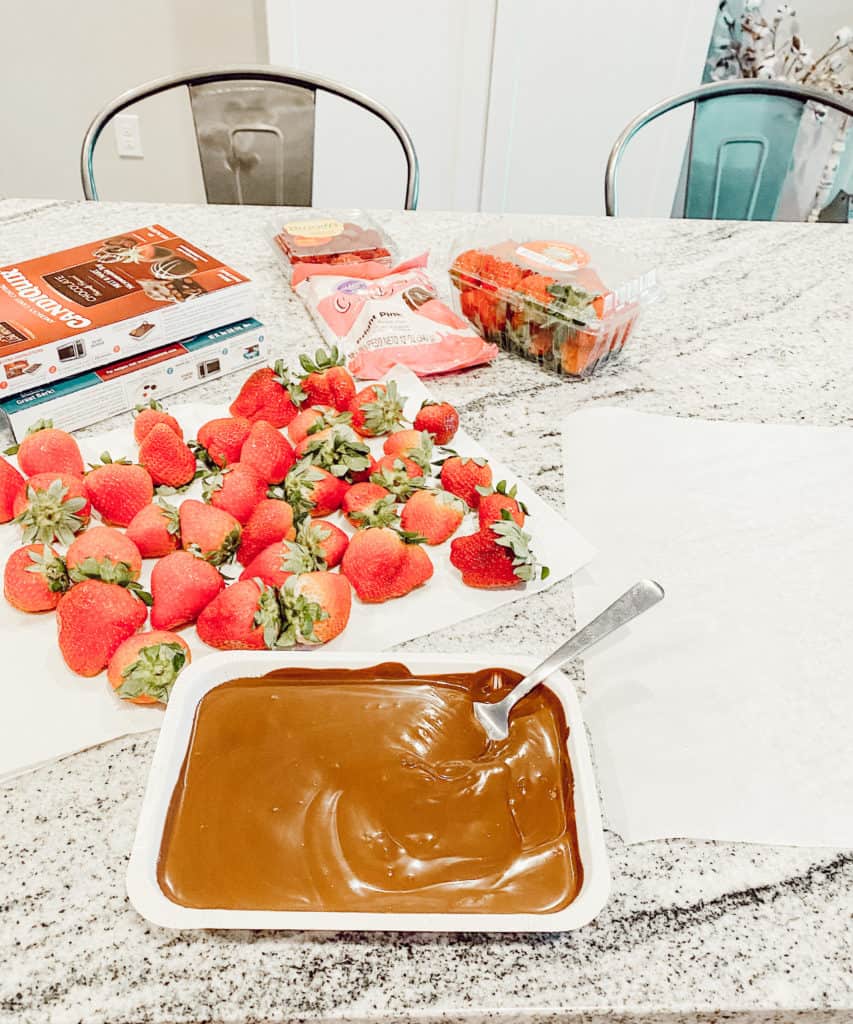 Dipping the Strawberries into Chocolate
Now it's time to dip your strawberries into whatever chocolate you have melted. I like to have a big piece of parchment paper laid out on my kitchen island and I just place the dipped strawberries there to dry and harden.
I only had to leave them out for about 20 minutes after I dipped them. They did not take long to dry at all! I also like to get a spoonful of the white chocolate and drizzle on top of the regular chocolate covered strawberries to give it a little something special too!
But that's totally optional and I only did it on a few because like I said above, I wanted these chocolate covered strawberries to be as quick and easy as they possibly can be.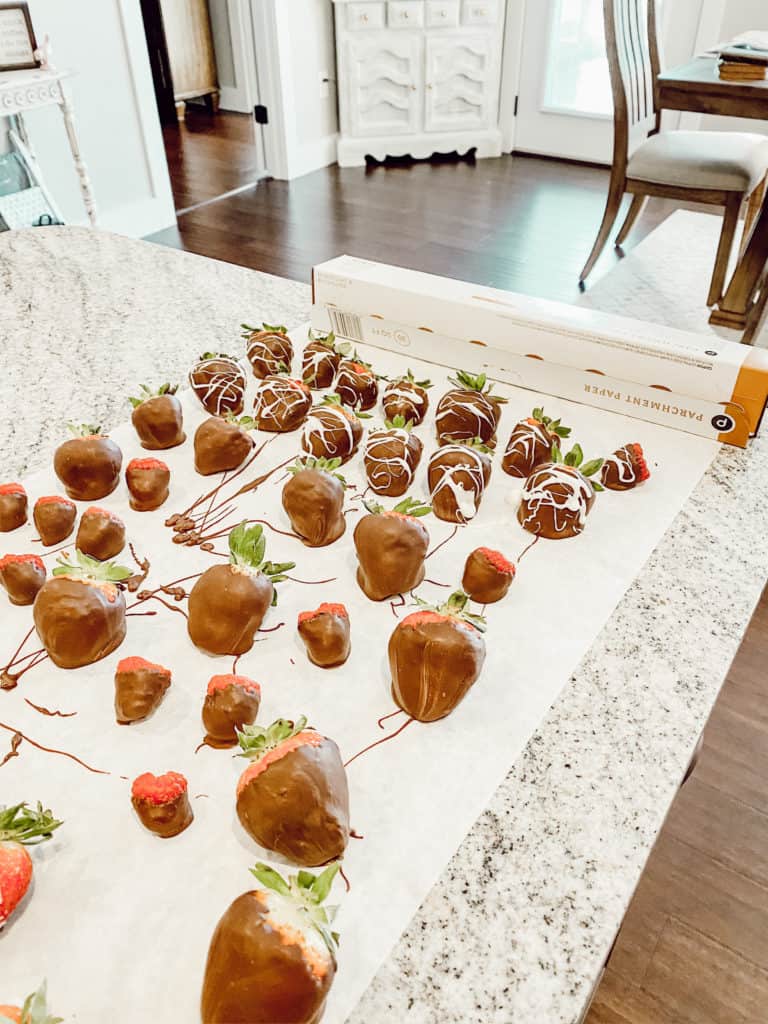 Tips and Tricks:
Be careful when melting your chocolate. I noticed the white chocolate melted much faster than the regular chocolate, so keep a close eye out when it's almost completely melted so it doesn't burn.
I also like melting one chocolate at a time because they do get a little harder to mix after they have been sitting out for awhile.
I think that candy coating works better than actual chocolate. I have made these with melted chocolate chips before, and they just did not melt smoothly so it was hard to dip the strawberries in and make them look pretty! Of course, it still tasted delicious, but I am a perfectionist and I like for everything to be pretty too!
Candy coating also dries much faster than regular chocolate too so that's what makes this recipe so simple and easy!
Store chocolate covered strawberries in an airtight container in the fridge and they will keep for several days after as well.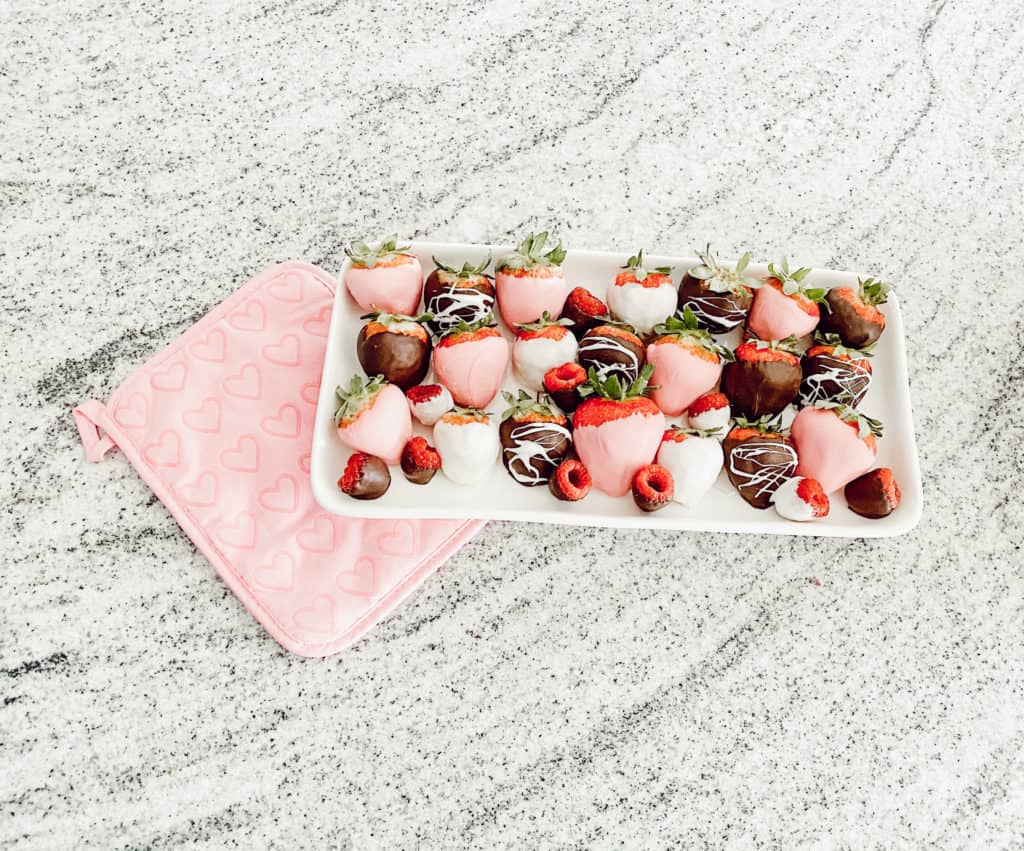 So there you have it! If you are look for a last minute Valentine's Day gift idea, then try out these incredibly quick and easy chocolate covered strawberries!
I am sure your special loved one will thank you for them and they won't even know how simple it really was to make.
Do you guys like chocolate covered strawberries? And have you ever made them yourself before? Let me know if you try these out, I would love to hear all about it.
I hope you all have a very lovely Valentine's Day as well! And also, check out some of my other recipes such as this Easy Cheesy Chicken Enchilada Soup too if you're looking for quick and easy dinner ideas as well!