Y'all already know I love me a good Starbucks copycat recipe! Like my copycat OG Pumpkin Scones I made last fall. But, I needed to figure out a copycat for Starbucks cranberry bliss bars recipe too!
And thankfully, I did! Let me tell you, these bars are amazing and even better than Starbucks. If I do say so myself!
They are chewy and creamy, with the perfect amount of sweetness and zest! They also serve quite a few people too so this would be a perfect holiday dessert to bring to a party!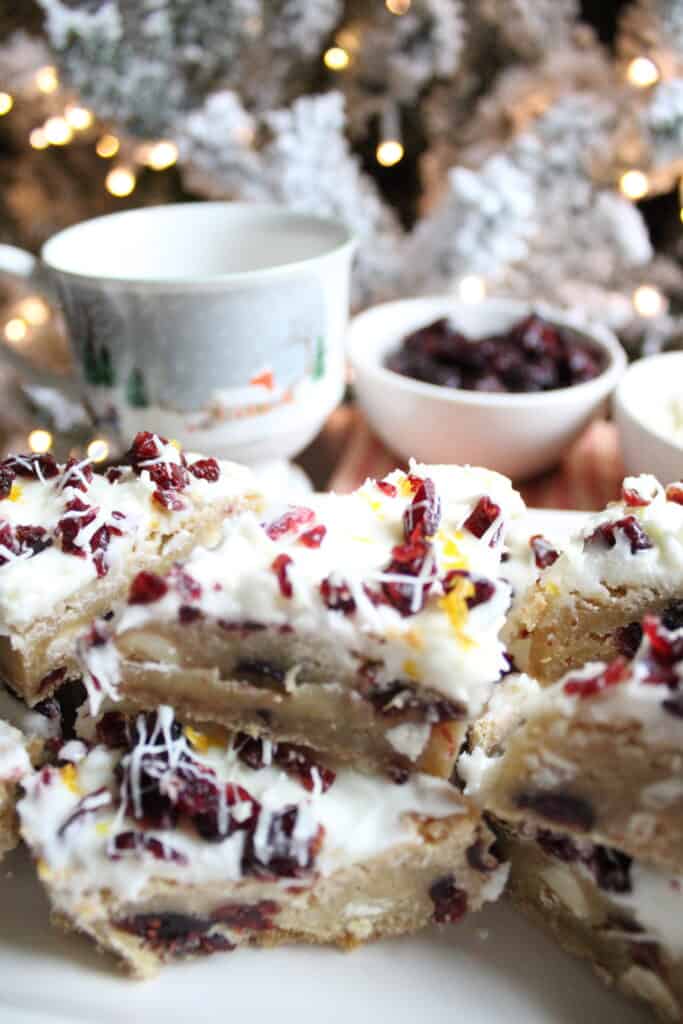 What's In The Cranberry Bliss Bar?
Below is everything you need to get started baking these delicious and festive bars!
FOR THE BARS:
1 cup butter (2 sticks) melted
1 1/2 cups brown sugar packed
2 eggs
1 tsp orange extract
1 tsp vanilla extract
1/2 tsp ground ginger
1 tsp baking powder
1/2 tsp salt
2 cups all purpose flour
1 cup white chocolate chips
3/4 cup craisins
FOR THE FROSTING:
8 oz cream cheese softened
1 1/2 cups powdered sugar
1/2 tsp orange extract
1/2 tsp vanilla extract
1/3 cup craisins chopped
2 squares white baking chocolate
1 orange zested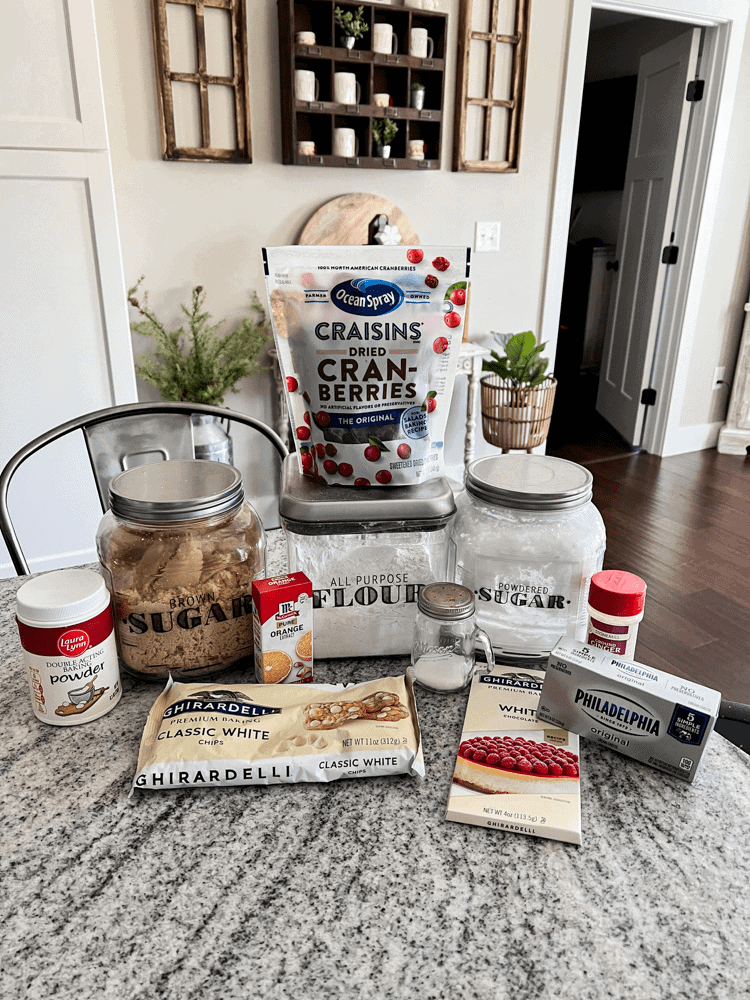 Mixing Up The Dough For The Bars
To make these delicious Starbucks Cranberry Bliss Bars, the process is actually quite simple. You basically just throw everything into the mixer and then stir in the white chocolate chips and craisins by hand.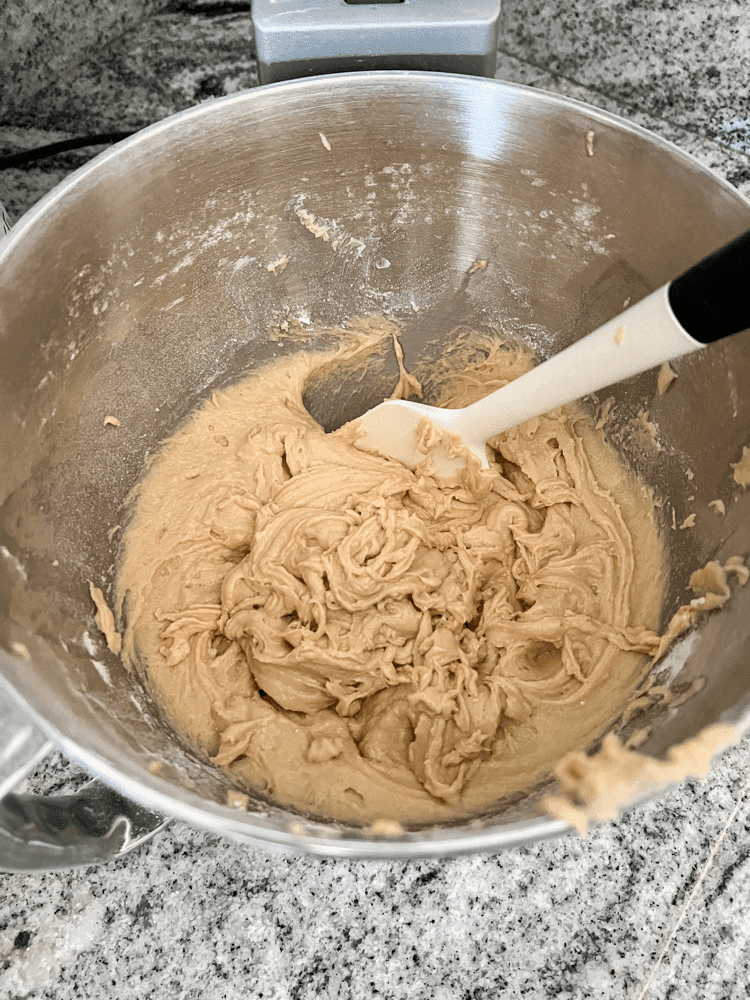 I also sifted together the dry ingredients first before adding them into the butter and brown sugar mixture to ensure everything would be well incorporated.
Baking the Bars
The original recipe I found online when wanting to make these bars, called to bake them for just 18-22 minutes. However, it took me MUCH LONGER before my bars were completely done.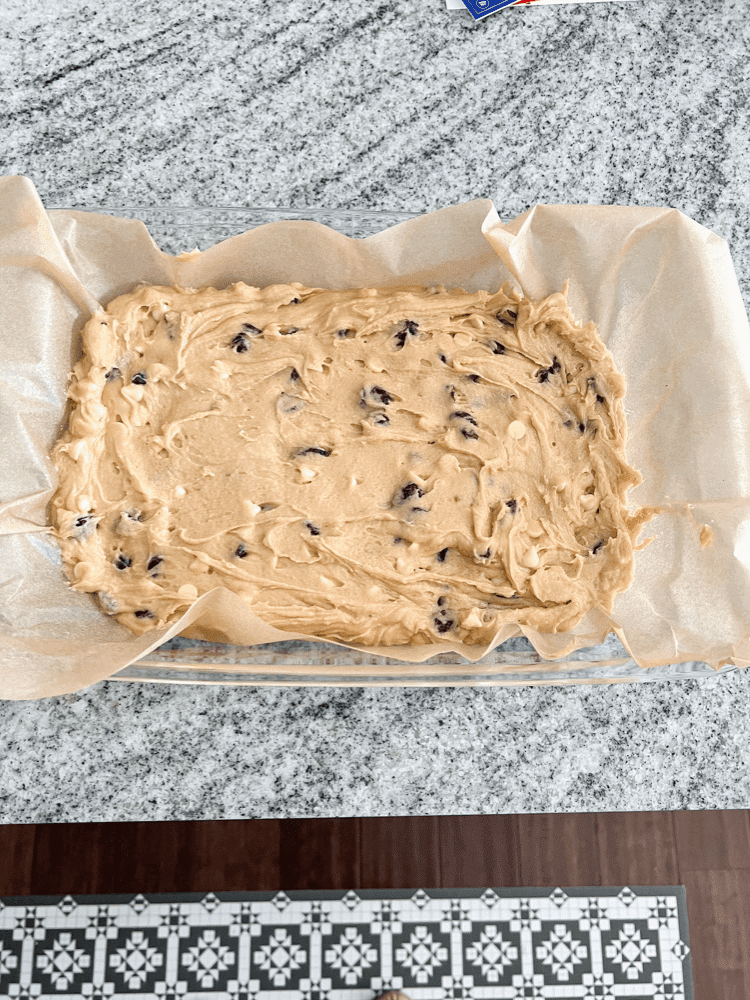 Granted, the other recipe called for a jelly roll pan, and I do not have one. So I just used my usual 9×13 baking dish and maybe that's why it took a little longer.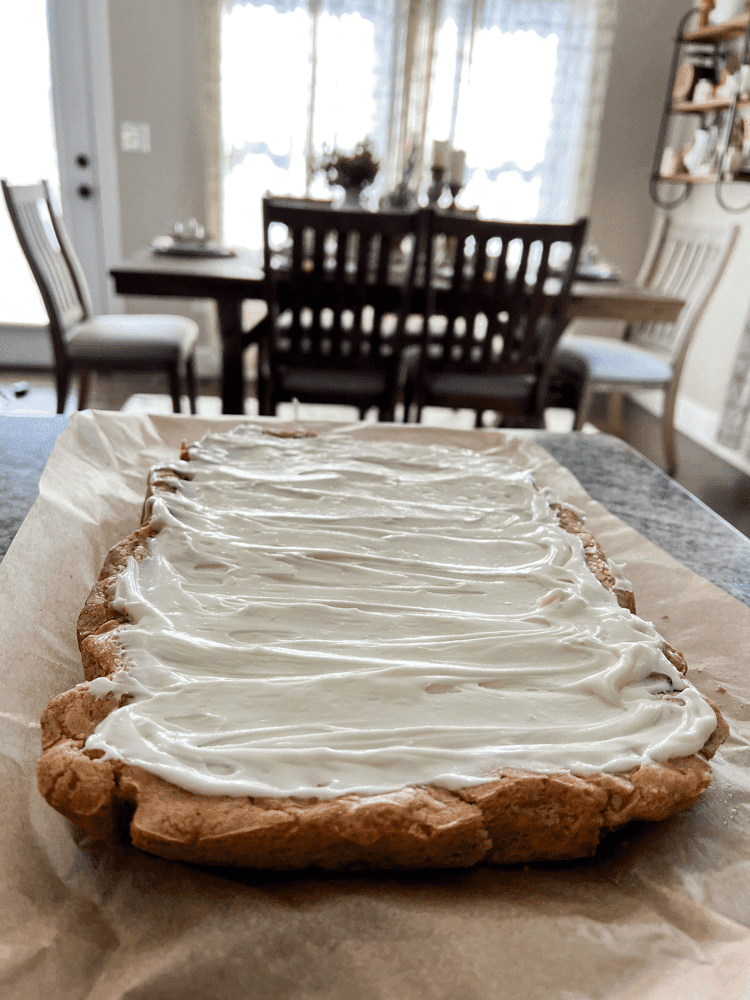 I am not entirely sure. However, I ended up baking mine around 35 minutes. So I would say depending on your oven, it should take anywhere from 30-40 minutes. I would just keep checking every couple of minutes or so for doneness.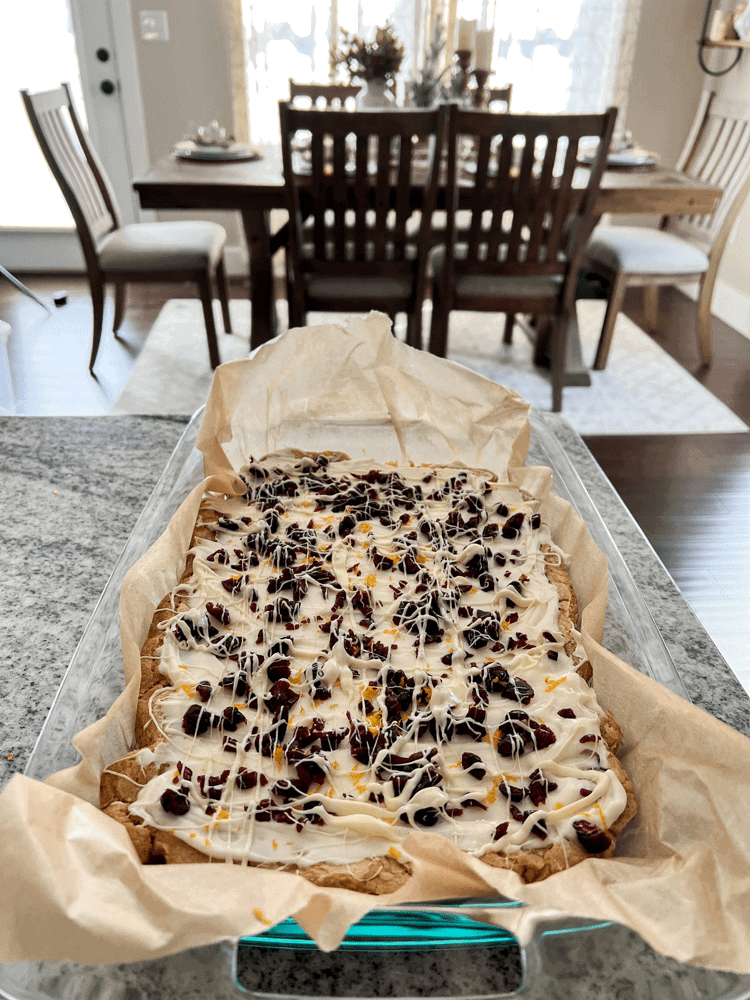 Making The Frosting
After your cranberry bliss bars are cooled, you can now make the frosting! Just beat together the cream cheese and powdered sugar and then add in the extracts. Simple and easy!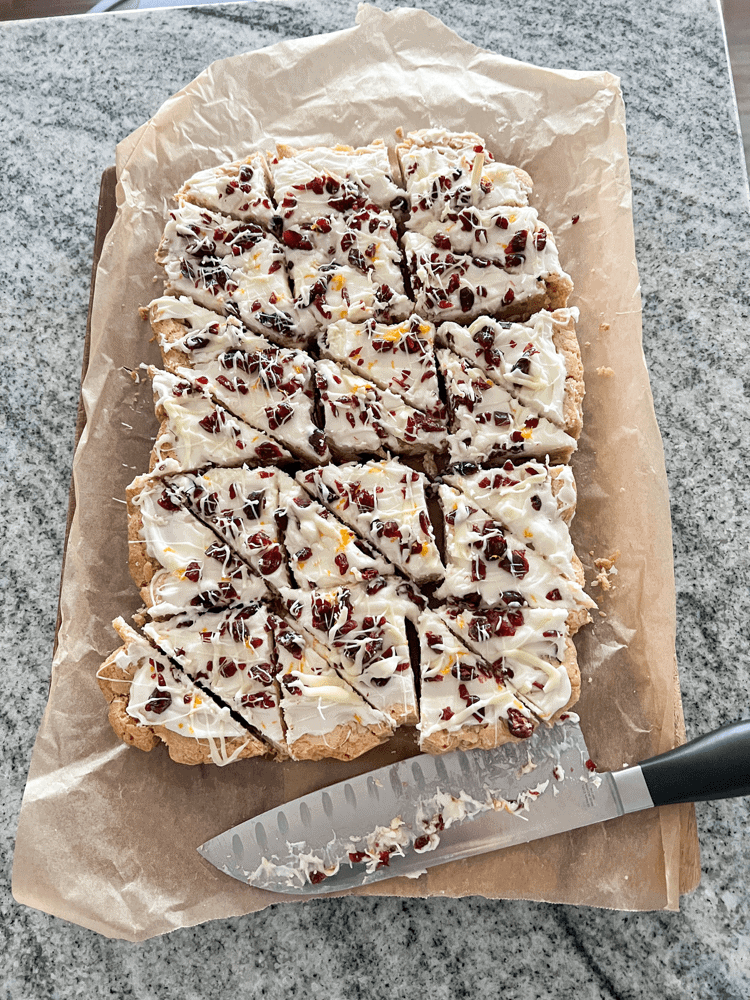 Spread the frosting evenly across the bars. Then, top with chopped craisins and drizzle with the melted white baking chocolate.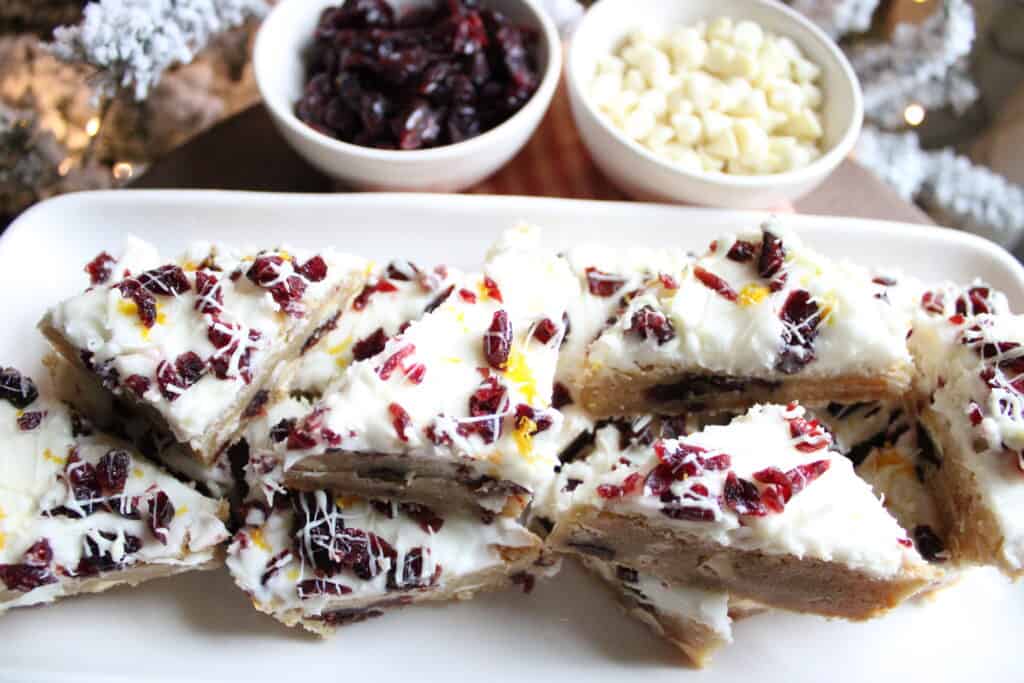 I also made the addition of fresh orange zest to the recipe too and I am so glad I did! It gave it the perfect zest and tang to the sweetness of this dessert!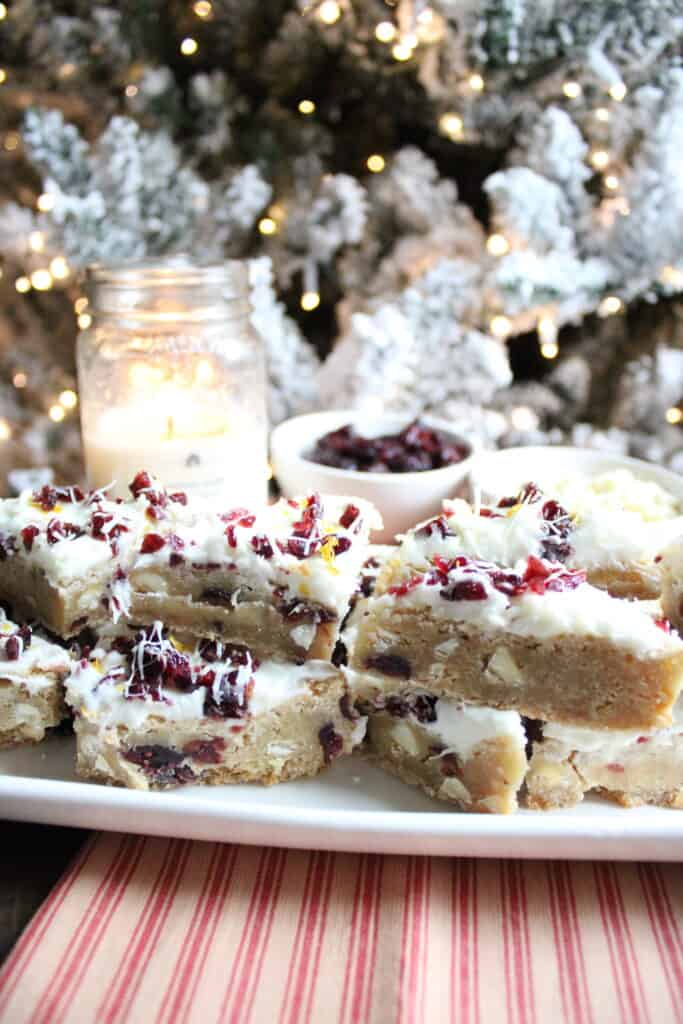 Do Starbucks Cranberry Bliss Bars Need to be Refrigerated?
One of the most pressing questions regarding this recipe is whether or not they need to be refrigerated after baking. The answer is yes. They will keep better in the refrigerator and especially since it has the cream cheese frosting on top.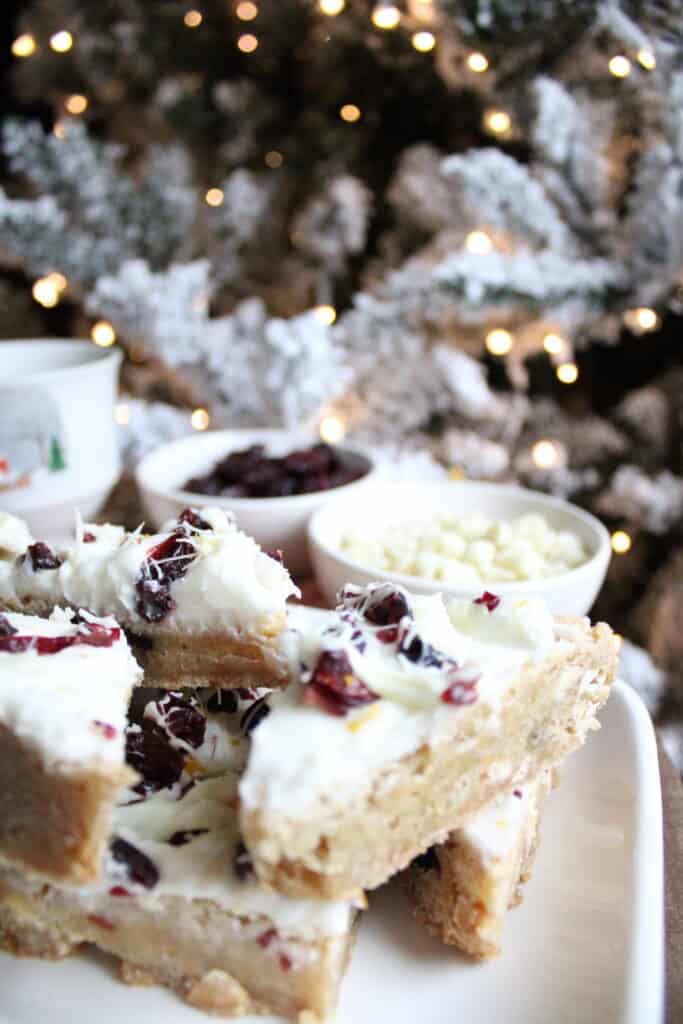 You want them to stay nice and cool, that way they stay fresher longer. They can last up to 5 days when stored in the fridge too!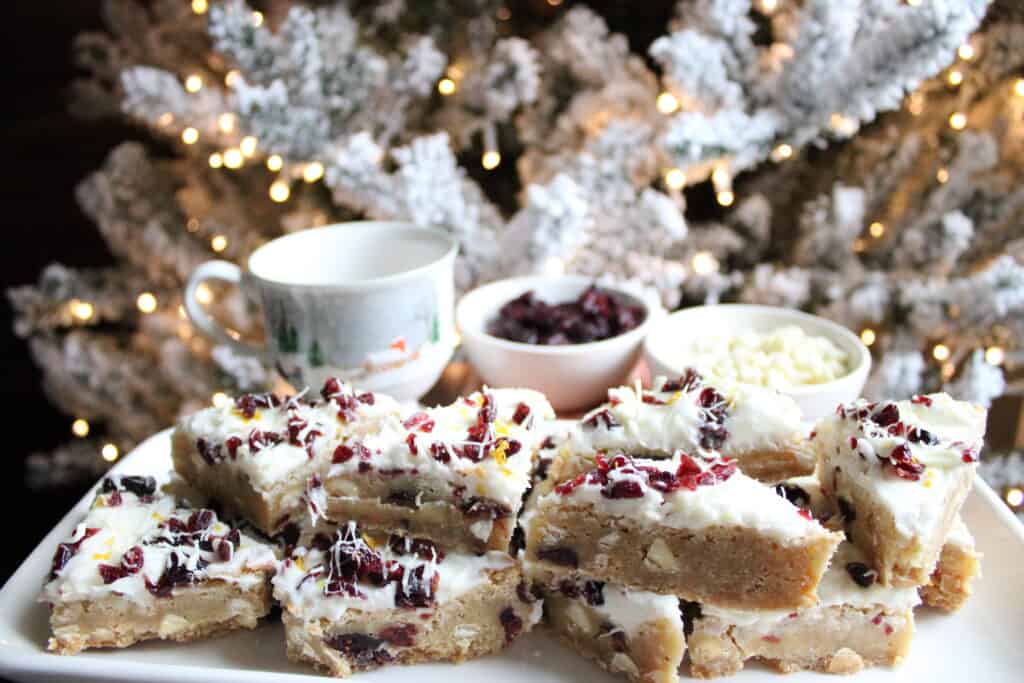 Can Starbucks Cranberry Bliss Bars Be Frozen?
Another pressing question, and again the answer is yes! That's one of the main reasons I love this recipe. It's perfect for Thanksgiving or Christmas.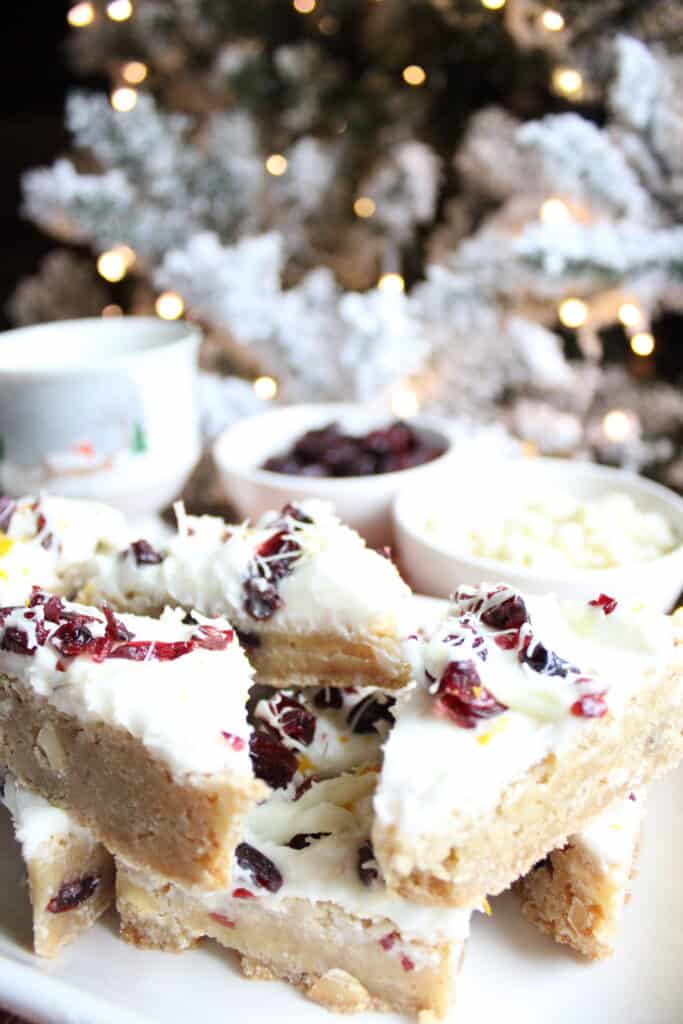 But, it can be made ahead of time and stored in the freezer so you can plan ahead! Simply wrap the individual bars in plastic wrap first and then aluminum foil on top of that.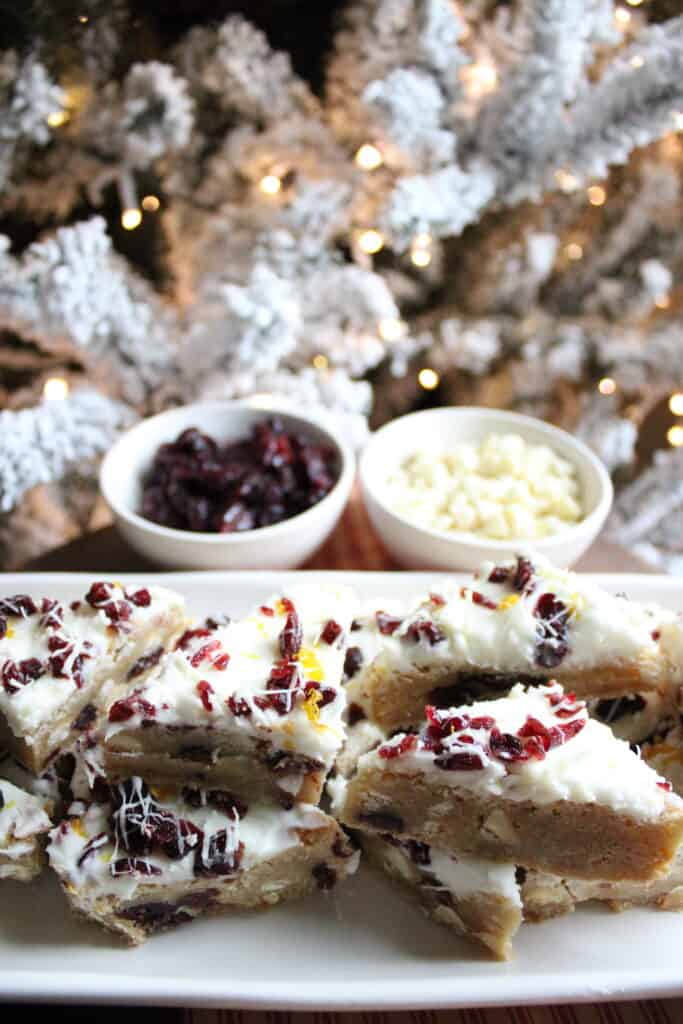 I also then place them in a freezer bag too. They can be stored in the freezer for up to 3 months as well!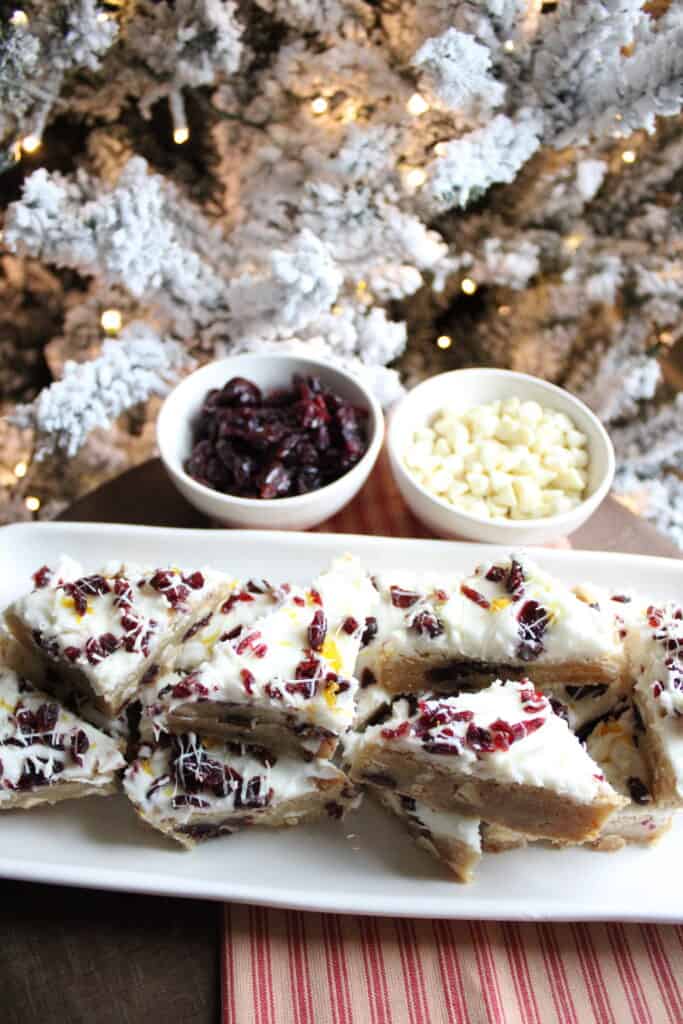 When you are ready to use them again, just take them out of the freezer the night before. Then, place them in the fridge overnight to let them thaw fully before serving.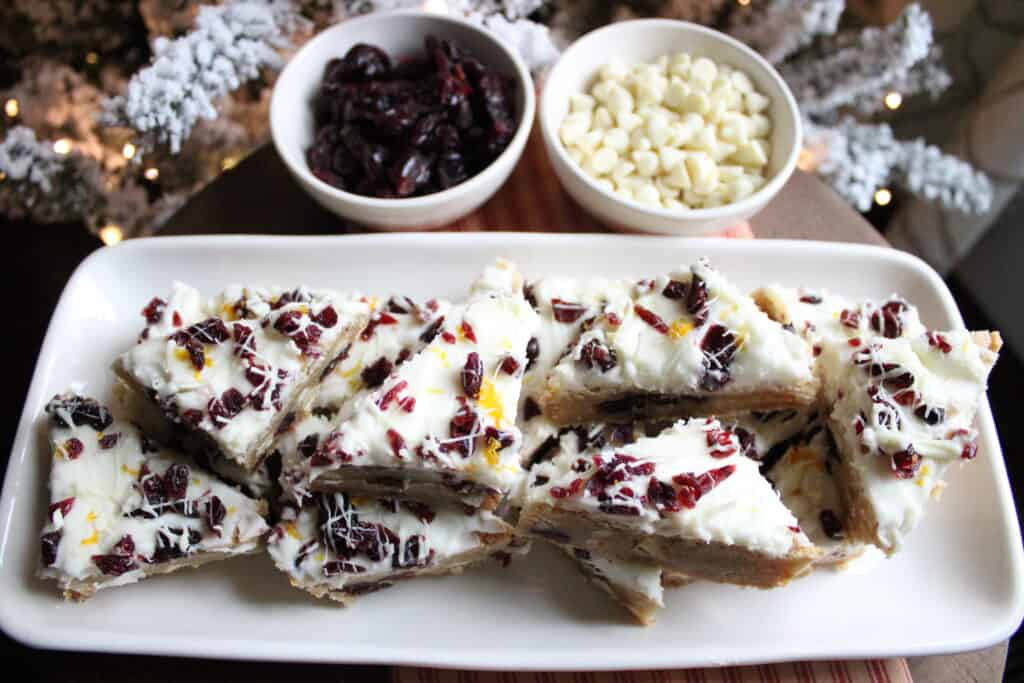 Have you ever made these yummy bars before?? If not, you should definitely try this recipe out. It's so easy and I know everyone in your family would love it too!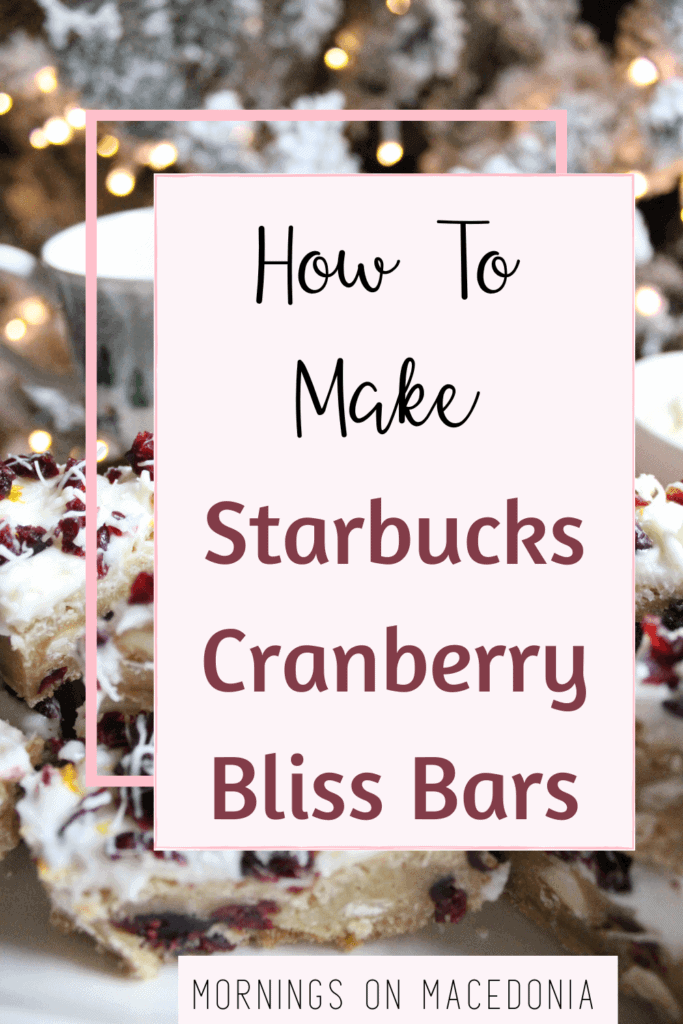 Also, be sure to save the video pin I created for this recipe below. That way you can always refer back to it in the future too!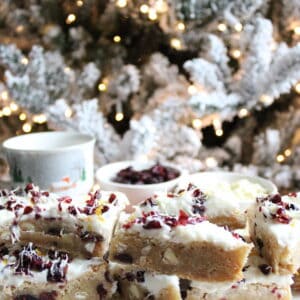 Starbucks Cranberry Bliss Bars
Ingredients
For The Bars:
1

cup

butter (2 sticks)

melted

1 1/2

cups

brown sugar

packed

2

eggs

1

tsp

orange extract

1

tsp

vanilla extract

1/2

tsp

ground ginger

1

tsp

baking powder

1/2

tsp

salt

2

cups

all purpose flour

1

cup

white chocolate chips

3/4

cup

craisins
For the Frosting:
8

oz

cream cheese

softened

1 1/2

cups

powdered sugar

1/2

tsp

orange extract

1/2

tsp

vanilla extract

1/3

cup

craisins

chopped

2

squares

white baking chocolate

1

orange

zested
Instructions
For the Bars:
Preheat the oven to 350 degrees. Line a 9×13 baking dish with parchment paper.

Sift the flour, baking powder, ginger and salt together in a medium bowl. Set aside.

Mix together the melted butter and brown sugar together on medium speed until blended. Then, add in the eggs, orange extract, and vanilla extract.

Add in the sifted flour mixture and beat until just blended. Don't overmix.

Stir in the white chocolate chips and craisins by hand. Then, pour evenly into the prepared baking dish.

Bake until golden brown. 30-40 minutes. I baked mine around 35 minutes before it was done.

Let bars cool completely on wire rack before frosting.
For the Frosting:
Beat cream cheese and powdered sugar together until smooth and creamy.

Add in the vanilla and orange extract, mixing well.

Spread frosting on top of cooled bars. And top with chopped craisins and orange zest.

Melt white baking chocolate in microwave per instructions on package. Drizzle white chocolate on top of the bars. I used a fork to drizzle it all around.

Place in the refrigerator for one hour before cutting.

Cut into triangles and enjoy!