Y'all know that we are obsessed with Charleston, SC. But did you know that within just a short 20 minute drive from Charleston there is a cute little town called Mount Pleasant? I thought it would be fun to share all the fun things to do in the town of Mount Pleasant, South Carolina in case you are interested today!
We recently took a little short weekend trip there over Labor Day to explore. We had been to the area a few times before, but have never stayed there. Like I said, we usually stay in Charleston, as that is a super popular destination. So you may be wondering if Mount Pleasant is worth visiting or not?
And my answer is definitely yes! Since it is so close to downtown Charleston area, it is worth a day trip there, even if you aren't lodging there. I will share all of the fun things that we did. As well as all of the best places to eat so you can plan to have a great time in Mount Pleasant, South Carolina too!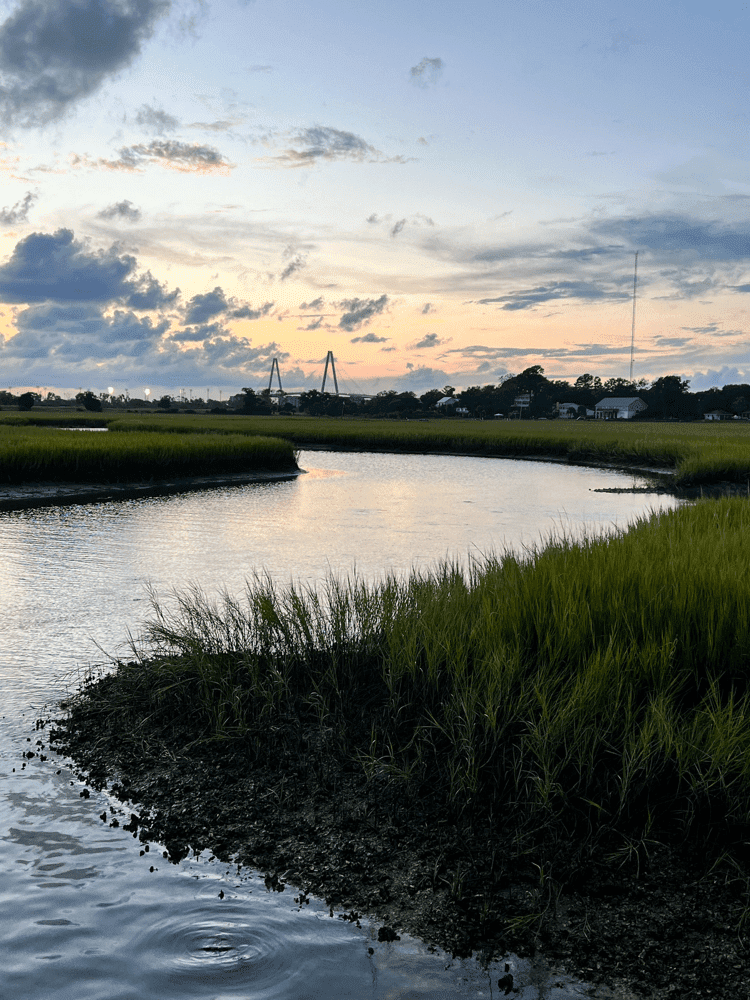 This post contains affiliate links. Click here to read my disclosure policy.
Things To Do In Mount Pleasant
Even though we were here for just a short time, we loaded in all the activities that we could! There is plenty of things to do in Mount Pleasant and it is not too far from the beach as well. So if you are looking for more of a beach vibe, no worries! It is only about 15 minutes away!
I would love to go back and check out some of the oldest working plantations such as the Boone Hall Plantation, but unfortunately we did not get a chance to this visit. Maybe one of these days we will get to visit a plantation house there!
Sullivan's Island
If you drive over to Sullivan's Island, you can be in front of a beach with just a short walk to the coast!
We went and watched the sunset after dinner one night and it was so beautiful. I am a beach girl at heart and I could just stare at it all the time.
There is something about the sound of the waves that just gets me!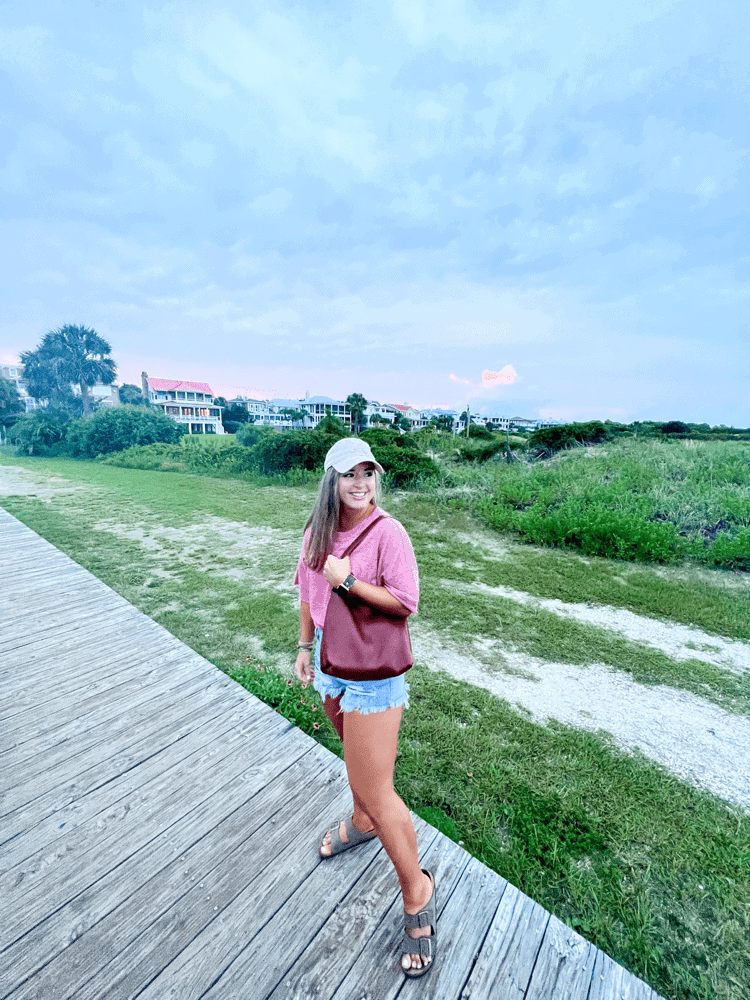 So plan on bringing all your beach accessories and drive on over to Sullivan's Island for the day as well. You can find free parking on the side of the road, but it is busy so I would recommend trying to get there a little early for the best spots!
The Mt. Pleasant area is also close to some other popular beaches as well. Such as Folly Beach and Isle of Palms too. Which you guessed it, is full of beautiful palm trees as well!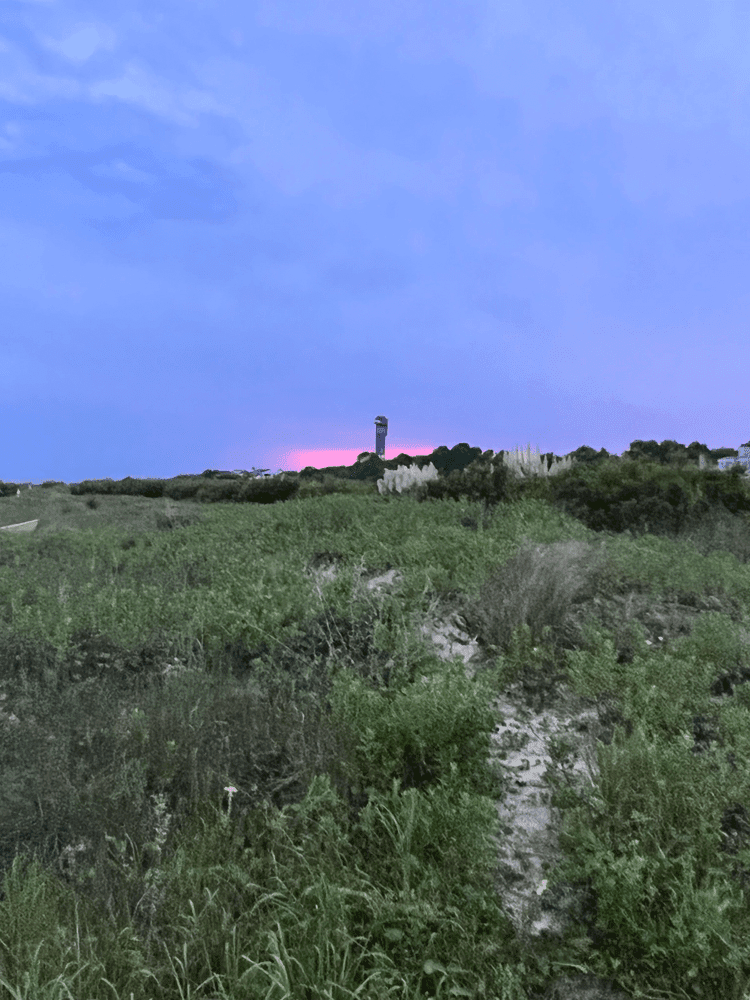 Renting Bikes
Again on Sullivan's Island, you can rent bikes for the day or for the hour and ride around the island. This was definitely a fun way to explore and the roads aren't that busy so I felt pretty safe riding around.
It was also one of the cheaper things you could do while exploring the island as well. It took up a lot of time, you could rent it for all day or half a day, and it was a great way to check out a lot of the island without having to walk around so much!
And just being able to look at all the beautiful beach houses was a lot of fun to do as well. I dream of living on the beach someday! There weren't as many historic houses here as there are in Charleston, but all the houses were beautiful and still super fun to look at!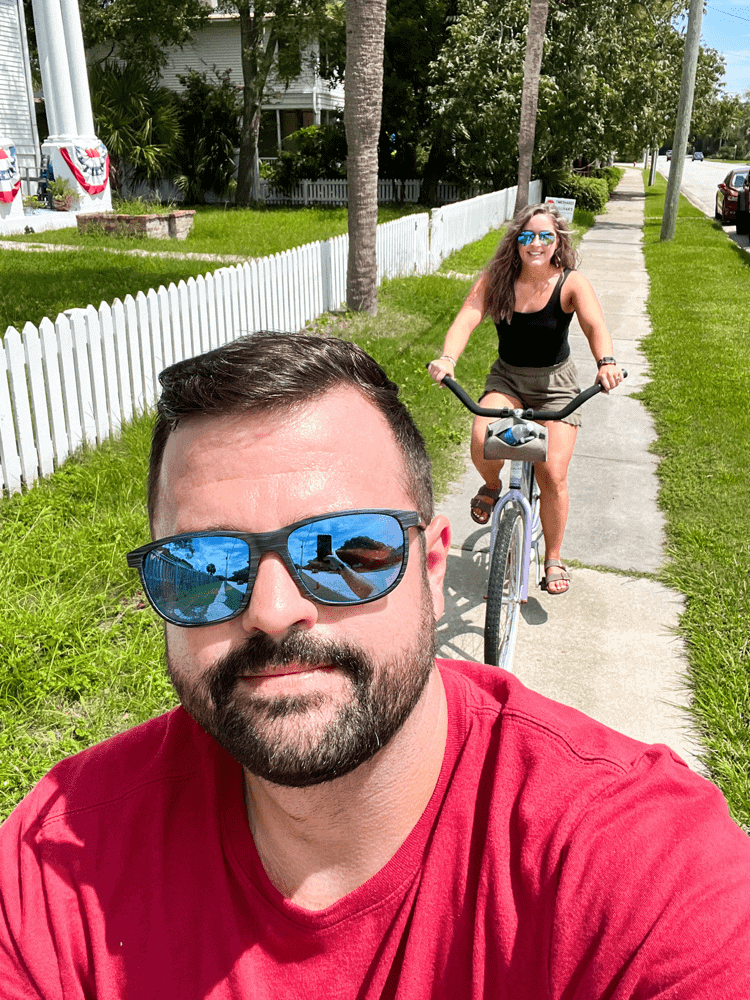 Patriots Point Naval and Maritime Museum
Back closer to Mount Pleasant, there is a place called Patriot's Point where you can actually go in and visit the USS Yorktown aircraft carrier.
This is the official maritime museum of Charleston and it is definitely worth the visit if you are a big history buff! It goes back into the Civil War era and all the way to the present time too.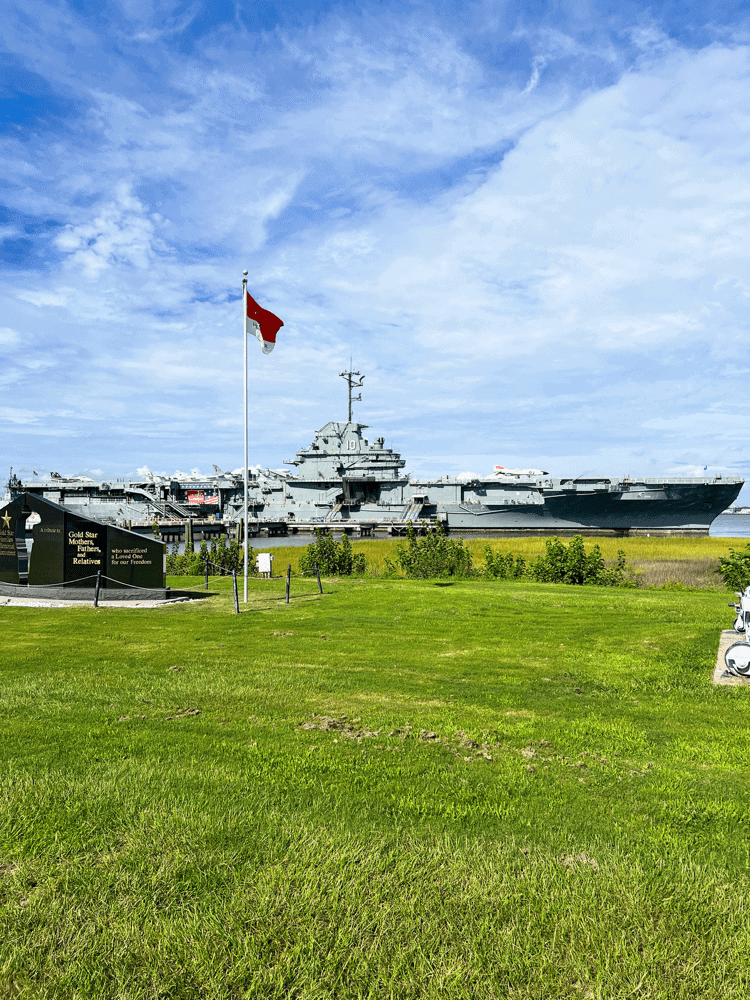 Inside, there is the Medal of Honor Museum too which was really cool to go in and look at. It made us very thankful for all the Navy service men and women who gave their lives fighting to protect our freedoms here. You can do self-guided tours here or sign up for a more in-depth tour as well.
There is also a cold war submarine memorial there too, but unfortunately it was closed for repairs when we were there. So we didn't get a chance to check that out.
If you're looking for something more on the educational side of things to do in Mount Pleasant, then this is it! It was so cool to see all the things inside the ship and crazy to think that our servicemen had to stay in such tiny quarters inside!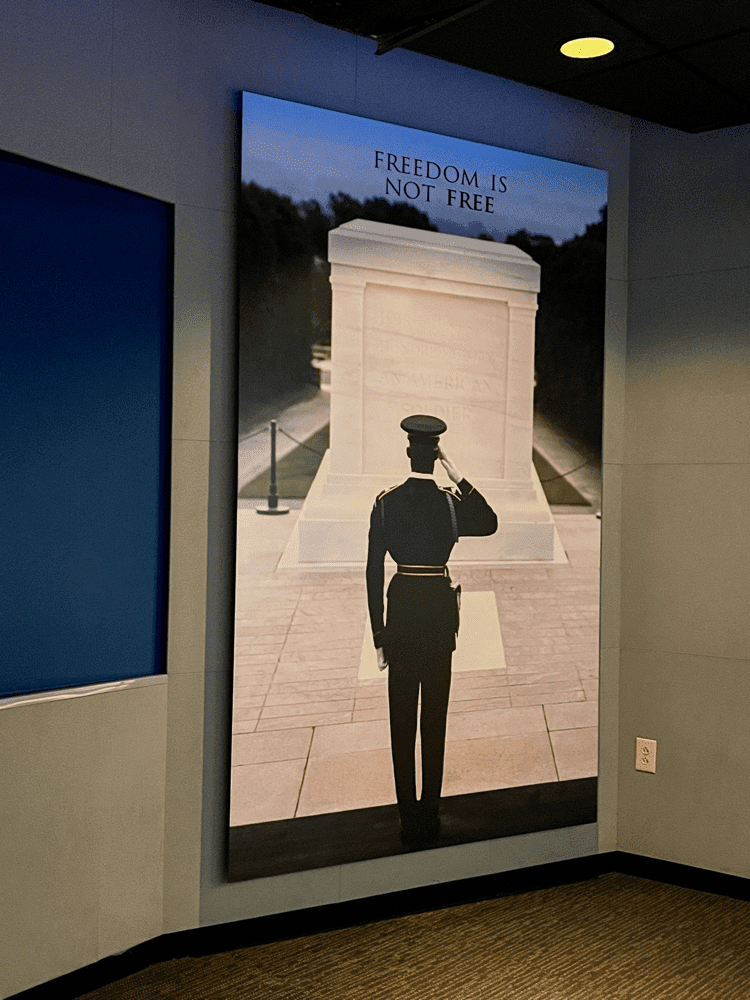 My favorite part of this tour was going out on the flight deck and actually seeing all the planes there. They had so many cool ones to look at! There is also a gift shop that you check out there before you leave too. This is definitely one of the best historic sites to visit while you are in Mount Pleasant!
Another cool, historic place to visit within driving distance to Mount Pleasant is Fort Sumter. I shared more about that in our Charleston post, so be sure to check that out too if you're interested!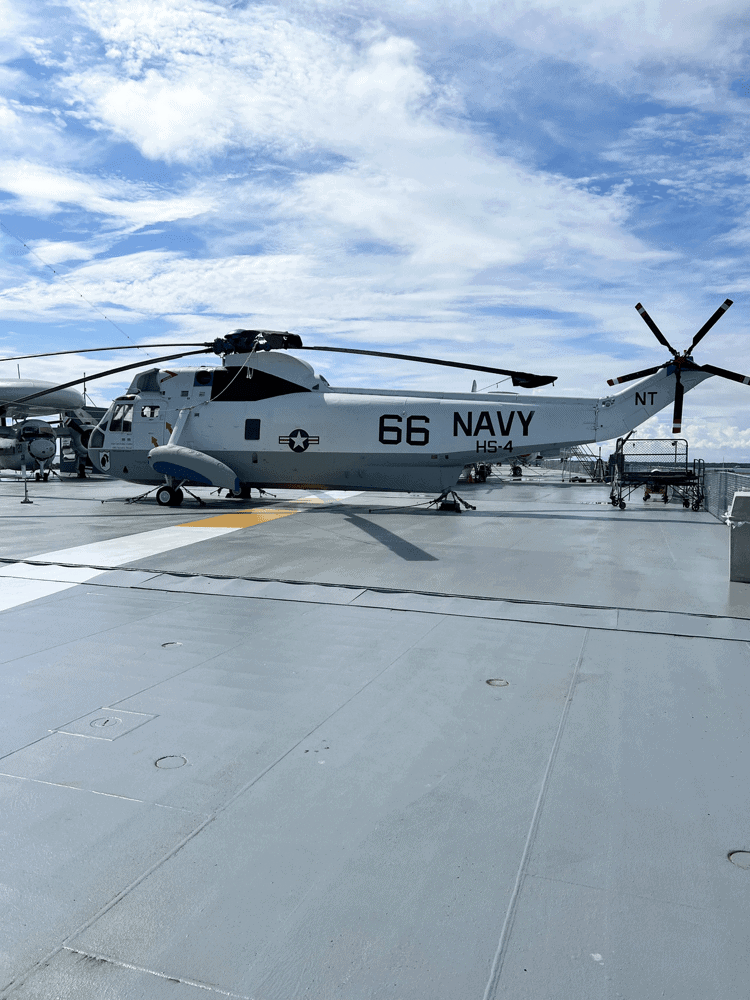 Watch The Sunset At Shem Creek Park
We spent a lot of time at the Shem Creek area since that's where a majority of the restaurants we went to were. But, they do have a nice boardwalk where you can walk around the pier and watch all the boats dock and leave. This is one of the best free things you could do here in my opinion!
If you're into fishing, you can take your pick of what fishing pier you want to use here too! The very end of the pier has a killer view where you can sit and soak it all in as well.
So that was a fun and relaxing thing to do as well as watch the beautiful sun setting in the evening. Talk about a beautiful end to an amazing day!
Another great place to watch the sun go down is at Mount Pleasant Memorial Waterfront Park too. There are plenty of benches and seats to sit around and enjoy the view! You also have a killer view of the Arthur Ravenel Bridge from here too!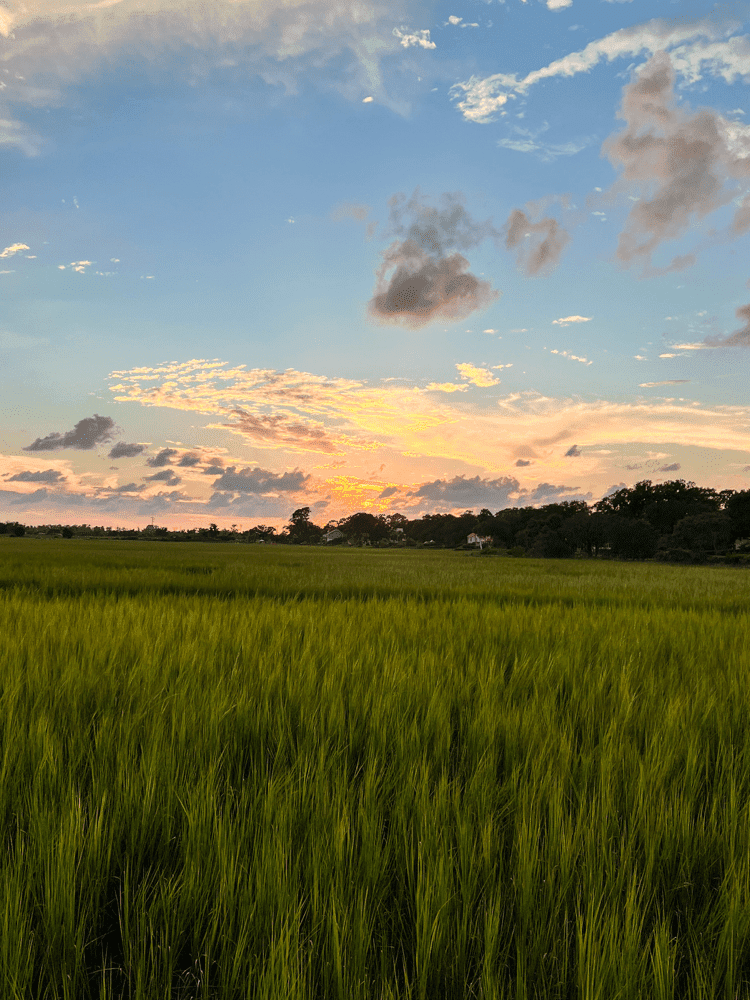 Kayaking in Shem Creek
I saved one of my favorite things to do in Mount Pleasant for last! We went kayaking in Shem Creek and had an absolute blast! The place we rented Kayaks at does other fun coastal expeditions too, so there is a variety of fun things to do in the area as well.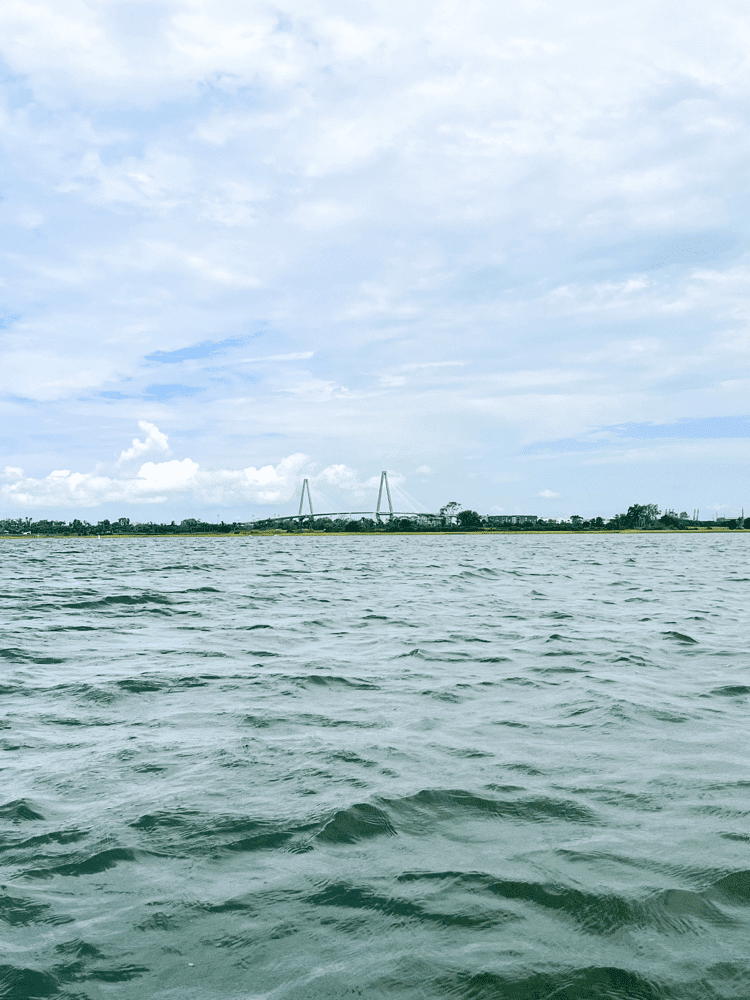 I got to say I was super nervous at first because I have never been kayaking before, but it ended up being so much fun and we try had a great time.
We did a 2 hour guided tour and our guide who took us out there was awesome! We were able to kayak out to see a sunken shrimp boat and supposedly you can see a lot of sea turtles swimming around it.
Although, we didn't get that lucky to see them unfortunately!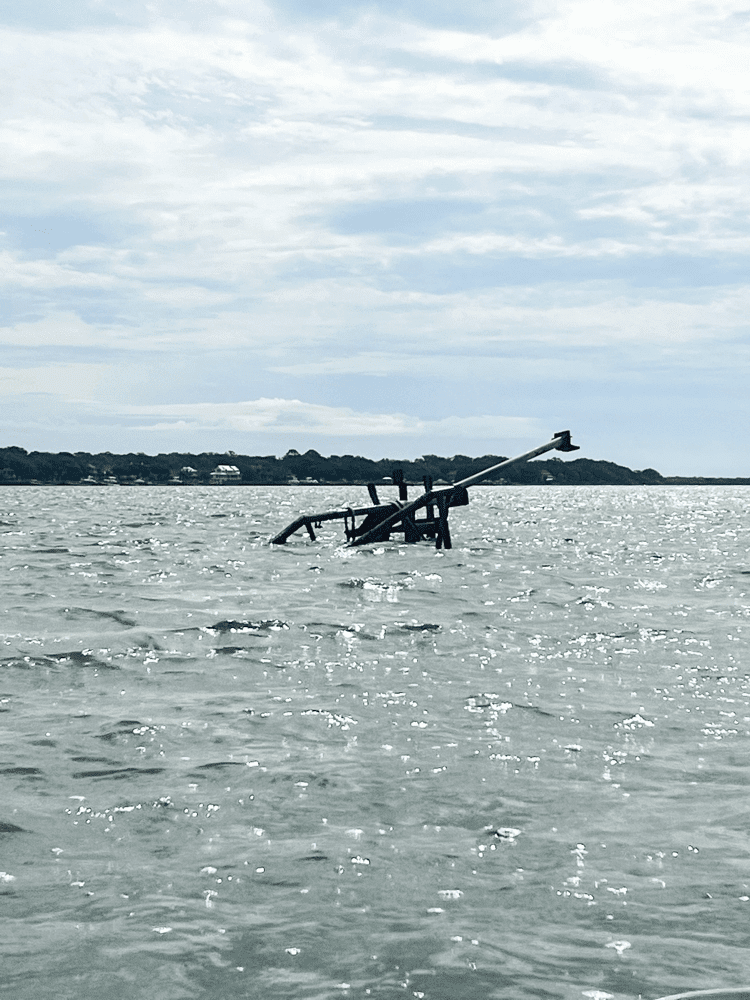 And if you go out later in the afternoon, you are more likely to spot some dolphins swimming around too! Also, it is a good idea to bring out some water with you, you will definitely get thirsty.
And be sure to wear sunscreen!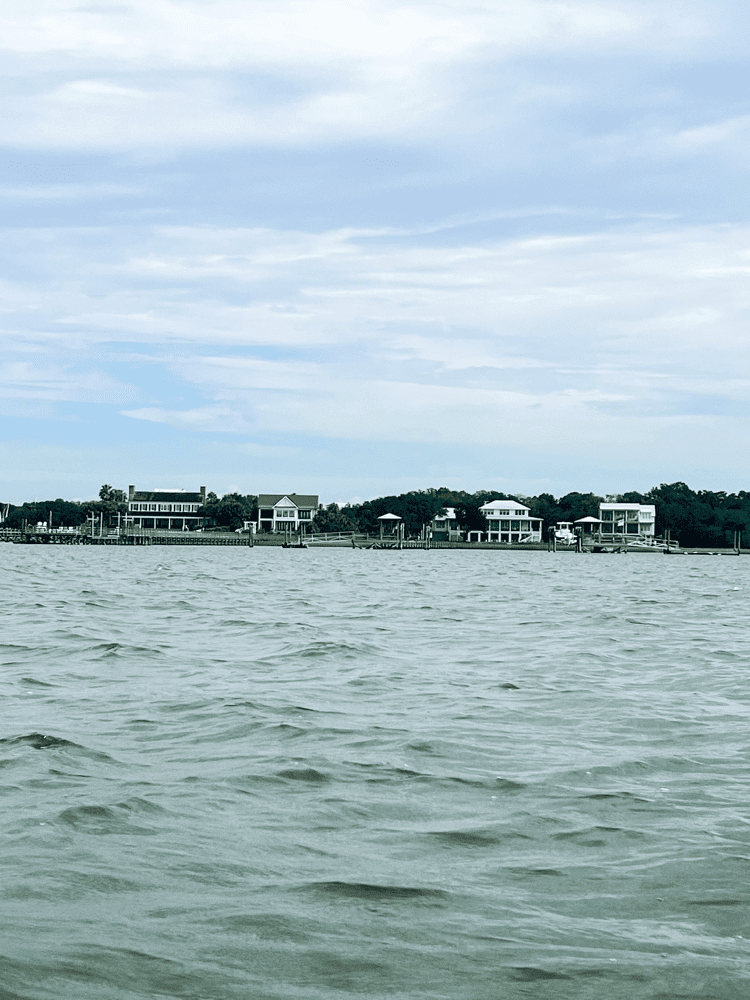 Best Places to Eat in Mount Pleasant
Well now that I've shown you all the fun things to do in Mount Pleasant, let's talk about all the best places to eat! Which we all know is super important!
Like I said above, we were only there for a couple of days, so we didn't get to try all the resteraunts we wanted to. However, the places we did go, we were highly impressed with. I figured I would share them with you, so you know just where to go!
Poe's Tavern
The first night we were there, we tried Poe's Tavern. I have been wanting to try this place out for awhile now. Since I have seen it all over blogs and best restaurant lists.
And I am happy to say, it lived up to it's hype! It was definitely delicious and the prices were very reasonable too. I got some fish tacos and my hubby got a burger and said it was absolutely amazing too.
Plus, the whole atmosphere inside the restaurant is so cool too. It definitely is a vibe and worth visiting. And in case you didn't know, it is all themed around Edgar Allan Poe too! The location is also great because it is right there on the Main Street, where there are plenty of other bars and restaurants that you could walk to as well!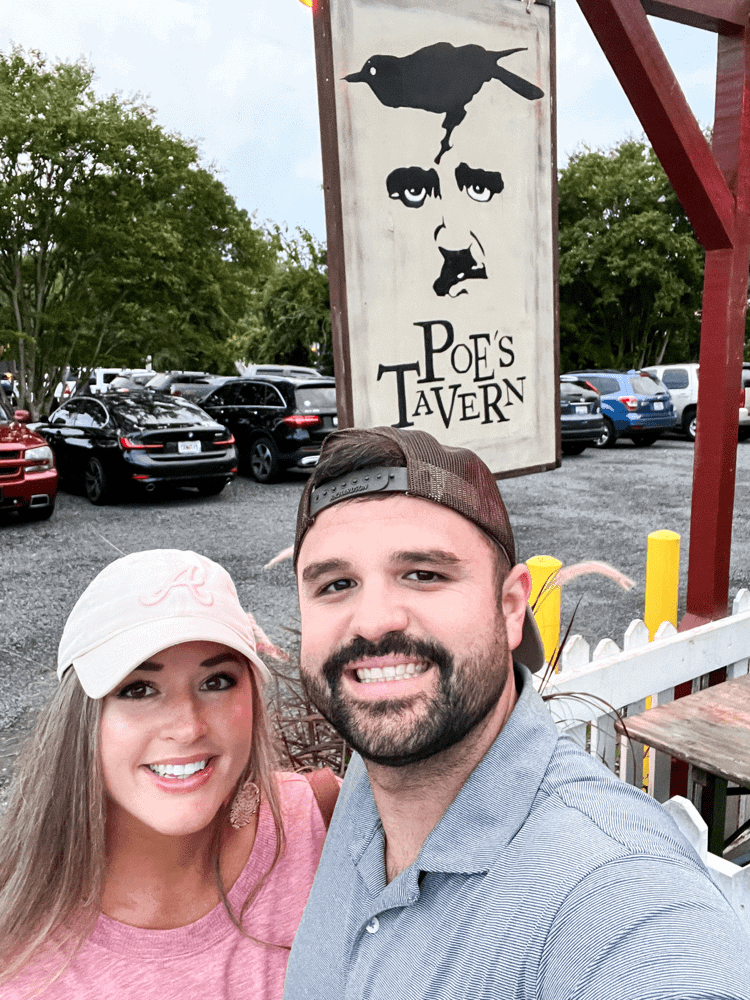 Republic Ice Cream
If you're looking for an after dinner dessert, then be sure to check out Republic Ice Cream too. They are all homemade and the shop is so cute. Definitely a vintage vibe inside.
Plus, their butter pecan ice cream is out of this world. And the homemade waffle cones are to die for as well.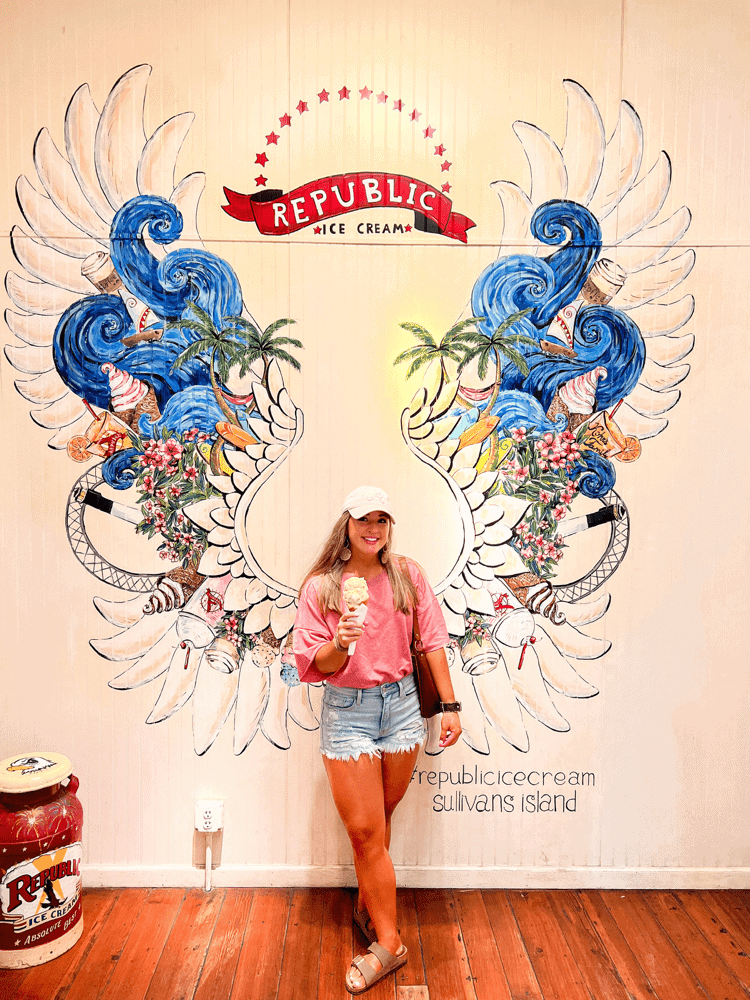 Vicious Biscuit
If you're looking for a massive biscuit for breakfast, then this is your place! And it is so yummy too. We got a fried chicken biscuit with pimento cheese, drizzled in spicy honey.
Y'all, it was everything I dreamed it would be! And their iced lattes were delicious as well. Definitely a great breakfast joint to check out.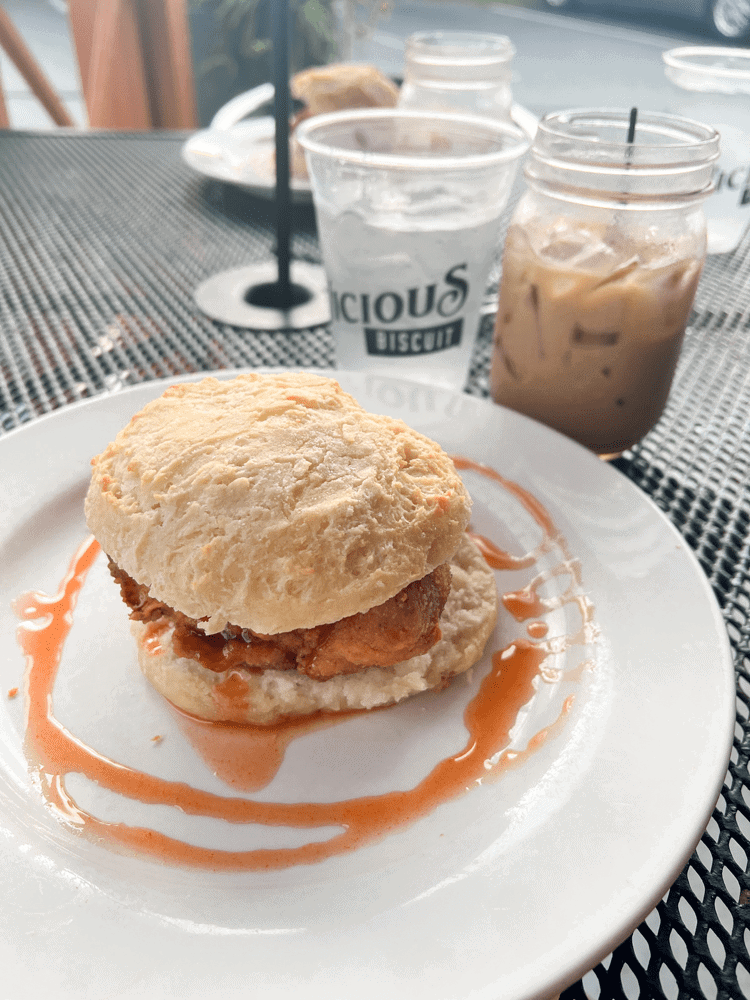 Paige's Okra Grill
Another great breakfast spot is Paige's Okra Grill. The plates were massive and again, the prices were great for the amount of food you got.
My favorite were the seasoned home fries and the pimento cheese grits. In case you can't tell, I love pimento cheese!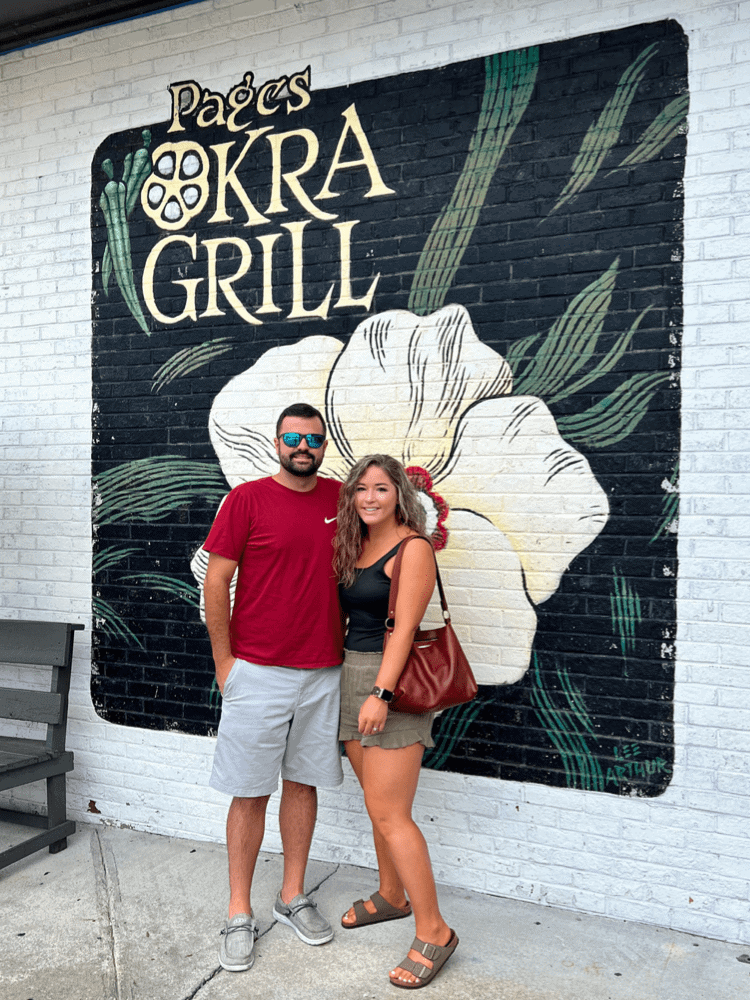 Red's Ice House
We have been to Red's Ice House before and loved it so we thought we would go back again. It is a perfect spot to grab a quick lunch and if you get there in time, you can grab a seat right by the water. Which is what we did. So nice to have a lunch with a view.
We actually ate here right after we got done kayaking since it is all in the same area. So that is nice and convenient as well!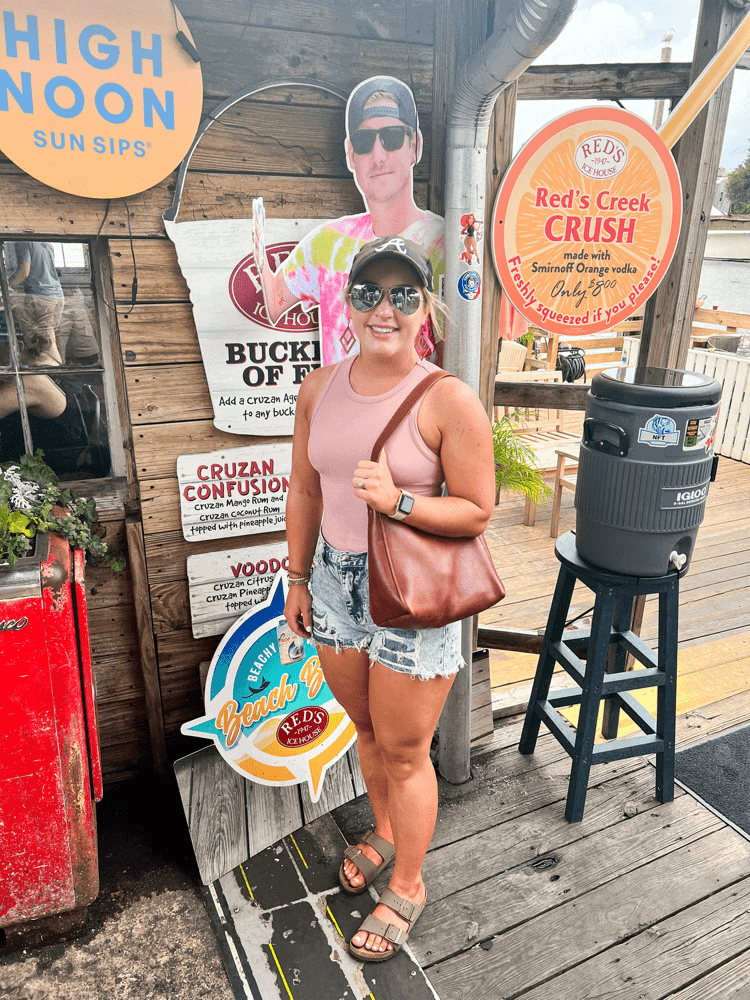 Saltwater Cowboys
Again, this place was right on the water at Shem Creek too. There was a little bit of a wait though, this place is crazy popular.
However, I will say if you sit outside, it is LOUD. They have a DJ going and a dance floor too so just know that ahead of time. But they also have indoor seating that is more reserved as well.
We ended up getting "Trash Can Nachos" where the basically pour everything you need for nachos into a can and then dump it out in front of you. It may not sound that appetizing, but trust me, it was!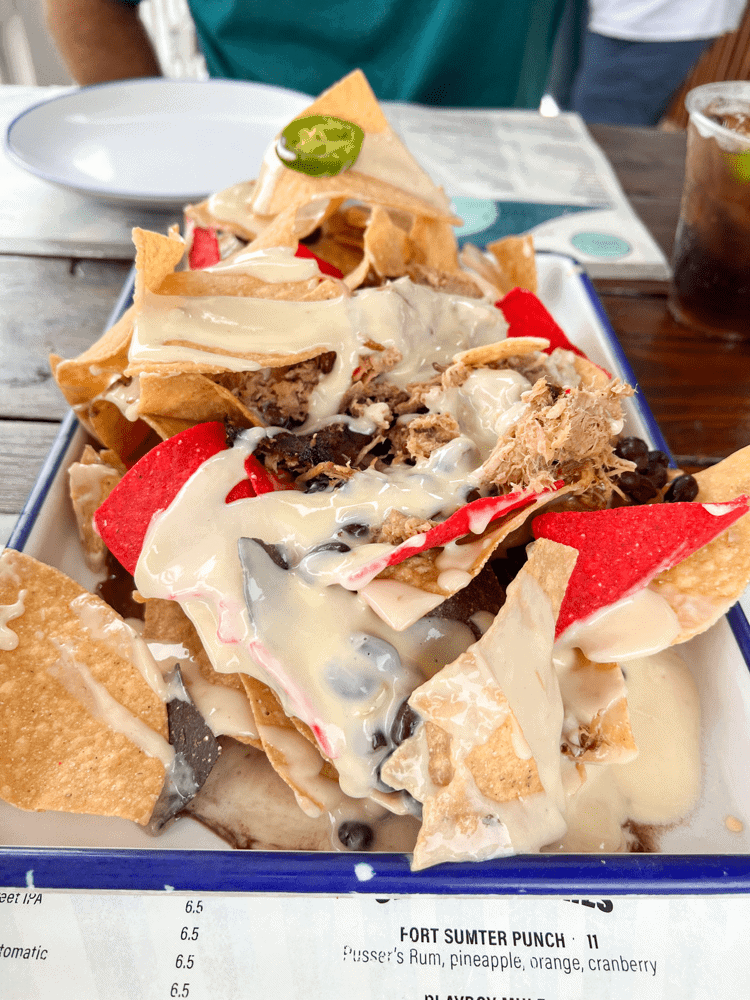 Is Mount Pleasant Worth Visiting?
In conclusion, I would say that Mt Pleasant is indeed worth visiting and if these reasons above don't convince you, I don't know what will!
It's definitely worth the short drive over from downtown Charleston, so if you are ever in the area, consider stopping by and checking out some of the top things I listed above. I have always thought that Mount Pleasant would be such a nice place to live too. Especially since it is so close to our favorite place, downtown Charleston!
Too bad it's a little out of the budget though! Lol, but at least it is a quick trip for us to go visit to occasionally. What about y'all? Have you ever been to Mount Pleasant before? I'd love to know below!