We are leaving for vacation soon and I thought it would be fun to share what to pack for the beach! Now, I'm no packing professional, and I definitely tend to overpack, but I thought it would be cool to share all my outfits I plan on bringing.
As well as the perfect beach accessories. We absolutely love a good beach vacation and we have found all these things to be the perfect addition to a great trip!
We're going back to North Myrtle Beach this year and I cannot wait! You may remember that I shared all about the best places to eat there last year and I'm so excited to stuff my face with some seafood.
And we're even squeezing in a little day trip to Charleston before North Myrtle Beach as well. Be sure to check out all the fun things to do in Charleston too if you haven't yet!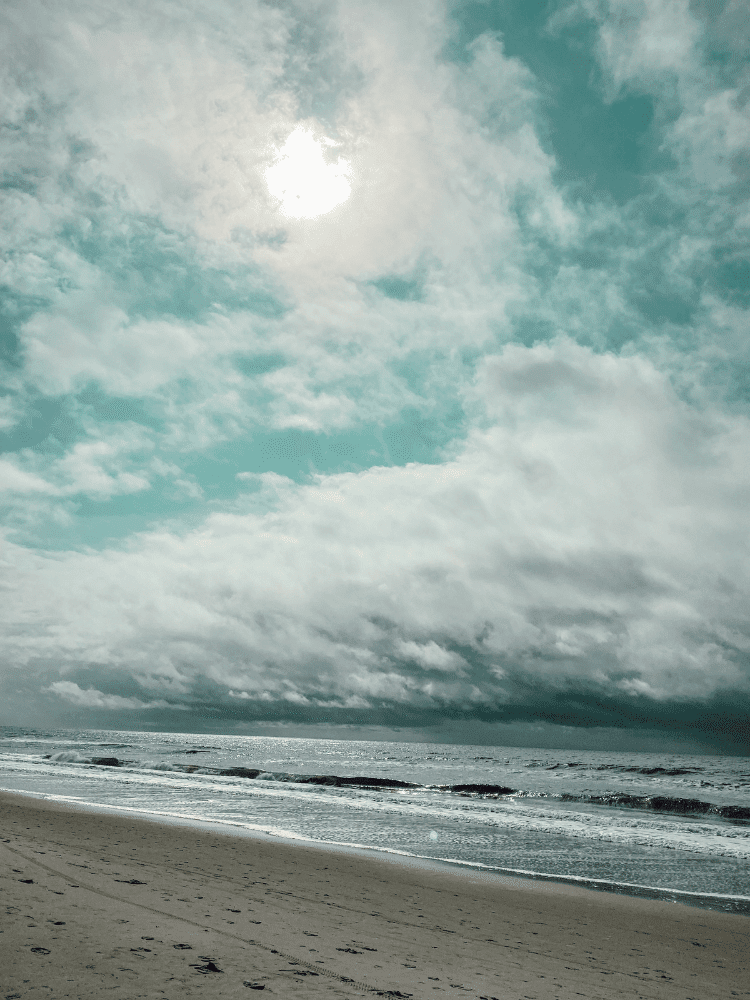 This post contains affiliate links. Click here to read my disclosure policy.
Beach Outfits
I think one of my favorite parts of what to pack for the beach is planning all the cute outfits to wear! Most of the outfits I have pictured below are from my favorite online boutique, Pink Lily.
They usually have some great seasonal sales going on, but you can always use the code "JUNE20" for 20% off anything as well!
Plus, it's good for whatever month it is. Just replace "June" with the current month, and you got yourself a 20% coupon! You may remember when I shared all of my spring fashion ideas a few months ago, I also got most of the outfits from Pink Lily then too.
Bodysuits
I may be late to the party here, but I got my first bodysuit and I gotta say, I love it. I always held off on getting one because I thought they would be super uncomfortable.
But, I am happy to report that it is super comfy and buttery soft. Plus, I love the smoothing effect it gives you when you wear it with shorts. Like these high rise acid wash denim cutoffs I have pictured below!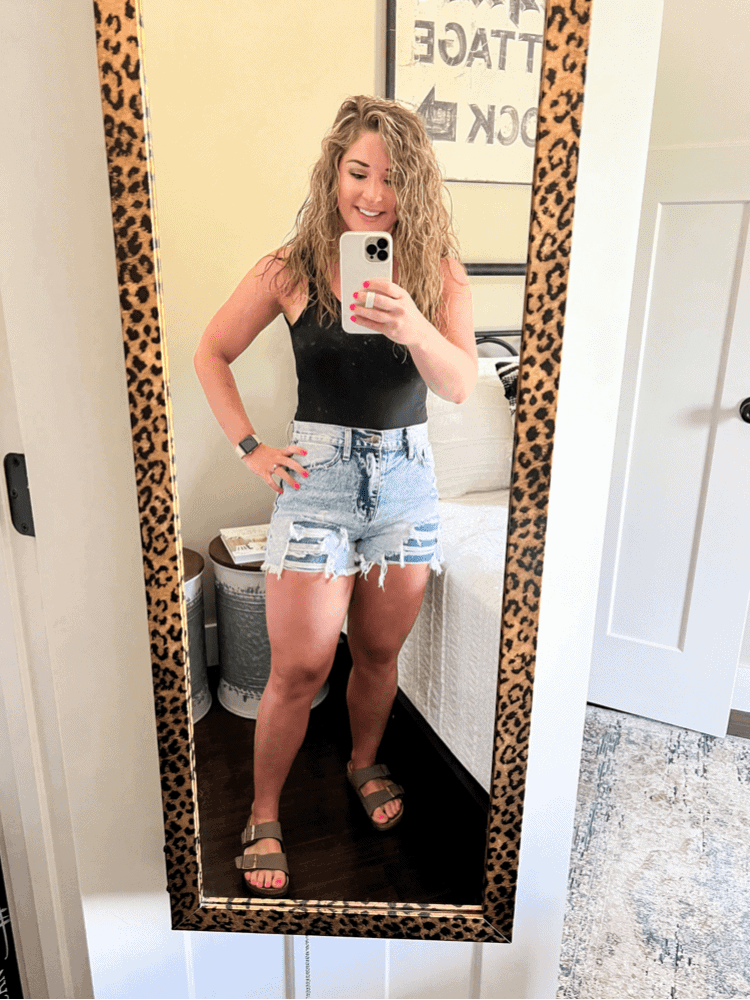 I think I will definitely be getting another bodysuit in multiple colors as well! This will probably be my summer go to staple when it comes to fashion!
Shorts
I used to never be a shorts gal, but here lately I am loving all the fun printed and pull on shorts I have found. I think my favorite pair is pictured below. How cute are those cheetah print shorts?? I mean, can they be any cuter?!
I am a tad bit cheetah print obsessed (as you can also see from my mirror here), so these were a no brainer for me. I also love that they are silky soft and they have some extra room in them. They definitely aren't too tight which is very important after binging out on all the seafood!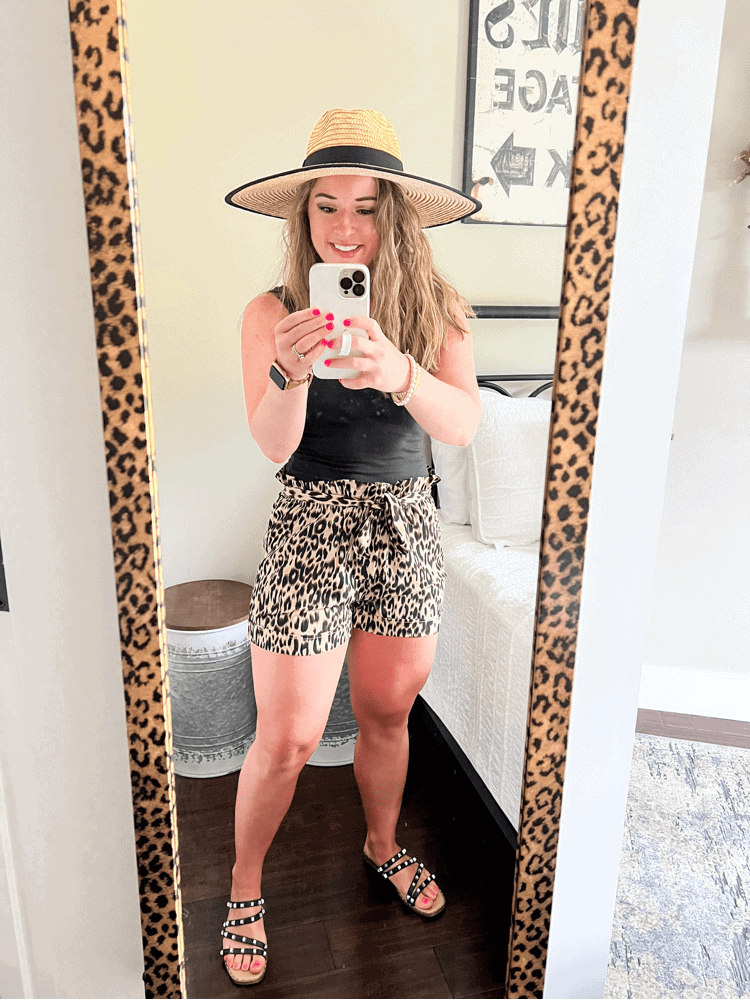 I paired the shorts with the black bodysuit I talked about above as well. And this cute straw hat was the perfect completing addition to the outfit in my opinion! It will also be perfect to wear out on the beach or by the pool to keep the sun off my face too.
Another cute pair of shorts I got this year for the beach are these olive pull on shorts. Again, they are super lightweight and comfy with a lot of stretch to them. So these will be perfect to wear on a very hot day.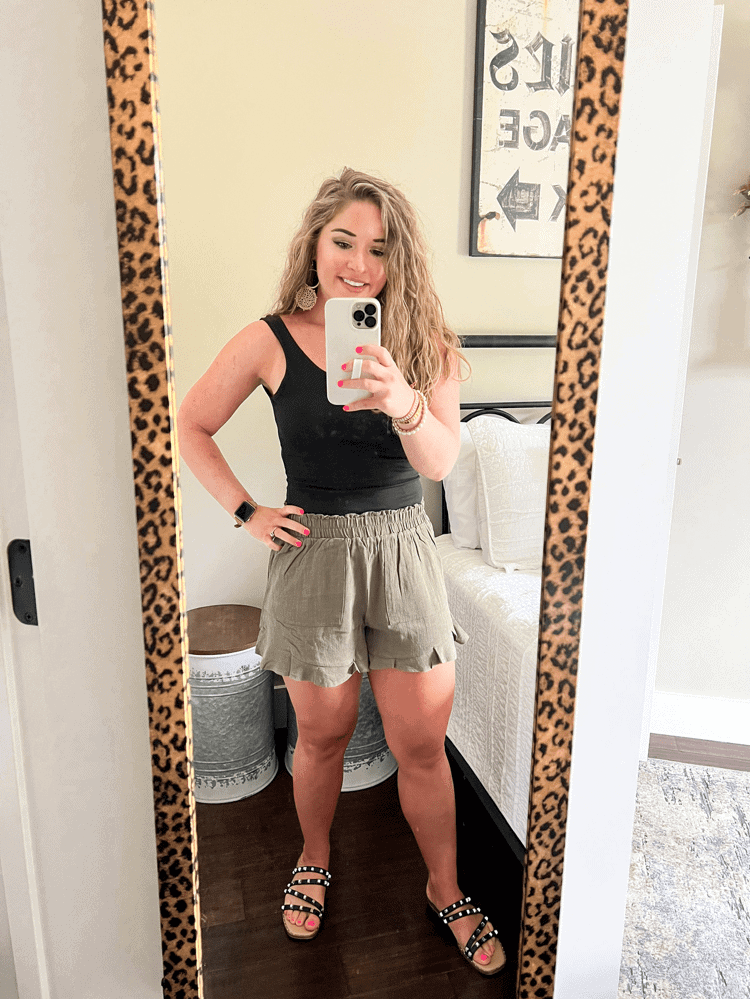 Graphic Tees
Graphic tees are always a must and not just for a beach outfit! I am loving this cute "Somebody's Problem" one pictured below.
In case you don't know, that is in reference to a Morgan Wallen song. And, we are planning on going to one of his concerts later this summer so obviously I had to get it!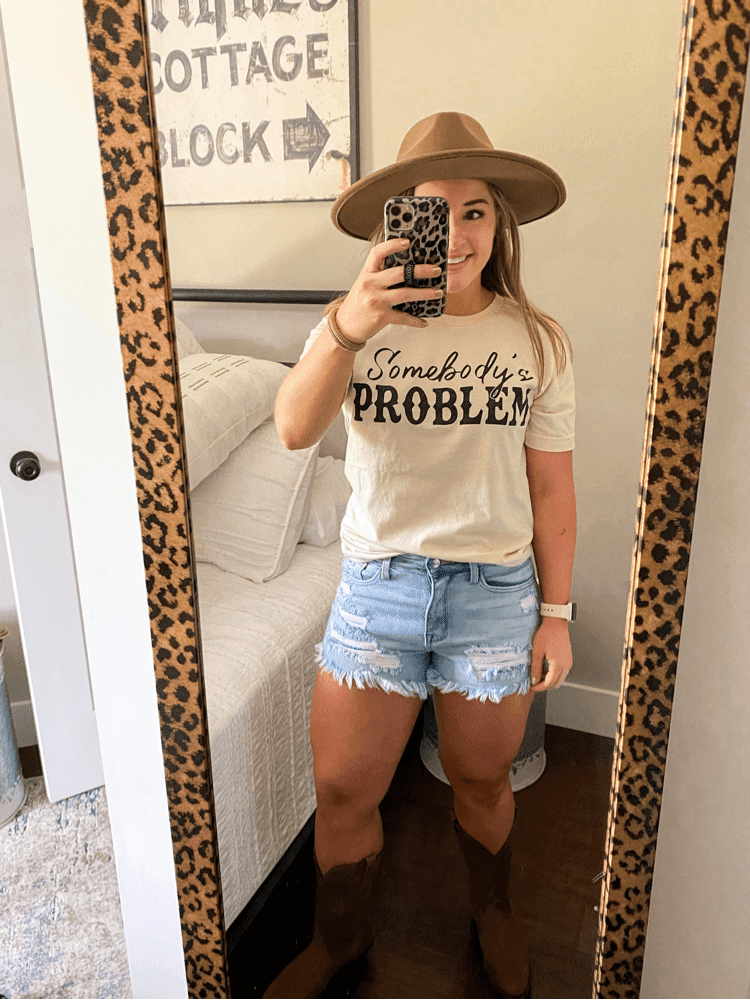 But, I love the simplicity of just throwing on a graphic tee with a pair of jean shorts, and you are just ready to go. Some nights, I don't feel like getting all dressed up for dinner, so this is my go to option when that happens!
Sandals
My weakness is shoes and sandals. And I definitely pack way too many with me when going on vacation. I will try to keep this short and sweet since I can go on and on about them.
But basically, I just try to keep it simple and comfy and pack shoes that are easy to walk in.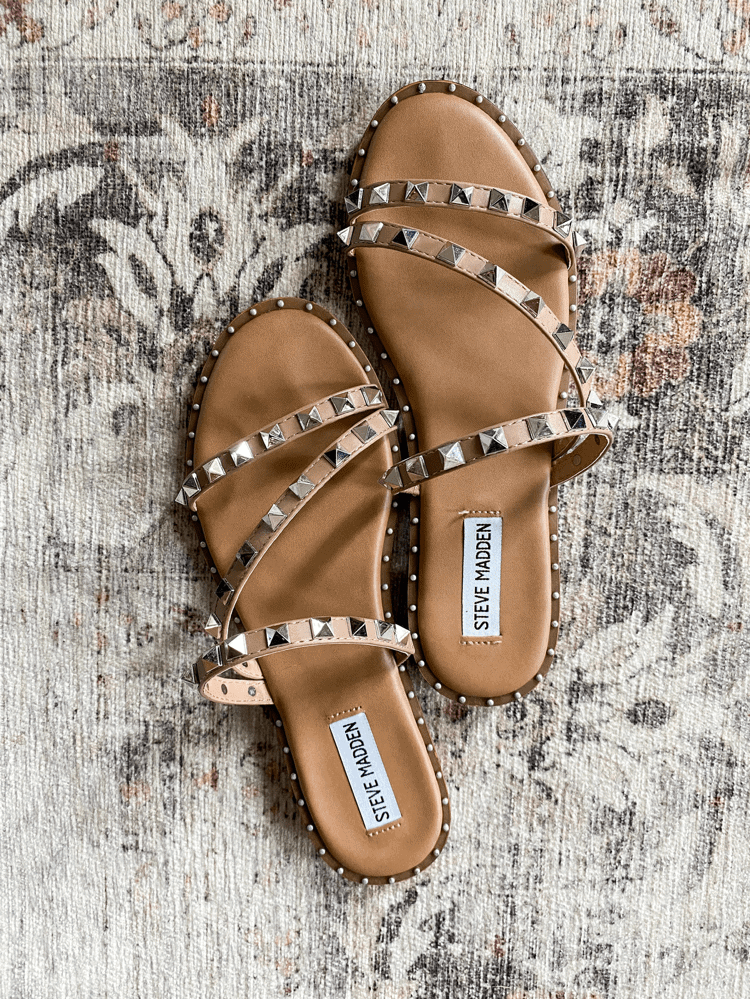 Cropped Sweatshirts
I don't know about you, but I always get cold at the beach at night. Especially when we are in our condo and the air conditioning is on. Or sometimes, even when we go out to eat and the restaurant is super cold inside.
So I always like to pack with me a cute, cropped sweatshirt, like the one pictured below. It's not too thick and won't make you burn up, but it's just right to keep the chill away! Plus, it looks great with some high rise shorts as well!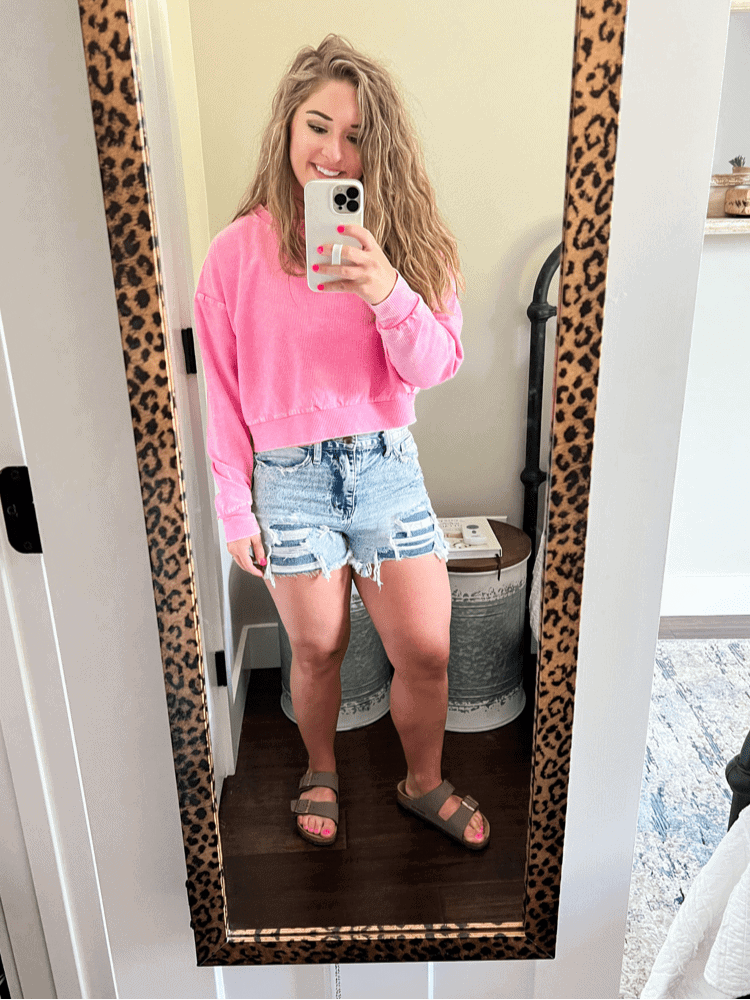 I also love a good, graphic sweatshirt too. Like this awesome America one below. It's not only perfect for the beach, but for any July Fourth activities you may have going on this year too. And again, it's super lightweight and not too heavy at all!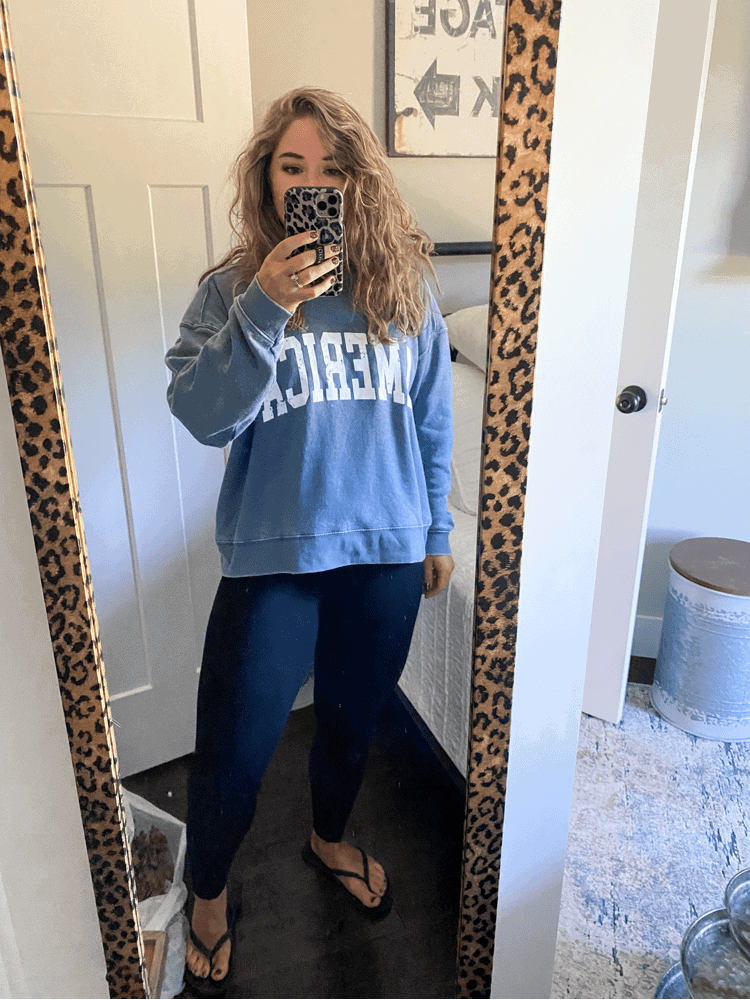 Maxi Dresses
A what to pack for the beach essential for me is a good ol maxi dress. When I do feel like dressing up for dinner, I love to wear a maxi dress. This one I have pictured below, I have paired with a cropped denim jacket too.
Which is another one of my go to's. Add in some cute sandals, like those pictured above, and you're all set! Such an easy outfit, but it makes it look like you spent a lot of time planning it out.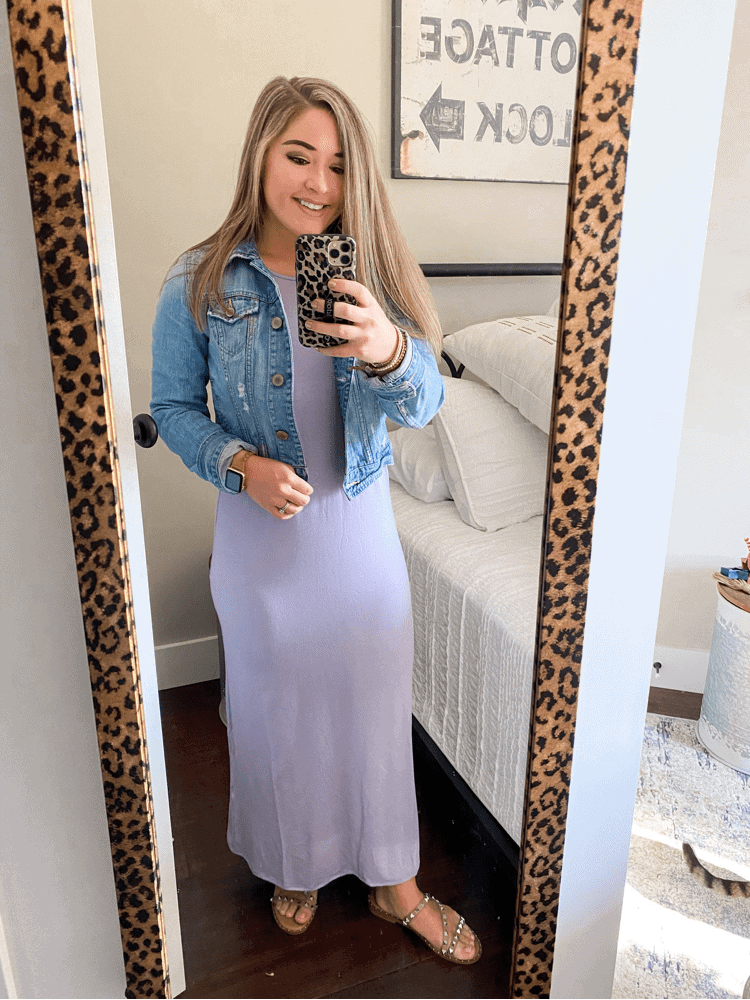 Beach Accessories
Okay, now enough about my outfits. Another important aspect in what to pack for the beach is all the important beach accessories! Here's a list of some of our favorite essentials below:
Portable Speakers
We always love to have music going while sitting out on the beach so these portable speakers are a must!
I have tried a few other brands of portable speakers, and I gotta say, JBL is hands down the best one we have had so far. The price is pretty great too for the quality of the speaker in my opinion.

Beach Wagon
We like to pack a lot of stuff with us when we go out onto the beach. Hence why the beach wagon is definitely one of our essentials in what to pack for the beach.
Otherwise, we can't carry all of the stuff with us!

So even if you are staying somewhere that isn't oceanfront, this wagon makes everything so much easier to haul. It comfortably fits our beach chairs, towels, cooler, and other accessories we bring with us to the beach.

Sunscreen
You definitely can't go to the beach without making sure you have plenty of sunscreen with you of course! And y'all already know that I am a huge fan of TULA Sunscreen!
My favorite one is their protect and glow gel broad spectrum sunscreen. It also has UVA and UVB protection in it as well. I wear it daily under my makeup too, even when I'm not at the beach!

You can also always use my code "15CHARITY" if you're looking to get 15% off anything at TULA!
And they even have another sunscreen to choose from, their mineral magic fluid broad spectrum sunscreen as well. Again, this one is UVA and UVB protected too!

Sunglasses
Another huge necessity in what to pack for the beach are of course, sunglasses! Especially for me since I just had LASIK Eye Surgery done in December of last year.
I am very partial to Ray-Ban's, especially since they can be customized and polarized as well. I love the ones pictured below so much that I actually have them in two pairs: black and brown!

My eye doctor told me to be sure I always wear polarized lenses when I'm outside. So I love how these always have a "P" on the lens to let you know that they are polarized.
Plus, they have such a great collection to choose from. You really can't go wrong with any of them!

Books
Okay, last but not least in what to pack for the beach are books for me! I don't know about you, but I am an avid reader and I love books. I go through so many during the summer that I need a whole stockpile of them at home.
And I definitely think reading at the beach is way better than reading at home. I will share some of my favorites with you below in case you are looking for a good beach read too!

Well, I hope you enjoyed this post all about what to pack for the beach! It wasn't my typical home decor post, but I think it's always fun to venture out and do a few different kind of posts now and then, don't you think?!
And, are you going on a beach vacation this year too?? If so, let me know below!