I've shared in the past all about the best places to antique hunt in Pigeon Forge. But we also love going down to Gatlinburg for a day when we make it to Pigeon Forge for a weekend trip too. It is such a fun and cute little town and there are so many things to do and so many places to eat!
I thought it would be fun to share with you guys what we like to do when we are down there and our favorite spots to eat as well.
We consider the Gatlinburg/Pigeon Forge area like a home away from home for us and it just holds so many special and fun memories and I enjoy sharing all of our tips and tricks for making your next trip down there a memorable one as well!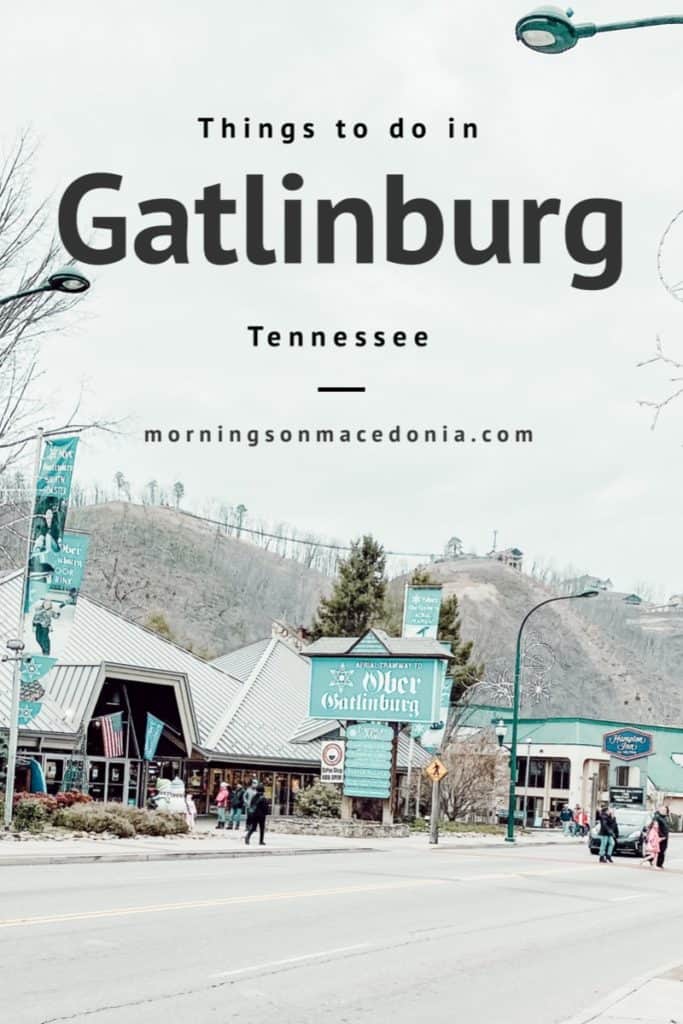 Skybridge
We have been to Gatlinburg multiple times since the Skybridge opened down there, but we have never actually done it. We have always admired it from a distance, but at this trip, we finally decided to go for it and do it ourselves!
And I am so glad we did! It was so much fun and the views up top were incredible. I definitely recommend that you try this out at least once in your lifetime. Here is all the info for it:
Skybridge Gatlinburg
765 Parkway 
Gatlinburg, TN 37738
(865) 436-4307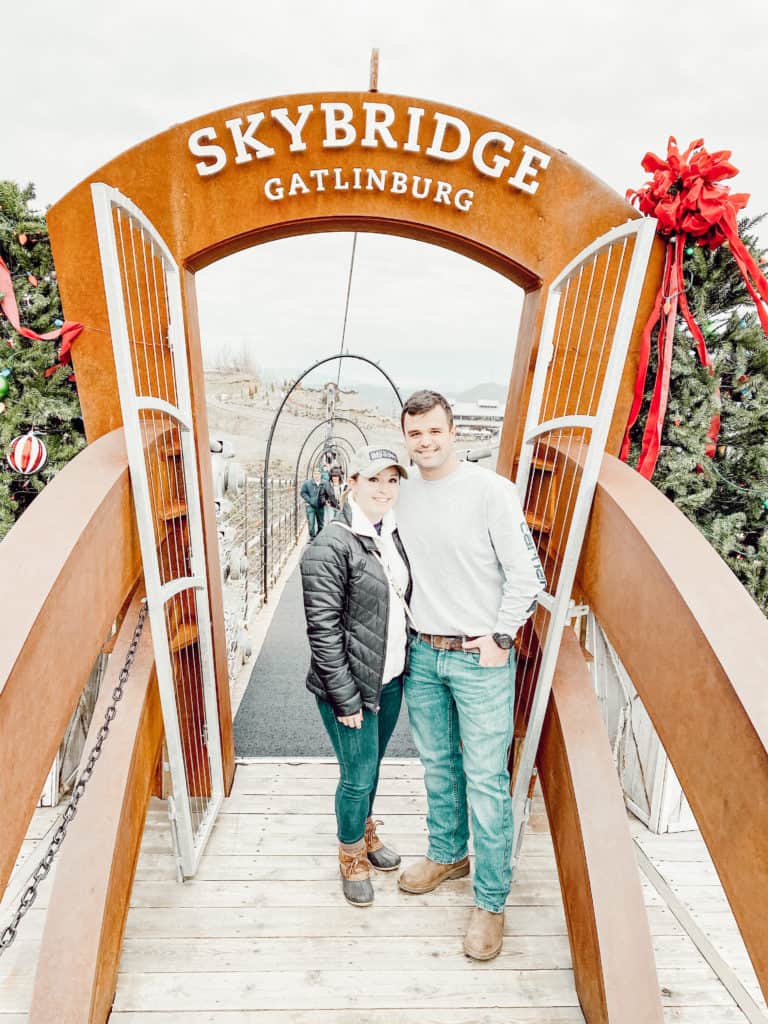 Pricing to Skybridge
The cost of the tickets for us was $25 a piece. So it is a little pricey, but you do get to ride up to the bridge as many times as you want to for the whole day until they close so that is a plus.
And the views from the top are definitely worth it in my opinion!
You get to ride these chair lifts up to the top and they take you all the way back down as well. There is also a cute little cafe area at the top where you can order food and drinks while gazing at the beautiful Gatlinburg skyline.
They have plenty of outdoor seating so you can really take in those views. They also take your picture when going up the chair lifts and you can purchase that among other little souvenirs in the little gift shop area they have up top as well.
So my honest review of the Skybridge is that it is definitely worth trying out at least once. I enjoyed the views from the top and walking across the bridge was pretty cool.
However, if you do not like heights, then you most likely wouldn't enjoy it. There is a glass bottom part to the bridge where you can look all the way down and it is a little shaky and wobbly when you walk across it too.
So I could see someone scared of heights really not enjoying this adventure! But, we managed and I was very happy we did. It's always fun trying something new and exciting!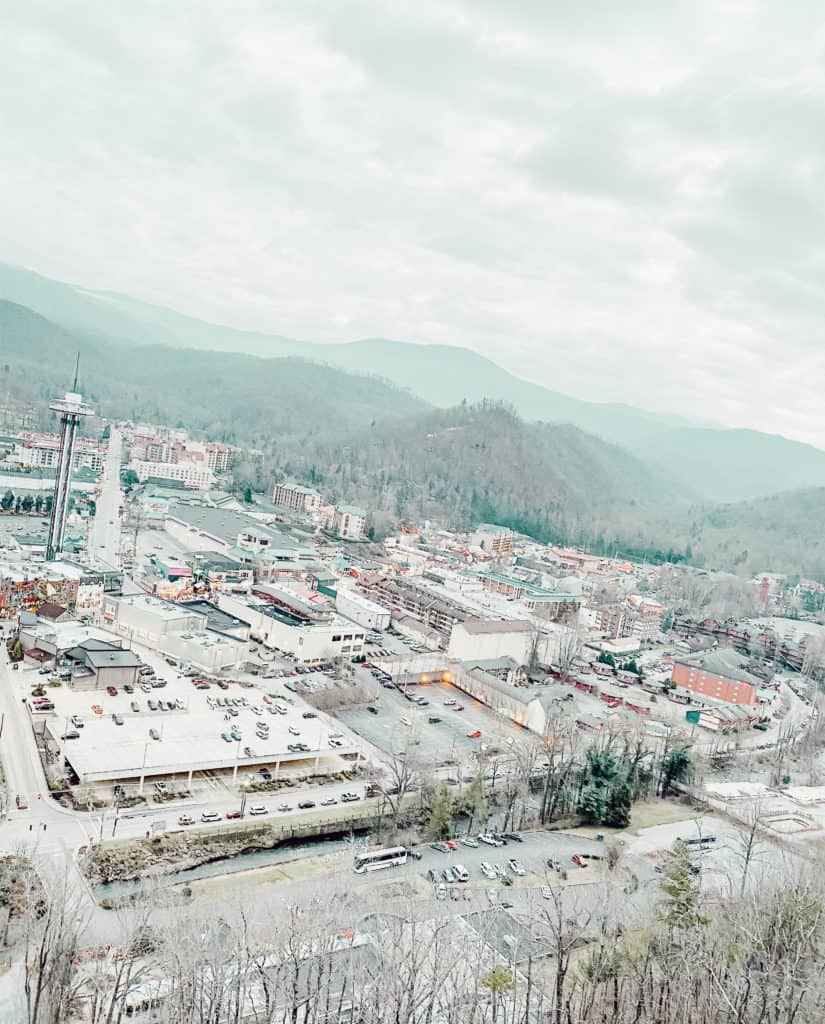 Shopping
There are plenty of places to shop along the main strip of Gatlinburg as well. From outdoor stores to souvenir shops, they pretty much have it all!
My favorite is always Paula Deen's little shop and basically any others that have unique home decor and boutique clothing.
And thankfully, there are plenty of stores there that do! It's always so much fun going in and out of all the stores because you never know what you could find and I just love the small town shop feel to them!
There are also plenty of candy stores and coffee places as well if you need a quick bite to eat too!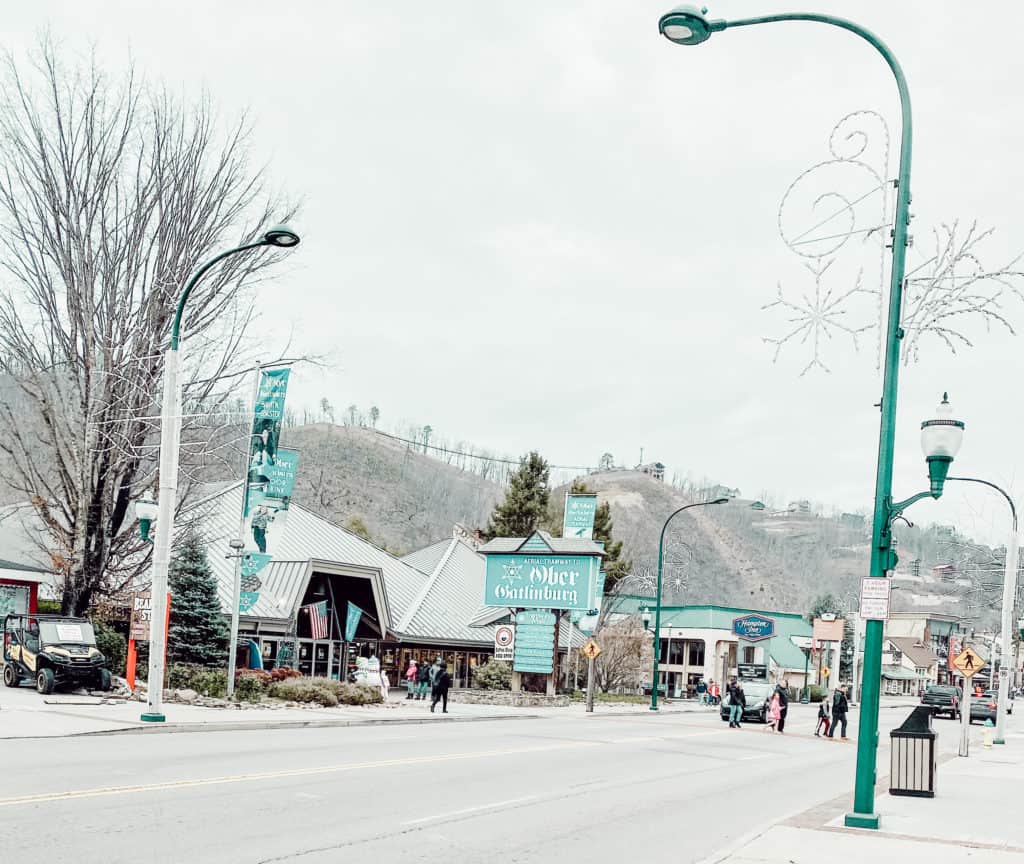 Eating
Well now here is my favorite part- the best places to eat in Gatlinburg! I always love going out of town so we can try some new restaurants; but there are a few places here that we always go to no matter what!
Dinner
And I thought I would share some of our favorite restaurants with you in case you were wondering. Our number one top place to go is Smoky Mountain Brewery. Their wings are phenomenal and their pizza is pretty good as well. It is also reasonably priced which is always a nice thing!
They have another location in Pigeon Forge too, but we always like coming to the Gatlinburg one because the views here are amazing.
You can see the Skybridge out the window while you are eating as well! I've never had a bad meal there so that's why I definitely recommend trying it out.
Some other favorite restaurants in Gatlinburg of ours- Calhoun's, Alamo Steakhouse, Landshark Bar and Grill, Dick's Last Resort, and No Way Jose's Cantina.
The Alamo is a tad on the pricey side so it would be a good restaurant to try out for a special occasion. And also, Dick's Last Resort and No Way Jose's Cantina have locations in Pigeon Forge as well too.
Breakfast
If you're looking at ideas for breakfast, then Pancake Pantry is the way to go! Their crepes are amazing! But also, if you go during the Spring/Summertime, be prepared to wait.
That place is always packed because it really is so good!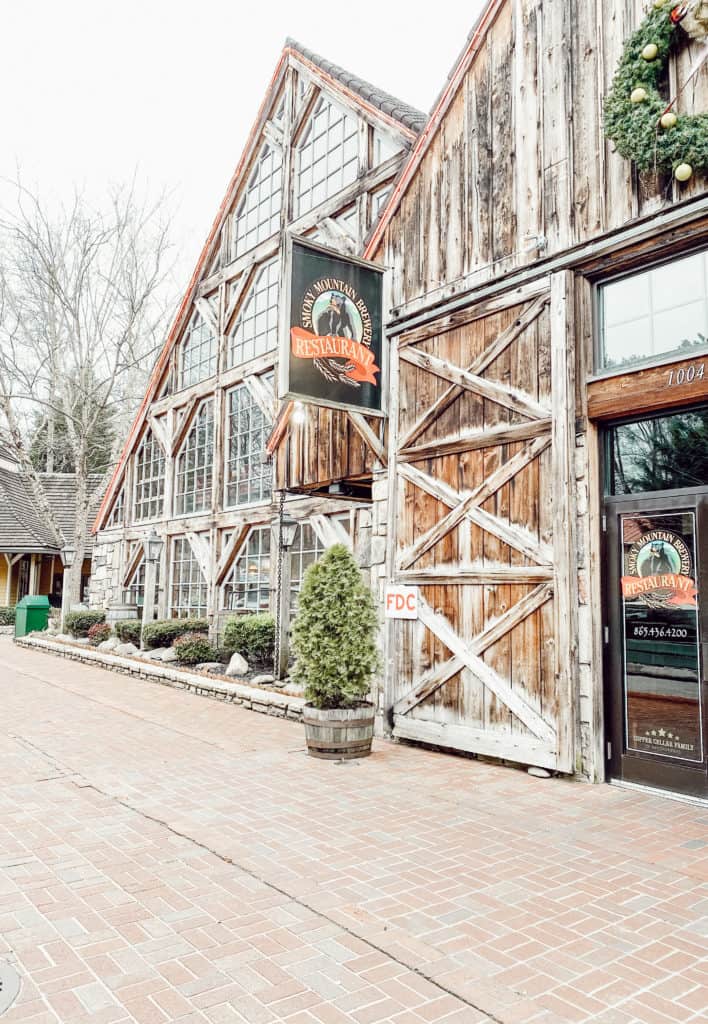 Other Things to do
If you're not into shopping and eating (I'm not sure how you couldn't be though to be honest!), there are plenty of other things to do around Gatlinburg as well.
Ripley's Aquarium is definitely something you should try out too. We didn't go on this trip, but we have been before a few times and it is great.
They also have several other attractions downtown too such as their Believe It Or Not museum. Another thing I would like to do that we haven't tried out yet either is Anakeesta Theme Park which is also up high on the mountains, similar to the Skybridge.
They have a skywalk and a garden walk up there as well as a few places to eat too. Maybe next time we go down there, we can try that attraction out and I will let you guys know what I think!
So hopefully I have outlined a few little tips for you guys to implement for your next trip to Gatlinburg!
There are plenty of other things to do as well, but I tried to keep it short and sweet and really just highlight the things that we love to do while we are down there. Have you all ever been to Gatlinburg before?? If so, tell me what your favorite thing to do there is!