Since being stuck at home with limited project supplies, I have had to turn my creativity up a notch. I have always loved the look of aged terra cotta pots, but unfortunately I did not have all the supplies it called for on hand.
I did, however, have a few extra terra cotta pots and some paint. So I decided to do a little easy DIY: Painted Terra Cotta Pots!
I like the look of regular terra cotta pots, I think they are perfect for Spring. But my front porch has a lot of green and blue hues to it so I wanted them to accent that a little more.
And since all my leftover paint was in that color family, I decided to go for it and transform them into something totally different! I am so happy that I did, because I think they look really spectacular on my porch now.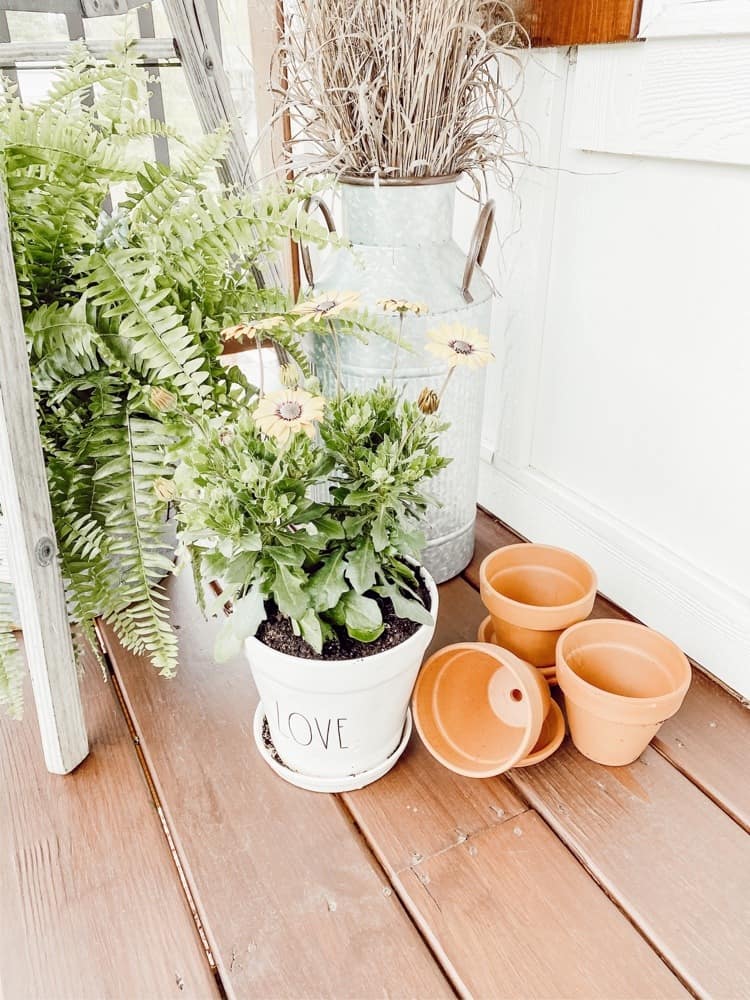 This post contains affiliate links. Click here to read my disclosure policy.
Supplies Needed: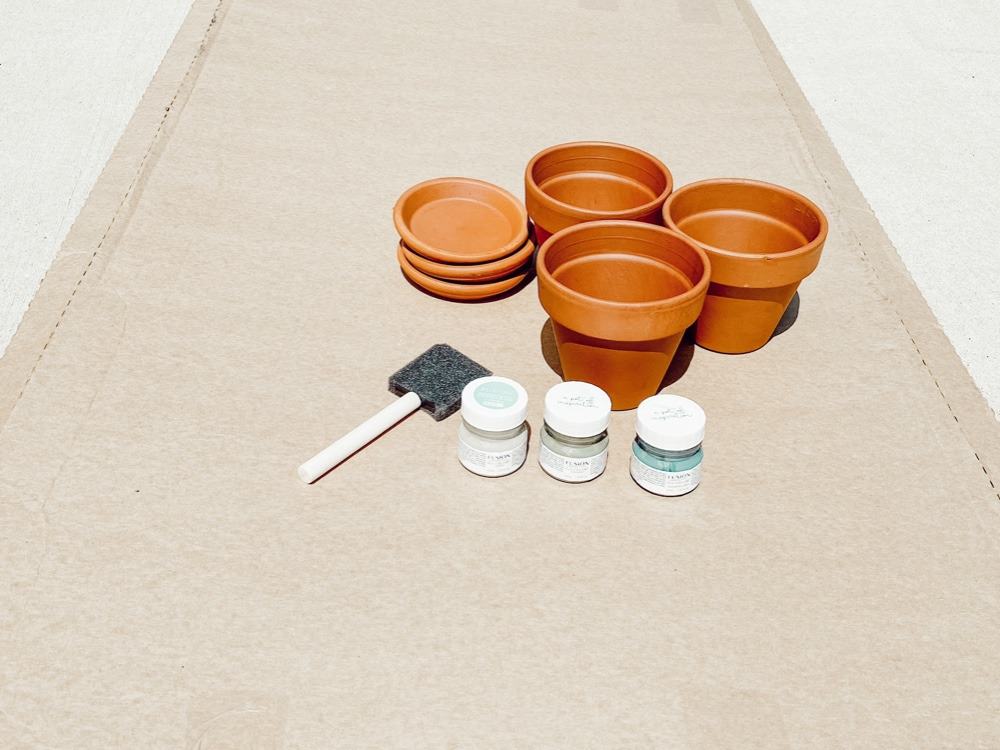 Directions On How To Paint Terra Cotta Pots:
The first thing you need to do is make sure your terra cotta pots are clean. I actually used them for planting last year so they were a little dirty. All I did was wash them off in warm, soapy water and then let them dry completely.
After they are dried and cleaned, it is time to paint them! I used Fusion Mineral Paint and again I am so super impressed with this paint!
The three colors I chose for this project were Lichen, Bayberry, and Homestead Blue. These were all the sample sized pots and I had plenty of paint for this project, as well as some left over too!
Once I painted them, I let them dry overnight. Now, you can either choose to be done at this step or continue on with me to the next step.
I wanted them to look more aged and older, but if you are happy with just a little paint on the pots, then leave them as is!
Distressing The Painted Terra Cotta Pots
So to distress them, the first thing I did was dry brush a little white paint on them. Basically, I poured a little white paint out on the cardboard I had the pots on, and dipped my brush in it.
Then I swiped several times on the cardboard to remove the excess white paint. Once I just had a little left on my brush, I barely brushed a few strokes of white paint on the pots.
You can do this as much or as little as you please. I wanted them to have a bit of a chippy look so I am very happy with how they turned out after dry brushing the white paint on them.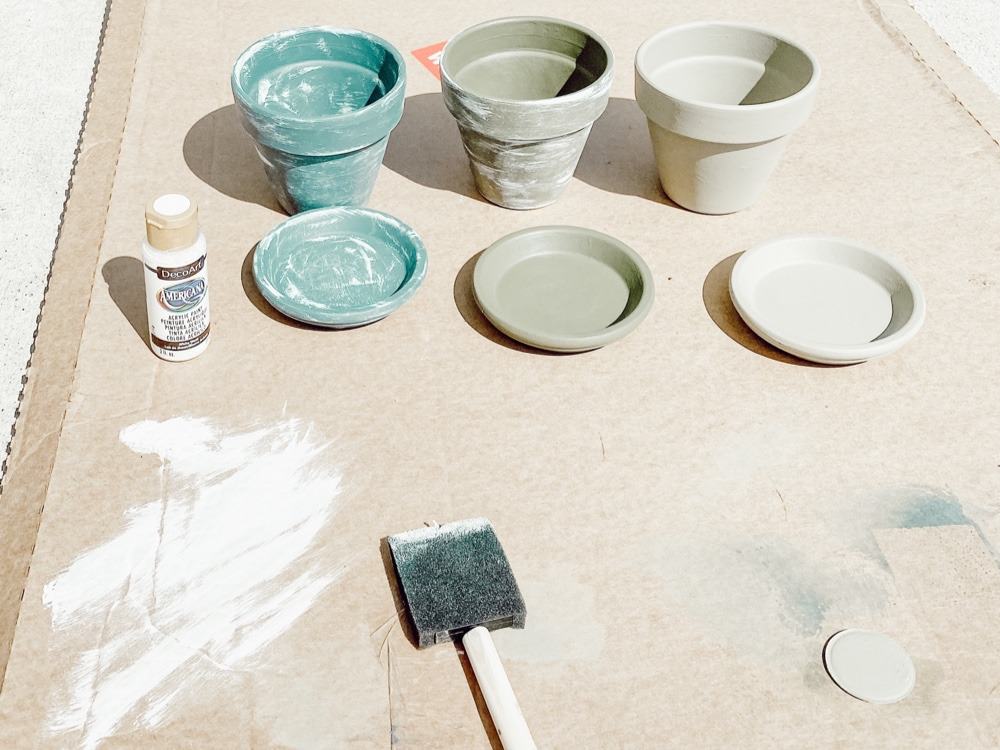 Again, you could stop here if you are satisfied with how they look. But, I wanted to give mine even more depth and texture after dry brushing the white paint on.
Once they were dry (which didn't take very long since I only used a little paint), I wanted to add a dark antiquing wax to them to give them more dimension.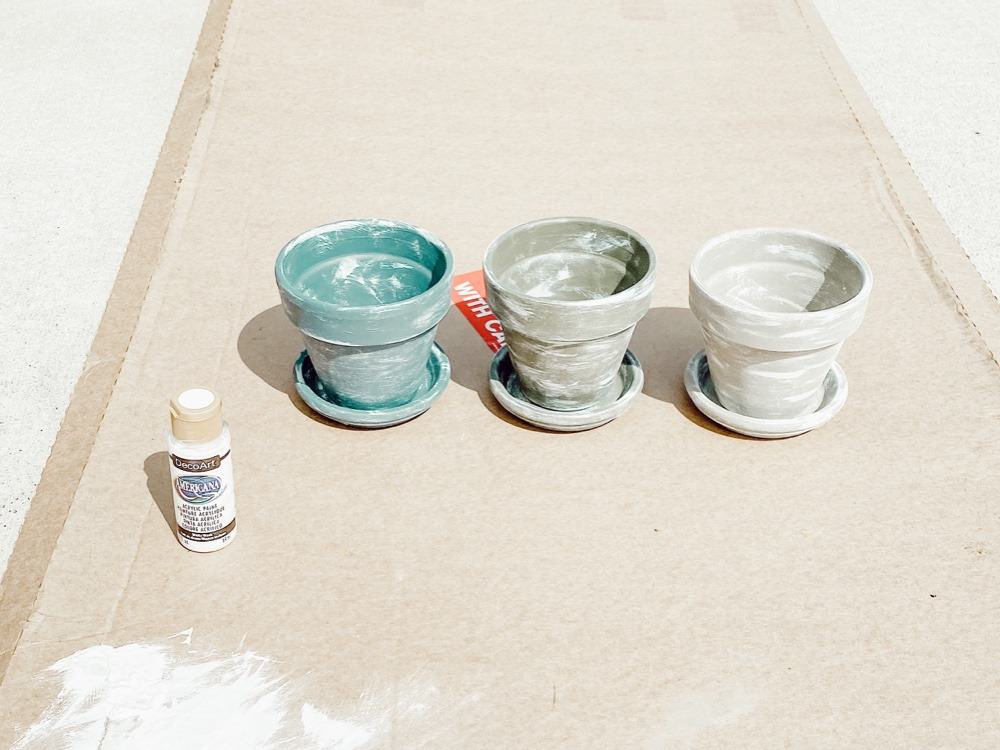 Aging The Painted Terra Cotta Pots
If you remember from my painted mirror frame I did a few months ago, I used the antiquing wax on that too. You don't need much of it at all. A little goes a really long way.
All you need to apply it is a damp rag and then a dry rag as well. Use your damp rag to apply the product, and then the dry rag to wipe away the excess.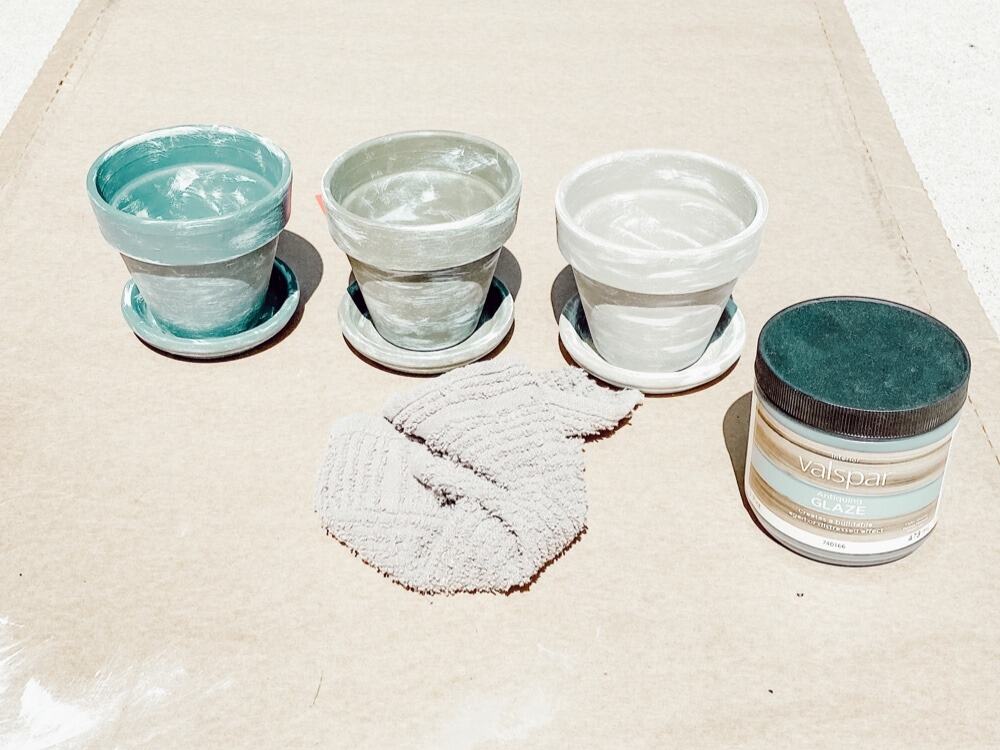 Don't worry if you accidentally put too much of the wax on it, you can easily buff it out or repaint it. I worked in small sections and just rubbed on a little here and there as I went.
I was very pleased with the final look of this easy DIY. After adding the antiquing wax, the pots really looked like they have gotten a lot of use over the years! Which was definitely the look I wanted to achieve in this project.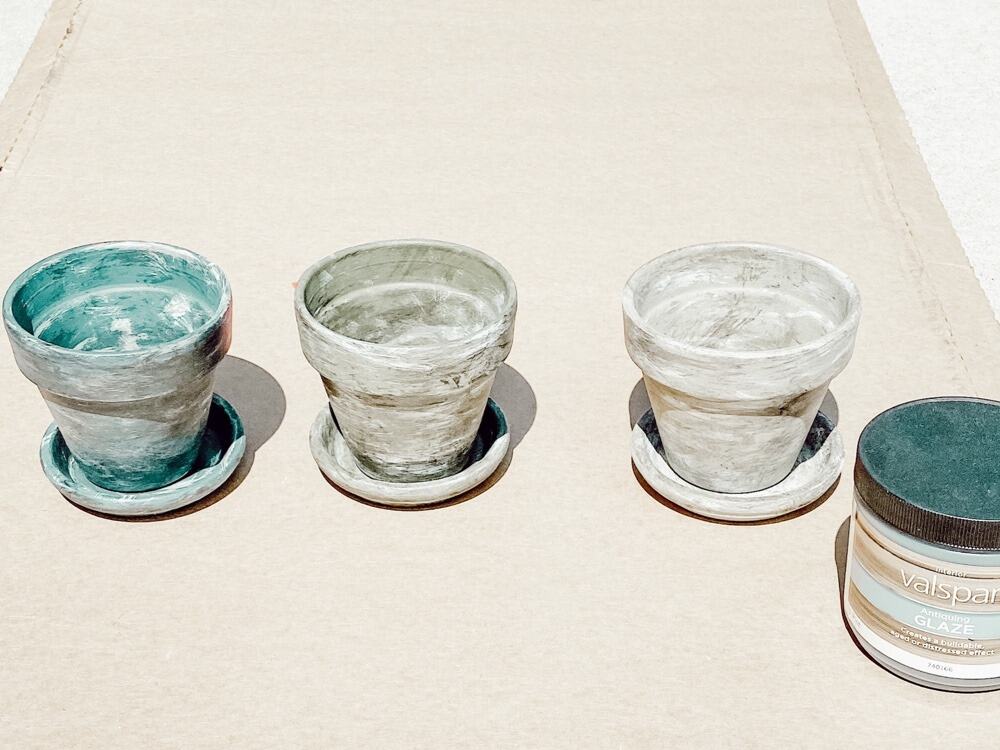 All in all, it only took me two days to complete and that was mainly because I was just waiting for the paint to dry. It was super simple and so much fun to do.
I love doing easy projects like this, especially now when there is so much on my mind right now. It is such a great stress reliever and the best part is you can just use what you have on hand!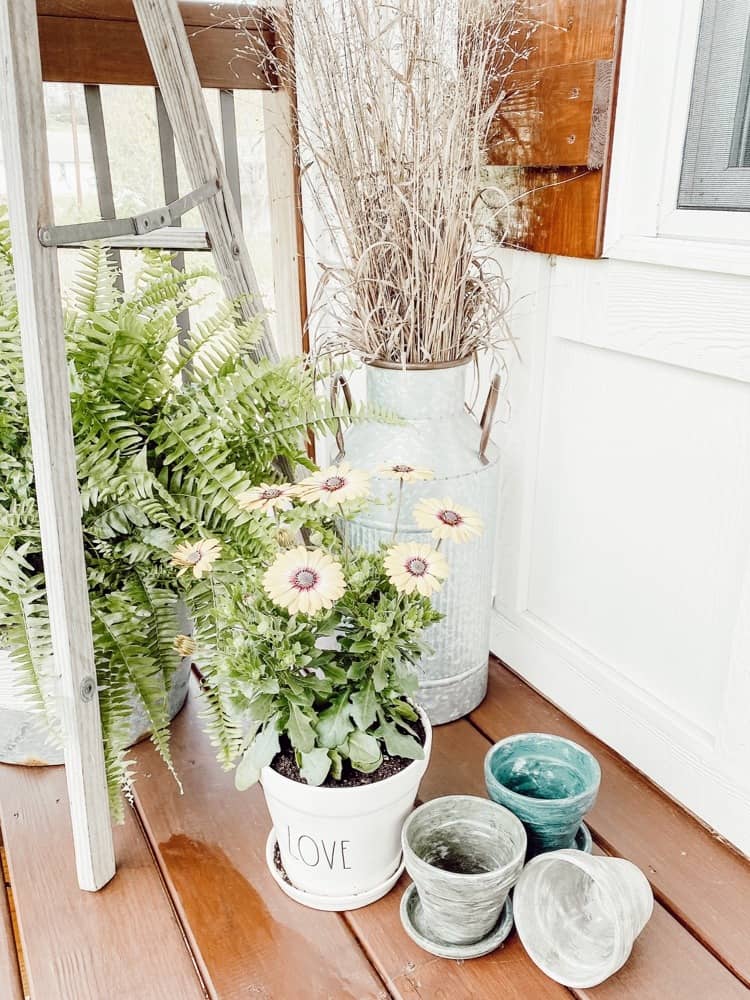 Another option to make them even more distressed and aged, would be to use sandpaper and roughen them up a little.
I thought about doing this too, but I was so happy with how they turned out that I didn't want to mess them up! And plus, if I ever decide I want to, I can always go back later and do so!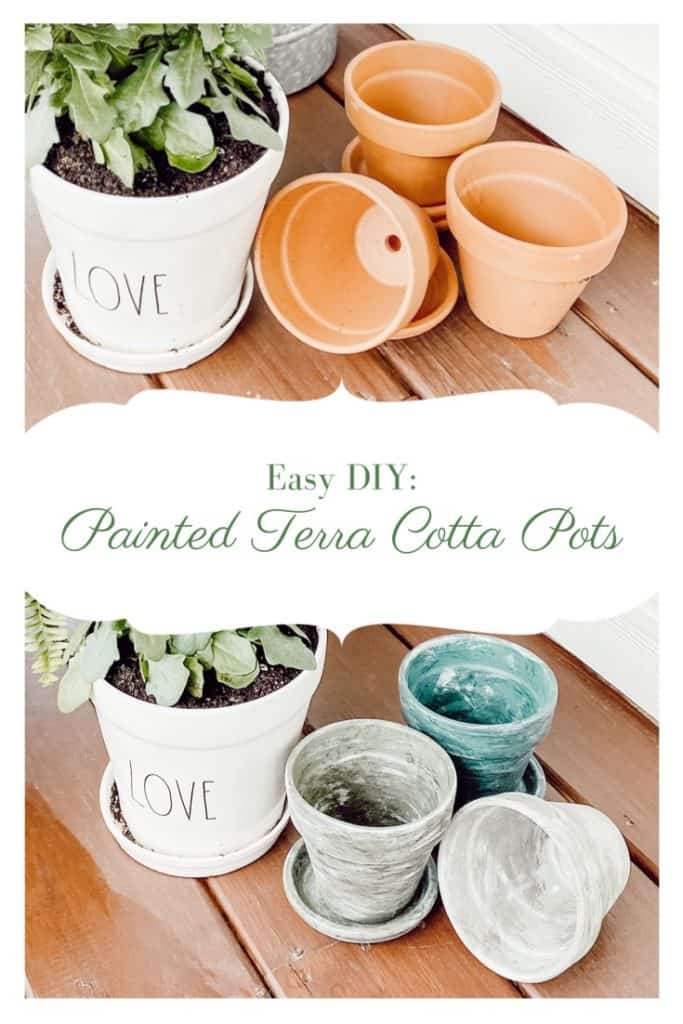 I would love to get a few more terra cotta pots and paint them in this same technique. But of course I was just using what I already had on hand.
Maybe if I can find some cheap online, I will order more and paint them too. I will keep you updated! And if you guys try this out, let me know! I would love to hear how this easy DIY: painted terra cotta pots went for you as well!