We absolutely love going down to Pigeon Forge for long weekend trips and we try to do it as often as we can. One of our favorite things to do when we are down there is, of course, to antique hunt. If you remember a few weeks ago, I shared all about the best places to antique hunt in Johnson City. Well now, I am going to share with you the best places that we like to go to near Pigeon Forge.
Most of these are actually located in Sevierville, TN but it's only a short drive to get there from Pigeon Forge. Keep on reading to see where the best spots are and what goodies we found while we were down there last weekend.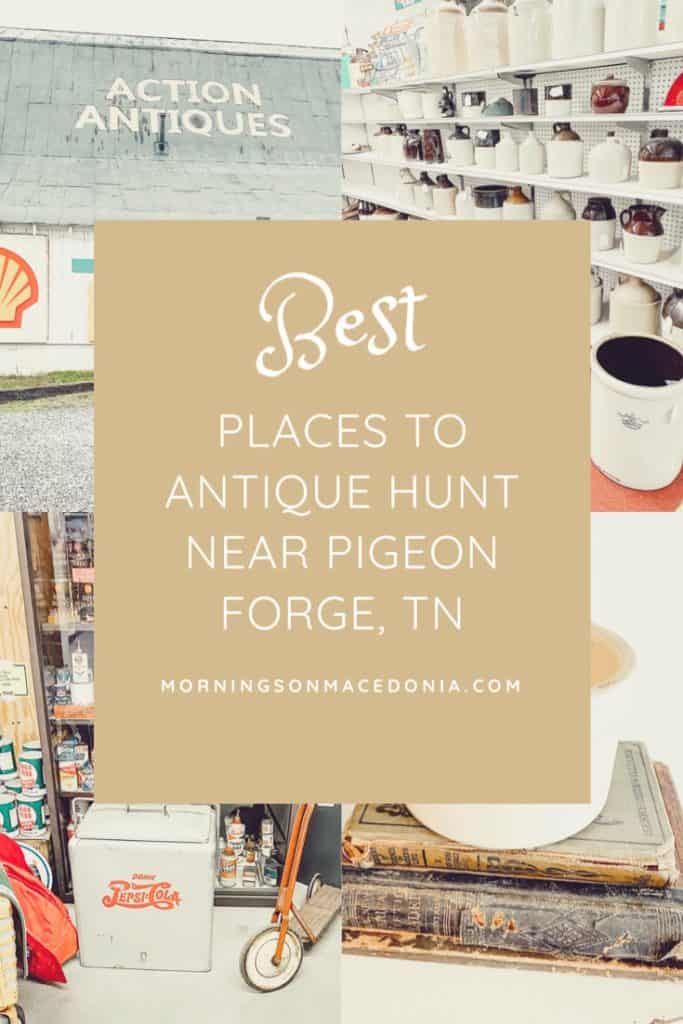 Flea Traders Paradise
Okay so my number one spot to go to first is Flea Traders Paradise. I like going here first because usually all of the prices are much cheaper and you can really find some vintage goodies if you dig around.
We found my antique coffee grinder from 1830 here and it is one of my most favorite vintage finds ever! I will say though that it is much better to go there during the Spring/Summertime.
We went this past weekend and there weren't as many vendors out. Most of it is outside and because of the chilly weather I don't think they like to do much during the wintertime. But come warmer weather, that place is packed full of vendors both inside and outside.
I used to never be a flea market kind of person. But after having so much success here and finding authentic vintage items for much cheaper than the usual antique store prices, I am hooked!
I did find some really cool antique books here this past weekend for only $1 a piece and a vintage butter crock for $15 as well. So it's definitely worth checking out if you are nearby.
Flea Traders Paradise 
1907 Winfield Dunn Parkway
Sevierville, TN 37876
Open Friday-Sunday only 9:00 am-5:00 pm
(865) 429-2716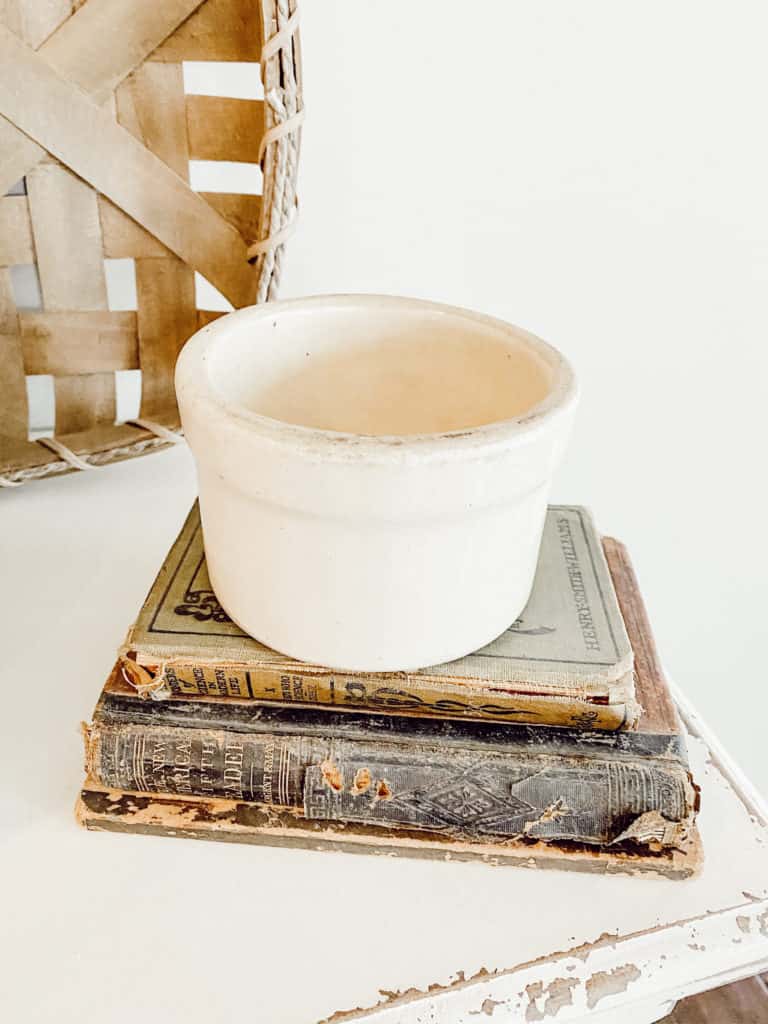 Mountainside Mercantile
Another place we love to go visit while we are here is Mountainside Mercantile. This one is a little smaller than most antique stores around, but it is usually packed full of vintage goodies.
And it's closer to Kodak, TN so it's usually not as crowded as some of the other places, which is always nice! The storefront here is just like you're entering a log cabin so it is very quaint and beautiful!
I found some gorgeous ironstone pitchers here, but they were pretty pricey. Like $150 for one pitcher! So sadly, I did not come home with those.
But, I did find this really cool vintage mirror that I plan on painting for just $15! So I feel like that was a pretty good deal and definitely worth a trip inside!
Mountainside Mercantile
3139 TN-66
Kodak, TN 37764
(865) 401-4663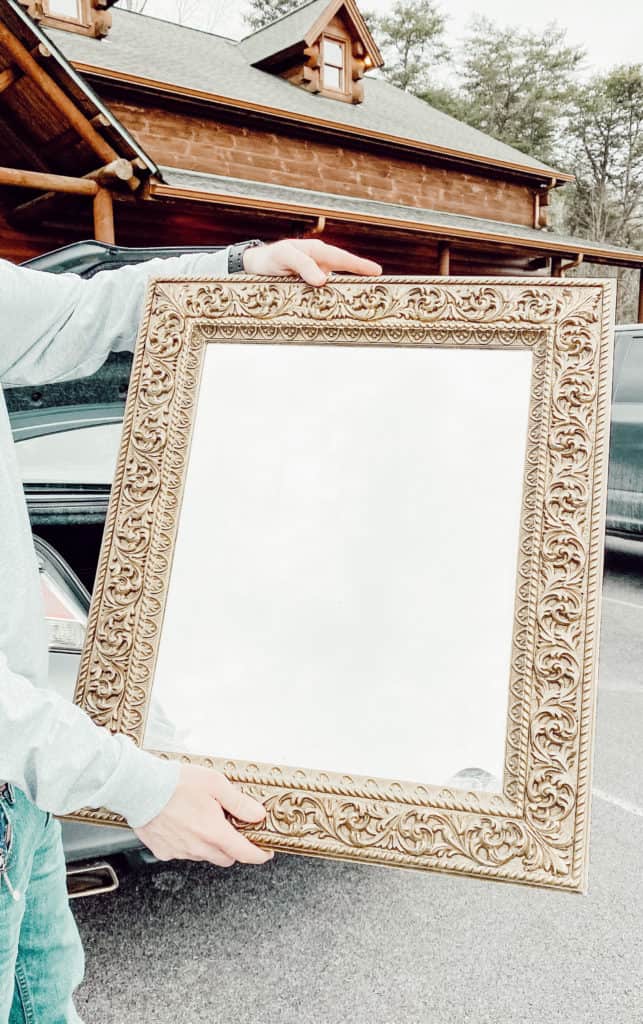 Action Antiques
This place is my hubby's absolute favorite place to visit. They have a lot of vintage garage signs here which is something he loves to decorate his garage with.
They also have a lot of Coca-Cola and Pepsi and other soda related vintage items too. I found an awesome Coca-Cola crate from here a few months ago and I use it all the time for vignette displays.
I have also been able to find antique books and kitchen items from here as well. It is definitely worth a stop by. We never leave empty handed from this store!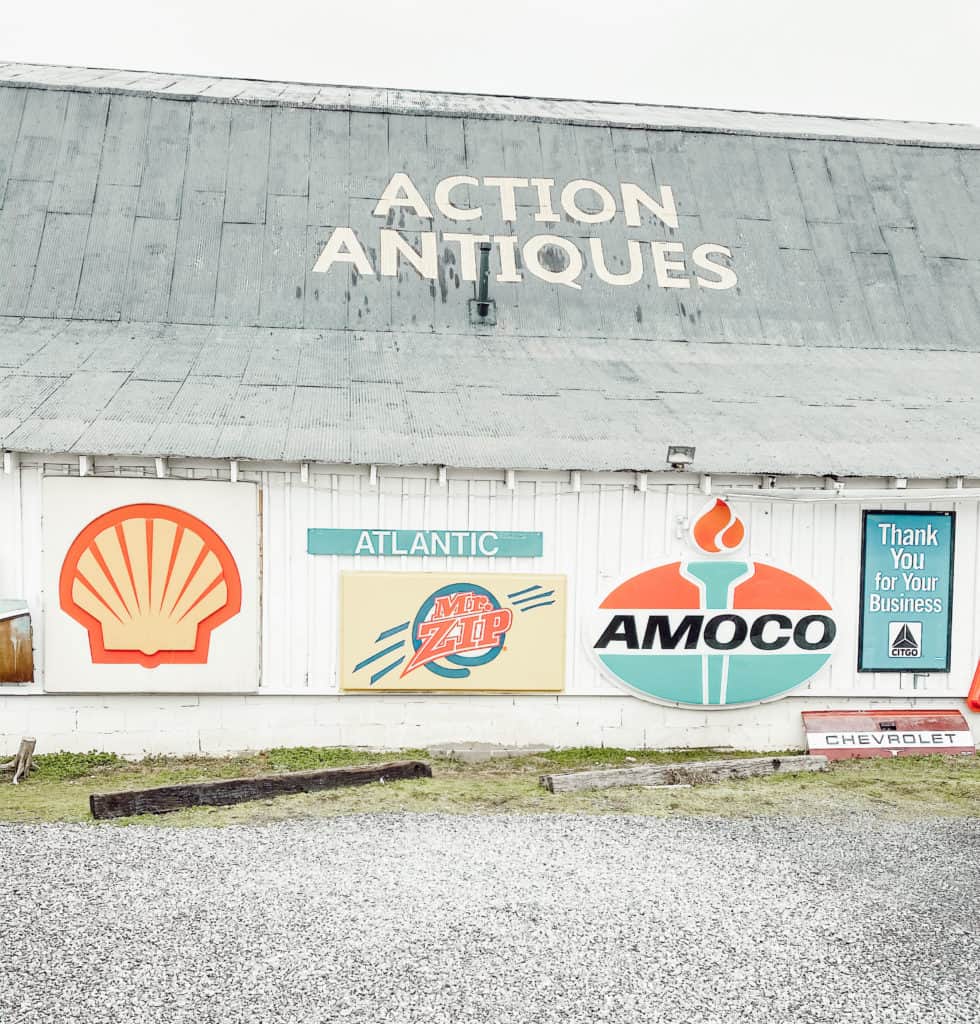 Memory Lane Antique Mall
We always like to stop in this antique store as well when we are there. They usually have some pretty great pieces too. I was able to score an antique dairy tin for our front porch last Spring for a pretty good deal here.
They have a lot of true vintage pieces as well, and that is what I am after when I am out antique hunting! Definitely worth a quick trip in if you can make it.
Although, with me, a "quick trip" into an antique store never happens! I have to look at everything and take my time!
I did find some Ironstone pieces here, which I was super excited about until I saw the price of them! I found those same teacups and saucers (a whole set of six) back home for just $32 for the whole set.
I used them for my Valentine's Tablescape, in case you missed that. But they were wanting $19.50 for just one teacup and one saucer!
Which I thought was outrageous considering I got a whole set of six for less than what two teacups and saucers would cost me here. I liked the the little creamer too, but I did not bring any home with me because I felt like I could find some for a better price.
That's just part of the game though. You always got to hunt through and see what you can find because you never know when you will find a great deal!
Memory Lane Antique Mall
1838 Winfield Dunn Parkway #1508
Sevierville, TN 37876 
(865) 428-0536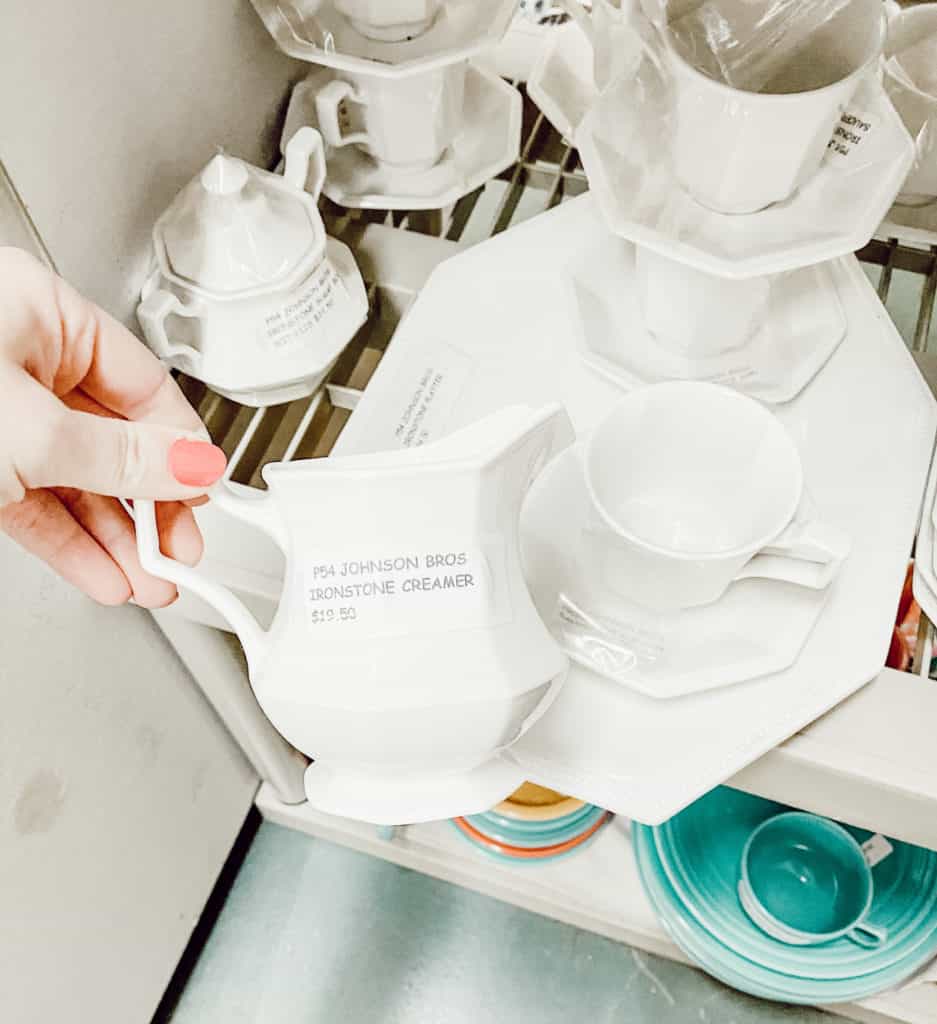 The Village Antique and Home Decor Mall
This is one of the last places that we always visit while we are down in Pigeon Forge as well. This place is HUGE y'all! You could definitely spend a few hours here going through all the booths for sure.
I recommend going in with a game plan of what you are looking for, that way you don't get too overwhelmed when browsing around. I find that always helps me stay focused. This store was also one of the same stores we visited in Johnson City too.
They have a lot of different ones all spread out through Tennessee. So if you are ever near one, you definitely need to go check it out!
The Village Antique and Home Decor Mall
1442 Winfield Dunn Parkway 
Sevierville, TN 37876 
(865) 366-2348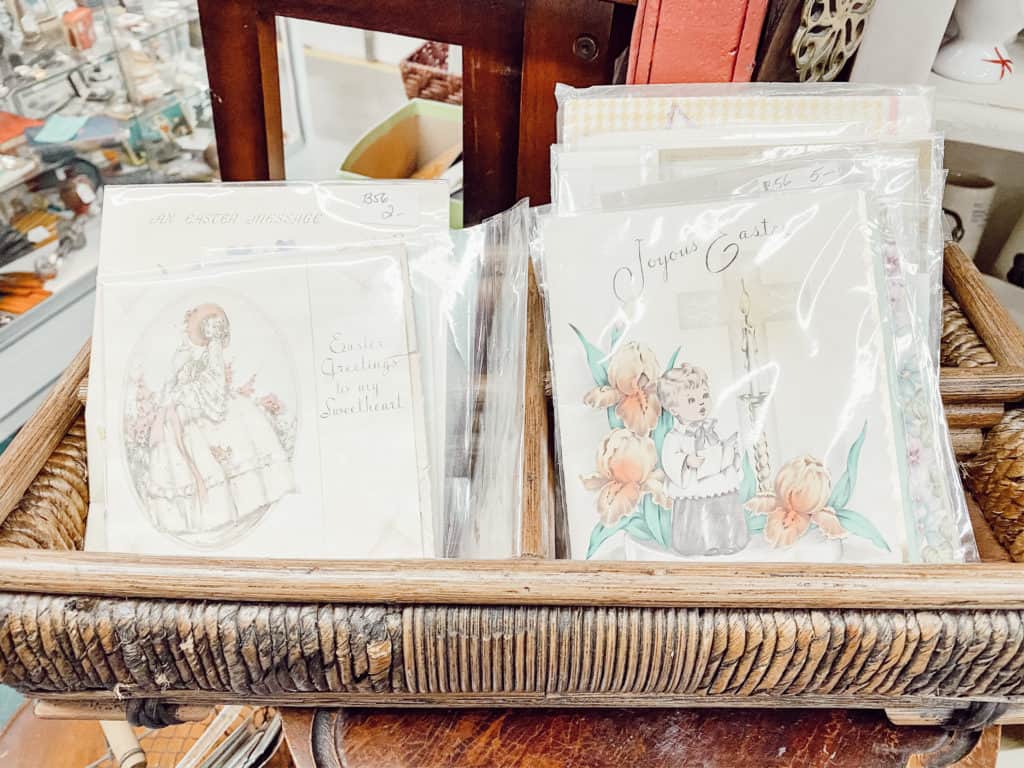 I hope you all will try out some of these awesome antique stores the next time you are around this area! These really are the best places to antique hunt in Pigeon Forge (in my humble opinion!).
And, there are plenty more too! If I wrote about all of them, it would probably take me several days and I just don't have time for that!
That's why I narrowed this down to our top 5 places to go while we're there. So if you see another store nearby, I recommend always going in and checking it out because you just never know what treasures may be hiding inside! Happy hunting, friends!