You may remember awhile back when I shared all about my Vintage Valentine's Day Garland I made for my hutch. Well, I thought I would recreate it again for the current season at hand! I decided to make a vintage Christmas card garland and I couldn't be more pleased with how it turned out.
And the best part is it took under five minutes to create! So easy and very festive!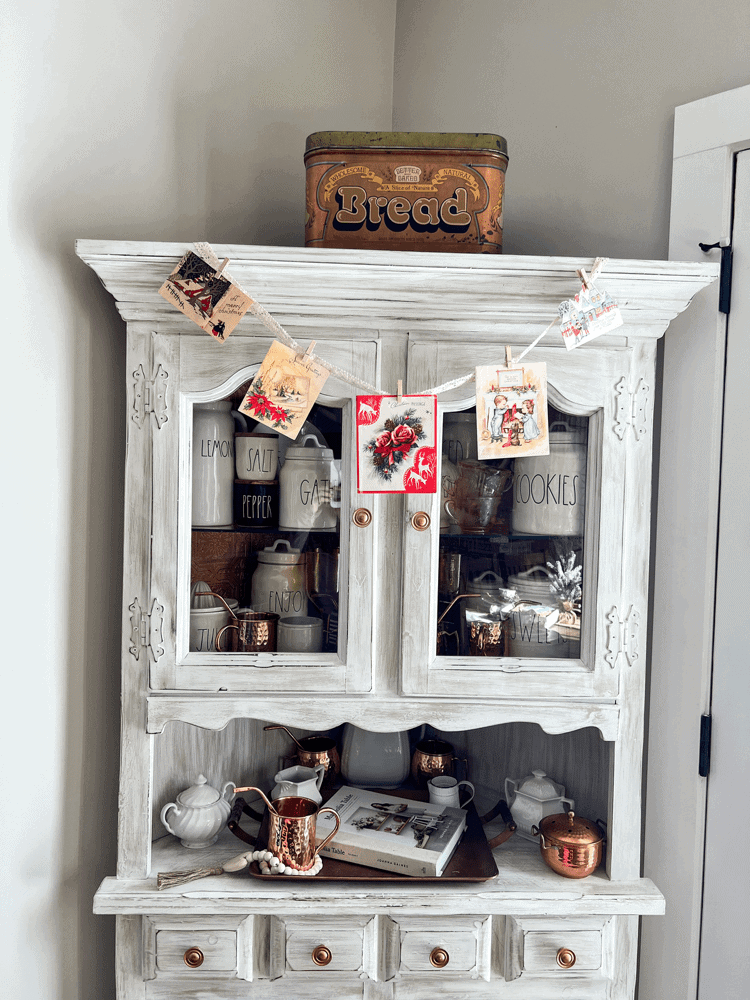 This post contains affiliate links. Click here to read my disclosure policy.
Materials Needed for Vintage Christmas Card Garland: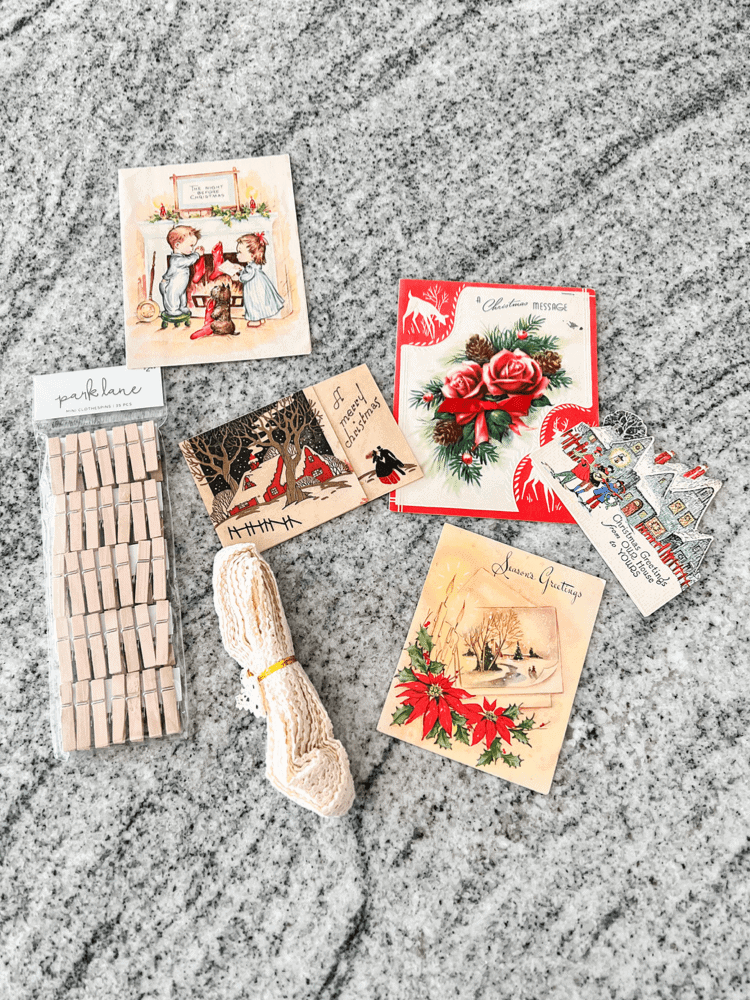 If you need help looking for vintage Christmas cards, I would recommend going to your local antique or thrift stores. Usually, they are pretty easy to find and relatively cheap.
I found all of mine for like $1 a piece so it wasn't bad at all. And I just love the graphics on them. You just can't find Christmas cards like that anymore!
And if you remember, I used the leftover lace from my vintage inspired gift wrapping I did a few weeks ago as well. I always like to try to use what I can to cut down on expenses.
Thankfully I had plenty leftover and the only thing I had to buy for this project were some mini clothespins. Which you can easily find at any craft store for relatively cheap as well.
Measure the Garland
The first thing I did was measure the garland. I just held up my vintage lace in the spot I wanted to hang it on (my hutch) and then eyeballed how low I wanted it to hang.
Then I cut off the excess, making sure I had plenty on the ends to actually hang up on the hutch.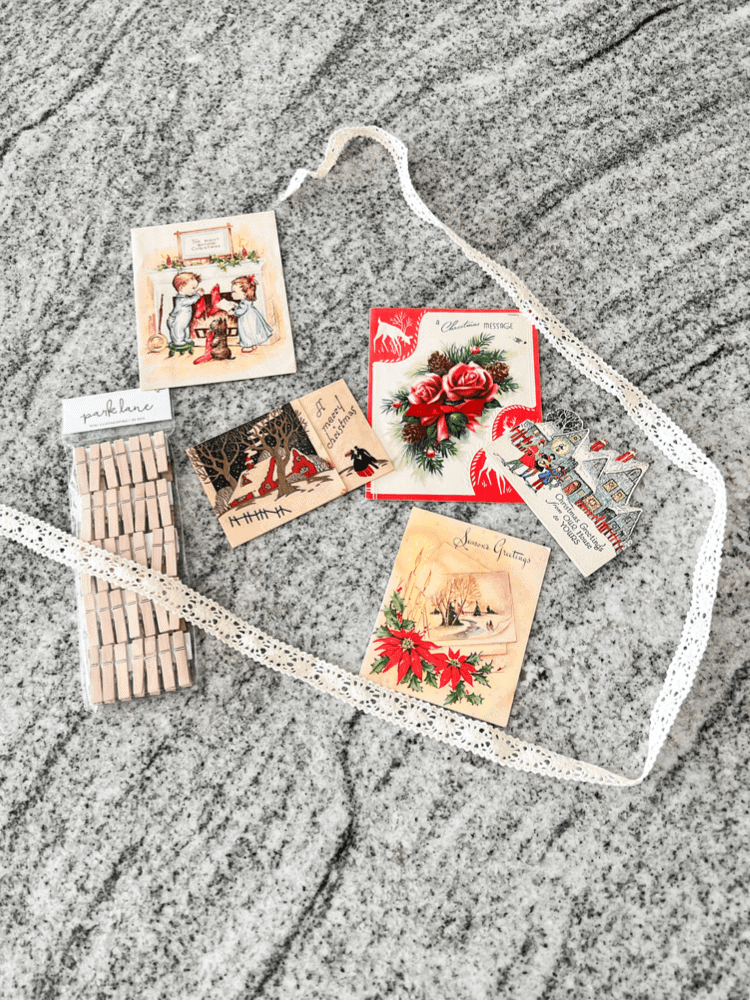 Add the Vintage Christmas Cards
After you have measured your garland, now you can add in your vintage Christmas cards. Just use your mini clothespins and attach them to the lace.
You can use however many you want to here. It really depends on how large your space is and how much you want to space the cards out in between. My hutch isn't too wide, so I just need 5 cards to fill the space.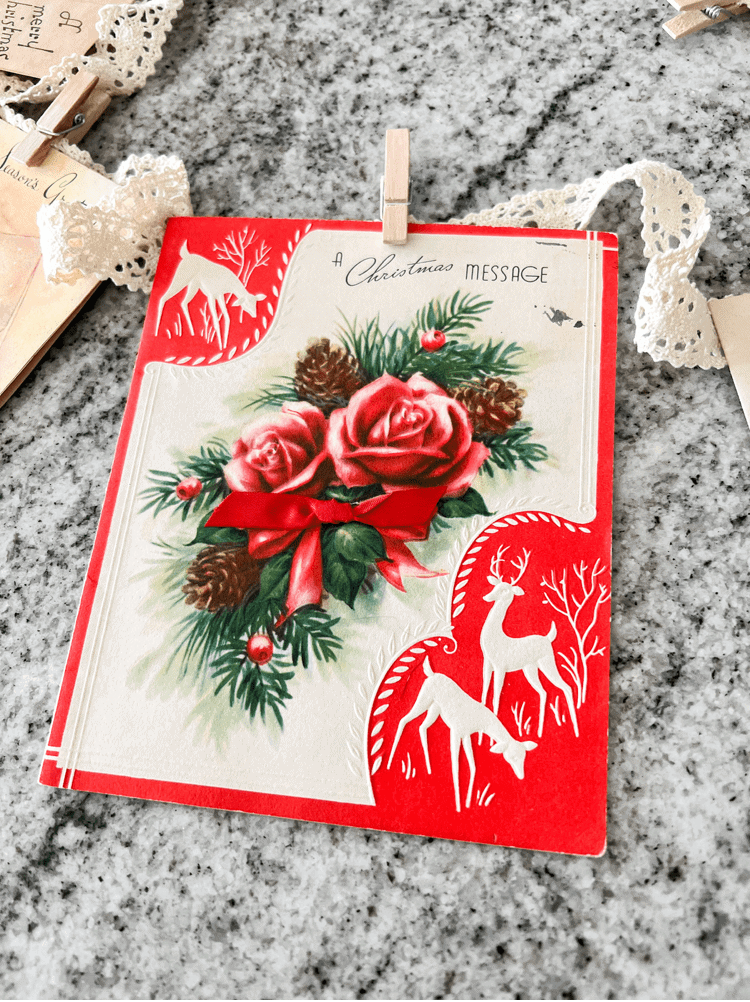 I also chose one to be the primary focus. I liked the one that had the most red on it. My hutch is fairly neutral, so I wanted to choose something that would make it pop.
This card definitely did the trick. It gives it that Christmas flair without overdoing it as well.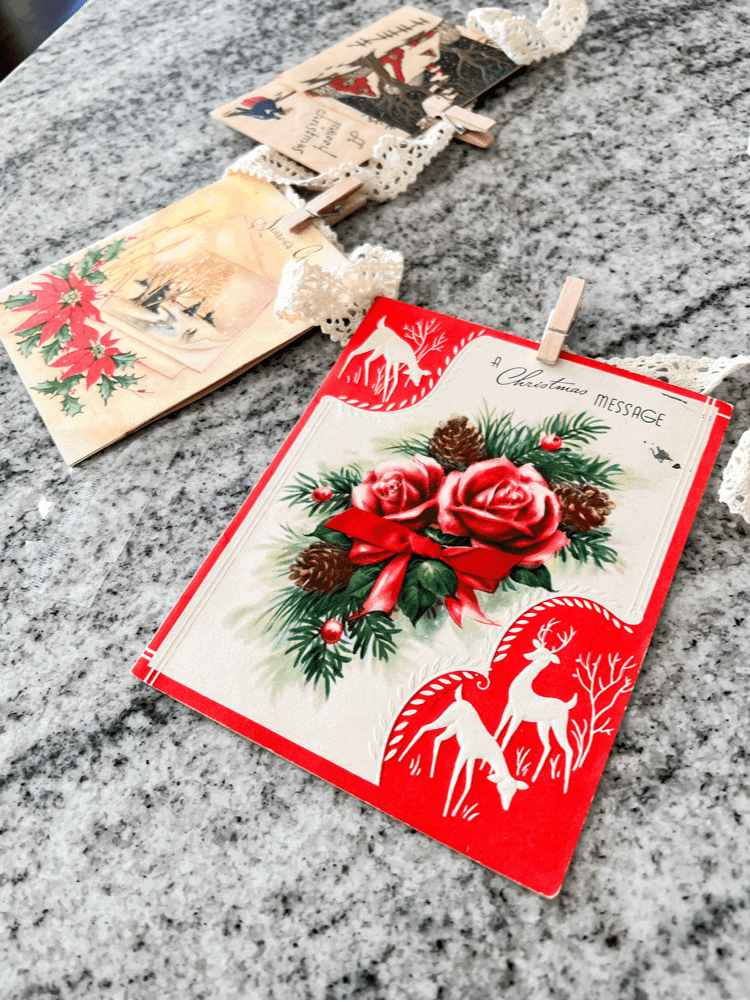 Hanging up the Vintage Christmas Card Garland
After you have all the cards attached, now it's time to just hang them up! I did have to do a little adjusting around once I had the garland hung up.
I wanted to make sure the red card is right in the middle and then the other four were spaced out as even as possible. But it didn't take long at all to fix it up just right.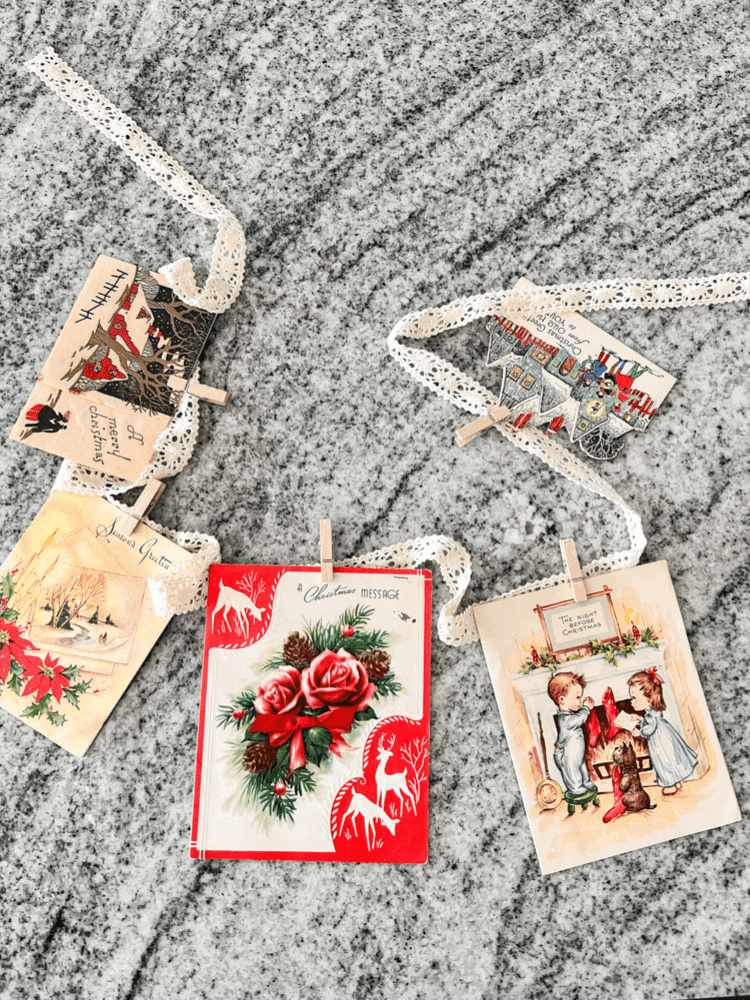 I love using the mini clothespins to display this little treasures because it doesn't harm the card at all. And it is a great way to display it and show them off. I also love to read the writing in these old little cards.
I found one that was signed from a sweet little lady that said she was their Sunday school teacher back in 1950. How cute is that?! I love pieces of decor that have a special meaning or background.
And with vintage pieces you get just that!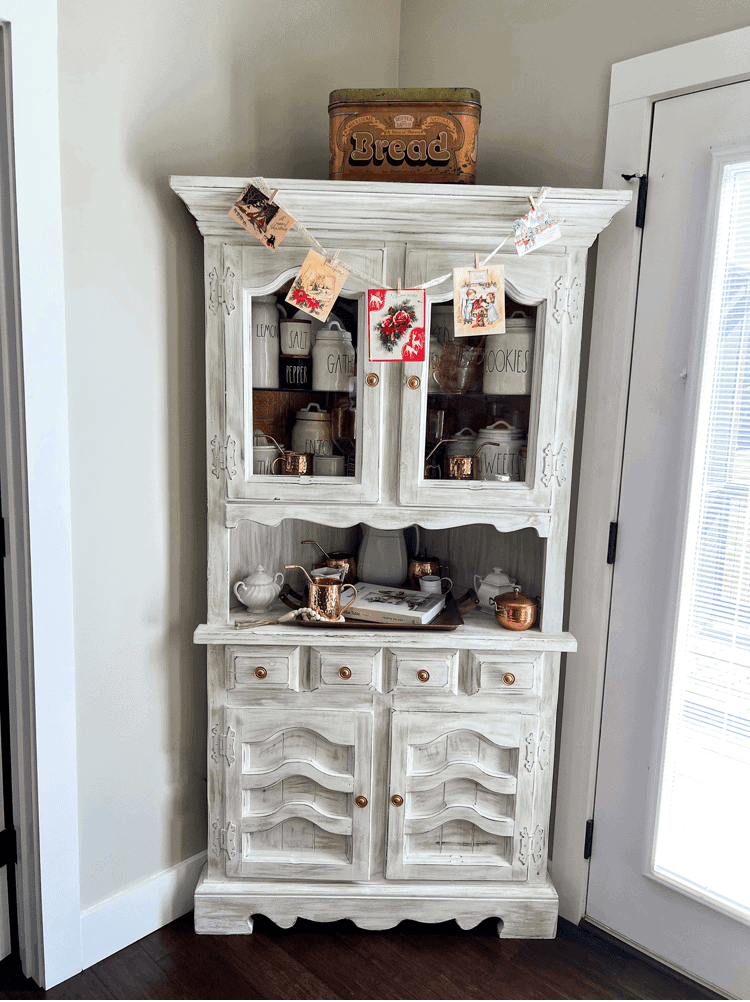 Well, I hope you enjoyed this little tutorial on how I created this vintage Christmas card banner. And the cool thing about this is you could definitely do this with just your regular Christmas cards you receive this year as well.
You don't have to do just vintage Christmas cards if you don't have any. Do you all like to display the Christmas cards you get in the mail too? If so, I would love to hear all about how you display them!