I just love to style my table for different holidays and seasons. It's always so much fun to me to switch things up and incorporate more of a seasonal touch. My tip is to keep it simple and just add a few touches here and there to keep it cost friendly and effective. I didn't want to go too crazy on my valentines tablescape since it is such a short holiday, but I did want to add a few pieces to give it a romantic feel. I wanted to create a vintage valentines tablescape.
Keep on reading to see just how I styled it and what pieces I used for it as well!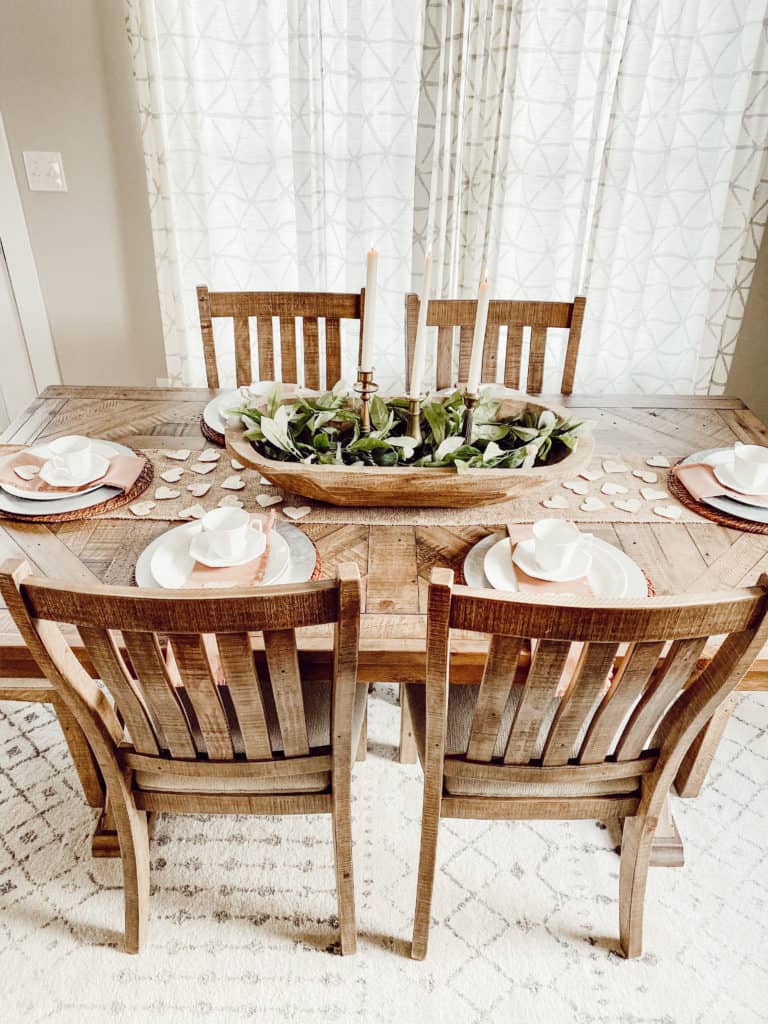 This post contains affiliate links. Click here to read my disclosure policy.
Ironstone Dishes
So I recently became obsessed with collecting ironstone dishes. I just love the look of simplicity they have and they really give off that vintage farmhouse vibe, which is what I am going for.
In reality, I am actually trying to downsize my Rae Dunn collection and focus more on building up my ironstone collection instead.
I never thought I would see the day! It is so funny how your style can change from year to year. A year ago, I would have been standing out in the cold waiting for TJ Maxx to open just so I could hopefully get my hands on some kind of Rae Dunn piece.
But now, I could care less. Give me all the vintage, chippy dishes! I just love how much character they have.

Anyway, I recently stumbled across a complete set of ironstone teacups and saucers at one of our local antique shops (It's called The Garage and I shared all about it in one of my previous posts. Click here if you want to read more about the store!).
And I was just giddy with excitement. The set was in great shape and I got them for an amazing price. Each piece ended up being only $2.67 so you definitely couldn't beat that deal! And I couldn't believe I found a whole set that matched.
I immediately thought they would be perfect for a tablescape. The teacups are just so dainty and feminine and I was drawn to create a romantic valentines day themed tablescape with them. So this is where my inspiration began!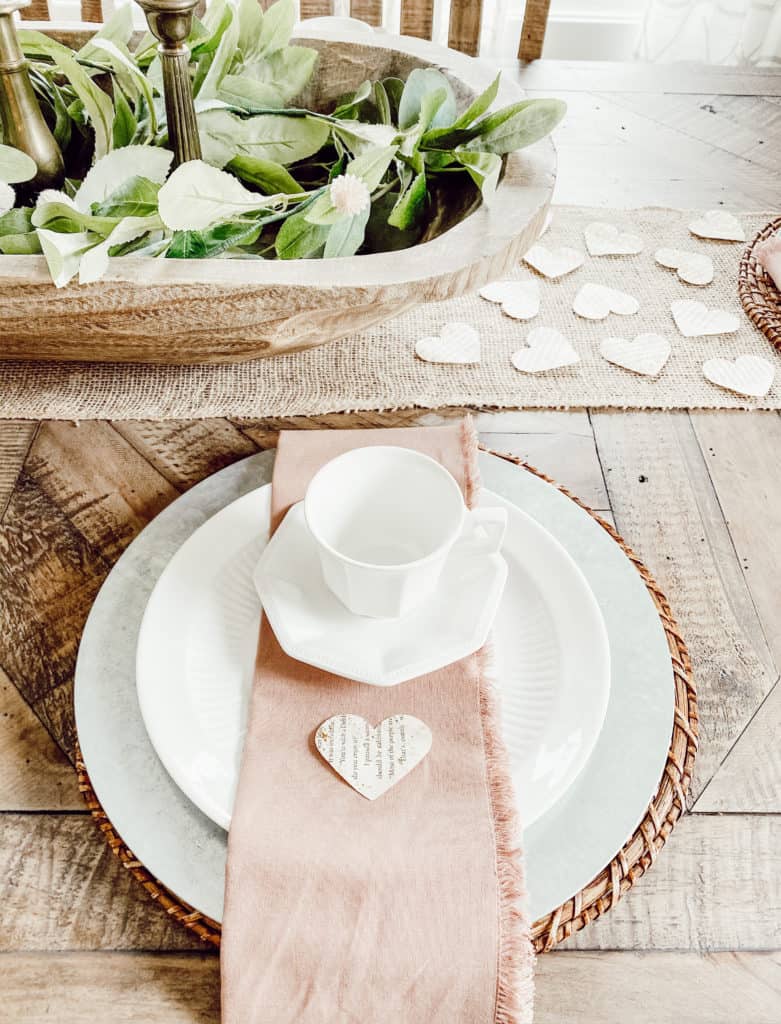 Hearth and Hand Napkins
Another thing that inspired me for my vintage valentines tablescape were those beautiful blush colored napkins you see above.
You can find them at Target and they are a part of the Hearth and Hand collection. I was immediately drawn to them when I saw them in the store. The color is perfect and just what I was looking for.
I didn't want anything obnoxious like hot pink or anything like that. I wanted something that I could also transition into spring decor as well. So I think this was the perfect option.
They also have a beautiful table runner to match although I did not get that because I didn't want to spend too much money.
Plus, I think my burlap table runner looks just fine with them and even gives it even more texture.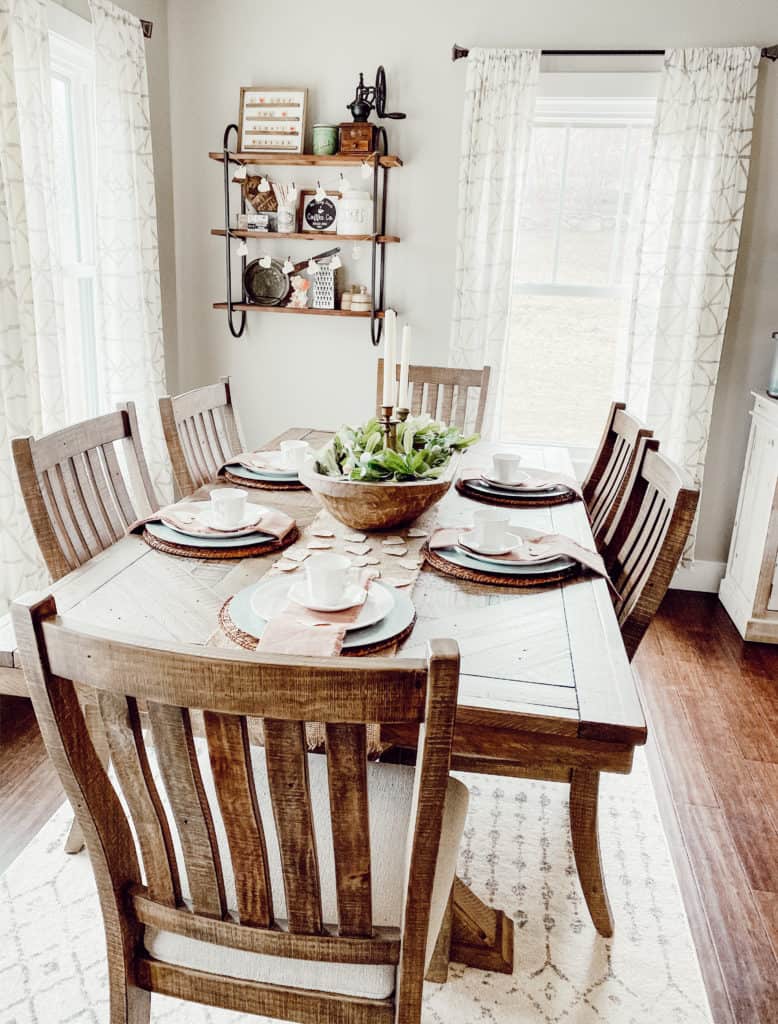 Hearth and Hand Garland
I was a sucker in the Hearth and Hand section when I went to Target and I was also drawn into buying this beautiful garland below. I loved how it had the soft blush touch to it too.
It matched the napkins perfectly and that made my OCD decor self very happy! I thought it would look perfect in my dough bowl.
If you saw my post about creating a winter tablescape a few weeks back, then you probably remember how I styled the dough bowl for that.
I kept it very similar, only switching up the garland and taking out all the orange slices I had in there. I kept my brass candlesticks in there because I wanted to continue with that romantic, cozy vibe as well.
Since I had an extra eucalyptus garland laying around and I decided to place that in the bottom of the dough bowl and put the new Hearth and Hand garland on top of that one to give it a more fuller appearance.
This garland can also easily transition into spring decor too so I plan on leaving out in my dough bowl for awhile.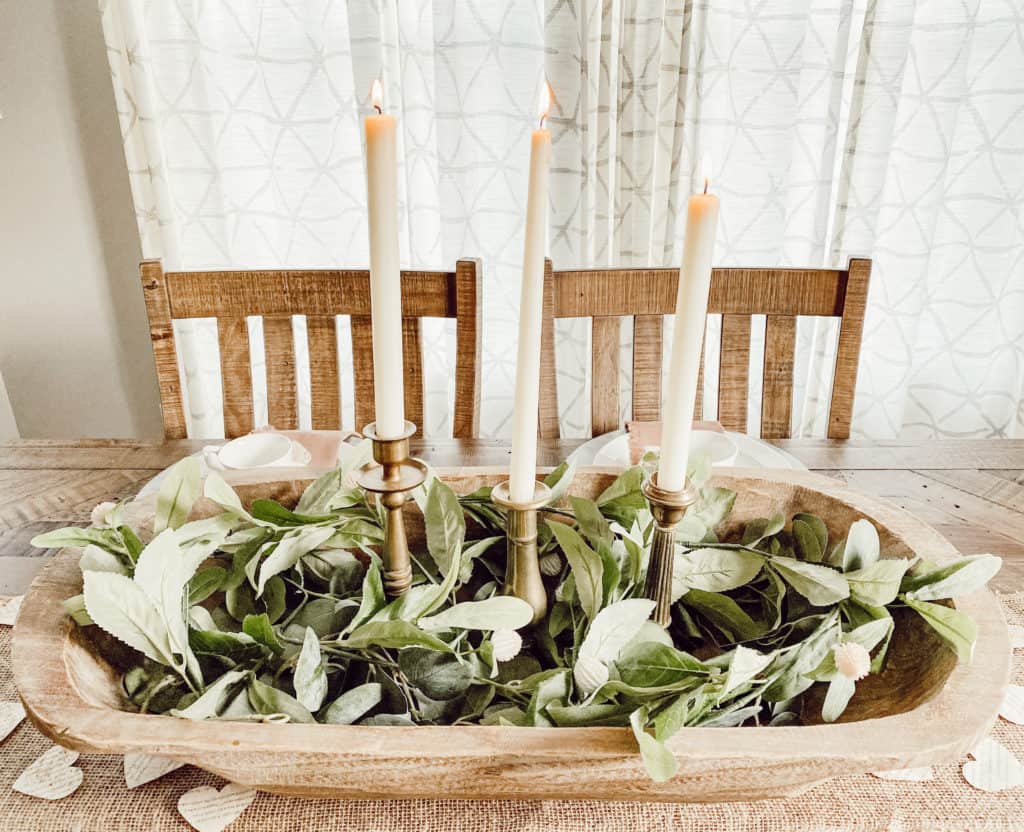 Paper Hearts
You may remember from my most recent posts that I have also became obsessed with staining book pages and making crafts out of them.
I made a cute vintage valentines banner to go across my hutch in the dining room and I wanted to continue that look on my tablescape as well.
So when I was cutting out the paper hearts for that banner, I cut out a few extra to sprinkle across my tablescape too.
I mainly put them around my dough bowl on my table runner and I love the neutral valentines look it gives off. I also placed a single heart on each place setting to make it extra special.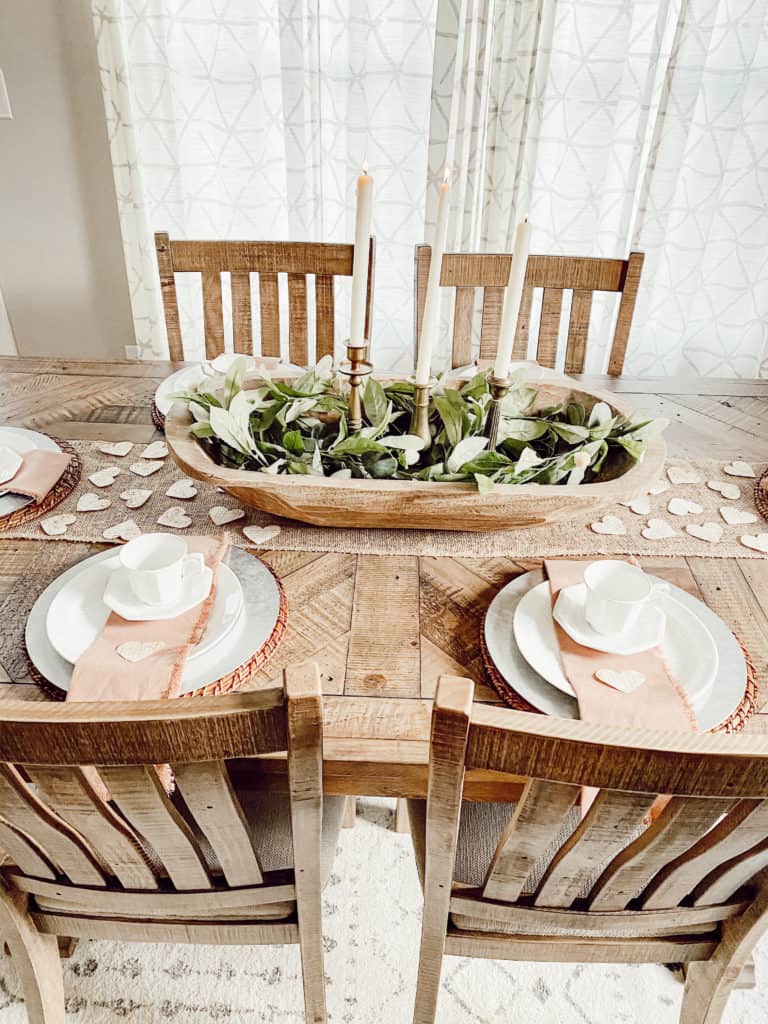 Well, those were all the little touches I changed up to my table to create a vintage valentines tablescape. What do you guys think?!
I personally love how it turned out and it may be one of my most favorite tablescapes to date! I have never done a Valentine's Day themed one before so this was definitely fun to create and style.
Thank you for stopping by today and I wish you all the best my friends!