So if y'all remember from my DIY String Light Refresh post, then you know we bought a camper this summer! We've been really enjoying fixing it up and making it more of our style, even though it was pretty much move in ready. The outdoor lot to it was already landscaped beautifully as well, but there were just a few things we wanted to add to it, like this DIY: Trailing Rose Garden Planter!
Keep on reading below to see just how simple and easy it is to add this cute DIY to your garden or patio space as well.
This post contains affiliate links. Click here to read my disclosure policy.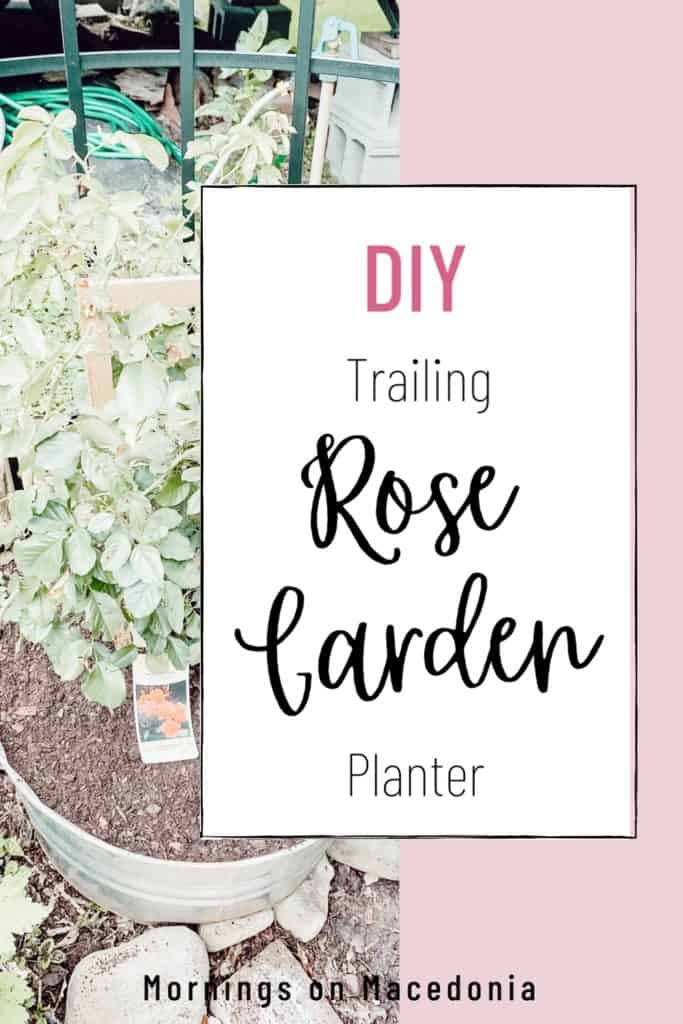 Materials Needed:
Large bucket or tin
Rose bush
Plant Trellis
Potting soil (lots of it!)
Setting Up The Planter
The first thing to do in this easy trailing rose garden planter DIY is to drill holes in the bottom of your bucket or tin- or basically whatever you are using as a planter.
Just be sure there are enough drainage holes in the bottom to let all the water out when you water your roses!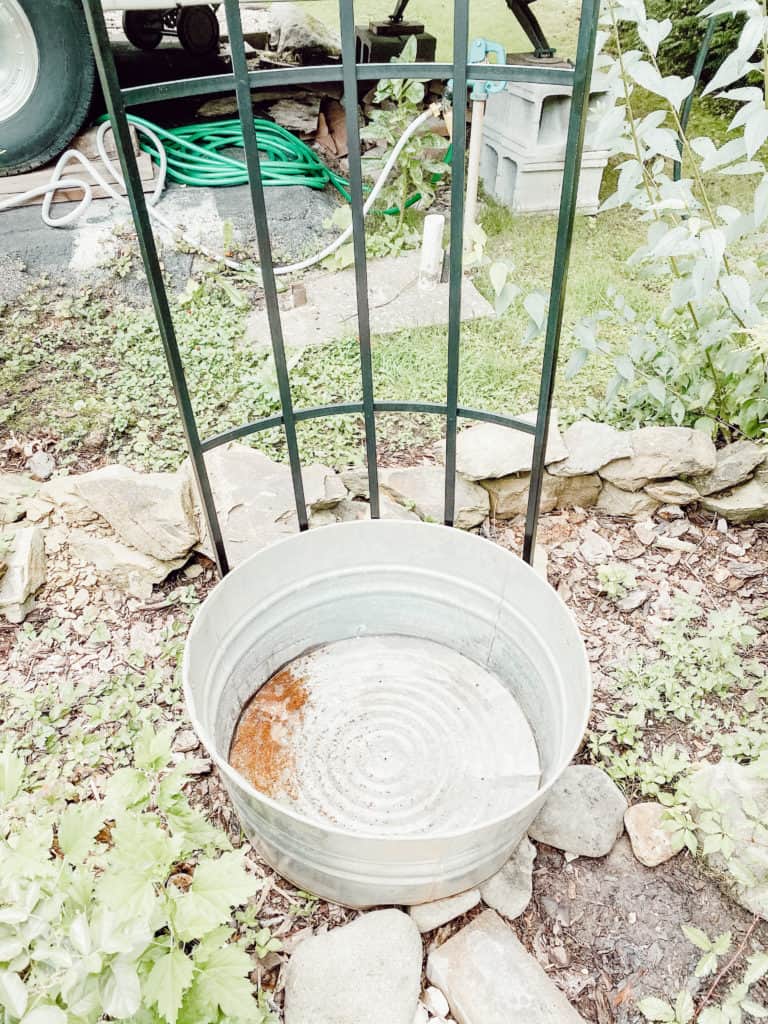 I found this beautiful, rusty, old galvanized tin from a flea market and y'all will not believe the price I got for it! Only $8! What a steal! You definitely couldn't buy a planter this large for that price.
If you're looking for a unique tin like this, be sure to check out your local flea markets and thrift stores because you really never know what you can find there!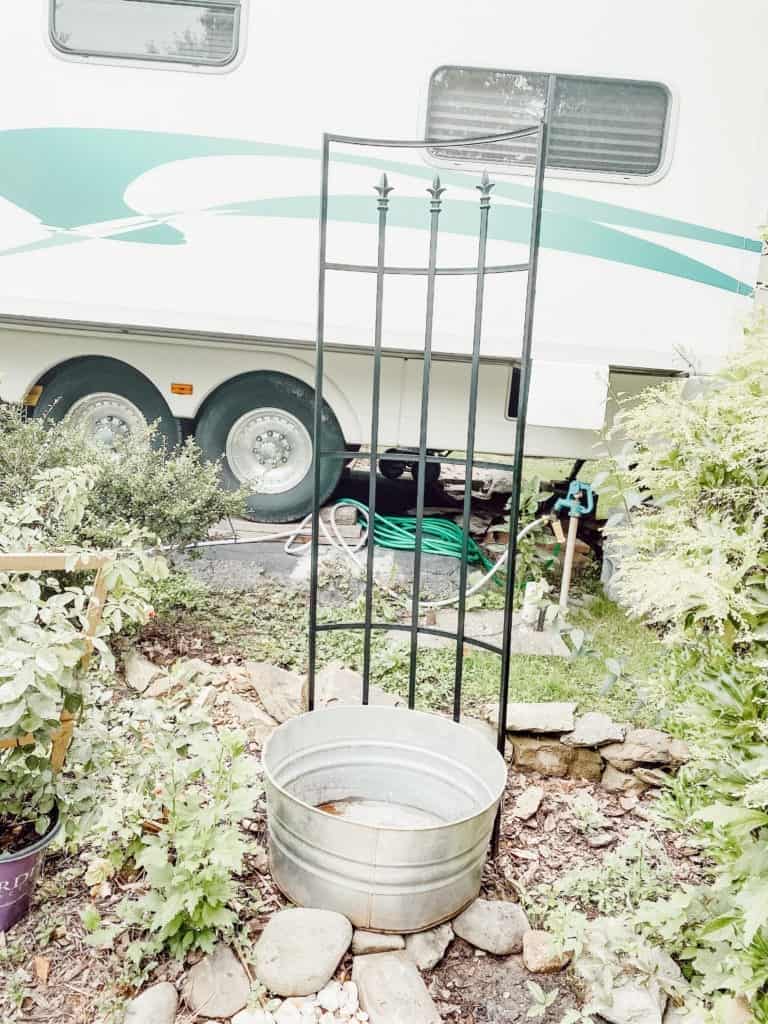 That's the fun part of this DIY project. You can use whatever kind of planter you want and whatever speaks to you is best.
Y'all know I love old chippy pieces so when I saw this tin, I knew I had to have it. It's also very similar to the tin I used for my DIY herb garden project too!
Filling Up The Planter
After you drill enough holes in the bottom of your planter, you can now fill it up with potting soil. You will definitely need a lot of it if you have a big tin like I did.
We went through two huge bags and it was barely enough! I would recommend using a high quality brand of potting soil that is best for roses.
Roses can be a little tricky to grow so it's better to spend a little more money on better quality products to help them thrive.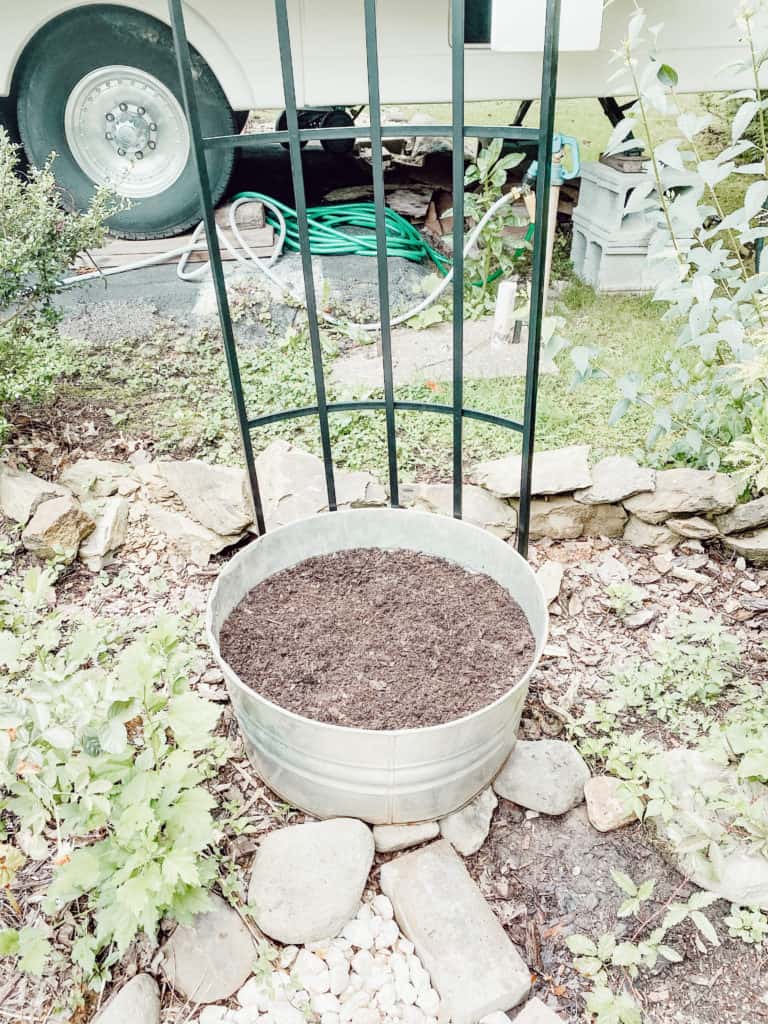 Planting The Roses
We filled up the tin about halfway full with potting soil and then placed the rose bush inside to plant it. After we got the rose bush in, we filled the rest of it up with the remaining potting soil.
Now, our rose bush already came with a plant trellis so we didn't have to add that in, but if yours doesn't come with one, I would recommend getting one so the roses can trail upward when they grow.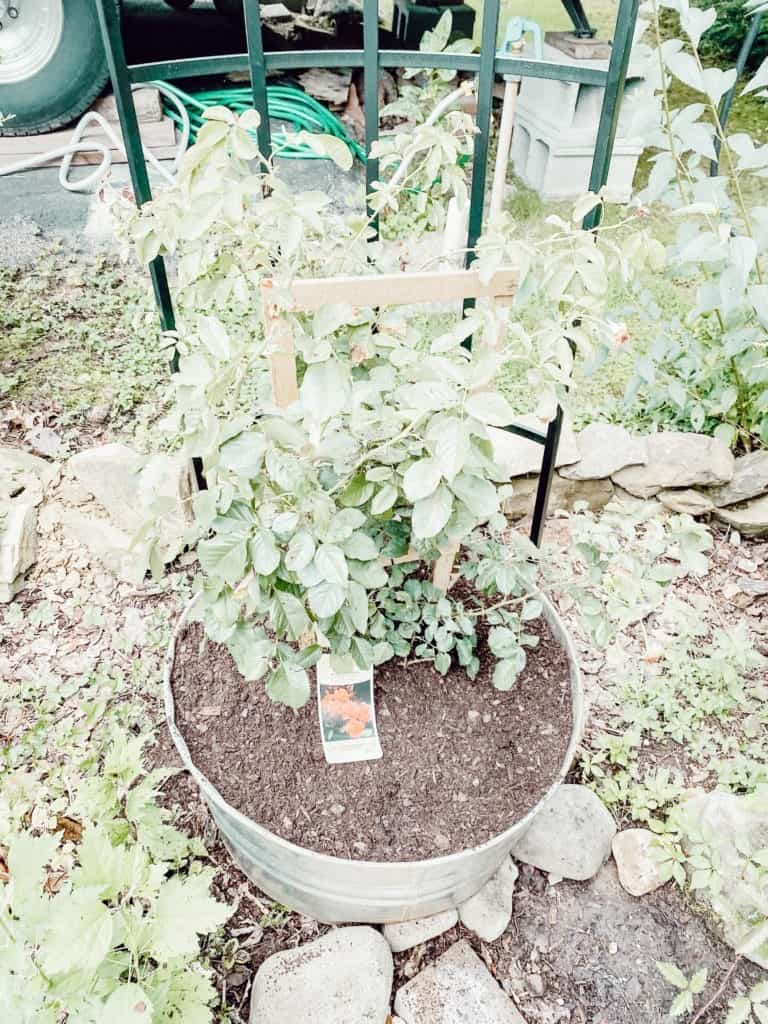 We also have a large plant trellis in the outside of our camper too. So we placed the tin filled with roses right in front of it.
That way when the roses start to trail even higher, they have another trellis to latch onto! I am hoping it will really take off and grow tall here to give us a little more privacy in between our lot and the other camper's lot beside us.
It looked like the previous owners had planted something there already too, but whatever it was had died and there was a big empty space there that we needed to fill.

Westerland Roses
It's also important to note the kind of roses we got to plant. We got the Westerland Rose which is a great landscaping rose bush. They bloom in spring, summer, and fall as well.
They also require full direct sun for at least 6 hours a day. So these are all important things to consider when you are trying to decide where to plant the roses at in your yard.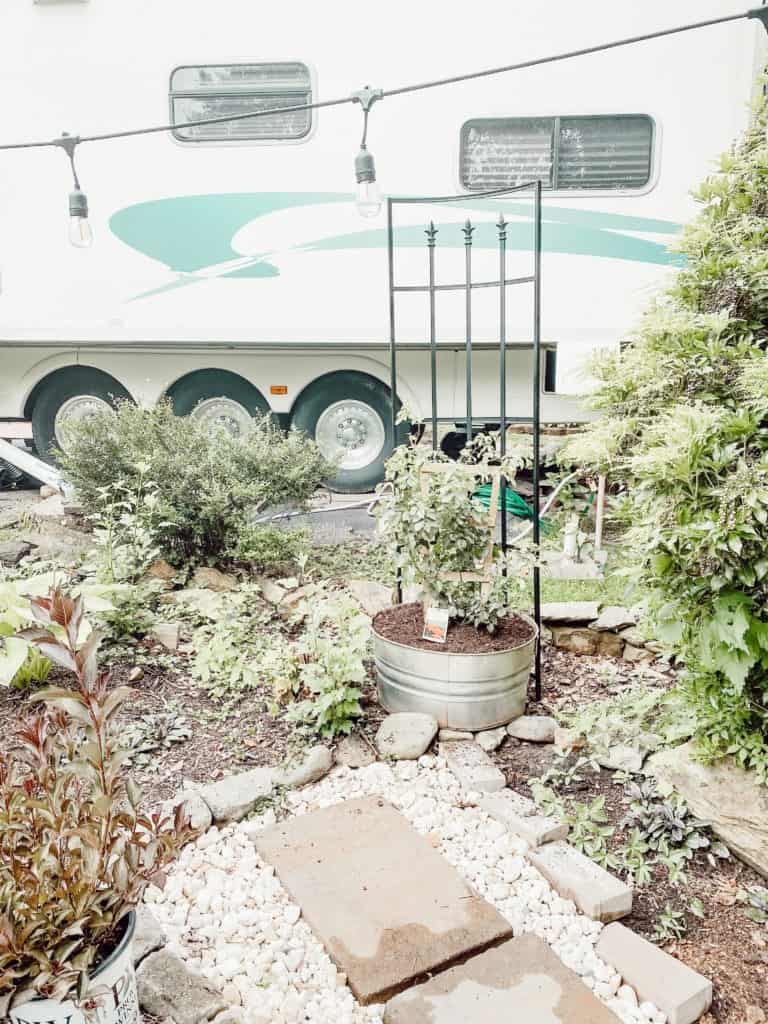 Conclusion
This was such a simple and easy project to do to really help spruce up our landscaping at the camper. I can't wait to see the pretty blooms the roses produce this year and watch how tall they grow as well.
This is the perfect DIY project to do to help fill in an empty space in your yard or patio. Let me know if you try this out and how it goes for you too!