How many of you have old tubs full of decor that you don't use anymore?! I know I do, and I was trying to come up with a way to repurpose it. That's when I decided to do this easy fall decor refresh.
All you need is some old fall decor that you don't use anymore and a little paint! So super easy and simple! And it totally transforms the look of the decor pieces.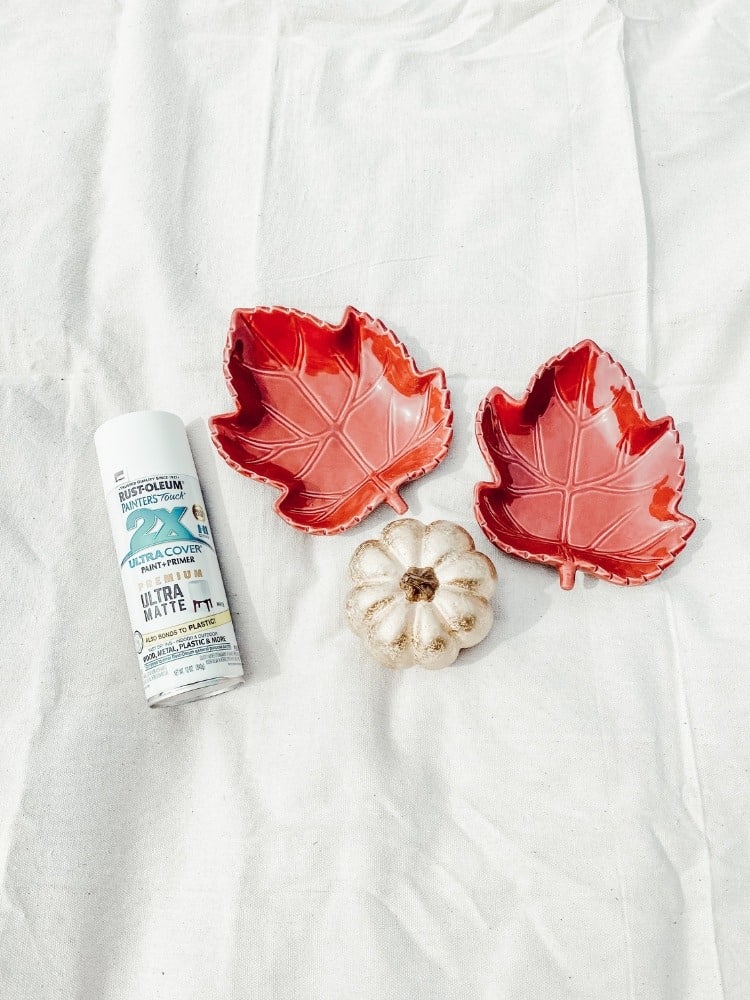 Materials Needed:
Old fall decor pieces (such as old pumpkins or old plates like I am using above!)
Spray Paint (I recommend Rust-Oleum!)
Other Paint (to paint decor a different color if desired. I used

Fusion Mineral Paint

)
Drop-cloth
Paintbrushes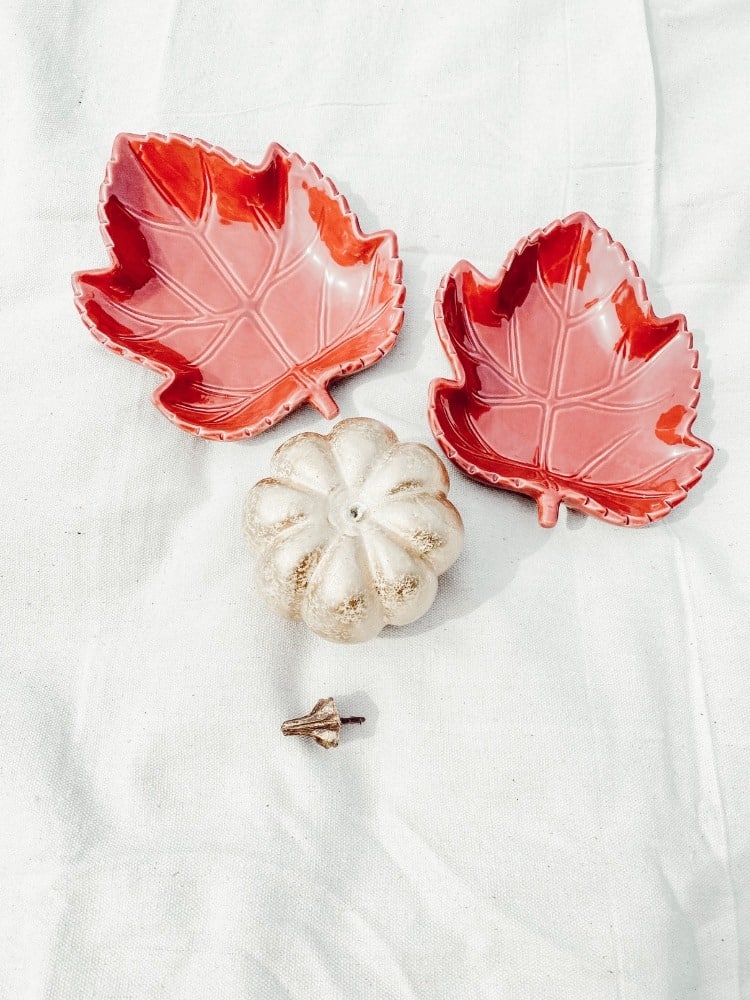 Getting Your Old Fall Decor Prepped
The first thing you need to do is gather all your old fall decor pieces that you want to give new life to! I chose to use those two leaf plates above and some old pumpkins that no longer matched my current fall color scheme.
These leaf plates were actually from our wedding (since we had an October wedding) and I've kept them ever since.
I just didn't like the color to them anymore since they didn't match anything else I was using in the house.
I'm glad I kept them all these years because it's sentimental and now I can actually use them in my fall home decor too!
Before painting them, I just washed them really well in warm, soapy water to remove any dirt/debris. Then I dried them and brought them outside to get ready to spray paint.
As far as getting the pumpkins prepped, all I did was remove the stem. Which you can see pictured above. That way I didn't get any spray paint on the stem.
They easily go back into the pumpkin after your done painting them, or you could always use a dab of hot glue as well to secure it even more.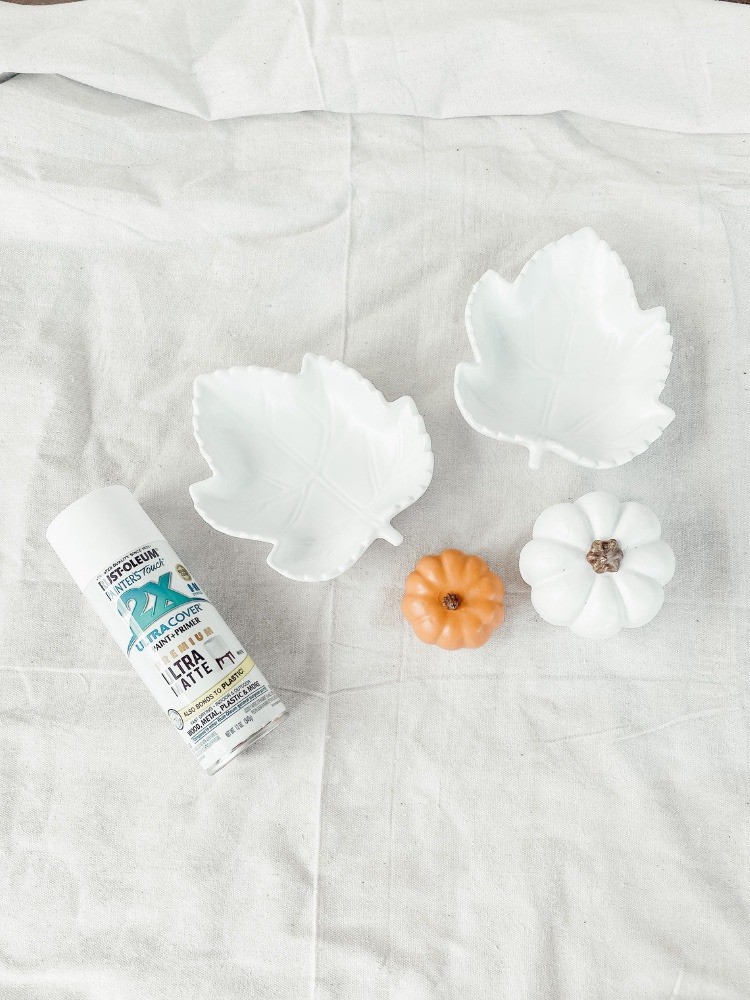 Painting The Old Fall Decor
Now here is the fun part to any project- paint! Painting is such a great way to refresh old fall decor. Instead of throwing things out, it's a cheaper option to just refresh it with a little paint.
The spray paint I used for the leaf plates is Rust-Oleum Painter's Touch Spray Paint in white. The one I got is both a paint and a primer so it was perfect for this project.
I only had to spray one full coat on each side of the leaf plates and the coverage on the spray paint was amazing!
After applying one full coat, I just had to go back and touch up a few areas with the paint. It's always best to apply spray paint in one continuous stroke to avoid dripping.
And also be sure to share it up vigorously before using too!
This was my very first time actually using this spray paint and I am very pleased. I will definitely use it again for other projects.
It was also the only cost in this little fall decor refresh project I had too. Since I already had everything else, this was the only thing I was lacking.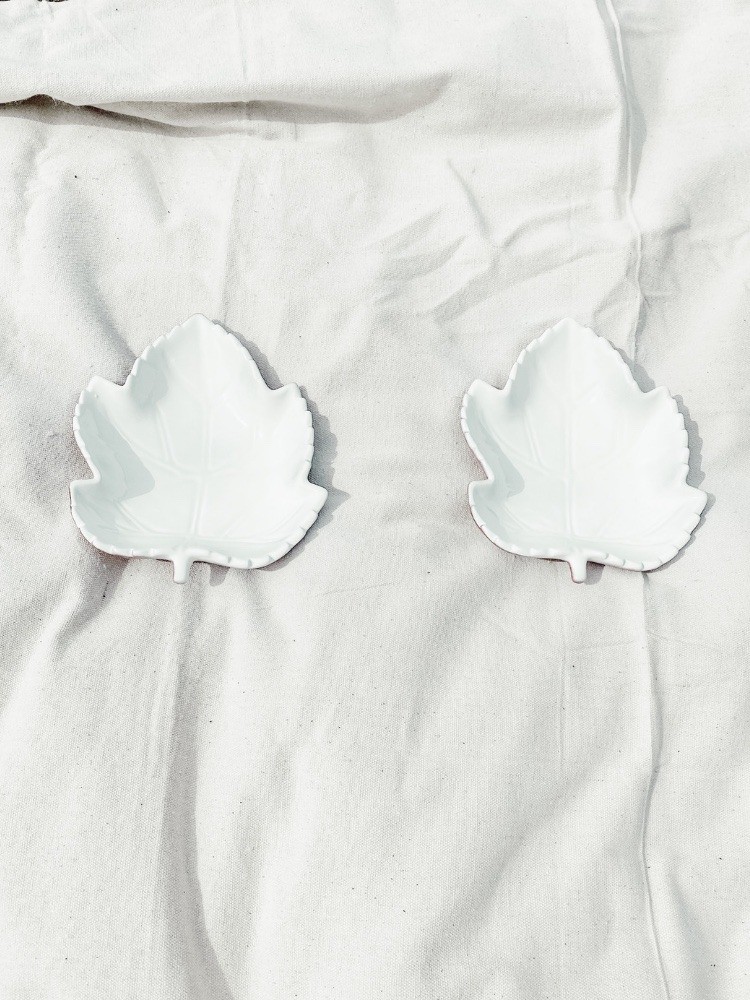 Painting The Old Pumpkins
For the pumpkins, I did the same thing as above for the plates. I applied one coat of the spray paint to basically just prime it.
I knew I wanted to paint my pumpkins a different color rather than just leaving them white. But you could totally just spray paint them and be done with it if you would prefer!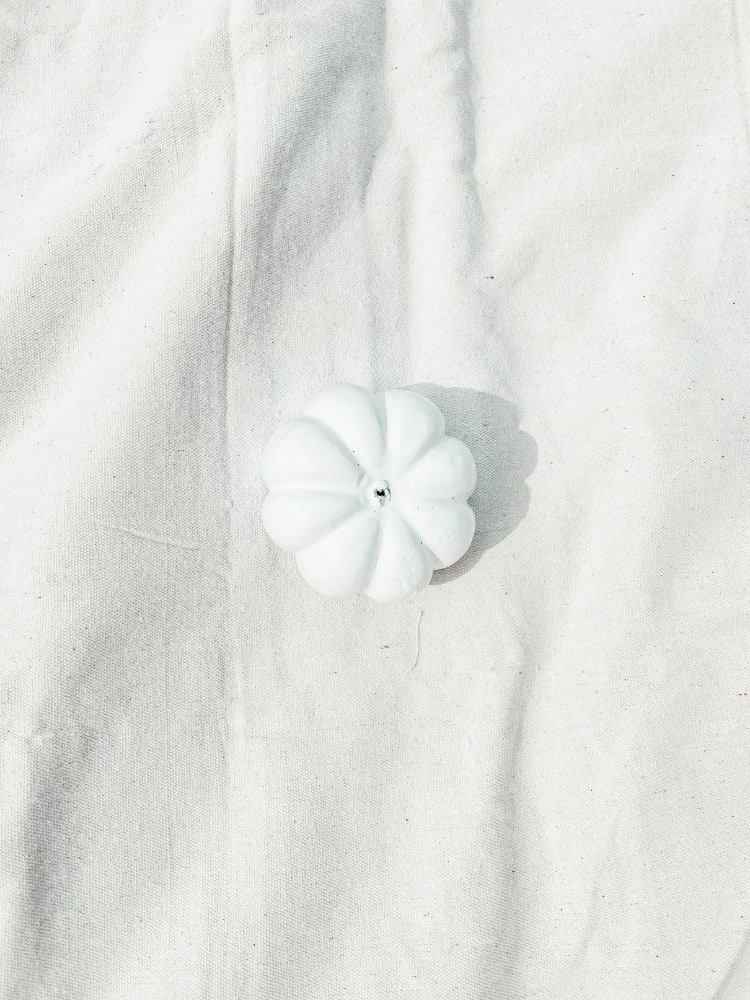 After I spray painted them and they dried, I applied Fusion Mineral Paint to them as well. I used the colors Bayberry and Lichen.
I had to apply a few coats of paint to each pumpkin. Then after they dried completely, I dry brushed the opposite color on them as well to give it a little more dimension.
I talked about this more in depth in my other post about DIY Painted Pumpkins so if you want to know more, go check that one out.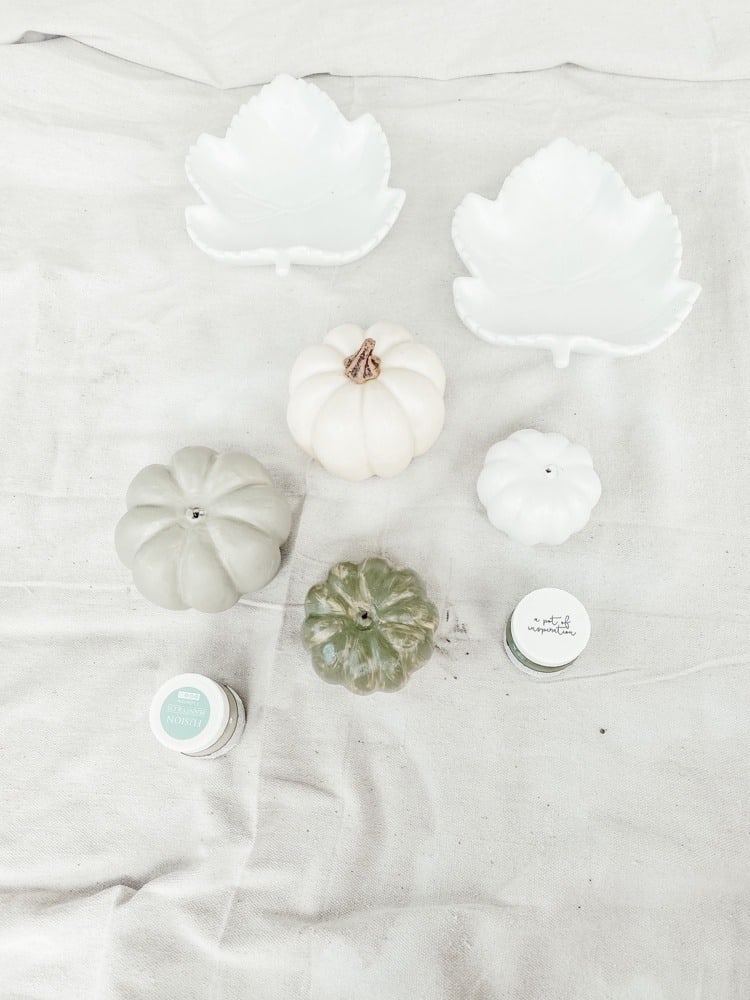 Using The Refreshed Fall Decor
I decided to use my spray painted leaf plates on my tablescape this year. Since I had two, it was perfect because I just placed one on each end of the runner.
Also, my tablescape is pretty neutral so since they were painted white, it fit right in!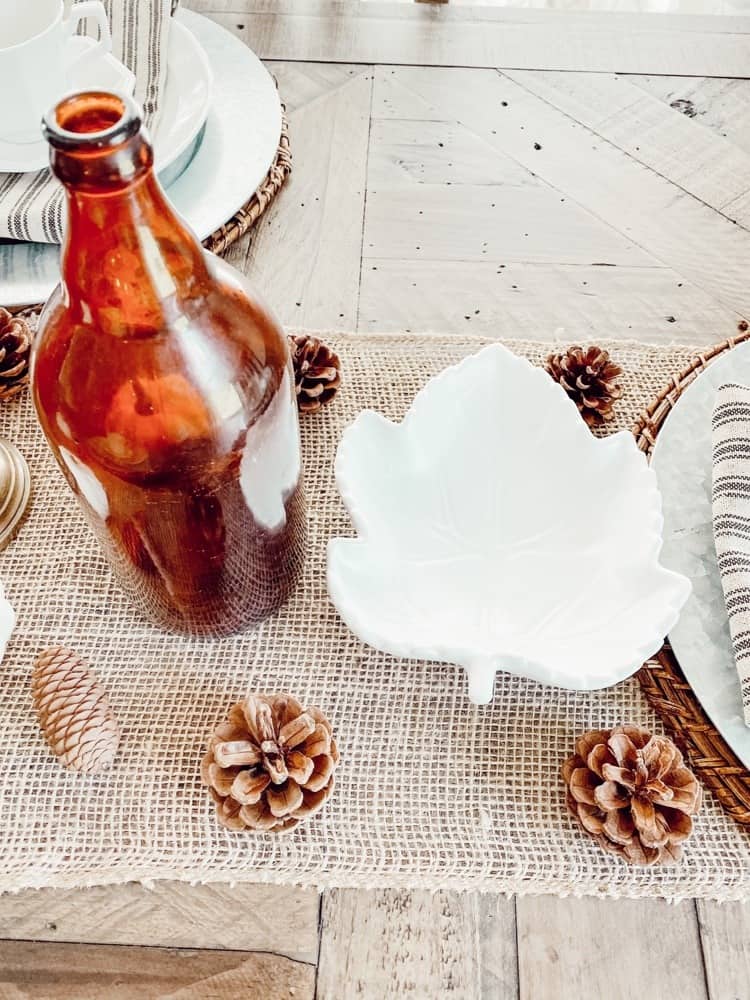 For my painted pumpkins, I decided to use them in my cloche I got from Antique Farmhouse. I have it sitting on my entryway table as well.
I love how the pumpkins are more neutral now and they go perfectly with the color scheme of my entryway fall decor.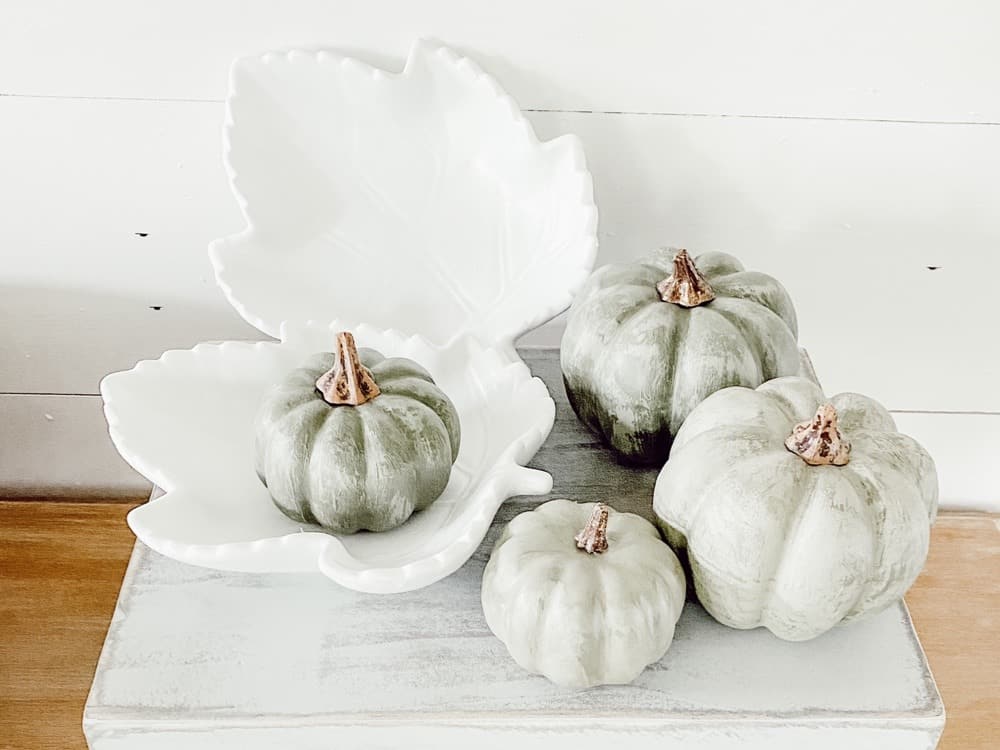 I used a lot of pumpkins with blue/gray/green hues here so they look great with the other pumpkins I have already.
Much better than that clashing gold and orange color that the were before! I'm telling y'all, the power of a little paint is so amazing!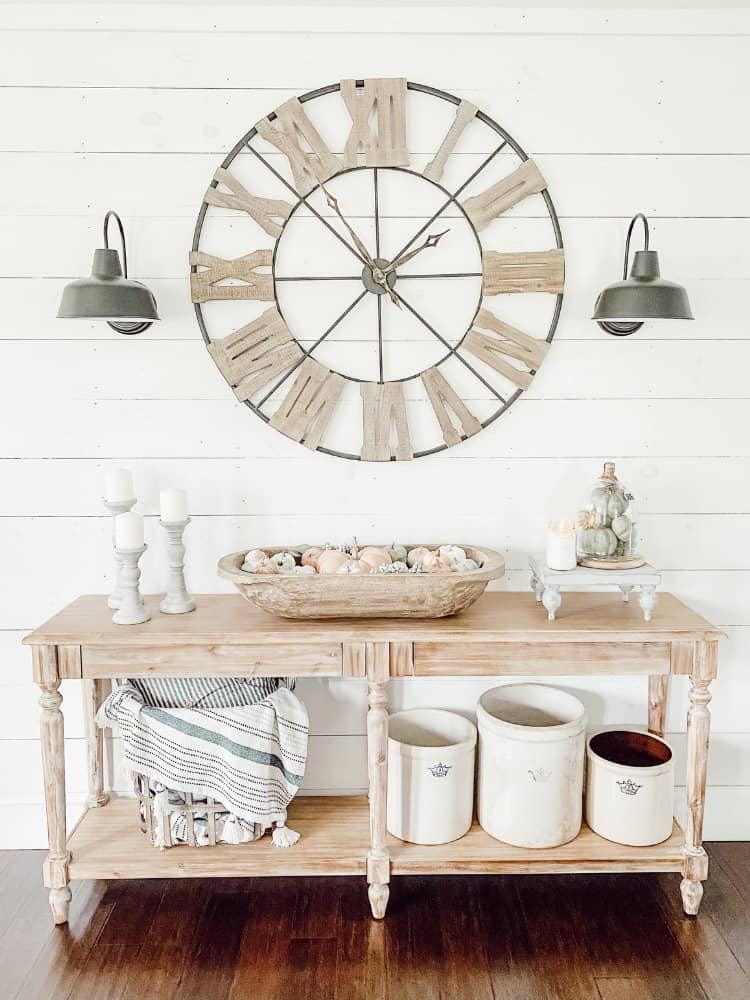 Conclusion
Well friends, I hope you liked this easy fall decor refresh project as much as I did. It gives me so much joy to be able to refresh and repurpose old items rather than throwing them out!
Plus, it saves me money from having to go out and buy new fall decor too! So it is definitely a win win! Have you ever done anything similar to this with your old decor pieces too? Let me know below!