If you've been around here long enough, then you know how I love my coffee bar area. And I love to style it for every season and holiday. So I thought it would be fun to share all my Farmhouse Coffee Bar Ideas Through The Seasons today.
That way you can always come back to this post for each holiday to get a little inspiration on how to style your own coffee bar too. This is a great way to add in some seasonal decor to your home without going overboard. And who doesn't love a cute space dedicated to all the coffee essentials you need to enjoy a perfect cup of coffee!
Coffee lovers, this post is for you! I hope you enjoy how I style my own coffee station and I hope it gives you some ideas and inspiration as well. Now, grab you a cup of coffee and enjoy all these home coffee bar ideas!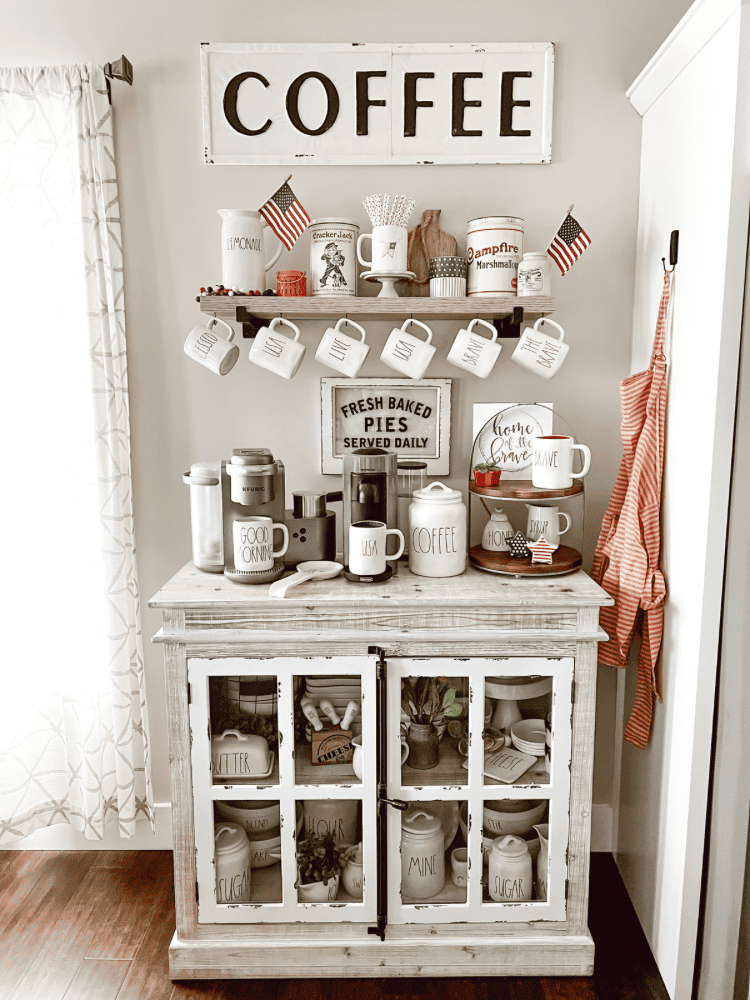 This post contains affiliate links. Click here to read my privacy policy.
Coffee Bar Necessities
Before I go through and show you examples of how to style your coffee bar for every season, let's get into the coffee necessities you need in order to create your own bar.
And even if you don't have a dedicated space to create a coffee bar like I do, you could always just use part of your kitchen counter too. You don't have to create a huge coffee bar space. Just do what works for you! There are plenty of ways to create a coffee station!
When we built our new home, I knew I wanted a coffee bar so we specifically set aside some room for it in our dining room space. Our dining room and kitchen is all open and connected so it flows together nicely and fills the void perfectly!
It's a great addition to the space and it's something I use and enjoy every single day! And the best way to show you all my farmhouse coffee bar ideas for each and every season!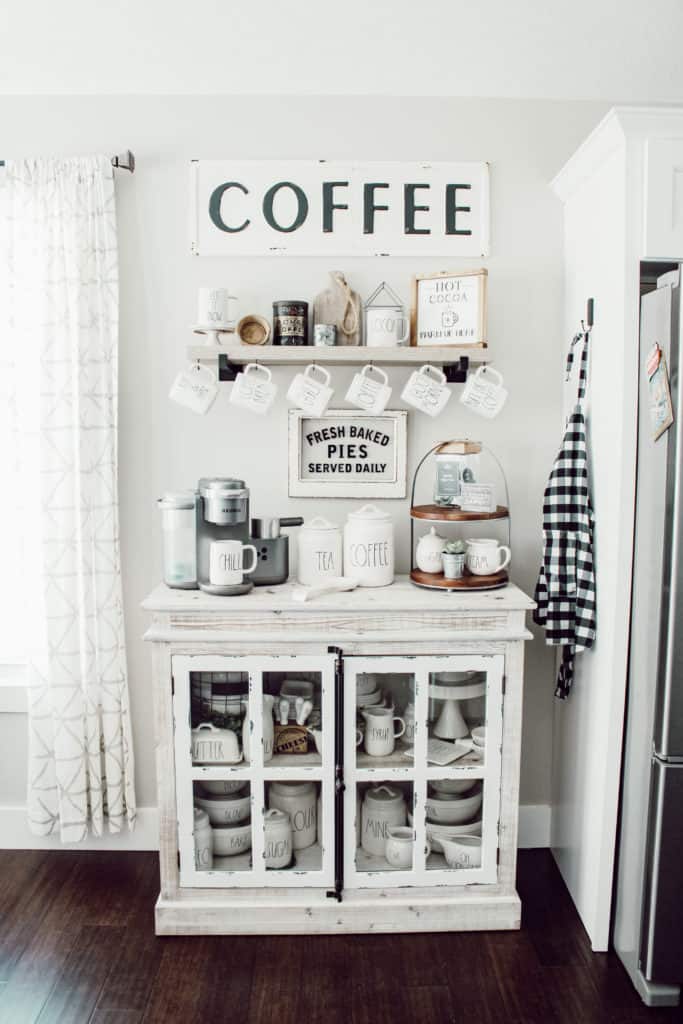 Coffee Bar Cabinet
To create mine, I used a coffee bar cabinet as the base. This cabinet has a beautiful farmhouse feel to it and has glass doors so you can see inside.
This ultimately makes for the perfect piece because I can store things inside of it, but also display them and make them pretty. I typically keep all my extra Rae Dunn pottery pieces here.

If you wanted to hide something inside, you could easily do so by adding some wicker baskets instead. That way, it still looks pretty, but you can store whatever you need to inside without showing it. And it has plenty of storage space inside which is always a plus!

On top of the cabinet is where I place the coffee maker. I have a classic Keurig machine and I just added a Nespresso machine last year to it as well. I also keep my coffee canister on top of the cabinet too. This is a perfect place to store my coffee pods as well. You could also store coffee beans or coffee grounds inside a canister too.

Tiered Tray
Does it come as any surprise to anyone that I have a tiered tray on my coffee bar too?! I always talk about tiered trays, and how to style them, so of course I added one on the bar too. This is an easy way to display seasonal items, or store more coffee supplies on.
It can make for a beautiful focal point for your coffee bar as well. It's also great to have if you have a small coffee station as well. A tiered tray doesn't take up too much room and you can place it directly beside your coffee machine. If you're looking for more DIY coffee bar ideas for small spaces, be sure to check out how I made our coffee bar back when we had our camper too!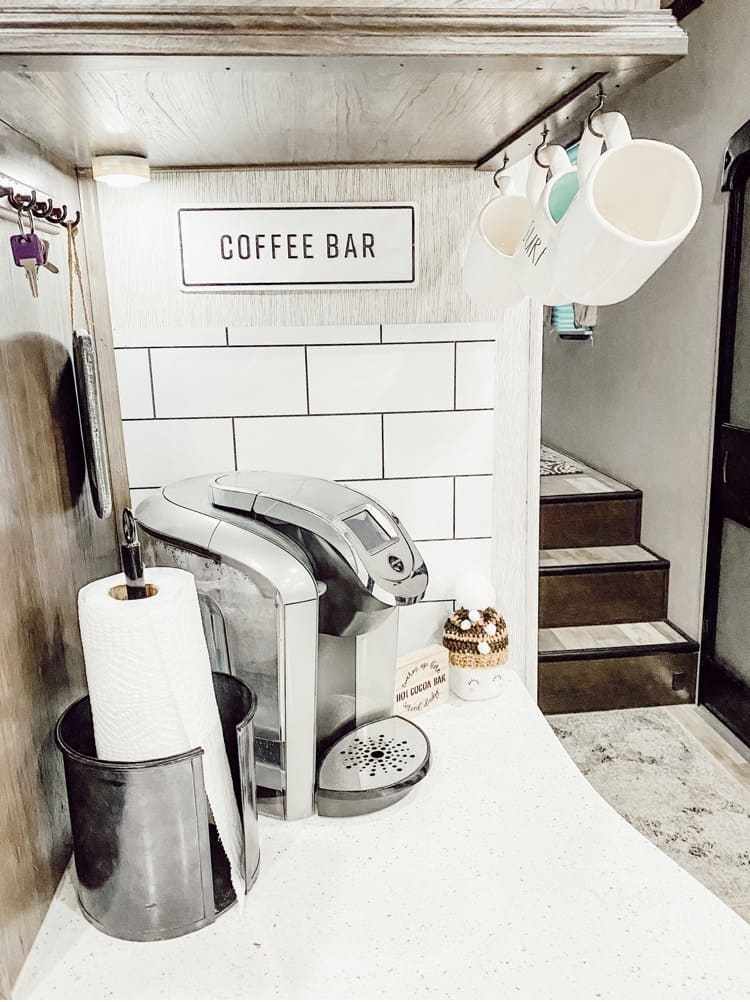 Mug Rack
This simple idea I had for a mug rack came true thanks to my sweet hubby. I wanted an open shelf that had hooks on the bottom of it so I could display my coffee mugs and then also style the top of the shelf too.
But, I could never find one I liked in the store so my husband ended up taking matters into his own hands for this. We just got a simple floating shelf and then some eye hooks. Then, we measured out the shelf and figured out how far the hooks should be placed apart.
I wanted a total of six hooks, that way I could easily display my mugs and have it look nice and even. And that was it! We also hung a big coffee sign on top of the mug rack as well. The final part to creating this DIY farmhouse coffee bar! And now check out my farmhouse coffee bar ideas for every season below!
Winter Coffee Bar
Let's just go ahead and start at the very beginning of the year. This is usually what I do for the whole month of January. Right after all the Christmas decorations come down, it can be hard to style and decorate your home.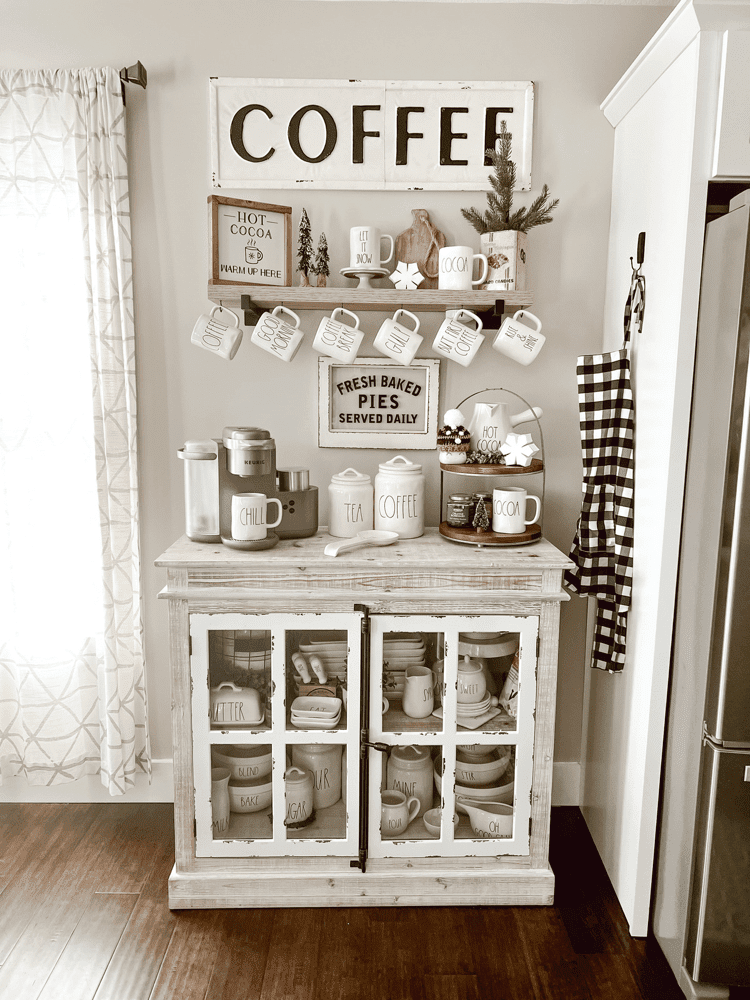 I feel like my house always feels empty after all the decor comes down. So I love to leave in some winter greenery to give it a cozy feel still. I share more in detail on how to keep your home cozy after Christmas in another one of my blog posts, so be sure to check that out if you missed that in the past.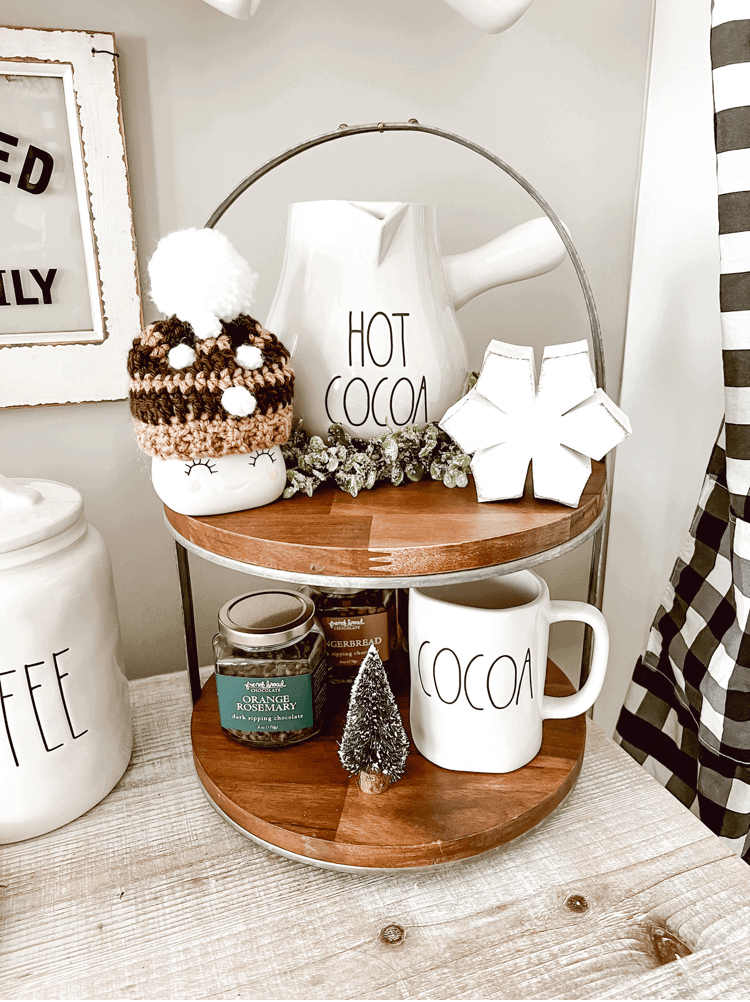 But between the greenery and hot cocoa theme, it works! It's not too Christmasy, but it is perfect for winter. Just because Christmas is over, doesn't mean you don't want a great cup of joe to warm you up!
Valentine's Day Coffee Bar
I always love adding in soft touches of pink, even in home decor. And Valentine's Day gives me just the excuse to do that! Plus, I have themed Rae Dunn mugs for Valentine's Day as well.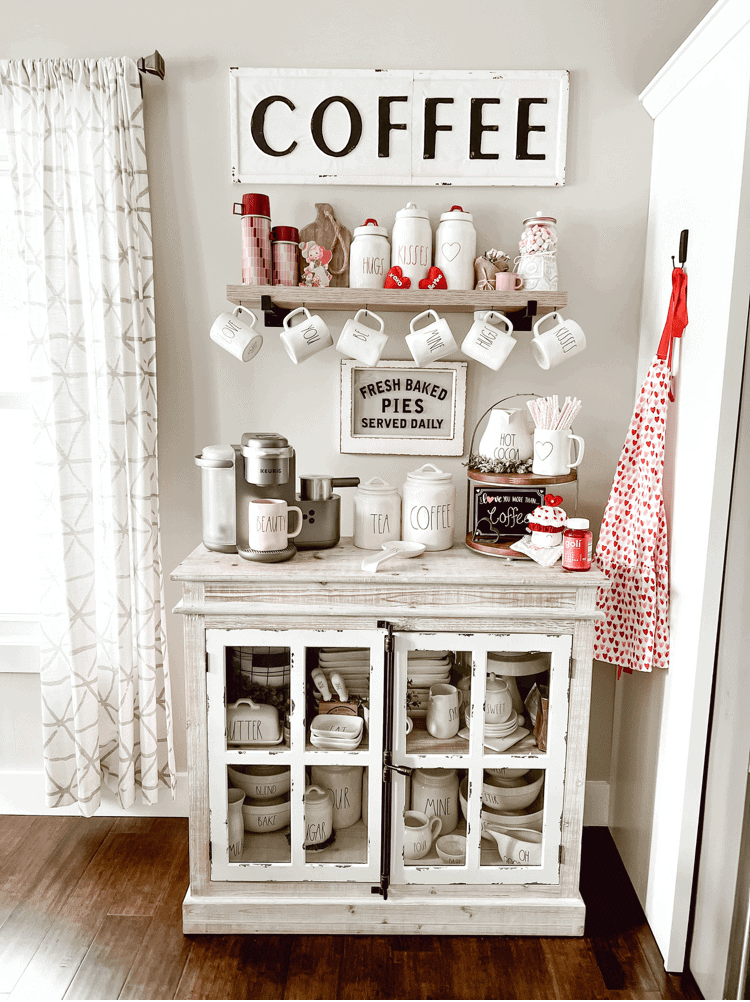 I place each Valentine's Rae Dunn mug on the hook and alternate them to create a beautiful love themed display! Since each mug is double sided, I have two of each to showcase the saying plainly.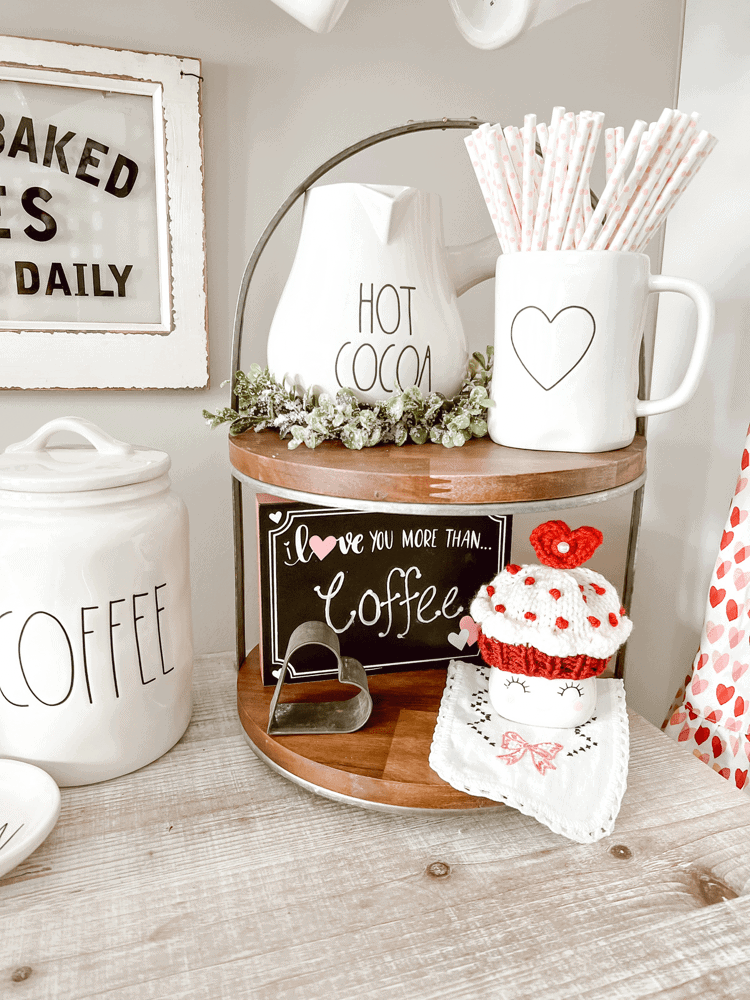 Spring Coffee Bar
I like to keep the soft touches of pink going for my spring coffee bar as well. I just take down all the super lovey dovey Valentines and keep anything that is pink. I also add in more pastels and greenery to keep with the spring theme.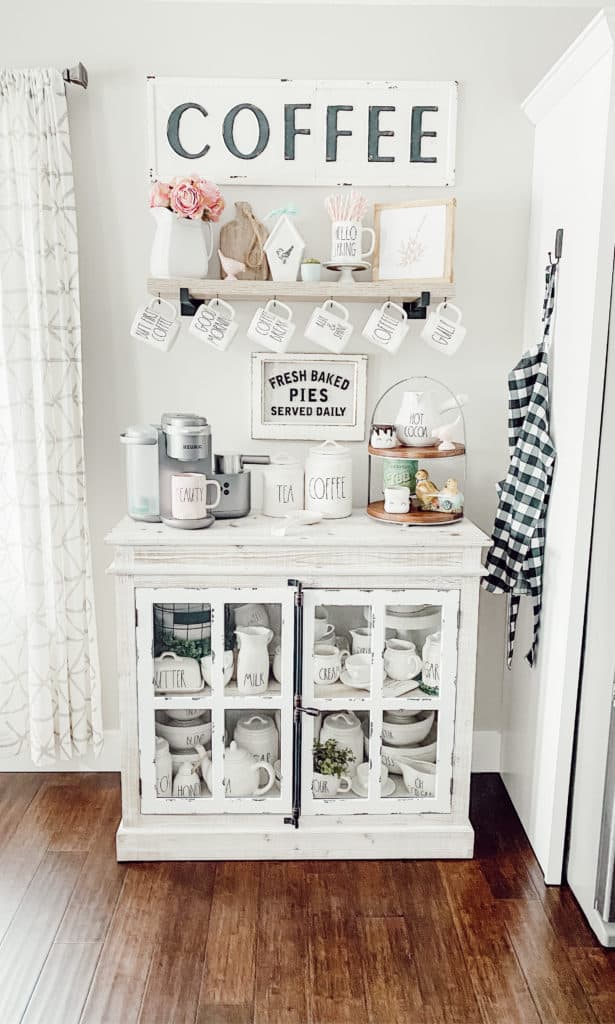 ​Easter Coffee Bar
​My Easter coffee bar is different than my spring coffee bar because I have more specifically themed coffee mugs for this holiday. And of course I add in lots of carrots, eggs, and bunny rabbits too!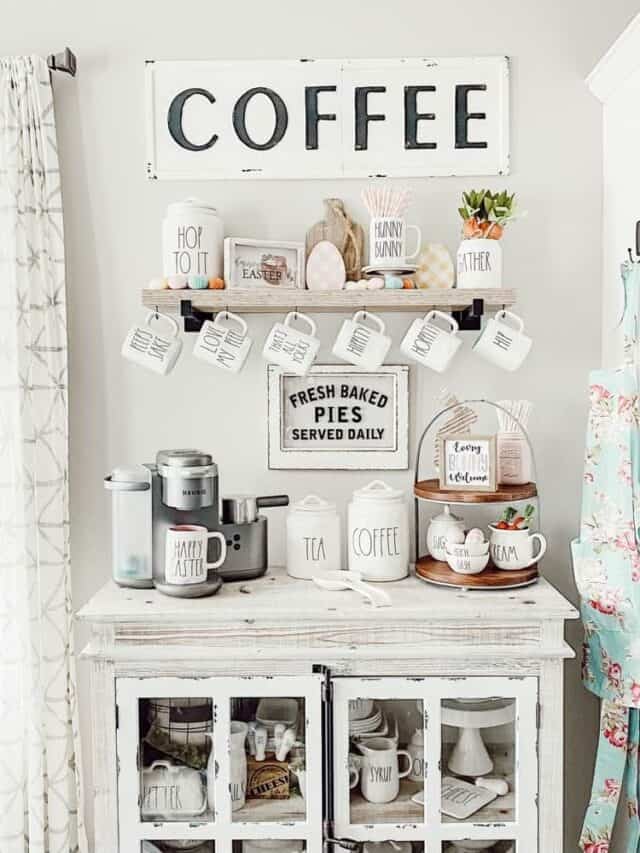 Summer Coffee Bar
For summer I usually split up my coffee bar decor into two different categories. I love to patriotic decor for Memorial Day and the Fourth of July. So I love to display a lot of red, white and blue pieces here for that.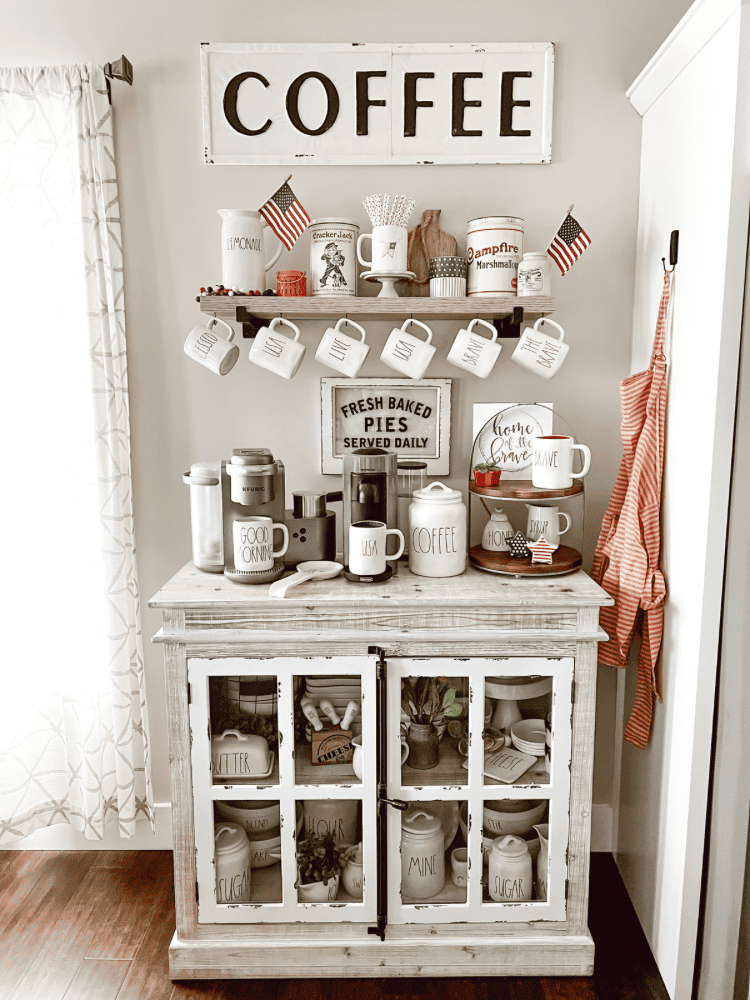 But, after those holidays are over, I usually tend to stick with a lemon theme for the rest of the summer. I use anything bright yellow or anything that has lemons or lemonade on it. This is bright and cheery for the warm summer months!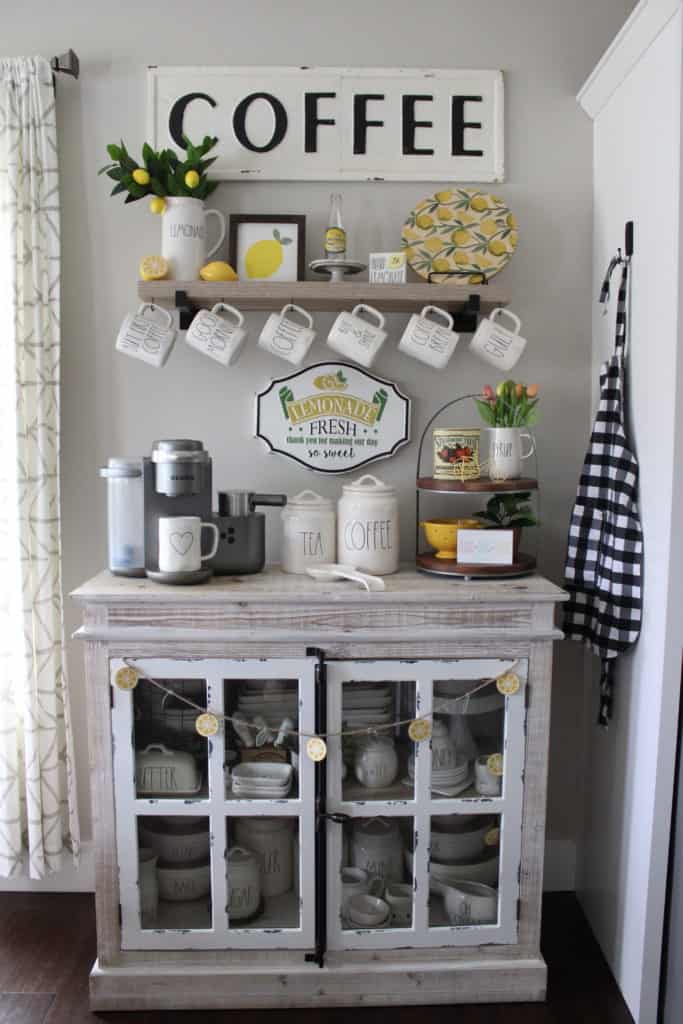 Fall Coffee Bar
After I put all the lemons away, out comes the pumpkins! I absolutely love fall, it's right next to Christmas for me! Bring on all the pumpkin spice please! Pumpkin flavored coffee is one of my favorite things about the season!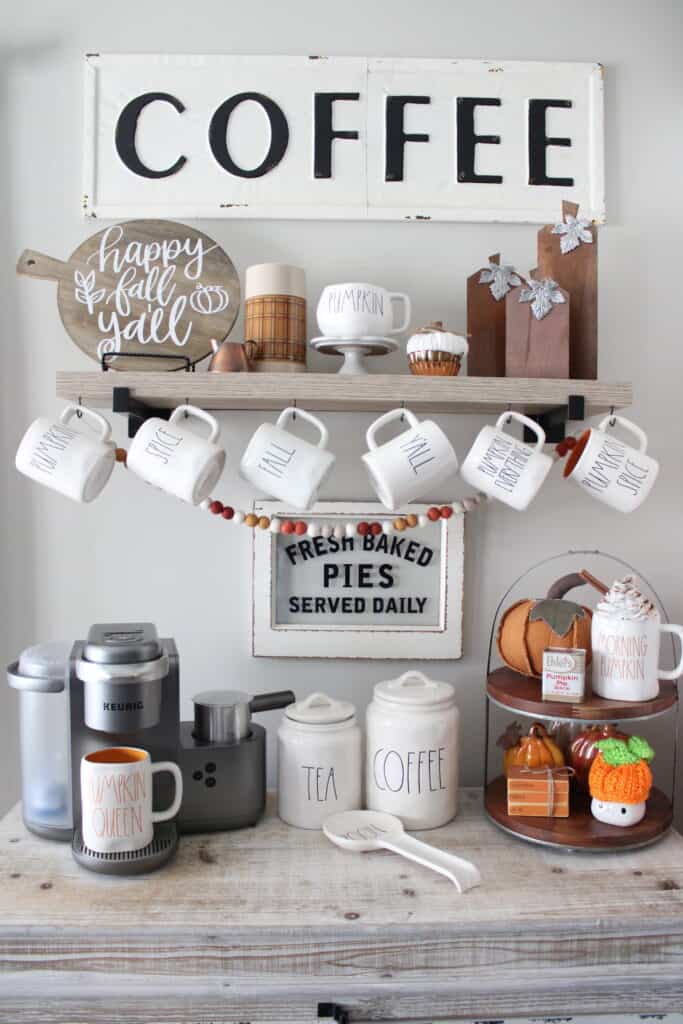 And again, I have all the pumpkin themed Rae Dunn mugs for this occasion too. They make for one of the perfect pumpkin mug displays you could have!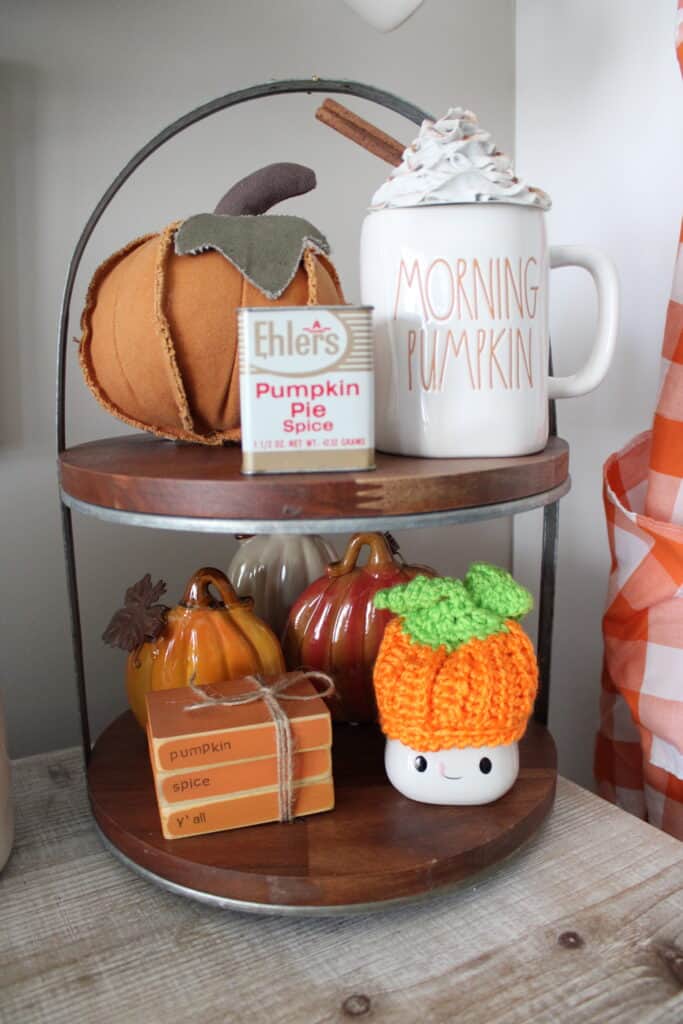 Christmas Coffee Bar
Christmas is hands down my favorite holiday to decorate for. And of course I love to intermix Christmas decor with all my coffee bar essentials. I like to create more of a vintage or rustic coffee bar for Christmas.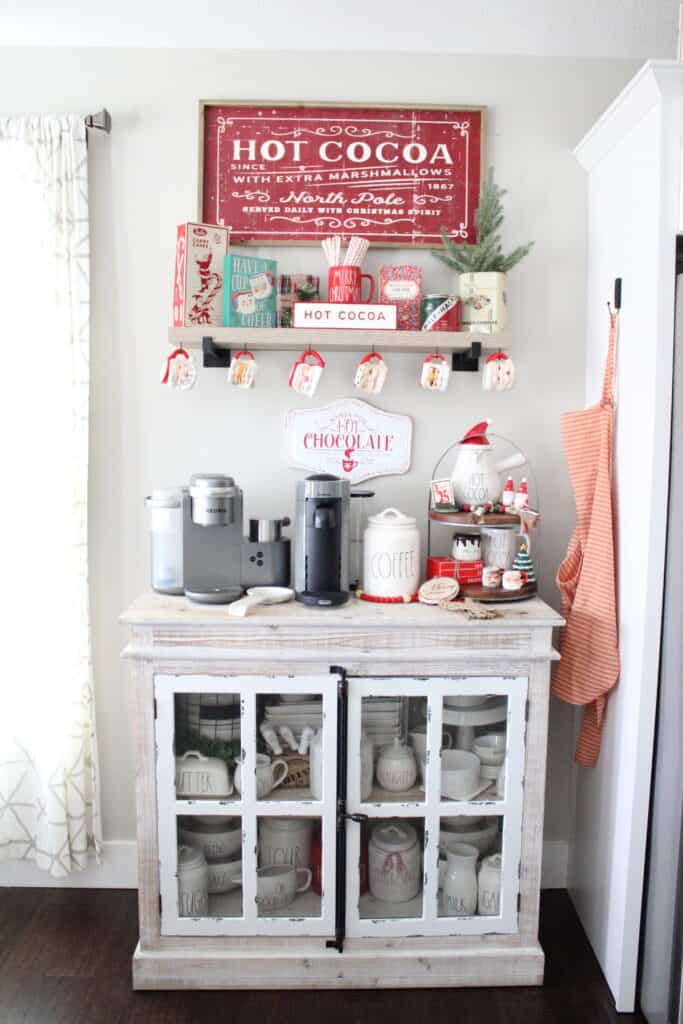 ​Using my vintage Santa mugs and antiques, I am able to create this rustic theme! I also kind of turn it into more of a hot cocoa bar to keep with the Christmas theme too. You could easily change out the coffee sign to some wood signs that are more on season too like I did here as well.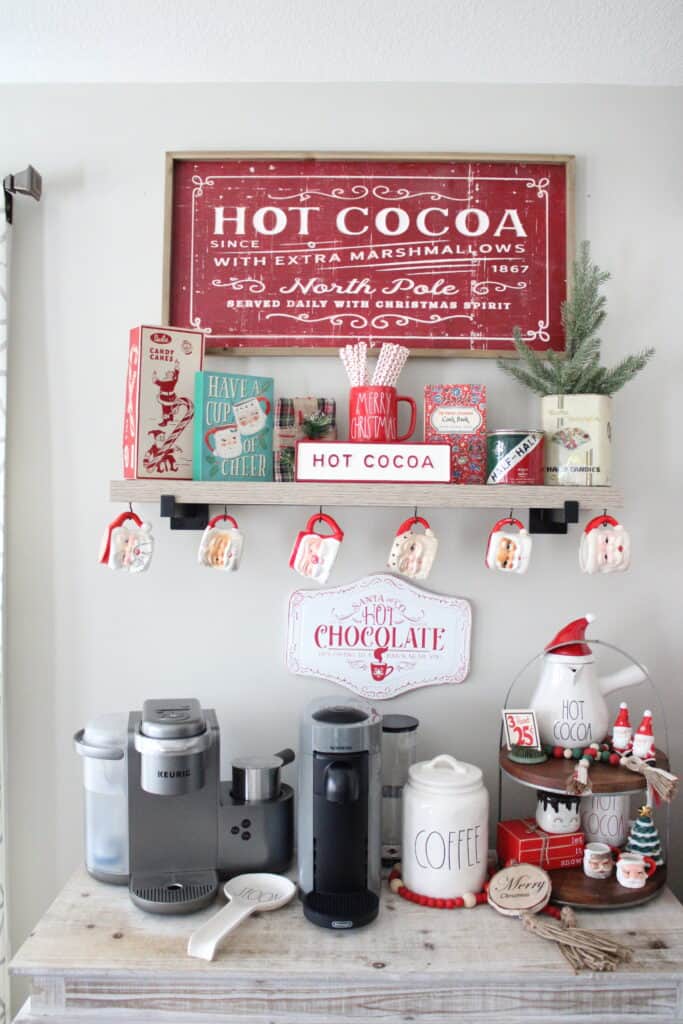 Enjoy Your Farmhouse-Style Coffee Bar
Well, I think I gave you more than enough ideas to get started with your own home coffee station here. I hope you are able to create your own space and add your own personal touch to it as well. And I hope you enjoyed all these farmhouse coffee bar ideas.
I absolutely love my morning coffee routine and enjoy looking at my coffee bar decor every season. If you're a big coffee drinker too, then you definitely need to create your own coffee bar.
Whether it be a huge bar or a very small coffee bar, I am sure you will enjoy it either way! Creating a farmhouse style coffee bar has been one of my favorite things to date inside of our home. I definitely don't regret it and look forward to switching it up every season.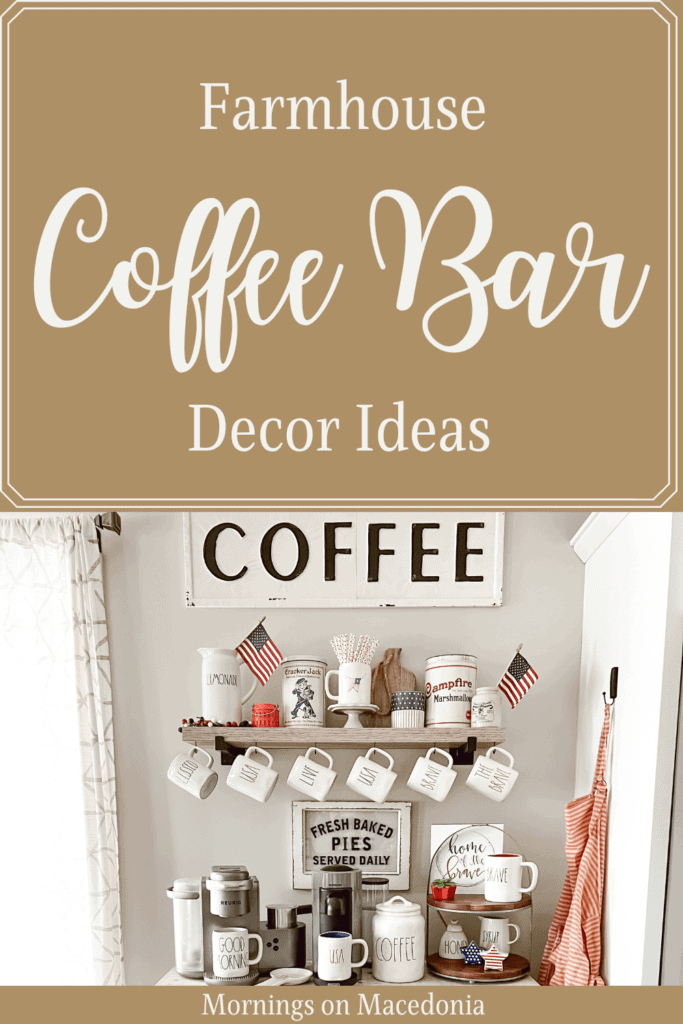 Do you have a designated coffee area or bar in your home too? If so, I would love to hear how you decorate yours too! Let me know below!