Y'all know I am absolutely obsessed with my Glowforge machine. And making my own earrings. And seasonal decor. So why not combine my love for all of these things to create some amazing Halloween earring ideas?!
I think seasonal earrings are so fun and can really complete any DIY Halloween costumes you have in mind. Plus, it is a fun way to enjoy the Halloween season too. You can wear these fun Halloween earrings the whole month of October to get ready for the big day!
I will be sharing the process behind just how I make some of earrings. And I will of course link up the ones I have for sale on my Etsy shop too! That way if you don't have a Glowforge machine, but still want some seasonal earrings, I've got you covered! Which is definitely good news for you!
I am having so much fun making earrings for all my favorite holidays! And I love to share that with you all! So keep on reading for a full tutorial on how to make your own Halloween earrings too! After reading you will be ready for any costume parties that may come your way now that you know how to create some fun, seasonal earrings!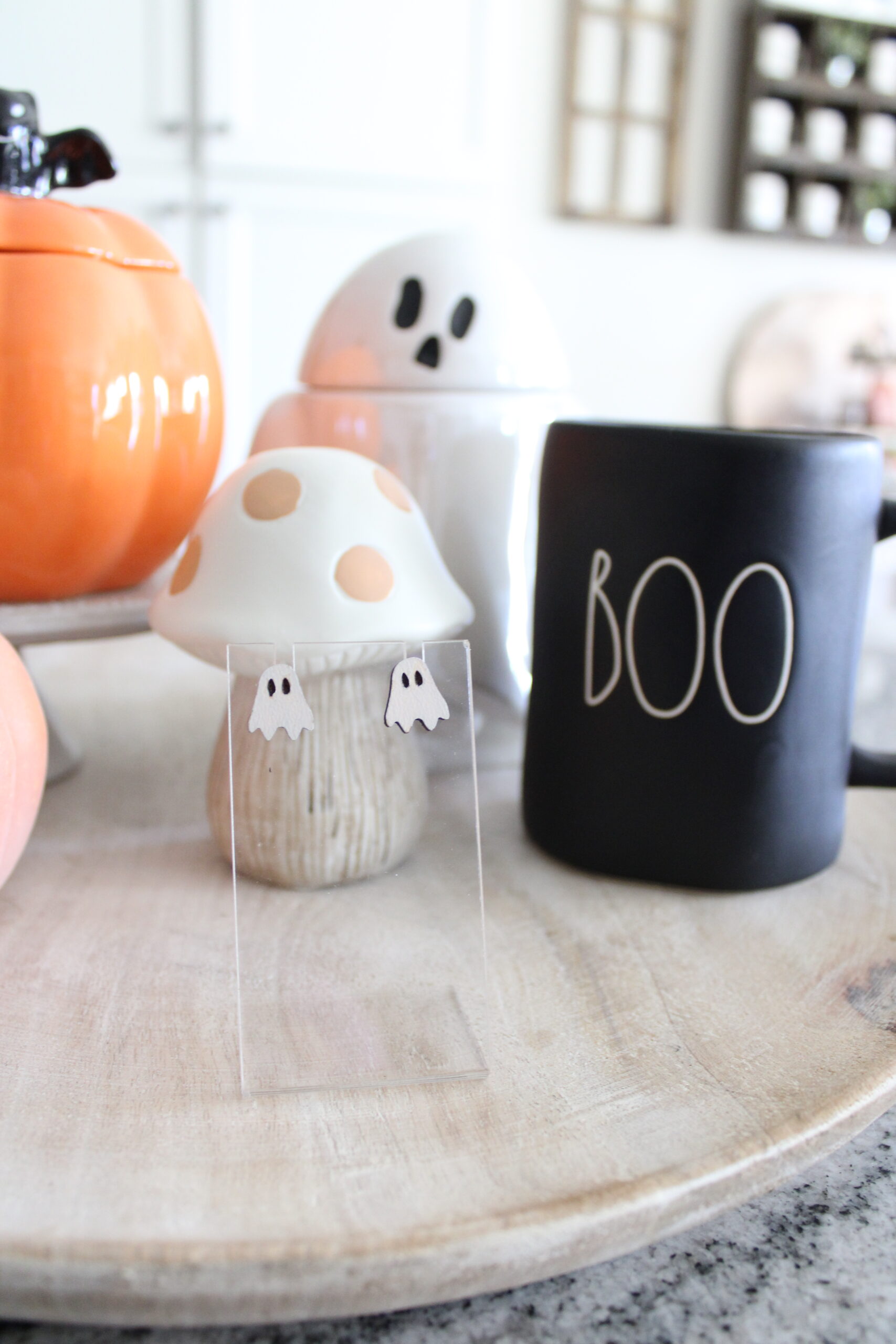 This post also contains affiliate links, which means I make a small commission off anything you purchase through here, at no additional cost to you. Please read my full disclosure policy for more details.
Pick Your Earring Materials
The first thing you need to do is decide what materials you want to use. Since I am using my Glowforge Aura machine, I will be using a lot of acrylic and wood materials for the earring itself. But, you will also need earring posts (if you're planing on making stud earrings) and earring hooks (for dangle earrings).
You can also make a fish hook earring as well. I have seen several cute polymer clay pumpkin earrings out there, but unfortunately I haven't really used polymer clay as my main materials so I can't give you much insight on that.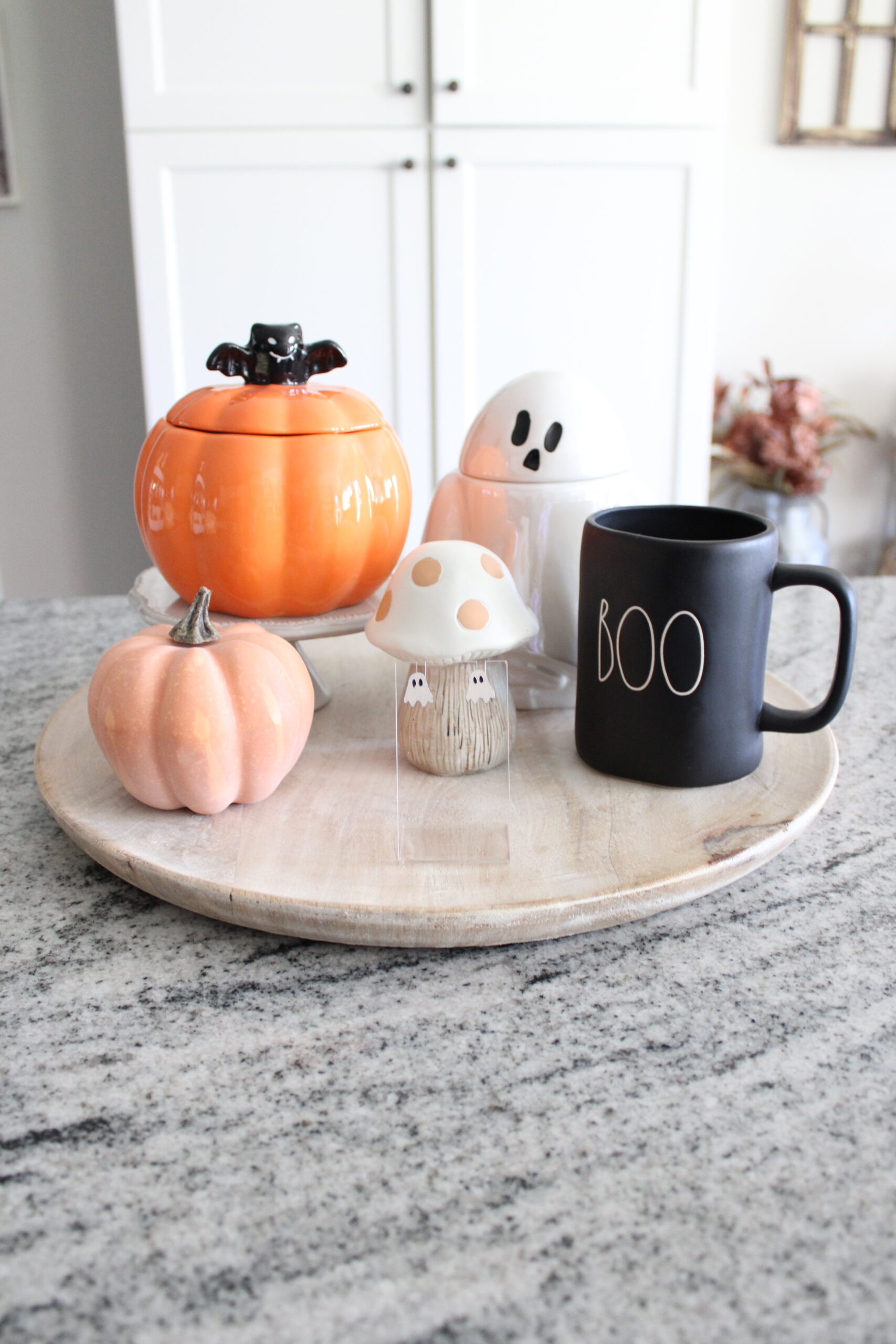 However, my bat post earrings I made turned out so cute! And all I used for those were eco thin black acrylic. I also made sure that they were Proofgrade, that way my Aura knew the perfect settings to cut them with!
I always recommend using Proofgrade acrylic or wood to cut out your designs with because it makes it so much easier! It's nice that it is already programed to make the perfect cuts for you!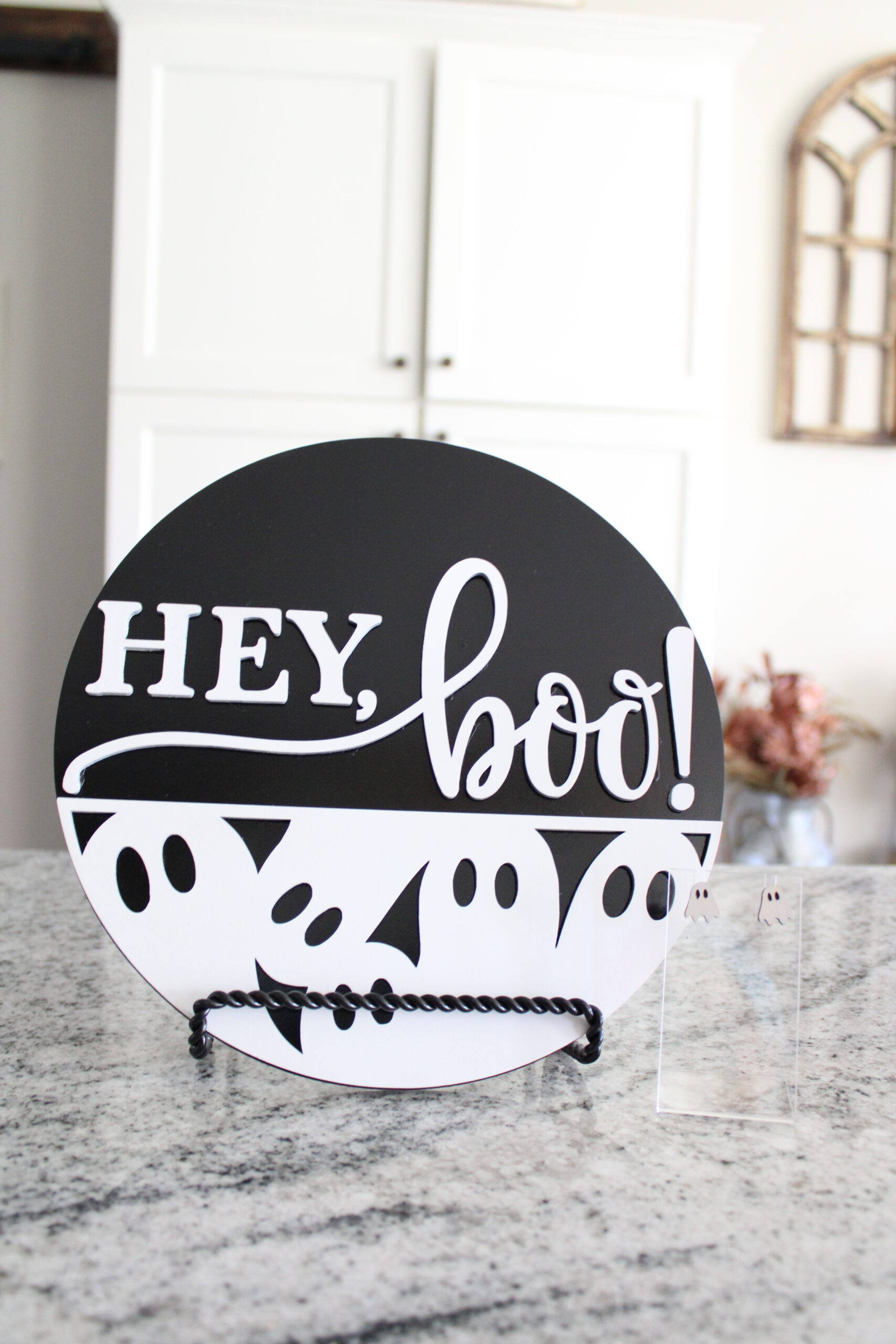 Also, if you're using wood, you may want to have some paint on hand to paint them with. Y'all know I always have Fusion Mineral Paint on hand. So when I made my ghost earrings, I painted them in the Cobblestone color from Fusion Mineral. And it turned out so nice!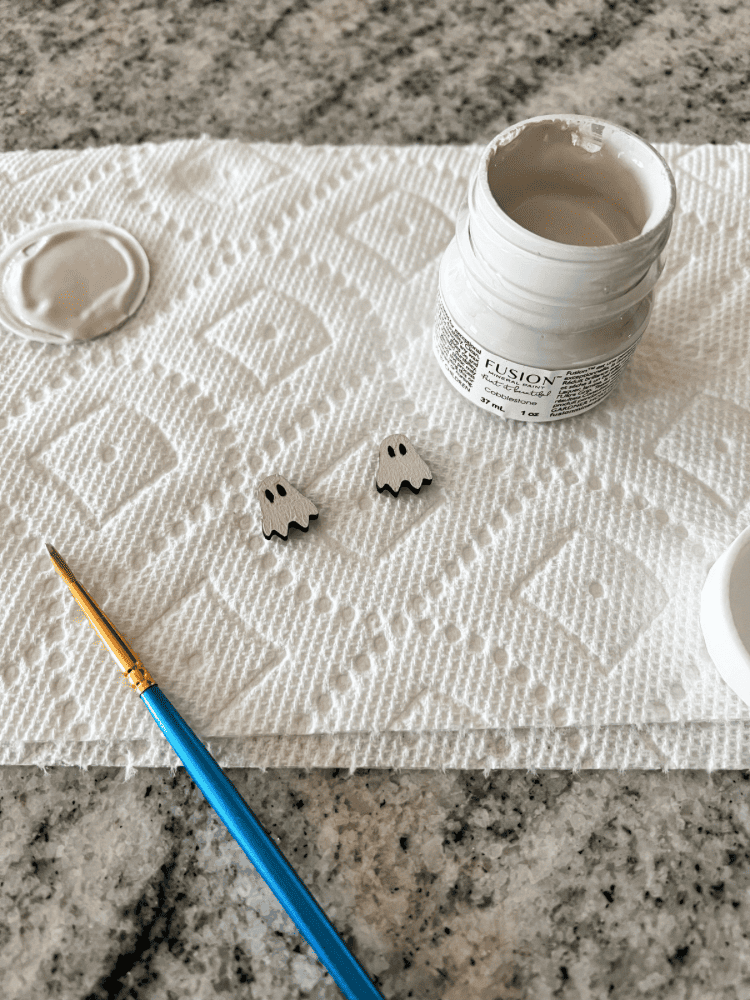 Design Your Earrings
Of course, you need to design your earrings before actually making them. I just used the preprogramed earrings available in the Glowforge dashboard. It's much easier for me to use pre made designs rather than designing my own.
But, you can also always find cute SVG files on the Etsy app that you can download and make. For example, I wanted to make some black cat earrings, but Glowforge didn't have any in their pre made files. But, I found some easily on Etsy that I will link below.
For this post, I am just going to show you how easily I made my ghost earrings. Since they are small stud earrings, they did not take long to print out on my Aura machine at all. That's why I love making Halloween earrings, or really any earrings, because the cut time for them is so low. A lot of other more intricate designs take a lot longer so you have to plan for that as well.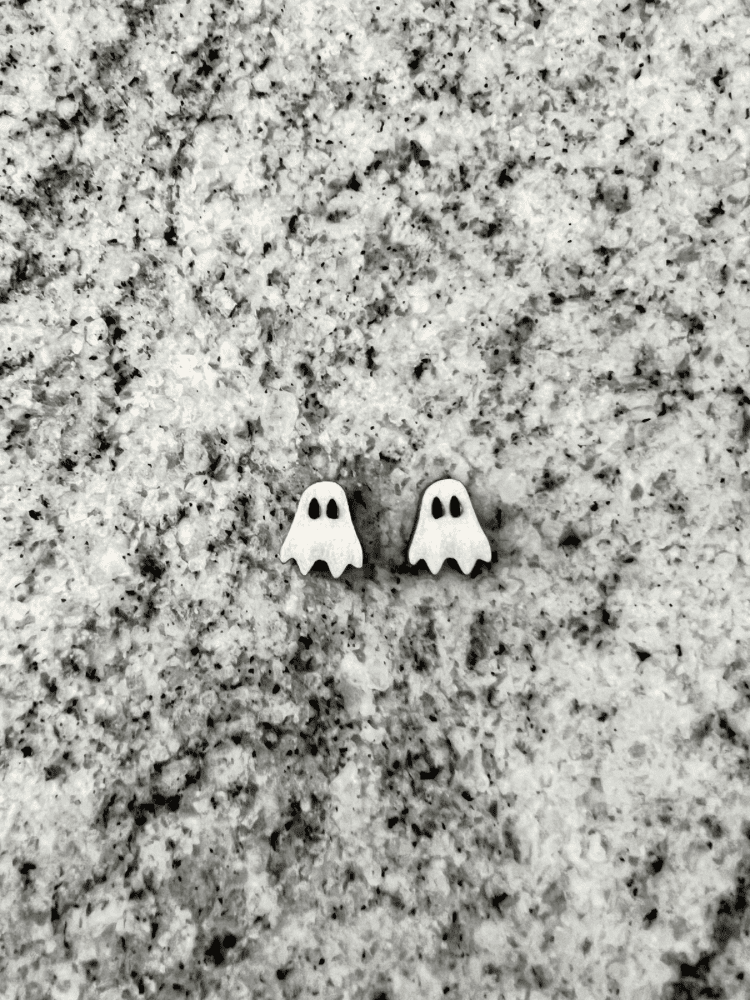 After the earrings are printed, remove the masking tape. You can either do this by hand, or use Gorilla tape to get it off easily. If there are a lot of cuts or it has a design to it, Gorilla tape is my go to! Then, if you want to, paint the earrings to whatever color your little heart desires!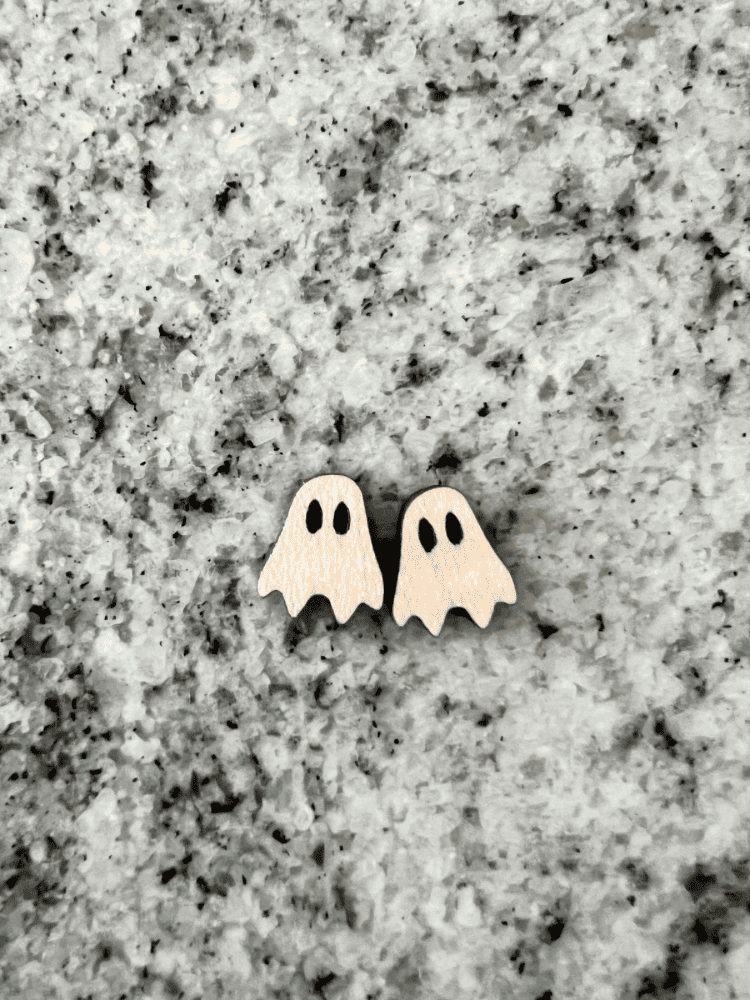 I love how easy this machine is to make Halloween jewelry! Literally, the possibilities are endless! It's perfect to have this time of year with all the holidays coming up too.
Finish Your Earrings
Now that you have your earrings printed out, and painted if desired, you can now assemble them! I will link everything I used to make the earrings below too. But, I always recommend getting sterling silver hardware. Especially if you are selling them. That way, people who are sensitive to some jewelry designs can still enjoy yours!
If you're making dangle earrings, you will need some jump rings for that too. But, I am going to show you how to make these ghost stud earrings since they are so simple and easy! All you need to do is attach the post to the back of the earring with some glue.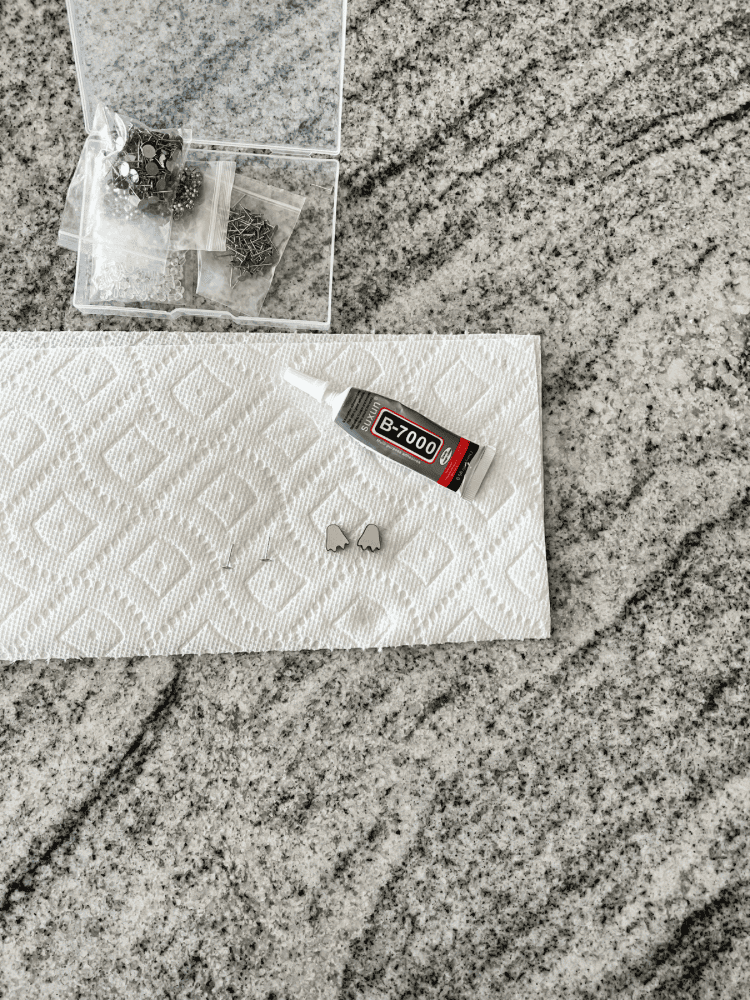 I like to use the B-7000 glue. Because it does give you a little wiggle room to move the post around if you mess up on the placement. It doesn't dry immediately which is nice. Other glues can immediately set up on you, so if you don't have the placement right, it can throw the whole earring off! You can also use a heat gun if you prefer that too.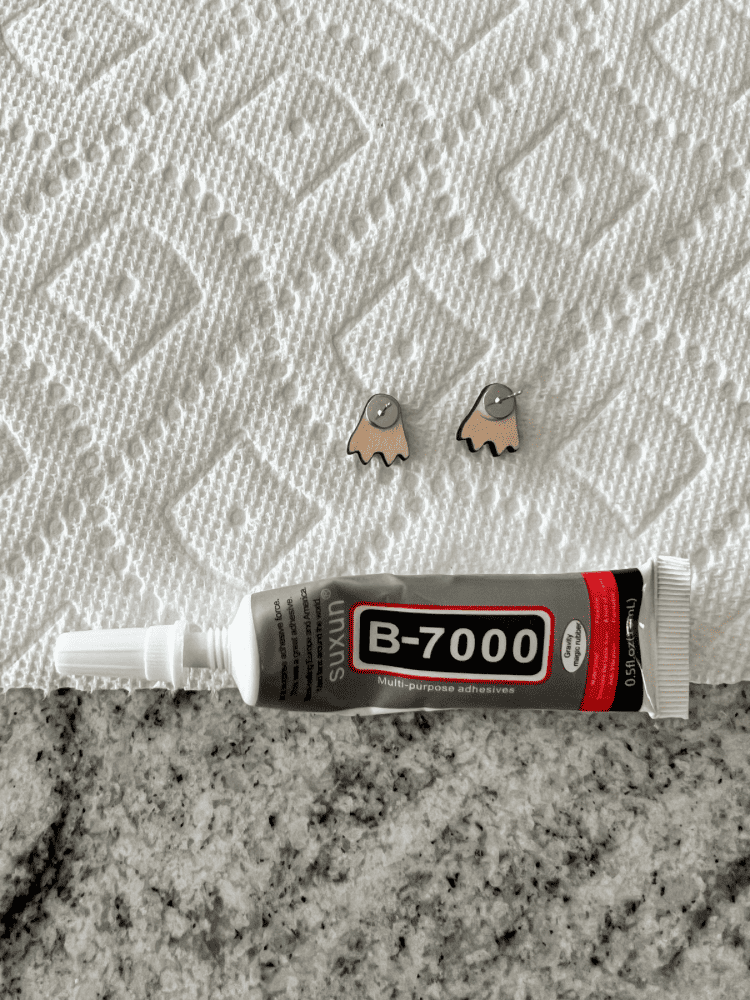 Let it dry fully before trying to attach the earring back to it. I have been impatient a few times before and tried to place the backing on too soon. Which causes the post to pop off and then you have to redo the whole process. So just be sure you wait an adequate amount of time before attaching the back!
Enjoy Your Halloween Earrings!
Now, I don't know how you can get more into the holiday spirit without having seasonal earrings like this! And like I mentioned above, you can make so many different designs for Halloween too! Like candy corn earrings would be adorable too! And who doesn't love having handmade pieces of jewelry around?!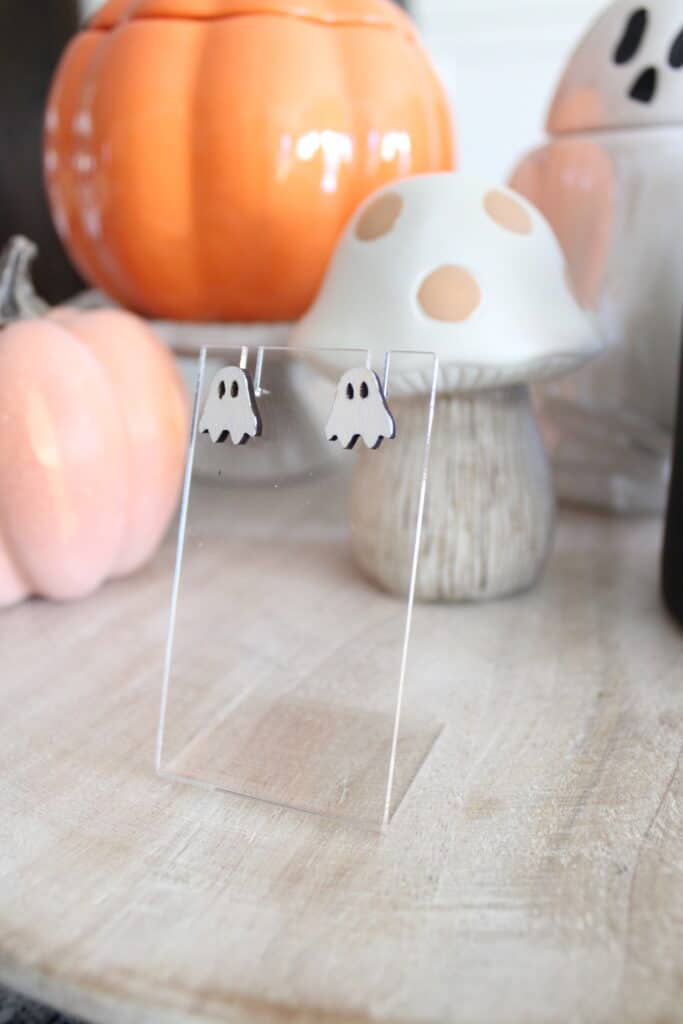 These earrings would be the perfect finishing touches to an easy Halloween costume too! So grab all the craft supplies you need to make these Halloween earrings with me! And happy crafting my friends!
Also, I mentioned above that I would link some of my available earrings I have listed in my Etsy shop already so I will do that here. I absolutely love making them and creating jewelry displays with them too.
That's almost just as fun as wearing them in my opinion! Be sure to wear these cuties visiting the pumpkin patch or going to all the Halloween parties you may have coming up too!