You guys know I have already decked out my halls and I am loving every second of it! You may be wondering what theme to choose this year or how to decorate for Christmas. For me, it was easy to decide. I wanted to use a buffalo plaid and farmhouse Christmas theme.
Basically, I searched on Pinterest for hours and then strolled through the aisles of Hobby Lobby and I was inspired! I found what spoke to me and just went from there. I love to use pops of color for different seasons, but you may love to use more neutral tones.
Either way I think it is totally fine! I love both as well but it is just a matter of preference. If you are lacking inspiration, I would recommend browsing through Instagram and/or Pinterest as well as strolling through home decor stores to see what speaks to you!
This post contains affiliate links. Click here to read my disclosure policy.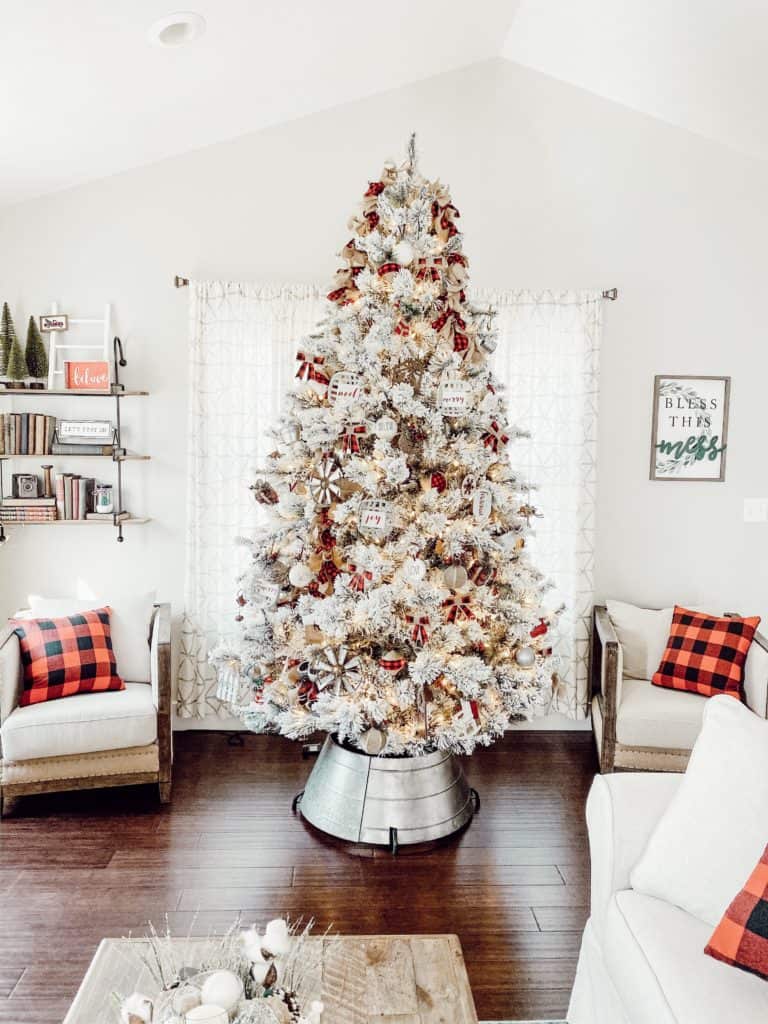 I loved the theme of buffalo plaid for the living room because it added just the right amount of color. I also chose to mix in a bunch of rustic ornaments.
And of course I had to have some Rae Dunn ornaments mixed in there as well since they have a buffalo plaid ribbon on them too!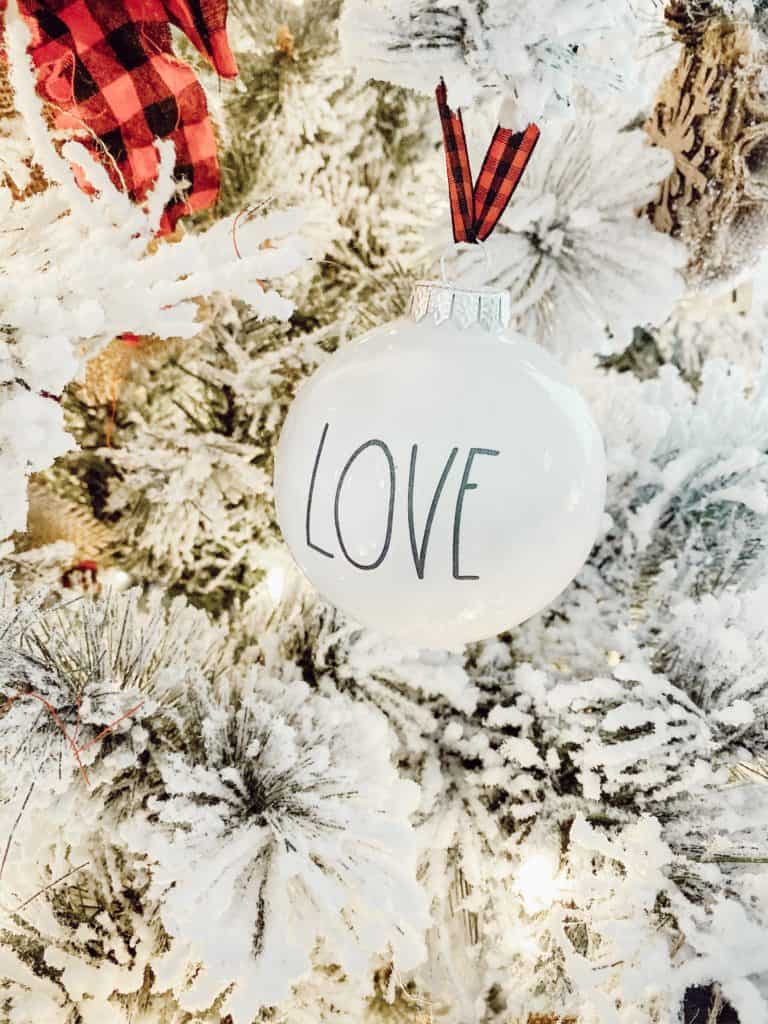 I also have a pretty funny story about getting this tree last year. We saw the tree in store and fell in love but they only had one left.
And we were in my little Acura, not my husband's truck. But we thought we could fit in the backseat anyway. Boy, were we wrong.
It was freezing cold out and we (along with several Hobby Lobby employees) tried many times to stuff it in the backseat.
And it almost just fit perfectly, but the door wouldn't shut with the box in the backseat! So we came up with the brilliant plan to open the box outside and then stuff the tree in the backseat.
And that worked, but there was flocking everywhere in my car for a good number of weeks after that! But hey, moral of the story is we got the tree home safe and sound in one piece!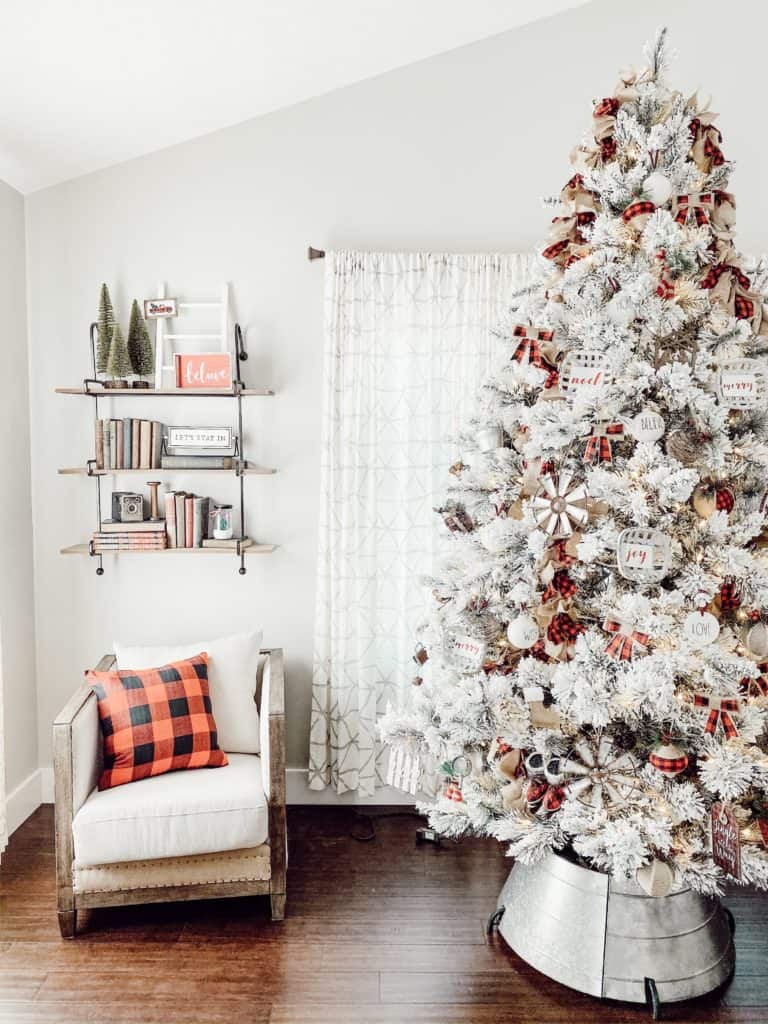 We also got that galvanized metal collar for the tree while we were there too. But unfortunately when we brought it home, it was too small for the base of the tree!
But my hubby got creative and drilled openings around the collar where the legs could pass through. So thankfully we made it work!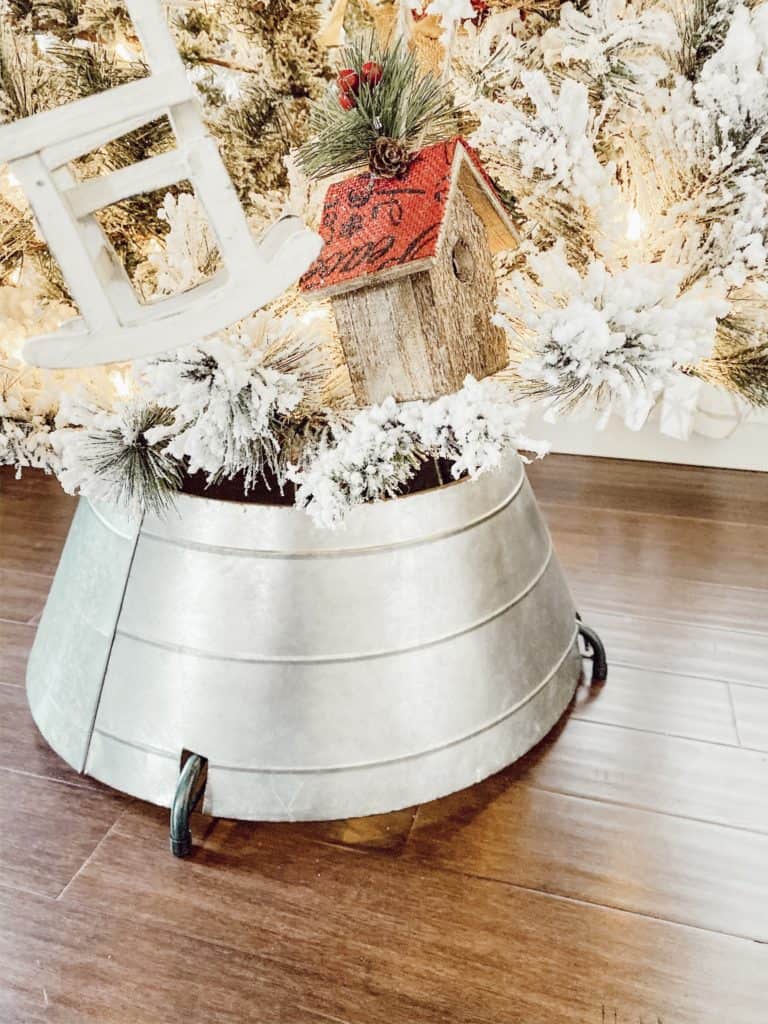 I also added some buffalo plaid and burlap garland I found at Hobby Lobby too and strung it from the top of the tree all the way to the bottom.
I would like to get a couple of more pieces of garland and fill in the tree a little more.
This is perfect to fill any gaps and/or spaces you have in your tree. I also love how it has burlap in it because many of my rustic ornaments have burlap in them as well so it all fits together perfectly!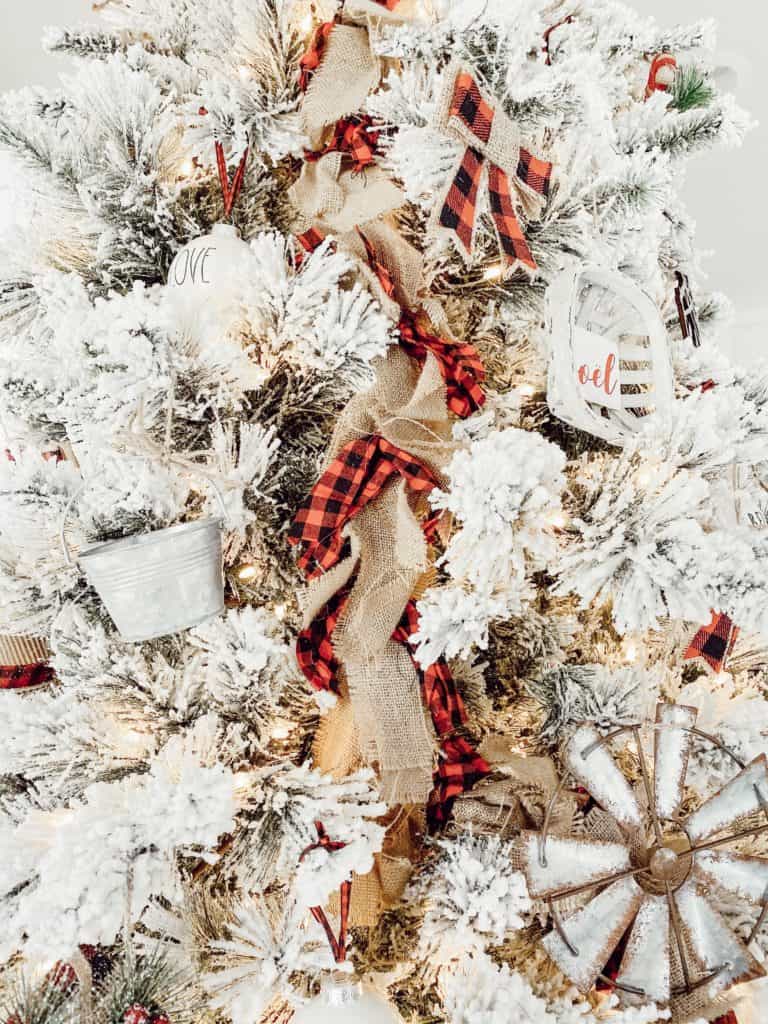 So hopefully after reading this you are inspired to decorate your tree as well! I would love to hear what theme you came up with and how you incorporated it throughout your house too!
And again, if you have any ideas on what tree topper I should use or any improvements I should make on my tree, let me know below!