I shared all about my Christmas Home Tour with y'all a few days ago and I showed you a sneak peek of my Vintage Christmas Tablescape there.
However, I wanted to go more in depth with you all on how I styled it.
It was so easy and everything I have on there was thrifted or gifted to me, so I did not spend much money on it at all.
I thought I would share this so I could give you all a little inspiration on how to style your tablescapes this Christmas!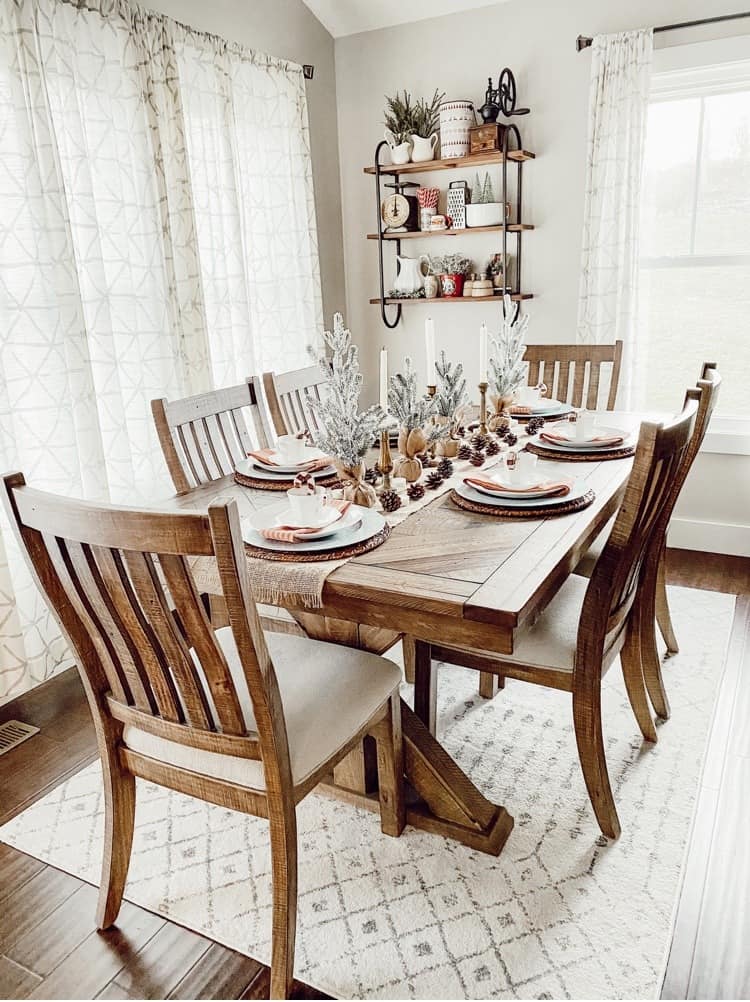 This post contains affiliate links. Click here to read my disclosure policy.
Selecting a Vintage Centerpiece
If you have been around here long enough, then you know I love to style tablescapes. Whether it's for Winter, Valentine's Day, Fall, Easter, or even Summer.
I love all the seasons and try to incorporate as much seasonal decor as I can into my tablescape.
If you go back and look at those previous tablescape posts, I tend to leave a lot of the tablescapes the same and just add in a few easy seasonal touches here and there.
That way it's not to hard to create a new tablescape for a different holiday.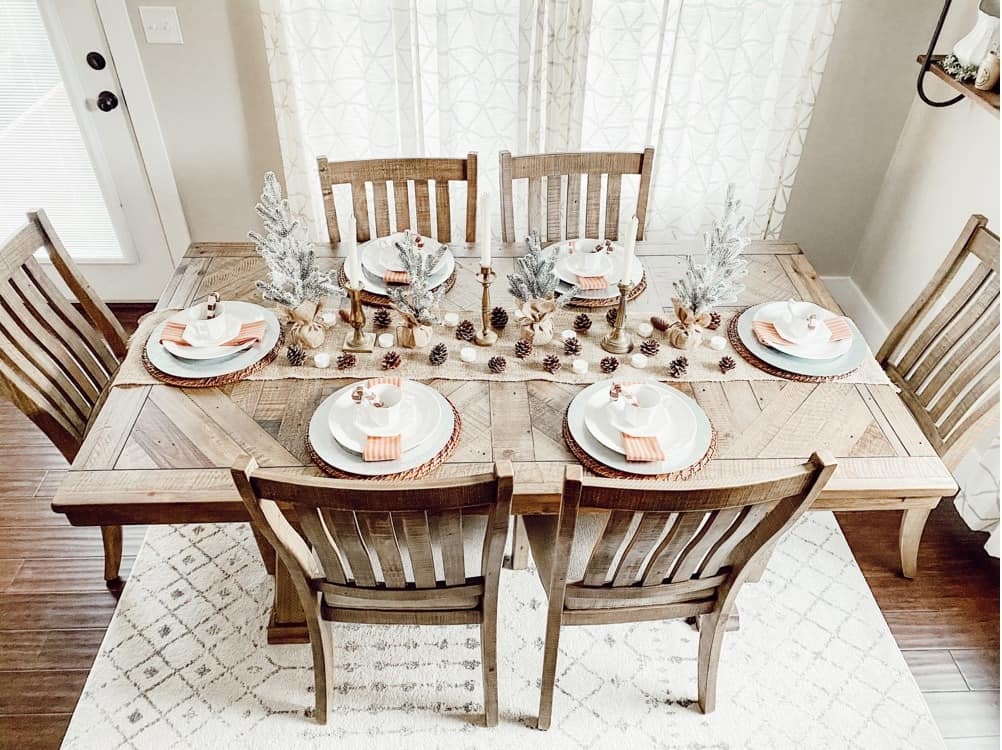 For my vintage Christmas tablescape centerpiece, I decided to do a combination of antique brass candlesticks and mini flocked trees.
I found the flocked trees from the Target Dollar Spot several years ago, but I noticed they still had them in stock this year as well.
I ended up using a total of four trees, plus three candlesticks in between each tree. If you noticed, I like to do things in odd groupings.
To me, it feels like it is much more pleasing to the eye that way.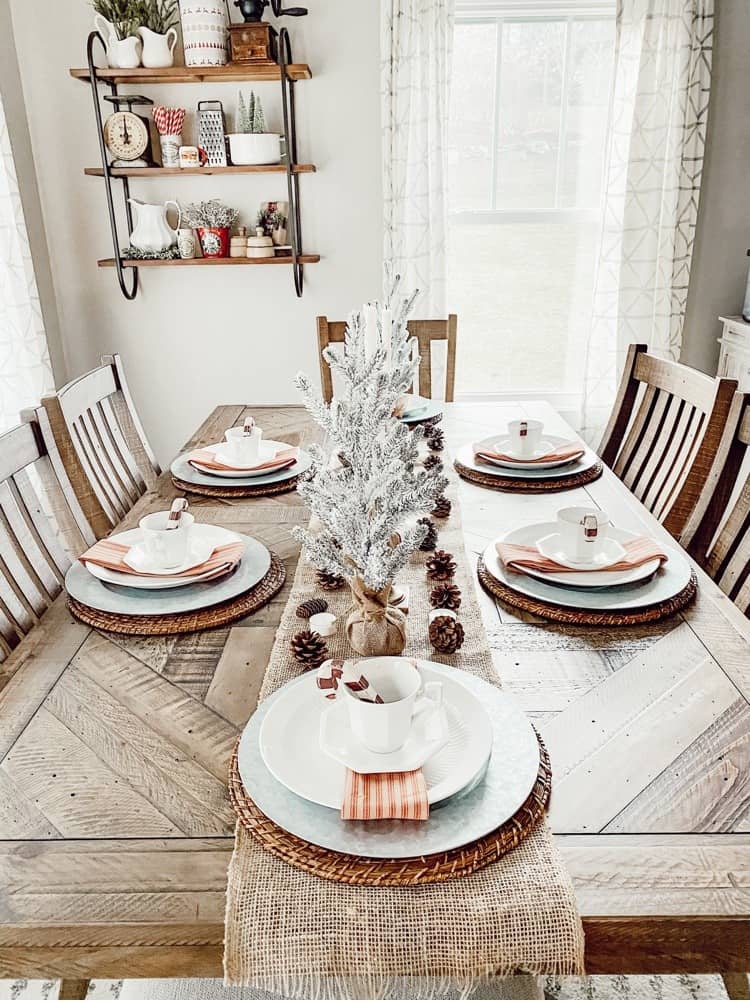 In between the candlesticks and trees, I reused my pinecones I used from my fall tablescape this year as well. I also added in little tea light candles there too.
I plan on lighting all these candles, including the ones on the candlesticks for a cozy and romantic Christmas dinner this year!
And of course, I have this all placed on my burlap table runner. Which if you also remember from my previous posts, is leftover wedding decoration from our wedding!
I love how special and sentimental this table runner is to me.
Creating Vintage Place Settings
For my place settings, I kept everything the same from my fall tablescape as well. Only swapping out the napkins for a more festive touch.
I absolutely love using my vintage ironstone dishes. They definitely make the tablescape feel more antique and older.
Plus, I got them super cheap at a thrift store and we use them all the time! I also added in some cute little wooden candy canes into each teacup too.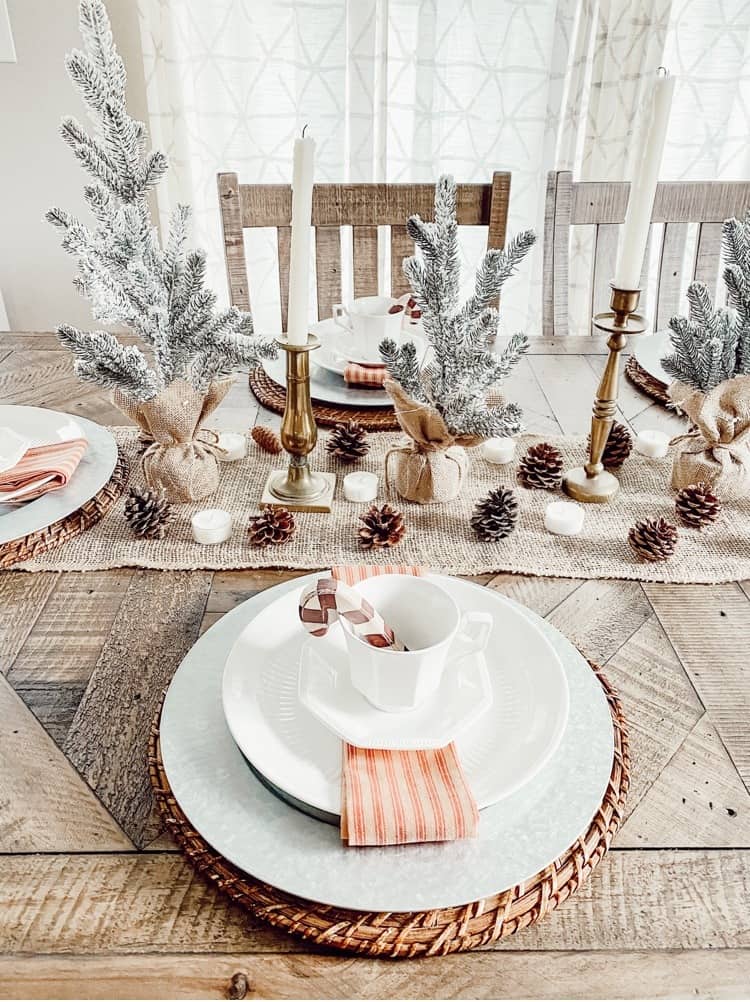 Even though the napkins are new as well, I love the vintage vibe they bring to the table.
I love the red ticking stripe pattern and I think that is the perfect blend of both vintage and farmhouse decor.
I have an apron that matches this pattern hanging on my coffee bar too!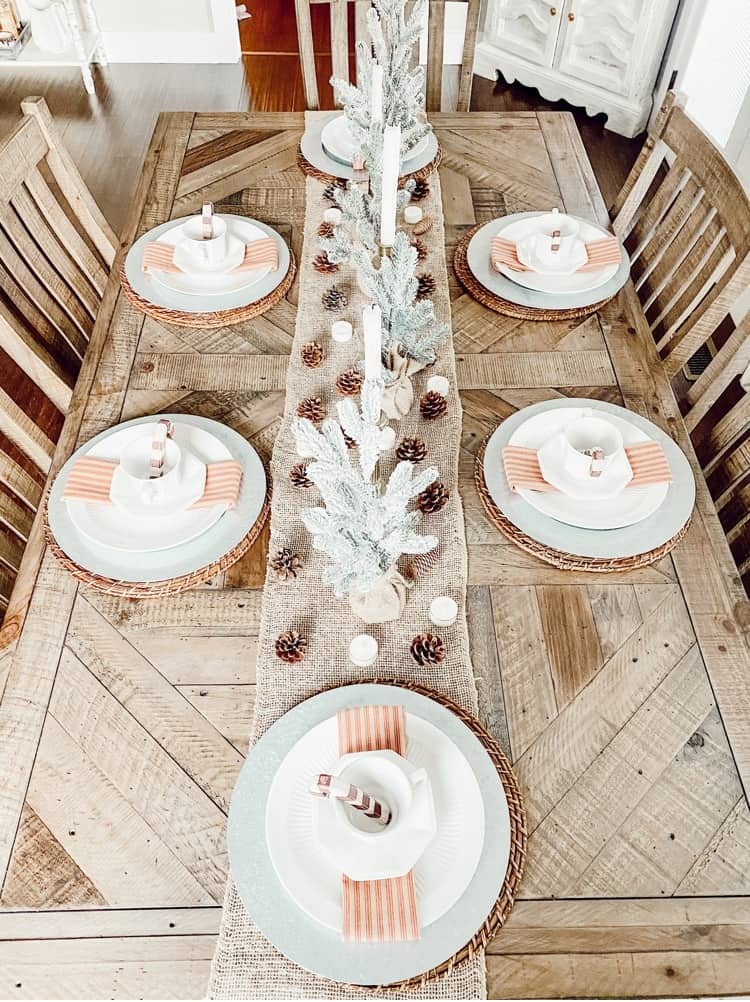 If you notice, I have definitely changed things up a lot from my last year's Christmas tablescape.
If you have been following along with me for awhile now, then you have probably seen the changes in my decor for yourself.
I used to be obsessed with Rae Dunn and would use those pieces to style anything and everything in my kitchen.
Now, I tend to be more drawn to vintage and antique pieces. I love the worn and loved look they bring to a space.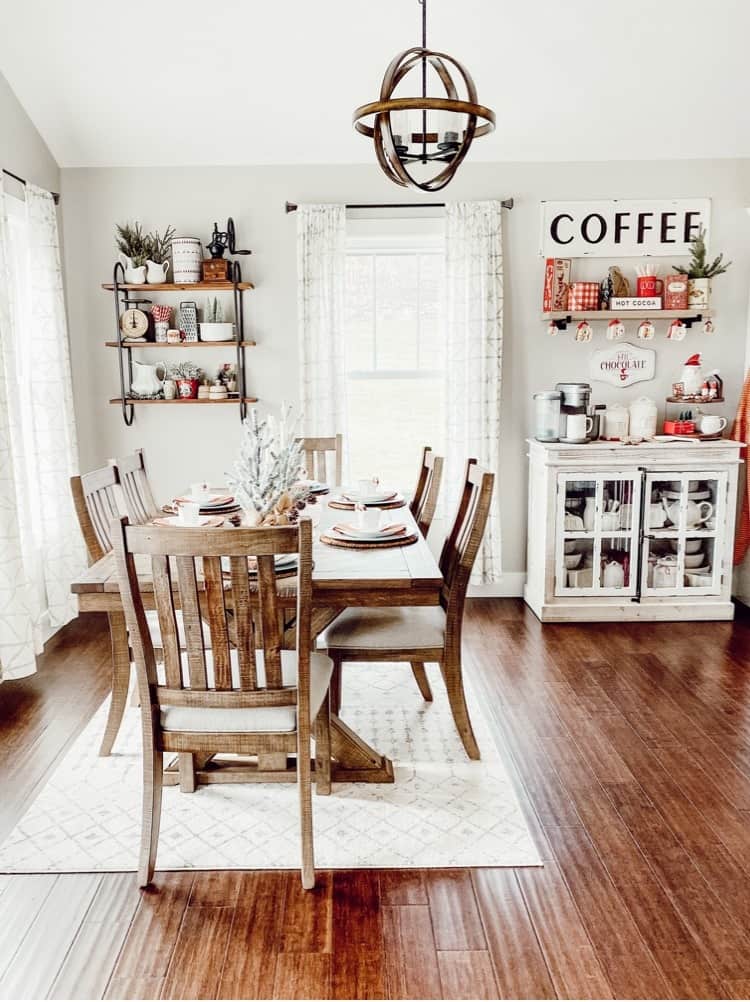 I think it did kind of first start back last year when my mother in law gifted me with a set of vintage Christmas dishes.
Which if you remember, I have those styled on my bar tablescape since there are only four place settings in that set of dishes.
I did that same thing again this year and love it. I think as time goes on, I will start to collect more and more vintage ironstone dishes and slowly start to replace all my Rae Dunn.
But again, that is a long term goal since everything vintage is unfortunately so expensive!
Conclusion
Well, I hope you all enjoyed my vintage Christmas Tablescape. I hope it gives you a little inspiration on how to set your table this year.
Whether you are still getting together with family or not, you can still make your Christmas dinner special with just a few festive touches styled on your table!