I've been seeing all these tips and tricks on Pinterest for how to make your pumpkins last longer, so I figured I would try it out this year. Can you believe I have never done this before?
I always would just buy pumpkins and place them out on my porch, without doing any prep work! But it really is so easy to take these steps below in order to make them last a little while longer for the season.
I can't wait to see how long mine hold up! Keep on reading to see just what I did!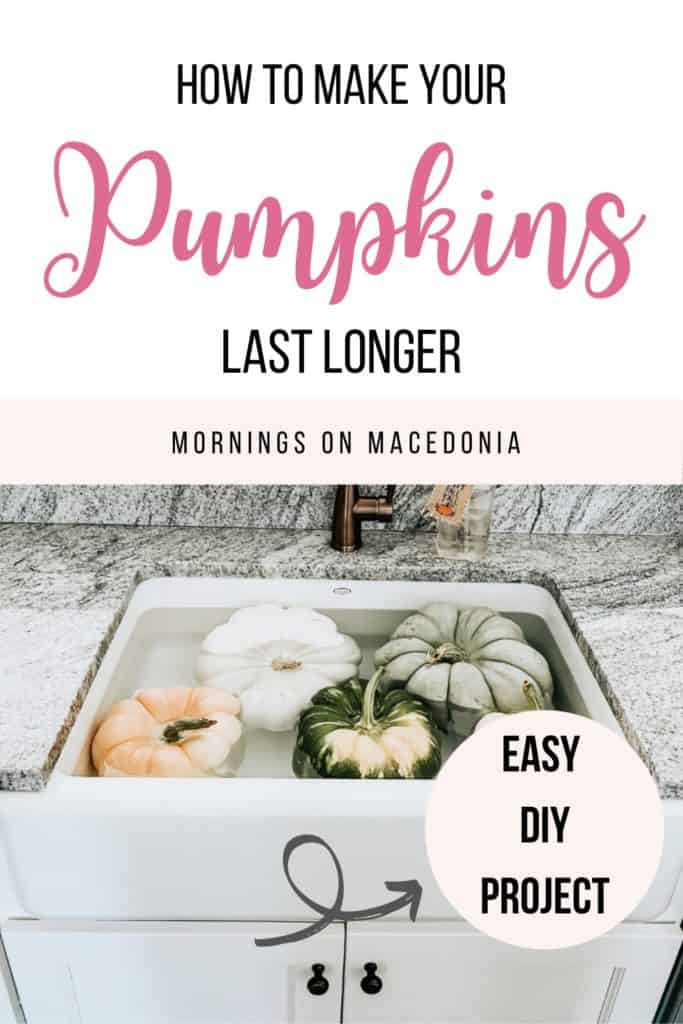 This post contains affiliate links. Click here to read my disclosure policy.
Washing Your Pumpkins
The first thing I did was to wash my pumpkins off. I just used a little Dawn dish soap and hot water. I scrubbed them real good to make sure I got all the dirt of of them.
Did you know that leaving the dirt on them causes the bacteria to grow on the pumpkin which will ultimately cause it to rot faster??
Cause I sure didn't and I did not want that to happen this year. There's really nothing more disgusting than a rotted pumpkin!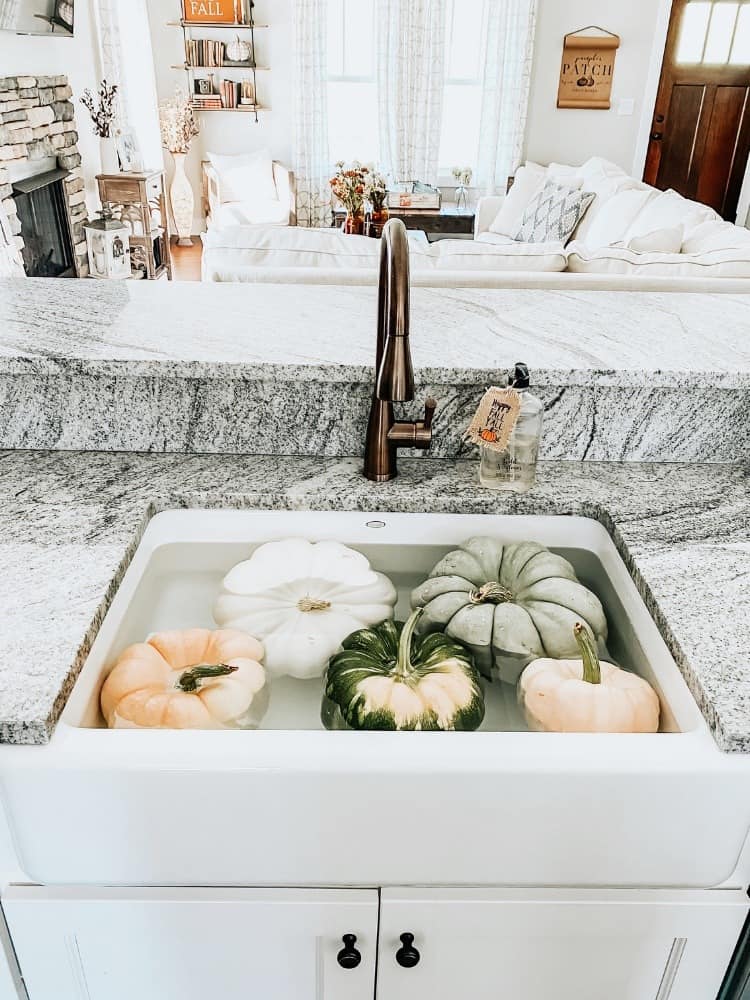 Give Your Pumpkins A Bleach Bath
After your pumpkins are all nice clean, now it's time to let them soak in a bleach bath.
You could either use a sink or a tub for this, but I opted for a sink since I did not have that many pumpkins to begin with.
And plus, it wouldn't take so long to fill up my sink versus my bathtub.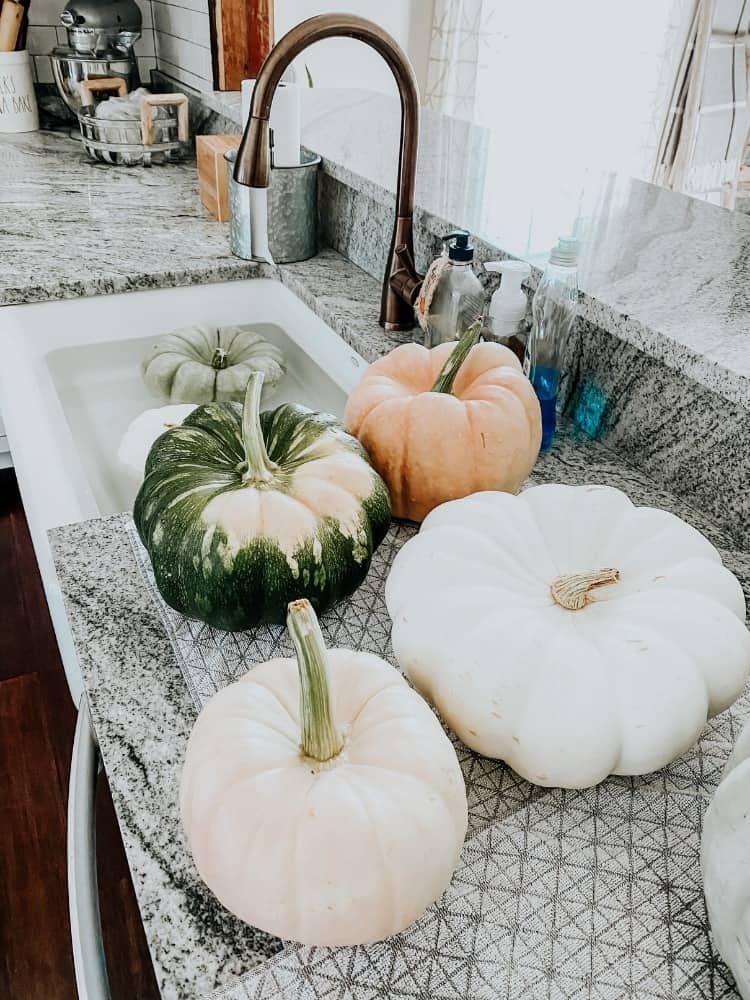 A good rule of thumb for a bleach bath is to use 1 tsp (or capful) of bleach per gallon of water. Once I had the bleach water ready, I placed the pumpkins in.
And also, did you know that pumpkins float?! Which is so crazy to me because they are so heavy!
But anyway, I let them soak for about 5 minutes and then flipped them over (since they were floating) to get the other side for another 5 minutes.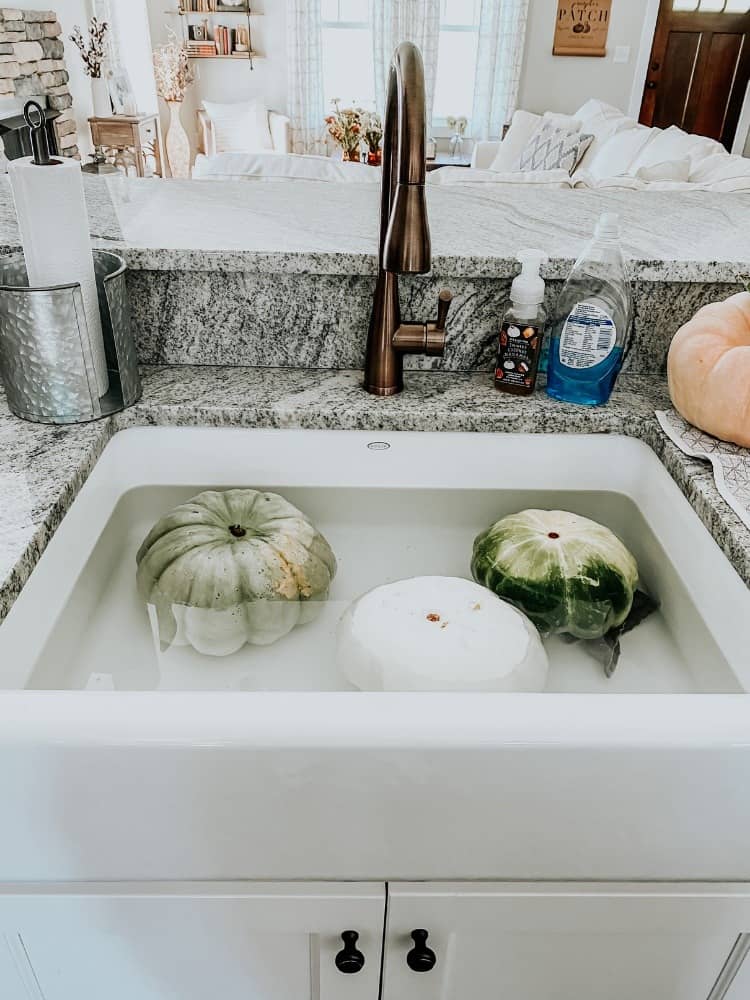 I've read differing opinions on how long to let your pumpkins soak in a bleach bath too.
I've seen 5 minutes, 30 minutes, and even an hour. So I am not exactly sure which one is considered "the best" but I figured I would just share with you all what I did exactly.

I also was inspired by my friend Charlotte over at Charlotte's Happy Home to do this project as well, and I believe she soaked her pumpkins for 30 minutes.
I think it doesn't really matter how long you soak them, just important that you do actually soak them! And it's also important to note that the bleach will not change the color of your pumpkins which is always a good thing to know!
Drying Your Pumpkins Off
After you let your pumpkins soak for however long you want to, you just need to dry them off. I just rubbed them down real good with a towel and then placed them outside in the sun for a little bit before I started decorating the porch with them.
I shared how I decorated with them over in my Fall Home Tour so be sure to check that out if you missed it too.

Another way to make your pumpkins last even longer is to add epoxy to them after they are done drying too. I did not have any on hand, however, so I did not personally do that this time.
But, I may try to do that next year and see how that goes too!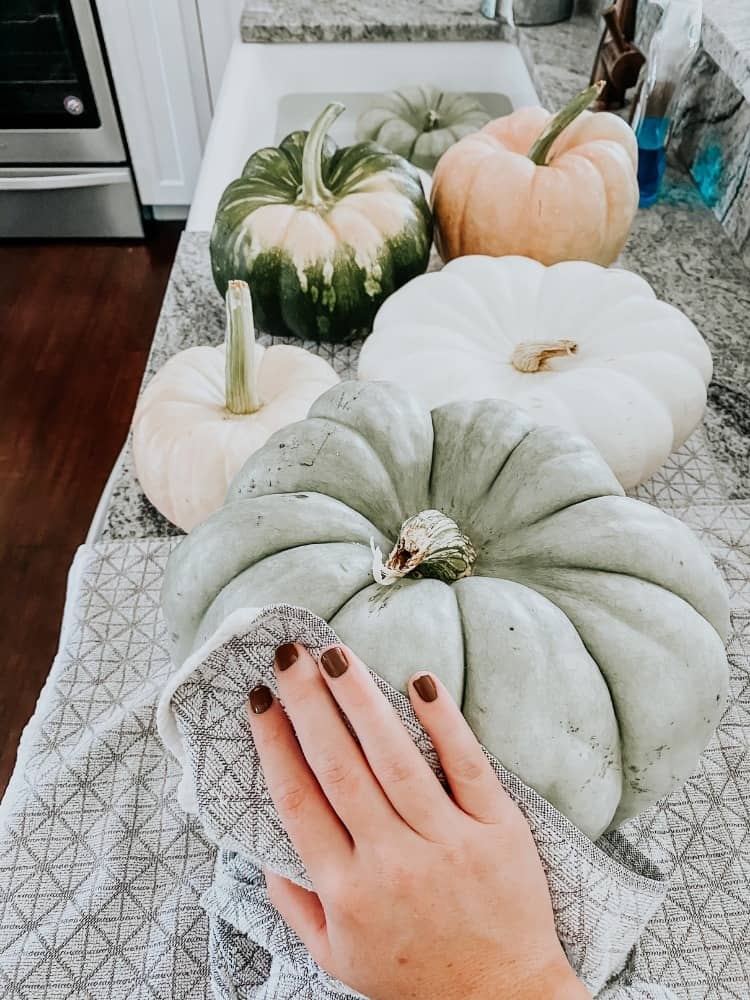 Conclusion
So there you have it, this is so super easy and simple to do! It took me just a few minutes on a Sunday afternoon, and now I should be able to have my pumpkins last long into the fall season!
I've heard some people that have done this before say there pumpkins lasted until Christmas even! Can you believe that?!
I will report back and let you guys know just how long mine last too. Have y'all ever tried this trick out before? Let me know below if so!