If you know me then you know I love to style a good table for every season! So that's why I thought I would share with you all my Fall Tablescape that I did this year.
It's completely different than any other tablescapes that I have shared with you all in the past. I usually have my dough bowl as my centerpiece for tablescapes, but this year since I moved it to the entryway table, I needed a new idea for my fall table.
I am so happy with how it turned out and the best part is, it didn't cost me much money at all!
This post contains affiliate links. Click here to read my disclosure policy.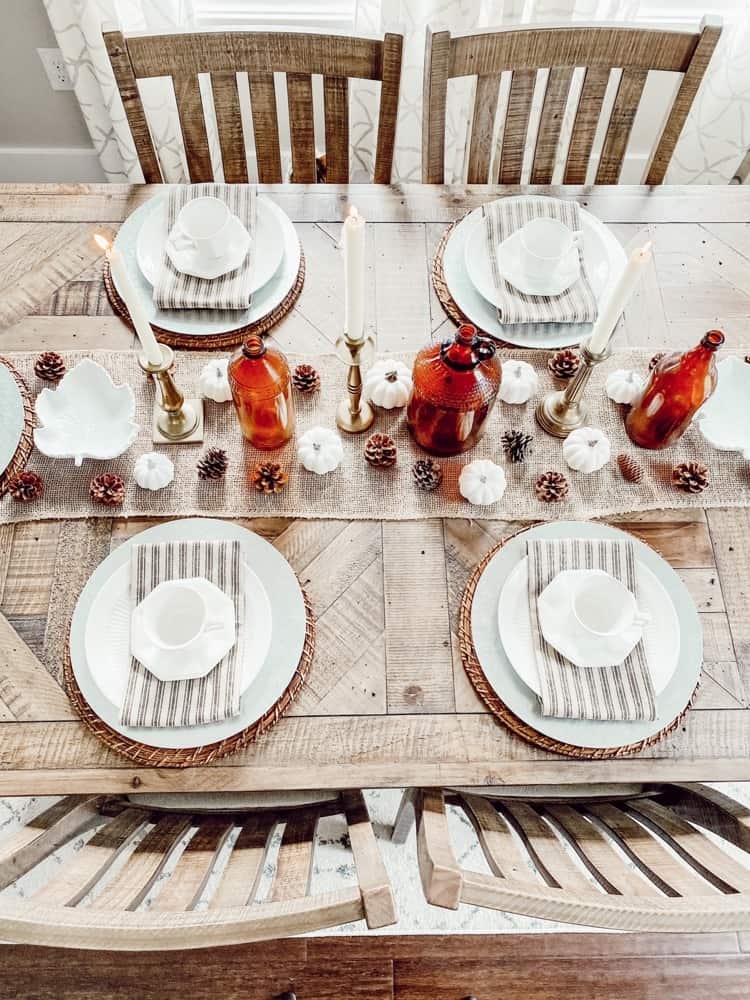 Finding Thrifted Pieces For Your Fall Tablescape
The reason why my tablescape didn't cost me much money this year, is that I was able to find a majority of the items I used for it from thrift stores and flea markets!
That's my biggest tip to you all is to try to find what you can at secondhand stores! It will definitely save you some money and usually you can find some pieces that would cost double or triple that amount at an antique store.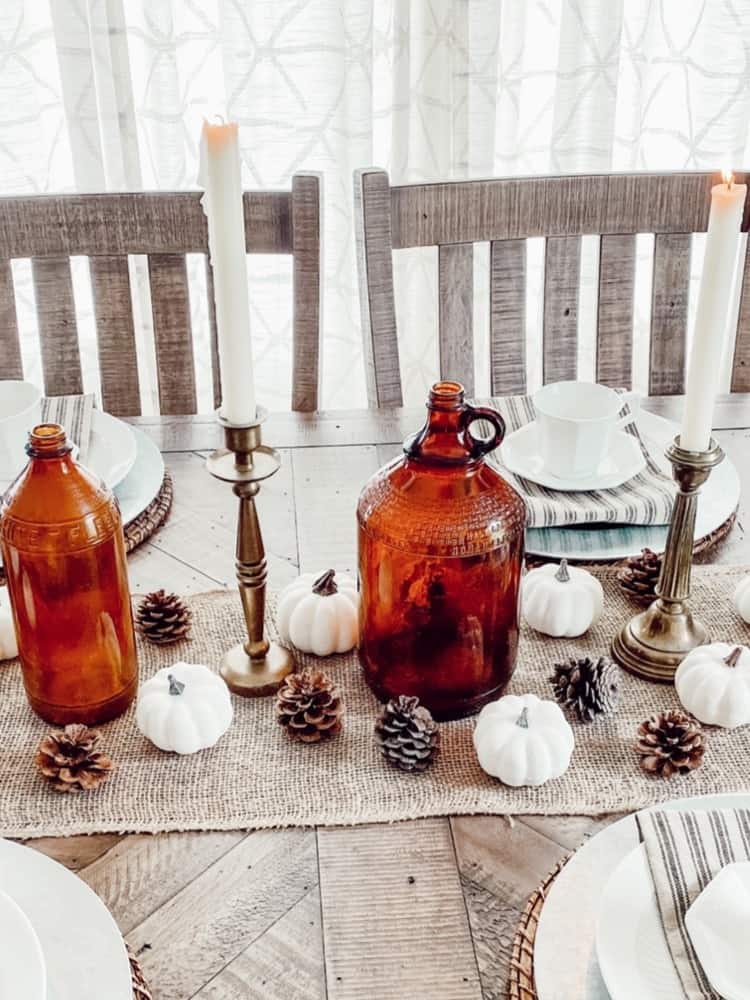 My main goal was to find some vintage amber bottles/jugs for my fall tablescape this year. And I am happy to report that I found some at one of my favorite flea markets down in Tennessee!
They were literally so cheap too. Just a few dollars for each bottle and they were all a great size as well! I just think that anything amber colored screams fall and coziness to me.
Gathering Up Your Pieces For Your Table
Another tip I have for you to save some money when styling is to search your own home first. You never know, you could find something that you forgot about, or realize you have enough of something and you don't actually need to order any more.
That happened to me this year. I knew I had a few mini white pumpkins, but I didn't think I had enough for my fall tablescape. But after looking through all my fall bins, I realized I did.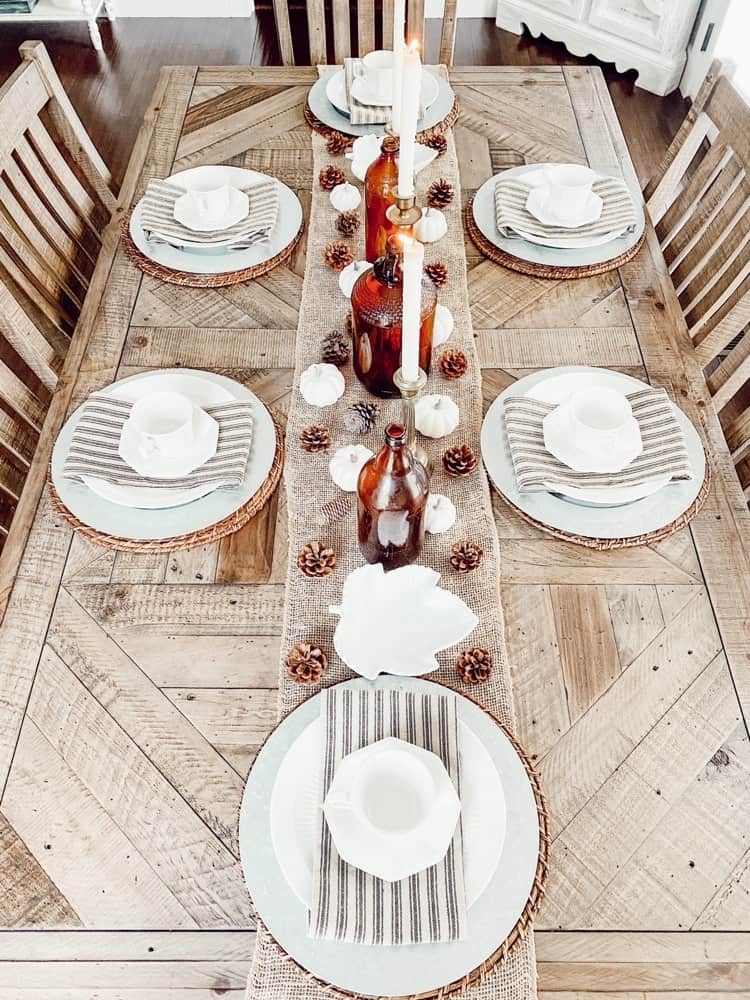 So I had my amber bottles, white pumpkins, and I also found a few faux pinecones from last year as well. I thought these would tie in perfectly with the theme I was going for this year.
Plus, you could always go outside and find some pinecones if you needed more as well. Another great money saving hack!
Then, I still had my brass candlesticks from my winter tablescape and I thought those would go well with all the other decor I had already too.

Styling Your Fall Tablescape
After you have all your pieces gathered, now it's time for the fun part- styling! I usually keep all my dishes and place settings the same for my tablescapes, so that part was already styled for me.
In case you missed it from my previous posts, my vintage ironstone dishes were also found at a thrift store too for a super cheap price!
Also, my burlap table runner is leftover wedding decor, so I always love to use that since it's both cute and sentimental as well.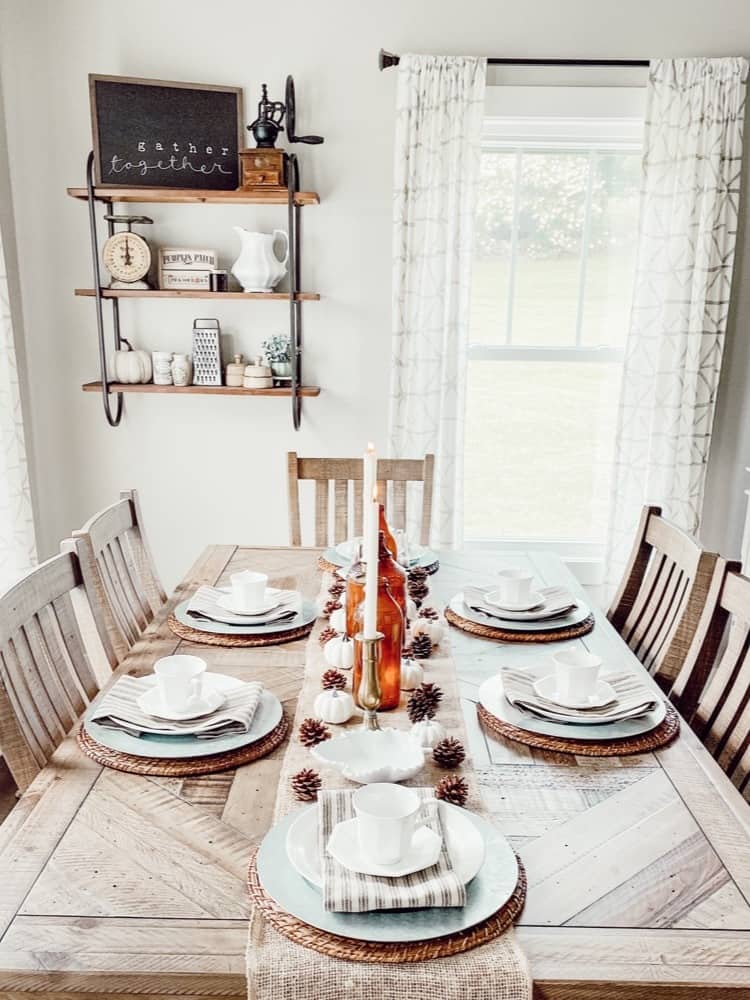 I started off by placing the bigger amber bottle in the center of the table and alternating it between brass candlesticks as well.
I had 3 amber bottles and 3 brass candlesticks, so it worked out nicely. Then all around them, I placed a mixture of white pumpkins and pinecones to fill out the table.
I also placed my two white leaf plates on the end of each side to finish it up (You can see more about these leaf plates from my Easy Fall Decor Refresh Project).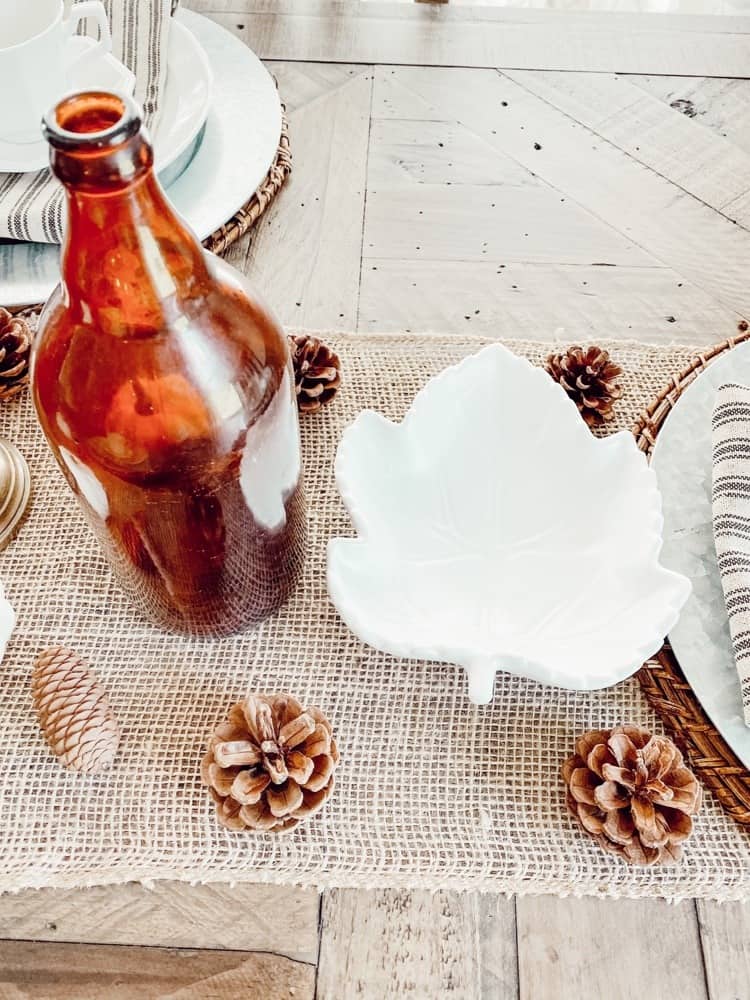 Conclusion
All in all, this was a pretty easy tablescape to style and I love how it turned out. I also love how I didn't have to spend much money to achieve this look.
It is the perfect neutral fall tablescape don't you agree?! Do you like to style your tables for fall as well? Let me know below!